Now, you can have your cake and drink it too!  This creamy Chocolate Cake Shake is blended with real pieces of chocolate cake, for a cold treat you can't pass up.
Use chocolate ice cream or my homemade vanilla ice cream recipe to whip up this delicious treat!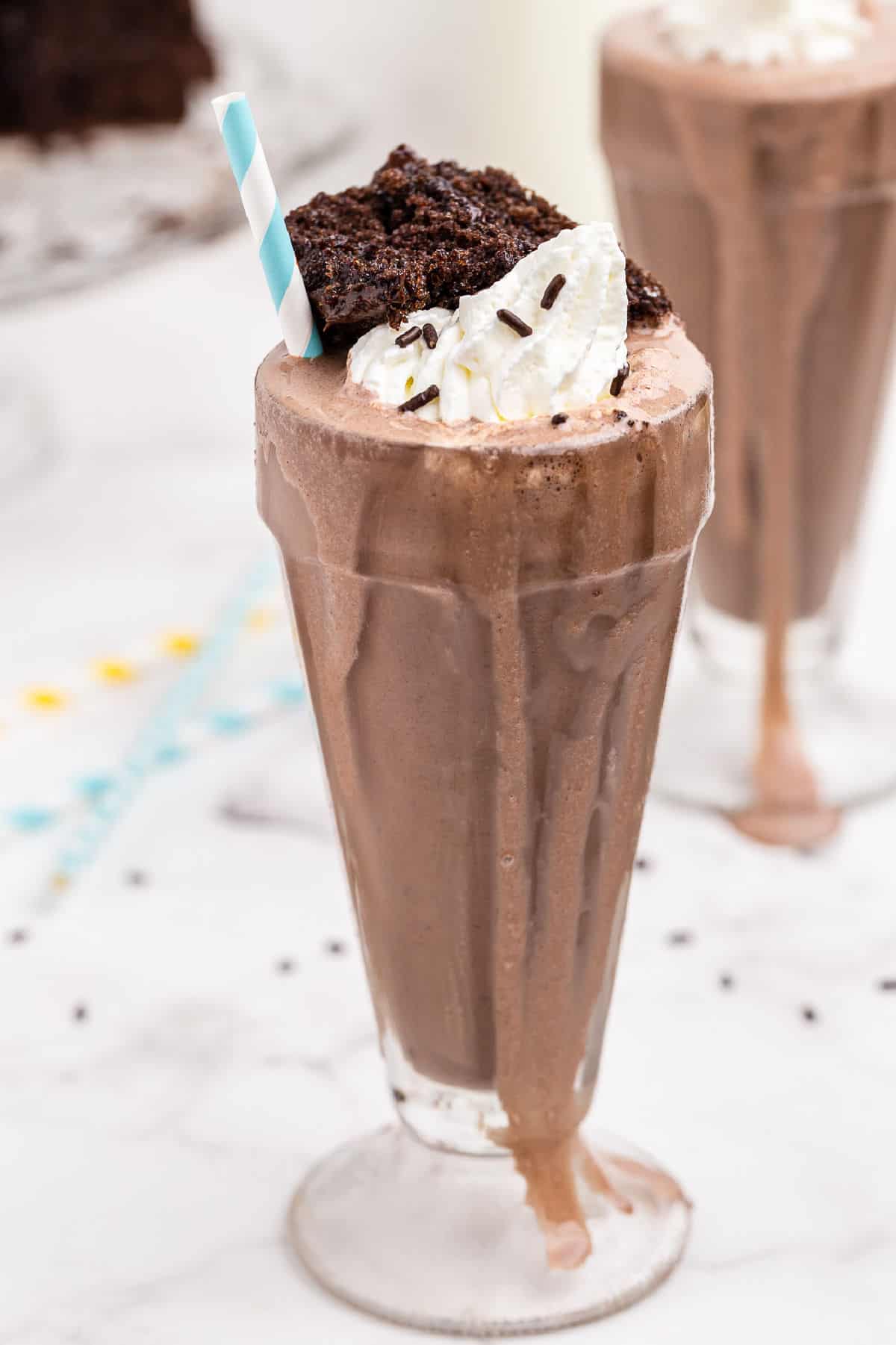 Portillo's Cake Shake
For those of you outside the midwest, Portillo's is the BEST fast food in Chicago. They have the BEST Italian beef sammies, Chicago hot dogs, french fries and chocolate cake.
Guess what they did with that chocolate cake?
Yep, they blended it right into a chocolate shake.
Next time you make a cake, instead of throwing away the leftovers (the horror!) stick a few slices of cake in the freezer for making Chocolate Cake Shakes.
Ingredient Notes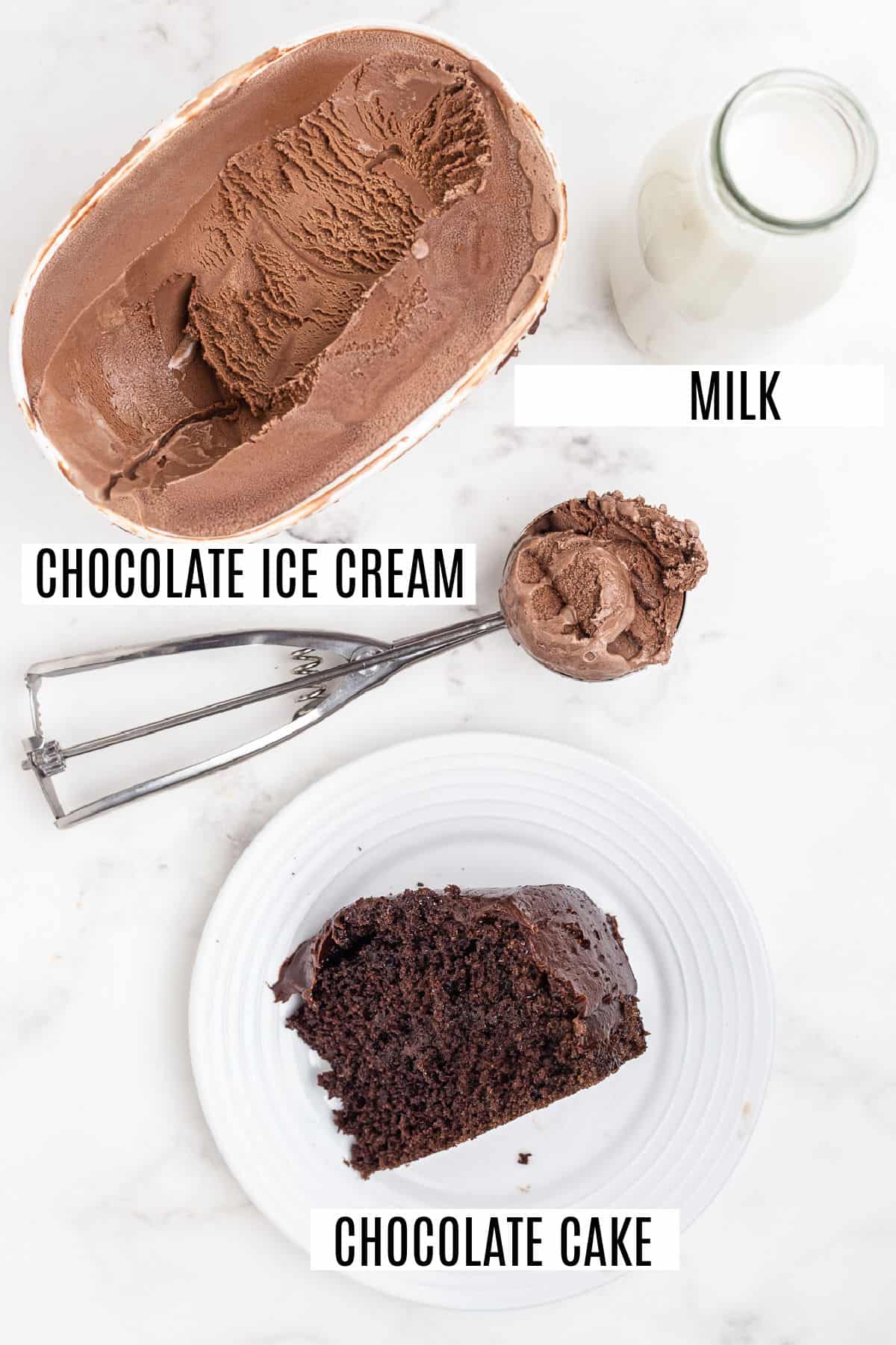 Just three easy ingredients in today's chocolate milkshake recipe.
Chocolate Cake- homemade chocolate cake is incredible, but really any leftover birthday cake will suffice. Stale? No problem. And make sure you grab a slice with lots of frosting!!
Chocolate Ice Cream
Milk– you'll just need a splash, so use what you have in house!
How to Make a Chocolate Milkshake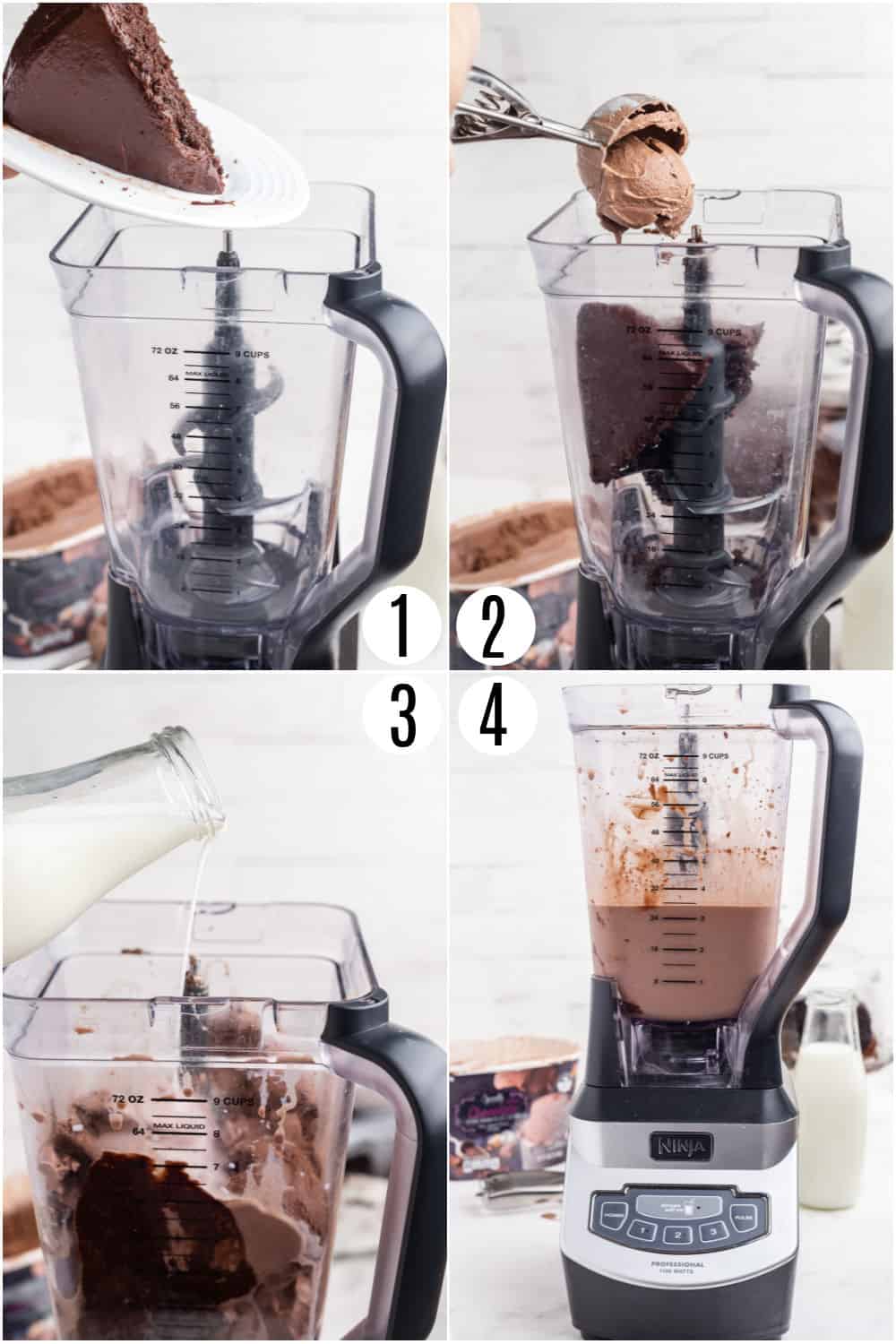 Making Cake Shakes is no more difficult than making a typical chocolate milkshake.
You start with a big slice of chocolate cake and chocolate frosting in a blender. Add in some chocolate ice cream with a splash of milk. Blend until smooth.
If you want it thinner, add a little more milk. For a thicker shake you can eat with a spoon, start with the teeniest splash of milk and go from there.
Don't forget to garnish your cake with an extra slice of chocolate cake (haha) as well as some whipped cream!
What Chocolate Cake to Use
I like a plain, straight up slice of chocolate cake best for this recipe.
Leftover Wacky Cake with a layer of The Best Chocolate Buttercream Frosting works beautifully here. Those recipes are easy enough to whip up without much notice if a sudden Chocolate Cake Shake craving strikes.
I've also made my copycat Portillo's Cake Shake with leftover pieces of my go-to Dark Chocolate Cake.
Chocolate Cupcakes work well here too! The amount of cake in this chocolate milkshake should be equal to approximately 2 cups.
That's one giant slice of regular cake or about 2 normal sized cupcake's worth.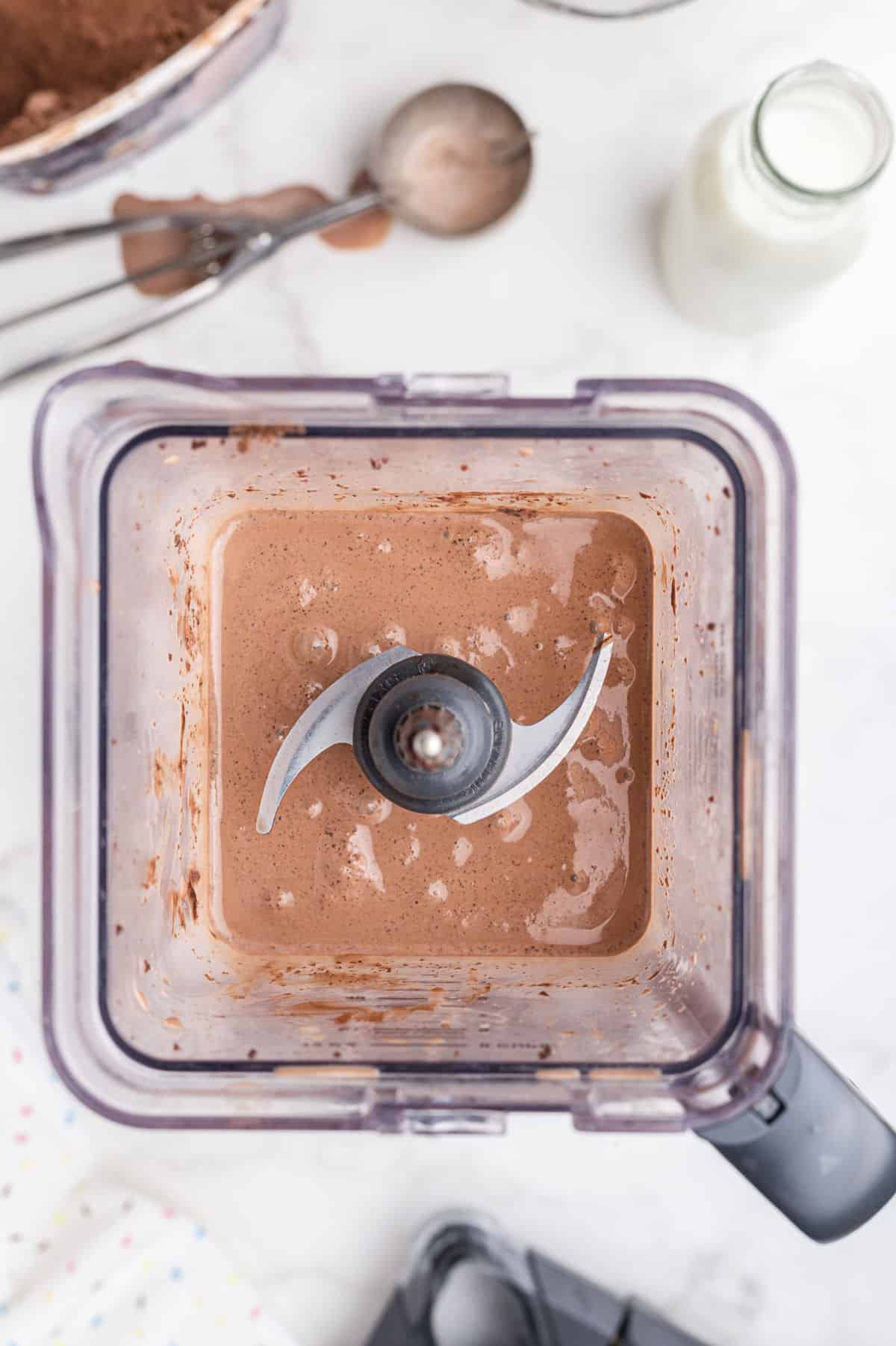 Variations
Me? I love chocolate cake shakes the very best. But all kinds of cake and ice cream combos work here. Live your best cake shake life with whatever flavors you choose! Try these ideas:
Birthday Cake Shake – Vanilla ice cream and white or yellow birthday cake. Top with whipped cream and sprinkles!
Strawberry Cake Shake – Strawberry ice cream and cake. Chocolate cake will make the shake taste like chocolate covered strawberries!
Black and White – Vanilla ice cream and chocolate cake for those who love both!
Oreo- Use cookies and cream ice cream with chocolate cake!
I'm so excited that cake soup is socially acceptable now. . . at least when you blend it up and call it a Cake Shake instead! I hope you enjoy it too.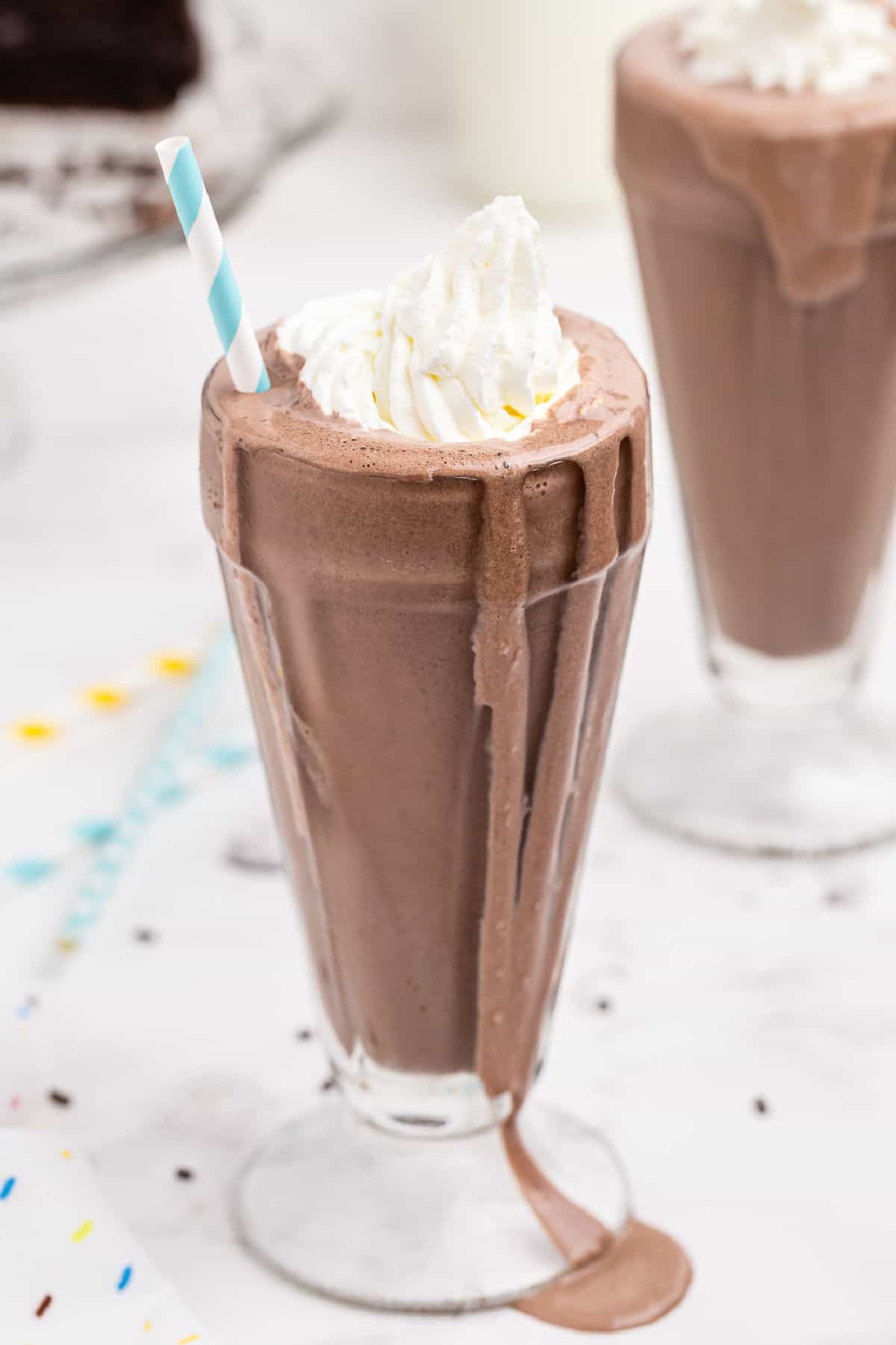 More Ice Cream Desserts