Easy, impressive 5 ingredient No Bake Strawberry Shortcake Ice Cream Bars recipe. Delicious summer dessert that tastes like the Good Humor Shortcake Bar from childhood! Only better!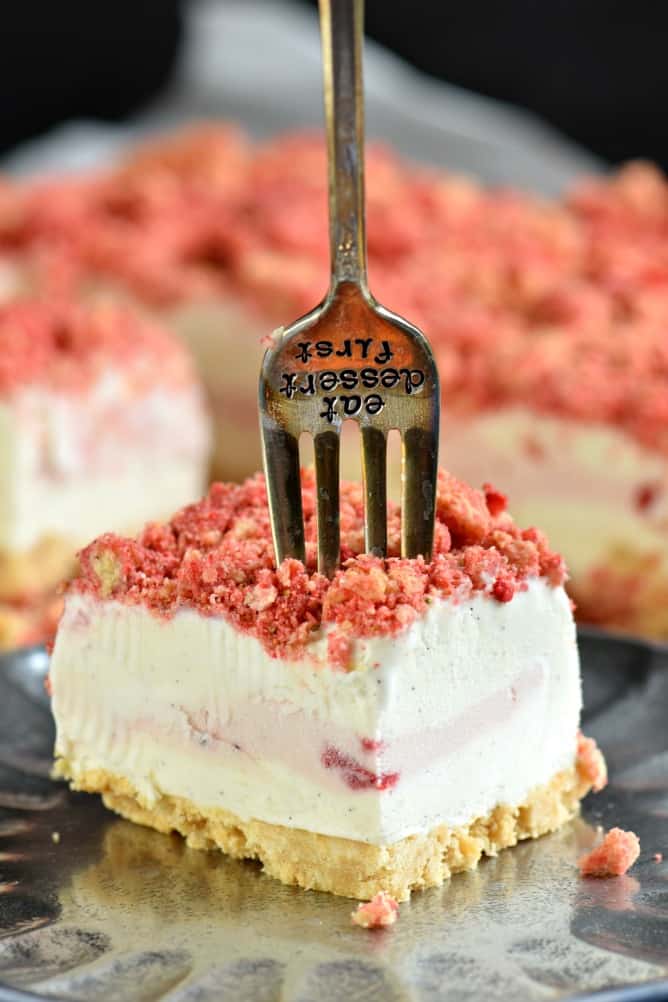 Nothing says childhood like a nostalgic Strawberry Shortcake Ice Cream Bar.
My husband has always been obsessed with these bars. While other children chose Bomb Pops, Snowcones (remember the ones with the gumball in the bottom), and even Ninja Turtle Popsicles…my husband always chose Strawberry Shortcake Ice Cream Bars.
Actually, my husband will always choose strawberry desserts, like berry crumb bars, over any other flavor. While I'm a bit more partial to lemon bars and rice krispie treats, he always opts for the strawberry treats.
I made this Strawberry Shortcake Ice Cream for him last year for his birthday, and we were all in heaven. I'm not a huge fan of the original store bought treat..these homemade ice cream bars were a hit with all of us!
Let's get to the details!
How to Make Strawberry Shortcake Ice Cream Bars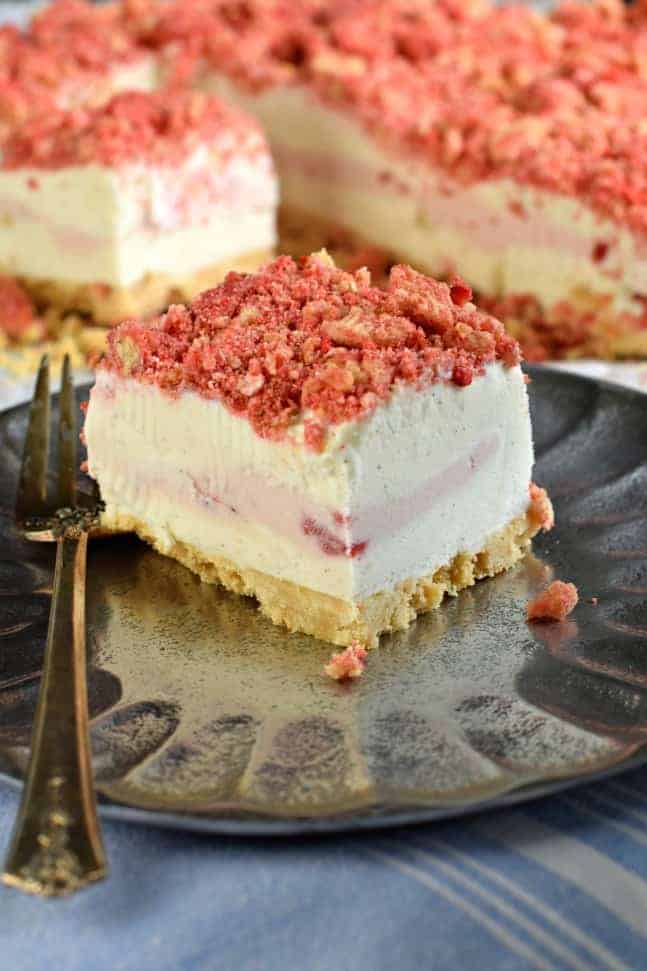 READ the entire recipe before beginning. Some steps (like softening the ice cream) should be done in advance.
STEP 1: Prepare the pan.
Line an 8-inch (or 9-inch) square metal baking dish with parchment paper. Set aside.
PRO TIP: Use binder clips or mini clothespins to secure the parchment paper to the baking dish for easy filling.
STEP 2: Crust.
In a food processor, add Golden Oreo cookies and pulse until fine crumbs. Stir in melted butter with a fork.
Press crust into the bottom of prepared baking pan. Freeze for 15 minutes (while you prepare the rest of the dessert).
STEP 3: Topping.
In the same food processor bowl, add remaining Golden Oreo Cookies. Pulse a couple of times for large crumbs (NOT FINE CRUMBS LIKE THE CRUST).
Pour crumbs into a bowl.
Add freeze dried strawberries to the food processor and pulse into a fine crumbs. Add to bowl with Oreo crumbs and mix with softened butter until combined. Set aside.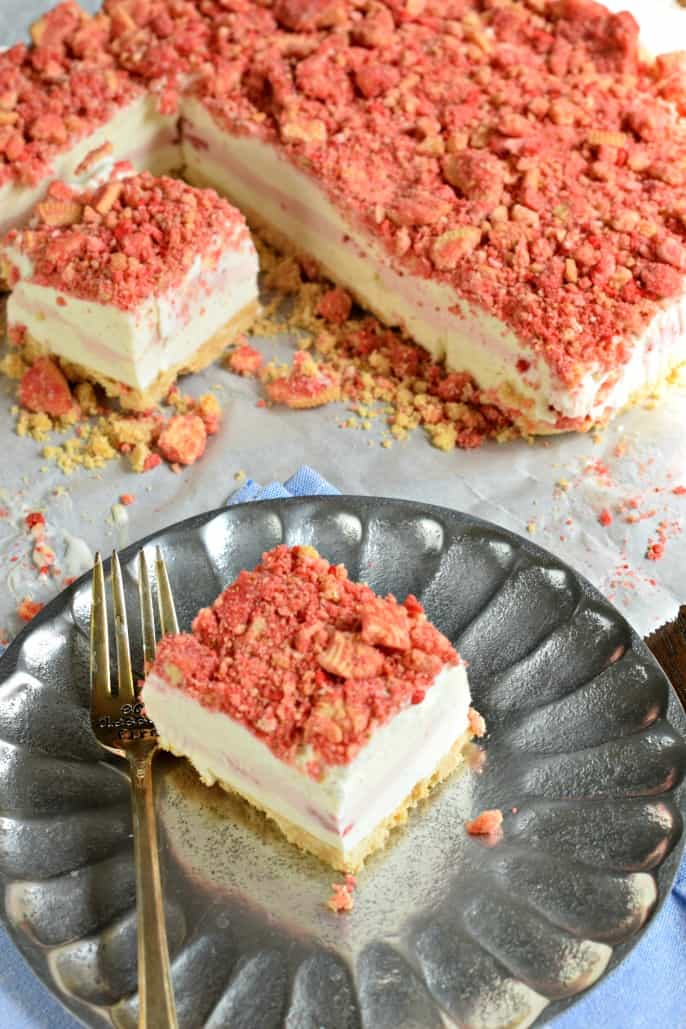 STEP 4: Assembly.
Soften the ice cream for about 15 minutes.
Scoop about 2 1/2 cups of the Vanilla bean ice cream over the crust layer using an offset spatula.
Next, spread all of the strawberry sorbet over the first layer of ice cream. I couldn't find strawberry sorbet, so I used a pint of strawberry ice cream. It was perfect!
Spread the remaining vanilla ice cream over the strawberry layer. Once smooth, sprinkle the cookie topping evenly over the bars.
Freeze for 3 hours or overnight.
STEP 5: Serve.
To serve, lift strawberry ice cream cake out of the pan using the parchment paper. Allow to sit at room temperature for about 10 minutes before cutting into the bars. This allows the crust layer to soften slightly.
Use a very sharp knife and cut into bars. Return the leftovers to the freezer for later.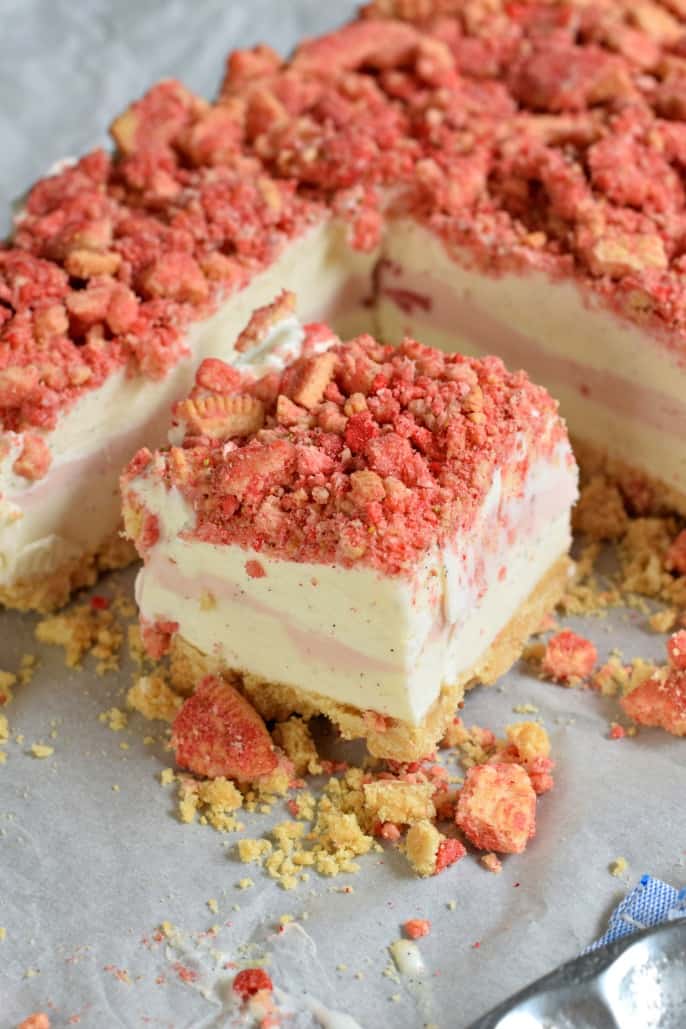 What you'll need
If you want a quick glance at what's needed for today's recipe, look no further. For the printable recipe with measurements, scroll all the way down!
Ingredients
Golden Oreo Cookies (or other vanilla sandwich cookies)
Unsalted Butter
Freeze Dried Strawberries
Vanilla Ice Cream
Strawberry Sorbet or Strawberry Ice cream
Tools
Baking Pan- a square baking dish is best, either 8 or 9-inch works well
Food Processor– on Amazon!
Offset Spatula
Parchment Paper
Sharp Knife- for cutting the bars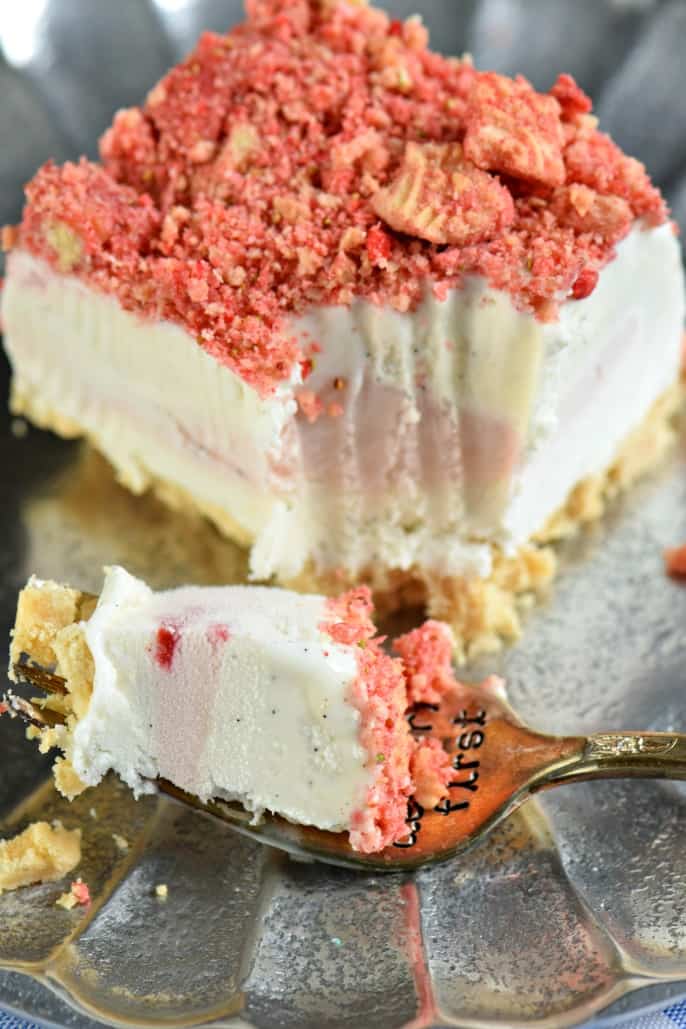 Tips for Making Strawberry Shortcake Ice Cream Cake
Read the directions entirely before starting. Make sure you've softened the items before assembly.
Freeze dried strawberries can be substituted with strawberry gelatin powder if desired.
Try to find a strawberry sorbet or ice cream that contains fresh berries. Not only does it look pretty, but has great texture. The strawberry ice cream I used was lighter in color because it was a natural strawberry ice cream. If you prefer a dark pink, choose a different brand 🙂
Change up the flavor by using chocolate oreo cookies and chocolate ice cream!
No need to remove the cream filling from the Oreo cookies.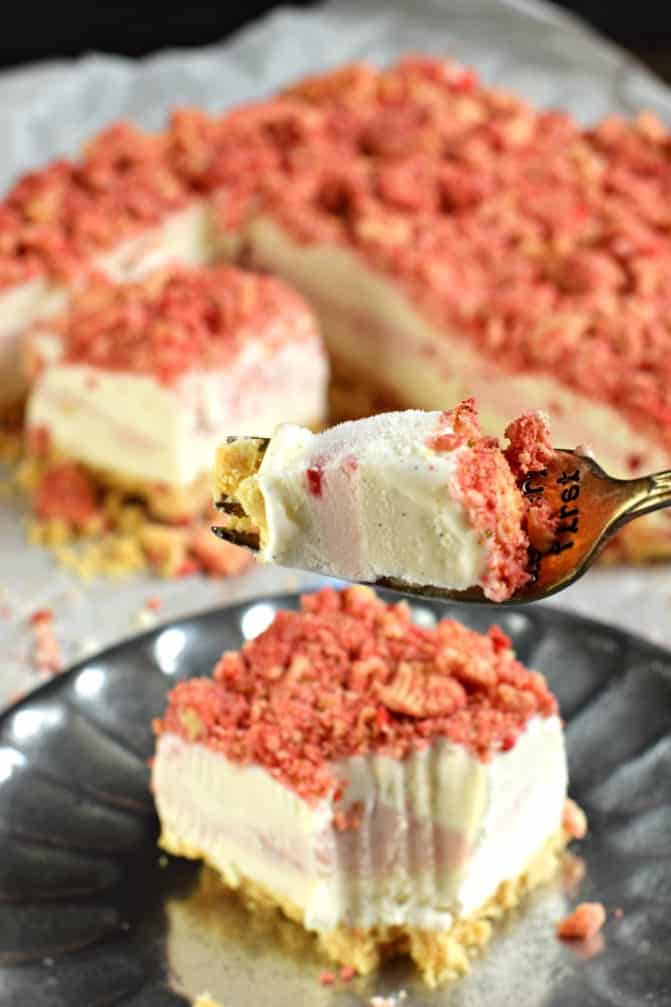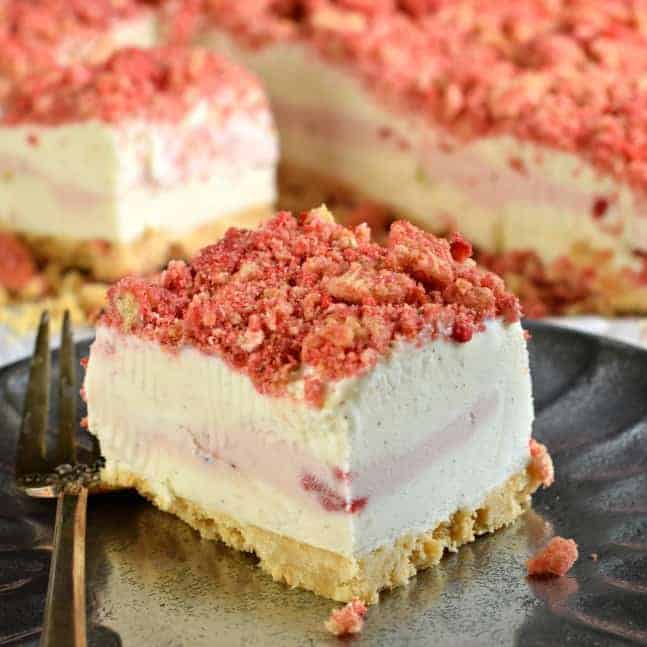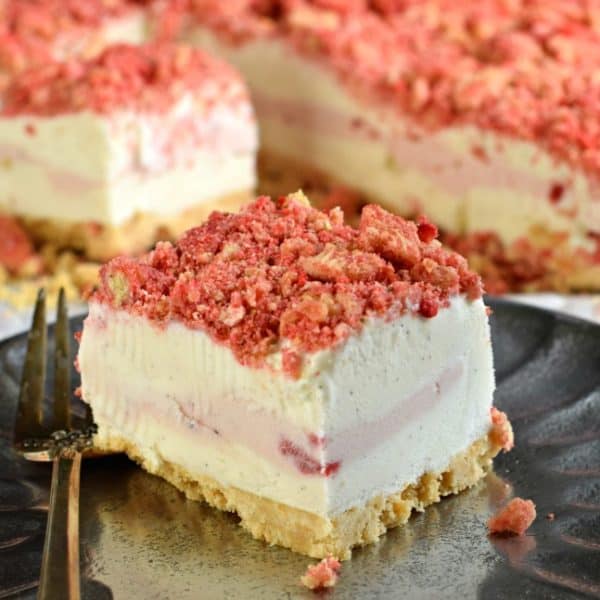 MORE Ice Cream Desserts:
Recipe from Life Made Sweeter
Easy, No Bake Strawberry Shortcake Bars just like you remember from childhood. Delicious recipe, easy to follow directions, only 5 ingredients!