Learn how to make the BEST Chocolate Covered Strawberries at home! Check out all my favorite tips and tricks for perfect chocolate dipped berries that look as good as they taste.
Everything is better dipped in chocolate! From chocolate covered Oreos to these delicious chocolate dipped cookies! Even chocolate covered caramel corn is amazing!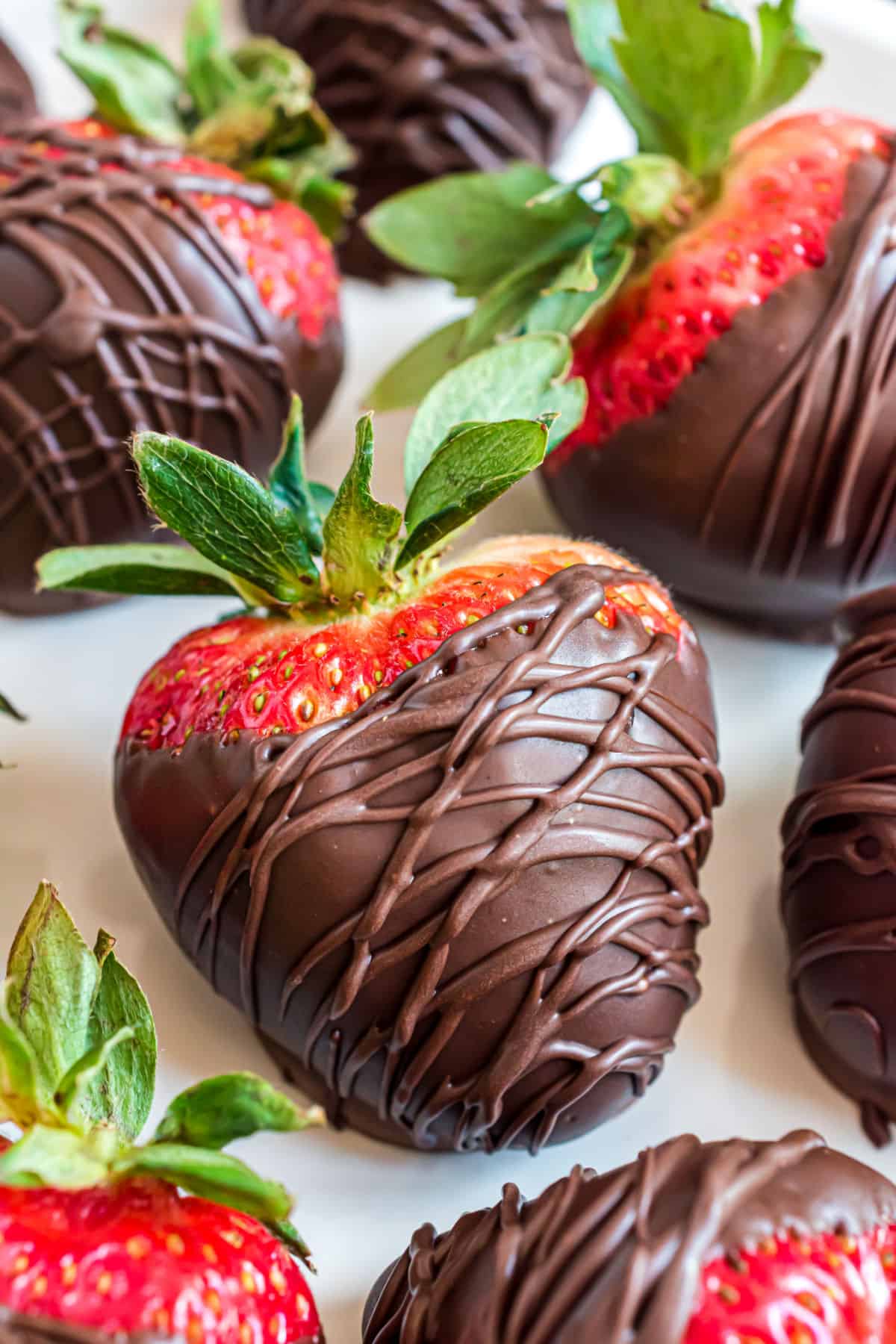 Why this Recipe is Best
It's impossible not to smile when someone hands you a chocolate covered strawberry. Today, I'm sharing my favorite methods for crafting these beautiful treats–from the classic to the creative!
It's easier than you think to make delicious chocolate dipped strawberries yourself.
You only need two ingredients for this recipe (not counting the optional sanding sugar).
The red, white and blue variation makes a perfect fun Fourth of July dessert.
You'll love the smooth shiny chocolate layer that melts in your mouth.
Skip the costly purchase at the candy shop and make this recipe instead!
Ingredient Notes
Chocolate melting wafers. Using melting wafers is key to chocolate covered strawberries with no lumps. It's specially treated to melt smoothly and set evenly. Plus, with only two ingredients, make sure you choose good quality chocolate, such as Ghirardelli!
I avoid using chocolate chips because they don't melt as easily, and they taste more processed. Chocolate chips also need to be tempered or they will wind up being "sticky" to the touch!
Strawberries. Choose the plumpest, ripest berries you can find! For the prettiest presentation, look for strawberries that are deep red all the way up the the stem.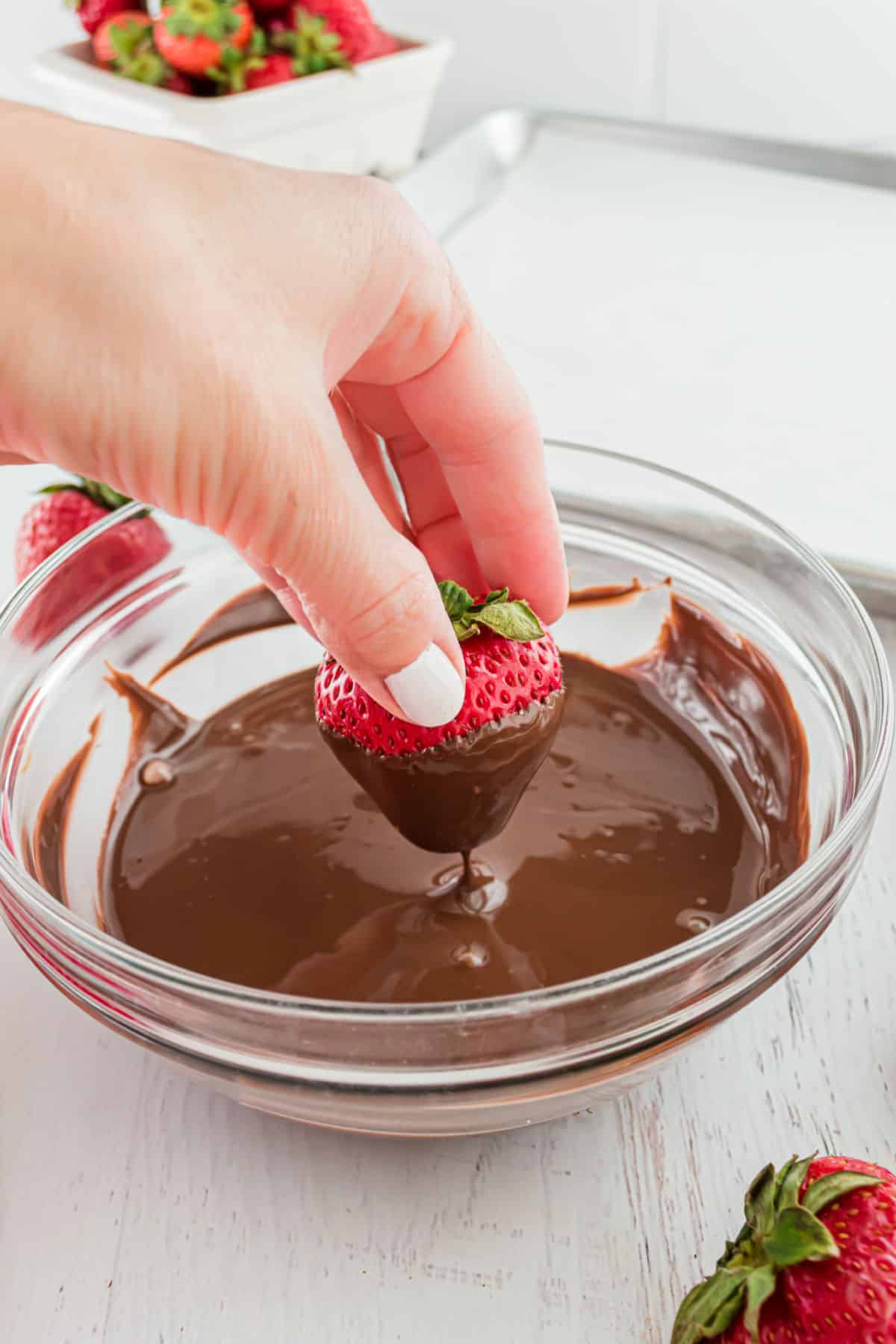 How to Make Chocolate Covered Strawberries
STEP 1. Melt chocolate
Place the melting wafers in a microwave safe bowl. Heat in the microwave until smooth and melted. Let the chocolate cool slightly. This method of melting chocolate works great when you're using the Ghirardelli melting wafers.
PRO TIP: You can also use a double boiler to melt chocolate.
STEP 2. Dip
Before starting, make sure you berries have been cleaned and DRIED.
If you're going to add nuts, toasted coconut, or sprinkles, be sure to have those dipping bowls ready.
Hold the strawberry by the stem. Dip into the cooled melted chocolate almost all the way to the stem. Let the excess chocolate drip off over the bow.
If you're dipping in a second topping, do it now! Crushed Oreos are delicious too!
STEP 3. Set
Place each dipped berry on a parchment lined baking sheet. Allow the chocolate to set.
PRO TIP: For a picture perfect finishing touch, drizzle on a bit of extra melted chocolate!
Red, White and Blue Strawberries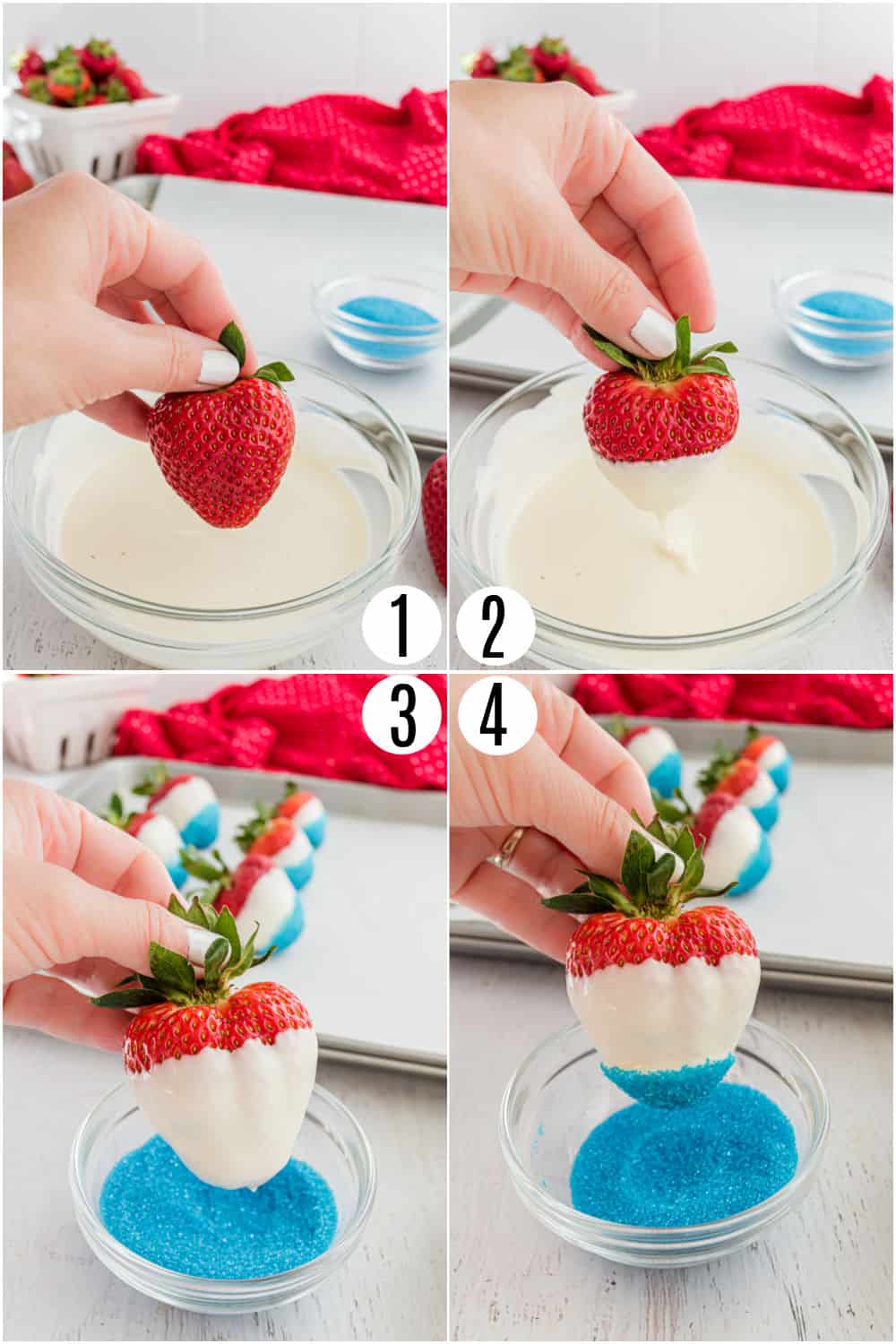 This version takes a little more precision but the results look spectacular! Perfect when you need some easy 4th of July desserts!
Dip the strawberry in melted white chocolate (again I use the Ghirardelli white chocolate wafers for smooth melting and great flavor), leaving about one-third of the top of the berry uncovered. You want to see plenty of red at the top.
Let the excess chocolate drip off the berry. Then, gently dip the bottom tip of the strawberry into a bowl of blue sanding sugar.
Repeat with all the strawberries, then let them set on a parchment lined baking sheet.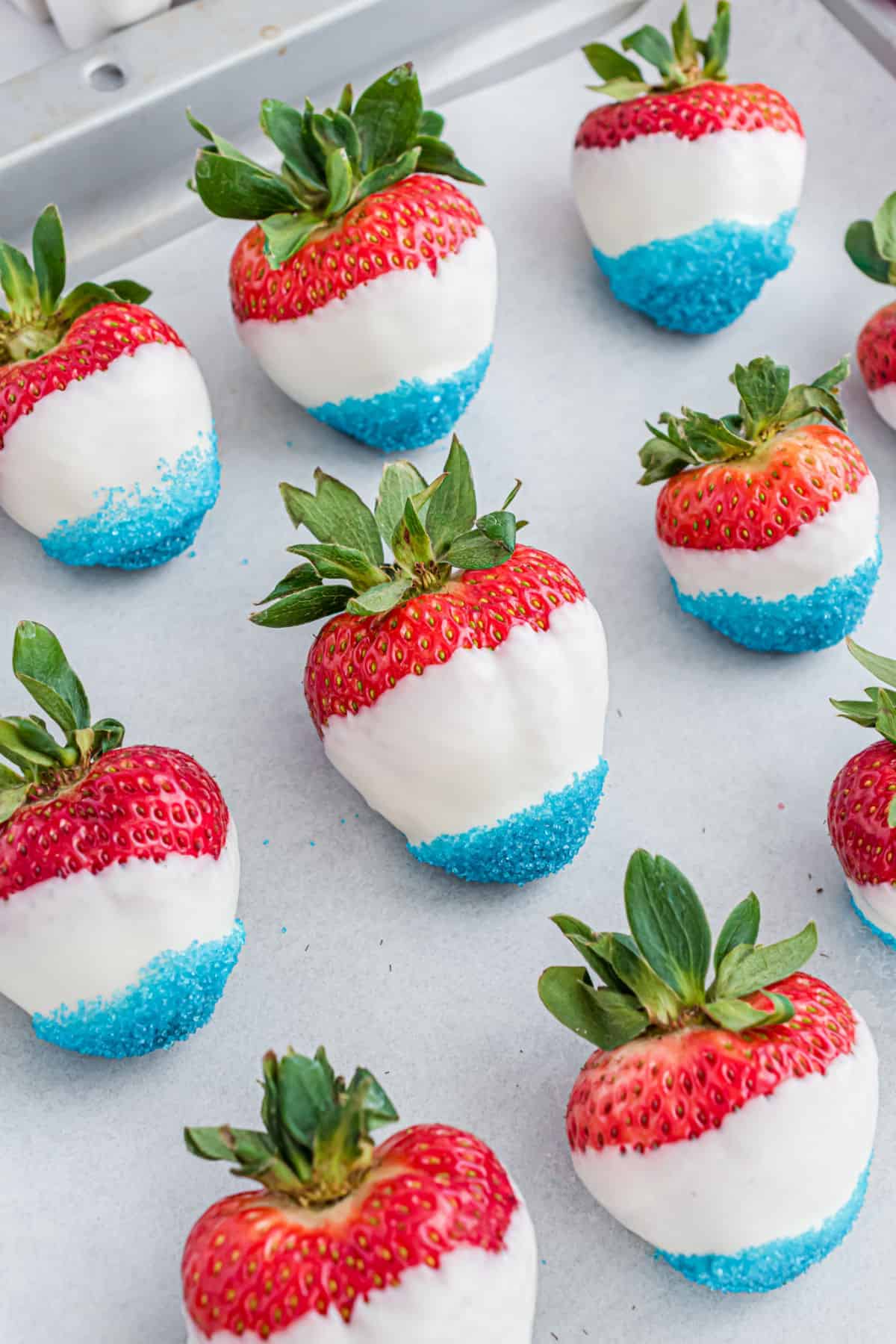 Tips and Tricks
Use dry strawberries. Your strawberries should be room temperature and completely dry before making this recipe. I like to wash and pat them dry a few hours ahead of time. Any cold or moisture on the surface of the berry will affect how the chocolate sets up.
Remove excess chocolate. Always hold your freshly dipped strawberry over the bowl for several seconds to allow any excess chocolate to drip off. For the Red, White and Blue variation, this step is especially important. Otherwise, the chocolate will form a bulge when dipped in the sanding sugar.
Keep them separate. Make sure to place your berries far enough apart on the baking sheet so they don't accidentally touch and dent their chocolate coating (or get stuck together!).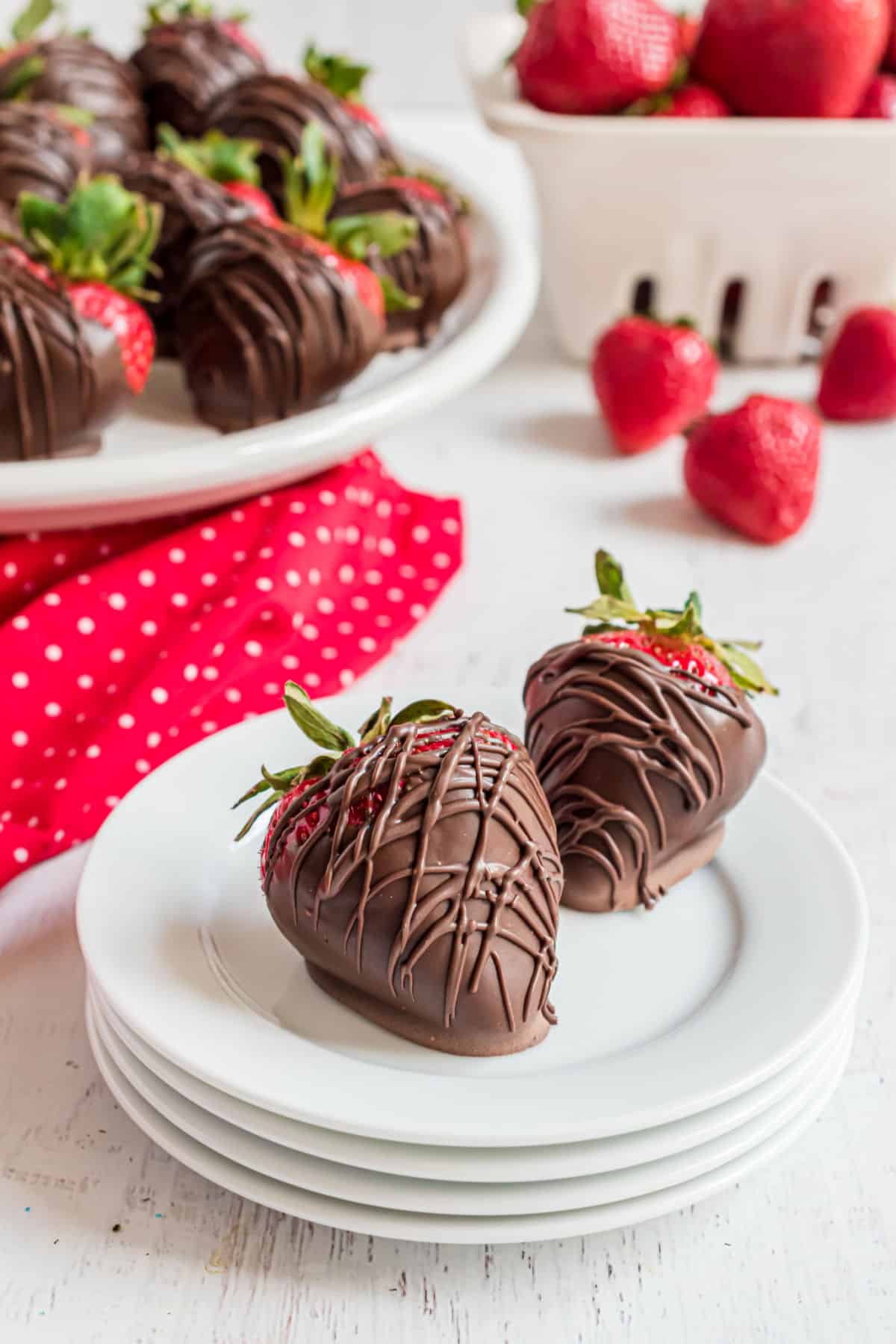 Recipe FAQs
How do you store chocolate covered strawberries?
Store chocolate covered strawberries in a cool location, uncovered. They taste best the same day they are made.
Can you freeze chocolate covered strawberries?
Chocolate dipped strawberries shouldn't be frozen. As strawberries thaw, they release moisture that ruins the chocolate coating.
I don't have chocolate melting wafers. Can I use chocolate chips instead for chocolate dipped strawberries?
You can use any kind of chocolate, however, unless you temper the chocolate chips you won't get the same results. Using chocolate melting wafers or almond bark is best for dipping!
More Easy Dessert Recipes
As dessert for a special occasion or a gift for a loved one, you can't go wrong with Chocolate Covered Strawberries!