Strawberry Cream Cheese Danish -These cheesecake bars with a cream cheese center and strawberry filling look as impressive as they taste. No one will suspect just how easy they are to make!
Looking for the perfect dessert? Our readers are obsessed with this classic cheesecake recipe! Or skip the oven and make our delicious and easy No Bake Cheesecake Recipe!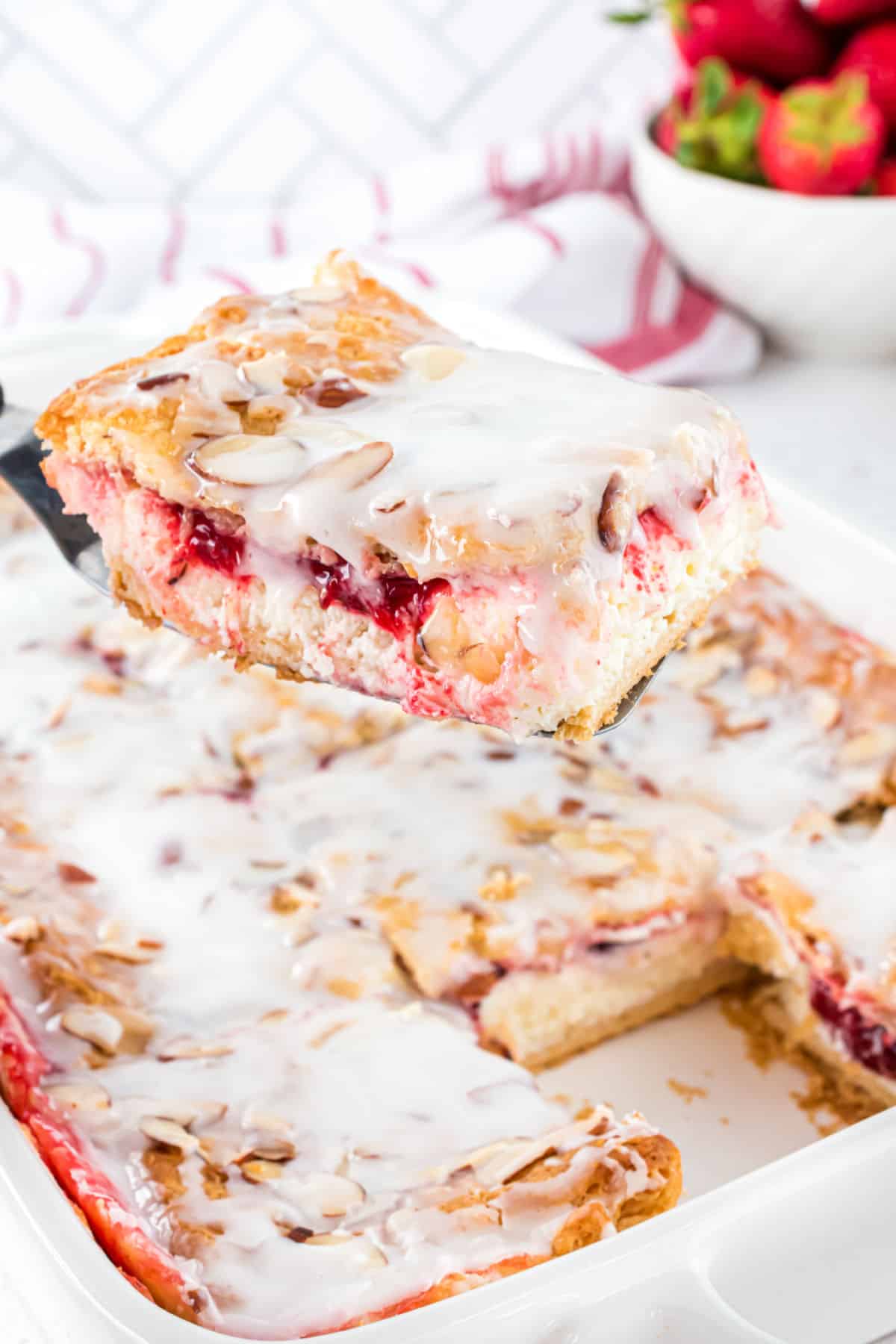 Why this Recipe Works
Who doesn't like strawberries and cheesecake? They're even better sandwiched between layers of flaky buttery pastry crust!
Do you remember these Sopapilla Cheesecake bars I shared a while back? This easy Strawberry Cheesecake Danish recipe is like those but flavored with berries and almond instead of cinnamon sugar.
I could have just made a straight-forward cheesecake bar with a graham cracker crust. But then I remembered the amazing crescent roll crust from that sopapilla recipe–the perfect match for strawberry cheesecake!
The buttery pastry layers make this taste like a cheese danish, fresh from the bakery. Only you don't have to spend hours making pastry crust from scratch.
Best of all: This is a cheesecake recipe you can eat for breakfast! It has "danish" right there in the name.
Make these the night before and sit down to a delicious chilled strawberry danish with your morning coffee!
Ingredient Notes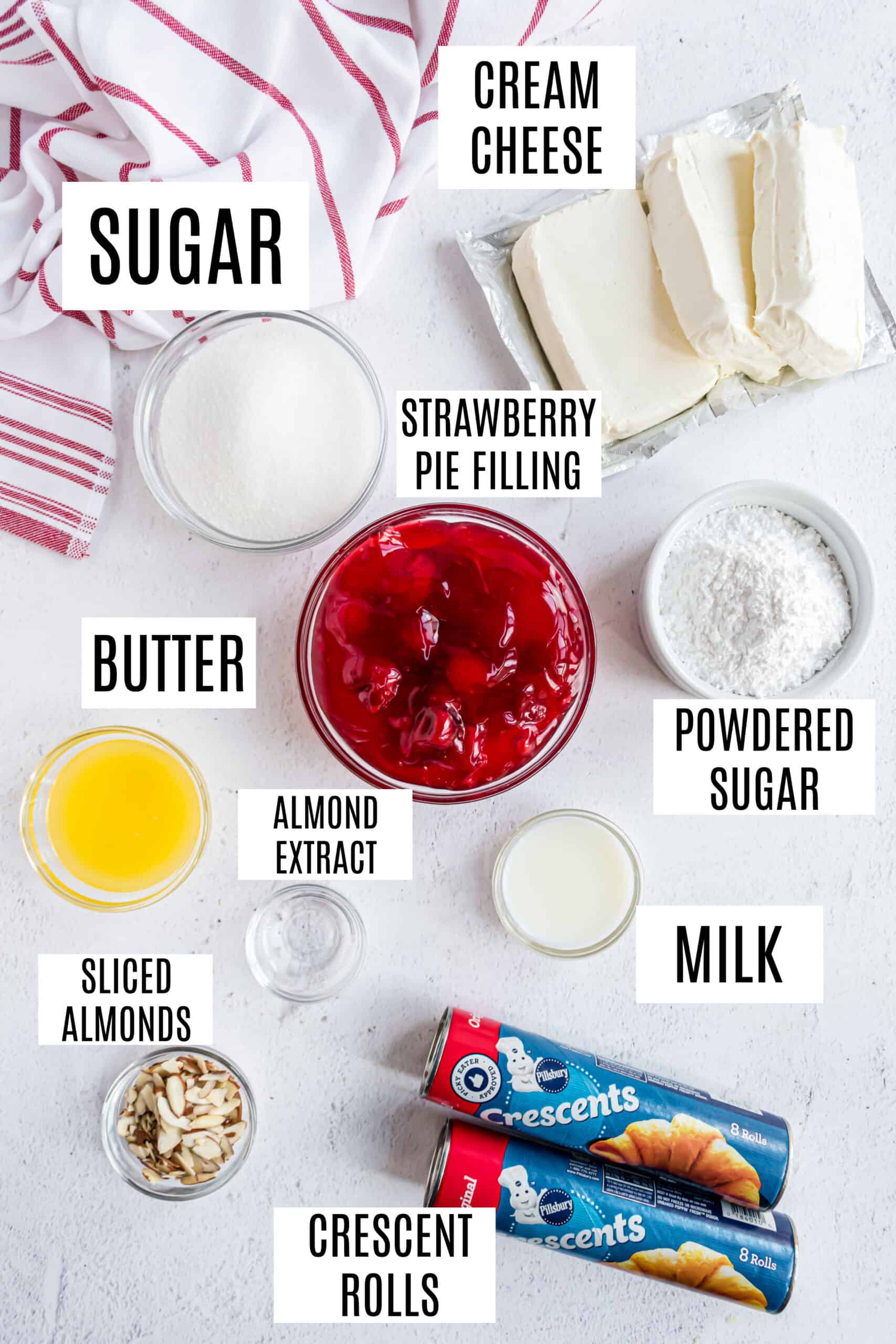 Crescent rolls. If you can find the crescent roll sheets, those work great. You can also use traditional crescent rolls–just press the seams together.
Strawberry Pie Filling. I used canned store bought pie filling. Swap out the strawberry for blueberry or cherry pie filling to make different flavored danish bars.
Granulated Sugar. Makes a creamy cheesecake filling. Take it to the next level and use vanilla sugar instead (easy to make at home)!
Cream Cheese. Soften to room temperature before using for creamiest results!
Almond Extract. The key to such great flavor in the filling! Or skip it and use my homemade vanilla extract instead!
Easy Instructions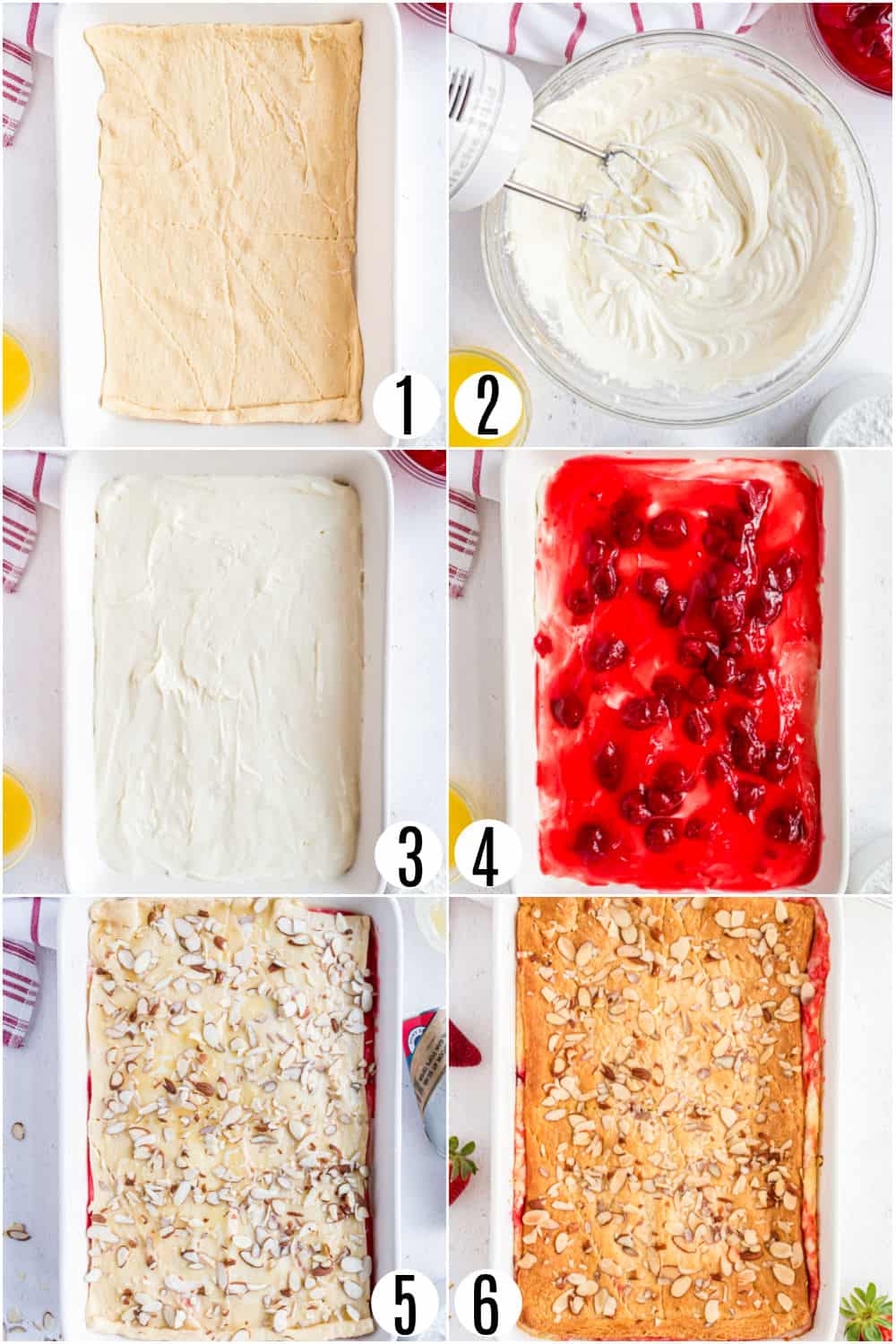 Crust. Press one unrolled can of crescent rolls into the bottom of a baking dish.
Cheesecake. Make a cheesecake filling by beating together cream cheese with sugar and almond extract.
Assemble. Pour the cream cheese mixture over the dough. Spread the pie filling on top.
Crust. Stretch a second can of crescent rolls over the pie filling. Brush with melted butter and sprinkle the tops with sliced almonds before baking.
Glaze. As the bars cool, make the glaze by whisking together powdered sugar with almond extract and milk. Drizzle icing over the cooled bars and refrigerate until ready to serve.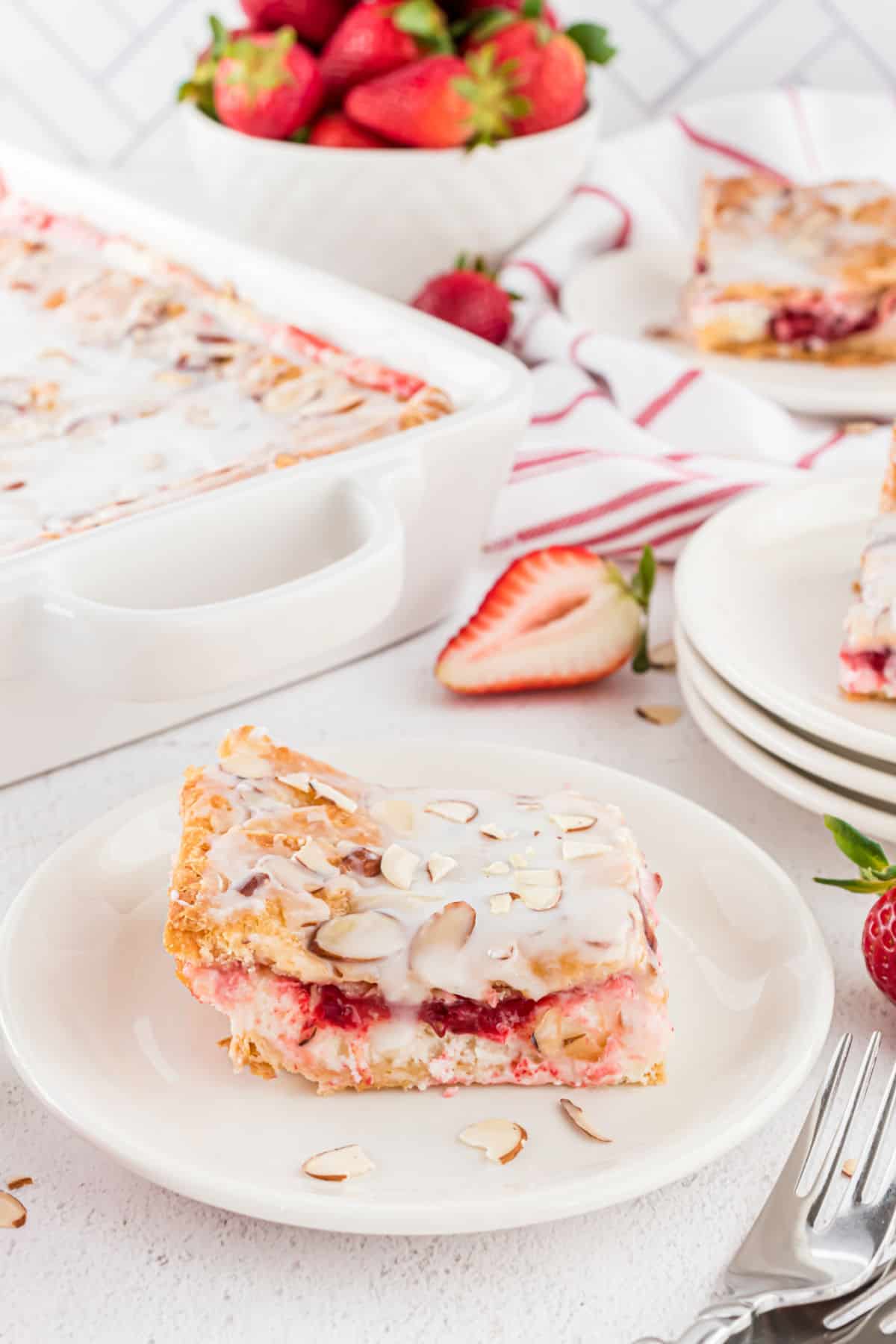 Tips and Tricks
Chill for at least 1 hour before serving. I like them best when they've had several hours to get completely cold. Delicious with hot coffee!
Full fat cream cheese is best. The flavor is richer and much creamier than low fat versions. Strawberry Cheesecake Danish bars have so few ingredients that the rich cream cheese flavor is essential.
Pinch the seams. If you're using standard crescent rolls make sure to fully seal the perforated seams by pinching them together. Otherwise there will be separation in your crust.
Brunch. Serve this sweet pastry with a savory Vegetable Quiche for a complete breakfast!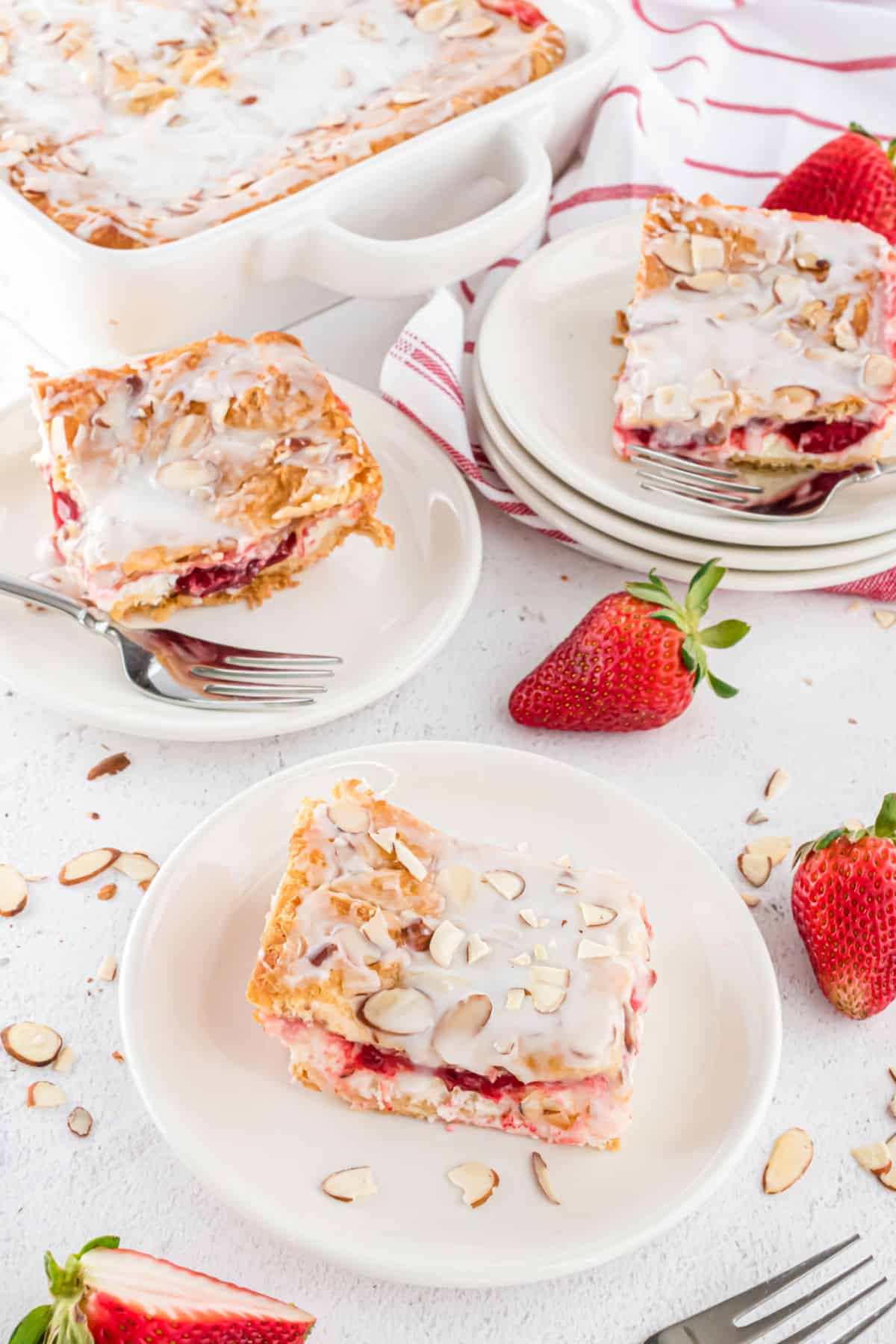 Recipe FAQs
Can I use pie crust instead of crescent roll dough?
If you cannot get crescent roll dough where you live, you can substitute refrigerated pie or puff pastry dough. The crust will not be as puffy, but the bars will still be delicious!
What kind of pan do you need to make cheesecake bars?
I used a 9 x 13 baking dish to make strawberry cheesecake bars.
How do you store strawberry cheesecake danish bars?
These bars need to be kept chilled and covered in the refrigerator. Transfer cut bars to an airtight container for longer freshness.
All the delicious flavor of a fruit filled Danish baked into a cheesecake bar! These easy Strawberry Cheesecake Danish Bars make a deliciously sweet breakfast, dessert or midnight snack.