Making homemade Cheese Danish is easier than ever. Using just a few ingredients, you can learn how to make a flaky, delicious cheese danish in under 30 minutes. With a creamy filling and sweet icing, these are the perfect addition to a holiday breakfast or brunch.
Can't resist the pastry case at your favorite coffee chain? You'll love this Copycat Starbucks Lemon Loaf and these Flourless Chocolate Cookies too.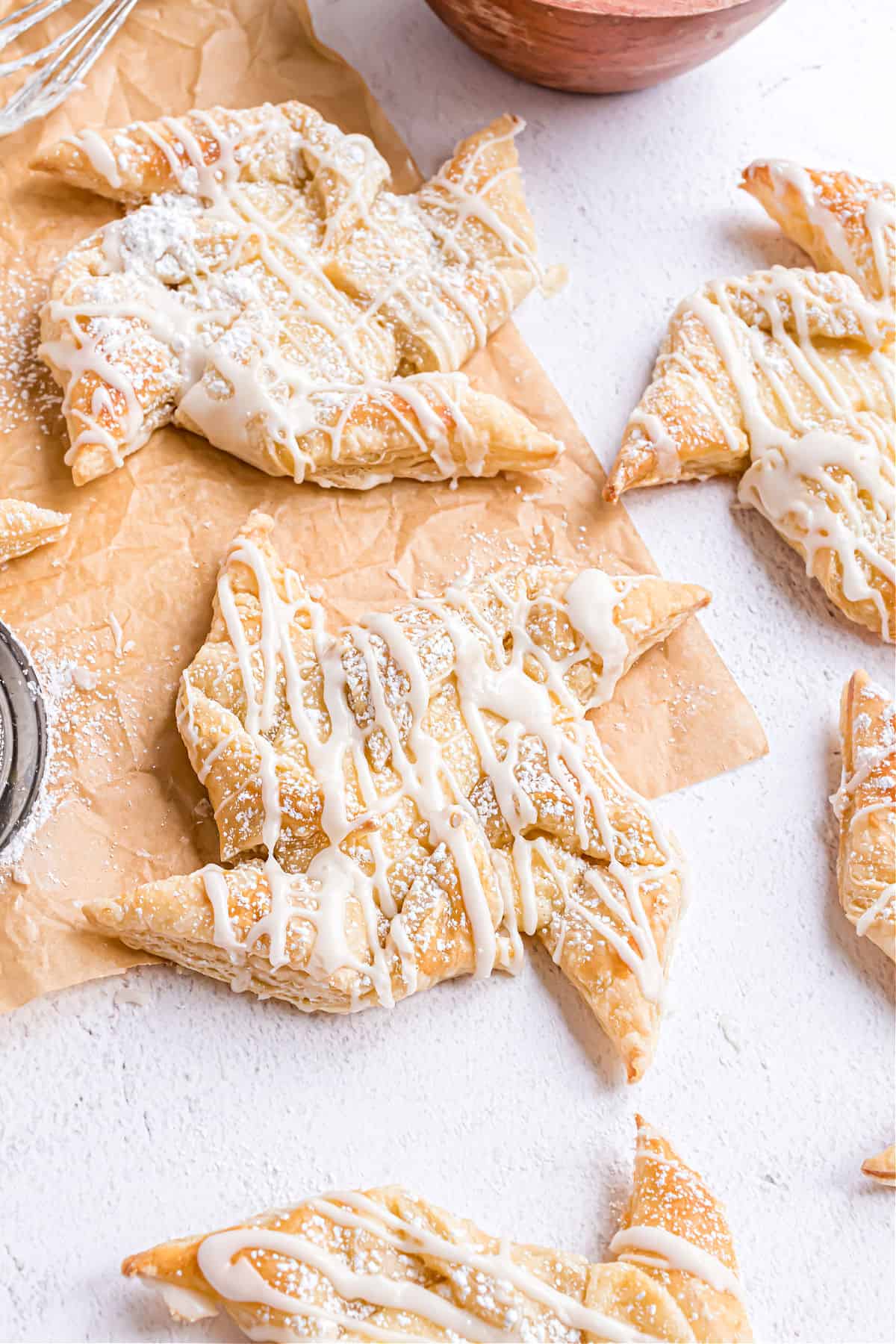 Why this Recipe Works
I used to think homemade danishes would be tricky to make. All that pastry dough and the fancy fillings, not to mention rolling and folding!
Using my favorite baking shortcut, puff pastry eliminates the extra work without sacrificing taste. This isn't just the easiest Cheese Danish recipe–it's also the BEST!
Uses puff pastry sheets. No need to make fussy pastry dough from scratch.
Ready in 30 minutes.
Cream cheese custard filling. Full of flavor and easy to make.
Sweet icing. Each cheese danish gets a dollop of vanilla sweetness for an extra delicious finishing touch.
Delicious plain or with fruit. Cheese Danish tastes wonderful on its own. You can also use this recipe to make fruit danish by adding a little pie filling!
A cheesecake-like center is wrapped in buttery, flaky pastry dough. The ultimate breakfast treat that's impressive enough for a special occasion and easy enough for every day!
Ingredient Notes
Puff pastry sheets. I use frozen pastry dough, thawed at room temperature.
Egg. You will need the yolk for the cheese danish filling. Reserve the whites for brushing the tops of the pastries.
Vanilla. I love the flavor my homemade vanilla extract gives these homamde danishes.
Cream cheese. Full fat cream cheese tastes best in this cheese danish recipe. Let it soften to room temperature so it's easier to work with.
Easy Instructions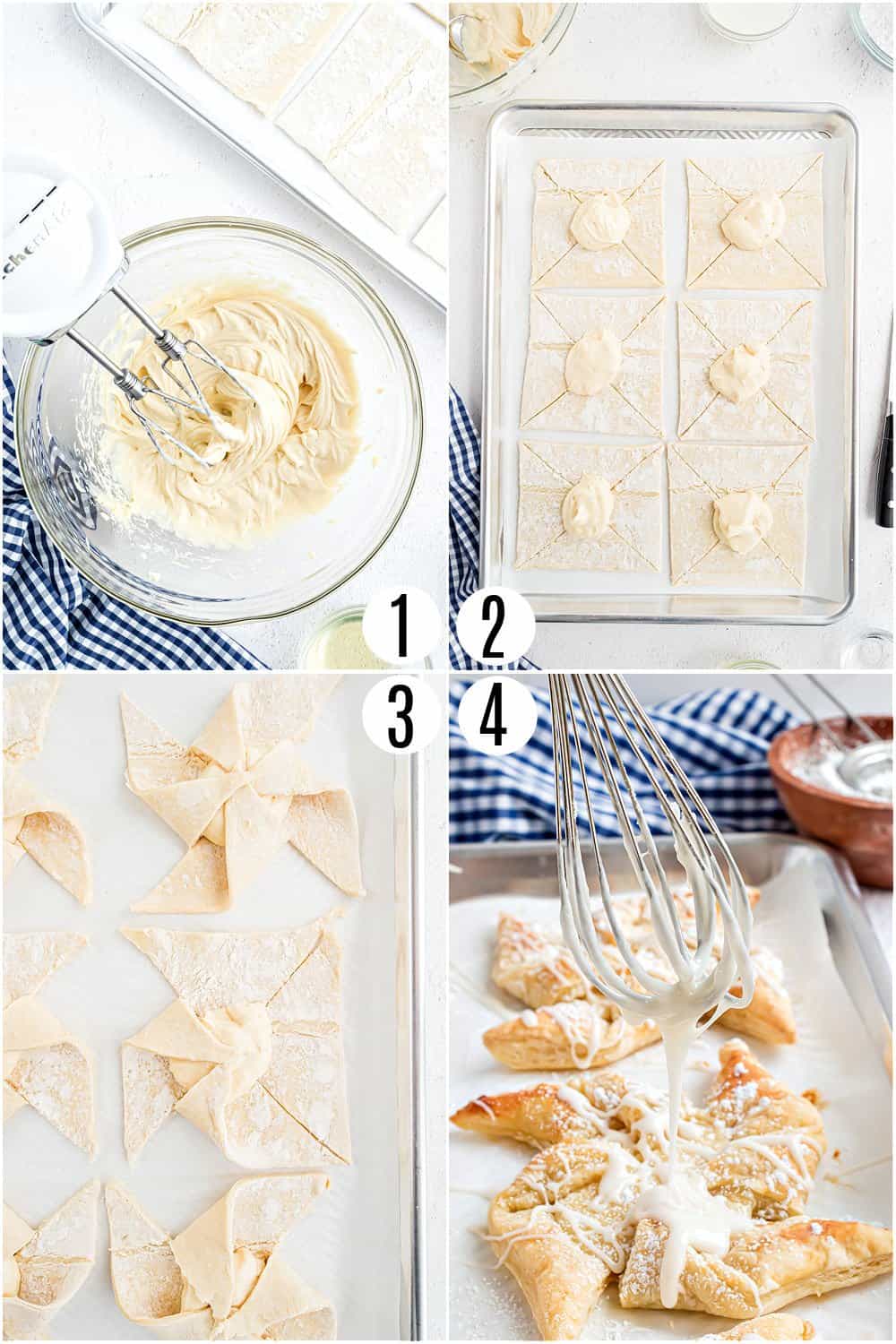 How to make Cheese Danish:
Thaw the pastry. Follow package directions for your frozen puff pastry. While it's thawing, line a sheet pan with parchment paper and preheat the oven.
Cut pastry. I cut each sheet into quarters so I ended up with 8 big squares.
Make the filling. Beat cream cheese with vanilla, sugar and egg yolk. Spoon the filling into the center of each pastry square.
Fold and shape. Take a sharp knife and make a slice from the corner of each square until you reach the filling. You'll end up with four triangles. Fold each triangle over the filling. Repeat with the remaining squares of pastry.
Bake. Brush the tops of the unbaked Cheese Danishes with a mixture of egg whites and water. Bake until golden brown.
Add icing. While the danishes are baking, whisk together powdered sugar with milk and a little more vanilla extract. Drizzle onto the baked danish.
Tips and Tricks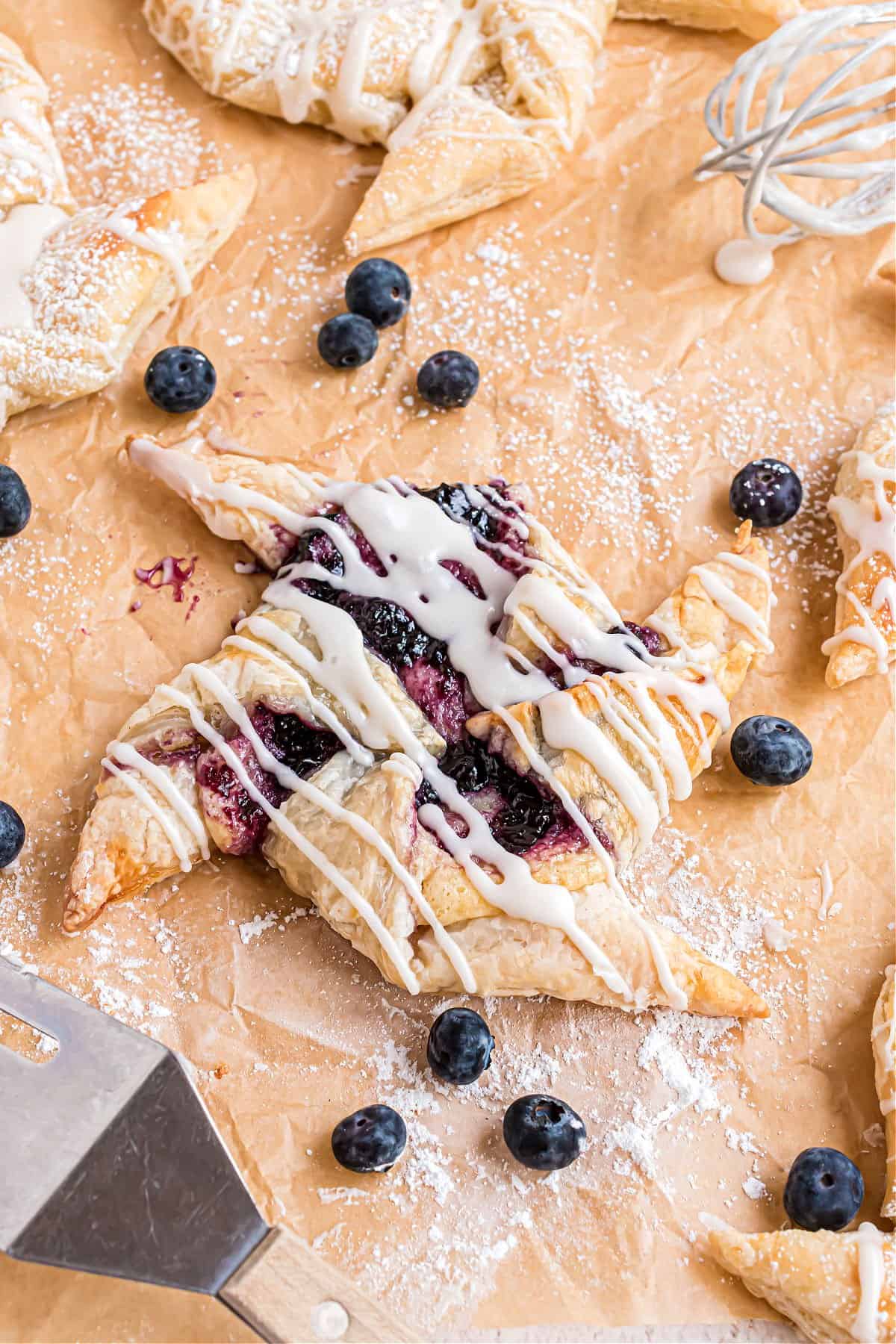 Fruit Danish Recipe. Spoon a tablespoon of fruit pie filling into the center of each Danish triangle alone with the cheese filling. Blueberry, cherry and peach pie filling are all delicious additions to this recipe!
Serve fresh. For best flavor and texture, homemade cheese danishes are best enjoyed within a few hours of baking.
Dust with powdered sugar. For an even prettier (and sweeter) danish, dust with powdered sugar just before serving.
Keep it simple. Instead of making the fancy cuts and shape, keep it simple. Dollop the cream cheese in the center of each square and bake. Voila. Same delicious cheese danish in a simple serving.
Make a whole cake. Instead of cutting your puff pastry into squares, fill the center with the cream cheese filling. Make slits in the sides and bring them up to the center (like a braid). Bake. Slice and serve.
Recipe FAQs
Do Cheese Danishes have to cool before adding icing?
I like to let my danishes cool for a few minutes before drizzling on the icing. If you can't wait, be prepared for a messy (and less pretty) danish eating experience!
Why is it called a cheese danish?
Believe it or not, danishes aren't originally Danish! This type of pastry wrapped around a cheese center originated in Austria and was brought to Denmark by Austrian immigrants. The "cheese" descriptor refers to the cream cheese filling (like cheesecake!).
Can you freeze danishes?
Yes, baked danishes can be transferred to freezer bags and frozen for up to a month. I recommend freezing without icing for best results. Let thaw and reheat in the oven before serving.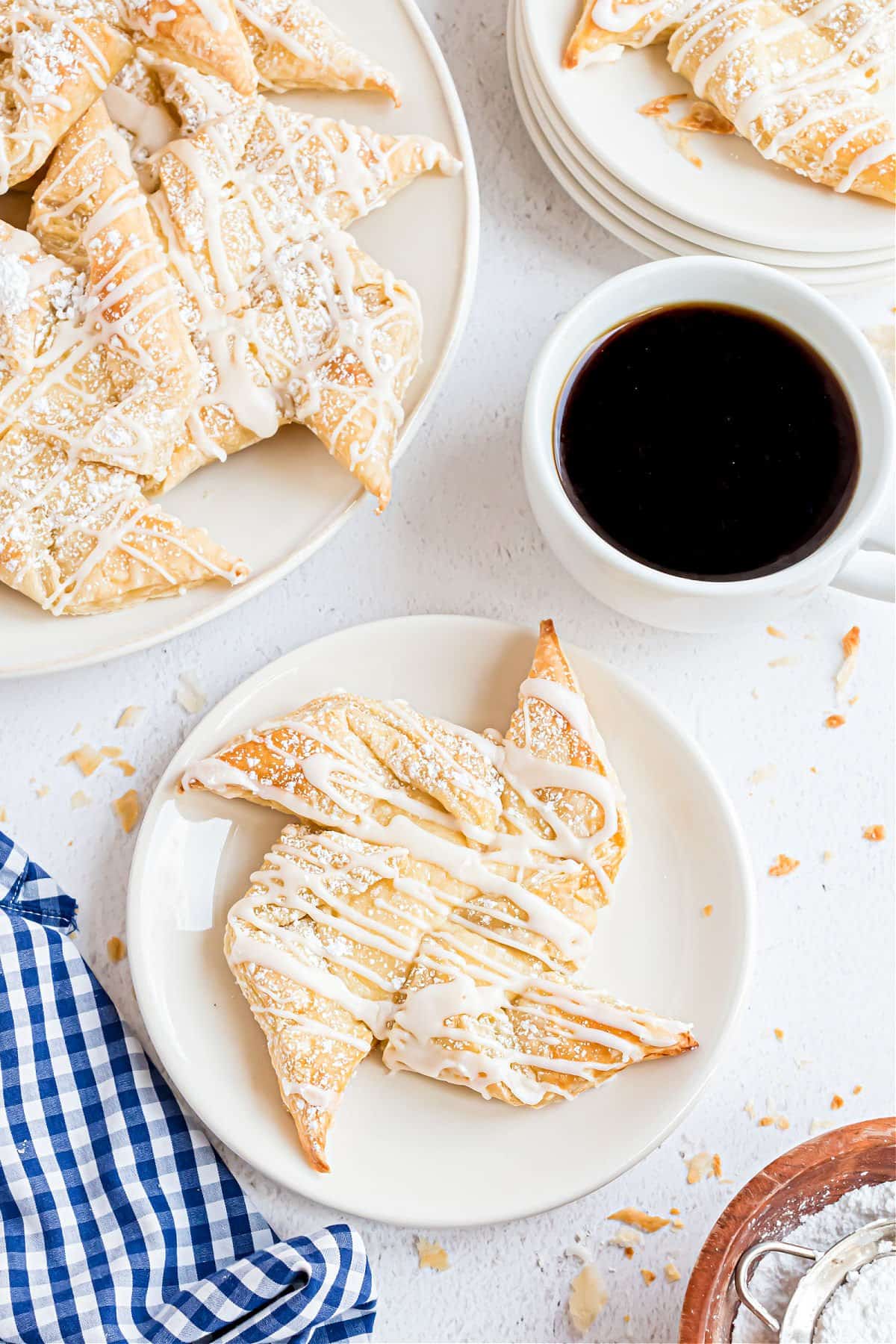 More Breakfast Pastries
This better than Starbucks Cheese Danish recipe proves that anyone can make impressive homemade pastries. Brew a pot of coffee and enjoy a flaky danish with a creamy filling–without leaving the house!