Easy Lemon Scones
No trip to a fancy bakery needed to enjoy these Lemon Scones. Simple ingredients, a little love, and you'll have a batch of these freezer friendly scones in no time!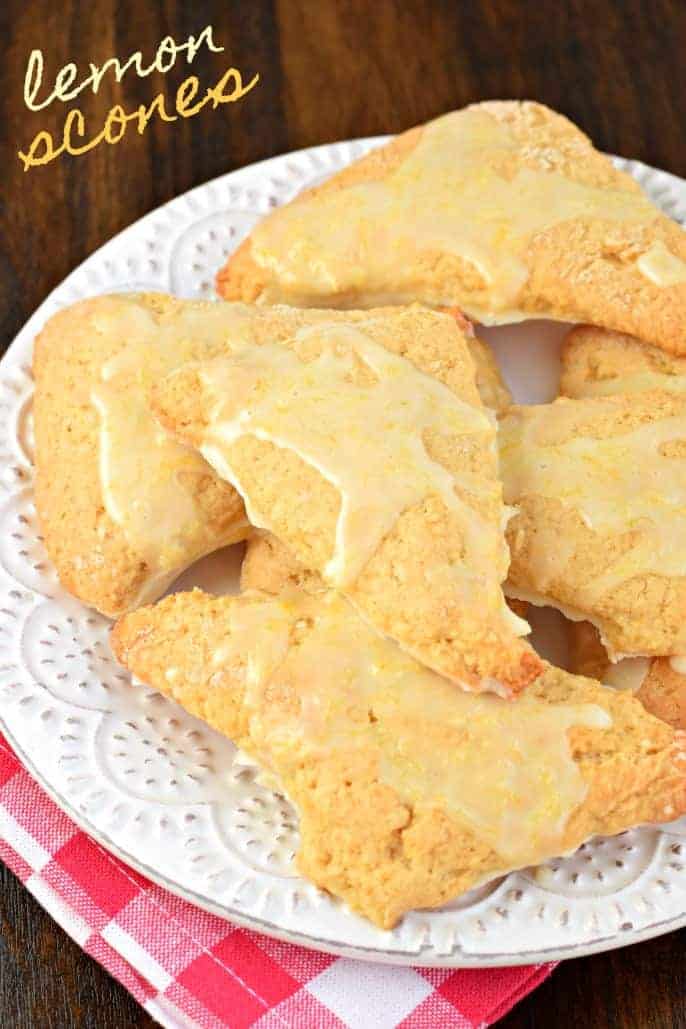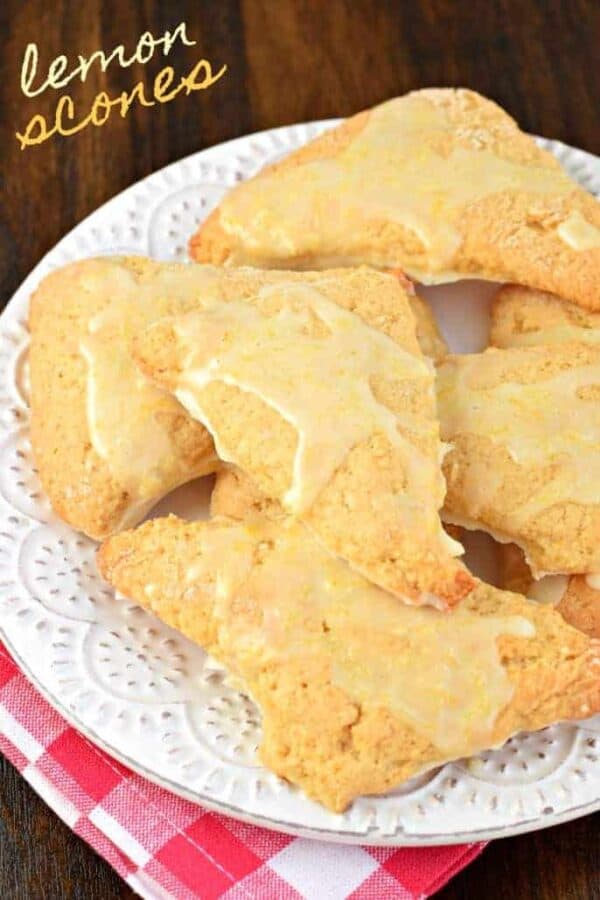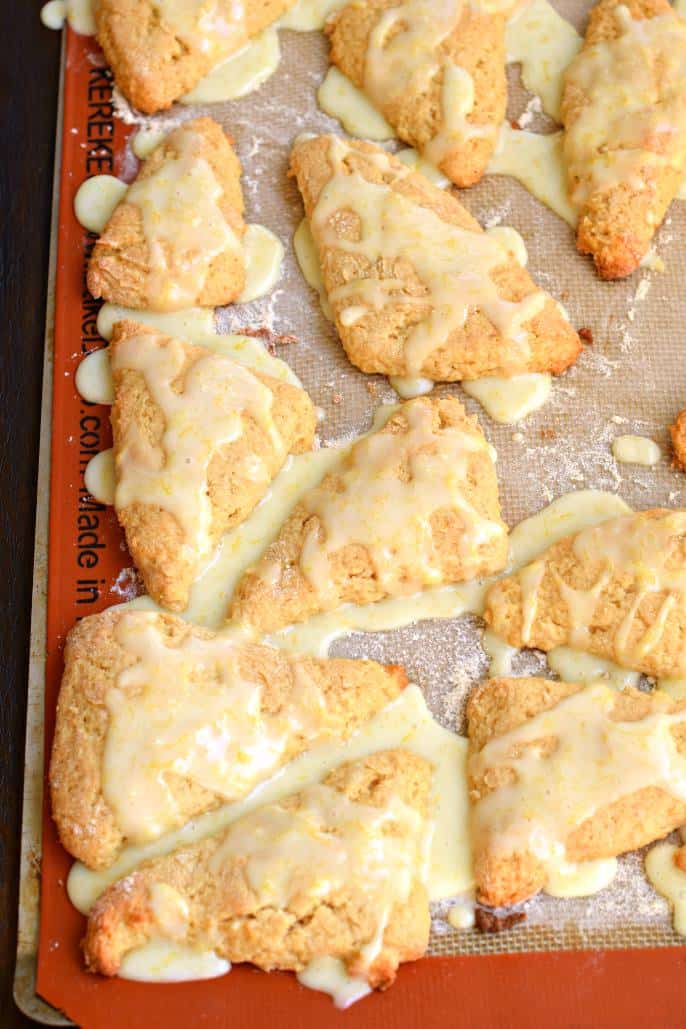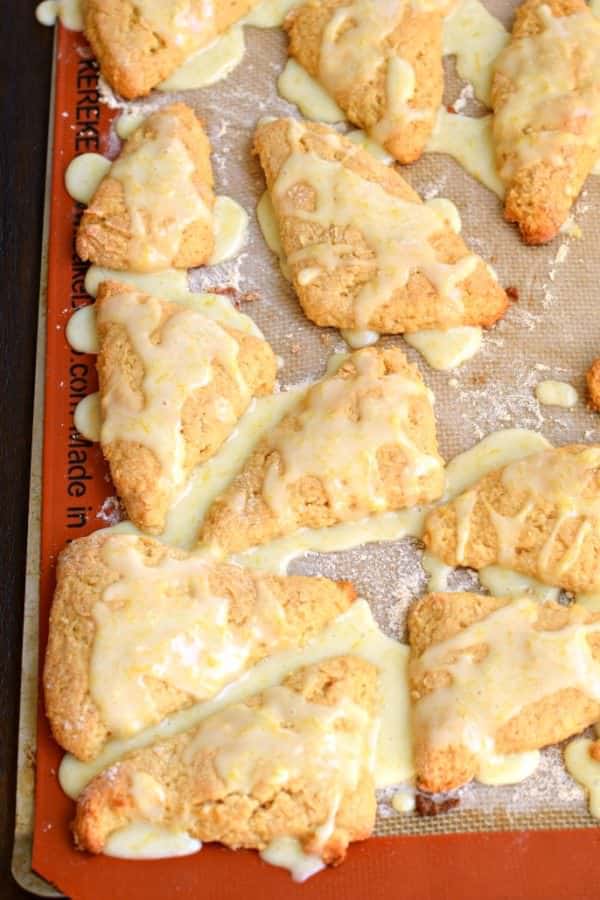 I seem to be on a breakfast roll right now….give me all the breakfast pastries please! If you follow me in instagram (and watch my stories) you'll see there is more coming too!
Several years back I made these Orange Scones. They are a copycat version of the Panera Bread Orange Scones that I love and crave! I've been meaning to make a Lemon Scone recipe for years…and never got around to it…until now!
Because, duh, Lemon is my thing. I feel like I could do the Forest Gump shrimp quote, but with lemon:
Lemon Cupcakes, Lemon Cake, Lemon Biscotti, Lemon Loaf, Lemon Cheesecake, Lemon Curd, Lemon Hand Pies, Lemon Fudge, Lemon Cookies…and then there are all the recipes with lemon AND another ingredient…but I won't list them all. You get the gist, I hope. I heart lemon recipes.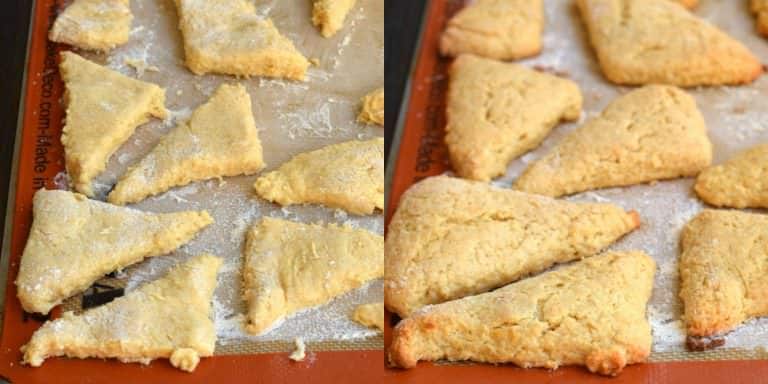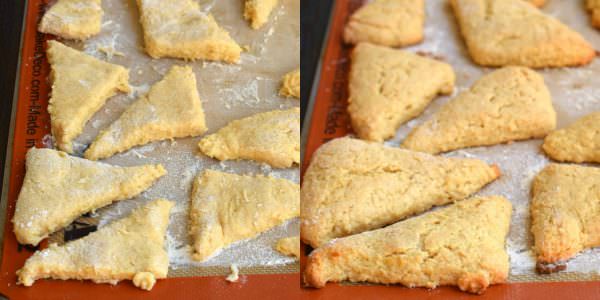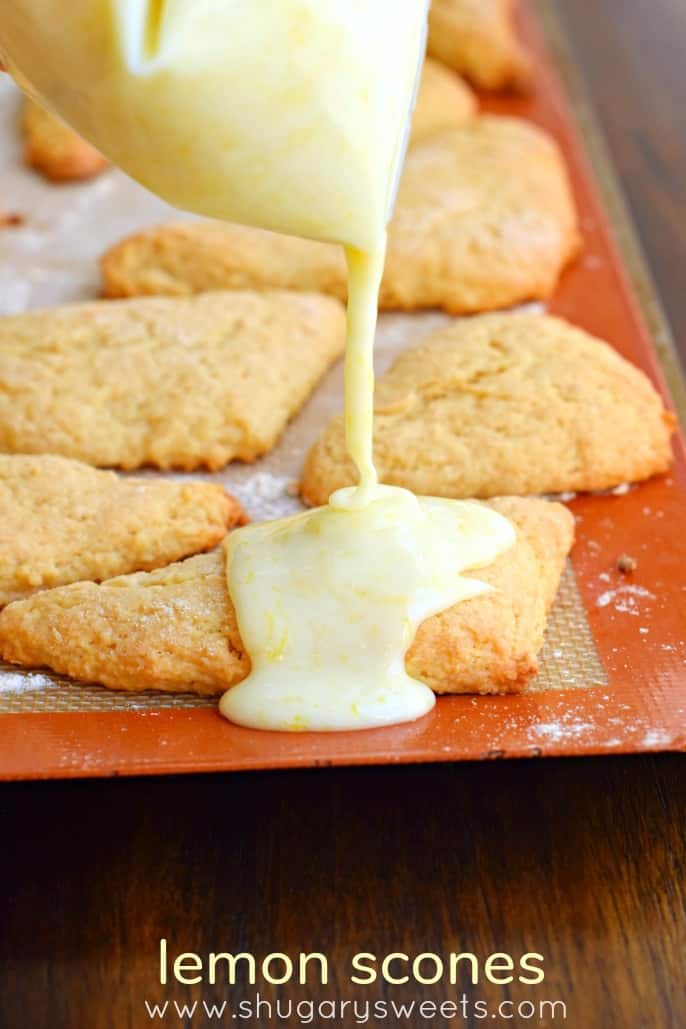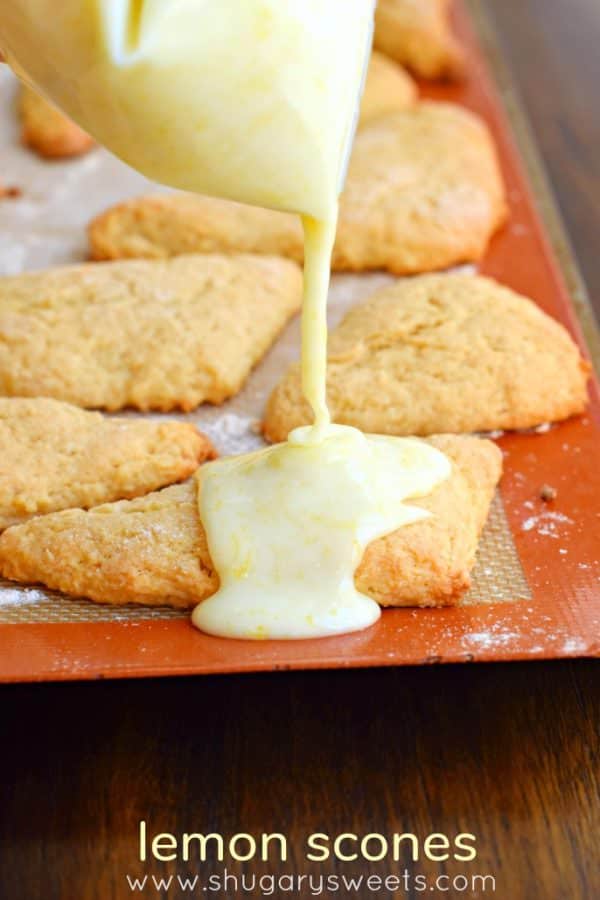 Making scones is actually very easy and you don't need a special scone pan. Just assemble and pat it with your hands. Use a pastry cutter (or pizza cutter) to make your triangles.
And for all things pure and holy, don't skip the glaze. Scones aren't an overly sweet treat…so it's the glaze that adds the right amount of sweetness to this breakfast pastry. I mean, you can make LESS glaze, but don't skip it all together please. K, thanks. ENJOY!
I created a fun little group on facebook and I'd love for you to join in! It's a place where you can share YOUR favorite recipes, ask questions, and see what's new with Shugary Sweets (so that you never miss a new recipe)! If you'd like to check it out, you can request to join HERE.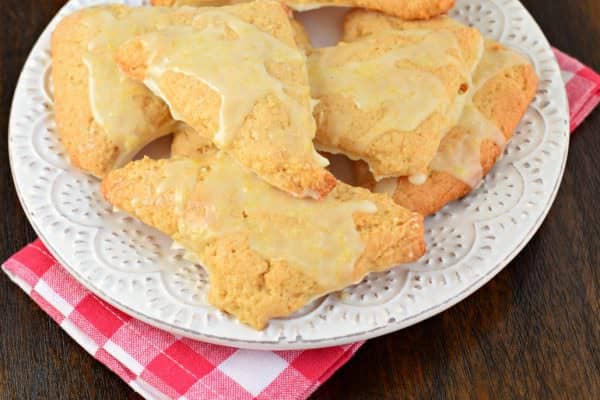 Connect with Shugary Sweets! Be sure to follow me on my social media, so you never miss a post!
Facebook | Twitter | Pinterest | instagram
Yield: 16 servings
Easy Lemon Scones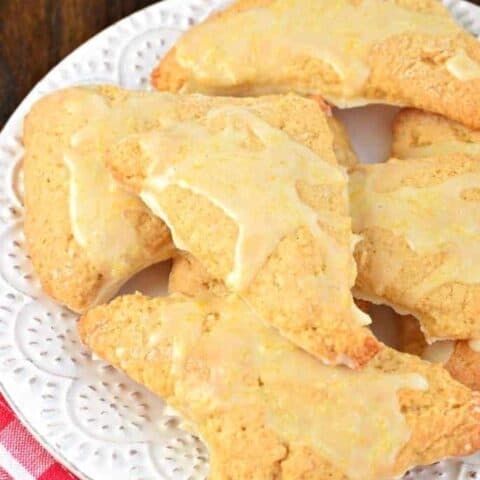 No trip to a fancy bakery needed to enjoy these Lemon Scones. Simple ingredients, a little love, and you'll have a batch of these freezer friendly scones in no time!
Ingredients
FOR THE SCONES:
1 1/2 cup all-purpose flour
1/2 cup granulated sugar
1/4 tsp kosher salt
2 tsp baking powder
6 Tbsp unsalted butter, cubed, softened
1 large egg
6 oz vanilla flavored Greek yogurt
1/4 cup lemon juice
1 Tbsp lemon zest
FOR THE GLAZE:
1 cup powdered sugar
2 Tbsp milk
1 Tbsp lemon zest
Instructions
For the scones, combine flour, sugar, salt and baking powder in a large mixing bowl. Add in butter. Mix using the beater blade of an electric mixer until it resembles coarse crumbs (you can also use a pastry cutter, if you prefer).
Add in egg, yogurt, lemon juice, and lemon zest. Combine completely.
On a large baking sheet with parchment paper (or silpat), shape dough into a large rectangle (about 9inch x 7inch by 1/2 inch thick). Use your hands to pat dough, it will be sticky. Sprinkle with flour to make it workable.
Using a large knife or pizza cutter, slice dough in half then cut into halves again, (vertically), creating four rectangles. Slice dough horizontally once through center. You should now have 8 rectangles. Cut each rectangle in half to make 2 triangles. You will be left with a total of 16 triangles. Separate them on the baking sheet, using a little extra flour if needed to keep them from sticking!
Bake in a 350 degree oven for 35-40 minutes. Remove and cool completely before glazing.
For the glaze, whisk together the powdered sugar, milk, and lemon zest. Spoon glaze over each cooled scone, allow to set, about 15 minutes. Store in an airtight container for up to 4 days. ENJOY!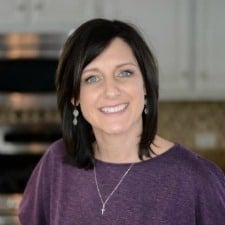 Aimee is a dessert lover (specifically rice krispie treats), workout enthusiast, self-taught foodie, and recipe creator. Her recipes have been featured in over 15 magazines, and her passion is to share her love of cooking with the everyday home cook! Learn more about Aimee.