No trip to a fancy bakery needed to enjoy these Lemon Poppy Seed Scones. Simple ingredients, a little love, and you'll have a batch of these easy freezer friendly scones ready in no time!
Love Starbucks scones? You'll swoon over these copycat Starbucks Pumpkin Scones and these Orange Scones.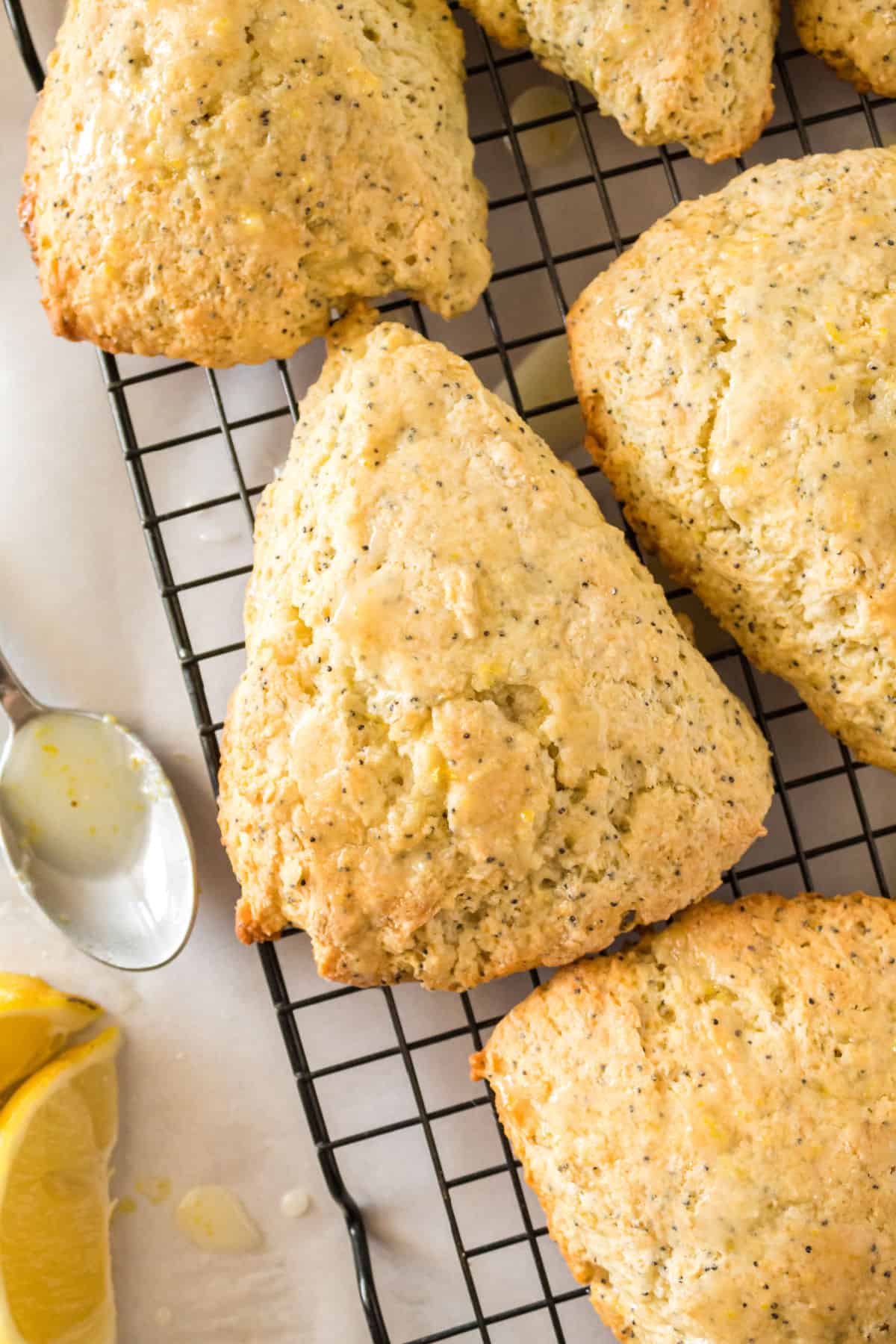 Why this recipe is best
Have you ever made a scone recipe only to have them come out tasting like dense biscuits? The kind you have to slather with tons of butter to make them taste good?
These lemon scones are the complete opposite.
Full of fresh lemon peel and poppy seeds, these scones have plenty of flavor all on their own.
Soft crumb texture.
Sweet lemon glaze.
No special "scone" baking dish needed, just a flat baking sheet!
If you lemon treats, be sure to whip up a batch of our favorite lemon poppy seed bread!
Ingredient Notes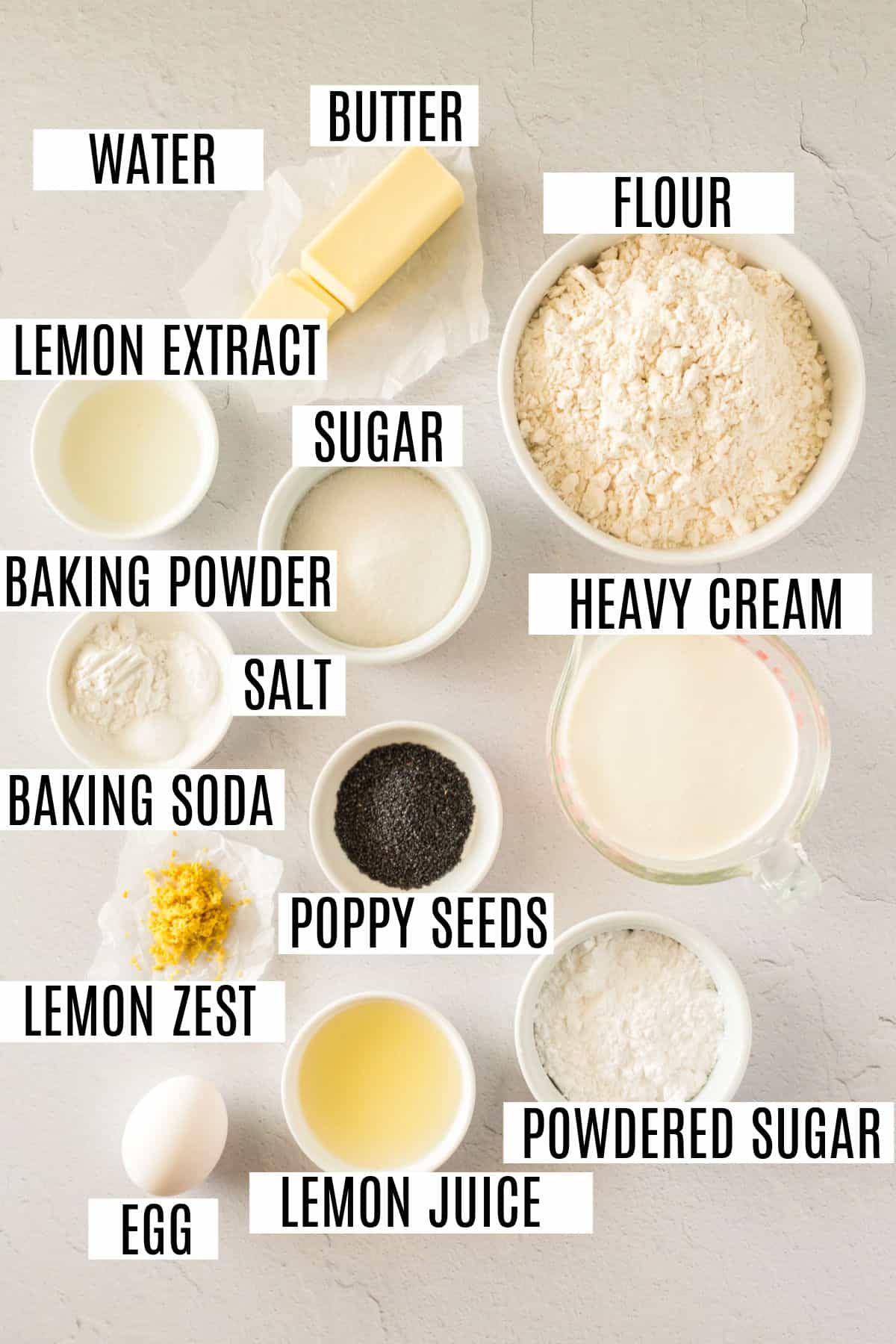 Unsalted butter. Make sure your butter is COLD before adding them to the scones. I suggest putting it in the freezer for a few minutes to guarantee maximum coldness. If using salted butter, skip the kosher salt in the ingredients.
Fresh lemons. You'll use both the grated peel of the lemon and the freshly squeezed juice in this recipe. Use our guide on how to zest a lemon for best tips and tricks.
Lemon extract. Use real PURE lemon extract for best results (not imitation flavoring).
Heavy cream. Be sure to choose heavy whipping cream as you'll want the high fat content for these scones.
Poppy seeds. These get mixed into the scone dough before baking. Totally optional!
Easy Instructions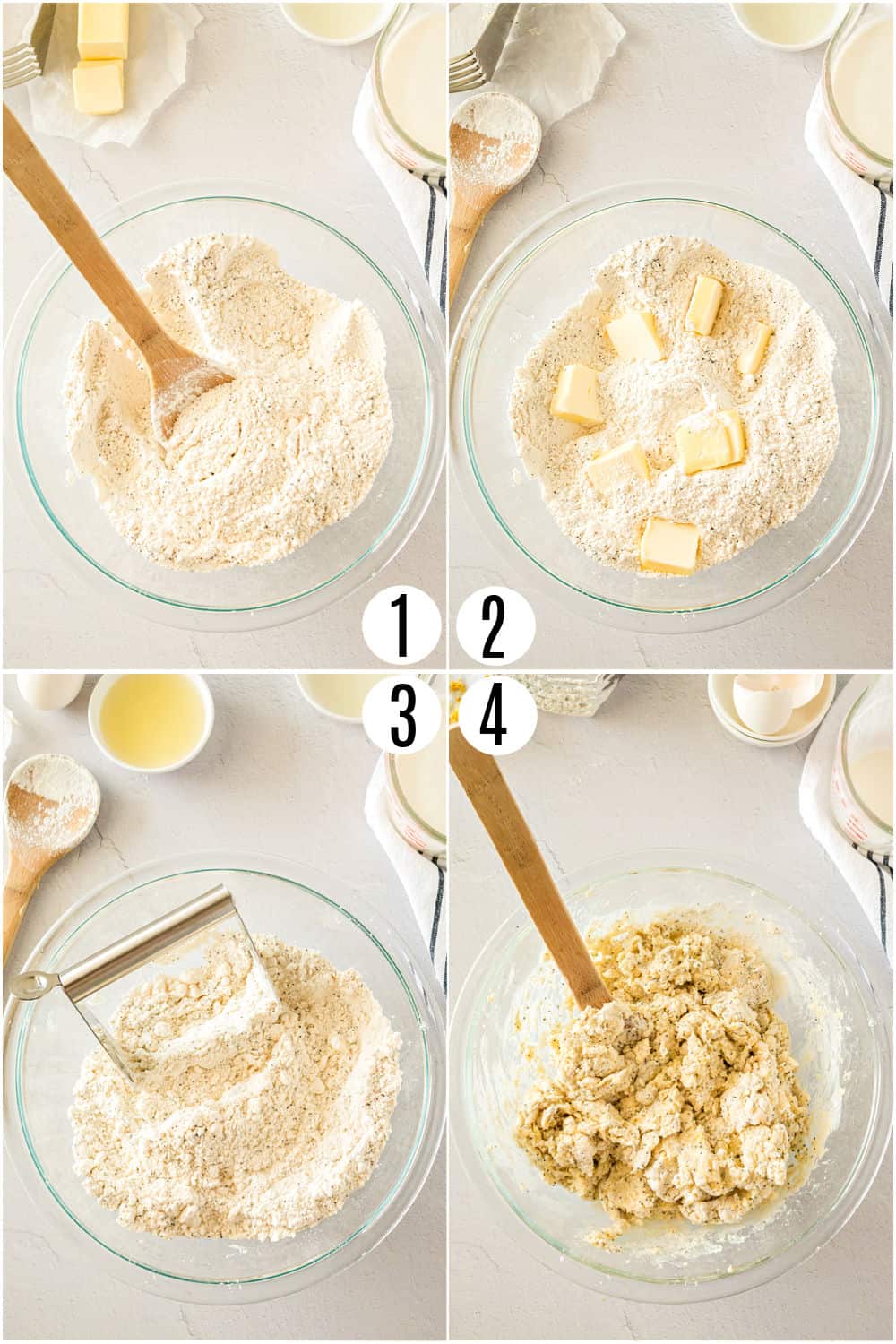 STEP 1. Make the dough
Combine the dry ingredients for the scones in a large mixing bowl. Use a pastry cutter to cut cold butter into the flour mixture.
Stir in the lemon juice, extract and peel, along with heavy cream and an egg.
STEP 2. Knead and shape
Knead the dough on a floured surface until it comes together, about 1 minute. It will be sticky.
Put it down into a disc shape about an inch thick. Cut the dough into 8 triangles (like a pizza).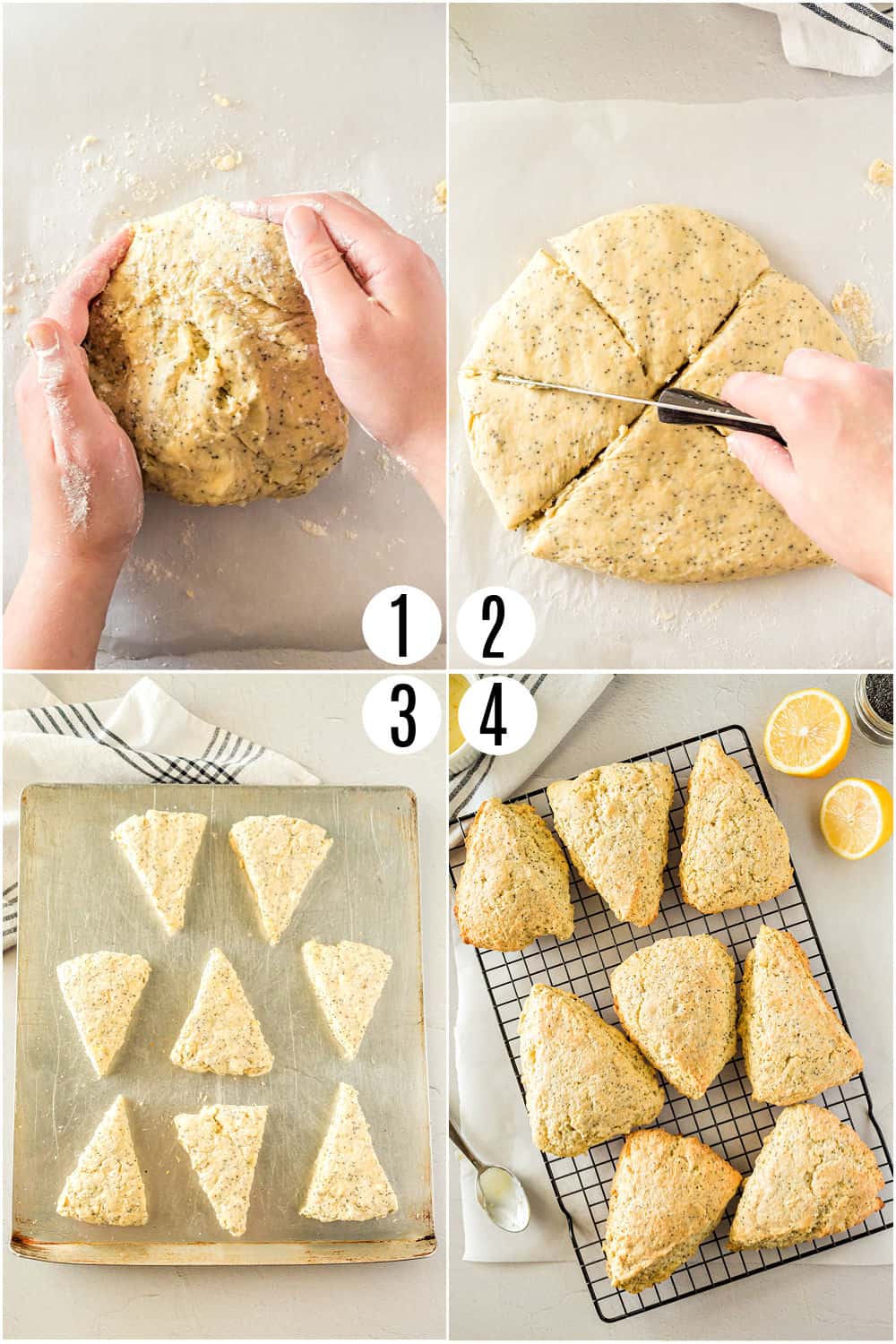 STEP 3. Bake
Bake scones until the bottoms are lightly browned (about 18 minutes). Let cool for 20 minutes.
STEP 4. Glaze
While the scones are cooling, whisk together the ingredients for the glaze. Drizzle the lemon glaze over the cooled scones.
Tips and Tricks
How to store. These scones keep well in an airtight container for about 4 days. However, they are also a wonderful pastry to freeze!
How to freeze scones. To freeze lemon scones, allow them to cool completely before placing them in a freezer safe bag or container to freeze. I recommending putting sheets of parchment or wax paper between the scones to keep them from freezing together.
Lightly grease your baking sheet. Remember this dough is sticky! You don't want to have to scrape your delicious homemade lemon scones off the pan with a knife.
Serve. Add a plate of these scones to your holiday brunch table with our delicious waffle recipe and a pot of coffee with homemade french vanilla coffee creamer.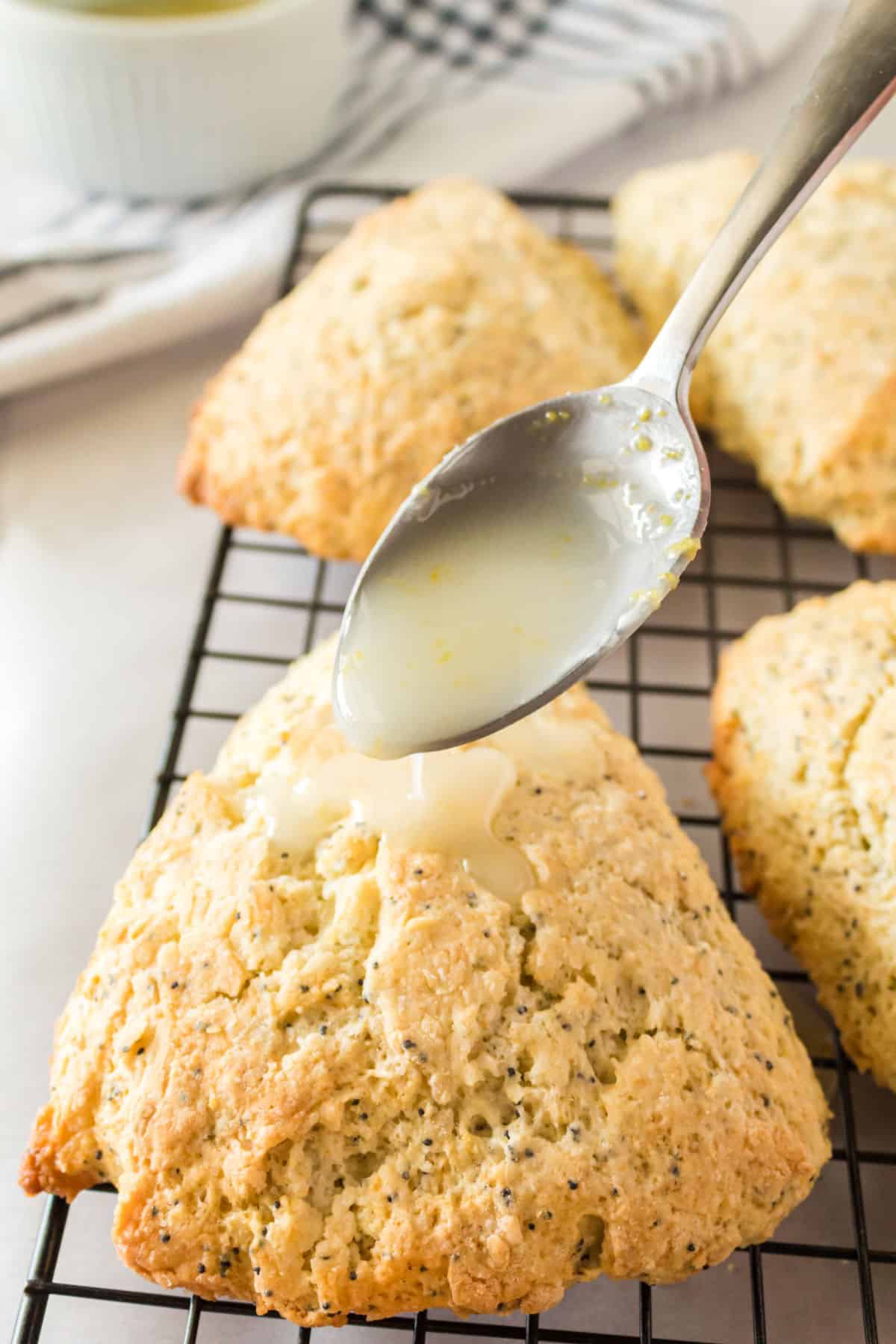 Recipe FAQs
Why does butter have to be cold for this scone recipe?
Cold butter stays between the layers of flour in little pockets instead of getting fully incorporated, creating fluffy layers. Softened butter will blend with the other ingredients in the dough resulting in a denser and less appetizing finished product.
I don't have lemon extract. Can I just use more lemon juice instead?
No, you can't use lemon juice as a substitute for lemon extract. Extract is highly concentrated so it adds a ton of flavor without much liquid. It's the key to incredible lemon taste in many of my lemon recipes!
How many lemons will I need?
Two average sized lemons will give you the right amount of juice and peel to make this recipe.
What can I use instead of heavy cream?
Buttermilk works beautifully in this recipe as a substitute for the cream.
Help! My dough is too sticky to knead. What can I do?
If your dough ends up too sticky to work with, don't panic! This is normal. Add 1 tablespoon of flour at a time until it forms a workable (but not completely smooth) dough that doesn't stick to your fingers in clumps.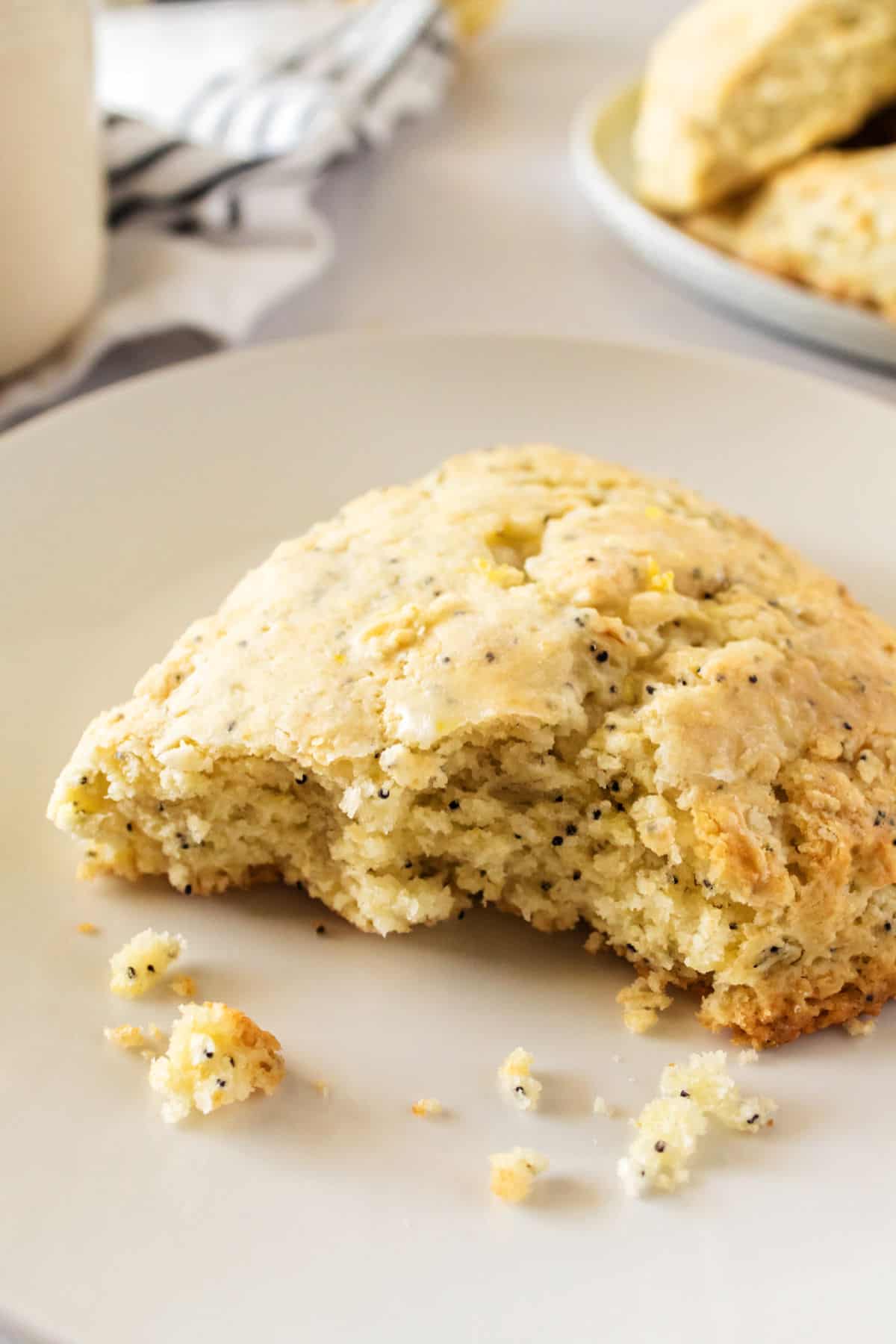 More Easy Breakfast Recipes
Once you taste these easy Lemon Poppy Seed Scones you'll never want to go back to the store bought version!