A delicious, moist Lemon Poppy Seed Bread recipe topped with a Lemon Cream Cheese frosting!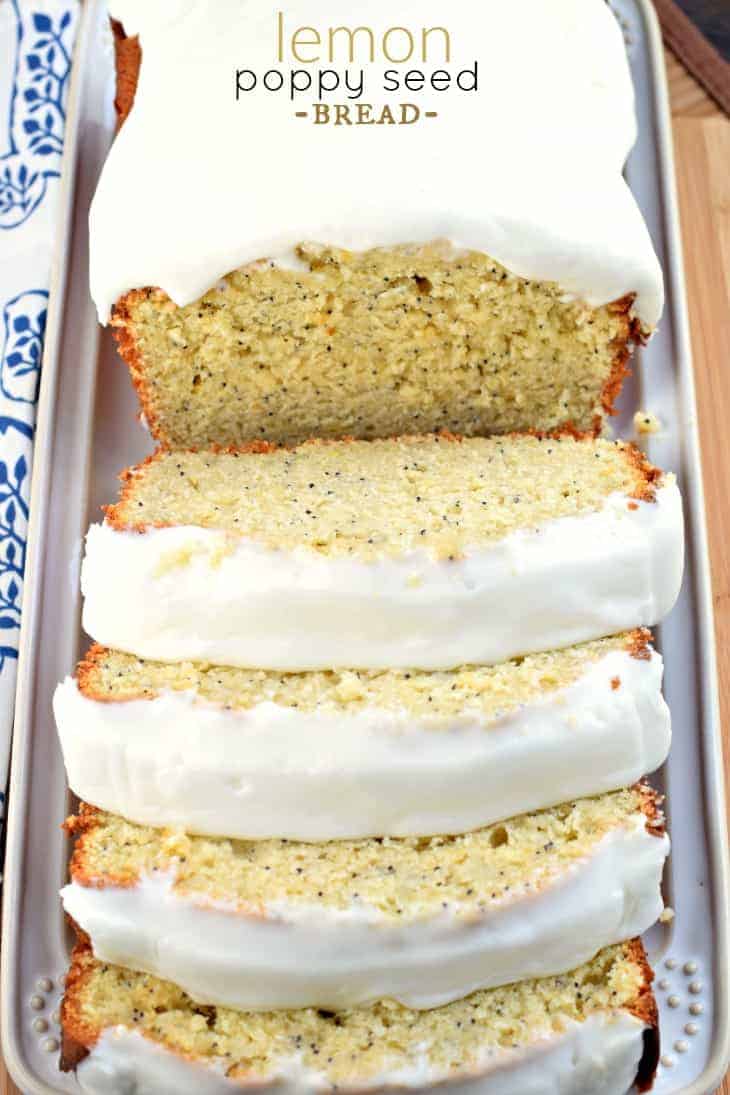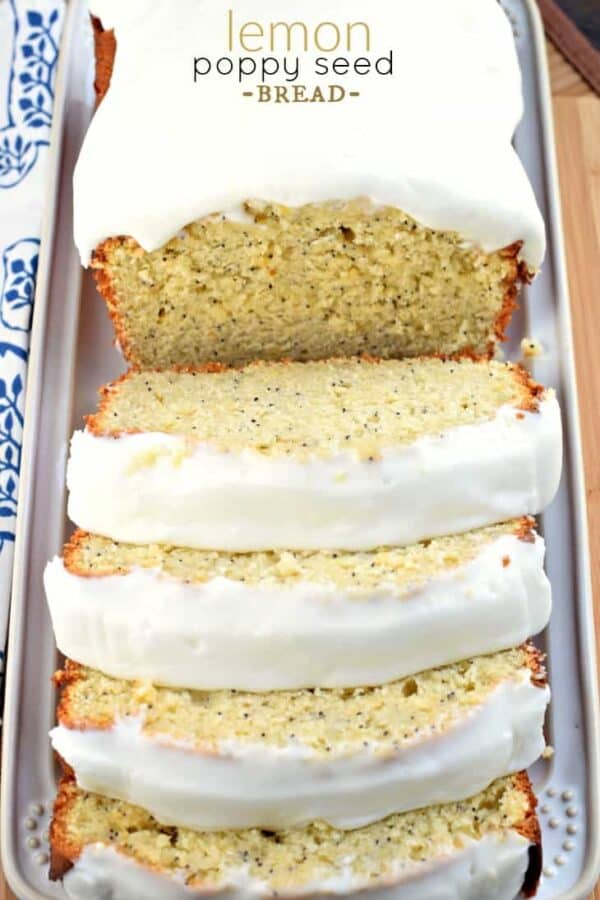 CLICK HERE TO PIN IT FOR LATER
I'm obsessed with Lemon right now. It all started with this copycat Starbuck's Lemon bread recipe! Then came these lemon poppy seed muffins. And now, today's Lemon Poppy Seed Bread recipe was born!
Do you ever get stuck in a flavor rut? Not that a rut is a bad thing. I mean, working out every day, good rut to be in. Eating lemon pastries for breakfast, another great rut!
But sometimes, I need to go through this to get past this, ya know? So bear with me as we eat ALL THE LEMONS for breakfast!
Let me tell you WHY this Lemon Poppy Seed Bread is the best! (Because I know there are other recipes out there on the internet!)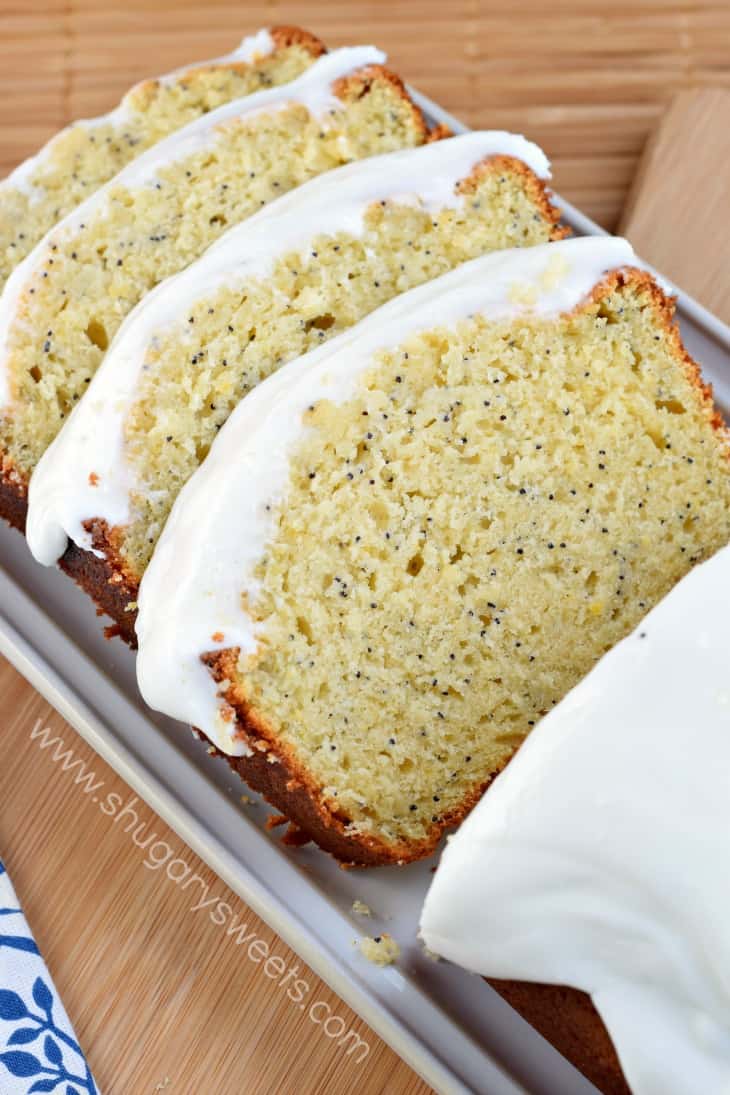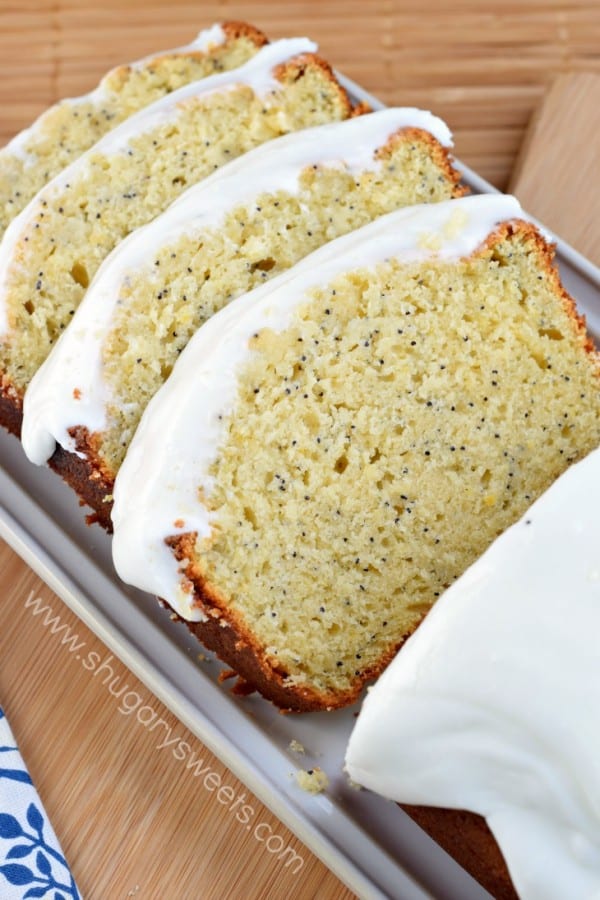 First. The amount of fresh lemons. I use SEVEN lemons, zested and juiced to make this delicious poppy seed bread. While I don't use the juice in the base of this recipe, I do add it to the simple syrup.
Second. THE SIMPLE SYRUP. ha! Once you've baked up your loaf of Lemon Poppy Seed bread, you're going to whisk together some sugar and fresh lemon juice in a saucepan, until all the sugar is dissolved. Then, drizzle this delicious liquid all over the top of your bread. Not only does this infuse MORE lemon flavor, but it adds moisture to this already moist bread!
Third. The glaze. Using more of that fresh lemon juice, you're going to combine it with some cream cheese and powdered sugar. Some call this glaze. Some call it frosting. Either way it has all the flavor of lemon, with the zing of cream cheese!
Fourth. This bread recipe makes TWO loaves. Yes. Two. If you're going through the work of baking, why not have a delicious abundance! This bread can be placed in the freezer (before or after adding the glaze, your choice). Also makes a great gift for family and friends, or neighbors in need of a cheerful treat!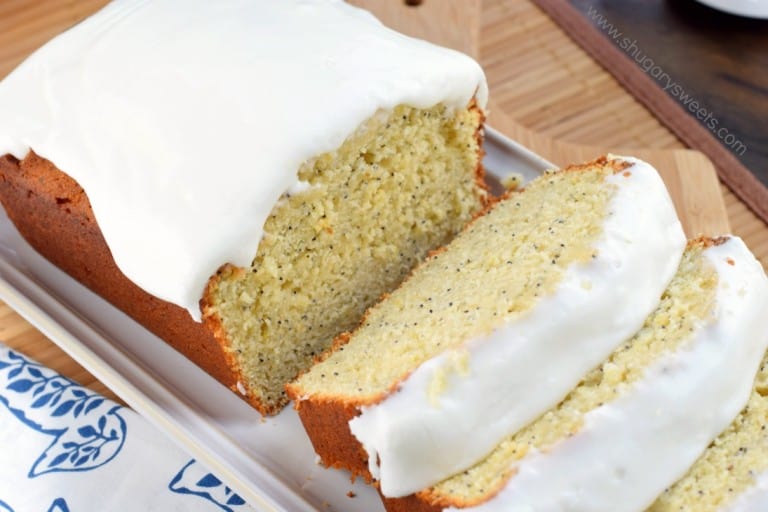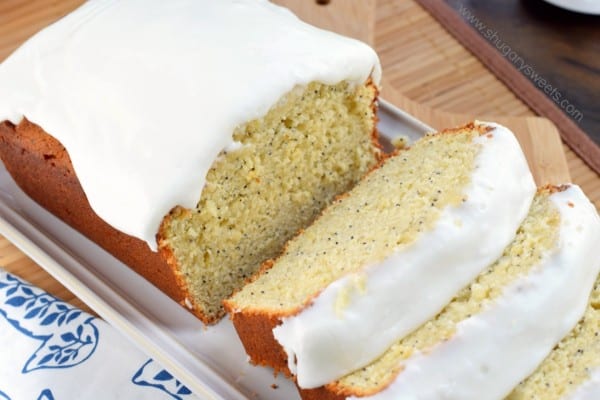 I hope you love this Lemon Poppy Seed Bread as much as we do! ENJOY!
Be sure to follow me on Instagram and tag #shugarysweets so I can see all the wonderful recipes YOU make!
Connect with Shugary Sweets! Be sure to follow me on my social media, so you never miss a post!
Facebook | Twitter | Pinterest | instagram
Yield: 2 loaves bread
Lemon Poppy Seed Bread
Cook Time
1 hour
10 minutes
A delicious, moist Lemon Poppy Seed Bread recipe topped with a Lemon Cream Cheese frosting!
Ingredients
FOR THE BREAD:
3 cups all-purpose flour
1 tsp kosher salt
1 tsp baking powder
1 tsp baking soda
1 cup unsalted butter, softened
2 cups granulated sugar
5 large eggs
7 lemons, zested and juiced (save the juice)
2 cups vanilla greek yogurt
1 tsp vanilla extract
2 Tbsp poppy seeds
FOR THE SIMPLE SYRUP:
1/2 cup granulated sugar
1/2 cup reserved lemon juice (from your fresh lemons above)
FOR THE GLAZE:
4 oz cream cheese, softened
3 cups powdered sugar
1/4 reserved lemon juice (from your fresh lemons above)
Instructions
Zest and juice all the lemons first. You should have approximately 1 cup juice from your lemons. Set aside.
In a small bowl, combine your flour, salt, baking powder, and baking soda. Set aside.
In a large mixing bowl beat butter with sugar until fluffy (about 2 minutes). Add eggs, one at a time, beating until fully incorporated. Beat in lemon zest, 1/4 cup of lemon juice, vanilla extract, and poppy seeds.
Beat in flour mixture and yogurt alternatively until fully combined (in about 3 additions).
Pour batter into TWO 9x5-inch loaf pans that have been greased with baking spray. Bake in a 350 degree F oven for 40 minutes. Cover loosely with foil and bake an additional 20-30 minutes until toothpick inserted in the center comes out clean.
Remove from oven. In a small saucepan, whisk together the simple syrup ingredients over low heat. Whisk until sugar is dissolved. Poke holes in lemon loaf using a toothpick. Pour syrup over loaves. Remove from pan and cool on wire rack.
For the glaze, beat together the cream cheese, powdered sugar and lemon juice. Add more or less lemon juice to get desired consistency. Pour over cooled bread. Allow to set (about 15 minutes). Slice and enjoy. Store in airtight container for up to 5 days. ENJOY!
Love lemon recipes? Here's a few of my favorites: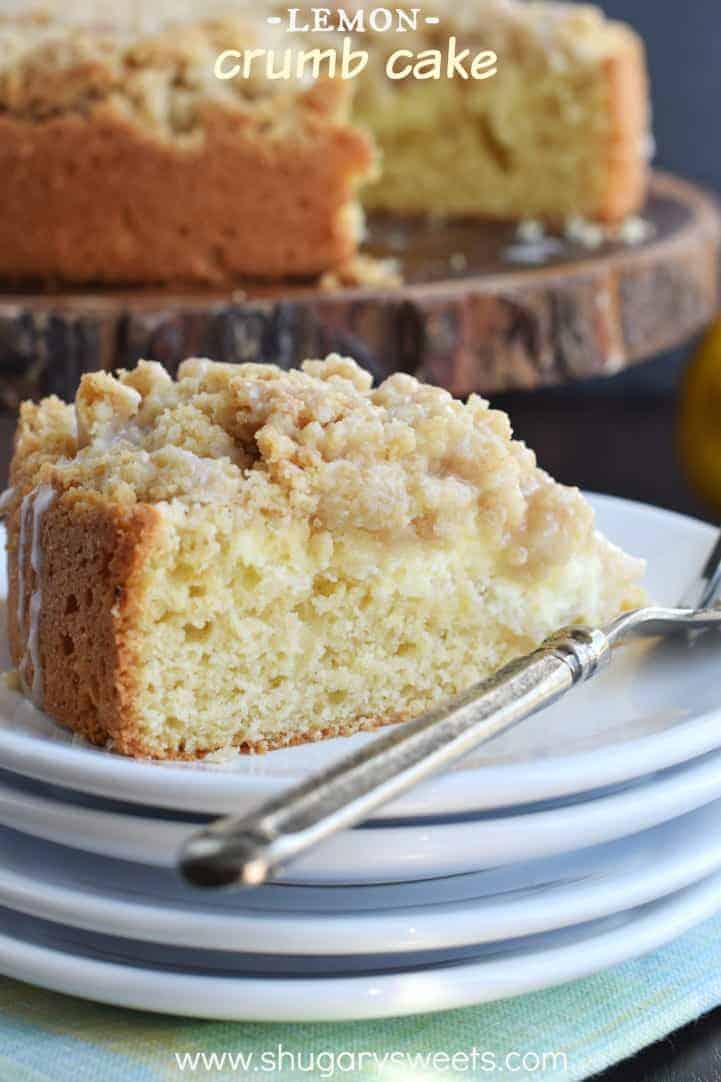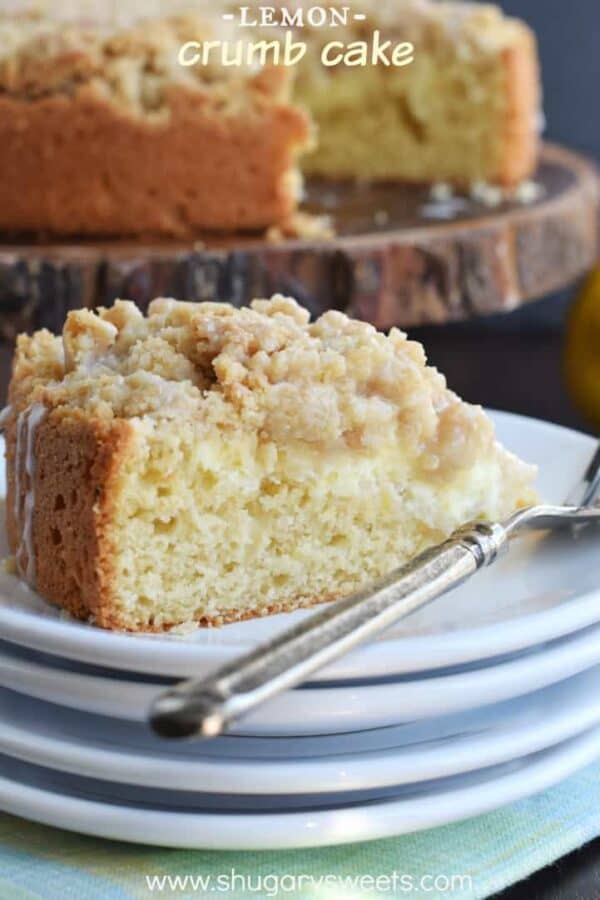 This Lemon Crumb Cake is one of my favorite breakfast pastries! Have you tried it yet?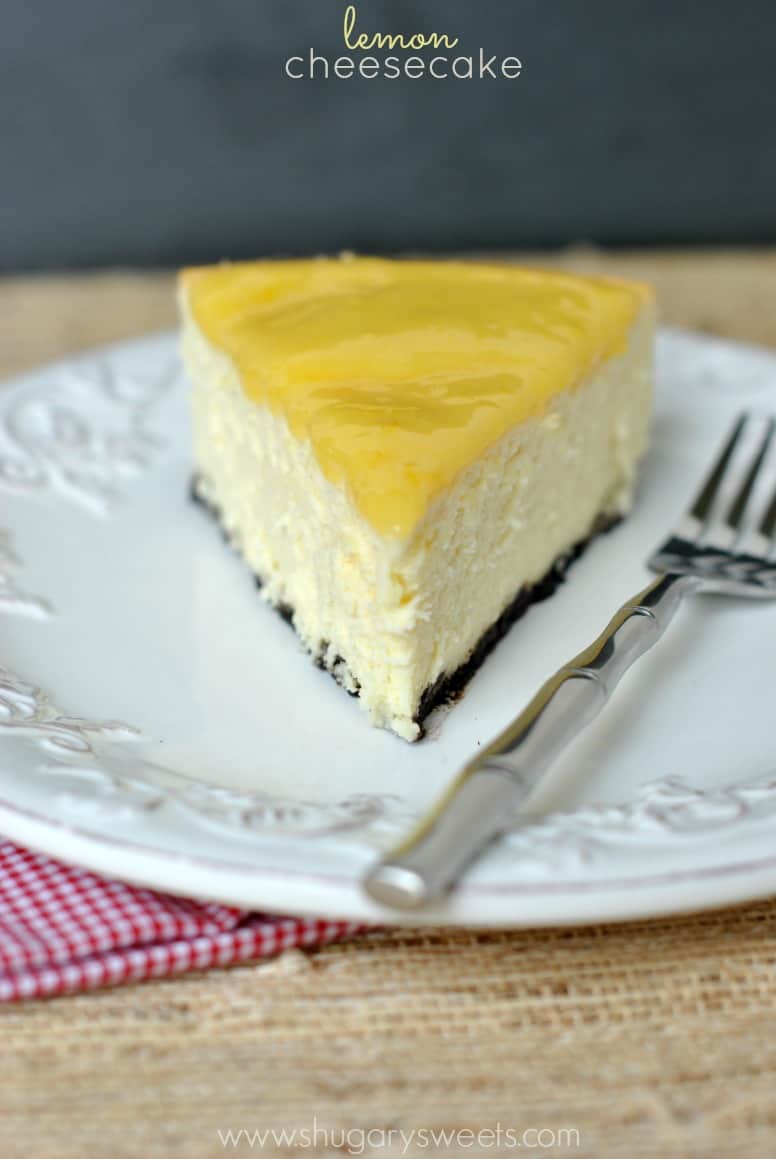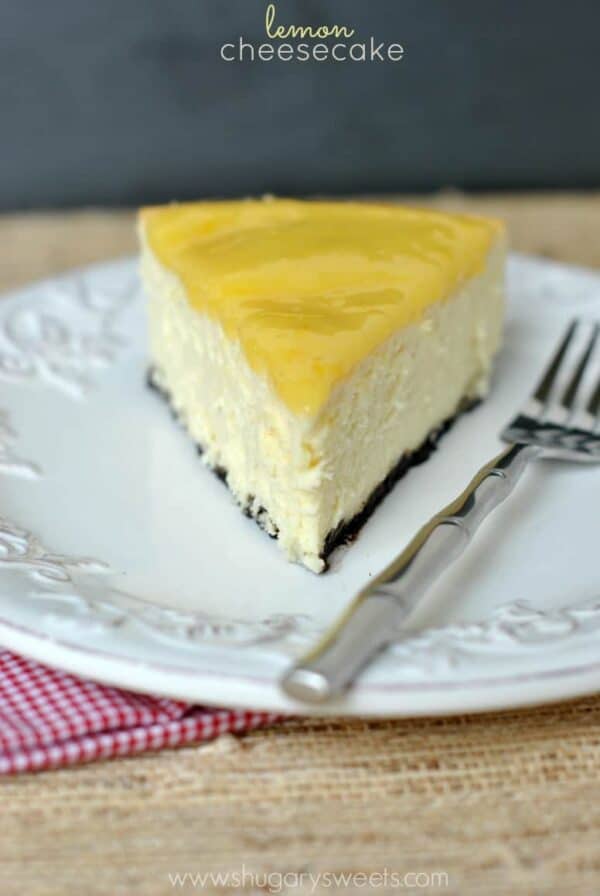 Lemon Cheesecake: delicious cheesecake recipe with a homemade lemon curd on top!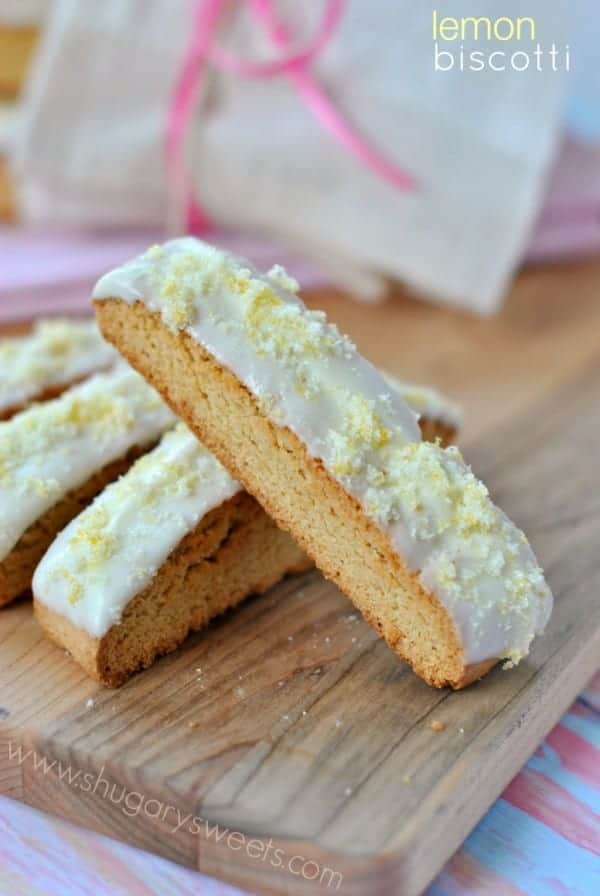 Lemon Biscotti: a sweet breakfast that is perfect dunked in your morning coffee!