Use up some of the summer zucchini with these incredibly moist and delicious Lemon Poppy Seed Zucchini Muffins. The crumb topping and sweet lemon glaze give incredible texture and flavor to the fluffy muffins.
Having extra zucchini is a perfect excuse to bake a batch of Chocolate Chip Zucchini Brownies too. Or give these Cinnamon Zucchini Bars a try!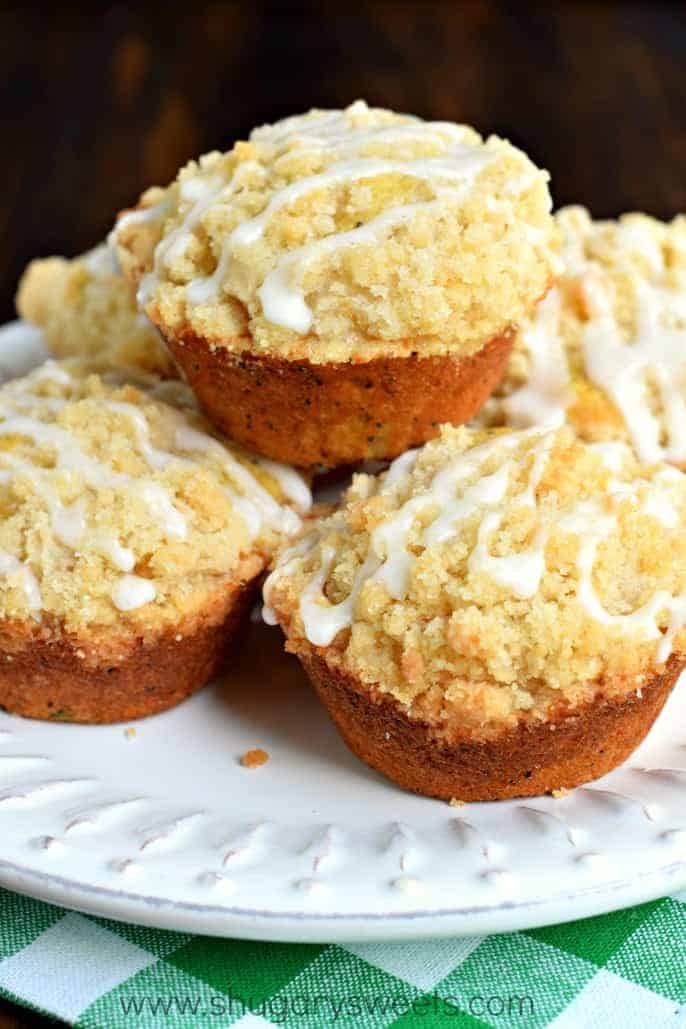 Why this Recipe is Best
These Lemon Poppy Seed Zucchini Muffins are a great addition to your morning routine, and they freeze well too.
But let's talk about that crumb topping. And the lemon glaze. All wonderful additions to an already flavorful and moist muffin. These muffins truly have it all:
lemon poppy seed
moisture from the zucchini
crunchy crumb topping
sweet lemon glaze
If you love these muffins, be sure to try our lemon poppy seed bread next!
Ingredient Notes
Turning zucchini into amazing lemon muffins is easy with a few simple ingredients.
Shredded zucchini – You can use freshly shredded zucchini or thawed frozen zucchini in these muffins.
Butter – Using melted butter results in a moist muffin with a delicate crumb.
Milk – I use skim milk. Whole milk or even nondairy milk will work too.
Lemons – These muffins use both the juice and zest in the batter. Get our tips on how to zest a lemon.
Lemon extract – The super concentrated lemon flavor gives the muffins an even more intense zesty taste.
Poppy seeds – The tiny black seeds lend a mild nutty flavor to the lemon muffins.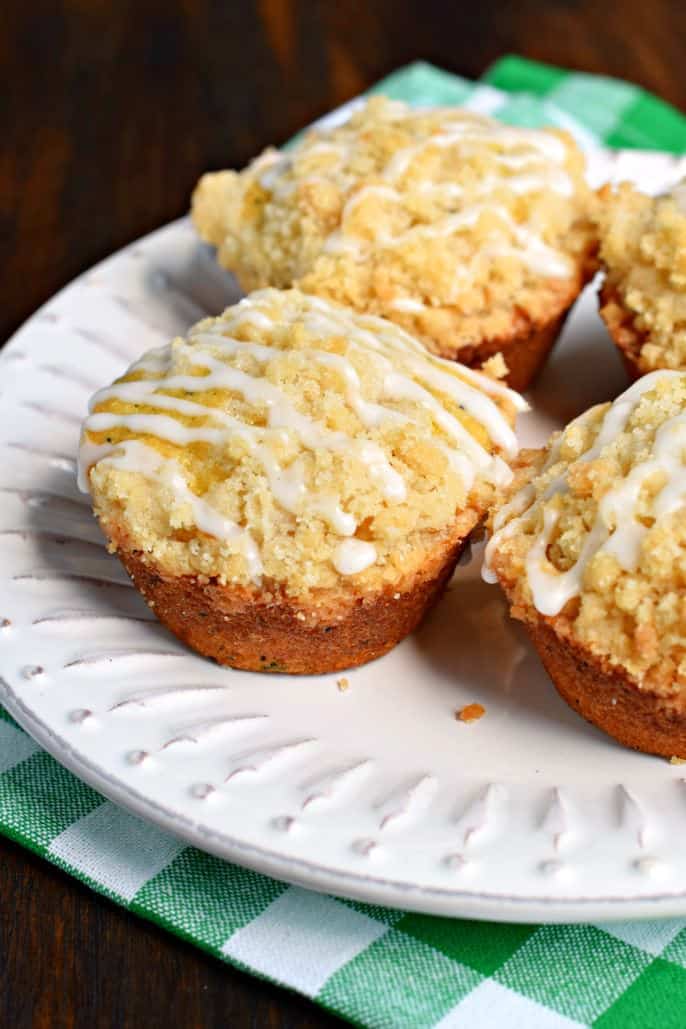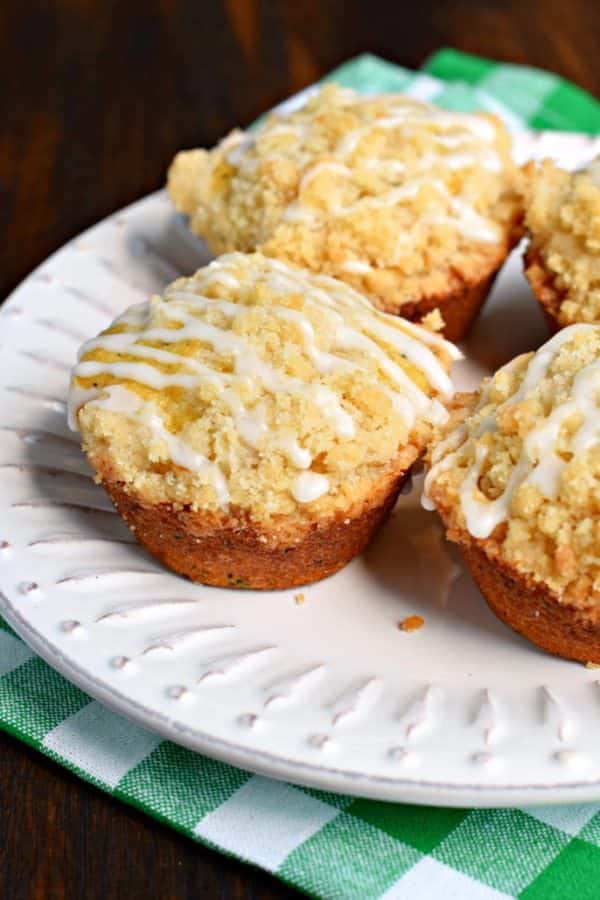 Easy Instructions
Lemon Zucchini Muffins are a breeze to make.
Make the batter: Mix together the dry ingredients. Then mix in the zucchini and wet ingredients until combined. Fold in the poppy seeds last.
Fill muffin tins: Divide the batter evenly into a greased muffin pan.
Make the crumb topping: Use a fork to combine additional flour with melted butter and sugar. Sprinkle it over the tops of the unbaked muffins.
For the lemon glaze: Combine the glaze ingredients in a small bowl. Drizzle it over the baked muffins before serving.
Tips and Tricks
Grate the zucchini with a box grater or other hand held grating tool. You want it finely shredded; not pureed.
Fill each cavity of the muffin tin about 2/3 of the way full. This leaves them room to rise while getting a slightly domed top.
Bake the muffins until lightly browned. They're done baking when a toothpick inserted in the center comes out clean.
Let the muffins cool completely before adding the glaze. If the muffins are warm the glaze will melt and make a sticky (but still delicious) mess.
Store baked muffins in an airtight container at room temperature.
Bake our lemon zucchini cake recipe next for a delicious dessert!
Recipe FAQs
What can I use in lemon muffins instead of poppy seeds?
Chia seeds can be used in place of the poppy seed muffins. They have a similar appearance and taste.
You can also simply omit the seeds altogether. The Lemon Zucchini Muffins are delicious even without poppy seeds.
Can I freeze these? With or without the glaze?
Yes, these muffins are perfect for freezing! After baking, transfer them to freezer bags and keep frozen for up to several months.

I recommend storing most muffins without glaze. It only takes a minute to whip up fresh glaze to drizzle over the muffins after they've thawed.
Do I have to squeeze out the water from the zucchini?
Squeezing out the water isn't usually necessary. The natural liquid in shredded zucchini makes the muffins so moist!

I do find that zucchini that's been frozen and thawed tends to be much more watery than freshly grated. If you use frozen zucchini in this recipe, I recommend giving it a squeeze in a strainer over the sink to remove the excess liquid.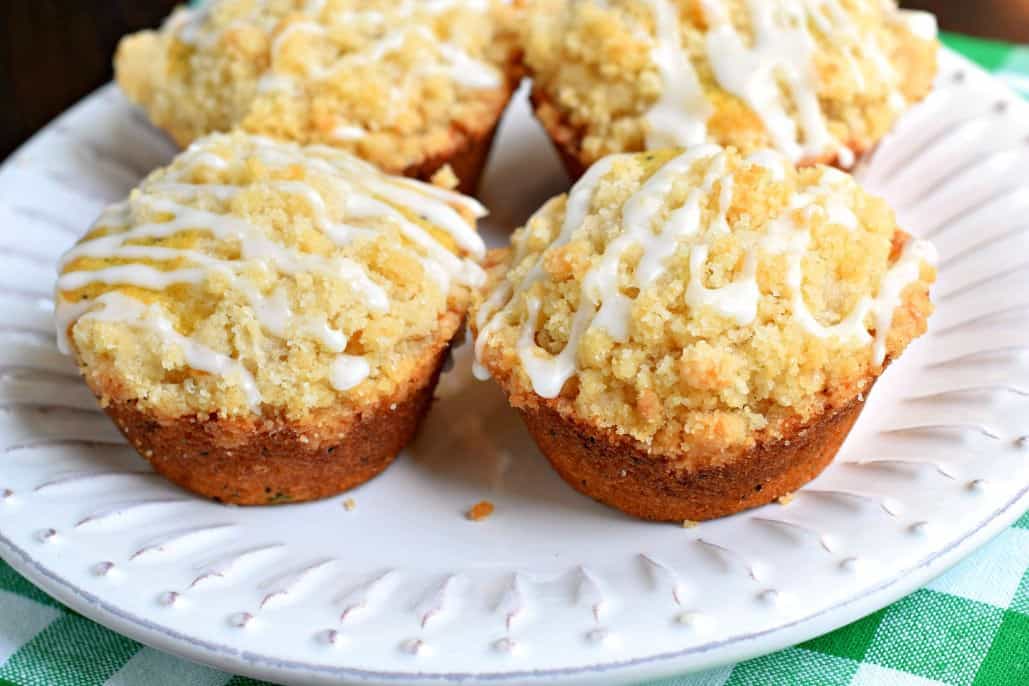 More Muffin Recipes
Lemon takes the spotlight in Lemon Poppy Seed Zucchini Muffins! You'll love the zesty sweet glaze and crumb topping in this easy muffin recipe.