Change up your usual zucchini bread treats with these amazingly good Cinnamon Frosted Zucchini bars! Covered in a thin glaze of cinnamon icing, these zucchini bars are easy to make and freeze wonderfully.
Love zucchini? Our Zucchini Orange Muffins are delightful. Perfect for breakfast or dessert! Or make some zoodles for dinner tonight!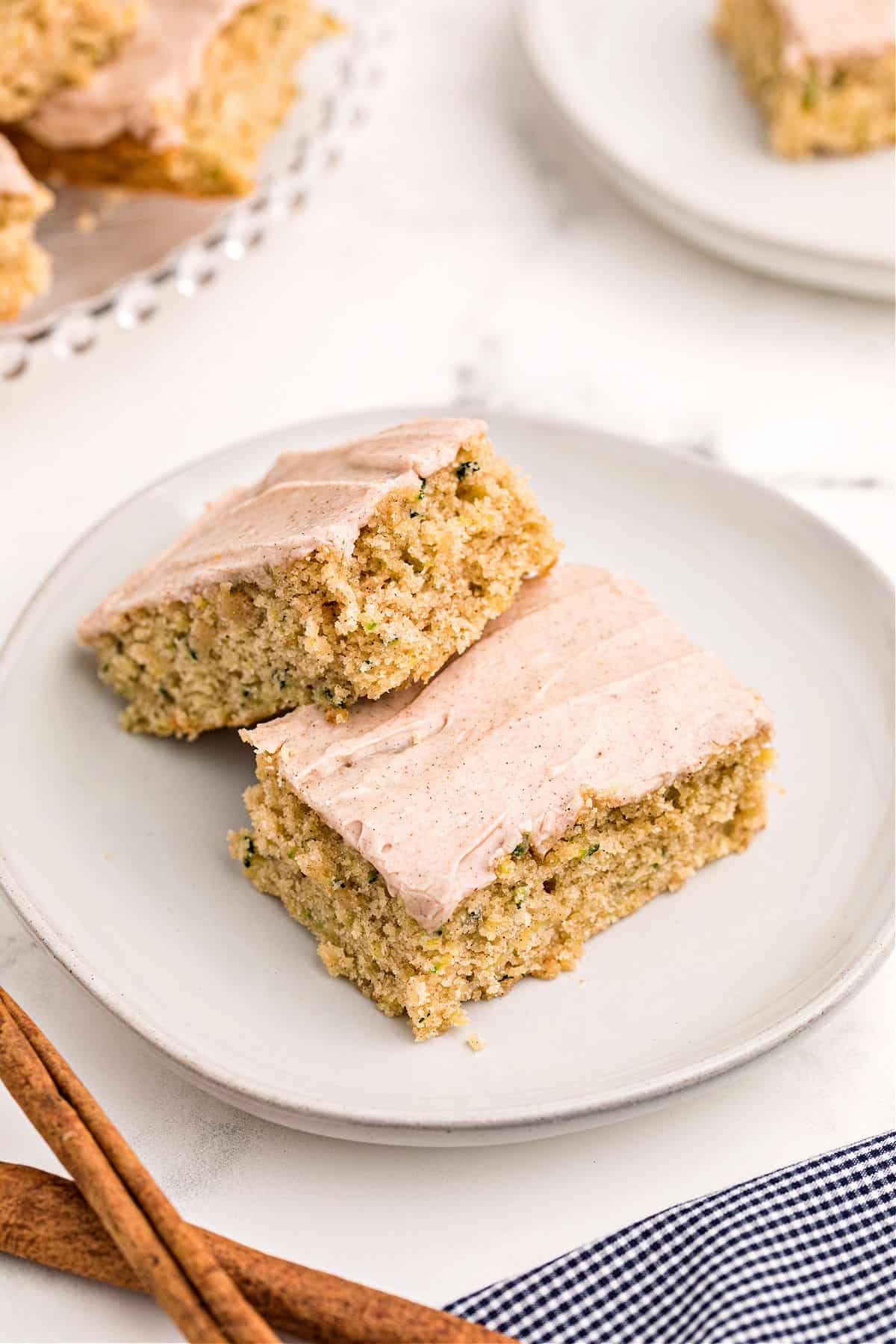 Why this Recipe Works
Like you may have gathered by now, I'm a big fan of the moisture and flavor zucchini adds to baked goods.
These bars are more moist and sweet than a typical zucchini bread and remind me a bit of a soft baked cake bar in texture.
The bars themselves are delicious enough to enjoy without the frosting.
That said, please, please, please make the cinnamon frosting! It's just too good to miss out on! With real cinnamon, butter and powdered sugar, it adds a thin layer of glazed sweetness (and the tiniest hint of spice)!
With two cups of zucchini in the batter, you can totally justify these as a "healthy" breakfast option, too.
These bars also taste wonderful with cream cheese frosting, in case you're wondering!
While you're at it, you might as well make Lemon Zucchini Cake, Zucchini Brownies and classic Zucchini Banana Bread too. You can stock your freezer full and have great tasting zucchini baked goods all year long!
Ingredient Notes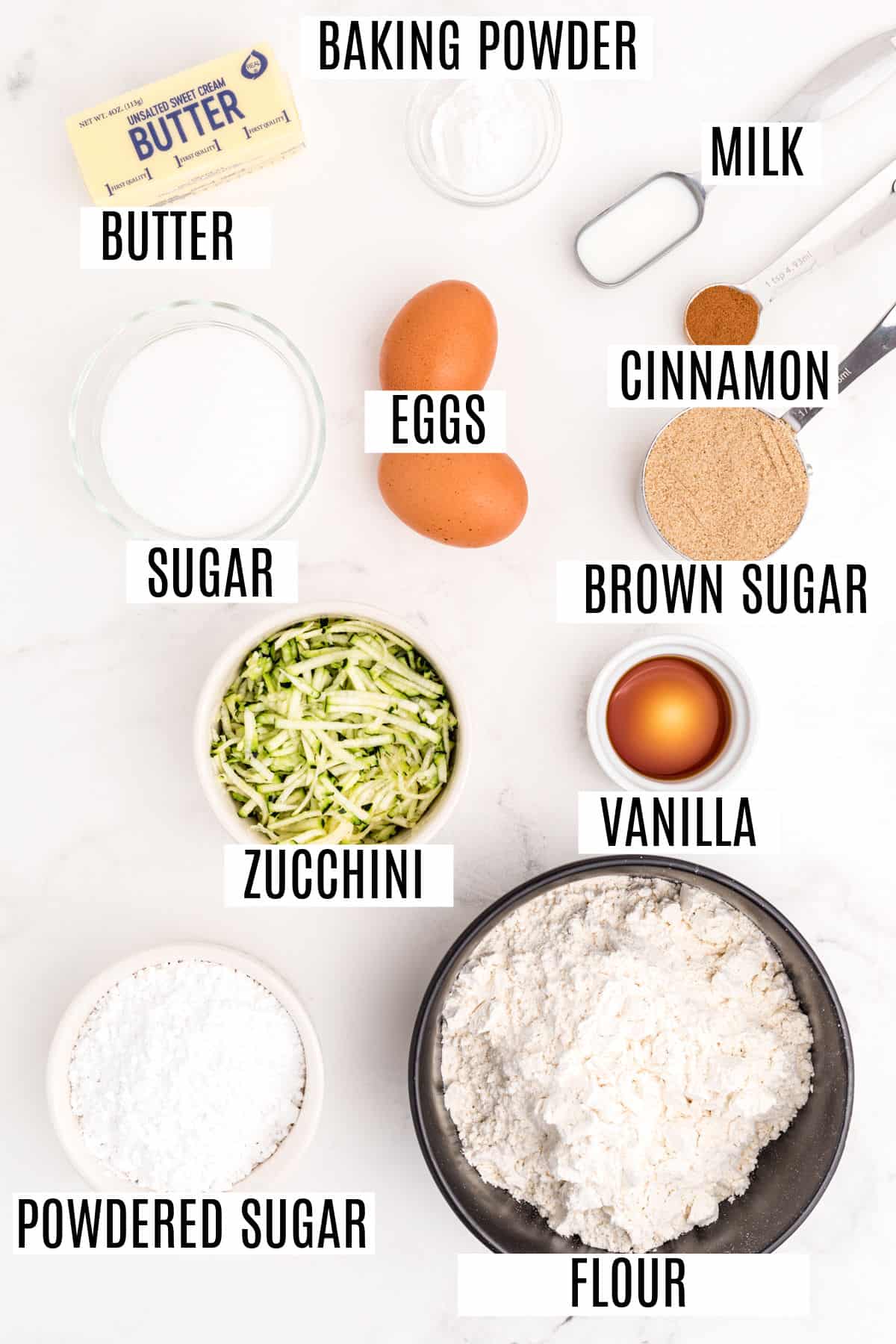 I've been swimming in zucchini lately so I always have plenty of it on hand for turning into bars. But, if you don't grow your own, these bars are totally worth running out to the farmer's market or supermarket.
Zucchini, grated– if using zucchini that you already froze, be sure to squeeze out the excess moisture, THEN measure it.
Butter– I always use unsalted butter in my baking, unless otherwise noted. If using salted butter, omit the kosher salt in this recipe.
Sugars- a combination of granulated sugar and light brown sugar keeps these bars sweet AND moist!
Vanilla Extract- gives these bars a boost of flavor, like cookies! Be sure to choose a pure vanilla extract (not imitation) or make your own homemade vanilla extract to save money and give as gifts!
Easy Instructions
STEP 1. Cream together butter and sugars. Add eggs and vanilla. Mix in flour, cinnamon and baking powder. Fold in the shredded zucchini and mix until well blended.
STEP 2. Pour into greased jelly roll pan and bake in a 350 degree oven for 25-30 minutes.
STEP 3. Add frosting.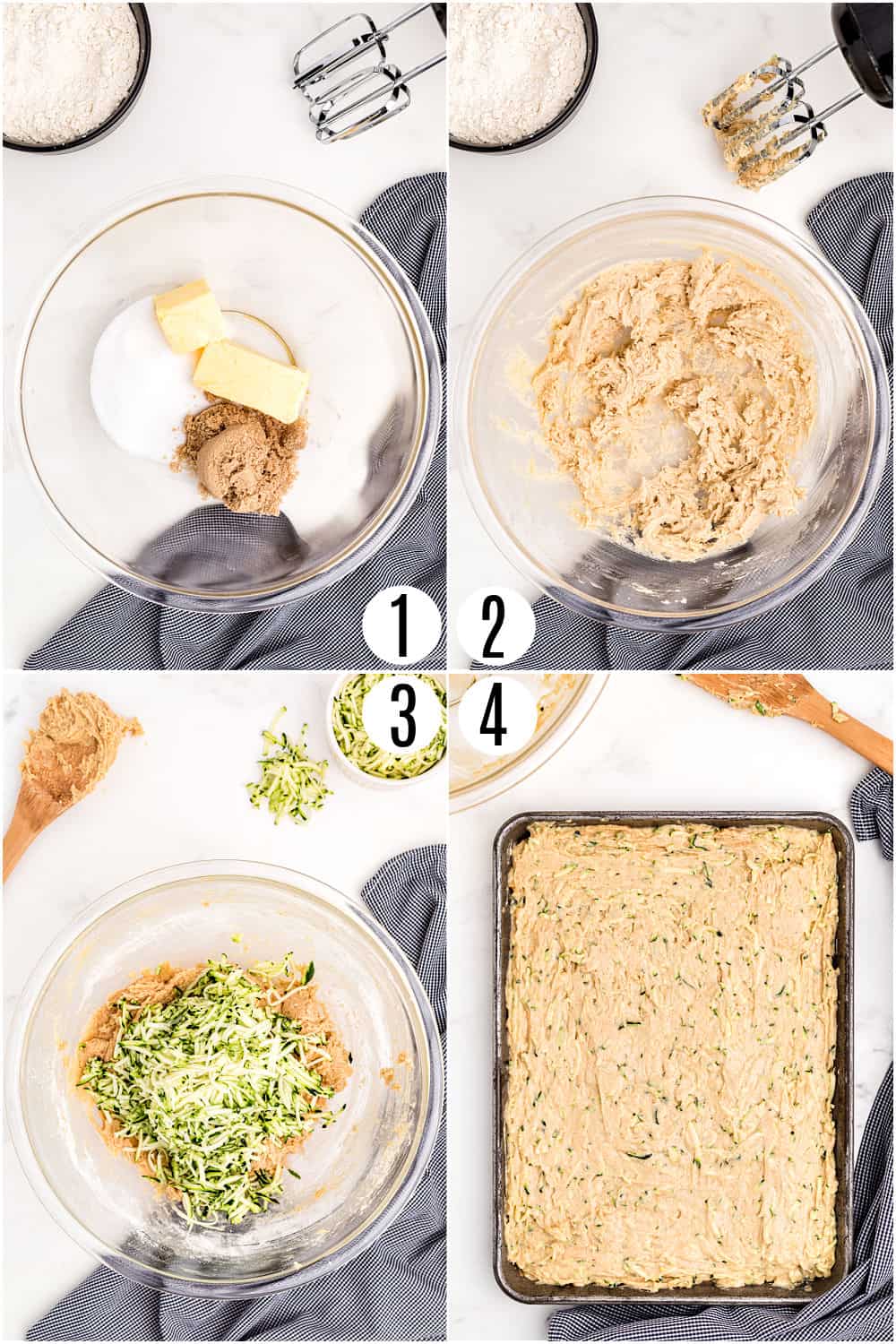 Cinnamon Frosting Recipe
While the bars are baking, prepare the cinnamon frosting. You'll need:
Melted Butter
Powdered Sugar
Vanilla
Cinnamon
Milk
To make the frosting:
Mix powdered sugar, cinnamon, melted butter, vanilla and milk until creamy. Add more milk, a tablespoon at a time, if necessary if the frosting seems too thick. You want it to be pourable but not watery!
Spread onto the cooled bars, slice and serve!
Want a little tang? Use our sour cream frosting and add a little cinnamon. Creamy and smooth!
For a crunchy finish, top these bars with some toasted pecans or walnuts!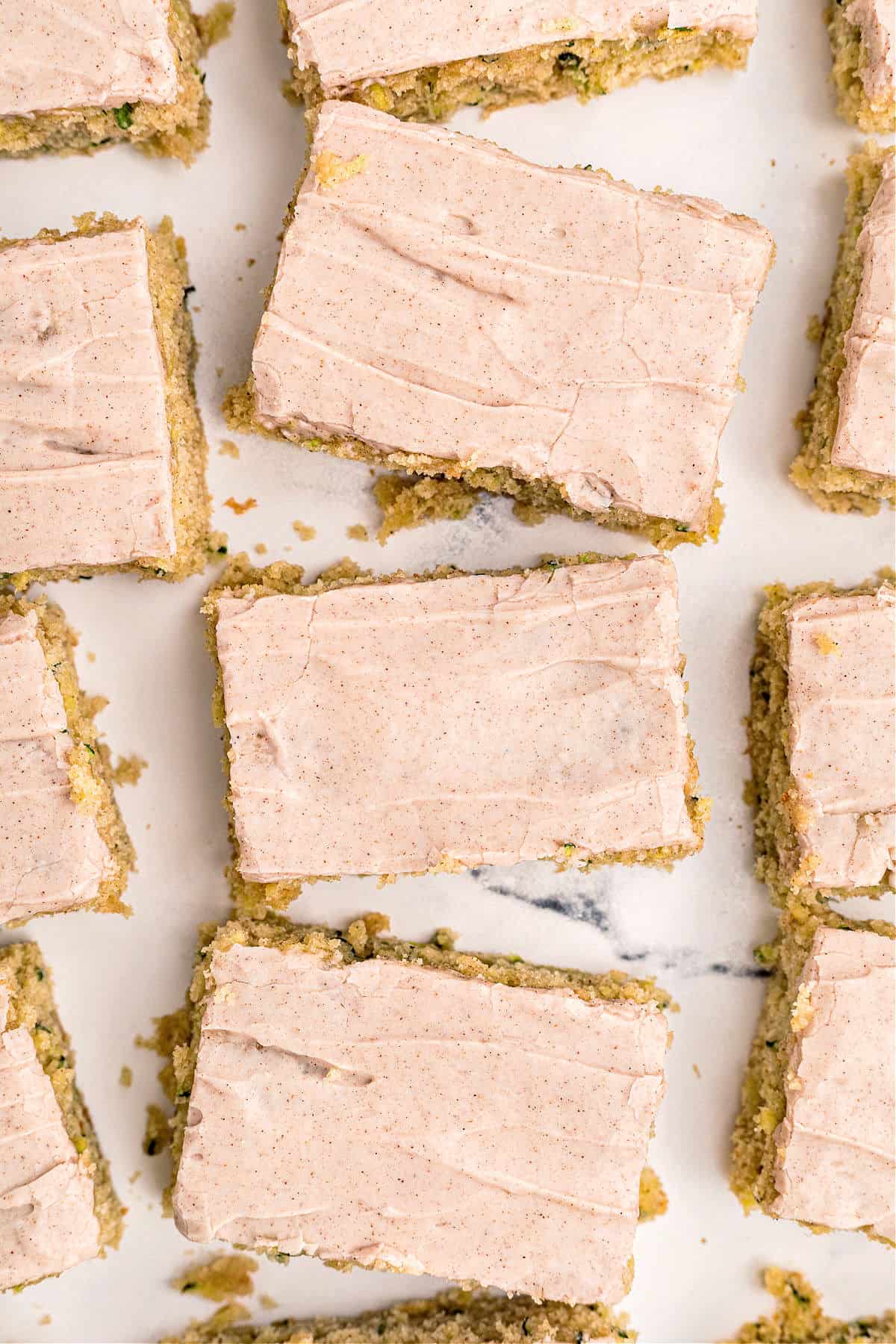 Recipe FAQs
How do you grate zucchini?
To grate zucchini, cut off the ends, slice the zucchini in half lengthwise and remove as many of the seeds as possible. Then use a large box grater to grate the insides into shreds. You can also use a food processor with grater attachment!
Can you freeze zucchini bars?
To freeze zucchini bars, store in a freezer safe container with a sheet of parchment paper between each layer of bars. You can also freeze them in individual portions double wrapped in foil and saran wrap.
Can I add nuts to zucchini bars?
Adding chopped walnuts or pecans would be delicious in our zucchini bar recipe! I would start with 1/2 cup-1 cup of chopped nuts.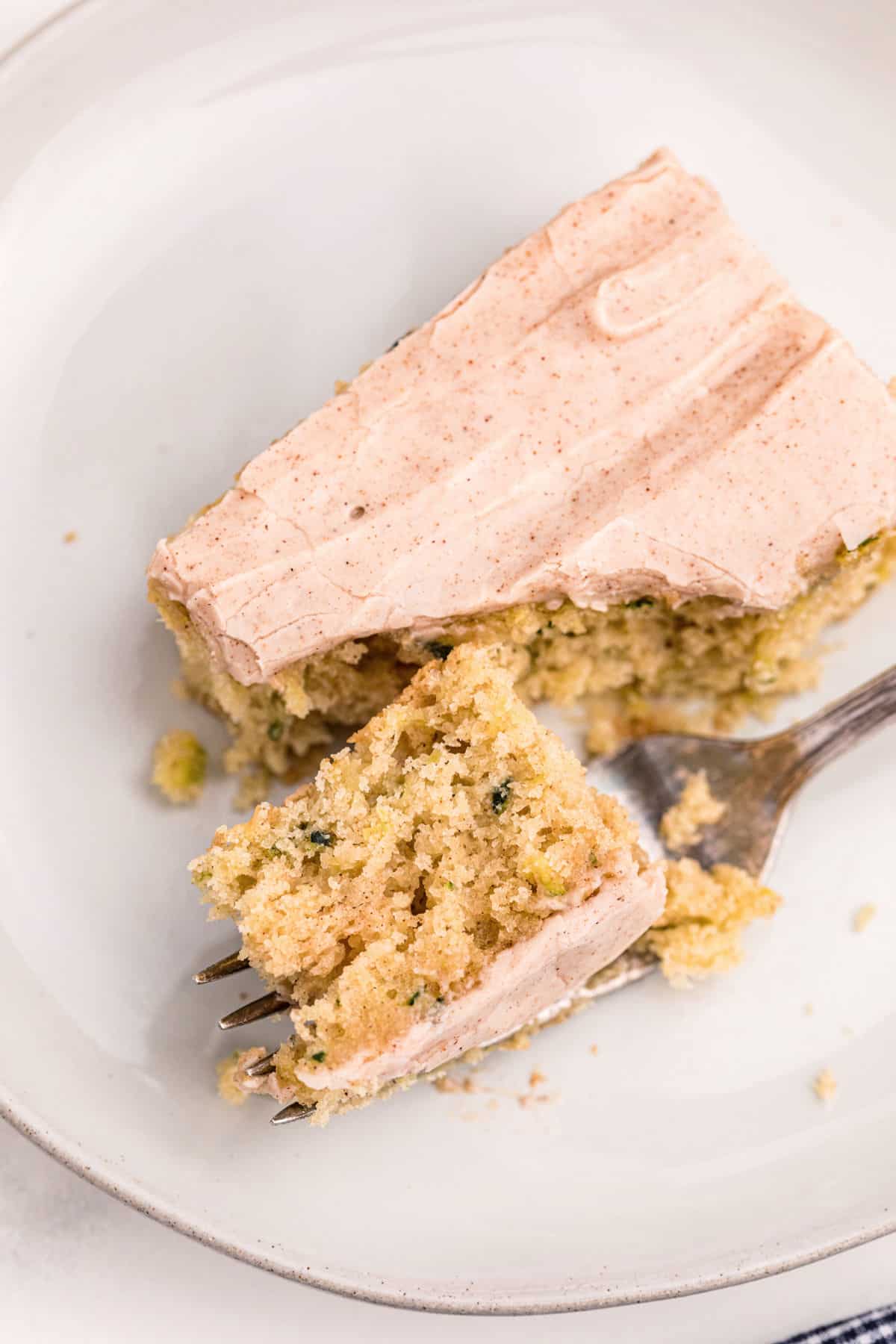 Hurry! Make a pan of Cinnamon Frosted Zucchini Bars to treat your family before all that garden zucchini is gone. Whether you serve them for breakfast or dessert, everyone will rave about them!