It's easier than you think to turn your zucchini into noodles. Learn how to make Zoodles to add healthy great tasting veggies to countless dishes!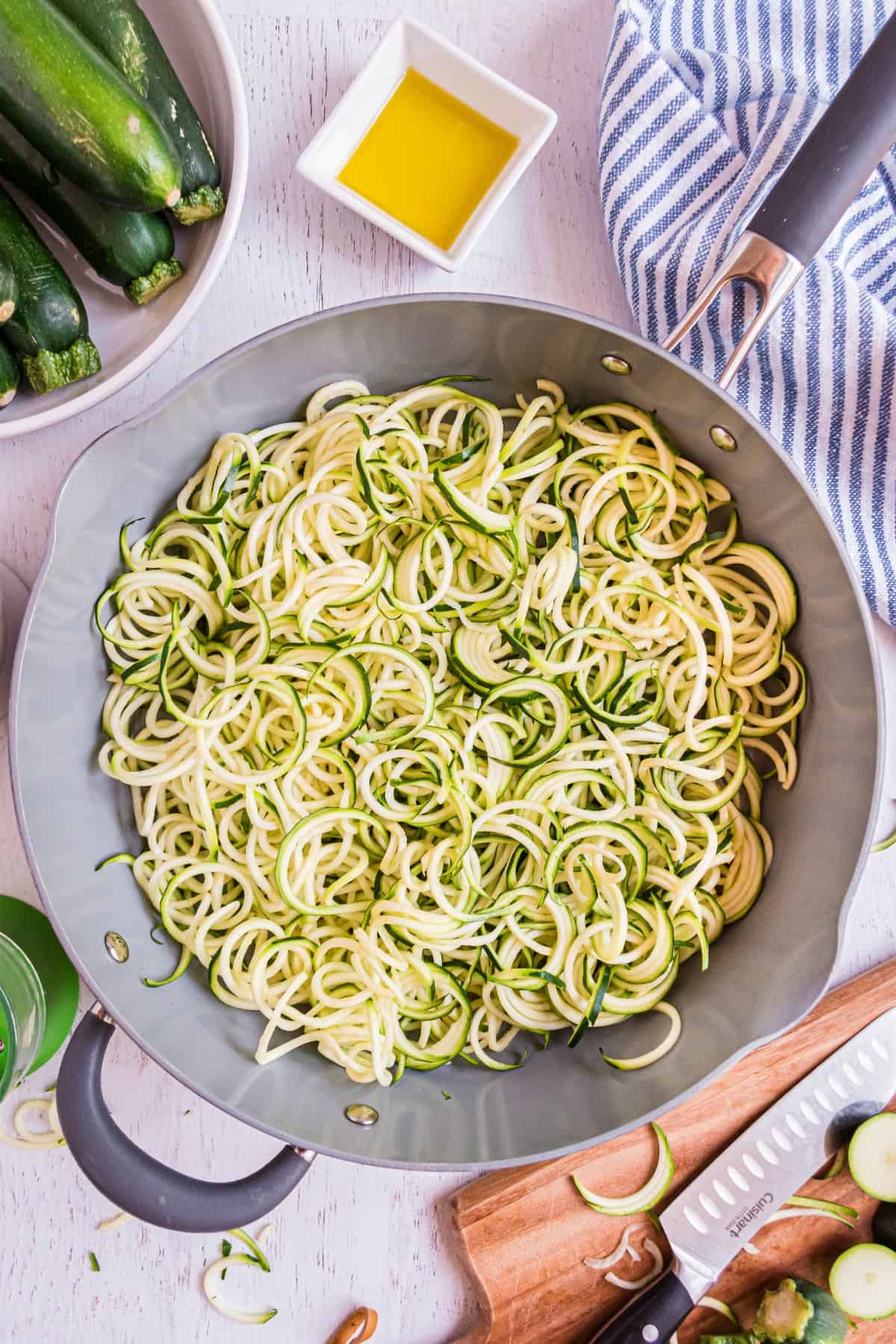 Why this Recipe Works
Is it a vegetable? Is it a noodle? It's both!
Zoodles are so popular in the cooking world right now and for a great reason. Making your zucchini into the shape of noodles is a fun way to change up how you get your daily veggie fix.
Zucchini Noodles make a healthy (and gluten free) alternative to pasta but they're also just delicious in their own right!
You can serve them as a simple side dish or mix with protein and other ingredients for a nourishing family dinner.
In the summertime, my garden is often overflowing with zucchini. It's one of those vegetables that, even with neglect, seems to thrive and keep producing. That means we end up eating a LOT of zucchini.
From roasted zucchini to lasagna roll ups, using zucchini definitely helps keep us from getting bored of having the same veggie almost every night.
The one zucchini recipe I never get tired of. . . Zucchini noodles!
Today I'm bringing you my favorite methods for transforming your garden zucchini into noodles along with tips for cooking Zoodles.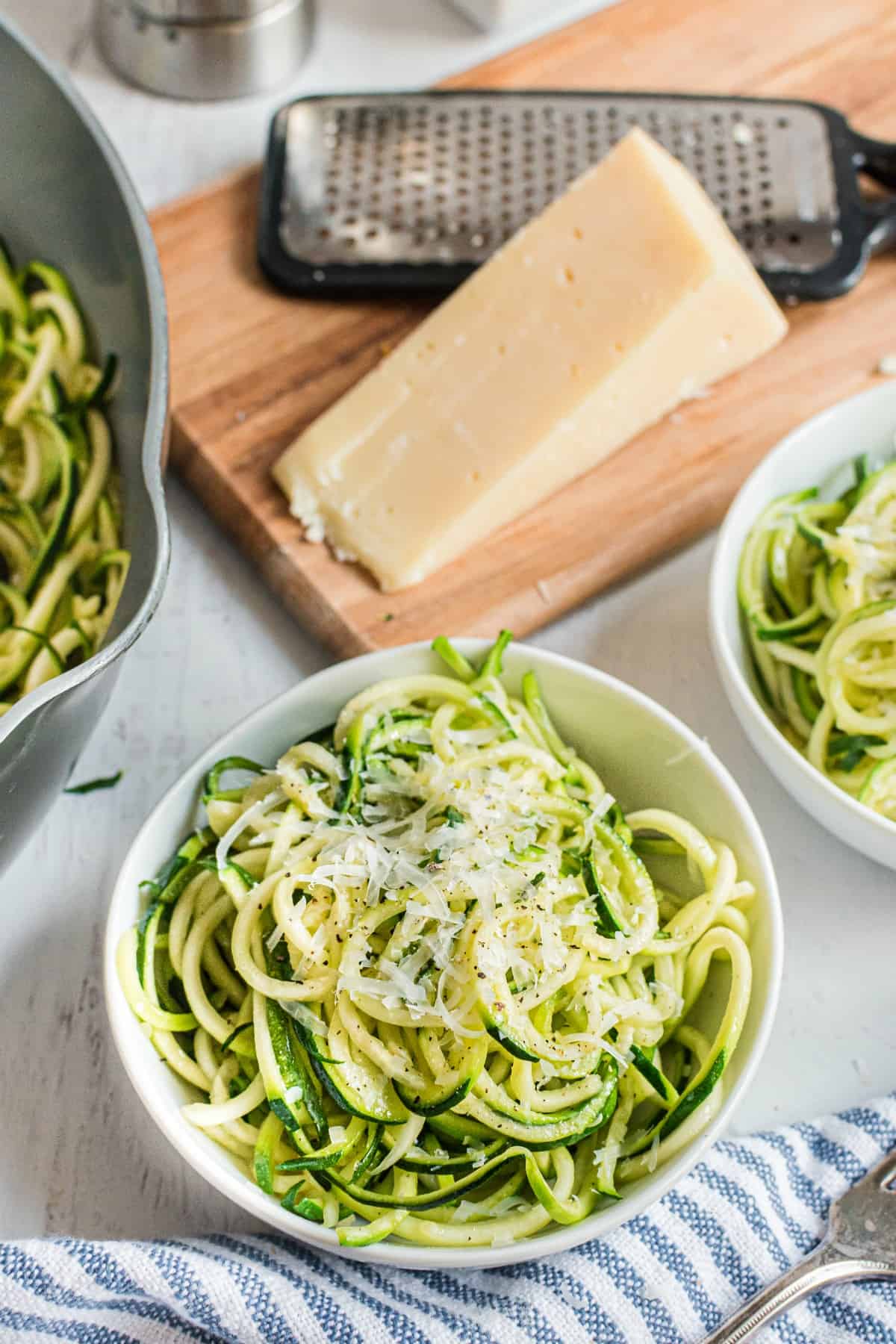 How to Make Zucchini Noodles
There are a few methods you can use to make Zoodles, depending on what equipment you have and what shape you want your noodles to be.
First, wash and dry your zucchini (or yellow squash) and slice off the very tops and bottoms. There's no need to peel them; the dark green skin adds beautiful vibrant color to your plate!
For long straight noodles, try using:
Chefs Knife
Vegetable Peeler
Julienne Peeler
Place the peeler or knife at the top of the zucchini and draw downward to create long noodles. Try to make them as evenly sized as possible.
For curly or spiral noodles, try using:
Handheld Spiralizer (we used this one by oxo).
Countertop Spiralizer
If you're using a spiralizer, Make sure to use zucchini that is small enough to fit into the diameter of the spiralizer. I use zucchinis on the smaller side and found that each one produces about one and a half cups of noodles.
The recipe below makes enough to serve two people as a main dish, when you serve it with a protein and/or sauce. As a side dish, it easily makes enough to feed three or four people.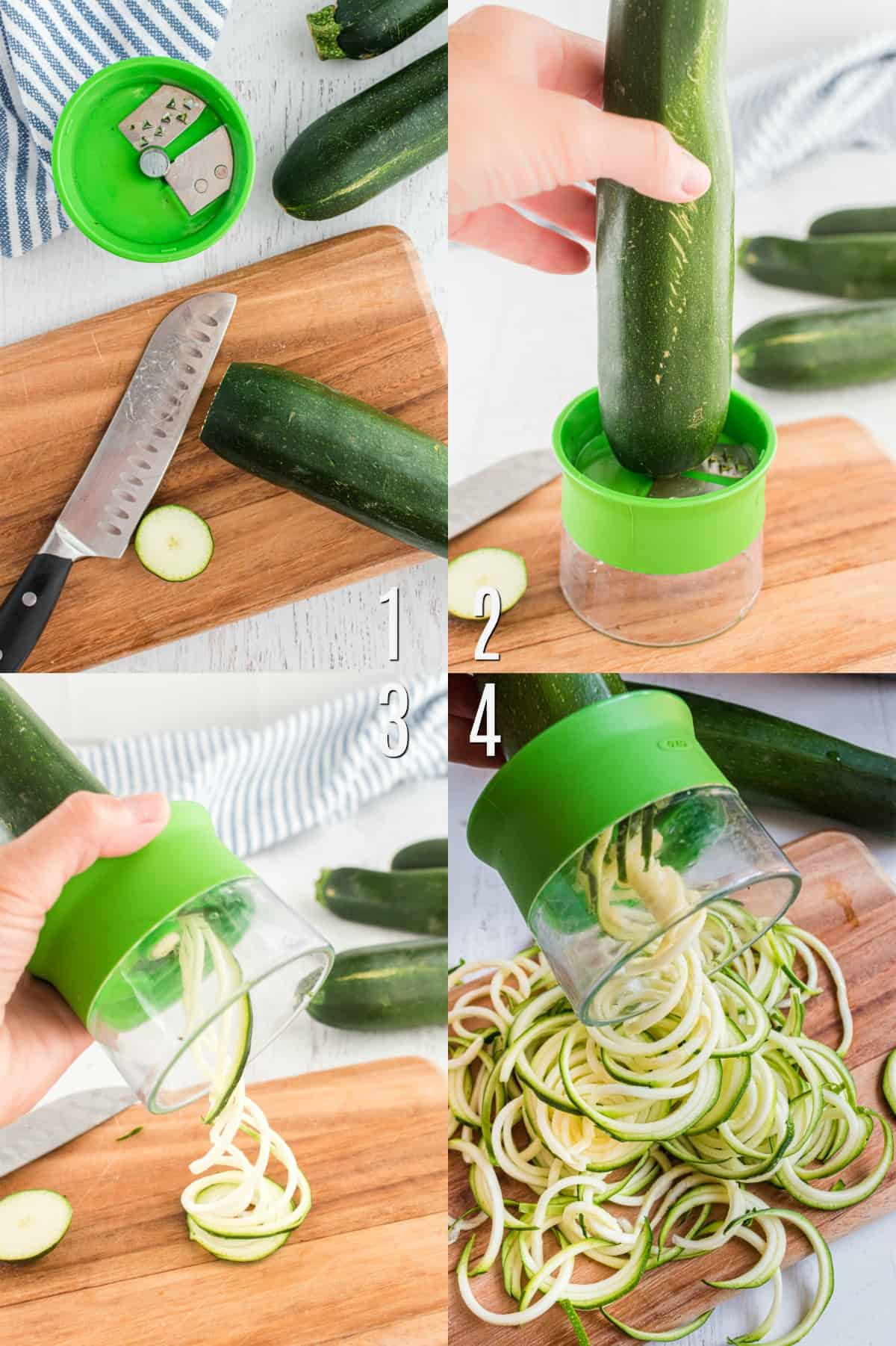 How to Zoodle Using a Handheld Spiralizer:
Cut the end off of the zucchini.
Insert cut end into the spiralizer.
With one hand on the zucchini, begin to rotate the spiralizer with the other hand. The zoodles will be cut and come out the other side of the spiralizer.
Using a pair of kitchen shears, or even your hand, cut off the zoodles once the desired length has been reached.
Prepare using your favorite method.
Cooking Zoodles
The goal with spiralized zucchini is not to "cook" it exactly, but just to bring out the flavor a bit more and heat it up.
My favorite method for cooking zucchini noodles is with a simple pan saute. Heat olive oil in a pan and add the zoodles. Toss with the oil and let them heat on the stove for a couple of minutes.
Season as desired or use in any recipe as directed!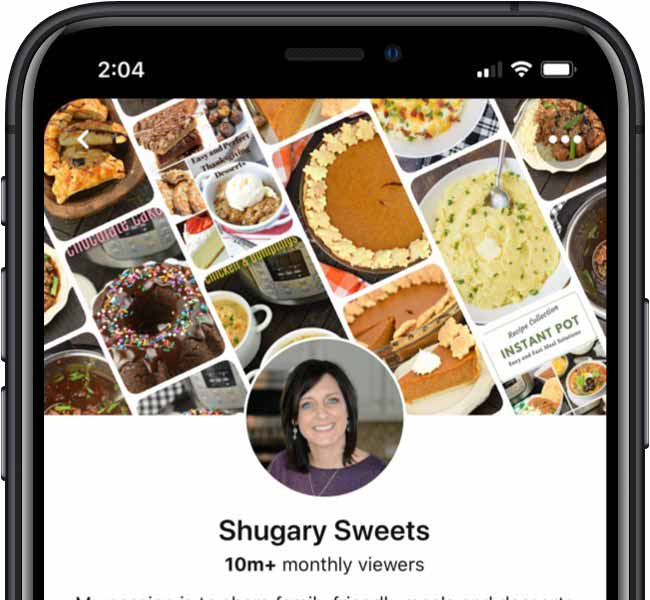 More cooking methods for Zucchini Noddles:
Microwave – Add zucchini to a microwave safe dish and heat in 30 second increments until the zoodles reach your preferred level of tenderness.
Boil – Bring water to boil and add the zucchini. Let cook for 1 minute, then drain immediately and serve.
Raw – No need to cook! Just season or add a little salad dressing and you have a crunchy raw zucchini side dish.
Can you bake zucchini noodles?
While you CAN bake Zoodles, I do not recommend it. It takes much longer than any of the other methods and you need to squeeze the water out of your zucchini first.
Why heat up your oven when you can enjoy them in so many other ways?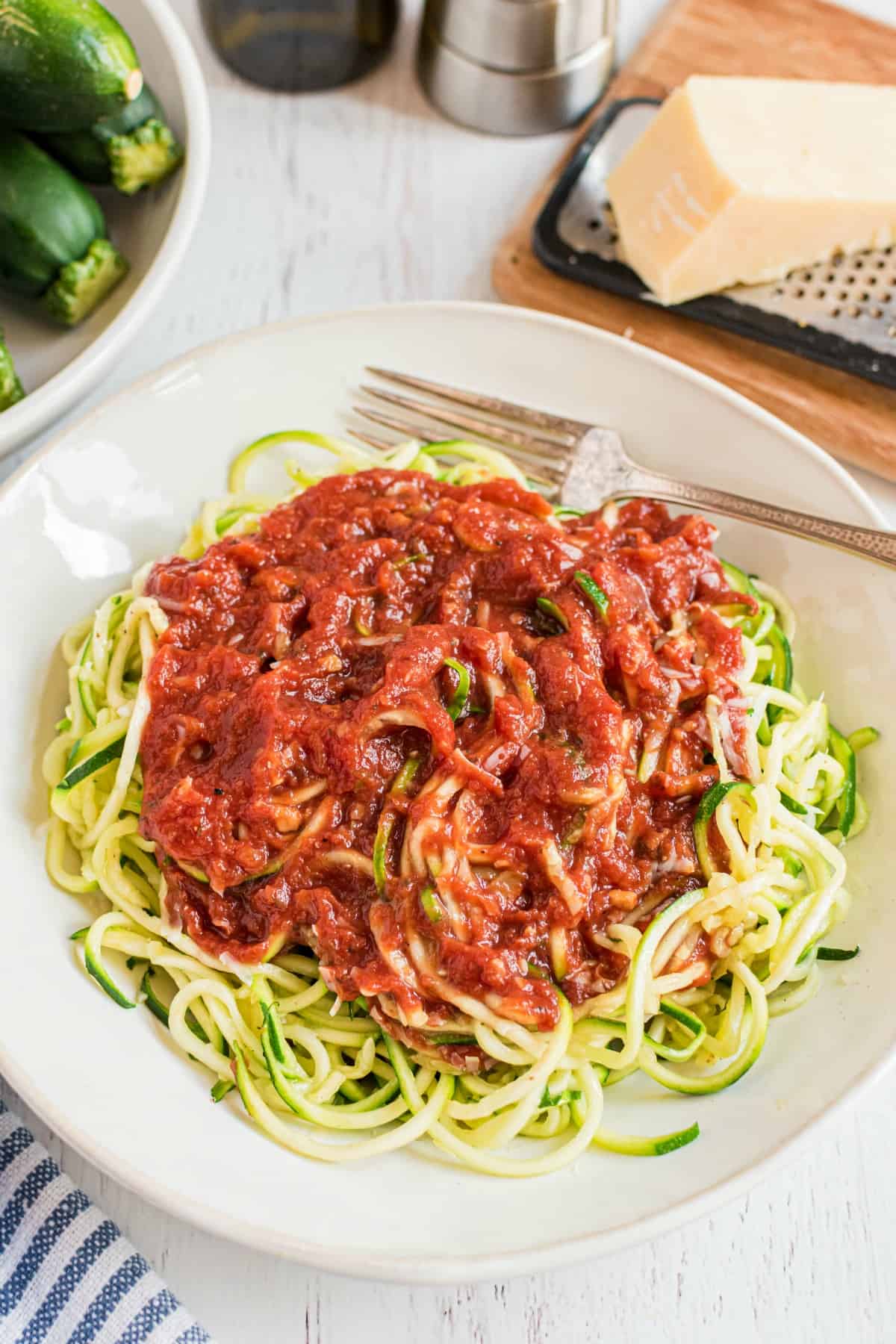 Tips and Tricks
Seasoning: If you want Zucchini Noodles with even more flavor, use a seasoned olive oil for sauteeing! I also love to add some minced garlic to the pan before the zucchini.
Do not salt: Please don't salt your zucchini before you cook it! Salt draws water out of the zucchini which tends to make the zoodles watery and mushy once cooked.
Do not overcook: It only takes a couple of minutes on the stove top to achieve the ideal tender flavor. Zoodles are much thinner than standard slices of zucchini you might be used to cooking with and are prone to getting mushy if kept in the pan too long.
Storing: You can prep the zucchini in advance by spiralizing them, then placing the noodles in a tupperware container lined with paper towels. Use them withing three days.
Can these be frozen? For this type of dish, fresh zoodles are best as they tend to lose their texture in the freezer. If you need to freeze any zucchini noodles, you can use them in soups and stews with good results.
Serving ideas
When you're craving spaghetti, Zoodles topped with marinara sauce hit the spot! Add some grilled chicken if you like for a full and satisfying meal.
I often will serve Zoodles as a side dish instead of rice, pasta or potatoes. Season with salt and paper and grate a little parmesan cheese over top. A squeeze of lemon juice is a wonderful addition too. Simple and delicious!
As far as proteins go, I like chicken and fish best with zoodles. These would be a delicious side dish to pair with salmon or scallops, or mixed with shrimp or chicken in a light lemon-garlic sauce.
This gluten free chicken parmesan is a delicious dish to serve over these homemade zoodles!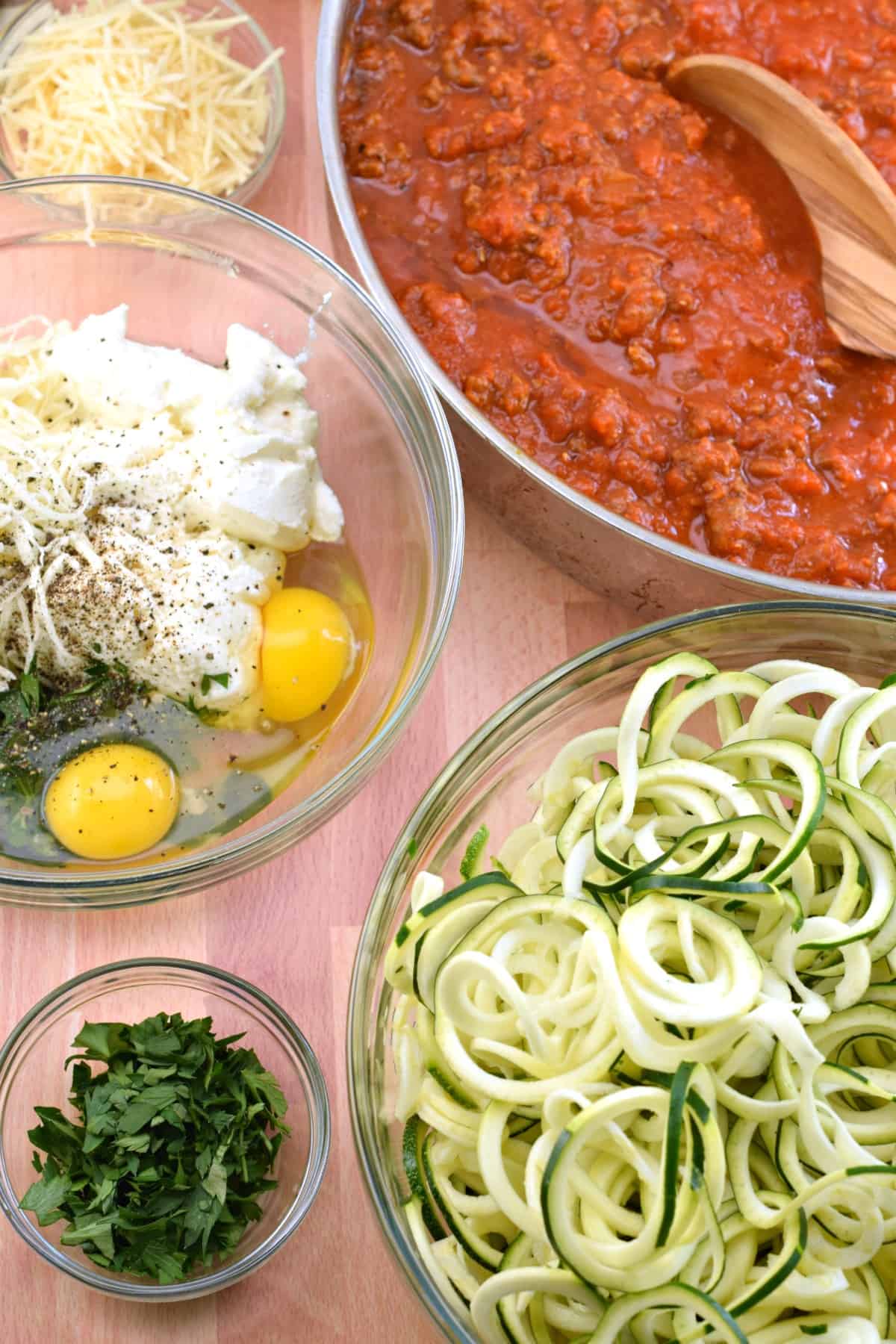 They are also DELICIOUS served with my zucchini meatballs!
Where zucchini noodles are concerned, there's no end to the possibilities!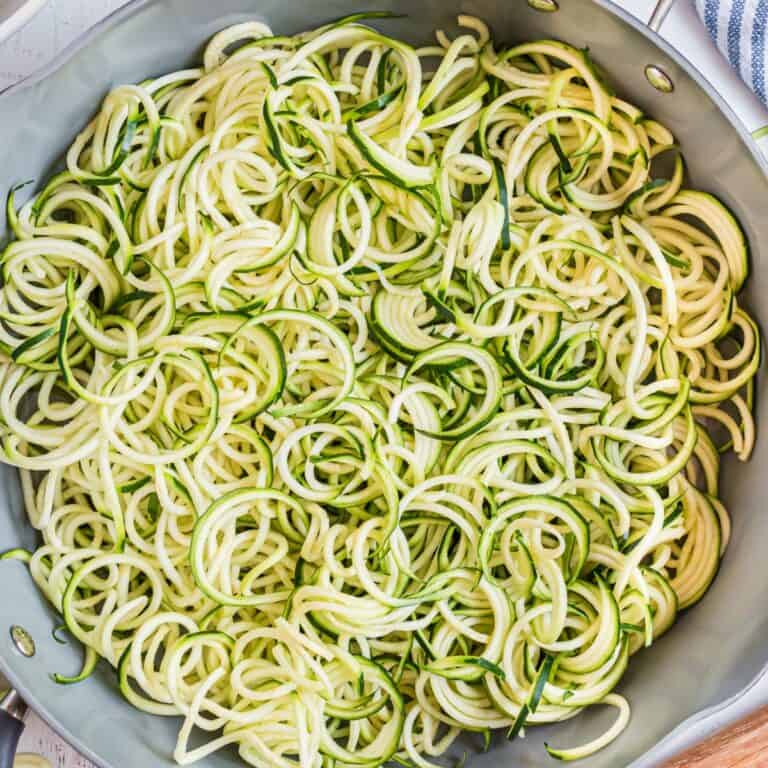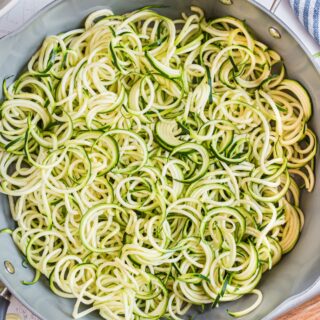 Zoodles
It's easier than you think to turn your zucchini into noodles. Learn how to make Zoodles to add healthy great tasting veggies to countless dishes!
Ingredients
2

Tablespoons

olive oil

3

small to medium zucchini

salt and pepper

to taste
Instructions
Wash zucchini and cut off ends. No need to peel the zucchini. The dark green skin adds beautiful vibrant color to the dish.

Cut zucchini into zoodles using desired method (hand spiralizer or mandoline works).

Heat olive oil in a large skillet. Add zucchini to skillet and saute for 2-3 minutes, just until tender. Zucchini will become mushy if it's overcooked. The goal here is to mainly heat them up and not actually "cook" them. Depending on your sauce or toppings, the zoodles may continue to cook when the topping is added.
Notes
Do not salt zucchini prior to cooking. This will bring even more water out of the zucchini and make the zoodles watery and mushy.
Each zucchini in this recipe produced about 1 ½ cups of zoodles. It would make 3-4 generous side servings or 2 main servings.
To add more flavor, seasoned olive oil or saute 1 tsp of minced garlic before adding the zucchini to the skillet.
Makes a great side dish in place of pasta or rice.
Nutrition
Calories:
81
kcal
,
Carbohydrates:
4
g
,
Protein:
2
g
,
Fat:
7
g
,
Saturated Fat:
1
g
,
Polyunsaturated Fat:
6
g
,
Sodium:
78
mg
,
Fiber:
1
g
,
Sugar:
2
g
Grab your spiralizer or peeler and get noodling. I can't wait to hear what delicious meals you make with your Zoodles!