Let this homemade spaghetti sauce simmer all day in the slow cooker! By dinnertime, you'll have a delicious marinara sauce ready to spoon over pasta or dip with rolls.
Love this easy dinner! Serve it over zoodles for a lightened up dish. Or use it in our ravioli lasagna recipe!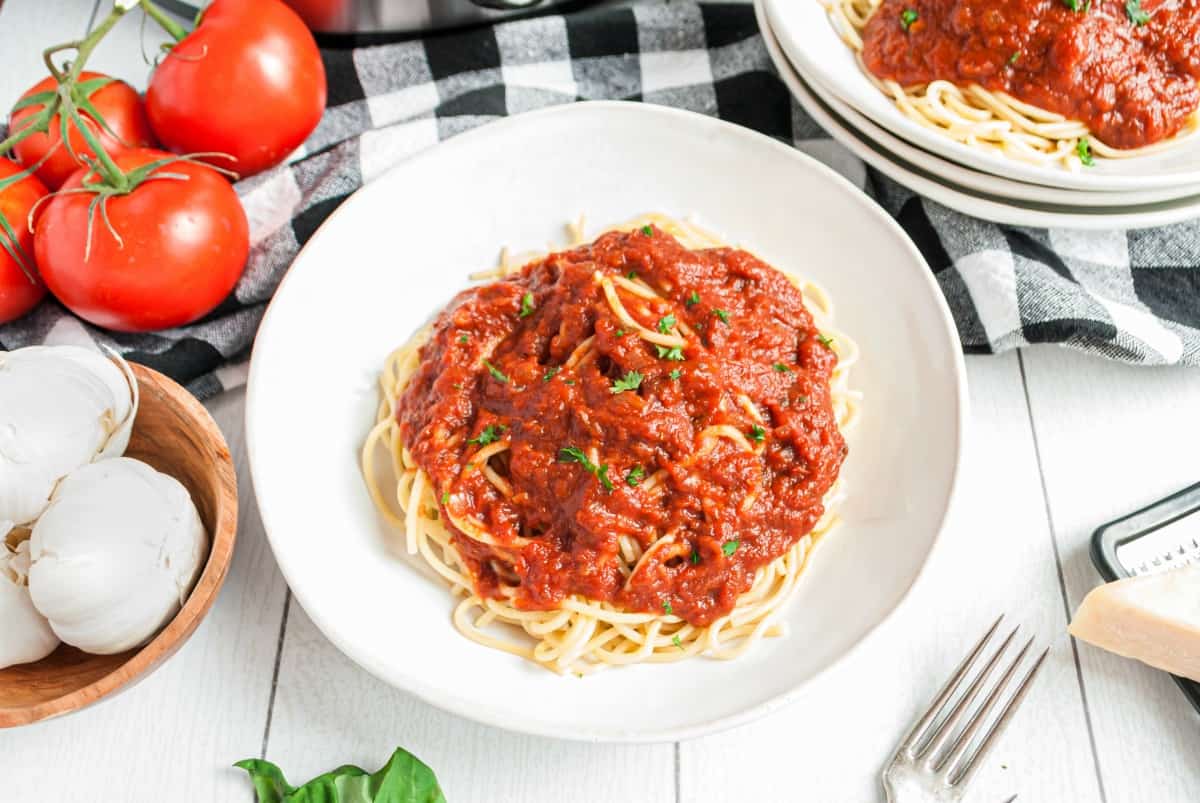 Homemade Spaghetti Sauce
Say hello to spaghetti sauce in the slow cooker! Now that's what I'm talking about!
With canned tomatoes (or fresh!!), Italian herbs and plenty of garlic seasoning, this flavors of this sauce are enhanced by the long cooking time.
Usually in late summer I spend an entire day canning tomatoes from my garden. In addition, I also make a giant soup pot of homemade spaghetti sauce.
I then freeze the sauce in dinner sized (gallon) ziploc freezer bags. It's a lot of work, but it's one day for a winter's worth of sauce.
Guess what: It never lasts until the following summer. Nope. Not once. You could say I need a bigger garden with more tomatoes But my garden is already huge. It takes up every inch of sunny space.
So what's a girl to do?
Make sauce in the slow cooker with canned tomatoes! If you happen to be a canning type of person who has your own jars of canned crushed tomatoes, go ahead and use them here.
PRO TIP: You can freeze WHOLE roma tomatoes in a ziploc freezer bag. When ready to use in sauces and chili, run frozen tomato under cold water and rub the skin right off!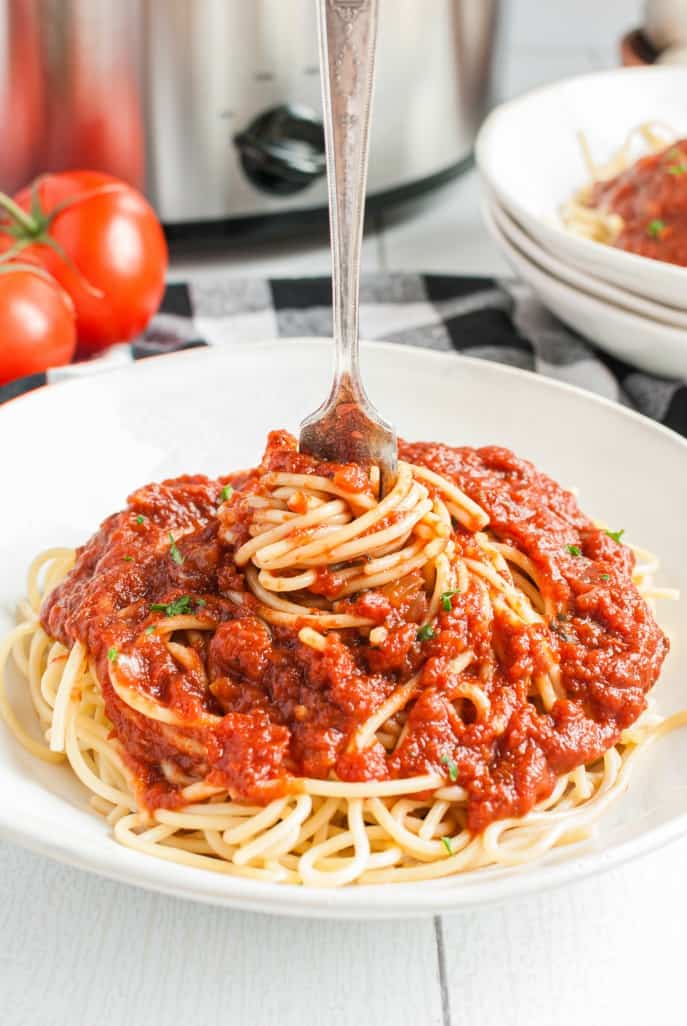 But for those of us who ate all our garden tomatoes by November, the canned ones from the supermarket shelves do just fine! This sauce is amazing every which way you like to eat your marinara.
We eat a lot of this marinara sauce over spaghetti, but I also used it to make my delish Spinach and Meat Lasagna.! Any leftovers we have after pasta night get sopped up with Italian bread, rolls or even slices of Garlic Bread.
Say goodbye to jarred sauce from the store forever!
It's so much tastier and more cost effective to make your own. By using pantry staples, I made this marinara for just pennies per serving.
I also love using this sauce in my Penne Rosa recipe!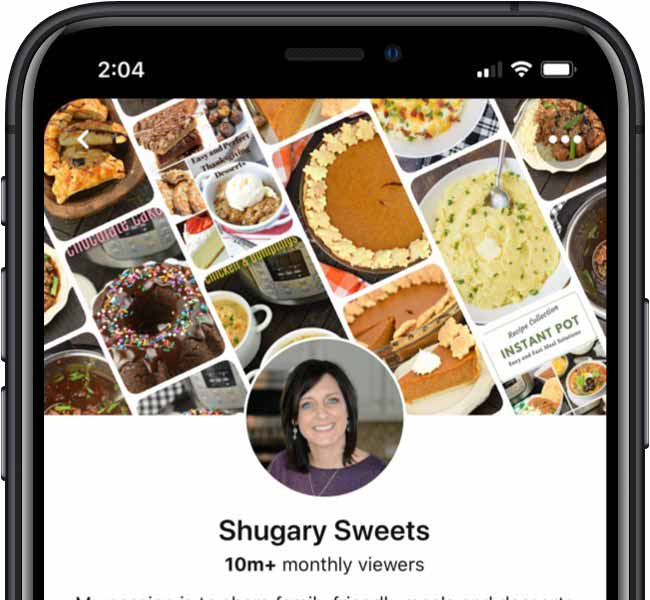 Crockpot Marinara Sauce
Sauces are ideal for the slow cooker. Have you ever noticed that homemade spaghetti sauce tastes even better the next day?
That's because the longer the individual ingredients have to "meld' the more flavorful the sauce will taste.
When you cook the sauce over several hours in the crockpot, the herbs and spices all mingle with the tomatoes to make the crockpot marinara rich with herb and garlic flavor.
The tanginess of the tomatoes shines without tasting too sour or acidic.
For this recipe, I opted to use the Italian dried herbs I already had in my spice cupboard. No need to find fresh basil or make any trips to the store! A little spice from freshly ground peppercorn addsjust the right amount of kick.
In short, this is the perfect EASY homemade spaghetti sauce!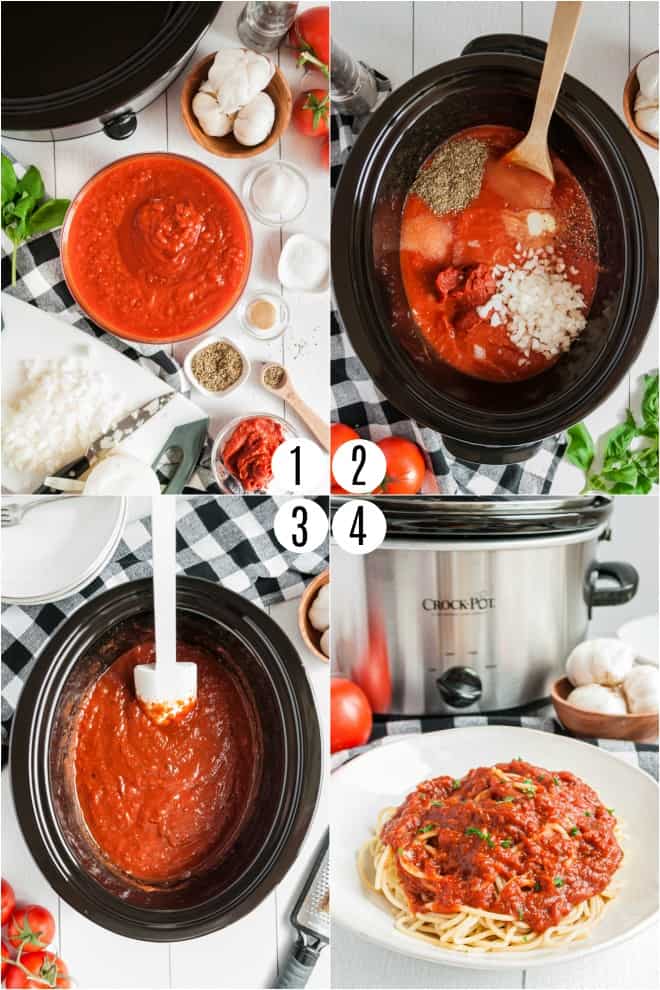 What you'll Need
Canned crushed tomatoes
Tomato paste
Diced onion
Garlic powder
Garlic salt
Dried basil
Dried oregano
Sugar
Kosher salt
Freshly ground black pepper
The very best thing about this sauce? I can't imagine anything easier to make.
How to Make Crockpot Marinara Sauce
Combine everything in the crock of your slow cooker. Cover with the lid and cook it on low for 8 hours.
You can even let this sauce cook for as many as 10 hours if you need to. I like to get it started in the morning so that, come dinner time, I have a pot full of tasty sauce ready to go!
Did I mention your house will smell AMAZING while this sauce cooks in the crockpot? This marinara sauce is hardly any more difficult to make than opening up a jar of store bought sauce, and tastes so much fresher!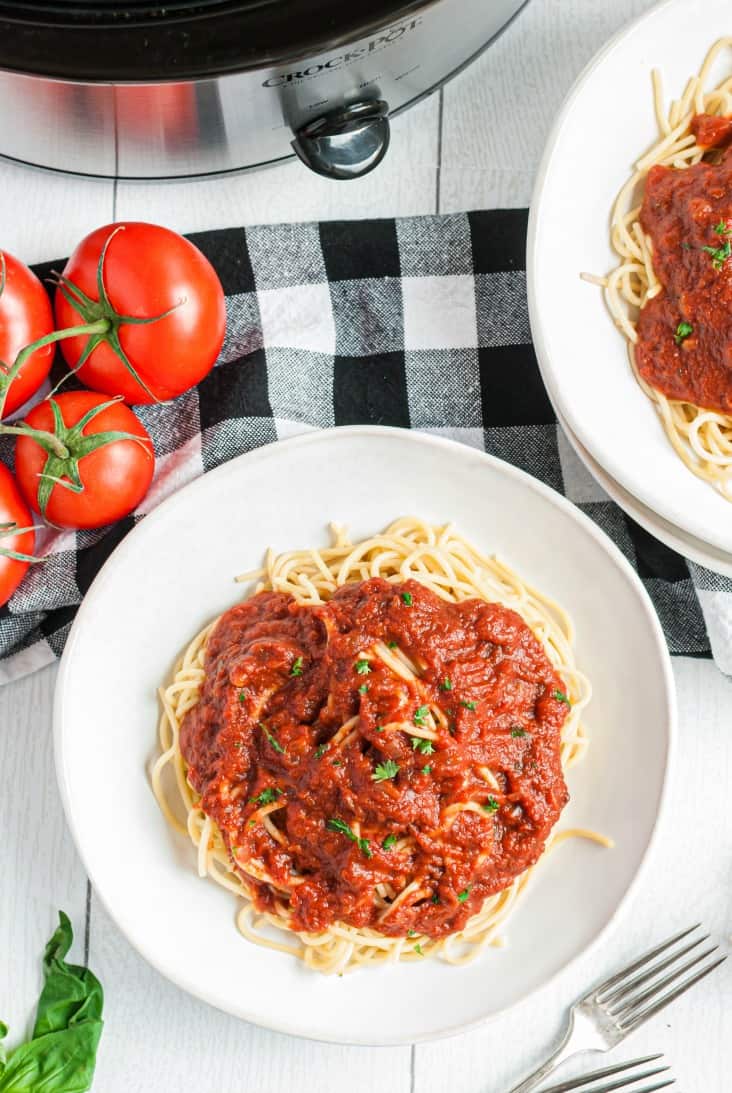 Can this be made on the stovetop?
Yes! If you don't have a slow cooker, you can still make this sauce using your stove.
Combine all the ingredients in a large stock pot and simmer on LOW.
How to use FRESH tomatoes
If using fresh tomatoes, first be sure to peel them. I freeze whole tomatoes every year from my garden, then run the frozen tomato under cold water.
The skin will peel off easily. You could also drop fresh tomatoes into hot water for a couple minutes, remove and peel skin.
You will need approximately 12-16 whole roma tomatoes, depending on the size.
What to serve with homemade marinara sauce
I've used this sauce on all kinds of takes on pasta including Instant Pot Spaghetti and Million Dollar Spaghetti.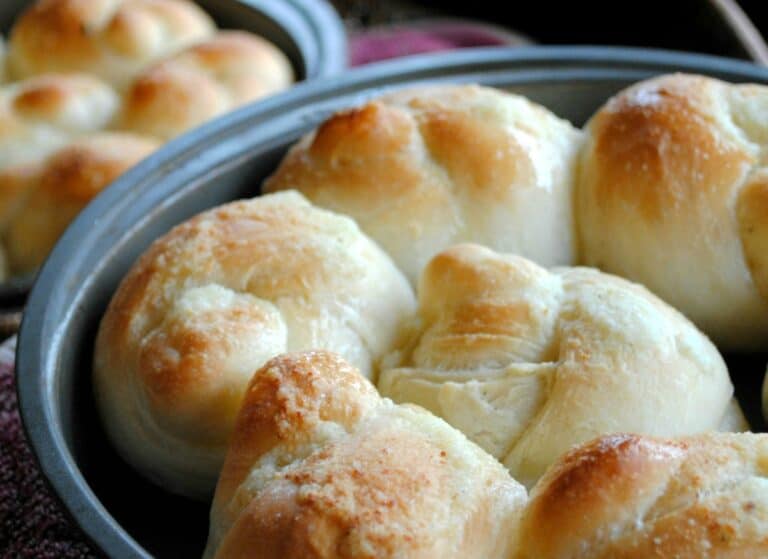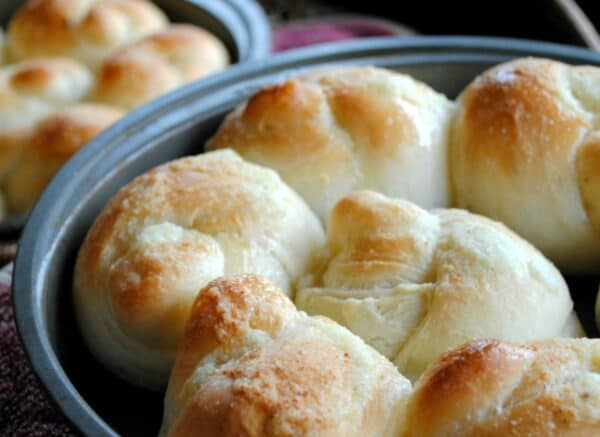 Along with pasta and lasagna, this sauce is delicious on so many other dishes! Try the tomato sauce on . . .
Roasted eggplant
Grilled or baked chicken
Chicken parmesan
Garlic knots
White or navy beans
Use this sauce anywhere you would use your favorite jarred sauces!
Serve up a big dish of homemade marinara sauce with a copycat Olive Garden Salad and cup of zuppa toscana soup!
You can even add ground beef, ground pork, or Italian Sausage. Just brown the meat first before adding to the sauce.
How to Store Homemade Spaghetti Sauce
Any sauce you don't eat right away keeps well in a covered container in the fridge for about a week.
It freezes beautifully, too. Transfer the cooled sauce to freezer safe bags and store in the freezer for up to six months.
More Slow Cooker Dinners
Homemade spaghetti sauce is so easy to make in the slow cooker with a few pantry staples that you can make it fresh anytime you're in the mood for a big plate of pasta. Sprinkle some parmesan on top and you have a budget friendly kid-approved dinner!