Fork tender, melt in your mouth, this is the BEST Mississippi Pot Roast recipe. A Naturally low-carb dinner idea made in the slow cooker!
If you love easy slow cooker meals, be sure to try this delicious Bourbon Chicken in the crockpot. Better than takeout! Our make a batch of our homemade spaghetti sauce. An easy pasta dinner awaits.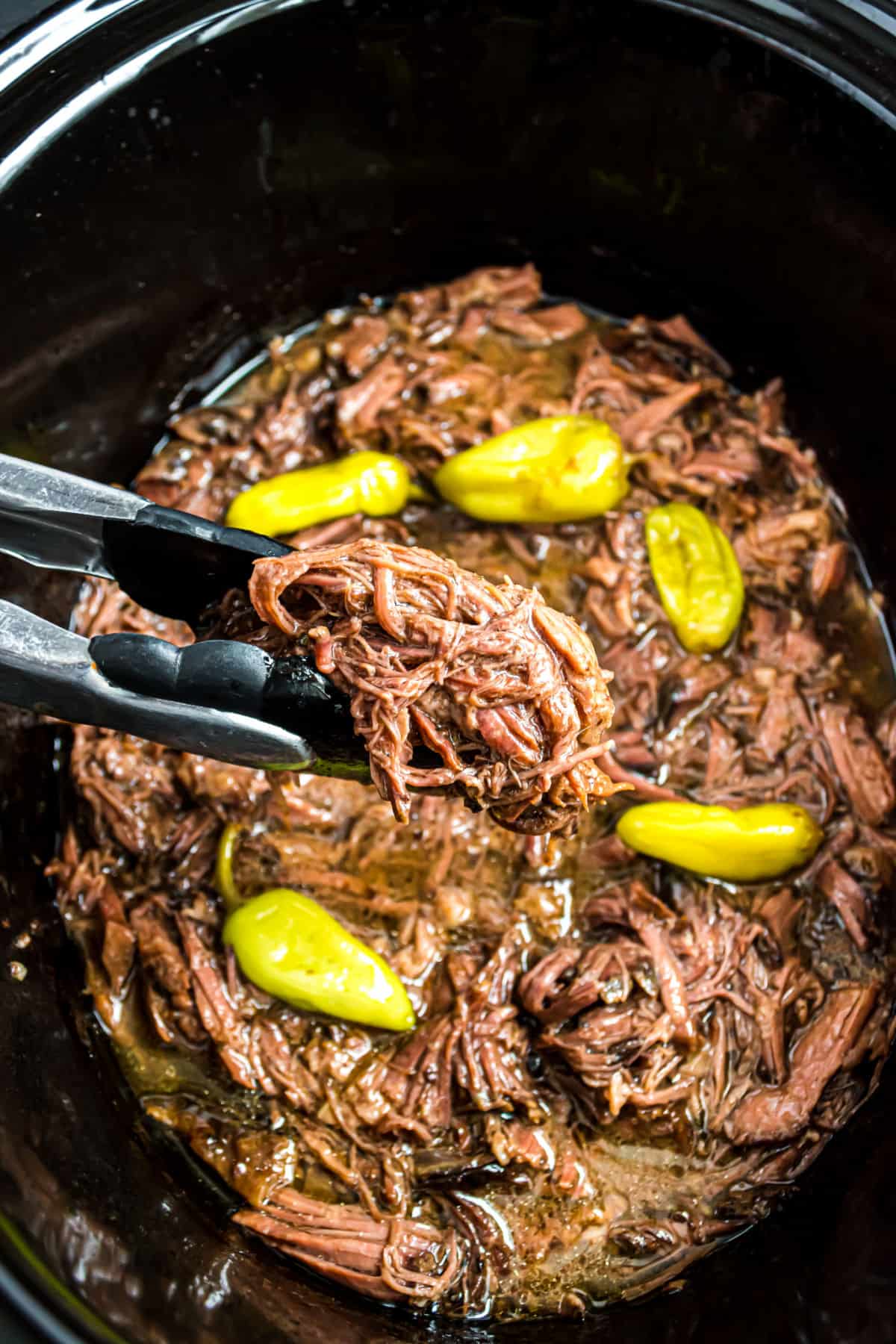 What is Mississippi Pot Roast?
When it comes to pot roast, we all dream of a fork tender, flavorful cut of meat.
While this Mississippi Pot Roast recipe is quite different from the kind I grew up with, it's very similar to our favorite Slow Cooker Italian Beef recipe!
Before I tell you how to make this delicious roast, you may be wondering, what is it? Why is it different from a regular pot roast?
Mississippi Roast is usually made by placing a chuck roast in a crock pot or slow cooker. You'll cook it beneath some butter, a package of ranch dressing mix, another package of "au jus" gravy mix and a handful of pepperoncini peppers.
The result is a fork tender roast that requires very little prep time! We love serving ours on homemade Baked Mashed Potatoes.
Or get fancy and serve it to guests with this delicious Cheesy Hashbrown Casserole recipe!
Ingredient Notes
Just five ingredients are all you need for this delicious dinner.
Chuck Roast- sometimes called pot roast or chuck eye roast is what you want to find in the meat section. Use anywhere from 3-6 pounds for this recipe.
Butter- unsalted is best. I've made this plenty of times without the butter, and it still tastes wonderful.
Au Jus seasoning mix- look for this in the gravy aisle. I've used a packet of brown gravy mix in a pinch!
Ranch dressing mix- don't be dumping ranch dressing into this roast- the dry seasoning is what you're looking for.
Pepperoncinis- this is where the flavor comes from. In my house, we buy the sliced banana peppers, and dump the whole jar into the crockpot with the liquid. Banana peppers are slightly milder than pepperoncinis, and the slices break down into the beef better.
Fix it and Forget it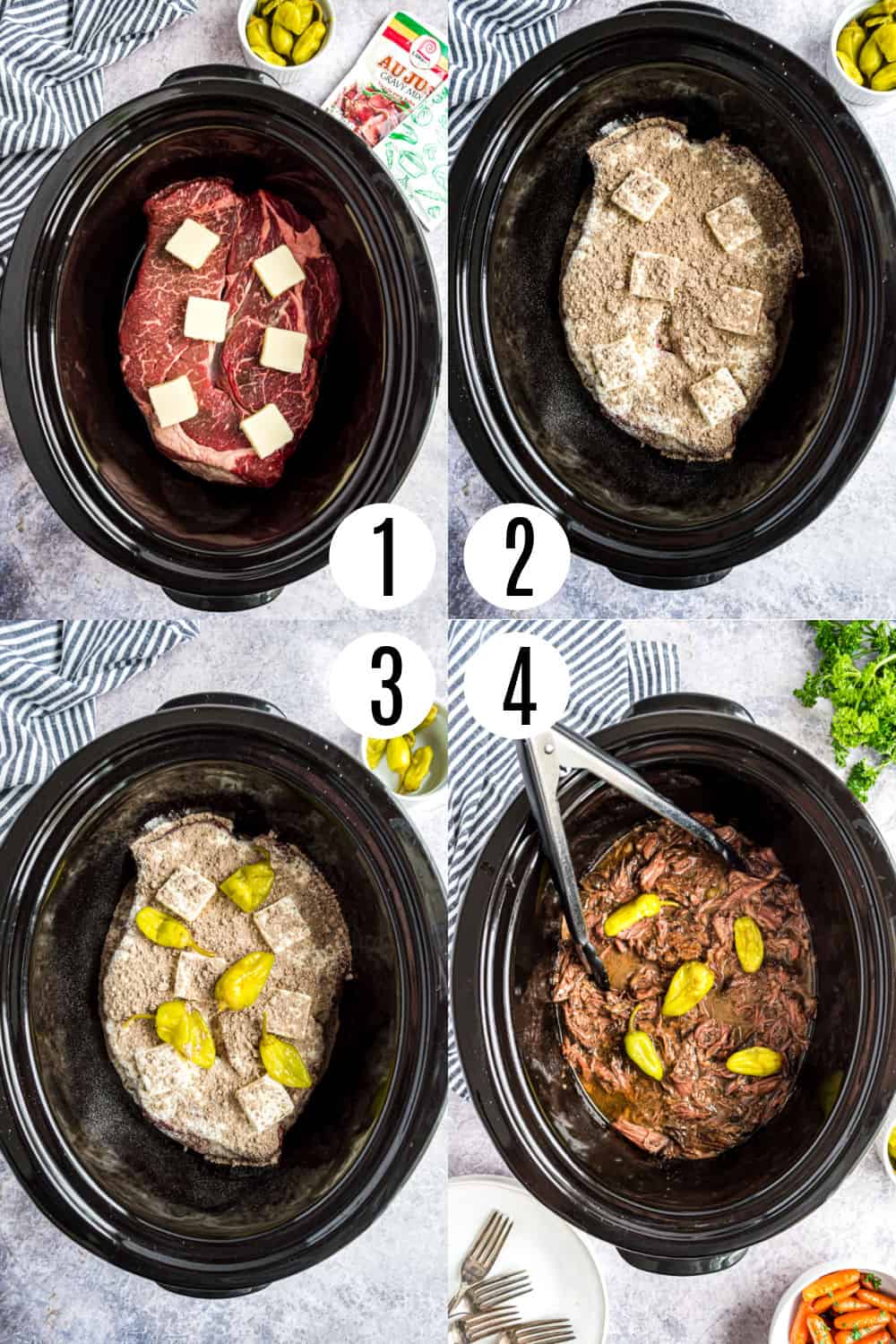 One of my favorite things about making this dinner is the 5 minutes it takes to assemble in the crock pot. This is perfect if you have a busy morning. It truly is a fix and forget it style dinner.
STEP 1. The roast.
First, place a chuck roast into the bottom of your slow cooker. I typically use a 4 lb roast, which is plenty of meat for my family of 6.
I don't bother trimming the excess fat, as it helps break down the roast to a fork tender meat.
STEP 2. Add butter.
Next, place 4 tablespoons (sliced) butter over the top of the roast. In case you are wondering, I have made this without the butter, and it's still delicious.
STEP 3. Seasoning.
Sprinkle one packet of ranch dressing mix and one packet of au jus gravy mix over the top of the roast as well.
STEP 4. Peppers.
Place 5 pepperoncini peppers (or more if your family loves them) into the crockpot. You can also used sliced ones instead of whole if you really love them like I do!
Don't forget to add a small splash of the pepper juice!
Cover the crock pot and cook on low for 8 hours. When you're ready to eat, use two forks to shred the meat and serve. ENJOY.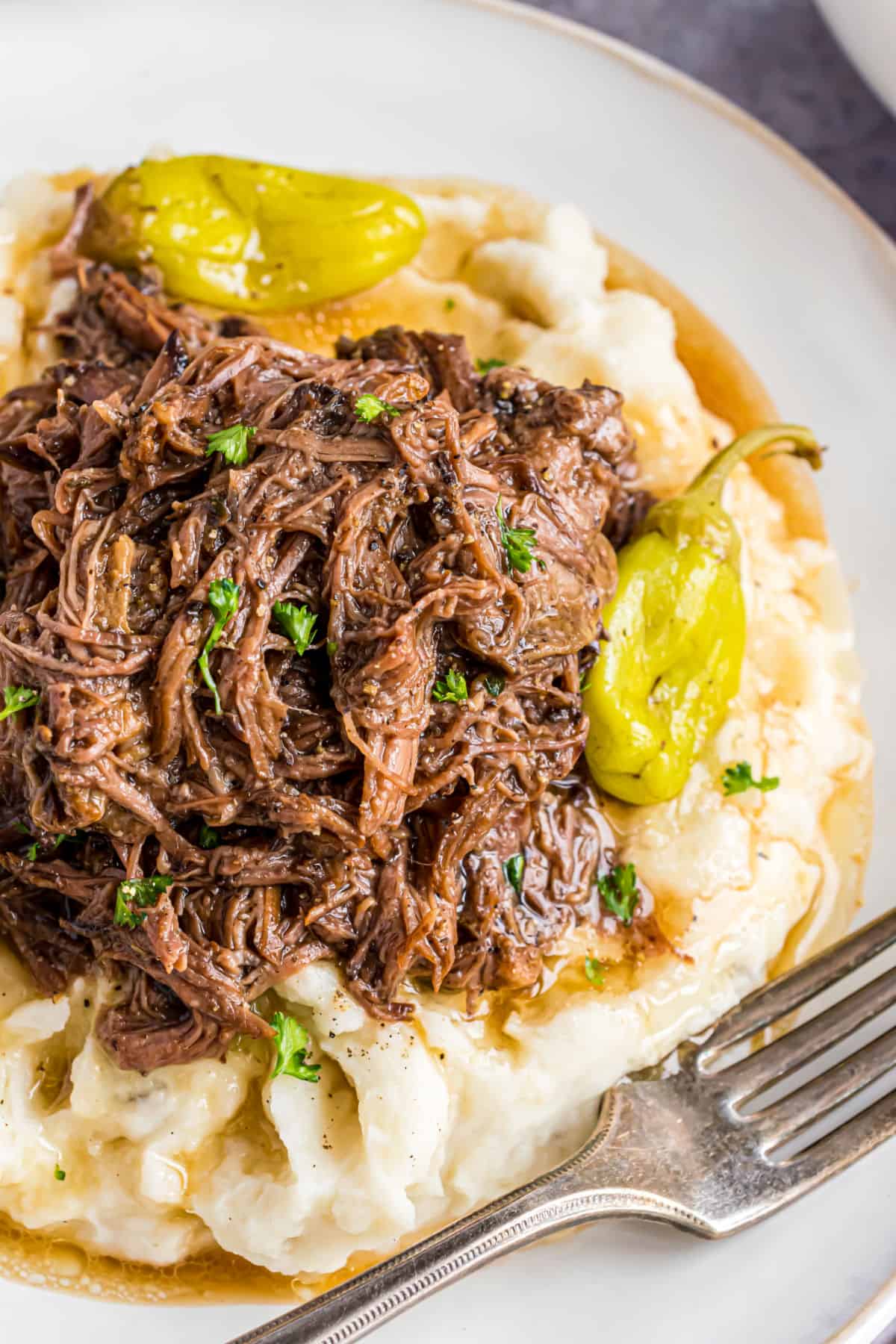 What cut of meat is best
For most pot roast recipes, you'll choose a chuck roast.
The chuck roast comes from the shoulder of the cow. When you purchase one, you'll see some marbling of fat throughout the roast. I try to find one that has THIN strands of connective tissue, which is great because it melts into the meat creating a tender roast.
Chuck roast is great in Pot Roast, but also delicious in this Shredded Balsamic Beef recipe!
If you love mexican, I use a chuck roast to make this delicious Crockpot Barbacoa!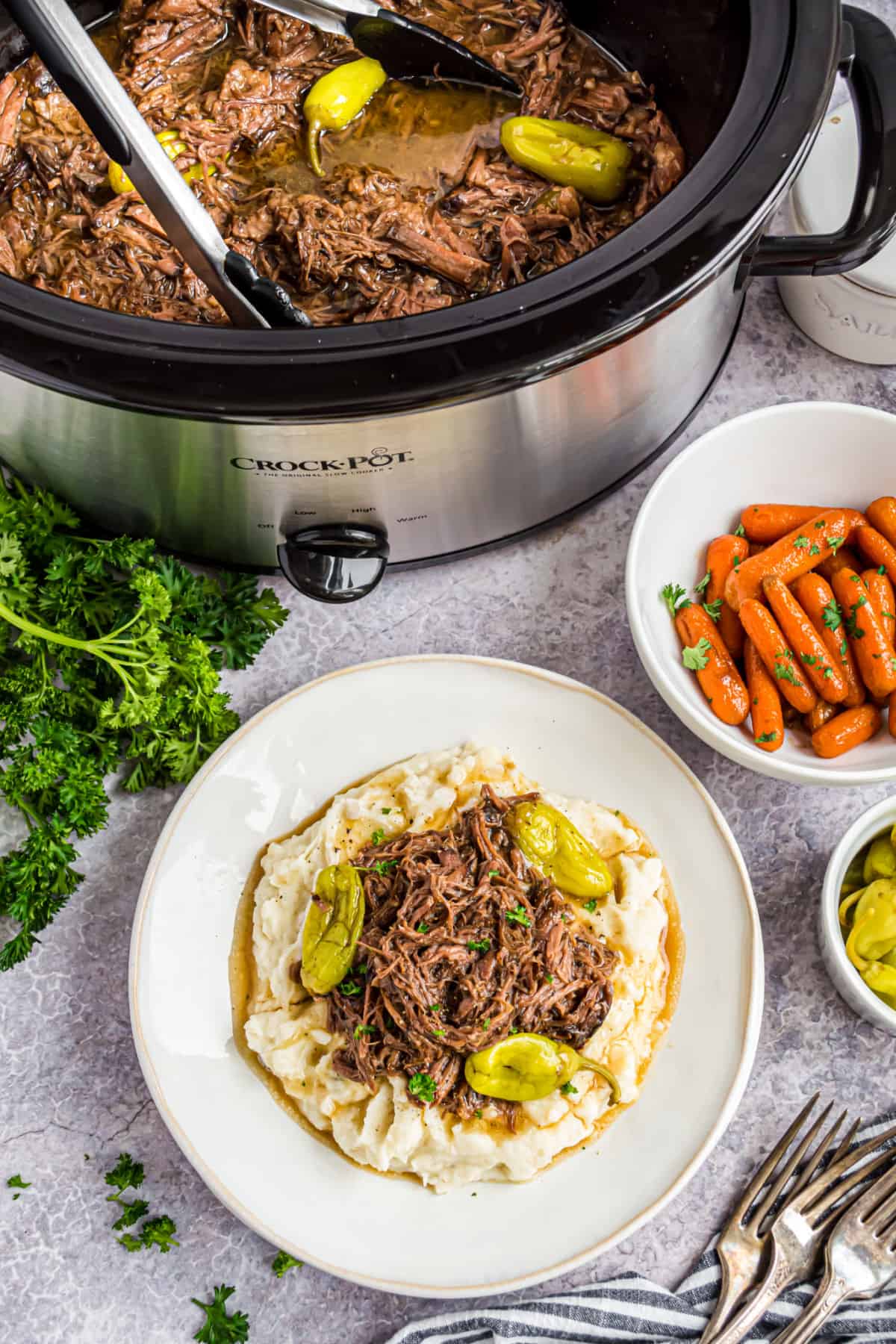 Recipe FAQs
Can Mississippi Pot roast be made in the oven?
Place your mississippi pot roast in a dutch oven or small roasting pan. Add ingredients. Cover with aluminum foil. Bake in a 325 degree oven for 3 to 4 hours, until fork tender.
Can Mississippi Pot roast be made in a pressure cooker?
Yes! Use my Instant Pot Mississippi Pot Roast recipe for all the details on how to make this even faster! Still fork tender, and still great flavor.
Can you make Mississippi Roast without butter?
Want to cut out the extra butter in Mississippi Pot Roast? You can totally leave it out of this recipe and still yield delicious, tender roast. Be sure to find a cut of pot roast with marbling so that the fat renders making your roast more tender.
More Slow Cooker Recipes
Make juicy, sweet and tangy chicken in your crockpot with this easy Slow Cooker BBQ Chicken recipe! You'll love the fall off the bone texture and flavor of this chicken!
If you're looking for an easy, no fuss meal idea, these Slow Cooker Beer Brats are delicious! Ten minutes prep and into the crockpot they go! Come home to a tasty meal!
Grab your slow cooker and make some of this smoky Kalua Pork! Tender and juicy, it's so versatile…sandwich, pizza, and more!
This French Dip recipe can be made in the slow cooker OR the instant pot! Tender, juicy meat on a french roll loaded with cheese!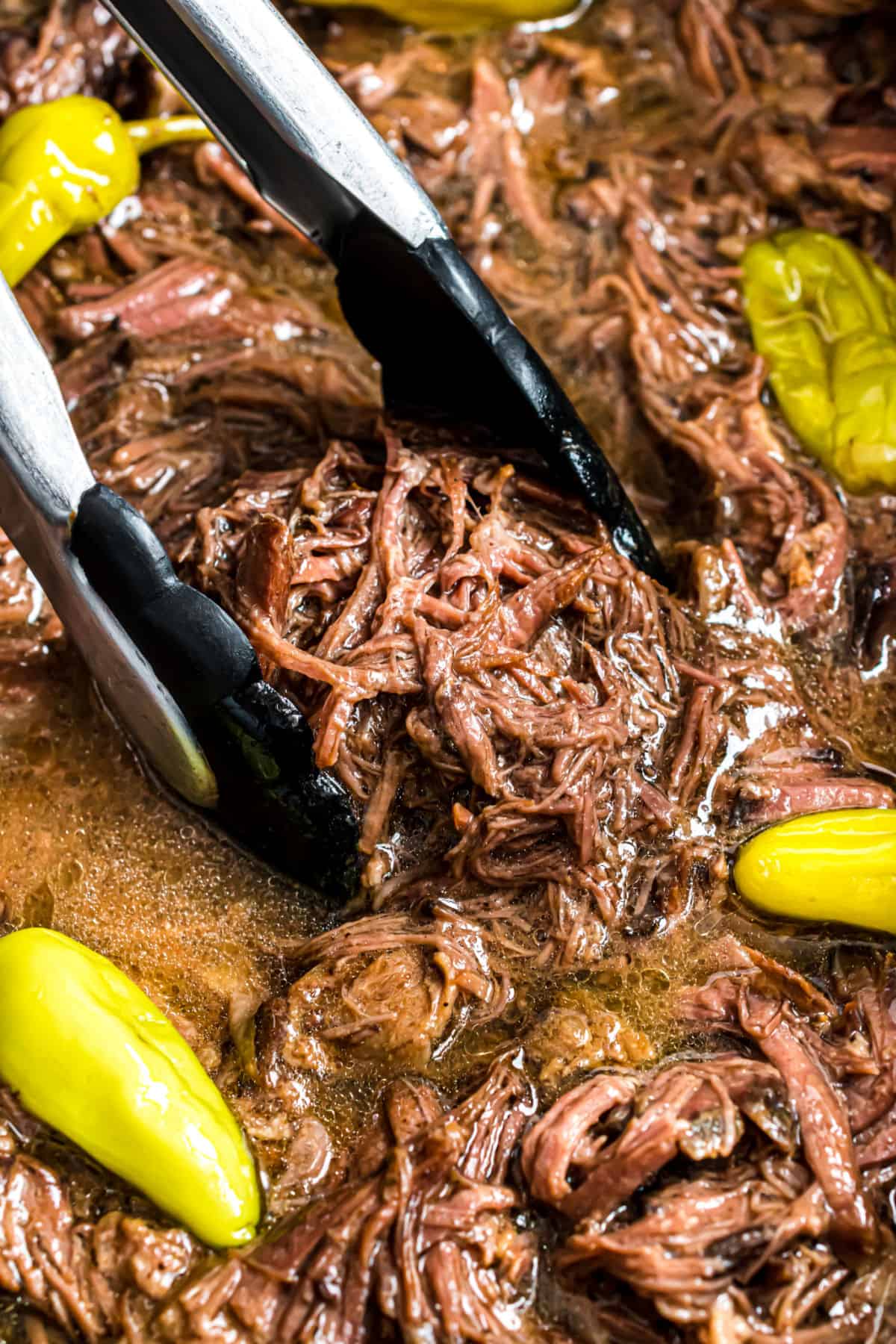 Tender, delicious Mississippi Roast recipe made with a perfect cut of chuck roast (pot roast).