There's nothing better than beefy, cheesy hand-held sandwiches dipped in buttery au jus. These irresistible French Dip Sliders are the ultimate game day food.
Sliders for snacks and dinners are so fun and easy. Our buffalo chickens sliders are packed with flavor and delicious to eat. Or give our turkey cheddar sliders next!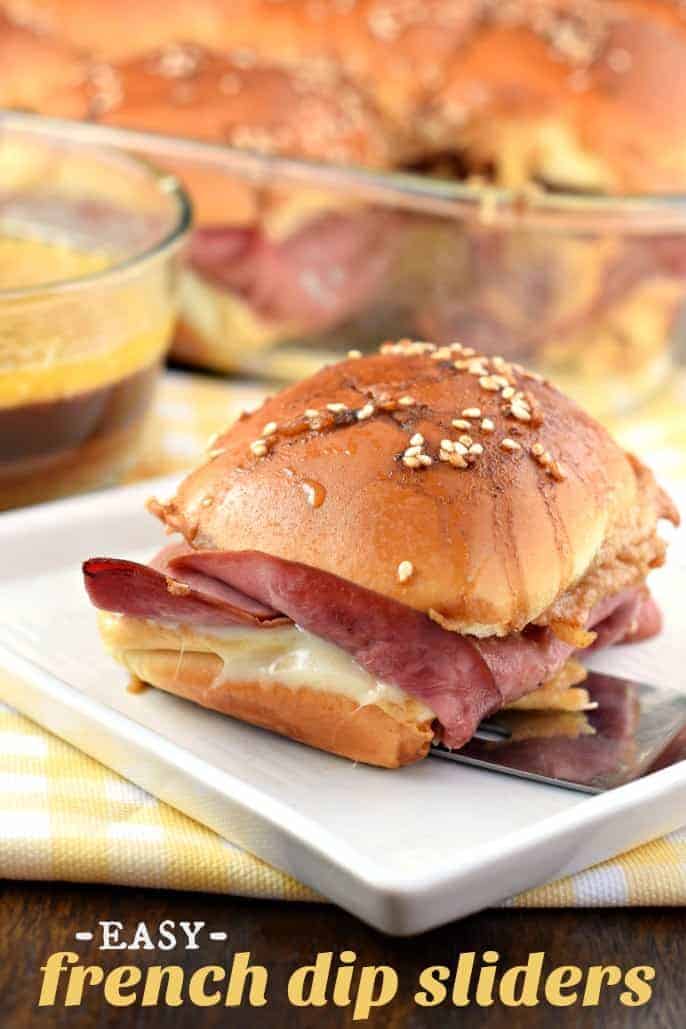 Why French Dip Sliders Are The Best
We took the classic french dip flavor and made it even better (and easier)!
Serve these sliders anytime. They're filling enough for lunch, dinner, or a game-day snack.
Pre-made ingredients make assembly effortless.
In less than 30 minutes, you'll have 12 sliders, hot, out of the oven.
Before cooking, these French Dip Sliders are covered in au jus. As a result, the sandwiches are juicy, tender, and buttery.
Serve these up with our homemade french fries and some blue cheese dressing!
Ingredient Notes
Butter
Rolls – You can use whatever slider rolls you prefer. Hawaiian sweet rolls are my favorite, but potato rolls have a similar soft and fluffy texture.
Roast Beef – I recommend grabbing one pound of thinly sliced roast beef from your local deli.
Provolone Cheese
French Fried Onions – French Fried Onions are optional, but add texture and flavor to the sandwiches. We use them on top of our green bean casserole too!
Au Jus Gravy Mix – You'll find this in the same aisle as seasoning packets at the grocery store.
Water
Worcestershire Sauce – Don't skip this ingredient! Worcestershire sauce gives the au jus an umami flavor. This is what makes these sandwiches infinitely crave-able.
Sesame Seeds
Minced Onion
Kosher Salt – Kosher salt is less salty than iodized table salt, which makes it easier to control the flavor.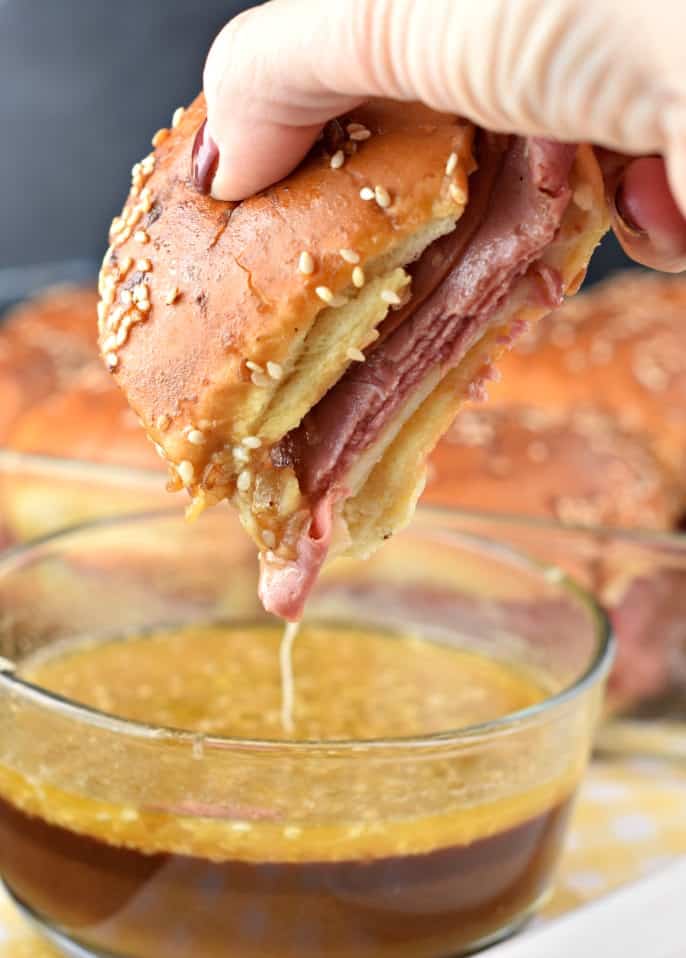 Easy Instructions
Prep The Pan. Grease the bottom of a 9 x 13" baking dish with melted butter.
Prep the Buns. Without separating the slider rolls, slice the entire package in half horizontally. Then, place the bottom portion of the rolls into the baking dish.
Assemble the sliders by layering roast beef, provolone, french fried onions, and the top half of the rolls.
Add the topping. Melt the rest of the butter. Then, whisk in the au jus gravy mix, water, Worcestershire sauce, sesame seeds, minced onion, and kosher salt. Pour some of the au jus mixture over the top of the sandwiches. Make sure to reserve at least half of the gravy for dipping. Next, spoon some of the chunky bits of onion and sesame seeds onto each of the buns.
Bake the sliders, uncovered, in a 350°F oven for about 15 minutes. Once the cheese is melted and the buns have browned, you can remove them from the oven.
Serve. Remove the sliders from the baking dish and cut them into 12 portions. Serve with the au jus gravy.
Tips and Tricks
I like to use medium-rare sliced roast beef from the deli. This way, the meat stays tender and juicy in the oven. However, you could use whatever kind of roast beef you'd like.
Alternative to using French Fried Onions in this recipe, you could caramelize your own onions and peppers. It'll bring even more flavor to these sandwiches.
An easy way to remove the sliders from the baking dish is to use two spatulas to scoop up the rolls from either side. Then, gently lift them from the pan and move them onto a cutting board. For even more flavor, add any pan drippings to the au jus.
Don't forget to warm up the au jus and serve it alongside the sliders. Dipping these sandwiches in the buttery sauce takes this recipe to the next level. For a party, grab some small disposable plastic bowls for everyone to spoon some of the sauce into.
As the au jus cools, it'll separate. It's perfectly fine to eat and still just as tasty.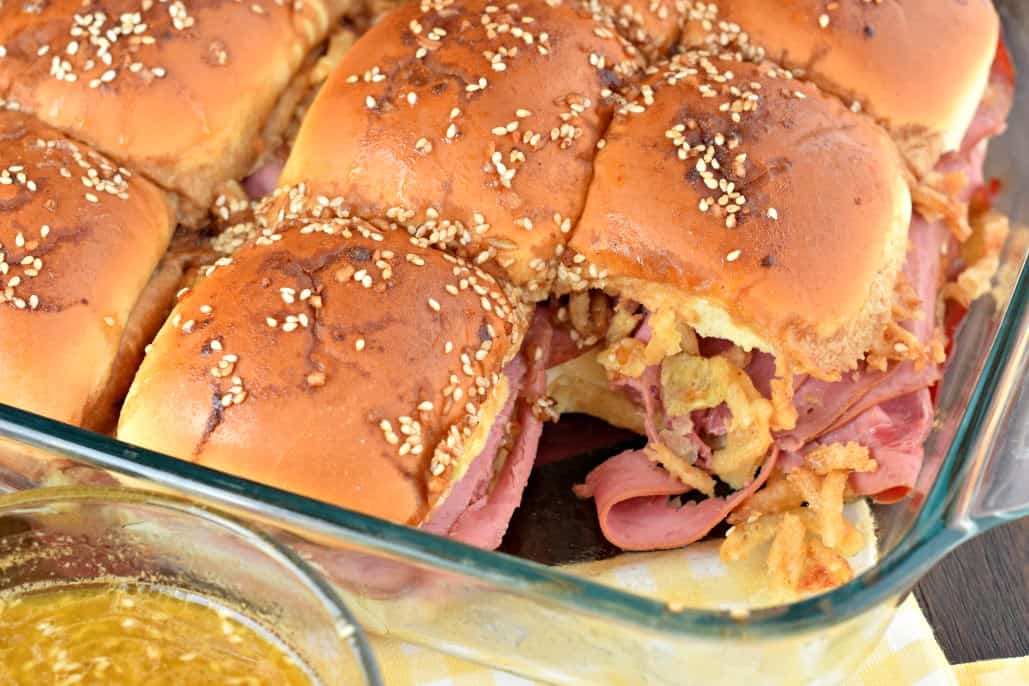 Serving Suggestions
Since these French Dip Sliders are perfect for game day, an obvious pairing is to serve them with other snackable foods. Sweet Potato Fries are a classic accompaniment for these sliders.
Cold sides that you can prep ahead of time, make planning a menu for a gathering stress-free. Loaded Potato Salad or Copycat Chick-fil-A Cole Slaw are sure to please every guest.
On the other hand, if you're whipping up this recipe for dinner, they're delicious alongside soup. Try dipping the sliders into some Broccoli Cheddar Soup or Tomato Soup.
Recipe FAQs
Can I assemble the sliders ahead of time?
You can assemble the sliders in the baking dish, but hold off on the au jus coating until right before you bake the sandwiches. With the sliders assembled, cover the baking dish and store in the fridge for 1-2 days until you're ready to bake. Then, whip up the au jus, coat the sliders and continue as usual.
How should I store leftovers?
Store leftovers in an airtight container or tightly wrapped in foil. They'll keep in the fridge for 2 days.
Will the au jus sauce keep?
My favorite way to store leftover au jus is to pour it into an ice cube tray and freeze it. Once frozen, pop out the cubes and store them in a resealable freezer bag for up to 6 months. When cooking something that could use a buttery, oniony, rich umami flavor, pop 1-2 cubes into the recipe. 
What's the best way to reheat these sliders?
Reheat these French Dip Sliders in the oven or air fryer so they don't get soggy. 350°F for a few minutes until hot and melty.