Transform your leftover turkey into something delicious. These Turkey Cheddar Sliders are an easy meal idea for the crazy, after Thanksgiving shopping weekend!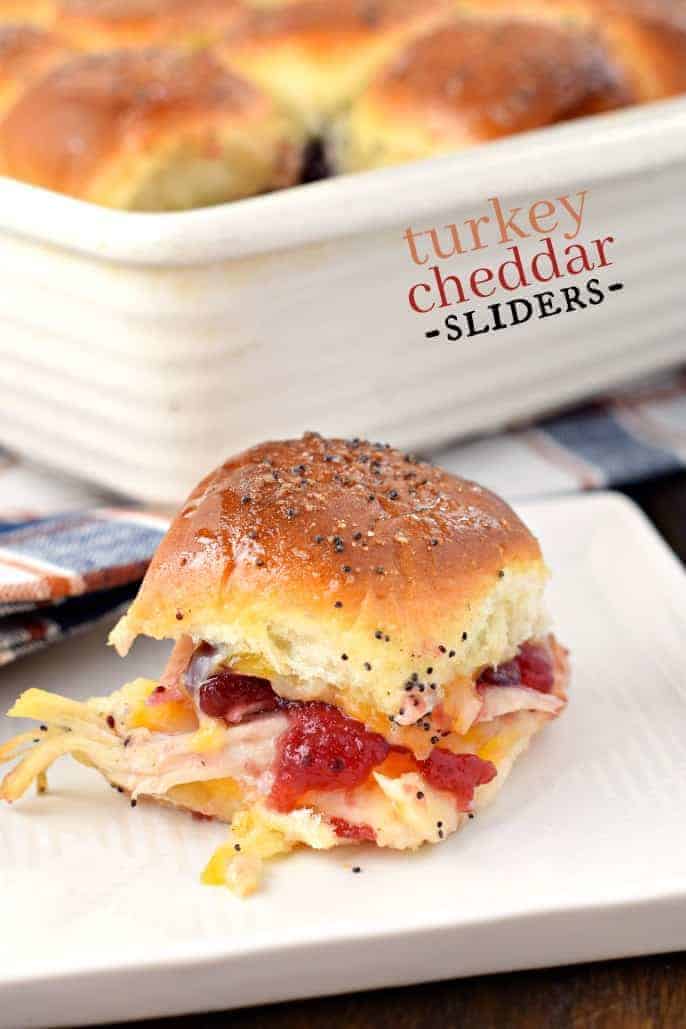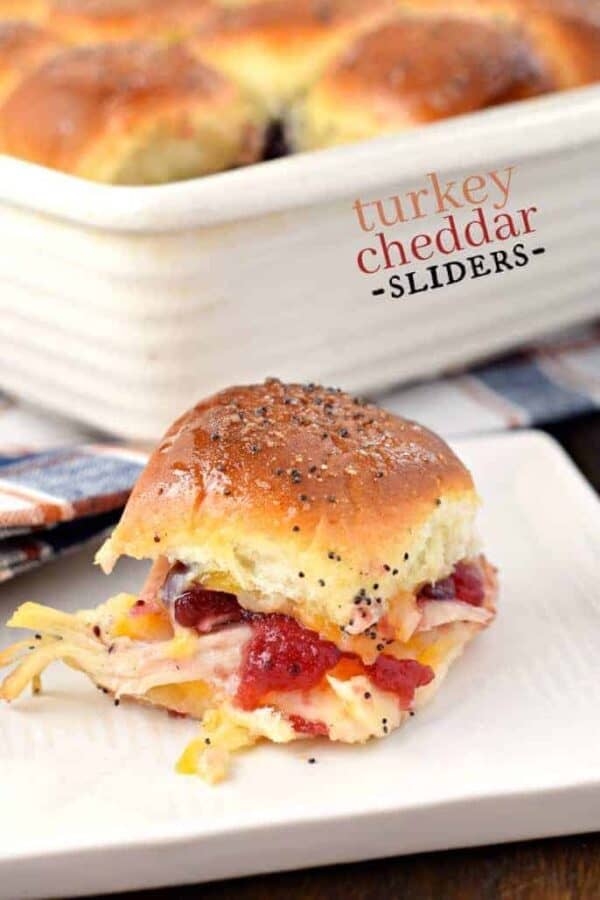 Click HERE to save to pinterest
For food bloggers, holidays can be difficult. We tend to make our holiday recipes months in advance, and then the actual holiday comes and we find ourselves planning for the next one. For instance, while some people are just beginning to enjoy pumpkin recipes…I'm already working on eggnog and peppermint.
This year we celebrated an early Thanksgiving dinner while my son was home from the Marines back in October. I froze ziploc bags of leftover turkey and found myself craving some of it the other day.
You may remember a few weeks ago I made these delicious French Dip Sliders. I figured I could do something along those lines, and make a turkey version. Today's Turkey Cheddar Sliders are like Thanksgiving in every bite! Heck you can even pile on some leftover stuffing and put that inside too! If you're tired of making Turkey Soup, this is something different for your holiday leftovers!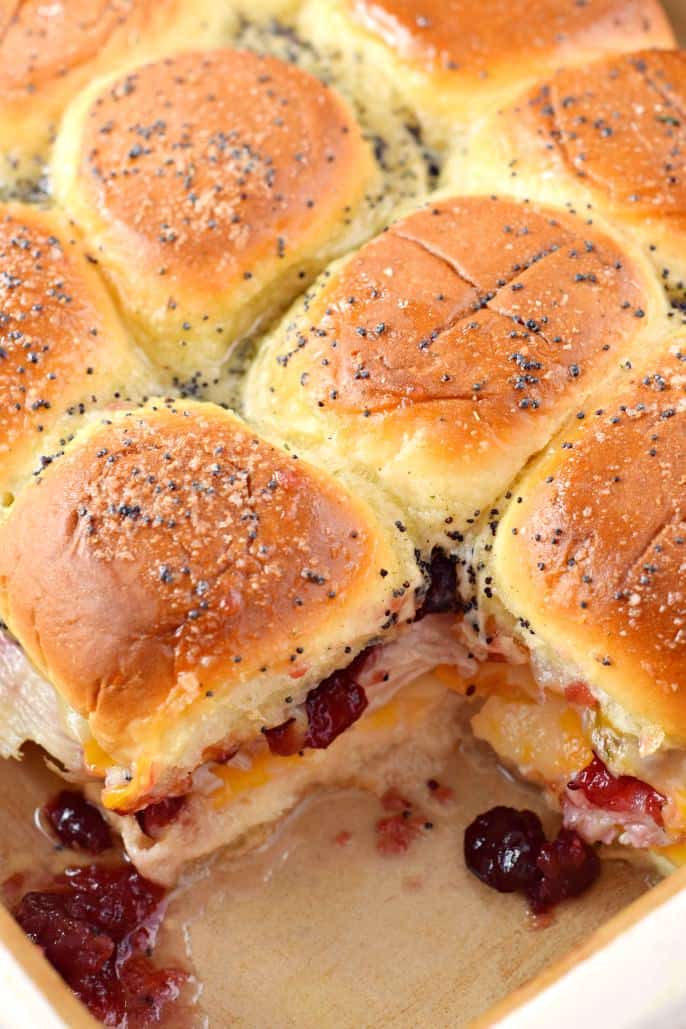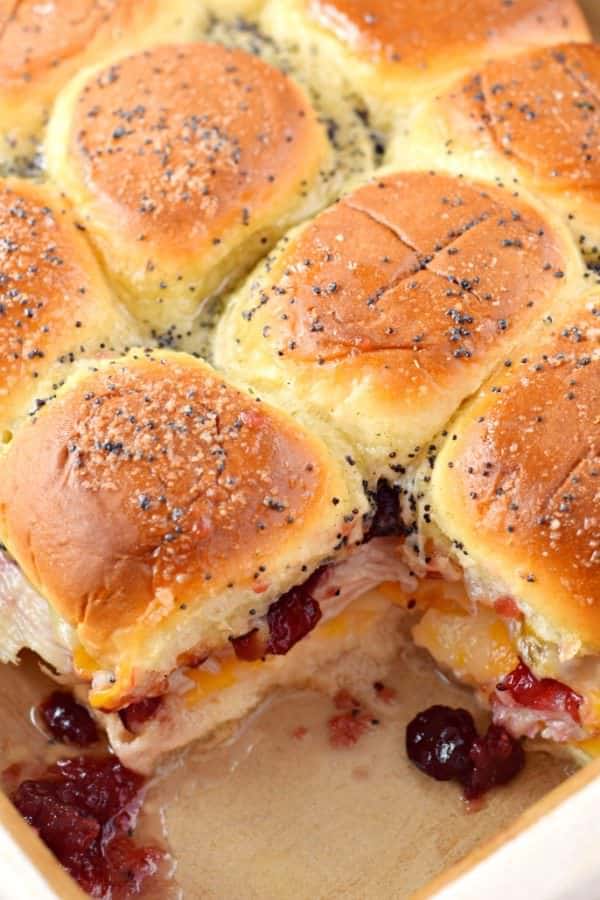 If you still need some inspiration….here are a few of my Thanksgiving favorites:
Appetizers:
Pineapple Ham Cheese Ball is a great start to your holiday. You can make it the day before and serve it to all your guests!
No holiday is complete at our house without these Hanky Panky's! These can be made weeks in advance and frozen until ready to bake!
Let's not forget Grandma's Ham Salad. Most people aren't fans…but those of you who love classic old timer food, this one's for you!
Dinner and Leftover ideas:
I've got a Classic Stuffing Recipe for your holiday meal. Can be baked in or out of the bird, your choice!
Don't forget the Cheesy Hashbrown Casserole (it's actually sometimes referred to as "funeral hashbrowns" ).
Use up that leftover turkey and make some Turkey Taco Soup. You'll thank me later!
Drinks are a must during the holidays! Make sure you whip up a batch of Apple Cider Sangria. So festive!
Dessert:
Sure, pumpkin pie is a must…but how about some Pumpkin Magic Cake instead? Especially if you want something a little different this year!
Or how about this impressive Pumpkin Cheesecake Cake. Last year dozens of my readers sent me pictures of them enjoying this cake at the holidays.
Kids love these Turkey Rice Krispie Treats! They can even make them themselves while dinner is getting ready!
Finally, Pecan Pie Truffles are a great addition to your dessert table!
Happy Thanksgiving to all my Shugary Sweets readers!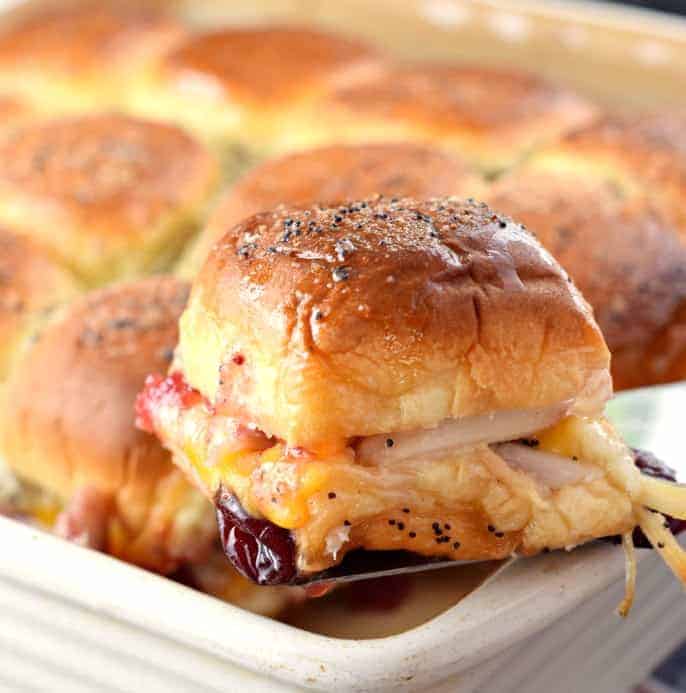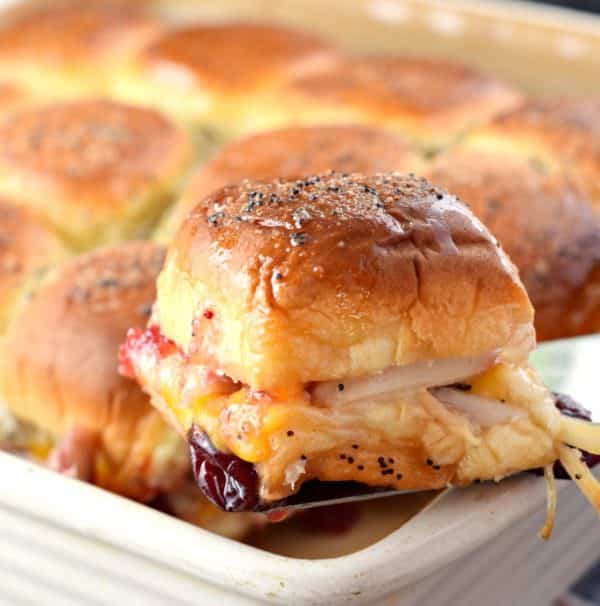 Be sure to follow me on Instagram and tag #shugarysweets so I can see all the wonderful SHUGARY SWEETS recipes YOU make!
Connect with Shugary Sweets! Be sure to follow me on my social media, so you never miss a post!
Facebook | Twitter | Pinterest | instagram
Yield: 12 sliders
Turkey Cheddar Sliders
Transform your leftover turkey into something delicious. These Turkey Cheddar Sliders are an easy meal idea for the crazy, after Thanksgiving shopping weekend!
Ingredients
For the sliders:
1 Tbsp unsalted butter, melted
12 Hawaiian sweet rolls
1 1/2 cups sliced turkey, fully cooked
12 slices cheddar cheese or colby jack cheese
1 can (14 oz) whole berry Cranberry sauce (or 1 1/2 cups)
For the topping:
3 Tbsp unsalted butter
1 tsp garlic salt
1/4 tsp poultry seasoning
1 tsp poppy seeds
Instructions
Preheat the oven to 350° F. Melt the 1Tbsp of butter, and spread it over the bottom of a 9-inch square baking dish.
Without separating the rolls, slice the package of rolls in half. Place the bottom half of the rolls in the baking dish. Top with 6 slices of the cheddar cheese, followed by the turkey and cranberry sauce. Top with 6 more slices of cheese. Then add the other half of the rolls on top.
In a small bowl, melt 3 Tbsp of butter, garlic salt and poultry seasoning in the microwave. Mix in poppy seeds. Whisk until well combined.
Pour over the top of the rolls.
Bake the sliders uncovered for about 15-20 minutes, until cheese is melted and the tops are browned.
Remove and cut the sliders into 12 portions. Serve and enjoy!


Today's recipe was originally published on November 21, 2016 and has been republished in November 2018