Transform your leftover turkey into something delicious. These Turkey Cheddar Sliders are an easy meal idea for the hectic after Thanksgiving shopping weekend!
Whip up an Instant Pot Turkey breast or use leftovers for today's sliders. Serve on homemade dinner rolls, or store bought to make it even easier.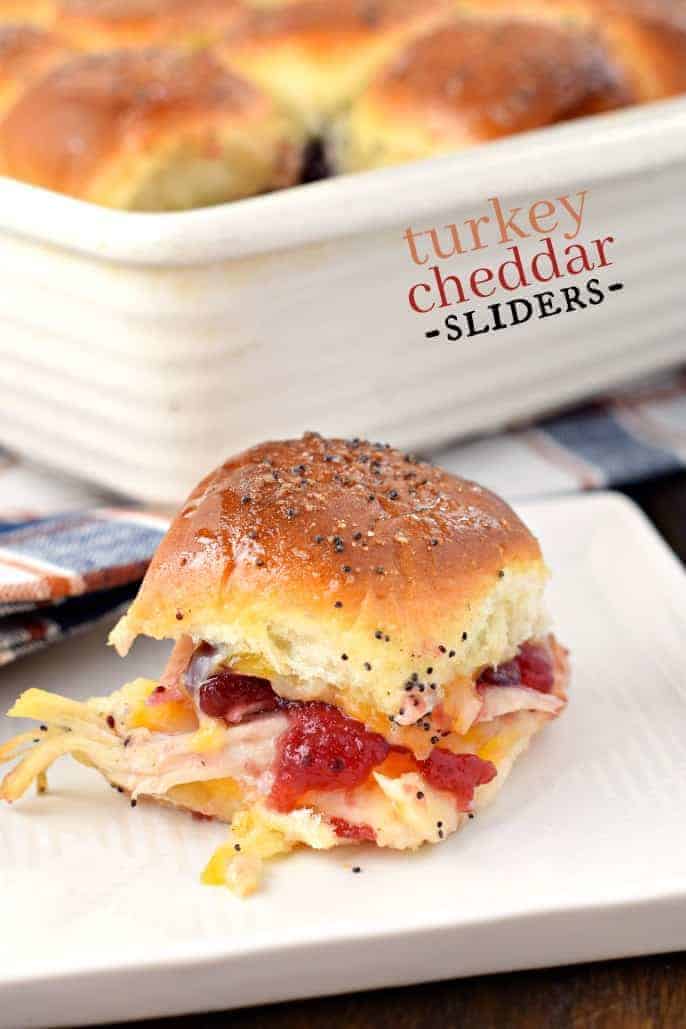 Leftover Turkey Dinner Idea
Sure, I look forward to eating turkey at Thanksgiving Dinner. Know what I look forward to even more?
Turning the Thanksgiving leftovers into even more delicious turkey dinners to enjoy all weekend long!
Cooked turkey is a deliciously easy starting point for dozens of meals, like Turkey Noodle Soup, turkey hand pies, and salads. The recipe I'm sharing today is a new favorite that's definitely going to be on the menu every post-Thanksgiving weekend from now on: Turkey Cheddar Sliders.
Sliced turkey piled onto sweet Hawaiian rolls, topped with cheese and baked to create a pan of small sandwiches perfect for pulling apart to share.
Even better? You top them with that leftover cranberry sauce! The savory turkey, tangy cheese and tart cranberry pair amazingly well with the sweetness of the rolls.
Dinner time is done leaving you more time for shopping, decorating or just recovering from all that Thanksgiving cooking!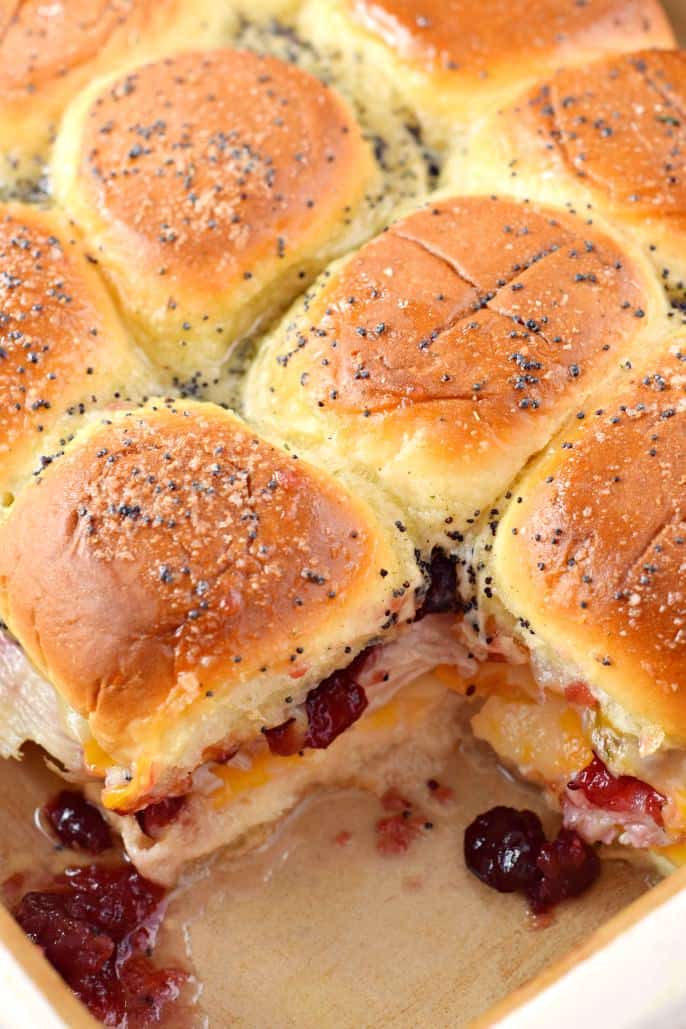 Ingredient Notes
Turkey – Cooked and sliced. Use your leftovers, make a quick Turkey breast in the Instant Pot or even grab some deli turkey slices.
Cheese – I love cheddar in these sliders; Colby Jack is another good choice.
Hawaiian Rolls – You can also substitute your other favorite dinner rolls that come stuck together in the package.
Cranberry sauce – Use a can of prepared sauce or about 1 1/2 cups of homemade cranberry sauce.
Poultry seasoning – A sprinkle of this seasoning on the buttered rolls adds just the right amount of salty savory flavor to the tops of the sliders when they bake.
Step by Step Instructions
Butter the pan. Melt unsalted butter on the bottom of a baking pan while you preheat the oven.
Assemble the sandwiches. Slice the layer of Hawaiian Rolls in half lengthwise (without separating the rolls). Put the bottom half of the rolls in the buttered baking pan and top with cheese, turkey and cranberry sauce.
Top with the other half of rolls.
Season and bake. Combine more butter with garlic salt, poultry seasonings and poppy seeds and melt. Pour this buttery mixture on top of the sliders, then bake for about 15 – 20 minutes.
You want to make sure the cheese is melted and the tops of the rolls are golden brown.
Cut the sliders into 12 sandwiches and serve immediately.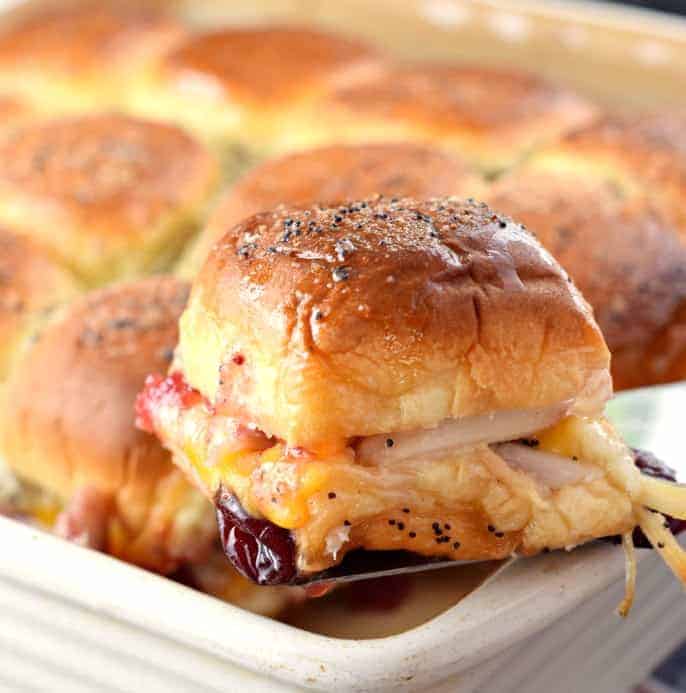 Recipe FAQs
Can these be made without the cranberry?
Yes, they are delicious sans cranberry sauce. You can also substitute with red pepper jelly for a little bit of kick!
Can you freeze Turkey sandwiches?
Freezing these sandwiches in individual portions totally works. Then you can reheat in the microwave for a quick lunch or snack during the week.
What other rolls would work for this recipe?
If you can't find or prefer not to use Hawaiian rolls, I'd go with any another white bread dinner roll that comes in a package stuck together.
More Easy Dinner Recipes
Turkey Cheddar Sliders – A perfect use for Thanksgiving leftovers but so tasty you'll want to make them for quick dinners all year long!