Juicy, flavorful Turkey Breast made in the Instant Pot. Perfect for weeknights or holidays, this Thanksgiving feast is now a year-round dish ready in no time at all.
For quick and easy holiday side dishes be sure to try our Instant Pot Green Bean Casserole recipe! You can also make potatoes in the Instant Pot!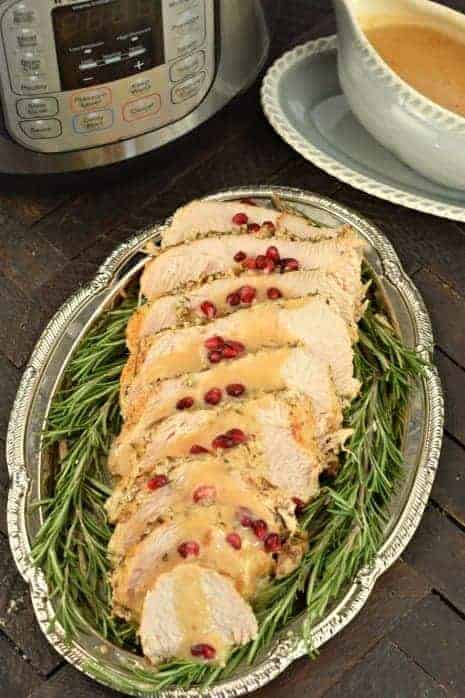 Holiday Dinner Recipe
Making a traditional turkey in the oven is great for some families for Thanksgiving, but sometimes you just can't. Or won't. Or don't want to.
Sometimes you want turkey without all the fuss, but still have all the flavor.
You may have already seen or tried my Crock Pot Turkey Breast recipe…which is amazing and cooks up with the Stuffing on top!
Today's turkey breast recipe is cooked in the Instant Pot.
If you haven't yet purchased the Instant Pot…do it. Not only does it make delicious pot roast and easy dinners…but the cheesecakes are amazing. I also wouldn't ever go back to boiling my hard boiled eggs ever again. When you know, you know.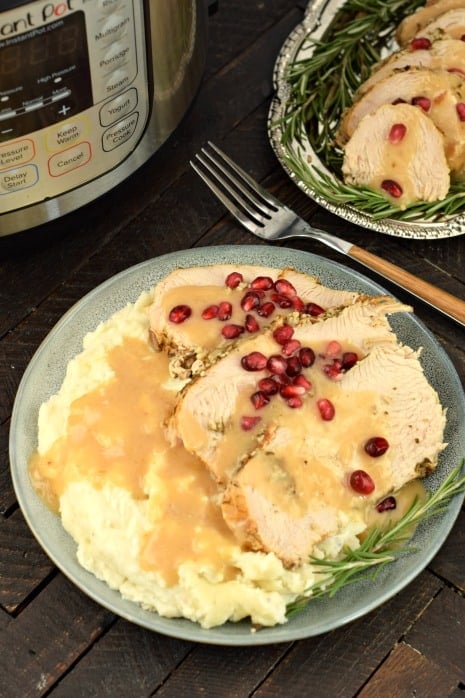 But, back to today's turkey.
You'll love this juicy, moist turkey breast that's ready in under an hour, complete with gravy made from the drippings! Ready to start?
How to Make Turkey Breast in the Instant Pot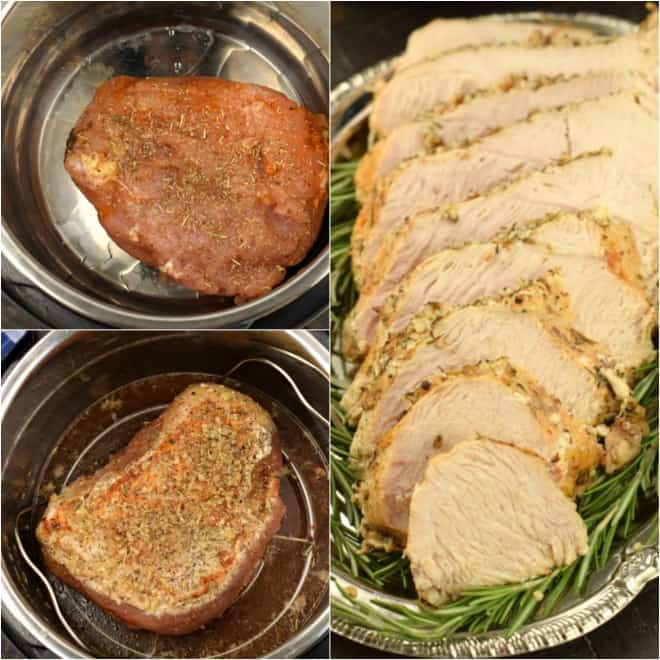 STEP 1. Season thawed turkey breast with garlic, Italian seasoning, poultry seasoning, salt and pepper. Add olive oil to instant pot and turn on "SAUTE."
Sear turkey breast about 4 minutes per side. Remove from Instant Pot and immediately add chicken broth.
Using a wooden spoon, scrape up the browned bits from the bottom of the pot.
Not only do the browned bits add flavor to the gravy, but scraping them off the bottom will prevent the "BURN" notice.
STEP 2. Place whole turkey breast on trivet and lower into the instant pot (with the broth still in the bottom). Add 2 Tbsp cubed butter to the Instant Pot.
Secure the lid and turn on "HIGH PRESSURE" for a cook time of 30 minutes.
When cook time ends, allow to naturally release pressure for 10 minutes.
STEP 3. First, check the internal temperature of the turkey using a meat thermometer. It should read 165 degrees F.
Next, remove the turkey and trivet and set on cutting board.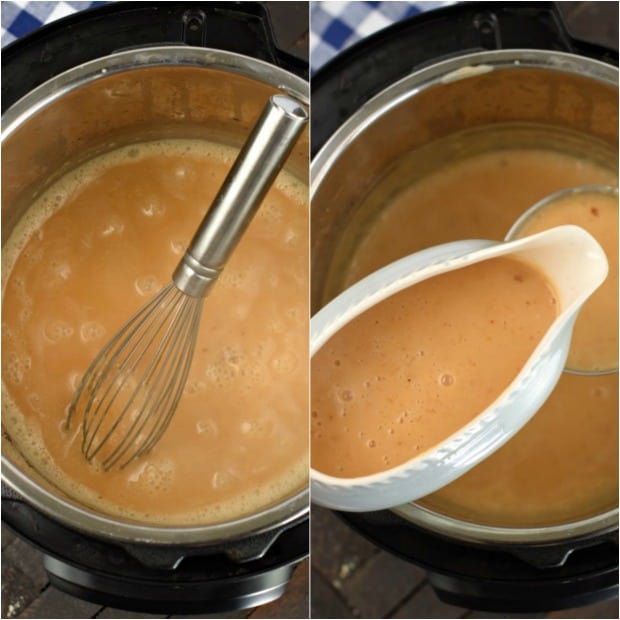 Meanwhile, in a small bowl, whisk together cornstarch and cold water. Add to broth and select "SAUTE."
Add in heavy cream and cook until desired thickness for gravy, whisking continuously.
STEP 4. Slice turkey breast and serve over rosemary sprigs with fresh pomegranate for a beautiful presentation!
What to serve with Instant Pot Turkey Breast
Whether you're making this for a weeknight meal, or you need some Thanksgiving side dishes, you'll love all these easy ideas.
Tips for Perfect Turkey Breast recipe
Start with a thawed turkey breast. I use Jenni-O boneless turkey breast. They usually go on sale in November and I stock up my freezer! Each one is about 3 lbs.
Sear the turkey to lock in flavor and moisture. While it's not a mandatory step, I love the extra browned bits added to my gravy too.
Thicken your gravy by adding the cornstarch, water, and heavy cream while using the "saute" function. Keep whisking until desired thickness, this usually takes a couple minutes.
Today's recipe was made in a 6qt Instant Pot. Time to come to pressure was about 10 minutes.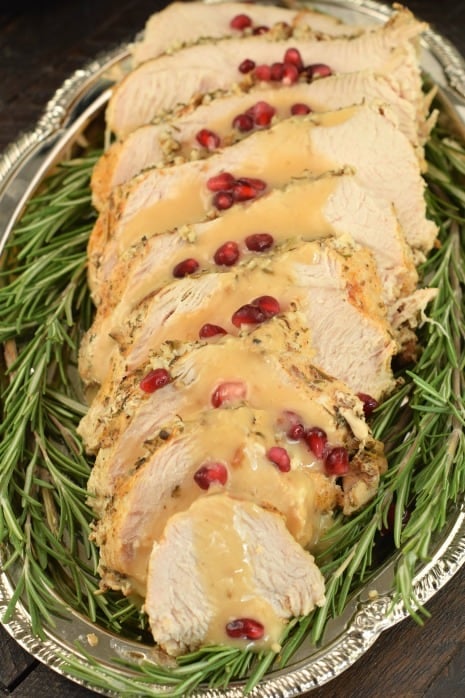 How to use Leftover Turkey
If you find yourself with leftover turkey breast on Thanksgiving (or any weeknight), you can use it in place of most recipes that call for cooked chicken.
Make a big pan of this delicious Turkey Tetrazzini!
Whether you want to make a batch of these Turkey Cheddar Sliders with homemade cranberry sauce, or whip up some Turkey Noodle Soup, the sky is the limit.
More Instant Pot Recipes
Juicy, flavorful Turkey Breast made in the Instant Pot. Perfect for weeknights or holidays, this Thanksgiving feast is now a year-round dish ready in no time at all.