Juicy, fork tender Instant Pot Pork Chops with delicious Mushroom gravy recipe! You'll love this easy weeknight dinner recipe!
Serve these delicious pork chops with a side of fried apples for a complete sweet and savory meal. Or whip up a batch of our easy homemade applesauce!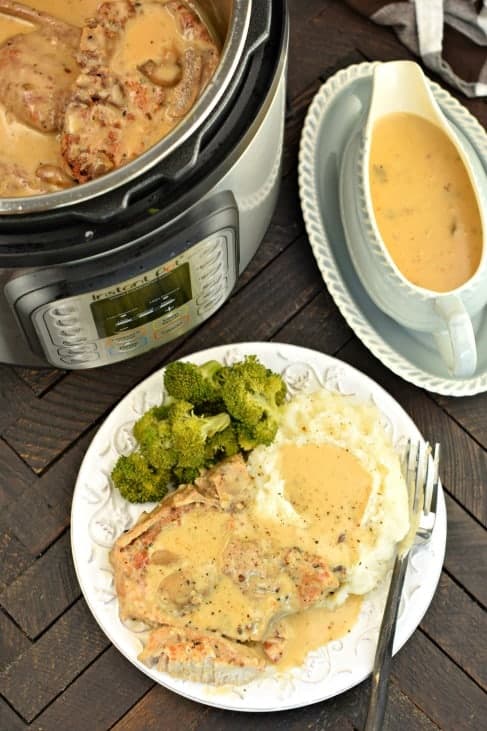 Pressure Cooker Pork Chops
In my family, when you start to enjoy something new, we tend to go a little crazy and get obsessive.
Whether it's learning to play tennis (and we practice EVERY SINGLE MOMENT), learn a new board game (have you tried Catan yet?) or prepare recipes using an Instant Pot.
I've been a little obsessed with making recipes in my Instant Pot. But can you blame me?
Between this Broccoli Cheese Soup and this Ziti recipe, everything tastes amazing and is so quick and easy to make (even CHOCOLATE CAKE).
No more worrying about "what's for dinner" when you can just toss things in the pressure cooker and have it ready so quickly!
But pork chops was something I was a little afraid to cook. I mean, growing up they were always dry and chewy. Sorry mom.
However, that has changed since using the instant pot! These fork tender pork chops in delicious mushroom gravy are the perfect dinner.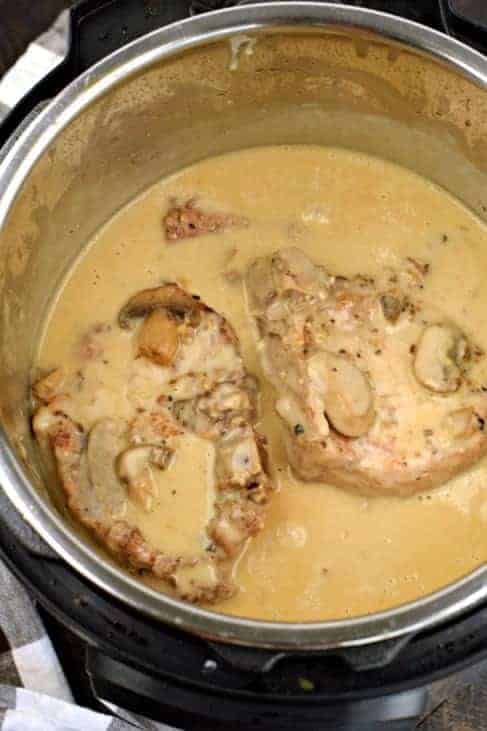 How long to cook Pork Chops in the Instant Pot
A few years ago, it was determined by the USDA that pork no longer needs to cook to 160 degrees F. The NEW recommendations are 145 degrees F, which means you may have a little pink in the center.
So mom, it wasn't your fault after all!
That said, I like my pork chops fork tender instead of chewy, so here's my best suggestions for you!
For BONE IN pork chops:
1/2″ to 3/4″ thick- cook for 15 minutes
3/4″ to 1″ thick- cook for 18 minutes
For BONELESS pork chops:
Cook for 8-10 minutes
Do NOT use thin cut pork chops in the instant pot. You'll end with dry, chewy pork chops.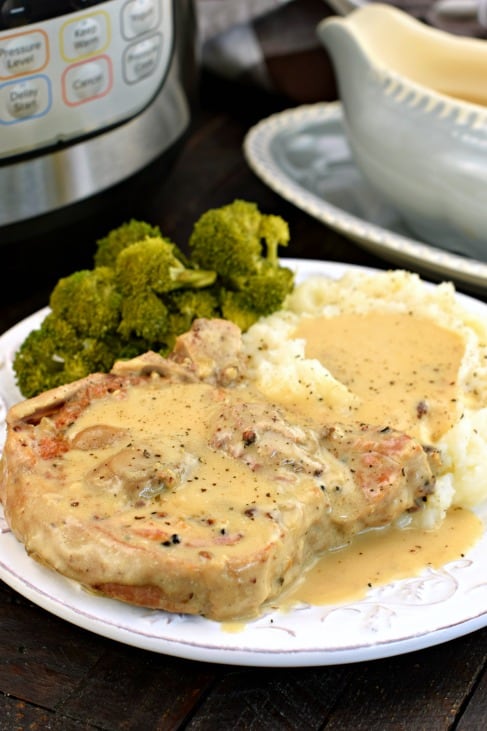 Step by Step Instructions
STEP 1: Turn on Instant Pot and select "Saute." Add olive oil to the cooking pot. Season pork chops with steak seasoning and brown each pork chop 2-3 minutes per side. Remove pork chops to plate while browning the others.
STEP 2: Add butter to instapot. Continue the "Saute" function and cook mushrooms, onion, and garlic for about 3 minutes until tender. Add in chicken broth, salt, and pepper. Add pork chops to instant pot and secure lid in place.
STEP 3: Select "Pressure Cook" on high level for 15-18 minutes, depending on thickness of pork chops (see above). When the cook time ends, allow the pressure to release naturally for 10 minutes. Then do a quick release.
STEP 4: Transfer pork chops to serving dish. Make the gravy by turning the instant pot on "Saute."
In a small bowl, whisk together cornstarch with about 1/4 cup of the hot broth from the instant pot. Pour whisked mixture into the instant pot and continue whisking until mixture bubbles and sauce thickens.
STEP 5: Whisk in heavy cream, season with more salt and pepper to taste. Pour over pork chops and serve.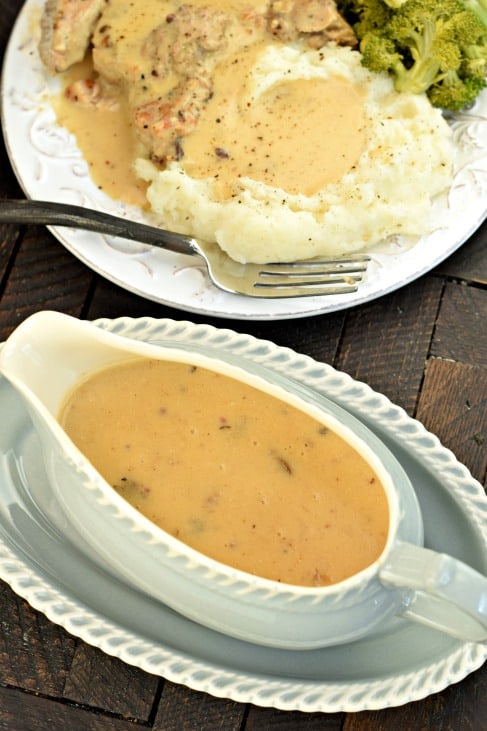 Tips and Tricks
For best flavor, choose thicker pork chops that have marbling of fat throughout.
Use a gravy browner with the heavy cream if you want a darker brown gravy.
This recipe was tested in an Instant Pot 6qt Duo. Adjustments may be needed in a different size.
Make sure you take into account the time needed for the Instant Pot to come to pressure. If using frozen pork chops, the time to pressure will be longer.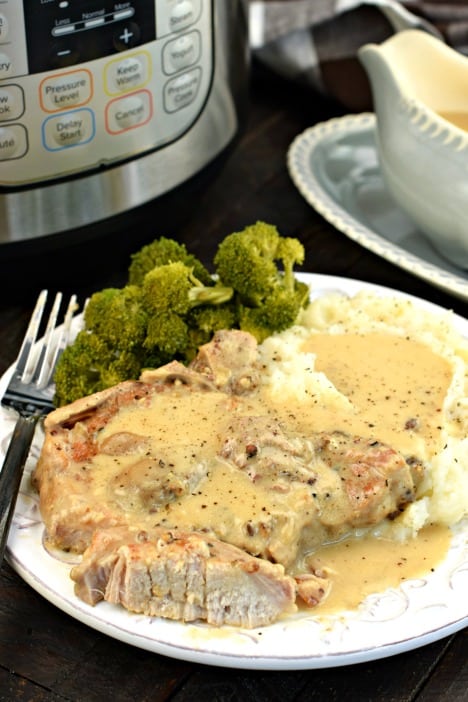 What to serve with Pork Chops
Use leftover pork chops to add to hashbrown casserole or shred to put on sandwiches!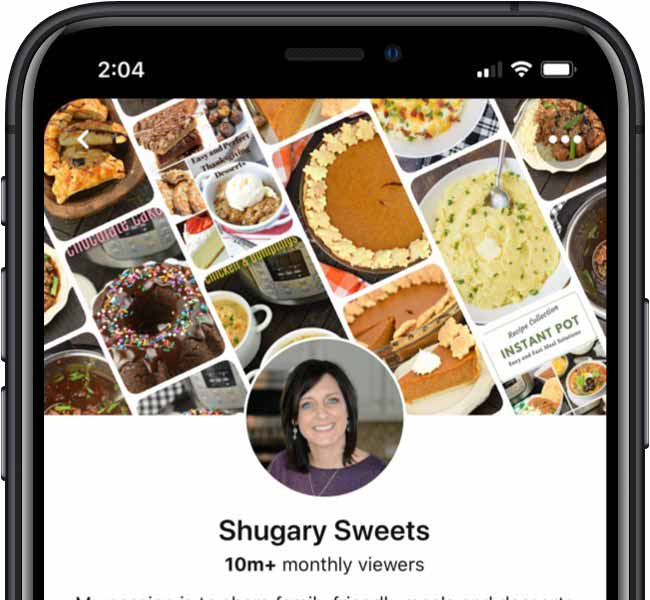 Juicy, fork tender Instant Pot Pork Chops with delicious Mushroom gravy recipe! You'll love this easy weeknight dinner recipe!