Crisp pieces of roasted broccoli and roasted zucchini covered in garlic and Parmesan cheese make for a glorious side dish. This easy to make and kid-friendly Roasted Broccoli and Zucchini recipe deserves a spot on your dinner table! 
Serve up some roasted vegetables with your classic Meatloaf for dinner tonight. Or toss those veggies into your favorite Chicken Alfredo recipe!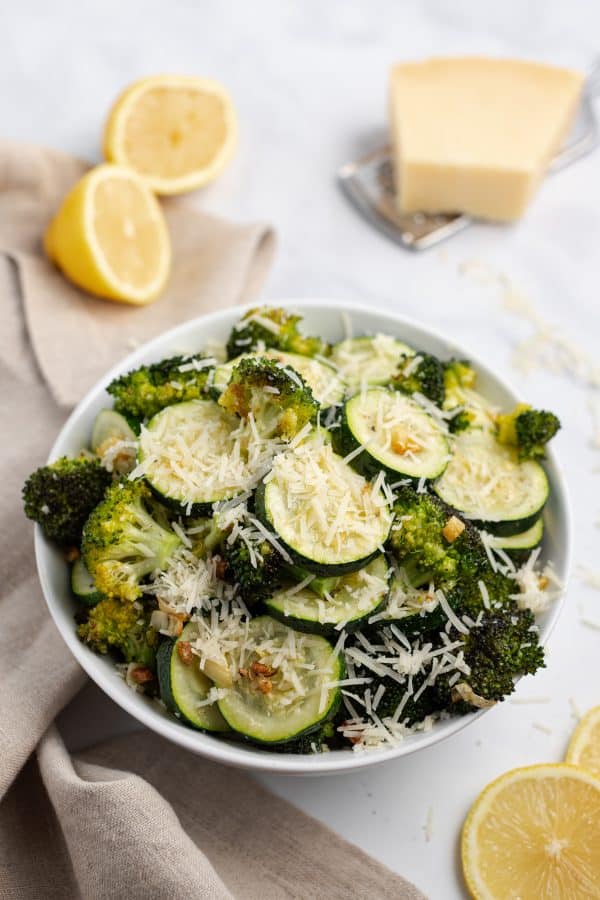 More Zucchini Recipes
I can't even count at this point how many zucchini recipes I have posted in the past couple months. Trust me, I know, it's ridiculous. I get it.
But, if you have a garden like mine, with zucchini popping up every couple of days, you might be looking for new ways to use it, too!
Zucchini is one of those garden plants that just keeps on giving. Every time I turn around there's another perfect green vegetable for me to pick.
As a baker, my first inclination is always to grate the zucchini and toss it in Zucchini Bread or a Bundt Cake.
But girl can only eat so much Cinnamon Swirl Zucchini Bread or Double Chocolate Zucchini Bread in one week before her friends start to worry. It was high time I use some of these delicious veggies in a good old fashioned side dish.
Enter roasted zucchini!
I can't believe it took me this long to think of roasting slices of zucchini with olive oil and garlic. Sometimes the most obvious options are the ones we overlook, right? Thankfully, a roasted broccoli recipe provided just the inspiration I needed.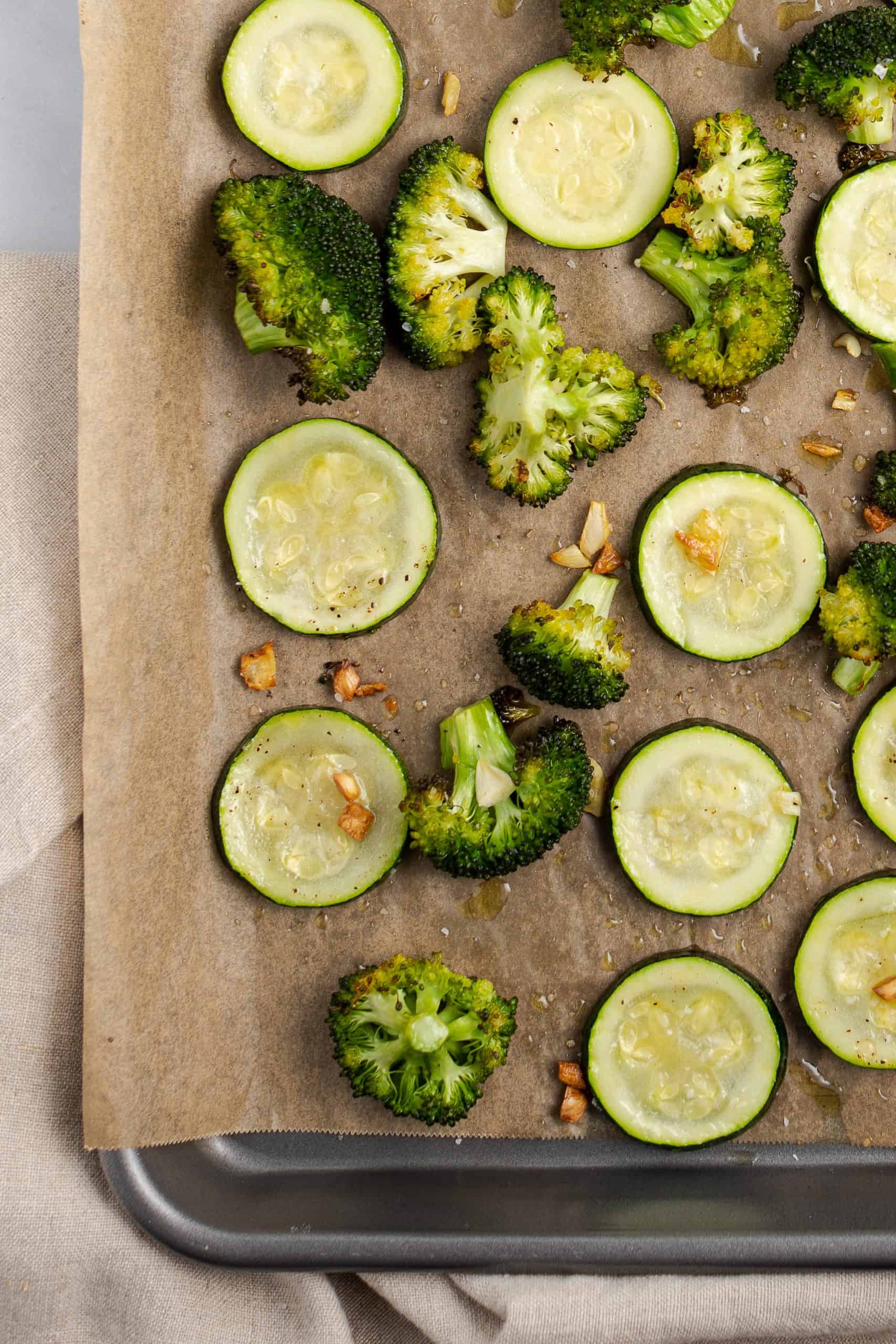 This recipe comes from my sister-in-law, Jaymie, who's been bringing her famous roasted broccoli recipe to family gatherings for years. She gave me the recipe and I sliced a couple of zucchini and tossed them in for good measure.
It was awesome. Garlicky, flavorful and covered in cheese, we ate every bit of this roasted vegetable side dish. Best of all, the kids loved it too!
If you're looking for a new delicious ways to enjoy your vegetables, give this Roasted Broccoli and Zucchini recipe a try. And while it's certainly a great way to use the vegetables from your own garden, it's well worth a trip to the grocery store to pick up some zucchini and broccoli.
Serving Suggestions
With just a few minutes of active prep time and a half-hour in the oven, these roasted vegetables are ready without any fuss. Perfect for a weeknight dinner or any occasion!
You can turn Roasted Broccoli and Zucchini into a main course, too. Serve the vegetables over pasta and you have a complete meal in no time at all.
Add a touch more olive oil or a bit of melted butter to the noodles first for extra deliciousness.
For more great vegetable recipes, check out my Roasted Corn Salad, Zucchini Egg Nests, and Broccoli Salad Recipe. You're also sure to like this Copycat Panera Broccoli Cheese Soup Recipe and this Parmesan Artichoke Bread. 
How to Make Roasted Broccoli and Zucchini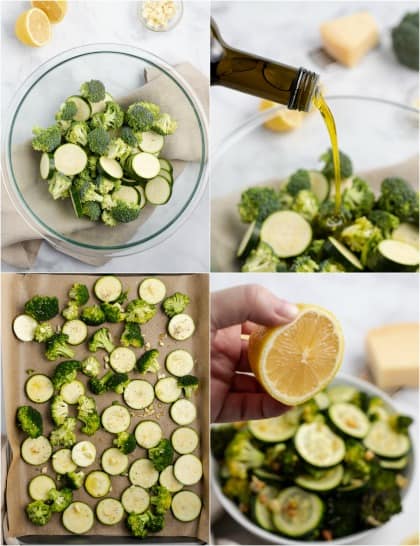 Cut the vegetables. Trim your broccoli heads and cut into florets. Slice the zucchini into even pieces.

Chop the garlic roughly. You want fairly large chunks here, not minced or finely diced garlic!

Mix vegetables in large bowl and coat with olive oil. Add garlic, salt, and pepper.

Pour everything onto a parchment lined baking sheet. Roast 400 degrees for 20-30 minutes, stirring and turning occasionally.

Pour in serving dish. Drizzle with a little more olive oil and toss in the grated parmesan cheese along with the lemon juice.
Serve a big bowl of roasted vegetables as a side with Instant Pot Chicken Paprikash, Pot Roast or just about any of your favorite entrees.
It's also a meal unto itself when you serve it over pasta!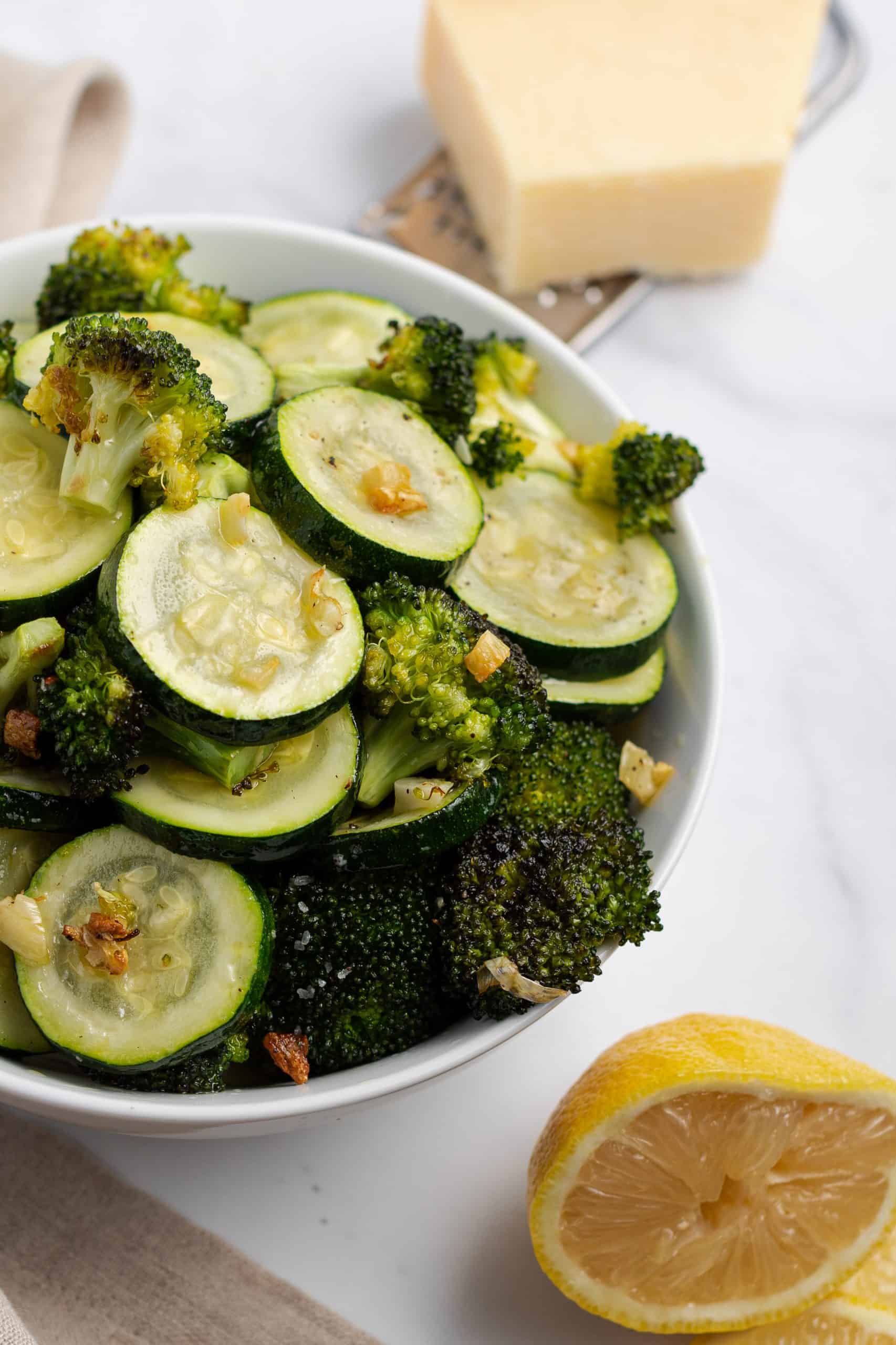 Recipe Notes
If you prefer, roast the vegetables on a baking stone instead of a cookie sheet. I've tried it both ways and found they work equally well.
Don't have any zucchini on hand? You can make this recipe with just broccoli, too.
This recipe can be made with the cheese omitted for a dairy-free option or with extra cheese for a cheese-lover's delight. Yes, I put extra cheese on mine, which is the way the kids like it!
To make this ahead of time, follow all the steps up until adding the cheese and the lemon juice. Store the vegetables in an airtight container in the fridge, then add the Parmesan and lemon juice before reheating.
This recipe has become one of my family's favorite vegetable dishes, especially in the spring and summer. I hope you enjoy it just as much!
More Zucchini Recipes
Need even more ideas for using all that garden zucchini? You've come to the right place. After roasting a few zucchini, give some of these other recipes a try.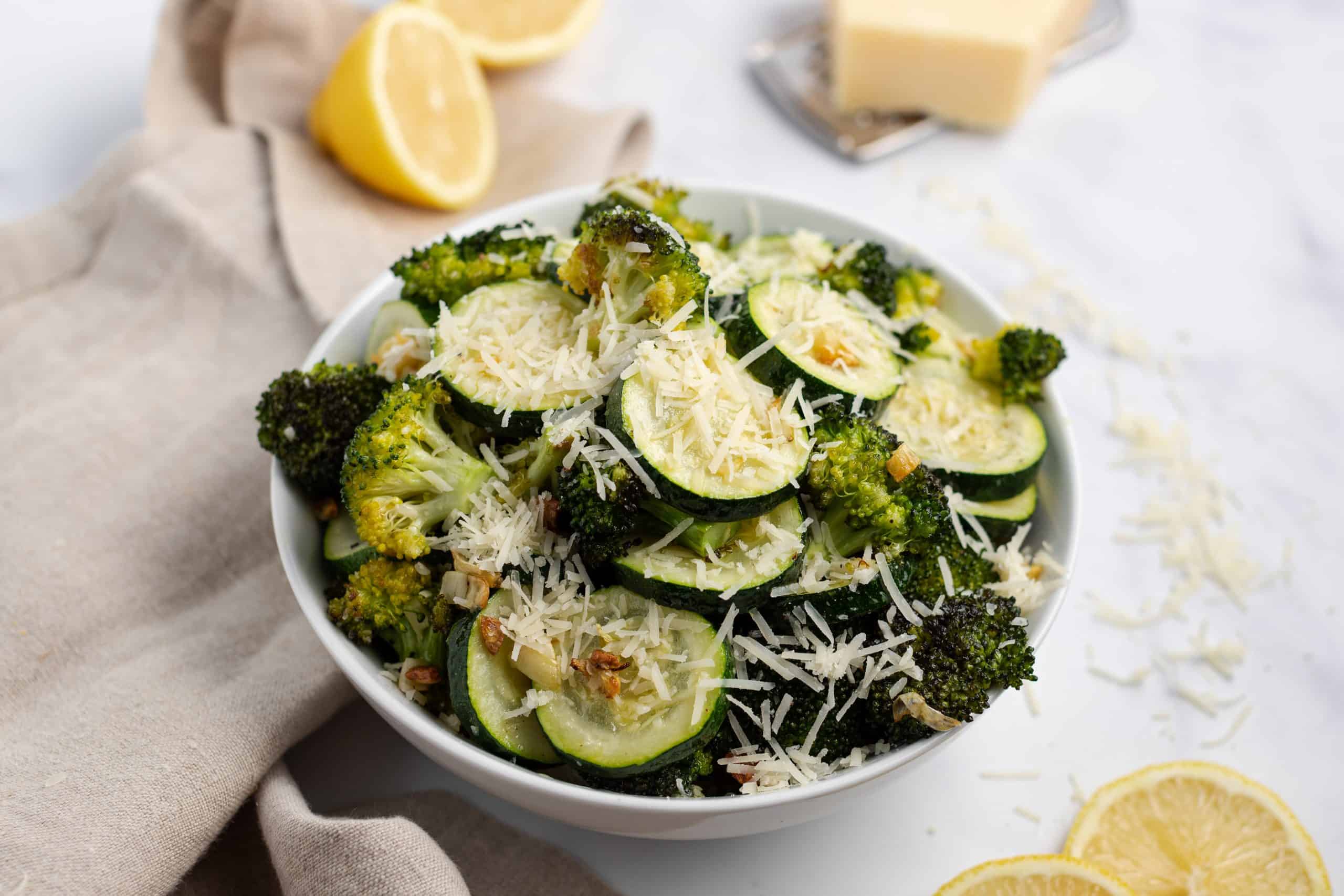 More Delicious Recipes:
Delicious as a side dish or served over pasta, this roasted vegetable recipe is an easy way to enjoy abundance from your garden.