Enjoy a slice of this incredibly sweet and moist Lemon Zucchini Bread for breakfast, brunch or as an evening treat! It won't disappoint!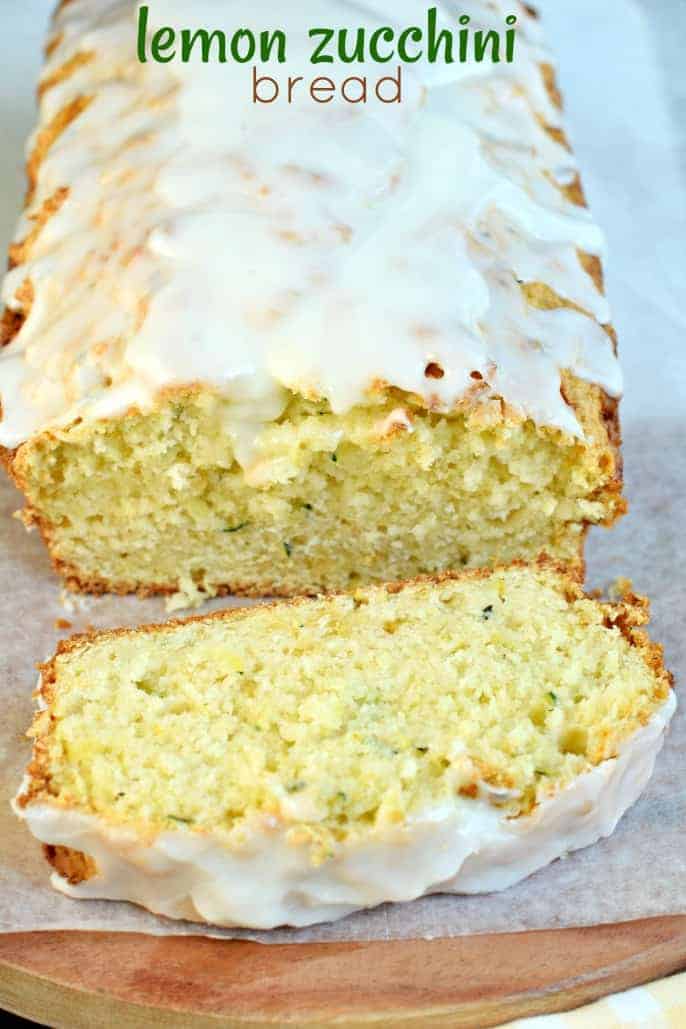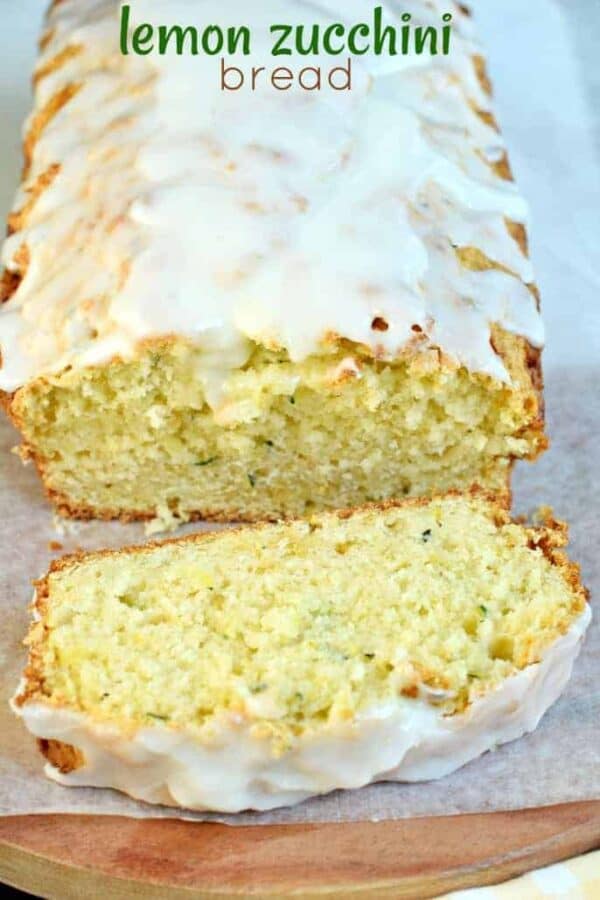 So….welcome to August! I have FOUR zucchini bread recipes waiting to share with all of you. But I thought I would start with today's LEMON Zucchini Bread since it's truly one of my favorites.
If you know me at all, you'll know I am a sucker for all things lemon flavored. These Lemon Cheesecake Bars are hands down in my top 10 favorite recipes…and they're quite popular with you, my readers, as well!
But, let's talk about zucchini. Every year as I plant my garden I think about how many zucchini plants should I do? In our current yard, we have a much smaller garden area than I'm used to, so I have to be deliberate about how many things to plant. I can't get all crazy and plant arugula in the hopes that I'll use it and eat it.
Last year I planted three zucchini plants and they EXPLODED. Like, legit, we were eating SO MUCH ZUCCHINI. I froze well over a dozen loaves of zucchini bread, I made zucchini cake, and another zucchini cake, zucchini muffins, and even zucchini brownies.
This year I thought maybe I should only plant TWO plants…but then I panicked. What if ONE gets bugs and dies? I can't survive on just ONE zucchini plant.
That is not nearly enough zucchini for all the recipes in my head. So. I planted three again. And once again, we are OVERWHELMED with zucchini. In a good way though because not only do I have 4 zucchini bread recipes (coming soon)…but I have a savory zucchini recipe that I can't wait to share.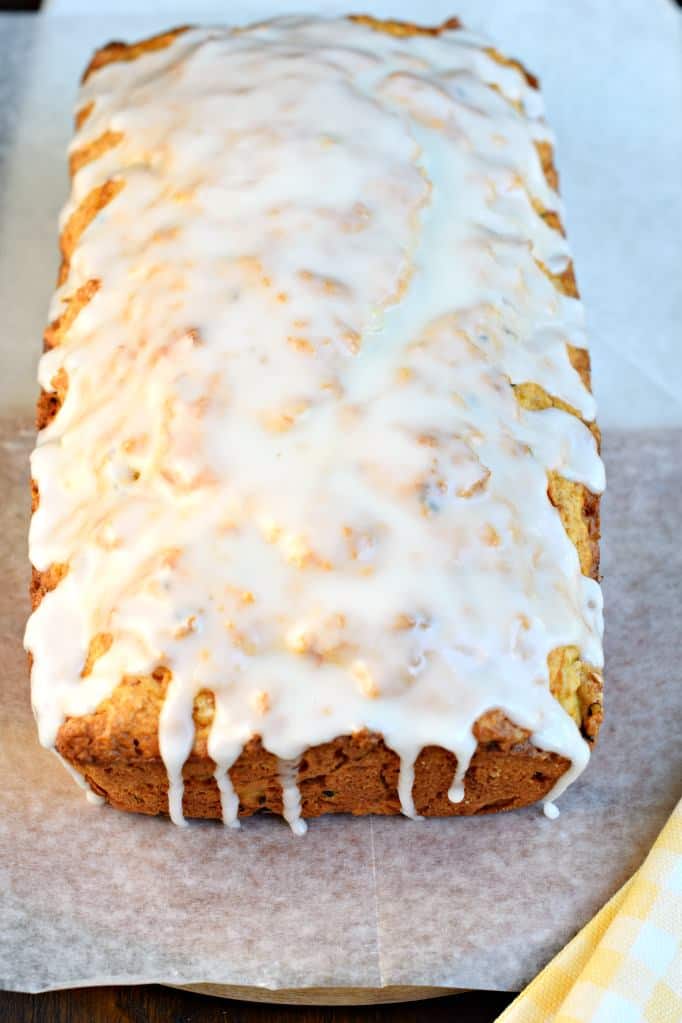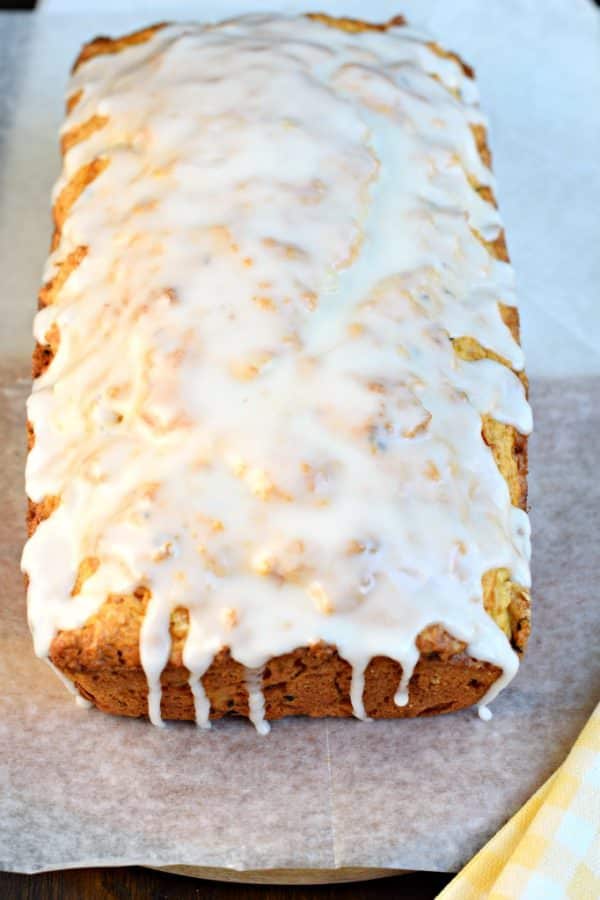 But let's talk about today's Lemon Zucchini Bread.
This isn't as lemony as my Starbuck's Lemon Loaf. However, it has the perfect amount of citrus to give it a kick of lemon flavor. You could even add poppy seeds to make it a Lemon Poppy Seed Zucchini Bread (or try these Lemon Poppy Seed Zucchini Muffins)!
Whenever I make quick bread I always try to make sure it makes TWO loaves. I mean, if you're going to turn on the oven and go through the process of mixing up some ingredients, you might as well get a second loaf, right? And, as usual, these are great to wrap up in foil, place in a ziploc freezer bag and freeze until you're ready to enjoy!!!!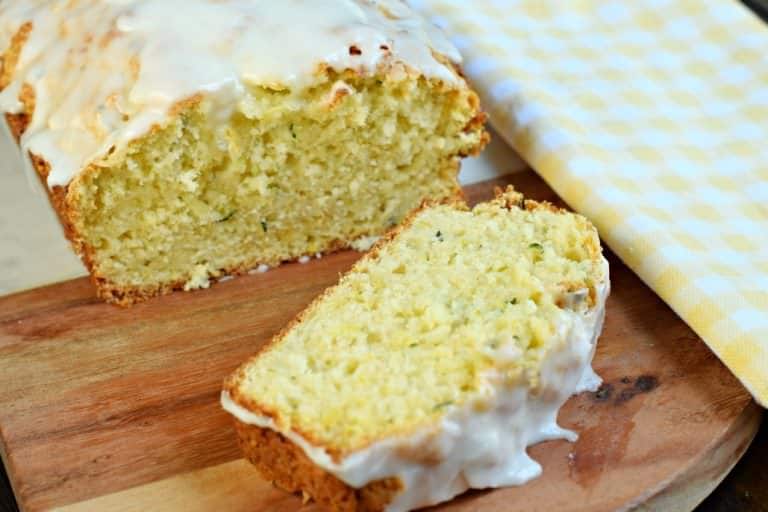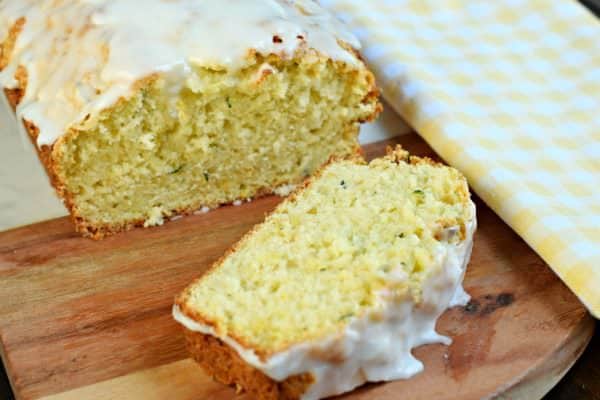 I created a fun little group on facebook and I'd love for you to join in! It's a place where you can share YOUR favorite recipes, ask questions, and see what's new with Shugary Sweets (so that you never miss a new recipe)! If you'd like to check it out, you can request to join HERE.
Connect with Shugary Sweets! Be sure to follow me on my social media, so you never miss a post!
Facebook | Twitter | Pinterest | instagram
Yield: 2 loaves
Lemon Zucchini Bread
Total Time
1 hour
15 minutes
Enjoy a slice of this incredibly sweet and moist Lemon Zucchini Bread for breakfast, brunch or as an evening treat! It won't disappoint!
Ingredients
FOR THE BREAD:
4 cups all-purpose flour
1 1/2 cups granulated sugar
2 tsp baking powder
1 tsp baking soda
1 tsp salt
2 cups shredded zucchini
2/3 cup unsalted butter, melted
2 lemons, zested
1/2 cup lemon juice (about 2 largelemons)
4 large eggs
FOR THE GLAZE:
1 cup powdered sugar
juice from 1 lemon
Instructions
Preheat oven to 350 degrees F. Line bottom only of two 9-inch loaf pans with parchment paper or spray with baking spray. Set aside.
In a large bowl, mix all ingredients for bread, stirring to completely combined.
Pour into greased pans and bake for 60 minutes, until completely cooked. Allow to cool for 10 minutes in pan, remove from pan and cool completely.
For glaze, whisk together powdered sugar with lemon juice until smooth. Drizzle over bread.
I enjoyed this bread cold out of the refrigerator! Enjoy!