A slice of this freezer friendly Chocolate Chip Zucchini Bread and a cup of coffee is the perfect way to start your day. The recipe makes two loaves of delicious sweet bread–one to eat and one to freeze for later!
Why make plain ol' Zucchini Bread when you can make CHOCOLATE CHIP Zucchini Bread? Best of all, this bread comes together in just one bowl.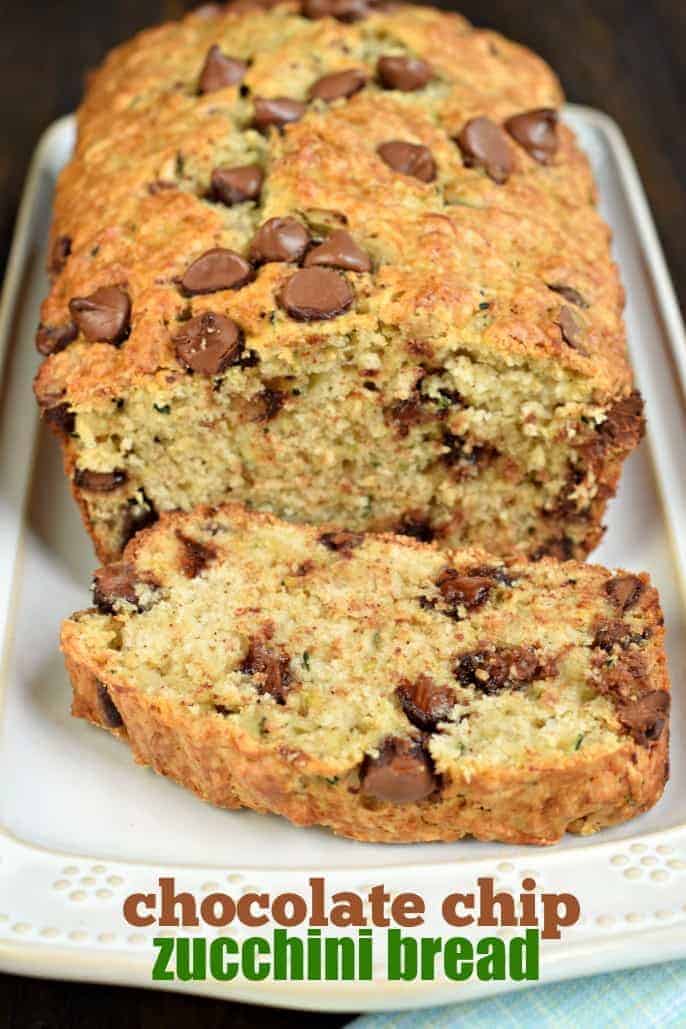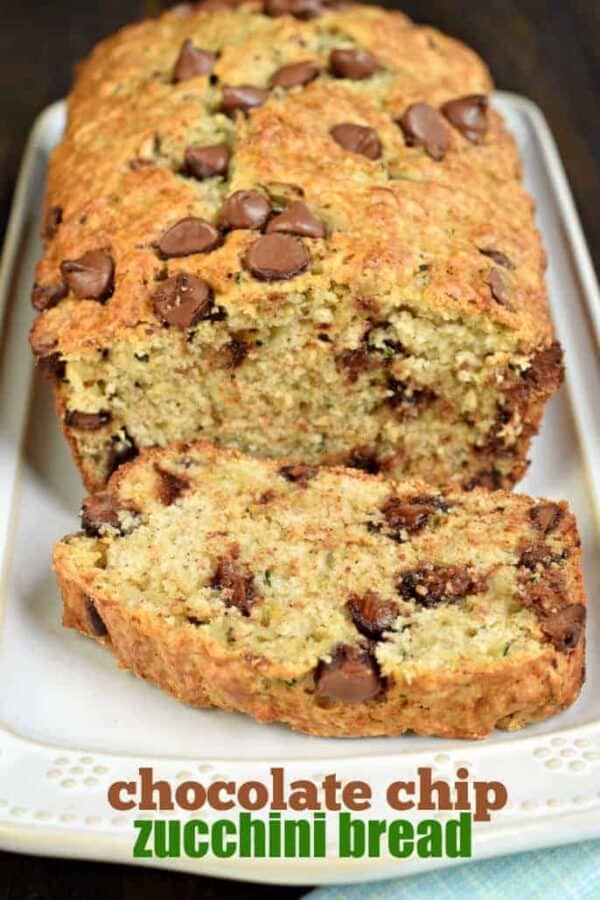 Why this Recipe is Best
For all the years I've had a garden, I've relied on zucchini bread recipes to use up those last of the season zucchini. This one is hands down the best I've made!
This loaf includes a generous amount of sour cream, my secret for making baked goods that are ultra moist and STAY ultra moist even a day or two after making. With this recipe, the bread holds together beautifully but stays soft inside.
I've also perfected the ratio of bread to chocolate chips here. No more searching through a slice looking for hidden chocolate. You can rich, sweet morsels in every bite along plenty of that great zucchini bread taste.
The other reason I love this recipe so much? The bread freezes without any change in texture or flavor after thawing.
I prefer to freeze my baked goods instead of freezing the shredded zucchini. I find shredded zucchini thawed is so watery and you lose so much in the process. Plus, it's great to be able to take a loaf of bread out of the freezer at night and enjoy it for breakfast!
With a cup of coffee, of course.
Don't forget to save some of that garden fresh zucchini in a savory, roasted zucchini recipe!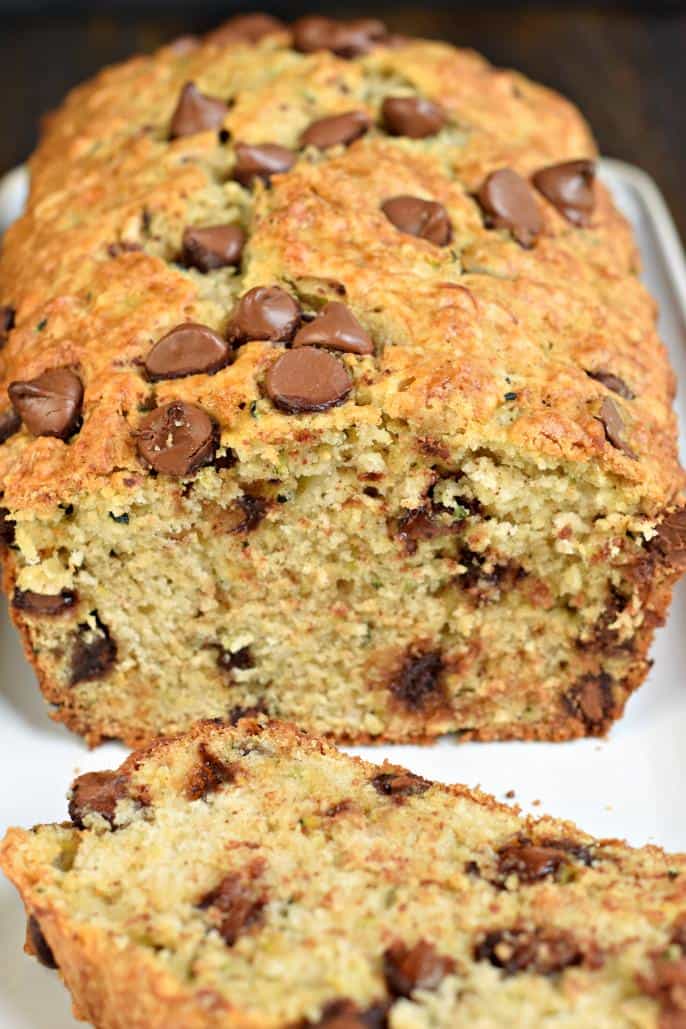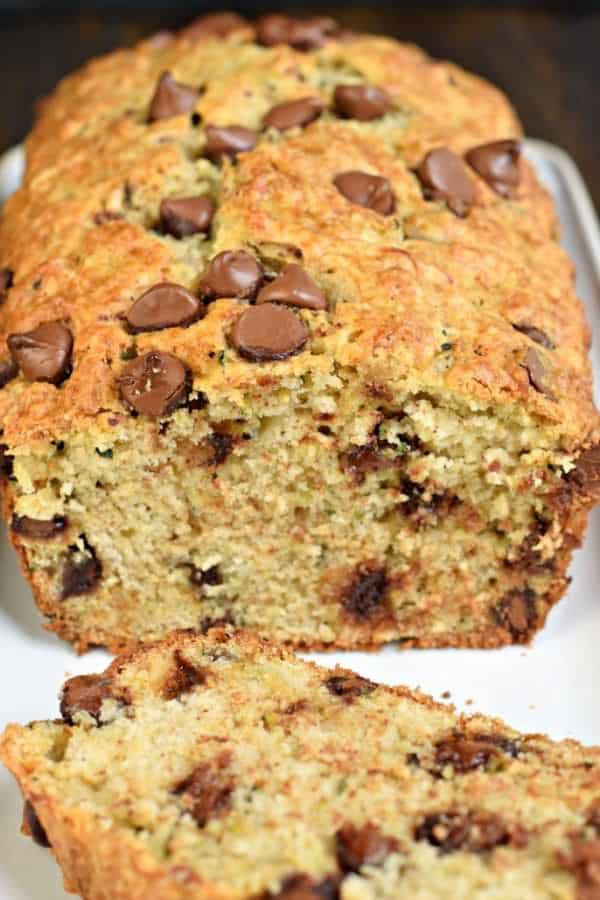 Ingredient Notes
Shredded zucchini – Find my tips and tricks for perfect shredded zucchini in this post.
Sour cream – Plain Greek yogurt makes a good substitute for a slightly lower fat option.
Semi-sweet chocolate chips – Leave them out if you want a plain loaf of Zucchini bread or feel free to substitute milk or dark chocolate if preferred.
Step by Step Instructions
STEP 1. Prepare the pans
Spray the bottom ONLY of two loaf pans. You can also line the bottoms with parchment paper instead of spraying. Preheat the oven.
STEP 2. Make the batter
Mix together all the ingredients right in the same bowl!
STEP 3. Bake
Pour the batter into the prepared baking pans and bake for about 60 minutes or until a toothpick inserted in the center comes out clean.
Remove the loaves from the pan and let cool completely before slicing, eating or freezing!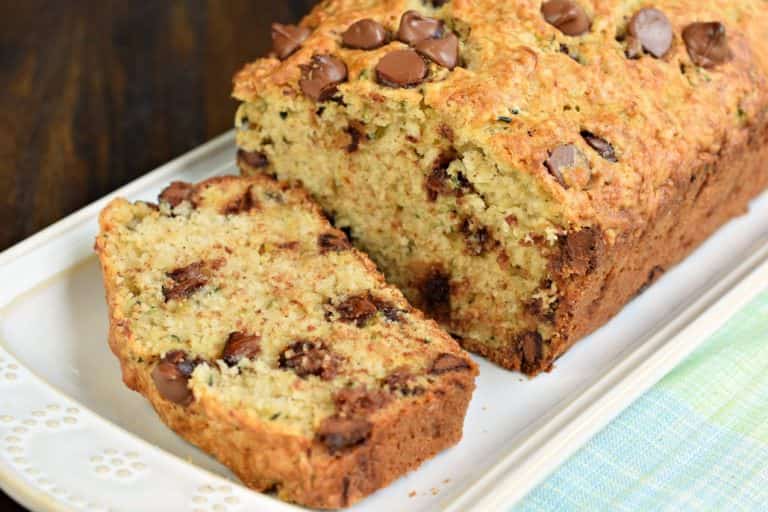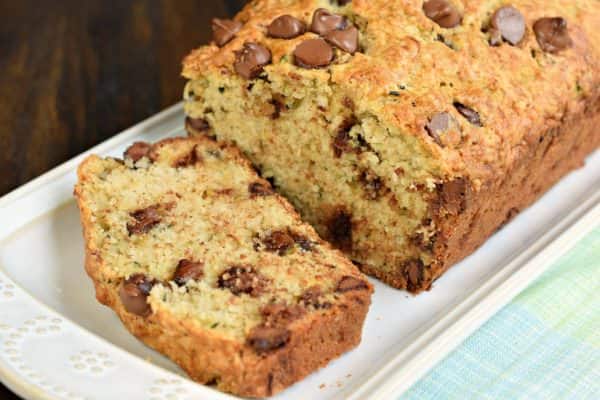 Tips and Tricks
To store: I like to keep fresh loaves wrapped in foil at room temperature. Slice just before serving to keep it tasting moist and fresh!
To freeze: Wrap your loaf in foil, then place inside a larger freezer bag. To serve, let thaw at room temperature. If you prefer, you can also slice the bread before freezing so that you can take out just one slice at a time. This is a great option for lunchboxes, snacks for the office or smaller families.
Recipe FAQs
What size loaf pan do you need for the Zucchini Bread?
I tested this in a 9 inch loaf pan. You could also divide the batter between mini loaf pans and adjust the cooking time accordingly.
Can these be made as muffins?
Yes–it will make a LOT of muffins (probably about 4 dozen!). You'll need to reduce the baking time. Muffins are great options for the freezer too.
How do I serve Zucchini bread?
We love Chocolate Chip Zucchini Bread basically any time of day or night! My go-to ways to serve it are in the morning as an easy breakfast (you can even toast it and add a little butter!).
This is also a favorite for an after school (or work) snack in our house.
More Bread Recipes:
If you love sweet bread filled with chocolate chips, you'll love this Freezer Friendly Zucchini Bread recipe! Make it now to enjoy your garden abundance even weeks or months later.