Learn how to shred zucchini two ways with this easy guide. We'll teach you all the best tips and tricks for shredding zucchini step by step! Use shredded zucchini in all your favorite baked goods!
This unassuming garden squash is the secret to so many perfectly moist and flavorful baked goods. We use it in countless recipes from banana zucchini bread to chocolate chip zucchini brownies.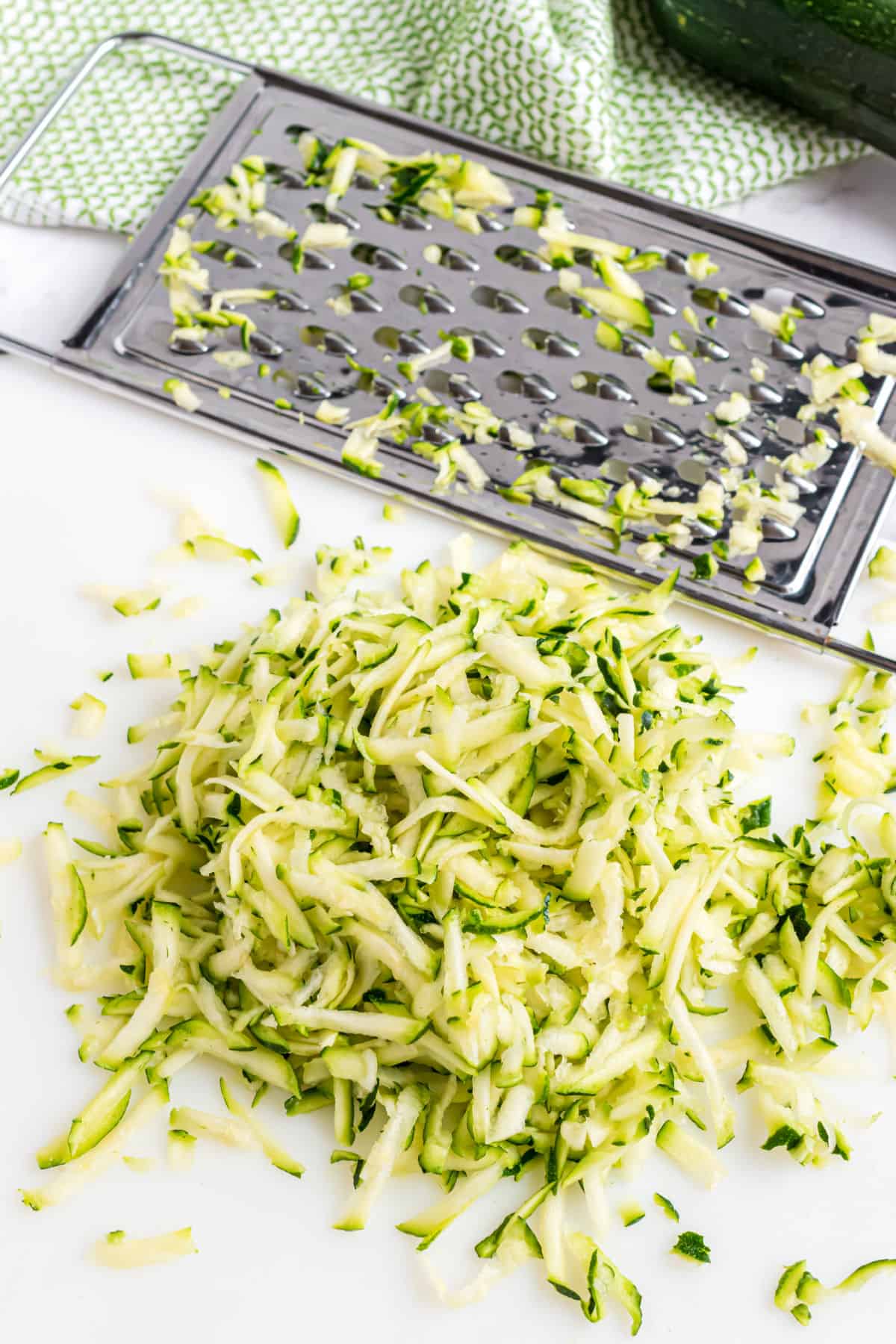 Grate Your Own Zucchini
There are countless reasons to grate your own zucchini. The most common one is that you're in the process of making a recipe that calls for shredded or grated zucchini.
Or maybe your backyard garden has gone a little overboard at harvest season. Zucchini grows fast and almost every gardener knows the predicament of suddenly having more zucchini than they know what to do with.
In those cases, grating and freezing zucchini is an easy way to reduce waste and prepare for future baking needs.
If you've never grated zucchini at home before, breathe a sigh of relief: it's easy!
This step-by-step tutorial covers two simple ways to shred zucchini using common kitchen tools: with a grater and a food processor.
Grab your zucchini bread recipe and let's get started!
Shred Zucchini With a Box Grater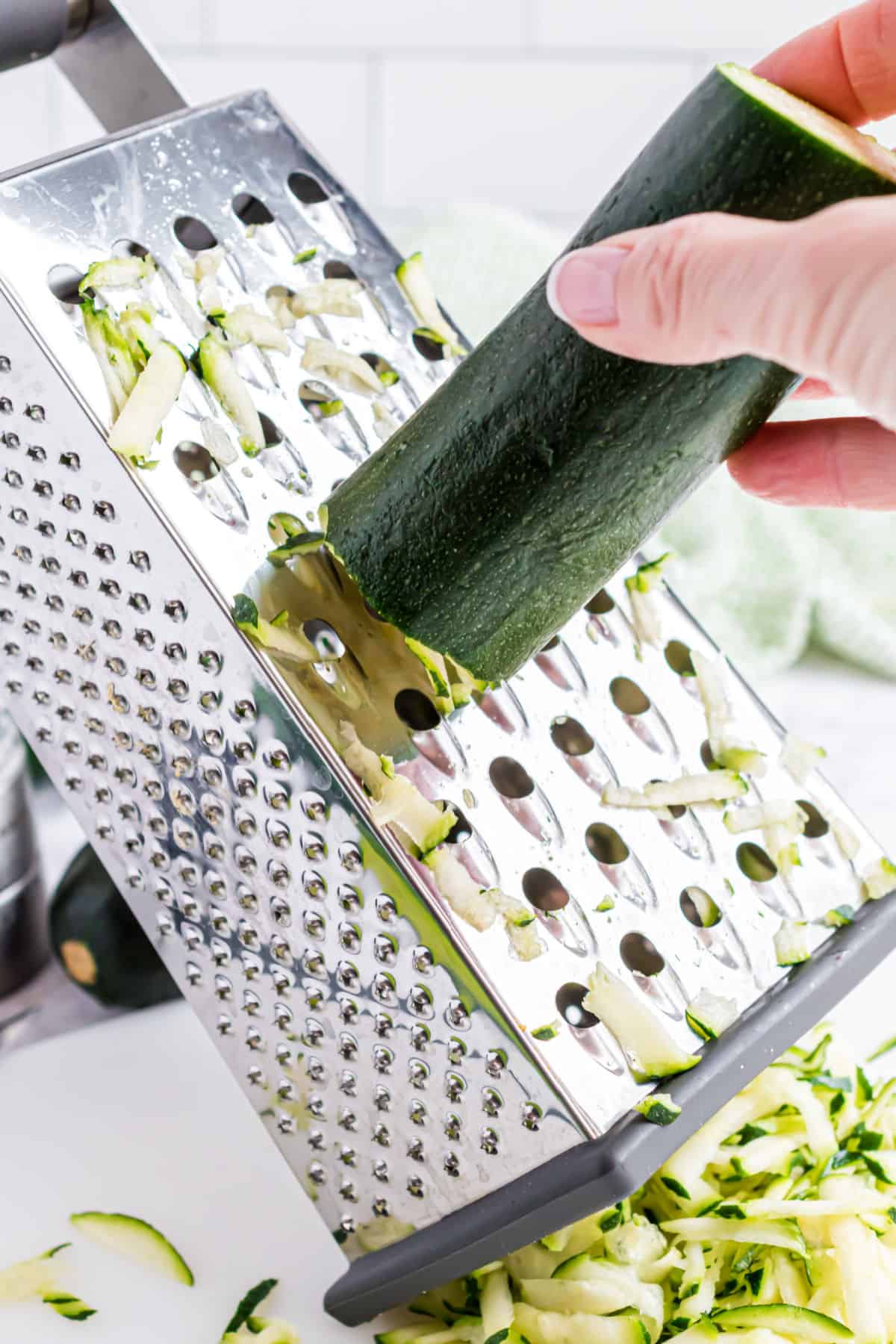 A box grater is the most popular way to shred zucchini. This method works with a cheese grater too!
Wash and dry the zucchini. Cut off both tips.
Hold the grater over a bowl or cutting board with one hand. With the other hand, run one side of the zucchini over the grater.
Continue this motion until you've shredded as much of the zucchini as possible.
We like the box grater method because it gives you perfect control over the size of zucchini strands. It's best if you only need to grate one or two zucchini for a recipe.
TOOL: Here's our favorite box grater on amazon. It even comes with an attachable measuring cup!
Shred Zucchini with a Food Processor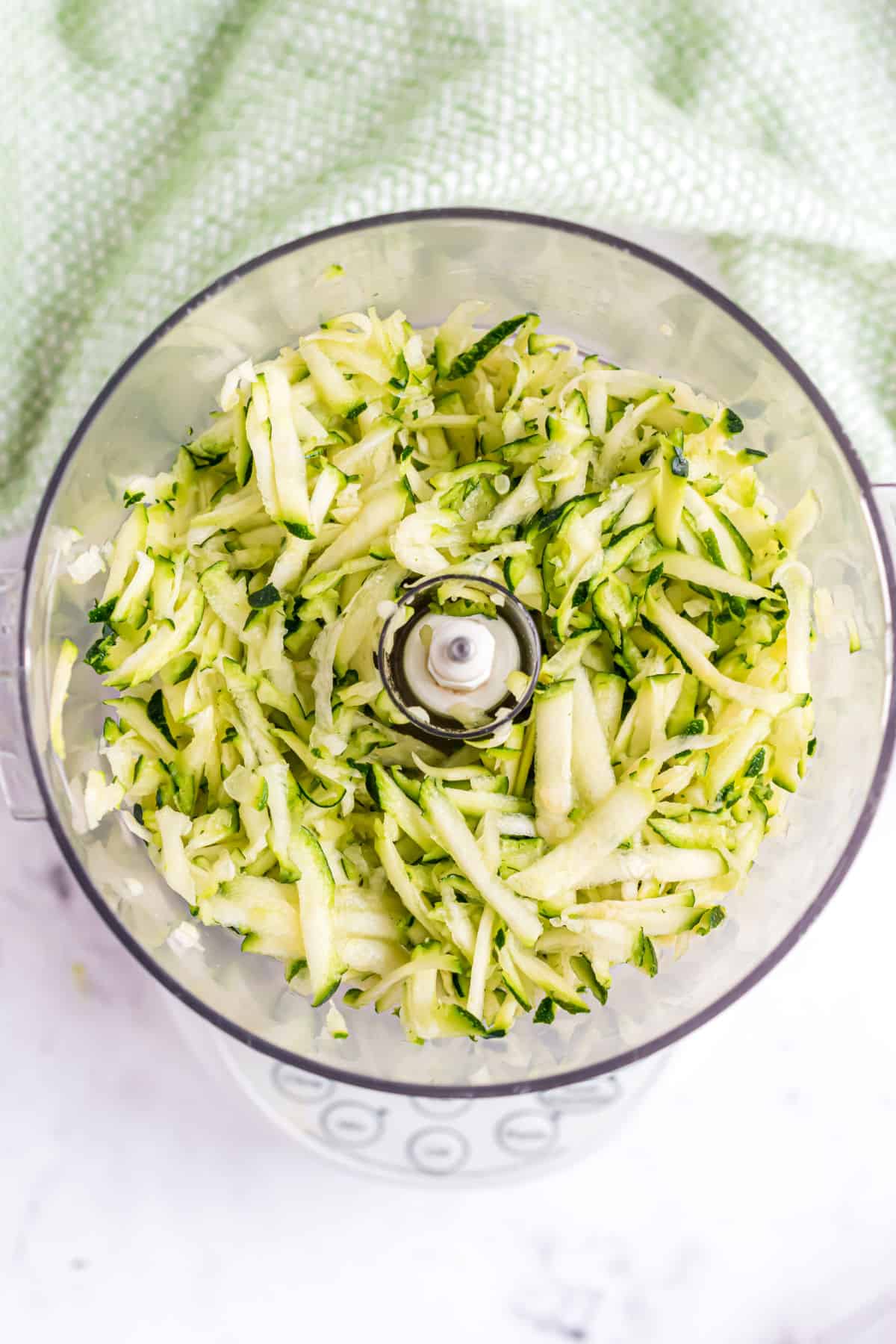 The food processor method is ideal when you need to grate a lot of zucchini at once. It's also quicker than grating by hand which is nice if you're short on time.
Wash and dry the zucchini. Cut away both ends, then slice the zucchini in half lengthwise.
Fit your food processor with the grating attachment. This is usually a metal disc with grating holes.
Add the zucchini to the food processor and turn it on. Use a food pusher to press the zucchini through the holes of the grating attachment.
TOOLS: We love the Cuisinart Food Processor on Amazon. Perfect for shredding vegetables, cheese, etc!
How to Use Shredded Zucchini
Once you know how to shred zucchini, you're ready to bake!
Zucchini Bread is the most popular way to use shredded zucchini. Even though zucchini is the prominent ingredient, it doesn't taste like squash or vegetables. We love our cinnamon zucchini bread made into muffins!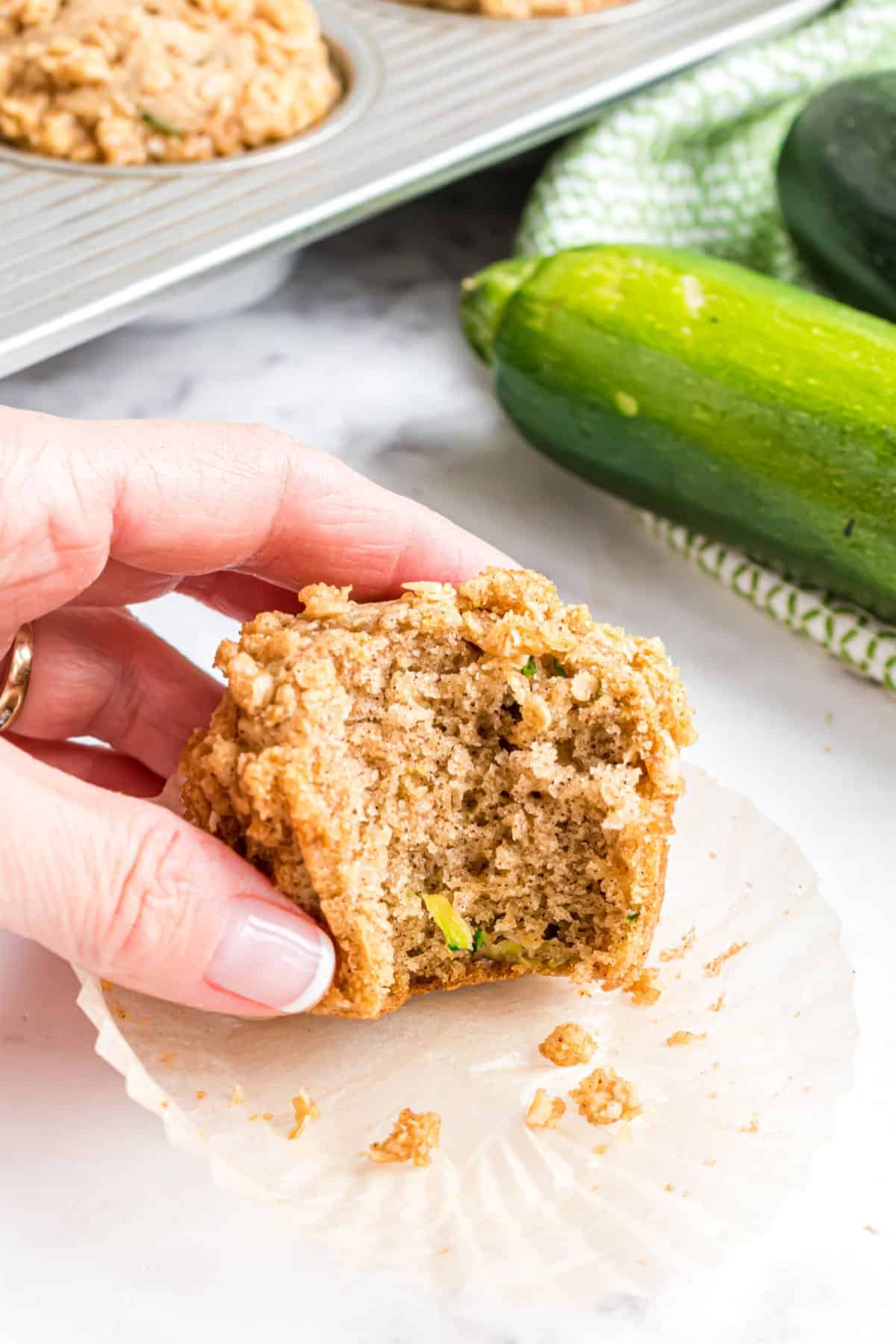 The slight sweetness of zucchini is ideal for quick breads of all kinds. Its mild flavor makes it perfect for pairing with other flavors like in this Pineapple Carrot Zucchini Bread. We even have a recipe for Instant Pot Zucchini Bread if you don't feel like turning on the oven.
Don't limit yourself to just the world of zucchini breads (although that's a very delicious world indeed). Shredded zucchini works beautifully in Chocolate Zucchini Cake and Zucchini Brownies too!
On the savory side, you can use shredded zucchini to make Vegetarian Meatballs for your next meatless meal. It's also delicious in zucchini fritters or mixed into egg bites for breakfast.
Recipe FAQs
Should I drain shredded zucchini before using it?
That depends on the recipe. For most baked goods, there is no need to drain the liquid out of the zucchini. The liquid is where all the moisture comes from!
If you are making a recipe like zucchini fritters or quiche or other dish where you want to zucchini to stay firm, you should drain it first.
To drain shredded zucchini, place it in a colander allow the water to strain out. After about 15 minutes use paper towels and your hands to squeeze out as much of the remaining liquid as possible.
How much shredded zucchini will I get from one zucchini?
This depends on the size of your squash. A medium sized zucchini about 7 inches long and 2-3 inches in diameter will yield around one cup of shredded zucchini.
Should zucchini be peeled before shredding?
There is no need to peel zucchini before shredding it. In baked goods, the skin will become soft and add color and nutrients to your dish.
Should I remove the seeds?
Removing the seeds is usually not necessary. If you notice the seeds are large and may affect your recipe, you can cut the squash in half and use a spoon to scoop out the seeds.
Is large or small zucchini better for shredding?
We recommend small to medium size zucchini for shredding.
Typically, the larger the zucchini the less moisture and sweetness it contains.
How long will shredded zucchini keep in the refrigerator?
Shredded zucchini lasts about one week in the refrigerator when stored properly in an airtight container.
Can I freeze shredded zucchini?
Yes, shredded zucchini can be frozen for up to 3 months. Transfer the zucchini to a freezer bag and squeeze out the excess air before placing it in the freezer.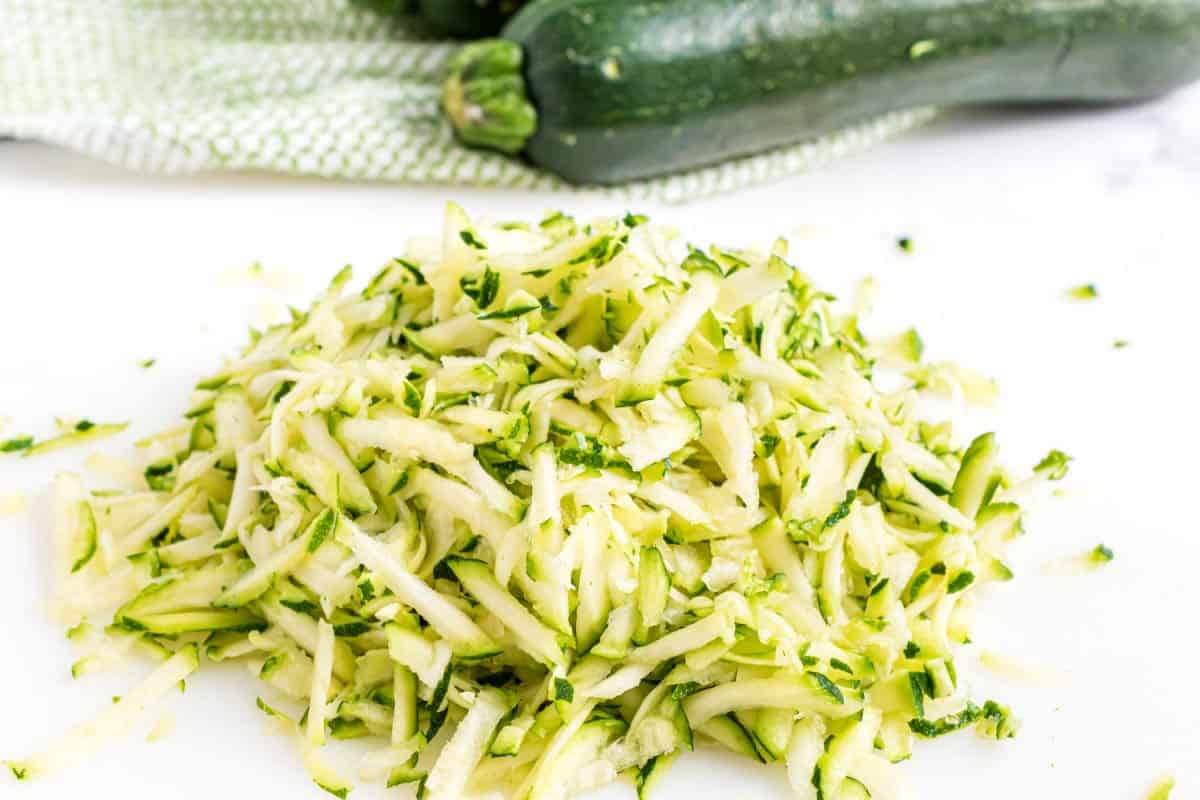 Never waste zucchini again! These methods for shredding zucchini make it easy to turn your garden squash into delicious breads, muffins, cakes and more.