Make a protein packed breakfast in minutes with this Instant Pot Egg Bites recipe! Delicious ham wrapped in egg and cheese makes for a hearty breakfast or snack on the go.
Move over chocolate donuts, today's egg bites are the newest on-the-go breakfast of choice.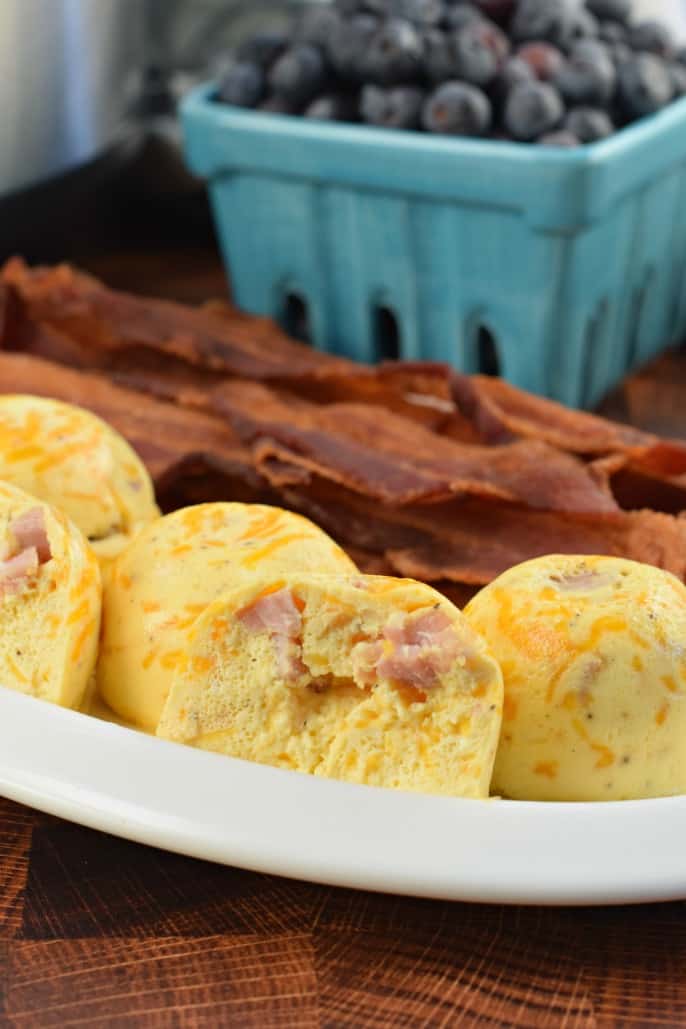 Starbucks Egg Bites
If you've ever had the Starbucks egg bites, these are very similar. They're kind of like mini portable omelettes! I serve them both for breakfasts at home alongside a stack of toast and crispy bacon and, often, will pack them in tupperware for on-the-go meals.
These egg bites are filling and hearty–packed with protein from eggs and ham–with lots of delicious cheesy taste. They're excellent for lunchboxes, too!
Egg Bites can be varied in so many ways to suit your families taste. The version I'm sharing today includes a classic breakfast combo of ham and cheese. They're also wonderful made with sausage, bacon or vegetables whisked in with the eggs, too.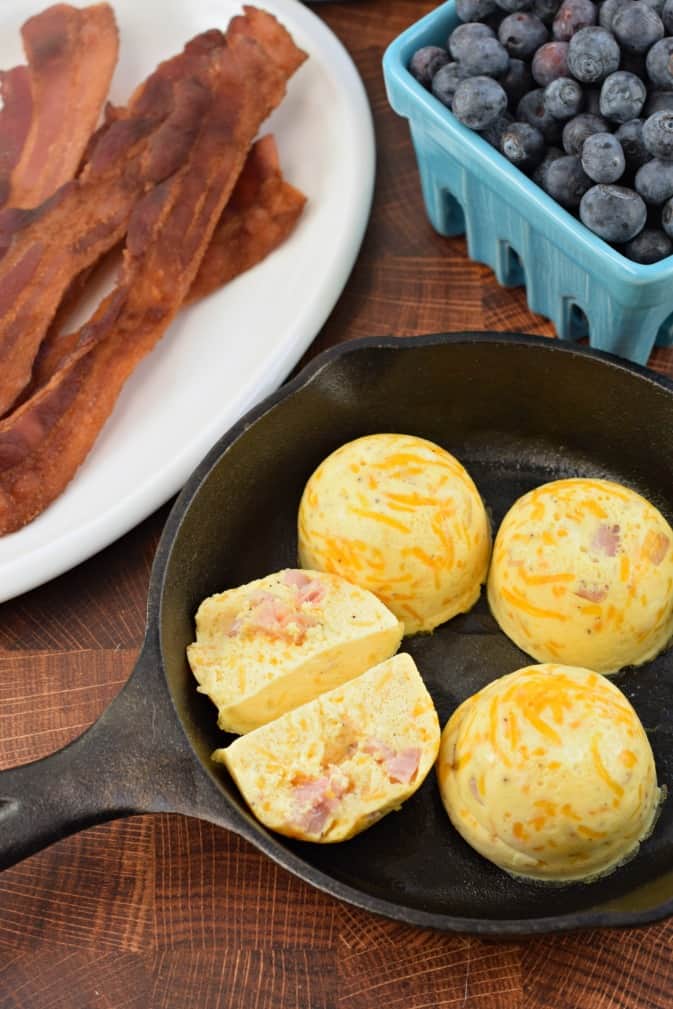 What is Sous Vide
To cook these egg bites, I used an Instant Pot version of water bath cooking called sous vide.
With this cooking approach, you have precise control over temperature that leads to ultra consistent results. The Instant Pot (and other pressure cookers) does the hard work of sous vide for you. All you have to do is push the right buttons!
All that is is a fancy way of saying we're going to put the eggs and fillings in a mold, cover it with water and cook away.
The Instant Pot isn't just for pot roast dinners and chicken casseroles! I'm obsessed with making these easy egg bites in my Instant Pot for breakfast!
You will need egg molds for this recipe, which are easy to find at any cookware store. You can even pick up egg molds in cute shapes like these adorable egg molds for kids.
The egg molds are also perfect if you want to make Banana Bread bites, or pancake bites!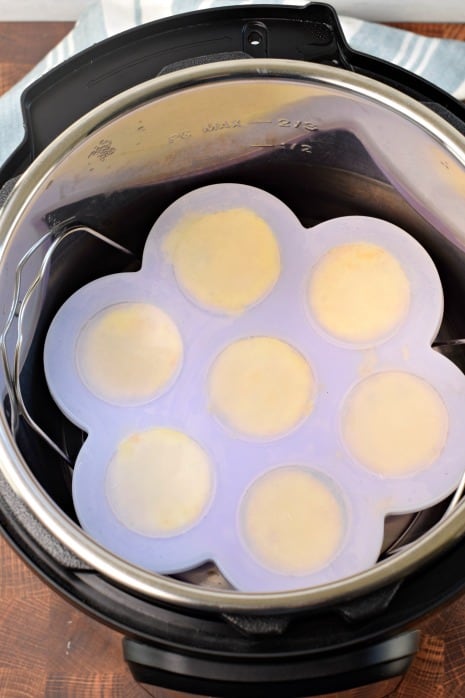 Ingredient Notes
You've got lots of options for what to put in egg bites, but here's what I used:
Eggs
Cooked Ham (diced)
Sour Cream
Cheddar Cheese
Salt and Pepper
How to Make Egg Bites in the Instant Pot
STEP 1. In a mixing bowl, whisk the eggs. Then add sour cream, cheese, diced ham, salt, and pepper and mix well to combine.
STEP 2. Spray an egg mold with cooking spray. Using a scoop, fill molds about 3/4 of the way up. Depending on how much ham you use you may need two molds. You can use the silicone lid to cover the molds or use foil.
STEP 3. In the bottom of the 6 qt Instant Pot, add 1 cup water. Place covered egg molds (stacked on top of each other) on a trivet or sling and lower into the pressure cooker.
STEP 4. Secure the lid and make sure the pressure valve on top is set to SEALING. Select Manual, or High Pressure with a cook time of 9 minutes. (This does NOT include the time it takes to come to pressure, about 10 minutes. )
When the cook time ends, allow it to naturally release an additional 9 minutes.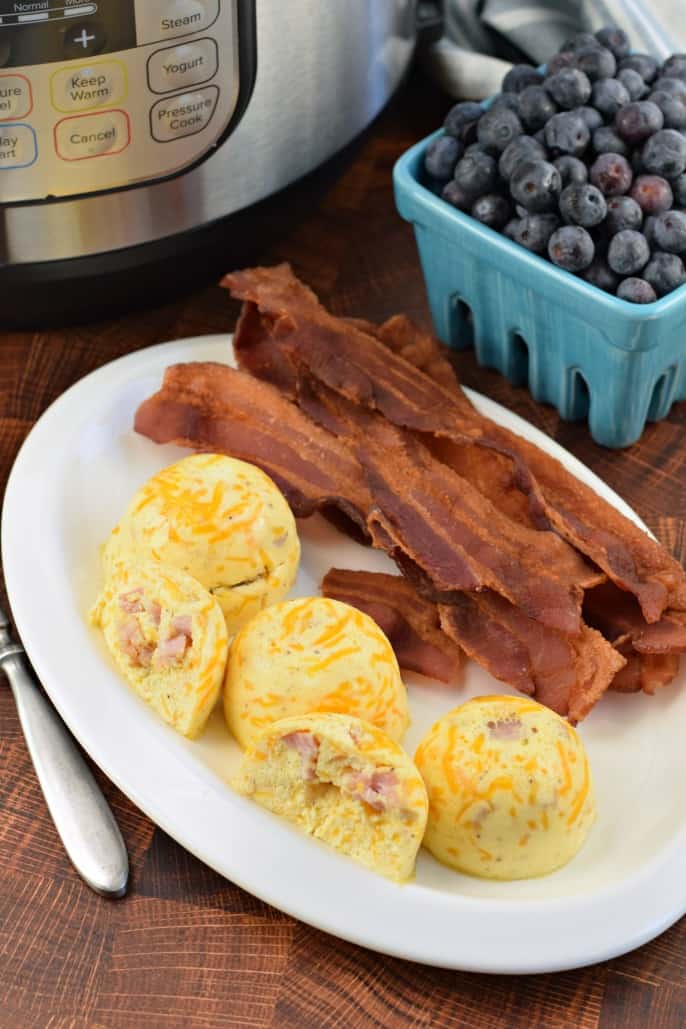 Recipe Notes
Bacon and sausage are also delicious here. Use them instead of ham or do a combination!
If you don't have sour cream or prefer not to use it, you can substitute yogurt, cottage cheese or even whole milk.
Feta and swiss cheese would be other tasty additions or substitution for the cheddar.
To make this recipe vegetarian egg bites: omit the meat or substitute for your favorite diced veggies!
Want enough egg bites to feed a crowd or have leftovers? This recipe doubles well, too. You'll just need an extra mold or two. (or spend time preparing these in advance by doing several batches)
Freezing Egg Bites
Did you know you can also make these egg bites ahead of time and store them in the freezer? A lifesaver on hectic mornings!
To freeze, let the egg bites cool completely and store in a ziploc bag in the freezer. When you're ready to eat, reheat the eggs in the microwave for 45 to 60 seconds.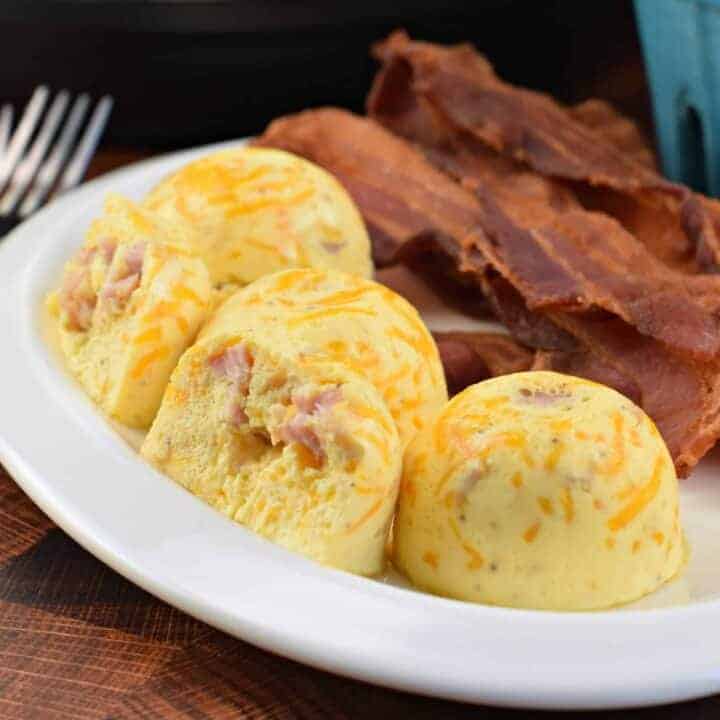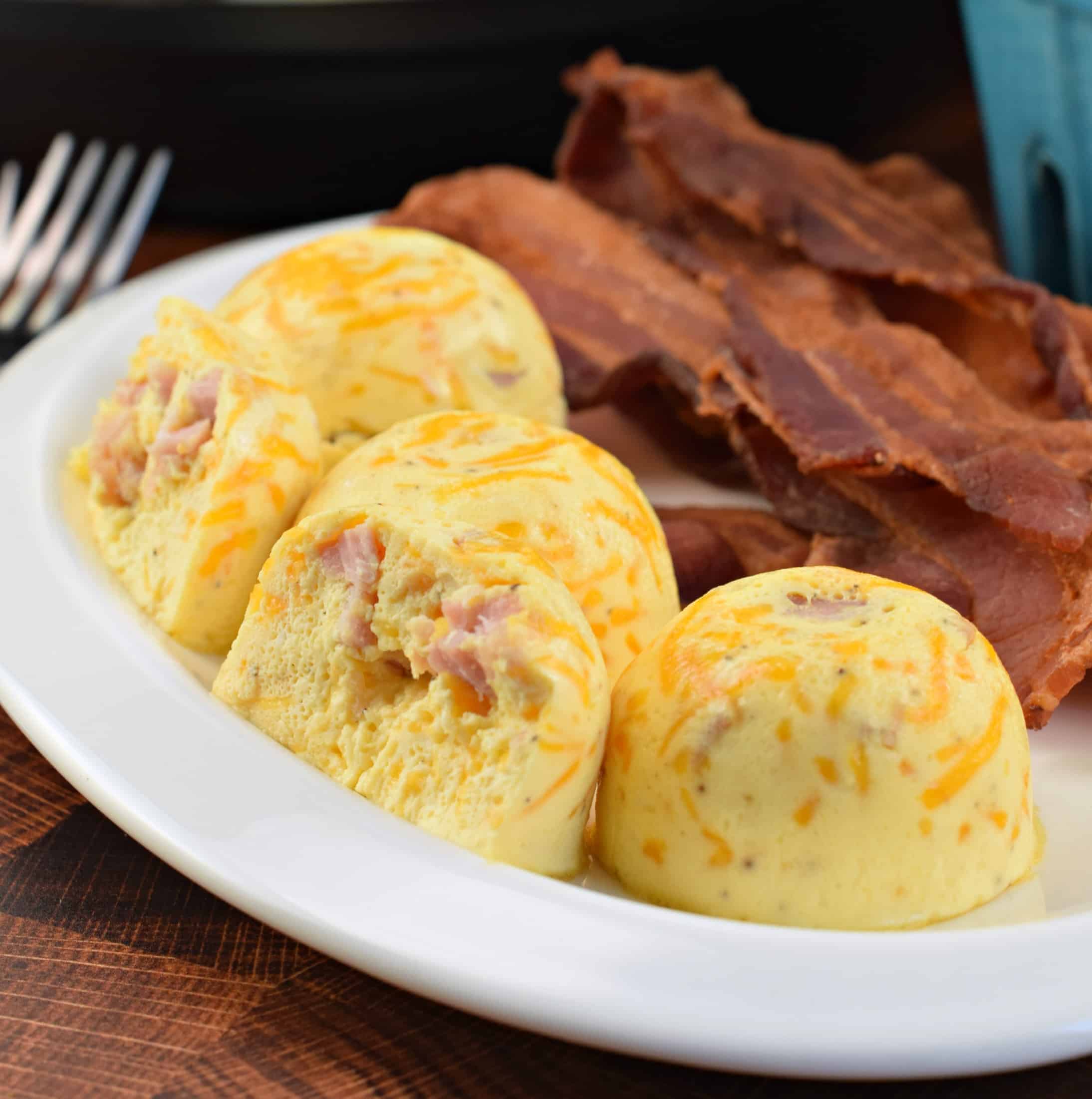 Easy Breakfast Recipes
Looking for more quick and easy breakfast ideas? Hard Boiled Eggs made in the instant pot are my all-time favorite way to cook boiled eggs. They come out perfect without any of the guesswork involved with stove top boiling.
A batch of Freezer Friendly Chocolate Banana is always handy to have in stock in the freezer for a portable breakfast that the kids love. On the weekends, I like prepping French Toast Casserole overnight so we can wake up to a delicious family meal!
Biscuits smothered in thick, creamy sausage gravy is my idea of the perfect comfort food. Making Biscuits and Gravy is easier than ever with this Instant Pot Sausage Gravy recipe!
Copycat Starbucks recipe for Instant Pot Egg Bites. The perfect breakfast for on the go, freezer friendly too!