The simple 5-5-5 method for making perfect Instant Pot Hard Boiled Eggs. You'll be amazed at how easily they peel, and how creamy and delicious they taste!
We love showing you easy basic recipes for your kitchen. Whether it's how to cut a watermelon or how to toast nuts, we're here for you! Today, let's talk eggs!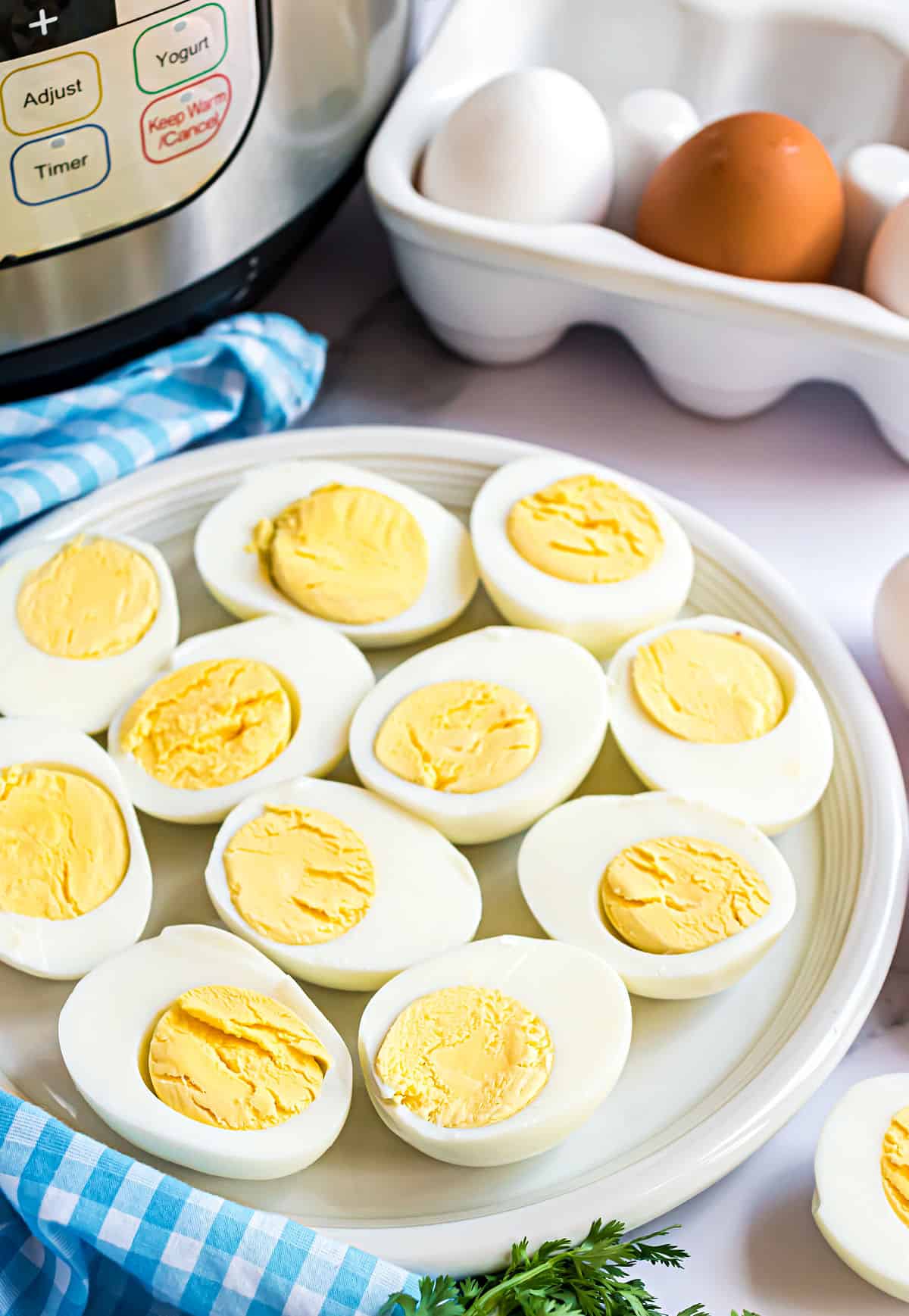 Why this Recipe is Best
If for no other reason, you're going to want an Instant Pot just to make hard boiled eggs. (don't worry, I have over 90 Instant Pot Recipes on my site that I think you will love)!
While I love cooking instant pot meatloaf, and even cheesecake in the instant pot, it's eggs that I make week after week.
I have always struggled to remove the peel on eggs. If you're making egg salad, no big deal. But if you're making deviled eggs, you want the whites to look pretty (and an easy peel is a must).
Now that I have discovered how to make Instant Pot Hard Boiled Eggs.
I use the 5-5-5 method. It is not quicker than my traditional recipe, however, the ease at which the egg comes out of the shell is amazing.
5 minutes high pressure cook
5 minutes natural release
5 minutes ice bath
I've tried all the tricks, from old eggs, to ice baths, to putting them in the oven (it's a thing). Sometimes I'd get a couple in the batch that peel amazing, and then there are some where I remove half the white part just to get the shell off. But the 5-5-5 method is flawless.
Ingredients Needed
Just eggs and water.
Whether you use fresh or older eggs doesn't matter when using the Instant Pot.
You'll also need a trivet or steamer basket to set your eggs in/on. And ice for the ice bath. That's it!
How to Make Hard Boiled Eggs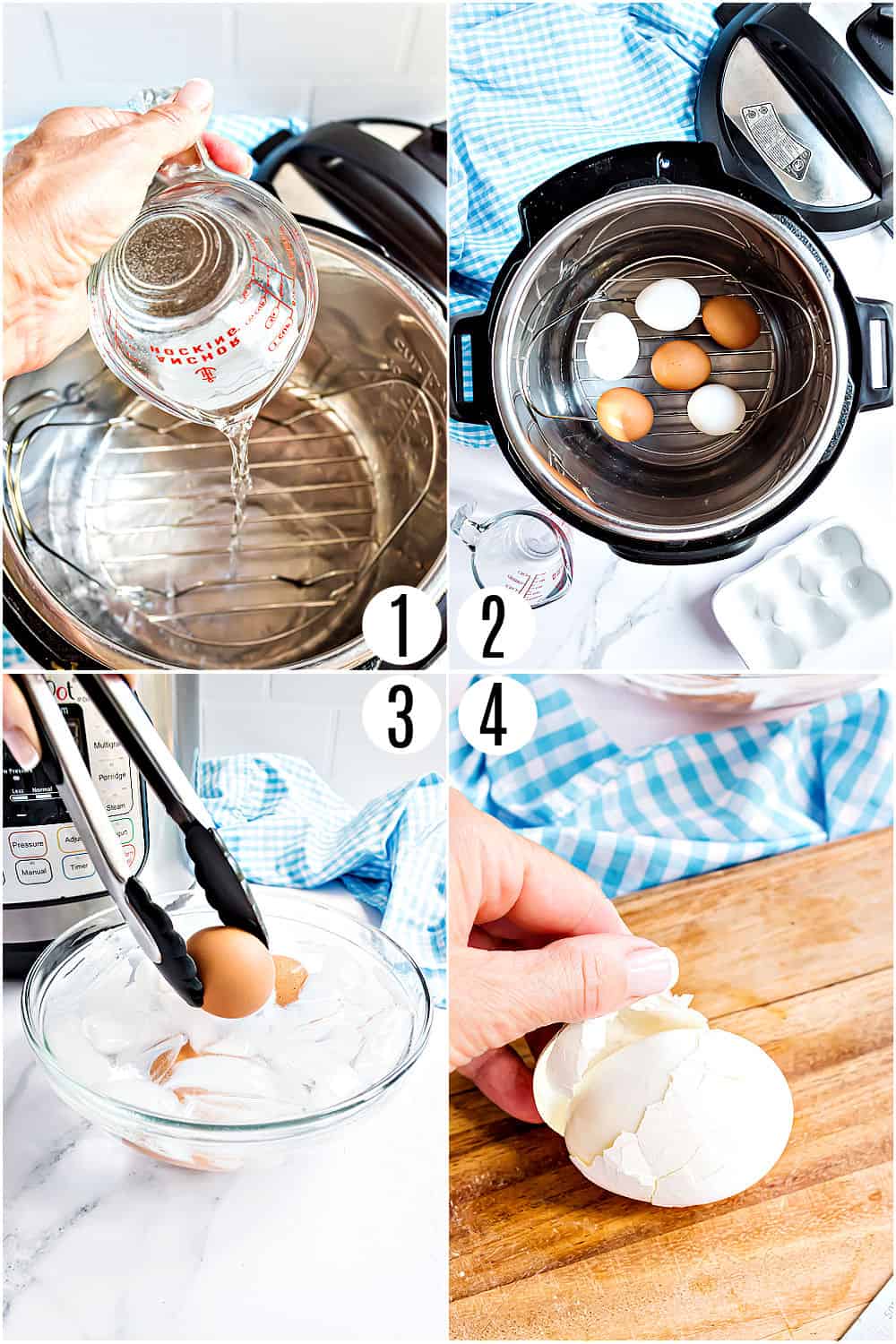 Use a trivet in the bottom of the pressure cooker. Add water and place your eggs on top of the trivet (it's okay if they are touching).
PRO TIP: You can do 1 egg or as many as you can fit to the "fill line"
Pressure cook. Close the lid, set the valve to "SEALING" and select "HIGH PRESSURE" for a cook time of 5 minutes. Once the timer goes off, allow pressure to Naturally Release for 5 minutes, then do a quick release of the pressure valve.
Ice bath. Fill a big bowl with ice and water. After releasing the pressure on the instant pot, remove the eggs with tongs and place them in the ice bath for 5 minutes.
You can now peel and use, or refrigerate for ONE WEEK unpeeled.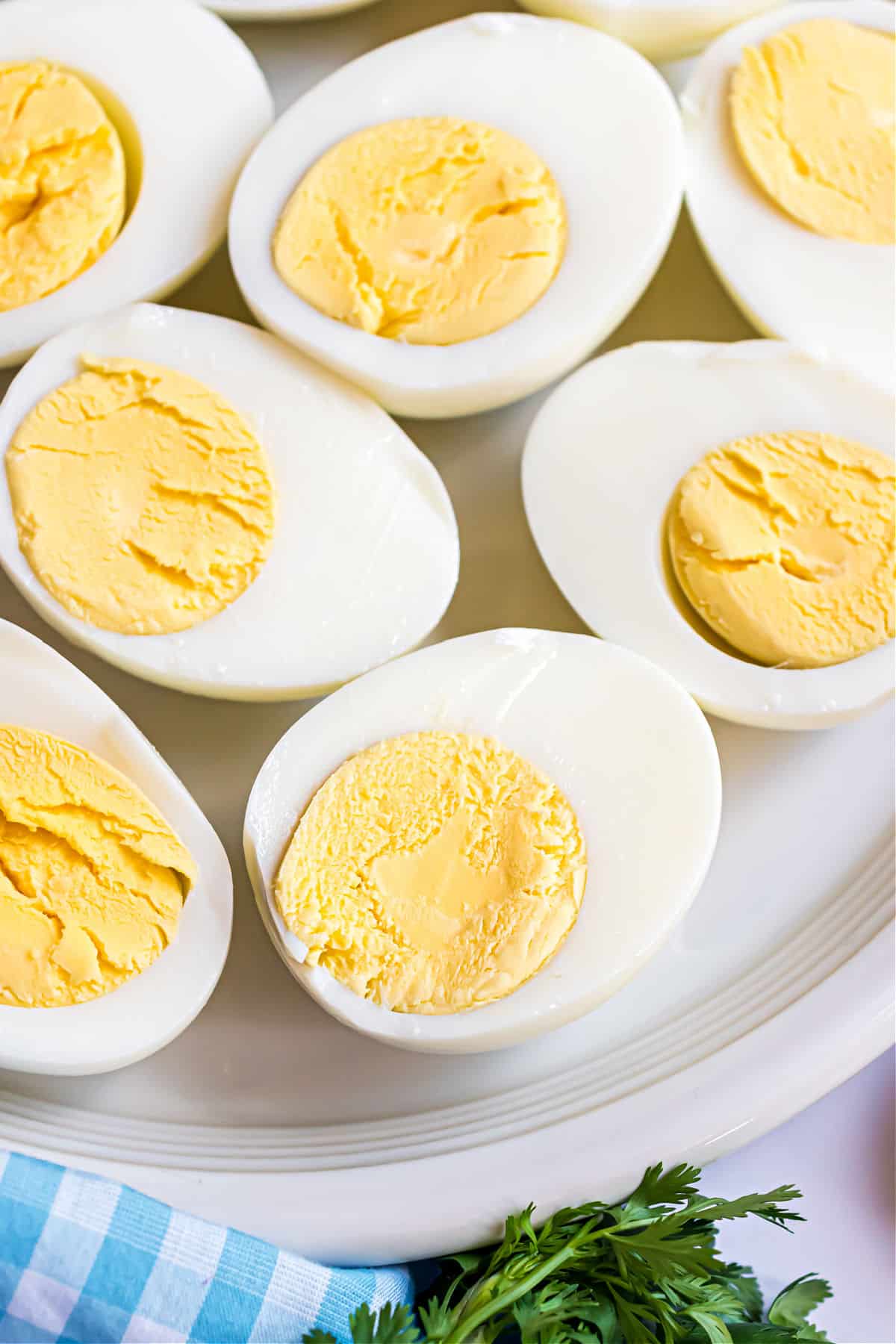 How to Use Eggs
Deviled eggs. Now that I have an easy way of making hard boiled eggs that look GOOD outside of their shell, I'll be sharing my family's favorite deviled eggs recipe soon!
Caesar Salad and Dressing. Did you know you can make Caesar dressing from hard boiled eggs? Yep, it's true! No raw eggs needed.
As I try to eat more protein and count my macros, I incorporate simple hard boiled eggs for breakfast, lunch, and snacks. I also slice them up and put them on salads and sandwiches too!
Let's not forget egg salad. My absolute favorite sandwich from childhood!
Add hard boiled eggs to Macaroni Salad. It's the perfect potluck recipe!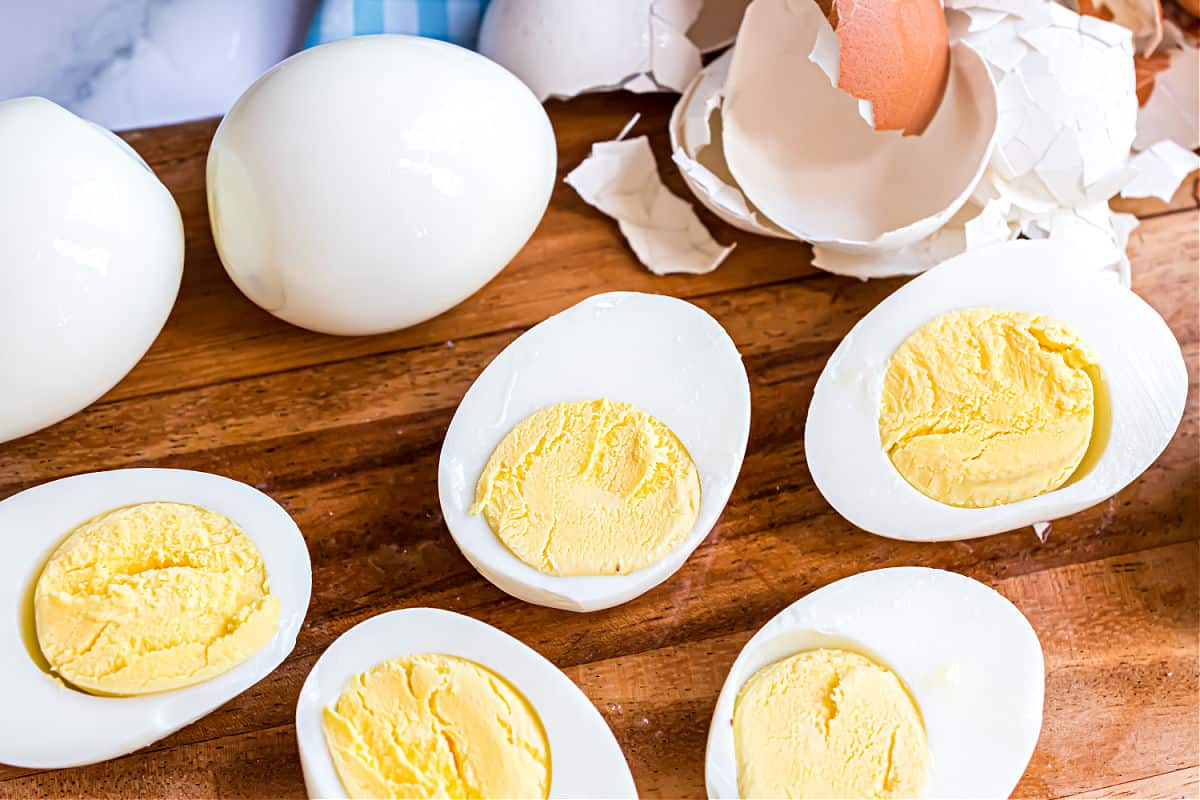 More Instant Pot Recipes