Find out how to make the best Homemade Caesar Dressing with this easy recipe. Pair this creamy dressing with lettuce, croutons and chicken to enjoy a restaurant quality Caesar salad at home!
I love my vinegar based zesty Italian Dressing, but when the craving for a creamy dressing strikes, only a good classic Caesar will do.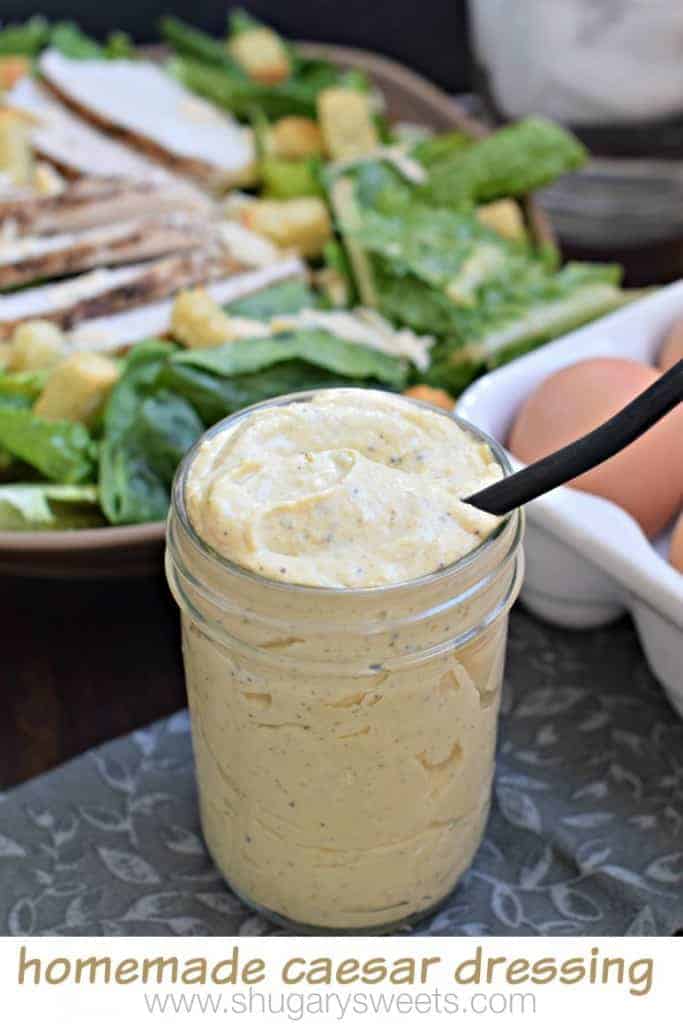 Why this Caesar Dressing is Best
Most Caesar salads use eggs for their creamy, rich flavor. I don't know about you, but the idea of serving raw eggs to my kids just doesn't sit well with me, knowing the potential food safety risks.
Thankfully I have a secret ingredient that makes this Caesar salad family friendly and health department approved: Hard Boiled Eggs.
A Caesar salad with no raw eggs and no mayonnaise.
The perfect use for leftover hard boiled eggs.
Delicious in a classic salad or a chicken Caesar wrap.
Easy to make vegetarian and dairy free variations.
Ready to eat in minutes!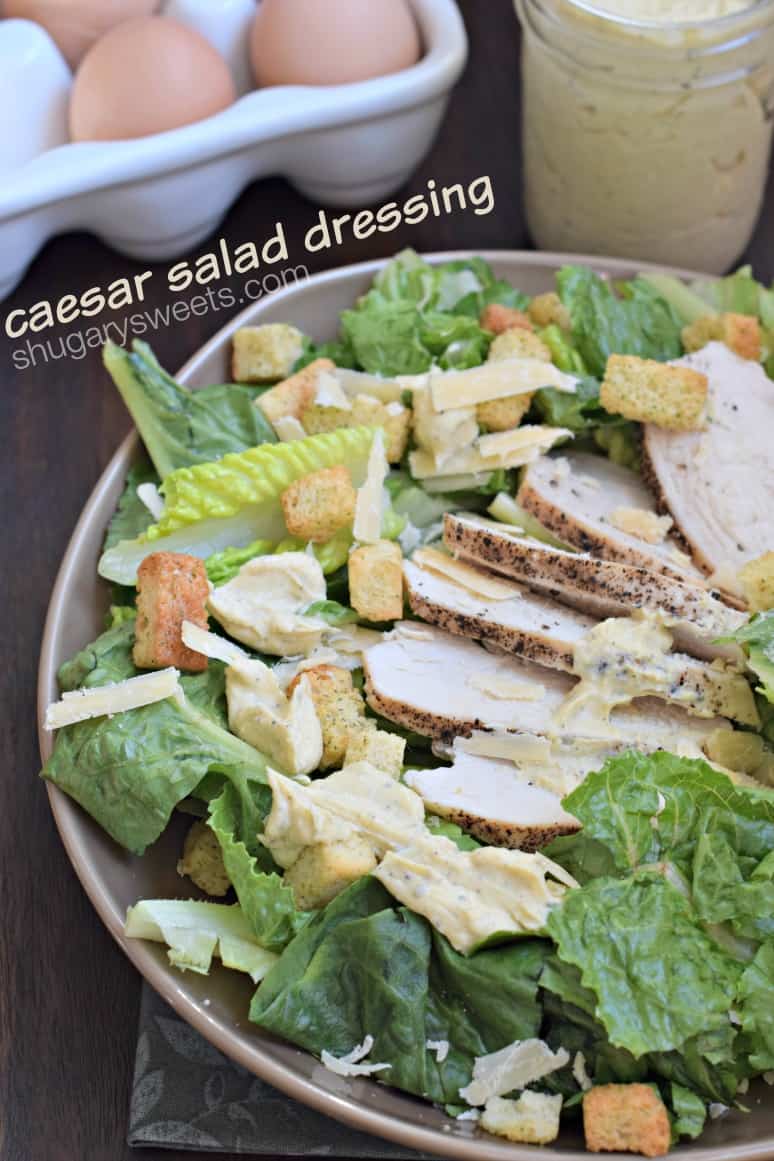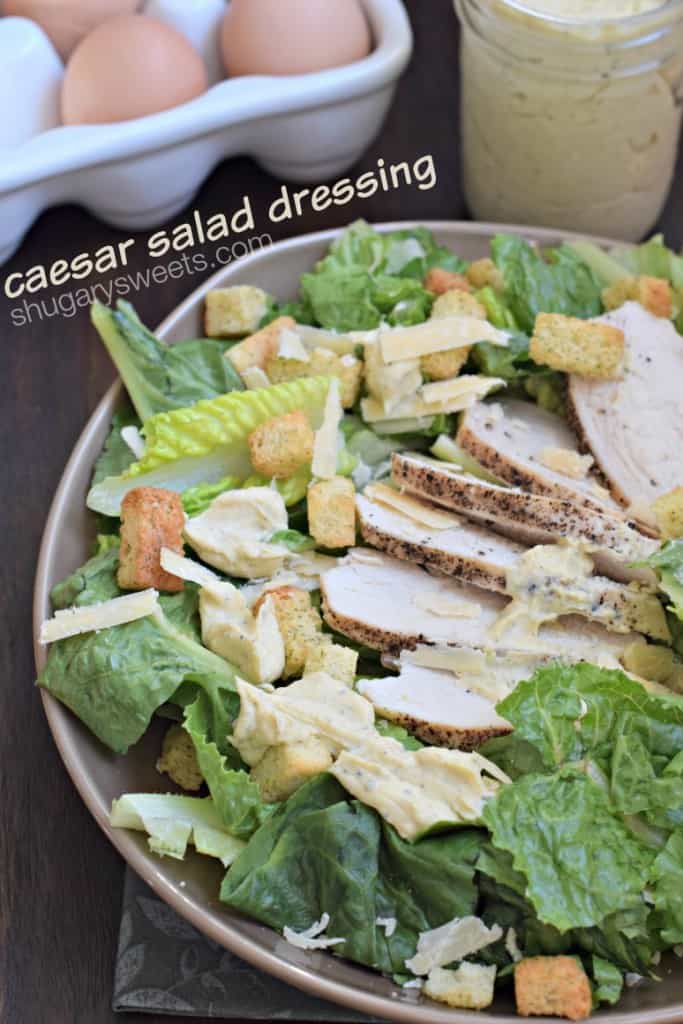 Ingredient Notes
Like most of my recipes, this homemade Caesar dressing uses pantry and refrigerator staples so you can make it any time.
Hard boiled eggs. See my tips below for cooking with hardboiled eggs.
Worcestershire sauce. Choose a sauce without anchovies to make the dressing vegetarian.
Garlic. One clove is plenty to add the perfectly garlicky flavor!
Vegetable oil. Salad oil or olive oil could be substituted.
Lemon juice and mustard. These give the dressing a pop of acidity and tang.
Salt and pepper. The worcestershire sauce is already salty, so you don't need much. Remember you can always add more to taste.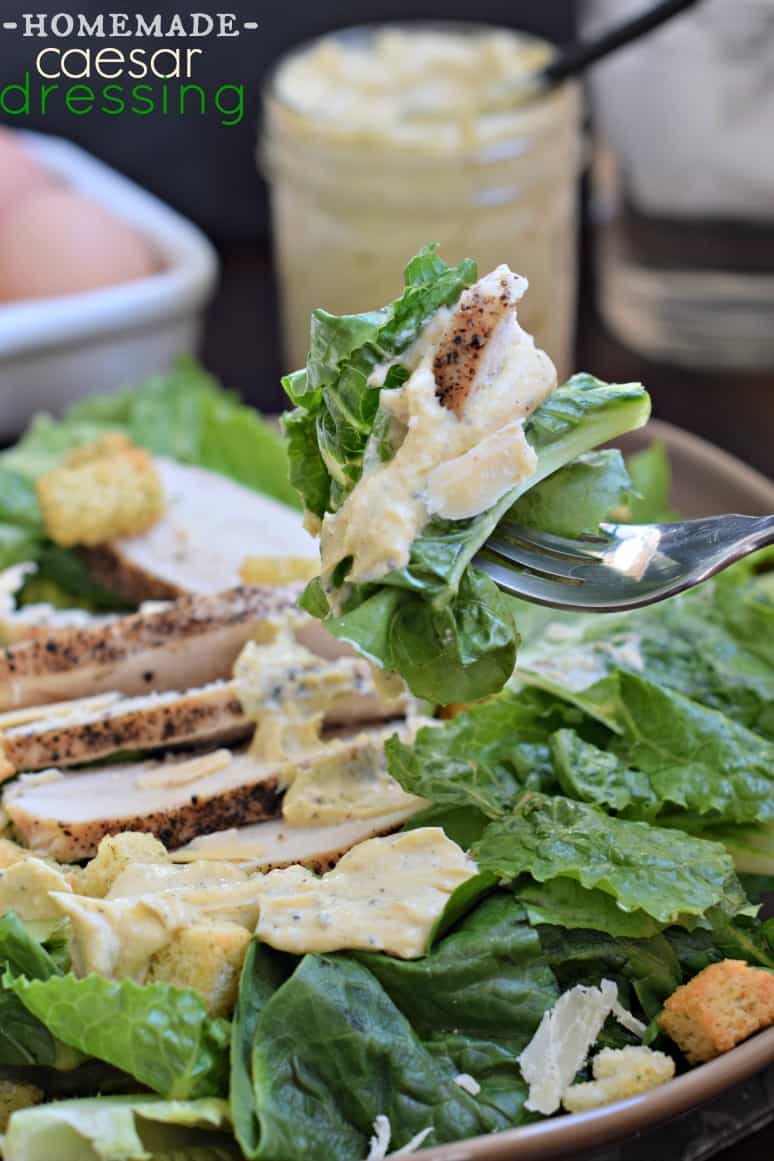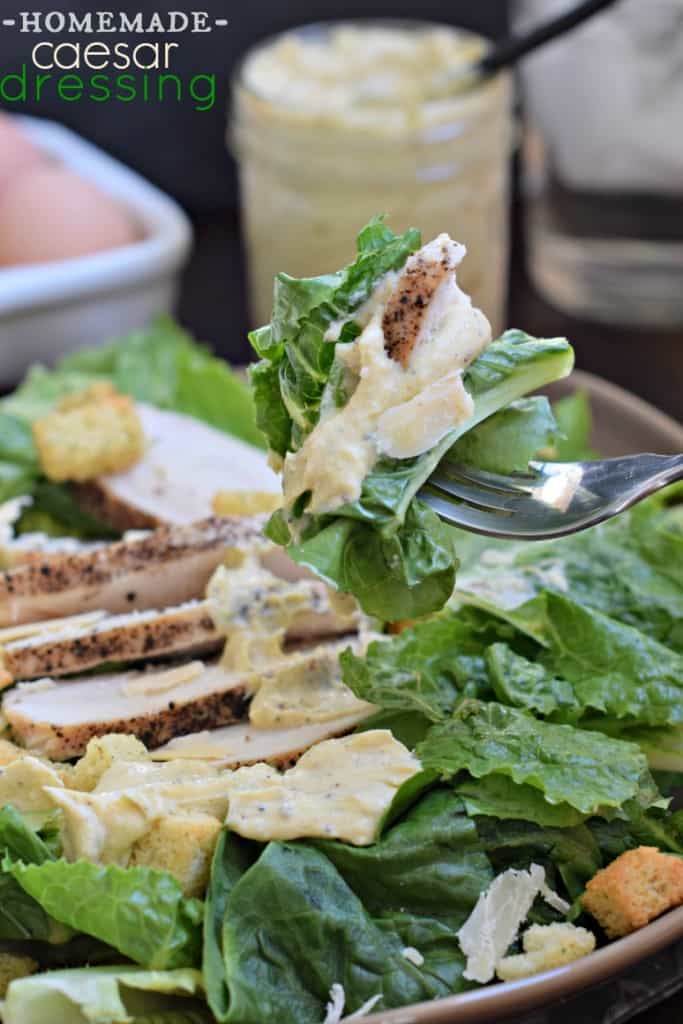 Tips and Tricks for Eggs
Don't use your freshest eggs. As Easter approaches and I know I'll be boiling some eggs, purchase them about 10 days ahead of time.
Don't overcook the eggs. Place eggs in a single layer in the bottom of your pan with cold water. Bring to a boil. Once boiling, cover and remove from heat. Let sit in boiling water for 10 minutes. Drain and cover with ice for another 15 minutes.
Peel eggs right after cooling. They are easiest to peel, and you can store them peeled in the refrigerator until ready to eat or use. Peeled hard boiled eggs should be used same day, unpeeled hard boiled eggs can stay fresh in the refrigerator for up to one week. Store them in their original carton to prevent odor absorption.
Do not leave hard boiled eggs out of the refrigerator for more than two hours.
Serving Suggestions
Once you've blended all the salad ingredients together, you're ready to make the perfect Caesar salad.
Chop up some romaine lettuce. Put it in a big salad bowl.
Grate some Parmesan cheese on top.
Add sliced cooked chicken breast and croutons.
Toss with this homemade Caesar dressing and serve!
Need a salad you can eat on the go? Try rolling it up in a wrap for an easy lunch. No fork needed.
Recipe FAQs
How can I make this Caesar salad dairy free?
Good news: the dressing itself contains NO milk products, only eggs.
Just don't add any Parmesan cheese to the salad and it's already dairy free.
Can Caesar dressing be made vegetarian?
Caesar dressing is usually made with anchovies which makes it not vegetarian friendly.
However, in this recipe I use worcestershire sauce instead of adding the anchovies fresh. There are several varieties of worcestershire sauce that do not contain anchovies or fish. Check the ingredient label and choose a fish free variety to make your Caesar salad dressing vegetarian.

How long does homemade Caesar dressing keep?
This Caesar salad dressing should be enjoyed within 5 days. Make sure to keep it chilled and in a sealed container to maintain its freshness.
Can I assemble Caesar salad ahead of time?
You can make the dressing up to several days ahead of time. I recommend adding the dressing to the salad just before serving.
If you toss the salad ingredients with the dressing too far in advance, the croutons and lettuce will get soggy.
Homemade Caesar dressing without raw eggs makes it easy to enjoy your favorite restaurant salad at home.