Homemade Caesar Dressing
I've got a delicious homemade Caesar Dressing recipe for dinner! It's so creamy and easy to make!
**Join me and the Ohio Poultry Association for Easter recipes with hard boiled eggs!
Be sure to follow me on Bloglovin'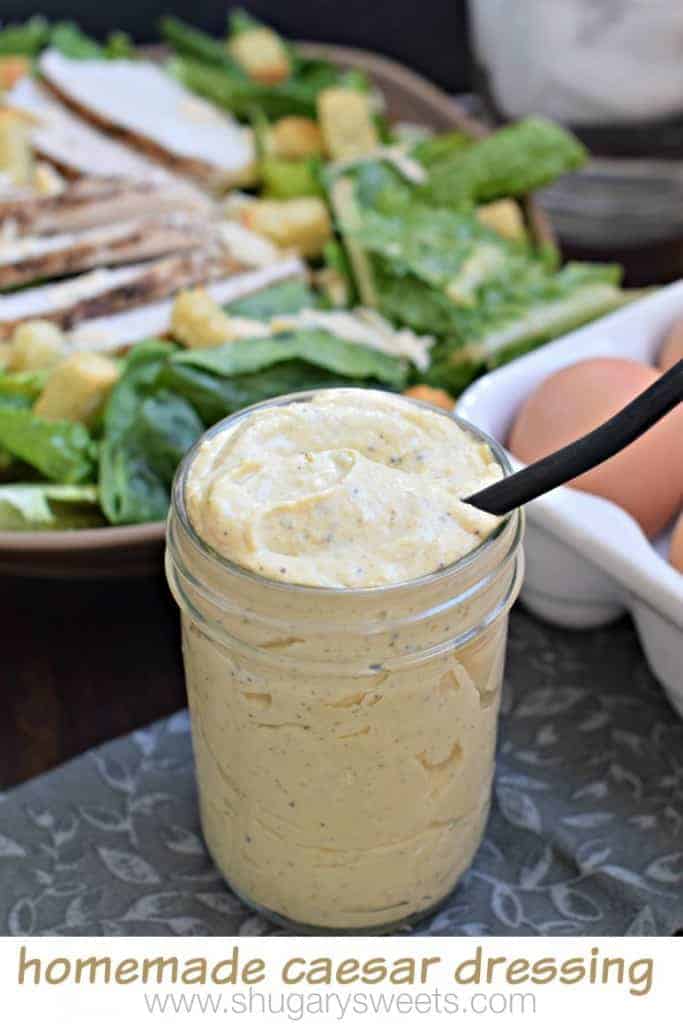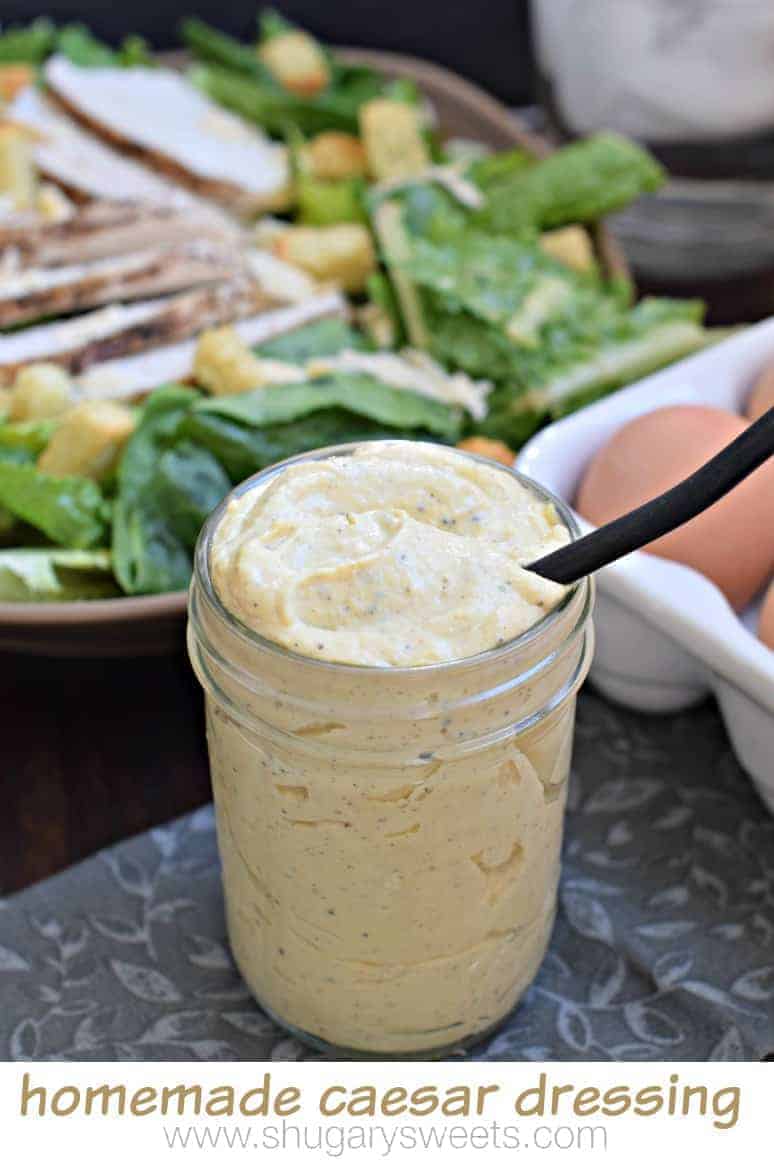 My family is pretty obsessed with Caesar salads. It's one of the few salads that everyone eats, with and without chicken.
Yet I have never attempted making a homemade Caesar dressing. Until now. And can I tell you a secret?
I've always been afraid. I've seen recipes with raw egg yolks and canned anchovies, and I get a bit intimidated.
But I've got a family friendly recipe that has a secret ingredient: Hard Boiled Eggs.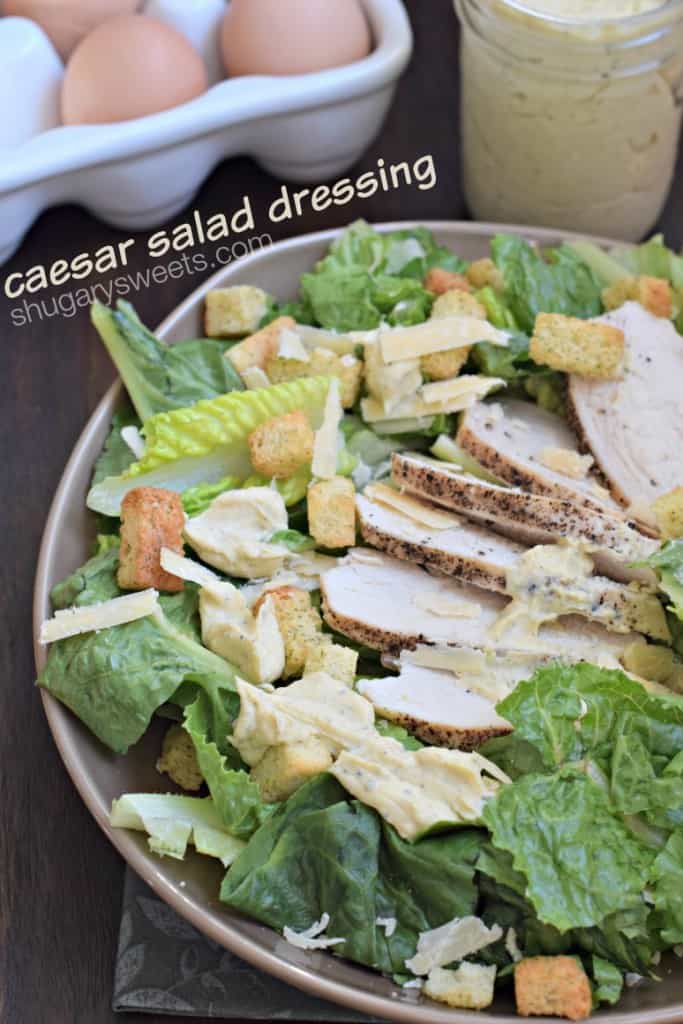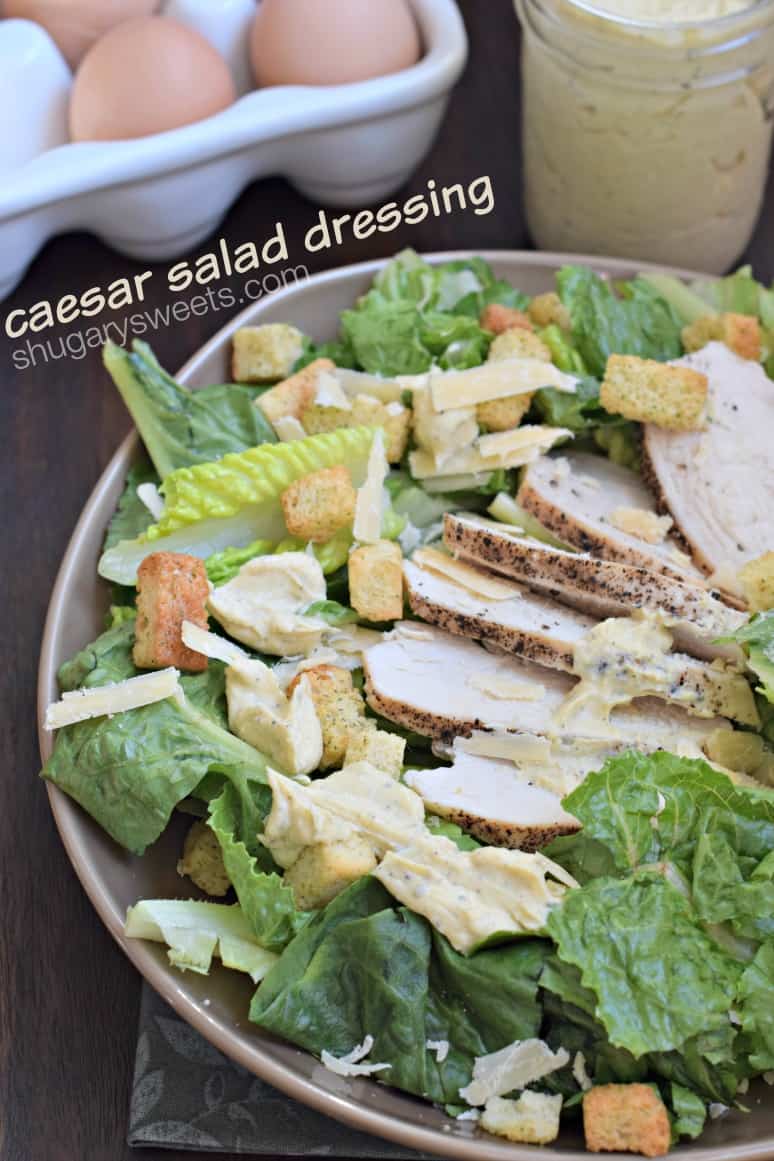 When the Ohio Poultry Association contacted me and asked if I could make a recipe using hard boiled eggs, my mind went directly to salad.
I don't know about you, but we have dozens of hard boiled eggs ready to use up after Easter. We color them and then we have cartons in our fridge. And there is only so much egg salad and deviled eggs we can eat.
I wasn't positive that this would work, but I tossed those hard boiled eggs in a food processor and blended them up with some worchestershire sauce (which is made with anchovies…no need to touch those slimy fish), and some mustard, garlic, oil, lemon juice, salt and pepper. It turned out beautiful and tasted amazing! I thought the dressing tasted even better on day two, after it had the chance to let the flavors "mingle."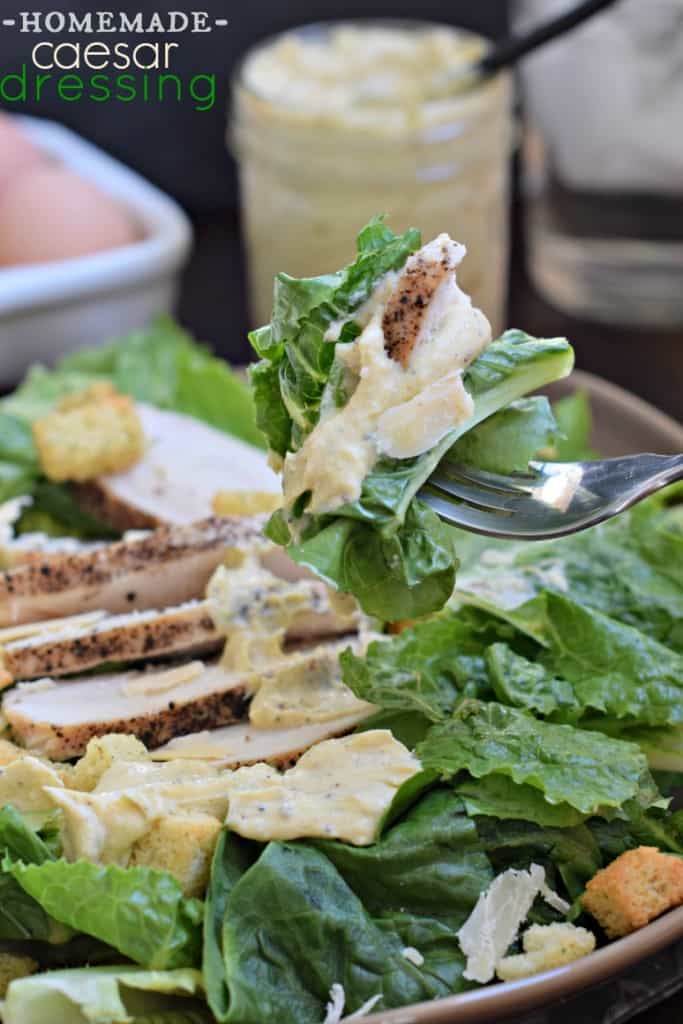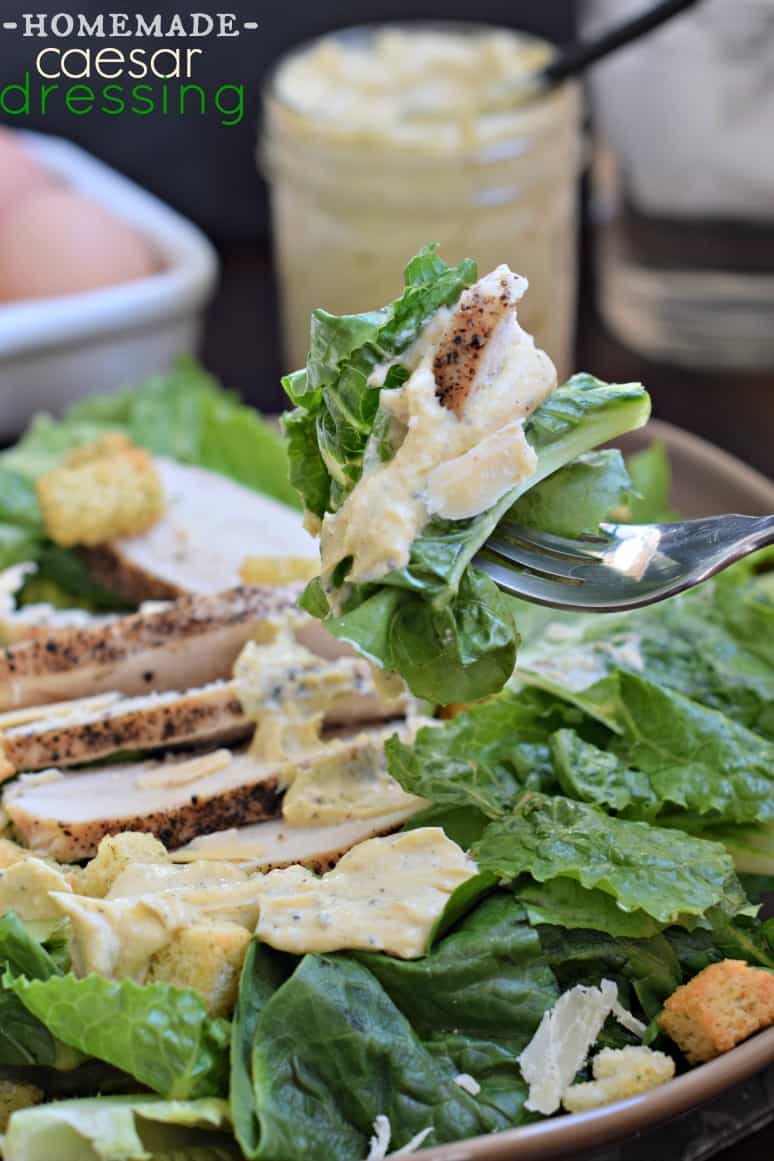 Here are a few tips for hard boiled eggs:
Don't use your freshest eggs. As Easter approaches and I know I'll be boiling some eggs, purchase them about 10 days ahead of time.
Don't overcook the eggs. Place eggs in a single layer in the bottom of your pan with cold water. Bring to a boil. Once boiling, cover and remove from heat. Let sit in boiling water for 10 minutes. Drain and cover with ice for another 15 minutes.
Peel eggs right after cooling. They are easiest to peel, and you can store them peeled in the refrigerator until ready to eat or use. Peeled hard boiled eggs should be used same day, unpeeled hard boiled eggs can stay fresh in the refrigerator for up to one week. Store them in their original carton to prevent odor absorption.
Do not leave hard boiled eggs out of the refrigerator for more than two hours.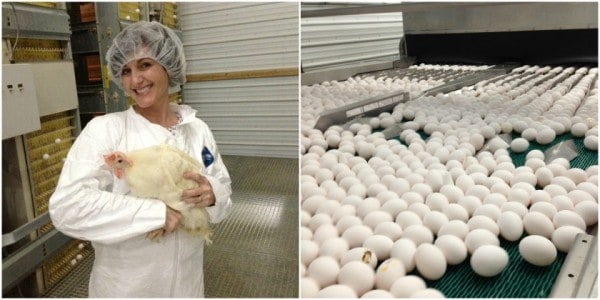 Last year I had the AWESOME opportunity to take a tour of an egg farm (or is it a chicken farm???). I got to meet the chickens up close and personal, and follow the eggs from the cages all the way to the cartons and packaging. Did you know that Ohio is ranked No.2 in egg farming for the nation? They produce more than 7.6 BILLION eggs each year!!
Having spent time on the farm, I was pleasantly surprised at how well the chickens are cared for. And how much the farmers care for their animals. I was also pretty overwhelmed with the sheer number of eggs that come through these farms, and how each one is checked. WOW!
Connect with the Ohio Poultry Association:
facebook | twitter | pinterest
Yield: 1 pint
Homemade Caesar Dressing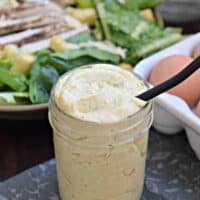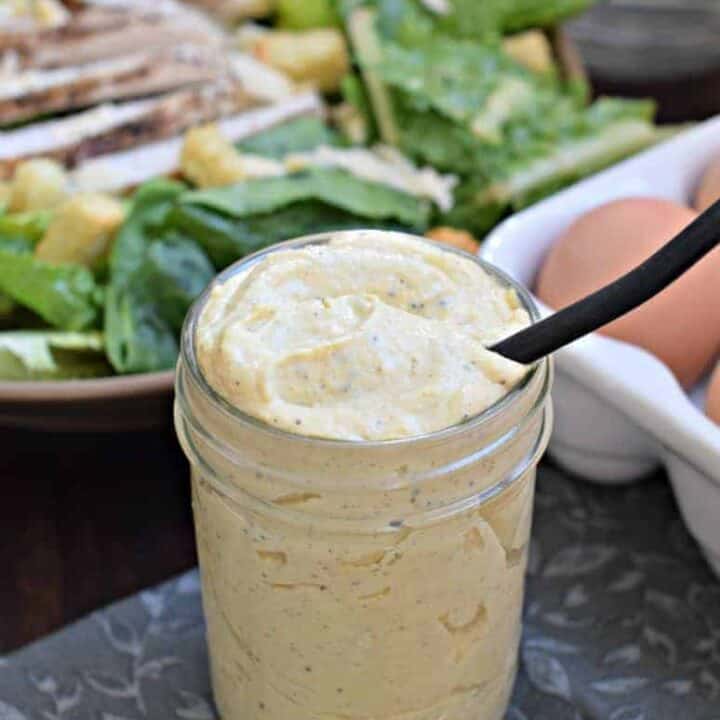 Easy homemade Caesar Dressing with NO raw eggs

Prep Time 15 minutes

Total Time 15 minutes
Ingredients
3 hard boiled eggs, peeled
1 Tbsp worchestershire sauce
1 tsp dijon mustard
1 clove garlic, peeled
1/2 cup canola oil
2 Tbsp lemon juice
1/2 tsp kosher salt
1/4 tsp black pepper
romaine lettuce, chopped
2 chicken breasts, cooked and diced
1/2 cup parmesan cheese, shredded
1 cup croutons
Instructions
In a food processor, combine all the ingredients for the dressing. Process until smooth and creamy.
Store dressing in a pint sized mason jar until ready to use. Combine salad ingredients with dressing and enjoy! Dressing best used within 5 days.
Nutrition Information:
Yield:
32
Serving Size:
1 Tbsp
Amount Per Serving: Calories: 65 Total Fat: 5g Saturated Fat: 1g Trans Fat: 0g Unsaturated Fat: 4g Cholesterol: 25mg Sodium: 91mg Carbohydrates: 2g Fiber: 1g Sugar: 0g Protein: 4g
RSVP to our Twitter chat here!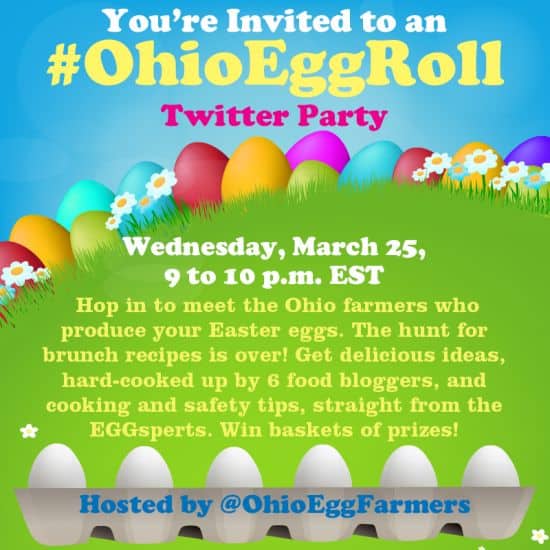 Need more recipes for those leftover Easter eggs? My friends have got you covered:


 **This post is sponsored by the Ohio Poultry Association. I was compensated to create my own recipe, however all opinions are my own.**