Just in time for summer picnics and barbecues, Macaroni Salad is simply delicious! With a pickle brine dressing and tuna, this salad makes a perfect light lunch or cold side dish.
Love potluck food? This easy Orzo Salad is perfect for summer gatherings. Or give our favorite Dorito Taco Salad recipe a try this season!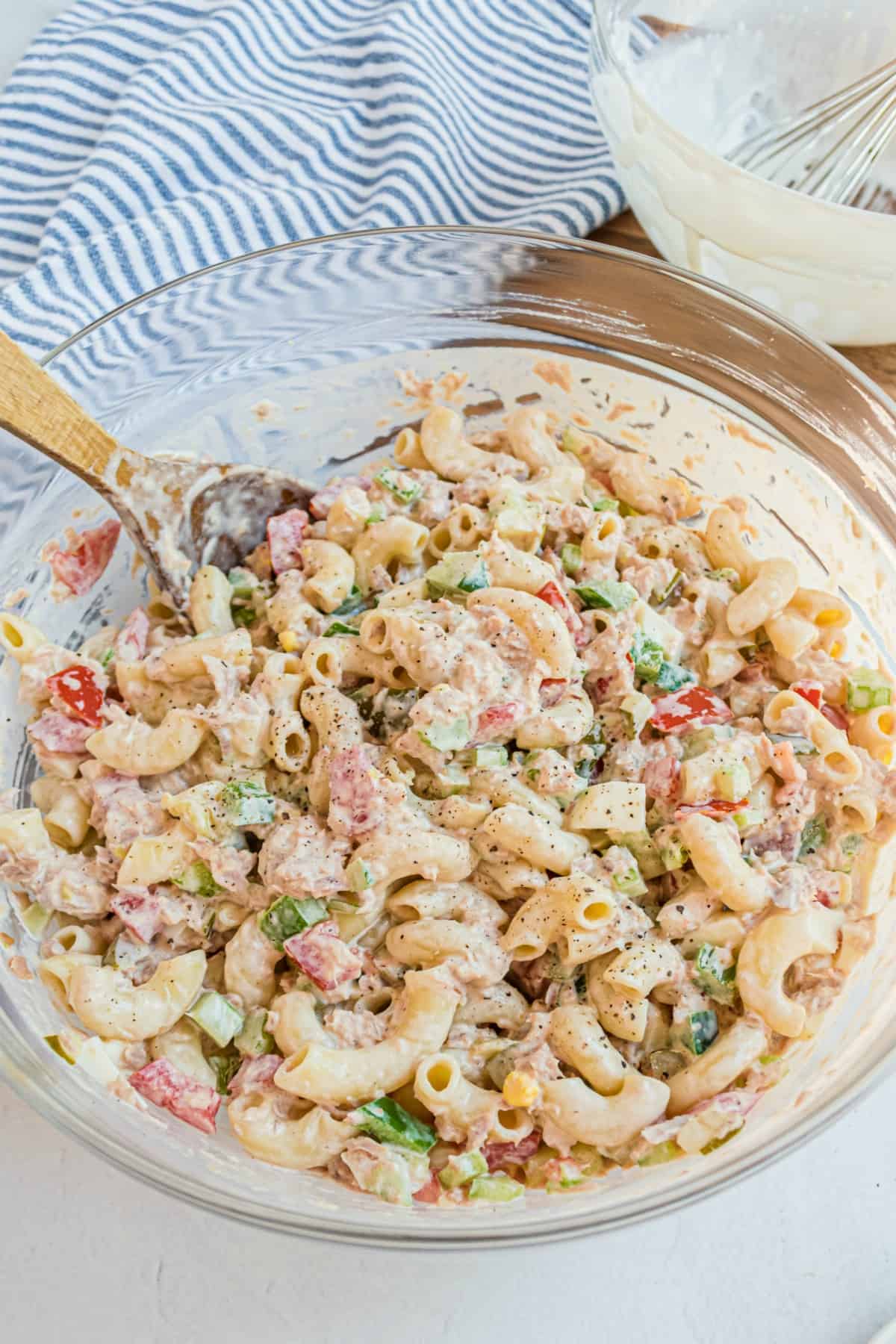 Why Make Tuna Macaroni Salad?
Summer is here and with the longer days and warmer temperatures, cold side dishes become frequent fixtures on our dinner table. I've been making macaroni salad for years and this recipe has never yet disappointed!
I love an innovative recipe, but I also love the classics. Macaroni Salad is one of those side dishes that's a classic for a reason.
easy
inexpensive
everyone loves it
The concept is simple: cooked elbow noodles tossed with assorted chopped veggies in a creamy dressing.
With or without other additions like tuna, it goes with just about any entree as a side dish and can also be a meal on its own.
Favorite Potluck Recipes: Potato Salad | Coleslaw Recipe
Ingredient Notes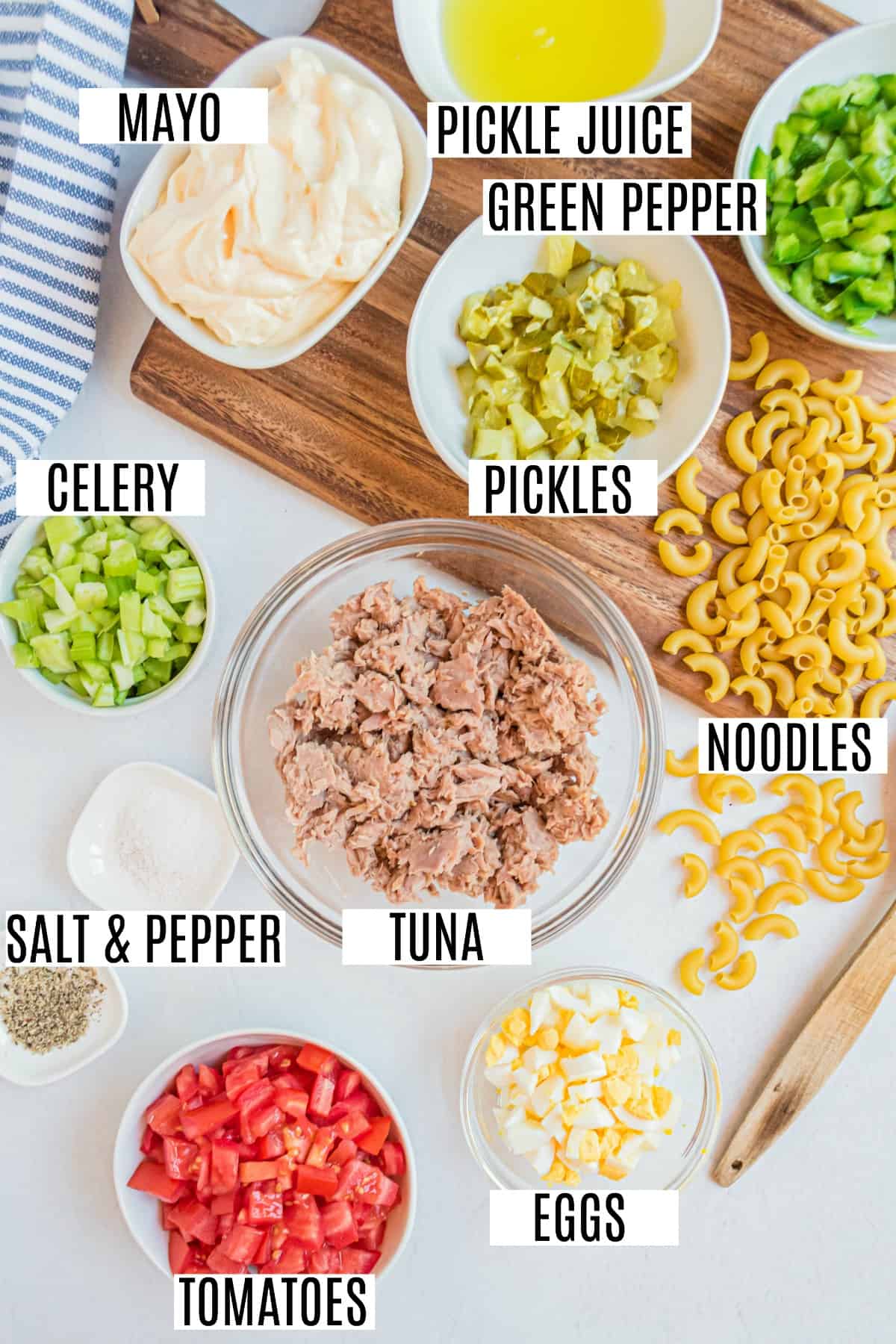 Every family has their "go-to" way of making this cold pasta salad and, like many others, I'm biased toward mine.
Adding a couple of cans of tuna to the macaroni salad makes it filling enough to serve for lunch. Plus, this is how my mom always makes it!
When I don't want to put much energy into lunch but still want something homemade and nourishing, this recipe is a lifesaver!
The salty tuna tastes wonderful paired with the crispy celery and the creamy dressing and I almost always have the ingredients on hand.
This salad is easy to transport, too! If you're looking for the perfect Macaroni Salad to bring along on your next summer picnic, give this recipe a try.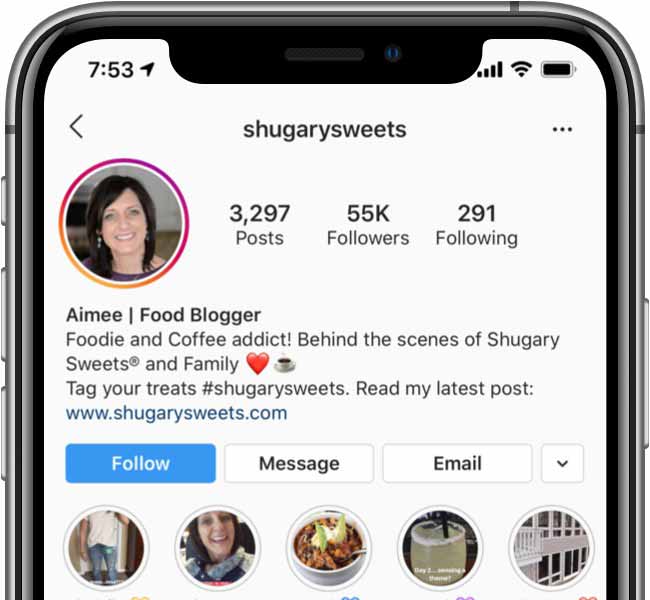 All about the Dressing
Can we talk about what makes a good macaroni salad dressing? It had to be plenty creamy, of course, but equally important is the tang factor.
Tossing your macaroni with just mayo and seasoning might taste okay but would lack that "WOW" factor that makes everyone come back for another helping.
Some people achieve this with a spoonful of mustard and some vinegar. I prefer one simple ingredient: pickle juice.
Stay with me here. The brine from your pickle jar is essentially vinegar that's already flavored with herbs and spices. So, instead of measuring a bunch of different ingredients, you simplify with this all-in-one hack.
A simple combination of mayonnaise, pickle juice and a little salt and pepper is all you need to make the best dressing for your macaroni salad! The amounts in the recipe I share below are a good starting point.
If you want even more creaminess, feel free to add more mayo and pickle juice to your liking.
How to Make Macaroni Salad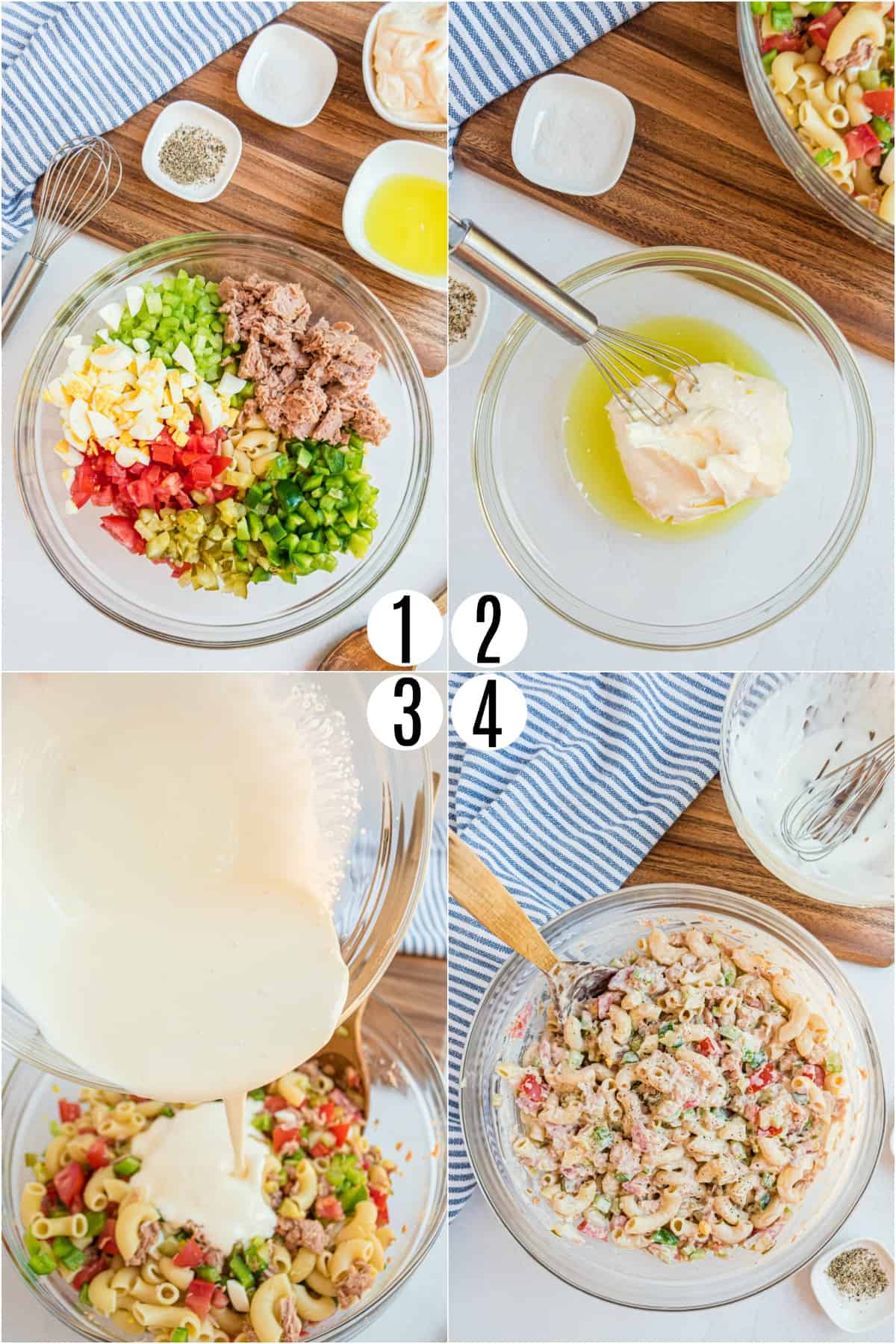 Boil the pasta and eggs:
This recipe starts by cooking macaroni noodles and immediately running them under cold water so they cool off. If you're making hard boiled eggs just for this salad, you can get those going at the same time.
This method of making hard boiled eggs in the instant pot is my favorite.
Make sure the eggs are cooled and diced before adding them to the pasta.
Add Vegetables:
To a bowl with the pasta and eggs, I add a generous amount of chopped celery, tomatoes, green pepper and a couple of dill pickle spears. You can feel free to change or adjust the veggies in this macaroni salad to your liking.
Make the dressing:
Whisk together pickle juice, mayo, salt and pepper in a bowl. Pour it over the salad and toss to combine. Chill the macaroni salad for at least an hour in the fridge before serving.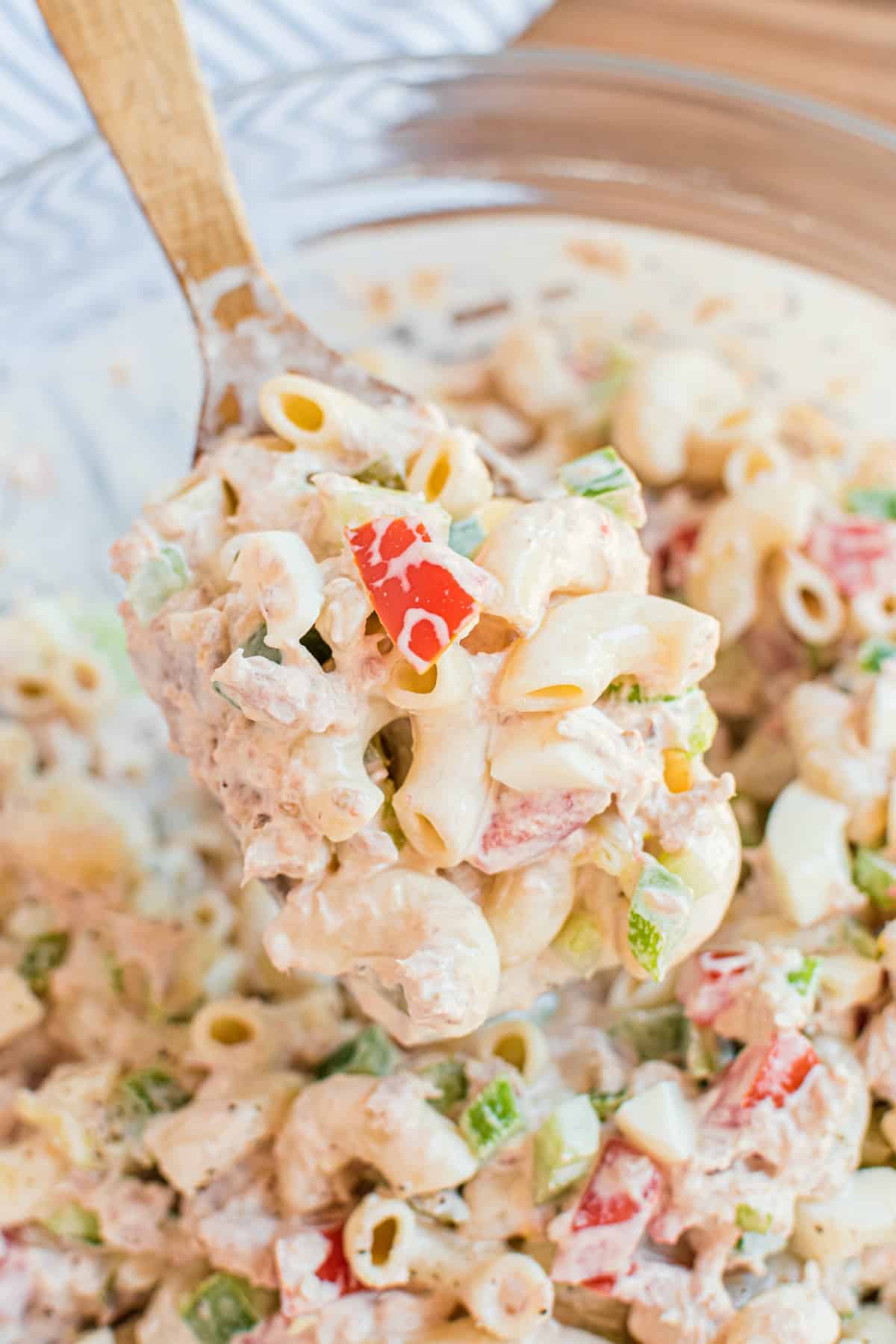 Storage Tips
Because of the eggs in the salad and the dressing, this is a salad that needs to be kept cold. I store mine in a big tupperware container in the fridge.
If you're taking this with you to a picnic or other outdoor event, pack it in a cooler and remove when ready to serve. Try not to leave it out for more than a half hour or so, especially if it's warm. (After two hours at room temperature, you'll need to toss this salad for food safety reasons.)
If kept in the fridge, macaroni salad will stay good for about 3 days. I actually love this salad on the next day because the flavors have a chance to meld and mingle.
PRO TIP: If the salad dries out if making it ahead of time, pour in a little pickle juice and/or mayo to return it to it's creamy texture!
Recipe FAQs
Can you make macaroni salad with Miracle Whip?
Absolutely. My mom always made her macaroni salad with Miracle Whip and it was delicious. It definitely adds a zippier flavor that I enjoy. Egg free mayo substitutes will work well here, too.
Can this be made without tuna?
For sure. Macaroni Salad is still tasty if you omit the tuna and plenty of people prefer it this way. When I'm serving this as a side dish, I'll often leave the tuna out.
Can this be made in advance?
You can make this salad 24 hours in advance. You may need to add a little extra dressing before serving to moisten it up!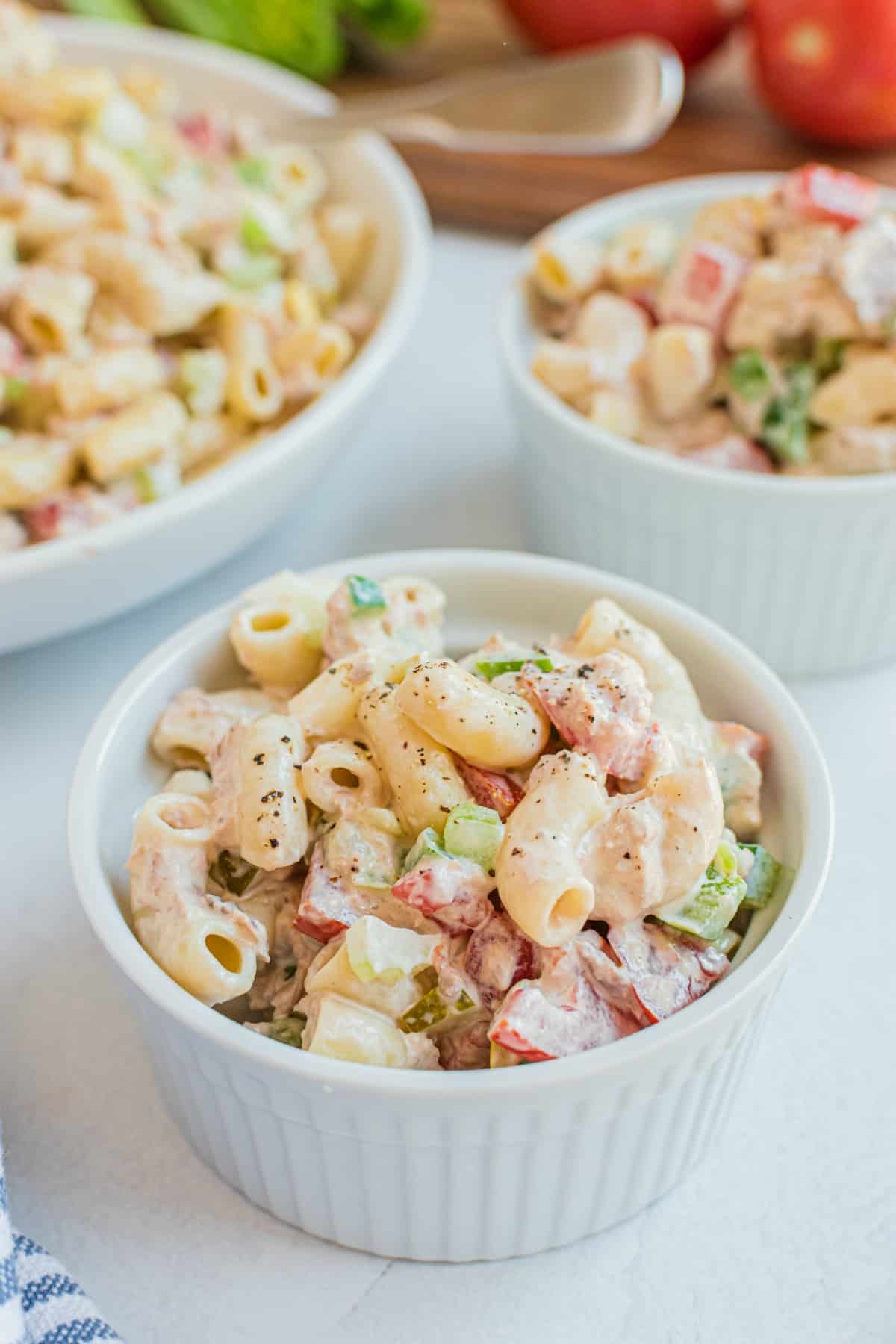 More Easy Potluck Recipes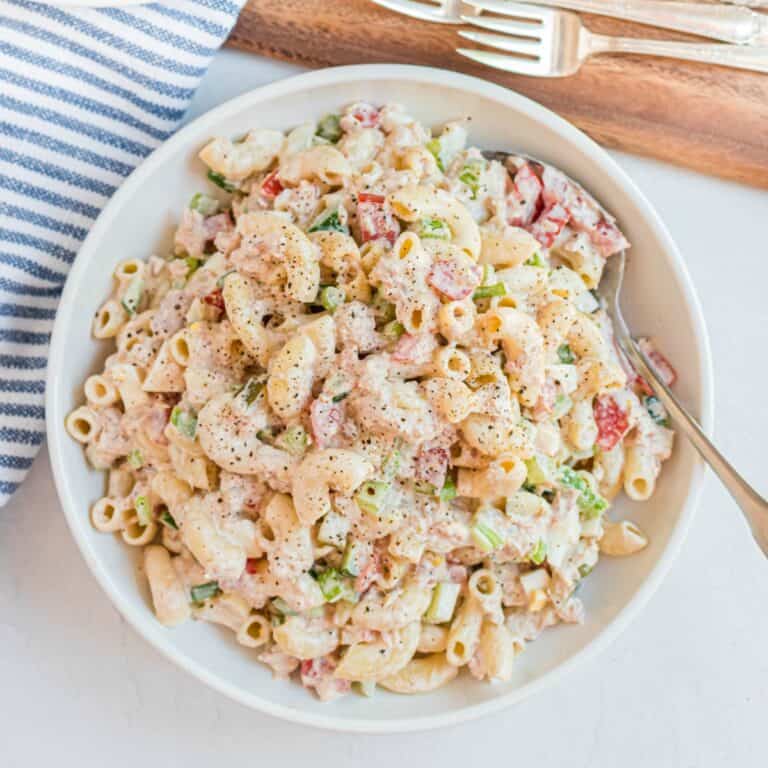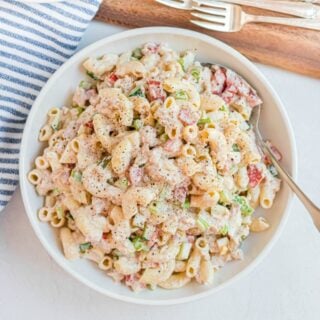 Macaroni Salad
Just in time for summer picnics and barbecues, Macaroni Salad is simply delicious! With a pickle brine dressing and tuna, this salad makes a perfect light lunch or cold side dish.
Ingredients
8

oz

elbow macaroni

2

roma tomatoes

diced

2

stalks celery

diced

2

dill pickle spears

diced

½

green pepper

diced

2

cans

tuna in water

drained

2

hard boiled eggs

diced
For the dressing
1 ½

cups

mayonnaise

¼

cup

pickle juice

¼

teaspoon

kosher salt

cracked black pepper

optional
Instructions
Prepare pasta according to package directions. Drain and run under cold water. Place in a large bowl.

Add tomatoes, celery, pickles, green pepper, tuna, and eggs to pasta.

In a small bowl, whisk mayonnaise, pickle juice, and salt. Pour over pasta and veggies. Mix until everything is combined.

Chill for at least one hour. Serve with a few cranks of fresh cracked black pepper. ENJOY.
Notes
Can be made with or without the tuna!
If you like it creamier, add more pickle juice and mayo.
Swap out the mayonnaise for miracle whip for a zippier flavor, like my mom always made!
Nutrition
Calories:
414
kcal
,
Carbohydrates:
12
g
,
Protein:
14
g
,
Fat:
34
g
,
Saturated Fat:
6
g
,
Polyunsaturated Fat:
27
g
,
Cholesterol:
82
mg
,
Sodium:
812
mg
,
Fiber:
1
g
,
Sugar:
3
g
It's a summery side dish that never goes out of style! This Macaroni Salad recipe made with tuna, eggs and a creamy dressing brings even more flavor to an old favorite.