Taffy Apple Salad
Still a couple days to enter my giveaway!  Go HERE to get the details!
It's funny how different food we make evokes certain memories. My son, who is 15, asks me to make this salad all the time. For him, it reminds him of family barbeques. With all my extended family! I have the most awesome family and we love to have a good time and good food!
My Aunt Carol (HI!!) gave me this recipe, and according to my son, "she makes the best taffy apple salad." He has tried it at many other potlucks and gatherings, but always comes back saying that his Aunt Carol's is superior!
Here's what I noticed that might make a difference: Aunt Carol's recipe uses egg, cider vinegar, flour and sugar as sort of a roux to thicken up the salad (see note at end of recipe). I have to agree with my son, it rocks!
You can also go one step further and make "Candy Apple Salad" by adding in some chopped Snicker's bars. I love it both ways! I hope you enjoy this too! Bring it to your next family gathering and build some new memories around a beloved dish! Enjoy!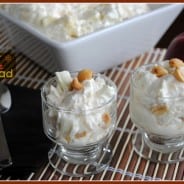 Taffy Apple Salad
Ingredients:
1/2 cup sugar
1 egg
1 Tbsp cider vinegar
1 Tbsp flour
4 cup apples, peeled and diced
20 oz can crushed pineapple, drained
8 oz Cool Whip
1 1/2 cup salted peanuts
12 bite sized Snicker bars, chopped (optional)
Directions:
In large mixing bowl, whisk together the sugar, egg, vinegar and flour. Fold in chopped apples and drained pineapple. Stir together.

Fold in Cool Whip and refrigerate one hour or until ready to serve.

Right before serving add peanuts (and candy bars if desired). Enjoy!
**yes, this recipe has raw egg. Consume at your own risk, so far I've survived. You could also use pasteurized eggs.
MAKING THIS RECIPE? Share it with me on Instagram using the hashtag #ShugarySweets so I can see what you're cooking up in the kitchen!