Every potluck needs the Best Broccoli Salad recipe on the table. With broccoli, cheddar cheese, red onion, and bacon topped with a sweet and tangy dressing, it's the perfect easy summer side dish!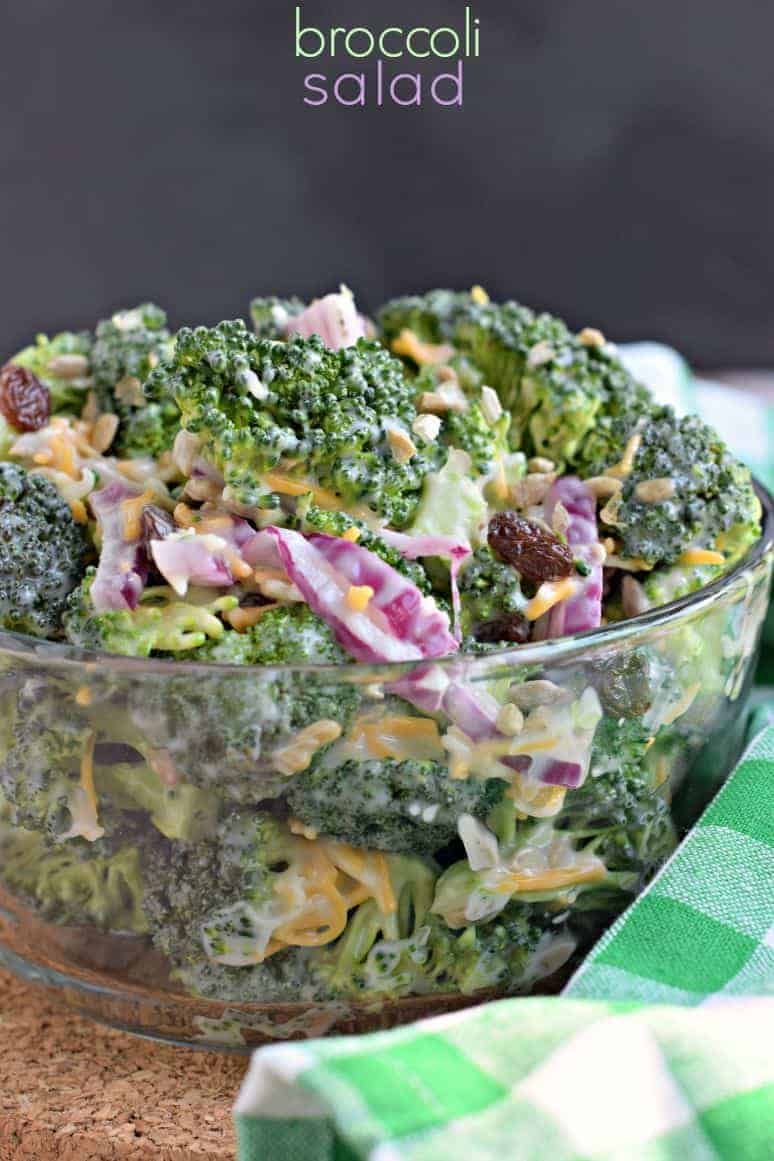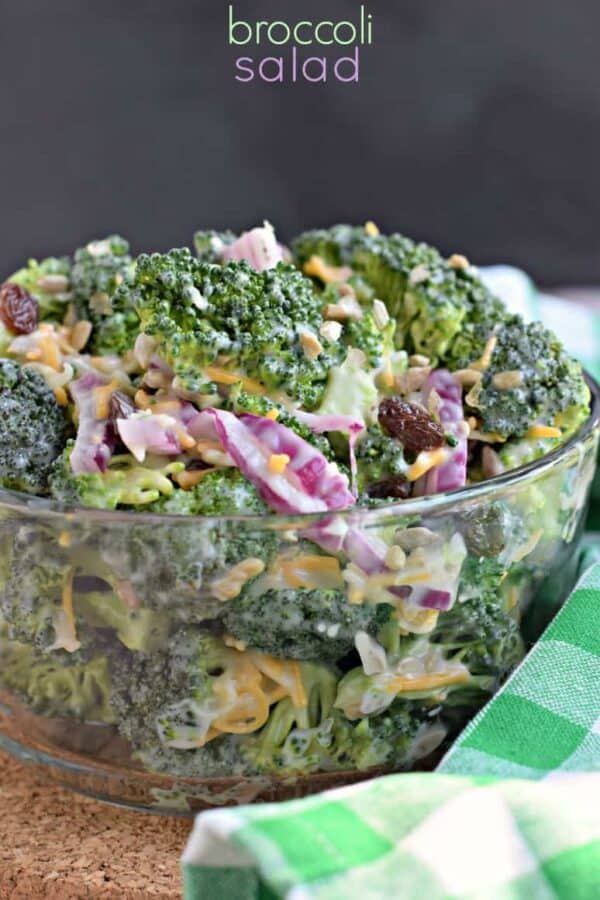 Click HERE to save recipe to Pinterest!
Ummm, hello?? Where did our summer go? Is it me or does the summer seem to go faster as you get older?
It seems like just yesterday we were coming home from the last day of school and packing our bags for Hawaii. But no. That was not yesterday. That was May.
And wasn't it just days ago I saw my son moments before leaving for boot camp? Nope. It's been 3 weeks already (and man do I miss that kid!).
But, here we are in August already. Buying school supplies, getting sports physicals done, and going to school orientations.
This is also the year that my youngest is now in Junior High School. My baby. She is now going to a school filled with teenagers and hormones. #helpme
The only way to get through this realization that school starts in a couple weeks and my kids are hormone-raging humans…is to live in denial.
At least for a little bit…right?
So, let's embrace the last few weeks of summer vacation and eat bowls of my favorite easy broccoli salad!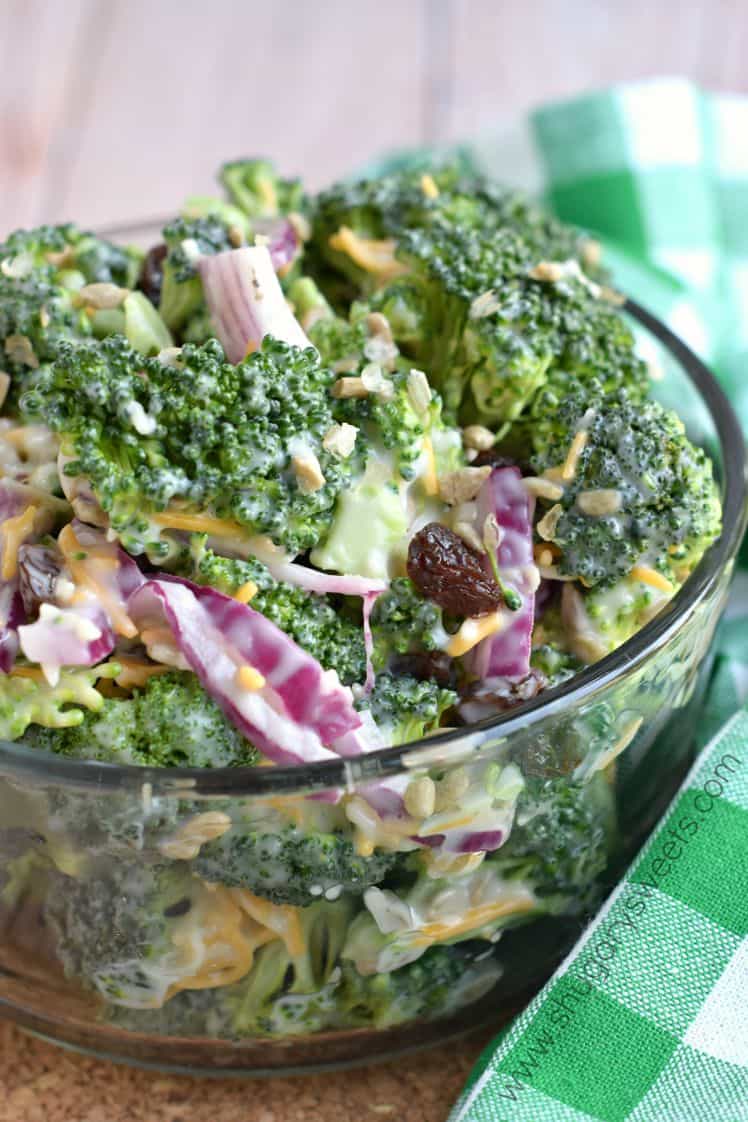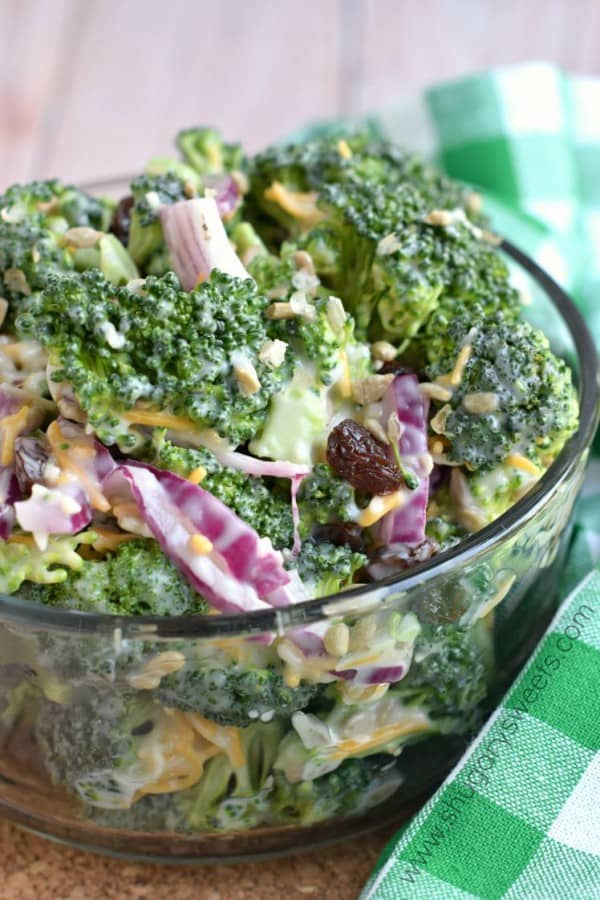 EASY BROCCOLI SALAD WITH BACON
I remember the first time I ever had this salad. It was at a Christmas party years ago with my family, and my aunt served this Broccoli Salad (Hi Aunt Debbie!!). I had never had anything like it, and I ate seconds.
Then thirds.
Then begged for the recipe.
Truth be told I've only made Aunt Debbie's Broccoli Salad recipe a handful of times in the past ten or so years. And every time it's been devoured at family potlucks and BBQs.
It doesn't matter what time of year it is, or whether you're serving it at a casual cookout with friends or as a side at Thanksgiving, everyone always loves this easy Broccoli Salad.
I think this Broccoli Salad recipe is always a hit because it's a great combination of flavors and textures. Broccoli, tangy red onion, cheddar cheese, sweet raisins, crunchy sunflower seeds…and bacon. Who can say no to bacon?
BROCCOLI SALAD DRESSING
The thing that really ties together all the ingredients in this Broccoli Salad recipe, though, is the sweet and tangy dressing.
Broccoli Salad dressing is made with just three ingredients: mayonnaise, apple cider vinegar, and sugar. Don't this easy dressing fool you, though – it is the perfect sweet and tangy combo to bring everything in Broccoli Salad together.
I prefer to make Broccoli Salad the night before. I think it gives the dressing time to "soften" the broccoli.
However, the recipe as given to me, says to pour the dressing on the salad right before serving. You decide how you want to serve this…as everyone has different taste buds! Either way, it's going to be delicious.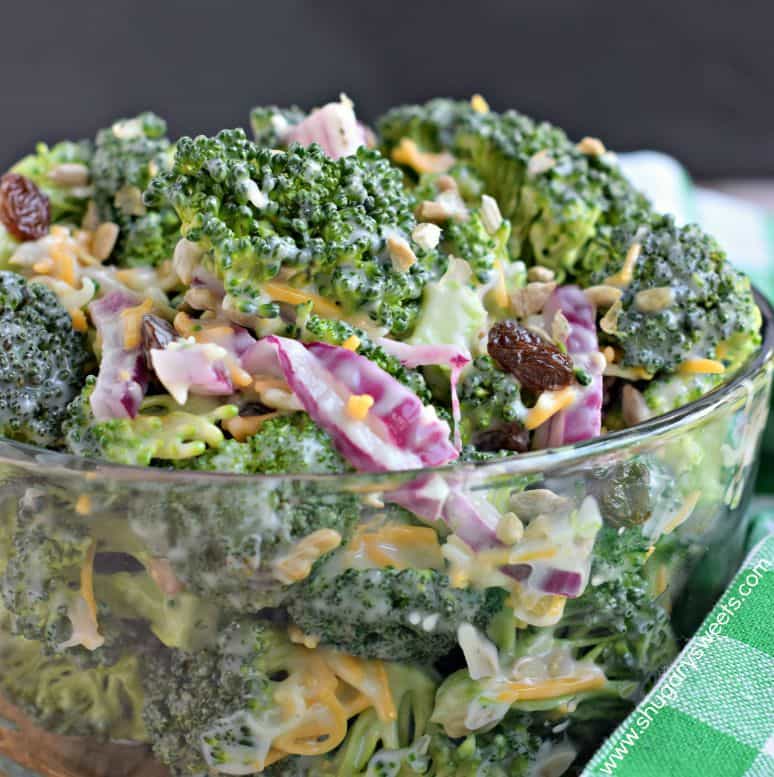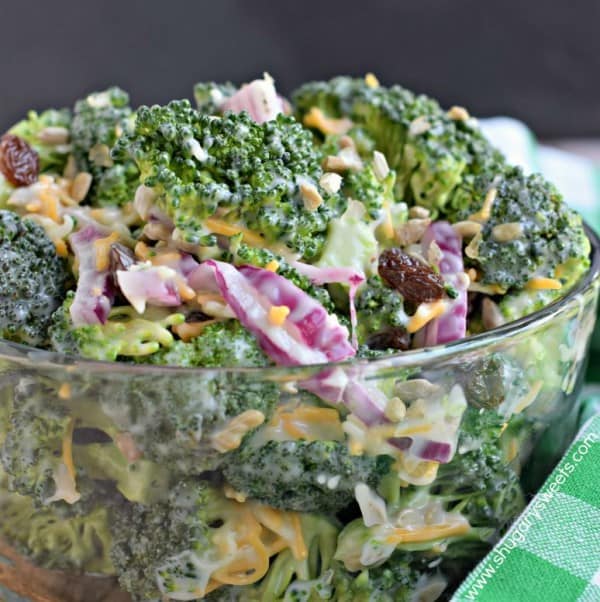 Looking for a potluck recipe? Here are some of our family hits!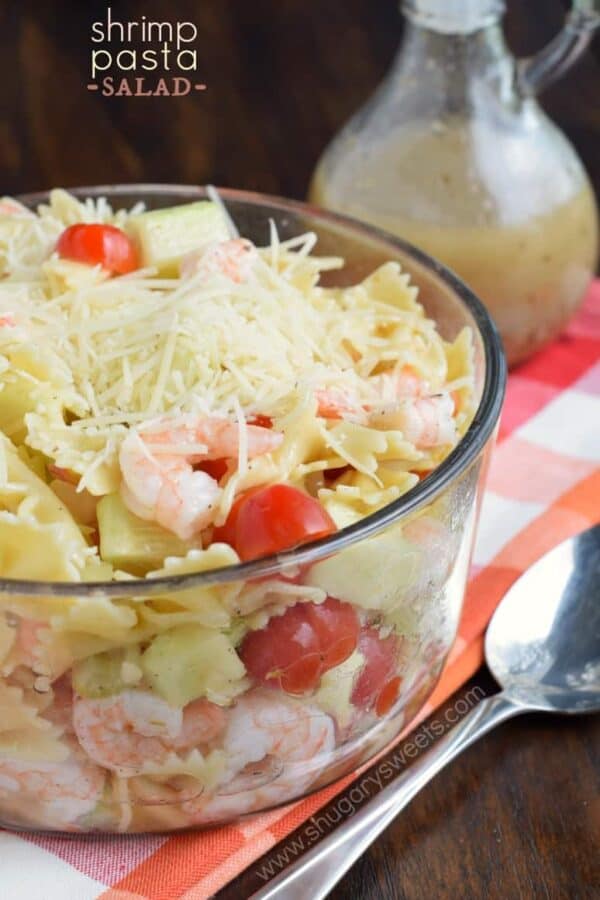 Shrimp Pasta Salad with a homemade Italian Dressing. Easy, healthy, delicious!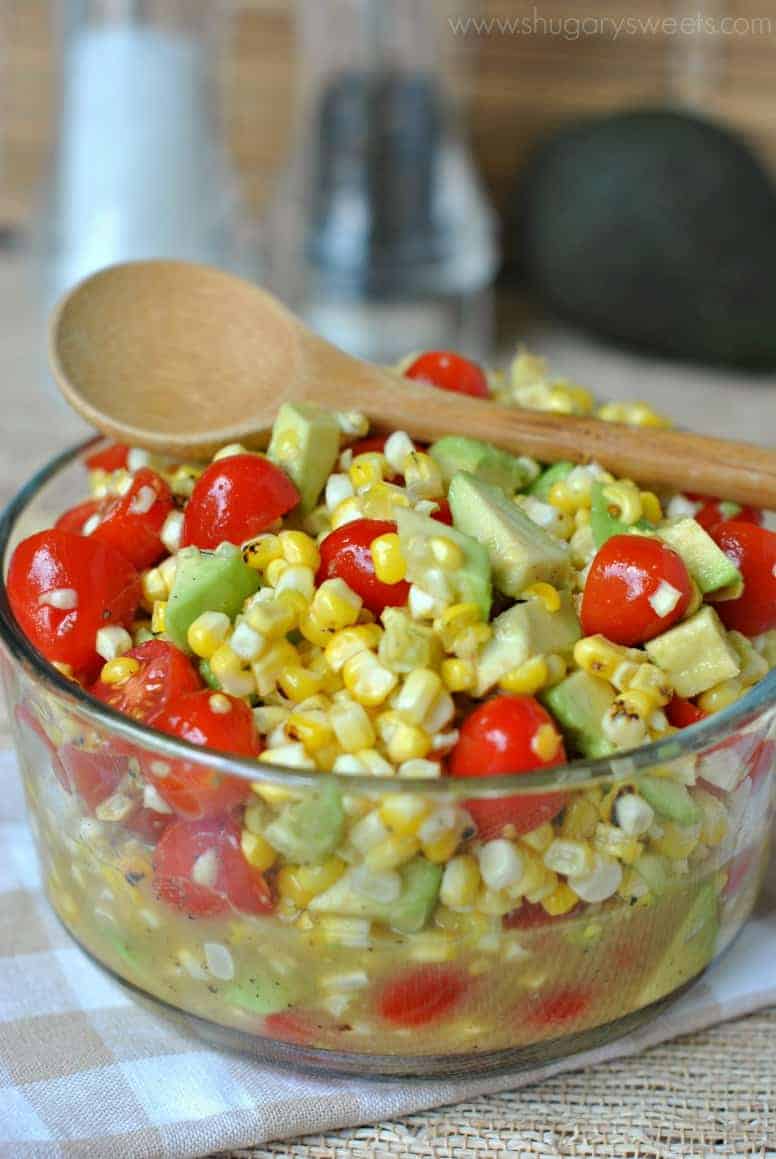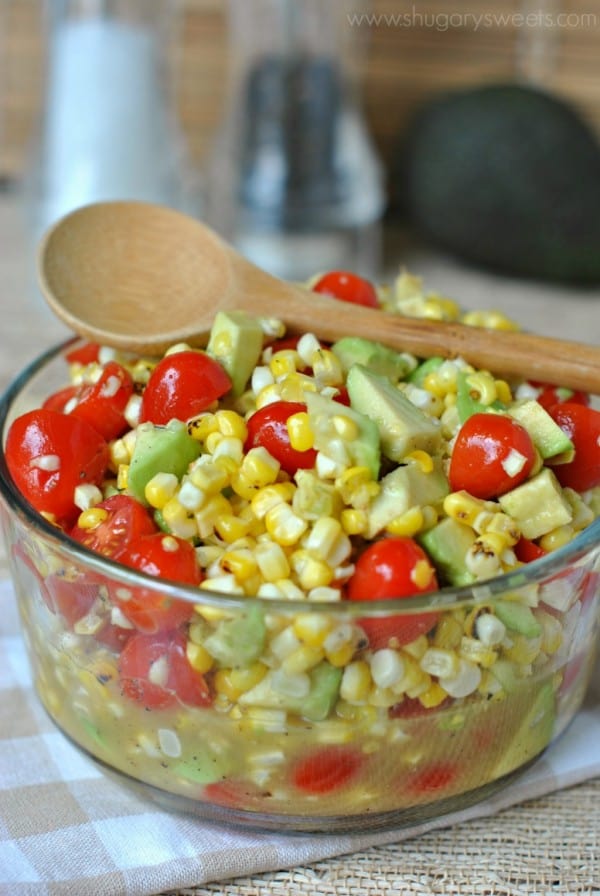 Roasted Corn Salad: a wonderful summer side dish with a honey lime dressing.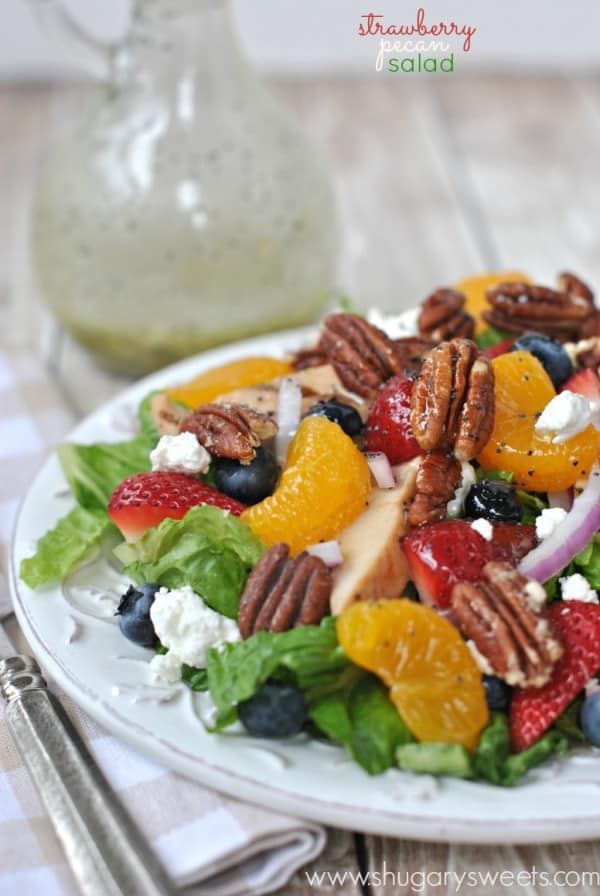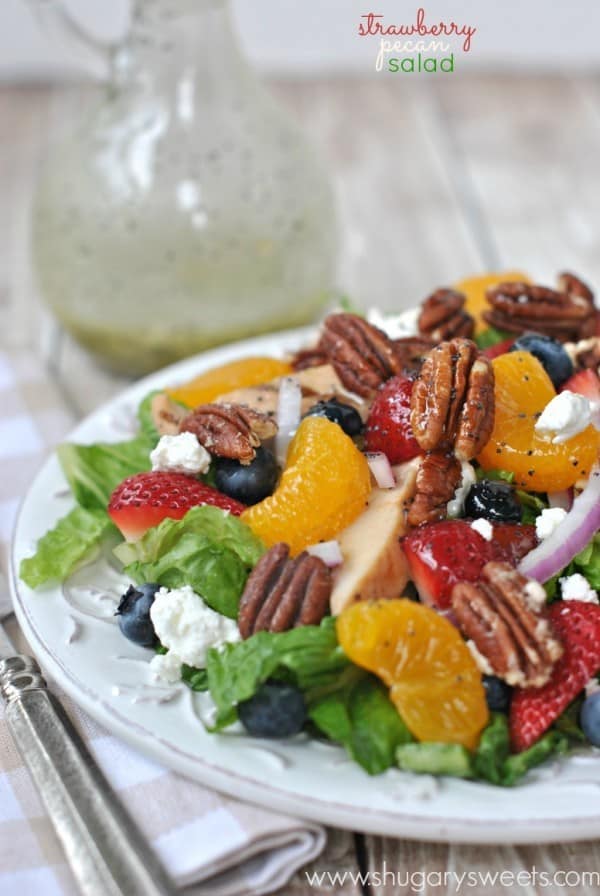 Strawberry Pecan Salad: a copycat version of your favorite Panera recipe!
I created a fun little group on facebook and I'd love for you to join in! It's a place where you can share YOUR favorite recipes, ask questions, and see what's new with Shugary Sweets (so that you never miss a new recipe)! If you'd like to check it out, you can request to join HERE.
Be sure to follow me on Instagram and tag #shugarysweets so I can see all the wonderful SHUGARY SWEETS recipes YOU make!
Connect with Shugary Sweets!
Be sure to follow me on my social media, so you never miss a post!
Facebook | Twitter | Pinterest | instagram
MORE POTLUCK RECIPES:
Broccoli Salad recipe:

Today's recipe for Broccoli Salad was originally published on Shugary Sweets on August 5, 2015 and has been republished in July 2018.
The BEST Broccol Salad recipe is packed with broccoli, cheese, onions, and more! Perfect potluck recipe.