Healthy and light, fresh Cucumber Tomato Salad is a delicious summer side dish. No dressing needed for this easy recipe!
Serve this fresh salad with Instant Pot Pork Tenderloin or these Slow Cooker Italian Chicken Sandwiches for a hearty meal. You won't even need to turn on the stove!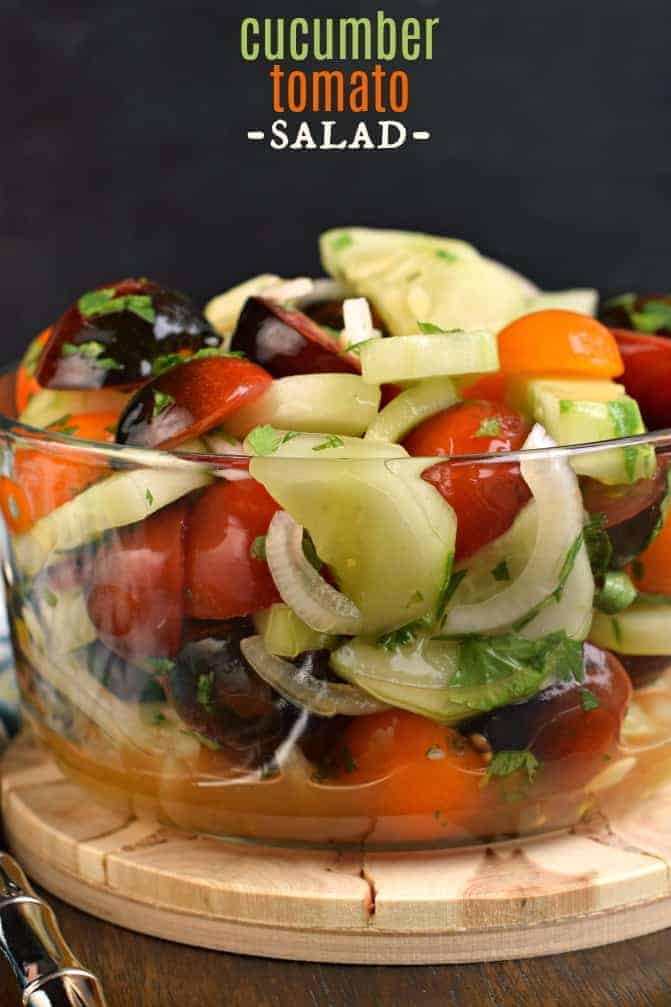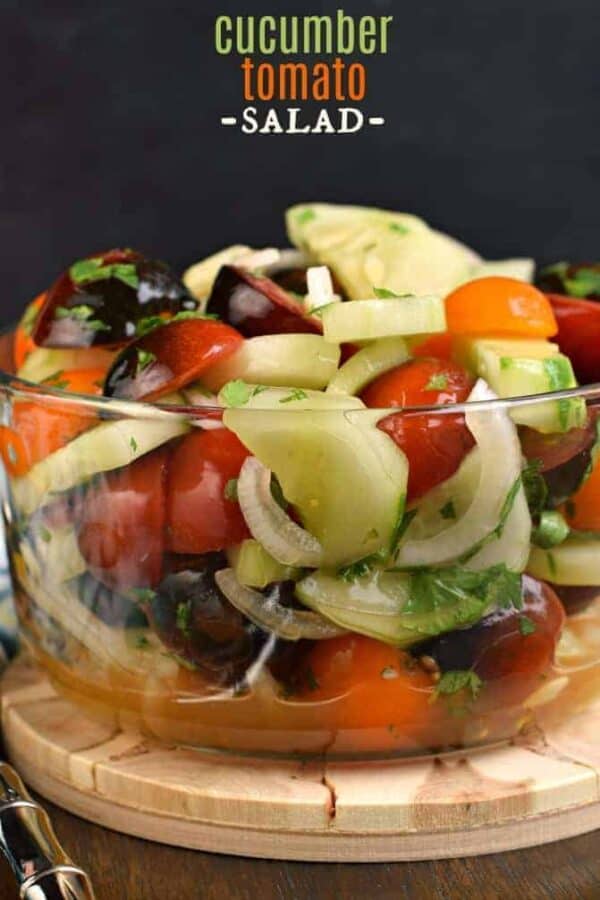 Why This Salad is Best
Salad should be more than a handful of lettuce leaves tossed together as an afterthought. Today's Cucumber Tomato Salad brings color and flavor to your table in one easy recipe!
Garden fresh vegetables make this salad explode with flavor.
It's packed with nourishing ingredients that taste great, too.
Unlike other salads that are drowning in dressing, ours is simply tossed with a squeeze of fresh lime juice.
A delicious, healthy alternative to mayo-based salads for summer time.
Goes well with just about any main course!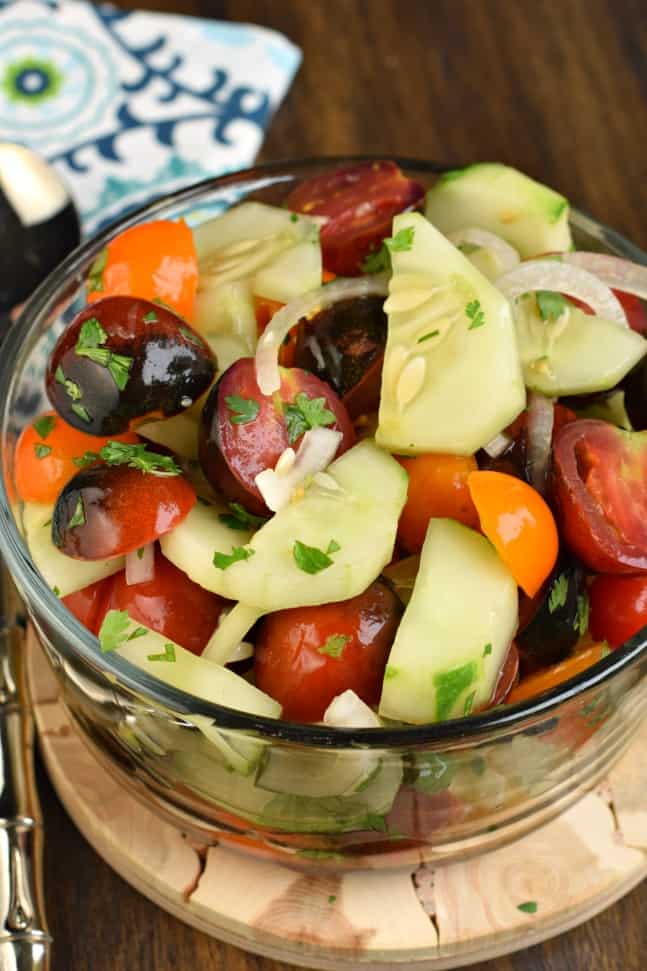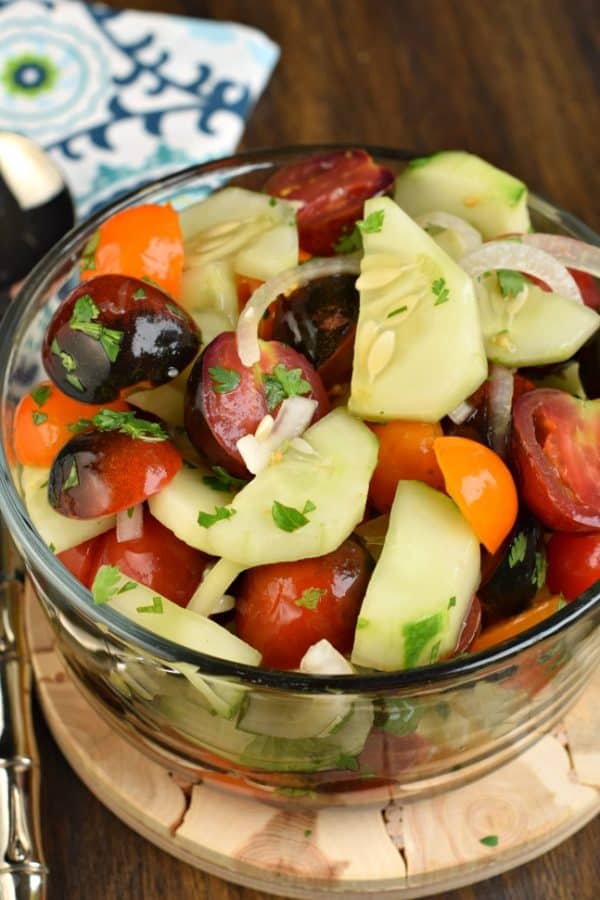 Ingredient Notes
There are plenty of recipes for cucumber salad with tomatoes on the Internet for a good reason: those two ingredients taste AMAZING together.
Along with cucumber and tomato, I add a few other ingredients to my salad that give it even more satisfying flavor, color and texture.
Here's everything you need to make the BEST cucumber tomato salad.
Cucumber – I use English cucumbers, which are also known as white or "garden" cucumbers.
Cherry tomatoes – They have the juiciest, sweetest tomato flavor and the small size means you'll have less chopping to do!
White onion – You could use red onion if you prefer a sharper onion flavor, but I like the milder onion for this recipe.
Cilantro – The fresher the better!
Lime juice – The tangy citrus enhances the flavors of the tomato and cucumber.
Kosher salt – to season the salad before serving.
How to make a Cucumber Tomato Salad
Wash Everything.
Begin by washing all your fresh vegetables and herbs, including your cucumbers, tomatoes, onion, and cilantro.
Prep the Veggies.
Peel and slice your cucumbers, and I also cut each cherry tomato in half as they were quite large. By cutting them in half, they also absorb some of the delicious lime juice you pour on them!
Peel and slice your onions thin. I like to keep them bigger so my picky onion haters can remove them without whining!
Add it all together.
Once you have your cumbers, tomatoes, and onion in a bowl, squeeze the juice of two limes over the salad. Add a pinch of kosher salt and about 1/2 cup of chopped, fresh cilantro. Stir and enjoy!
Tips and Tricks
The best thing about salads is how easy they are to adjust to your own taste buds. Want a tangier salad? Add more lime juice. Don't like onion? Feel free to leave it out.
Fresh cucumber tomato salad tastes best served right away. You can also prep it a few hours ahead of time, if needed.
Salad prepped ahead of time should be stored in an airtight container in the refrigerator until ready to serve.
Wondering what to serve with cucumber tomato salad?
I've got great news: this salad goes well with all kinds of meals.
I love a helping of fresh salad alongside hearty dishes like this Balsamic Pork Tenderloin. It's also perfect with roasted chicken, burgers and these Beef Gyro!
Recipe FAQs
Can I make this salad without cilantro?
Absolutely! If you're a cilantro hater, feel free to skip it in this recipe.
What can I use instead of cilantro?
Parsley would make a perfect fresh herb substitute for the cilantro here. It has a milder taste and aroma that many people prefer, and it's readily available at almost every grocery store.
Can I make cucumber tomato salad the day before?
You can, but it will not taste as fresh and the onions may lose some of their crunch. For best taste, I recommend making it no more than 3-4 hours before you plan to serve it.
Should I peel cucumbers for cucumber tomato salad?
I prefer to peel the cucumbers before using them in salads, but it's up to you!
Favorite Summer Salads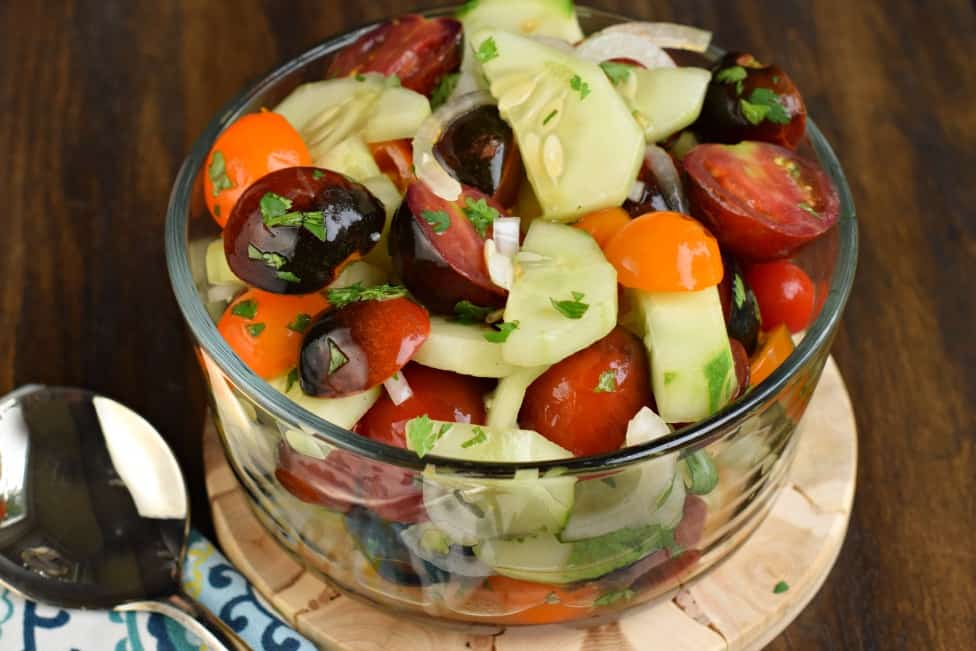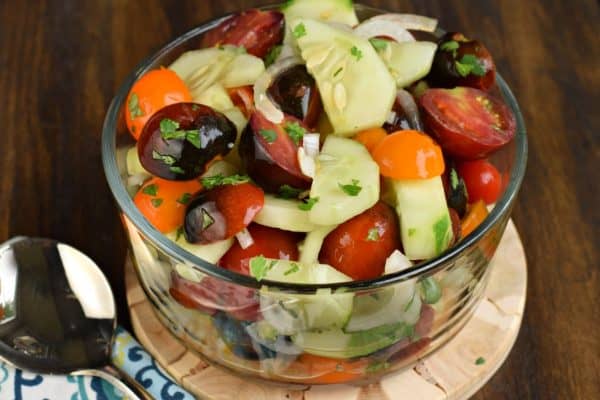 More Salad Recipes