Fresh tomatoes and garden-grown basil come together to create the most delicious and EASY Bruschetta recipe. Use bagel chips or toasted bread to dip, or add this mixture to pasta with cheese!
Game Day is a hit when you make homemade snacks. This reader favorite Spinach Artichoke Dip is ready in no time, and devoured by everyone. Use fresh tomatoes for a homemade pico de gallo with tortilla chips.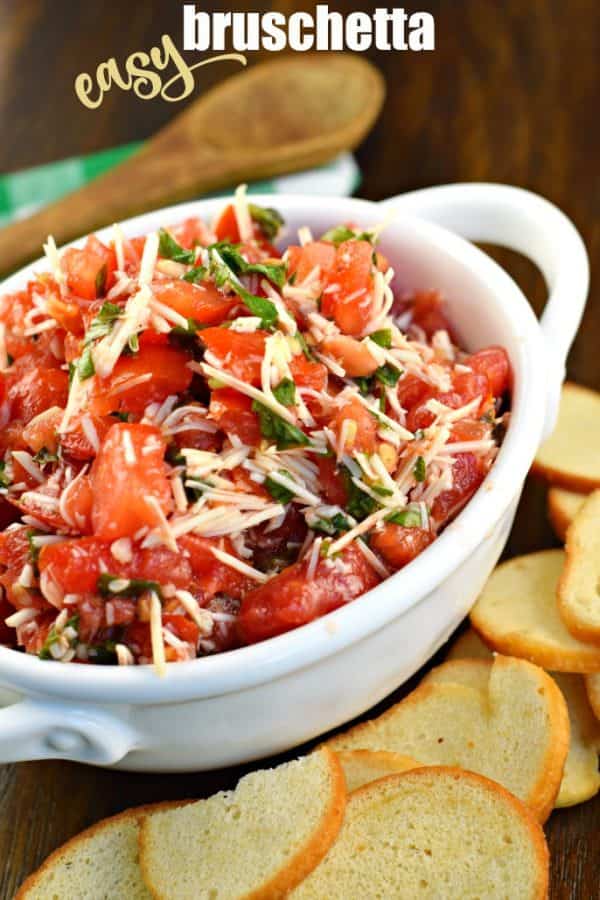 Fresh Tomato Bruschetta
Making homemade bruschetta is one of the main reasons I started gardening many years ago. I really wanted the fresh Roma tomatoes and garden grown basil so I could make my own bruschetta.
I mean really, could basil be any more expensive at the grocery store? And, since I use nearly a cup of basil leaves to make my bruschetta, one package is never enough!
Bruschetta is one of my favorite flavor profiles. I love the fresh tomatoes paired with the garlic and basil. Add it to some toasted bread with a little balsamic vinegar and you have one of the easiest and fanciest appetizers out there!
This bruschetta is perfect as a game day snack or made into a meal. I usually make a double batch of this delicious bruschetta.
We have one big bowl we use for dipping Melba crackers and then we use the rest in bruschetta meatballs, or on bread slices with extra parmesan cheese.
I don't usually measure out my bruschetta ingredients. It's usually an eyeball and taste test kind of thing. But, since I wanted to share this recipe with you, I measured out the ingredients for one batch of bruschetta. Enjoy!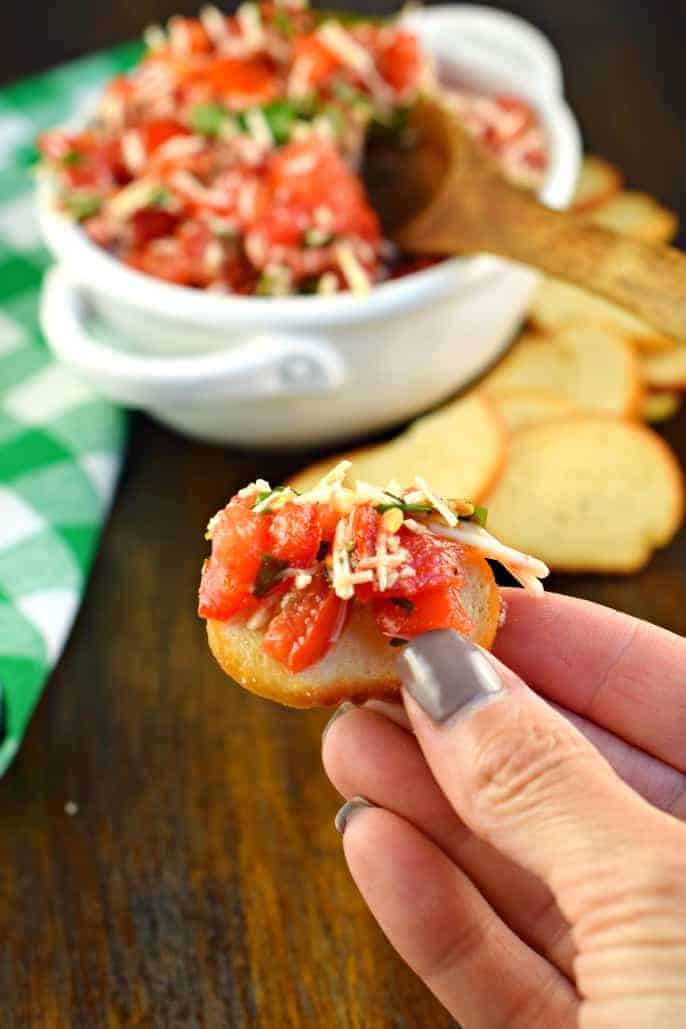 What is Bruschetta?
Bruschetta (pronounced broo·skeh·tuh) is a classic Italian appetizer that brings the freshest flavors of summer together!
Using fresh ingredients like tomatoes, basil, garlic and olive oil, this is the best bruschetta recipe you will find!
Ingredients You'll Need
Using fresh ingredients makes bruschetta taste that much better.
Homemade bruschetta is one excuse for you to start your own garden!
Tomatoes – roma taste best!
Basil leaves
Garlic (about 9 cloves)– chopped (not pressed)
Red wine vinegar
Parmesan cheese– shredded
Kosher salt
Ground black pepper
Extra virgin olive oil
Melba Toast (or bagel chips)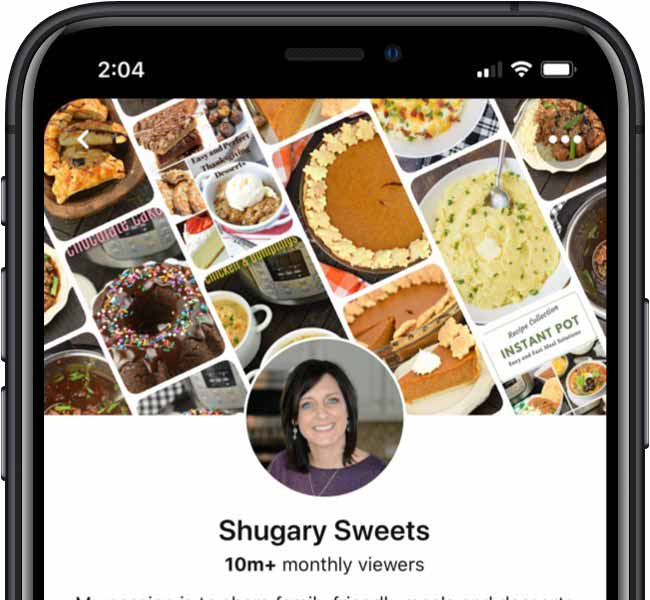 How to Make Bruschetta—Tomato Mixture
Step 1: In a bowl, toss in the tomatoes, basil, garlic, and parmesan cheese, until each bite has a sufficient amount of each. Add more if necessary.
Step 2: Sprinkle in salt and pepper to taste, red wine vinegar, and stir. Add olive oil. The mixture should be nice and shiny. Let it sit in the refrigerator for about an hour to allow the flavors to mingle.
How to Make Bruschetta—Balsamic Glaze
In restaurants, you'll often find bruschetta served with a balsamic glaze. I love to use this when serving our bruschetta with angel hair pasta or over toasted french bread.
Heat balsamic vinegar in a small saucepan over medium high heat until it starts to boil. Cook for 4 to 5 minutes until the sauce thickens. Remove from heat and drizzle over your bruschetta.
Serving Suggestions
Bruschetta is delicious as an appetizer or made into a meal.
As an appetizer: To make bruschetta bread, hollow out a loaf of french bread. Spoon in the tomato mixture and top it with an extra 1/2 cup of shredded parmesan cheese.
Bake in a 450 degree oven on a large baking sheet for about 10 minutes, until the cheese is melted and the bread is toasted. Cut and enjoy.
Types of bread to serve it with: Bruschetta is best served with toasted french bread, bagel chips, or Melba crackers.
As a meal: Turn this easy bruschetta recipe into a meal by adding it to pasta. Prepare noodles according to package (I like using angel hair pasta noodles). Grill chicken with salt and pepper. Slice into thin strips.
Heat bruschetta in microwave for about 2-3 minutes, until warmed. Serve over warm pasta with chicken strips and extra parmesan cheese. Enjoy!
Bruschetta Salmon– top baked salmon with fresh bruschetta and avocado for a heart healthy dinner.
Chicken Bruschetta Pizza is a rustic galette served with homemade bruschetta. Tasty dinner idea!
Pair Bruschetta with your favorite Italian Dinners, like Chicken Piccata, Lasagna, and Spaghetti!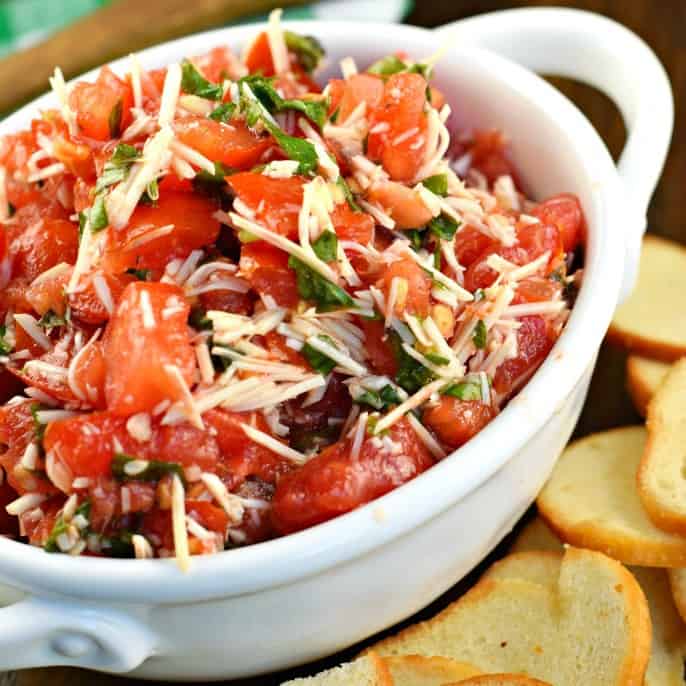 How long does Bruschetta last?
This easy bruschetta recipe tastes best fresh but can be stored in the refrigerator for up to 3 days in an airtight container.
You can also use the liquid in the bottom of the bowl as dressing on a salad! Yum!
Tips and Tricks
Don't refrigerate your tomatoes in advance. You'll get a better texture and flavor from your bruschetta if you keep tomatoes at room temperature.
The best types of tomatoes for bruschetta are Roma. Using fresh, juicy and ripe tomatoes will give you the best bruschetta. Just remember, good tomatoes equals good bruschetta.
Serve bruschetta on toasted baguette slices, with Melba crackers, or with bagel chips.
Use fresh basil to make the best bruschetta. You can buy fresh basil from the store, but it will cost you. Don't use dried basil. It will not give you the same summer flavors. In a pinch, I have used the tube of fresh basil (it looks like a tube of toothpaste, but it's fresh and works better than dried basil).
Drizzle a little balsamic glaze over the tops of your grilled bread for an extra flavor.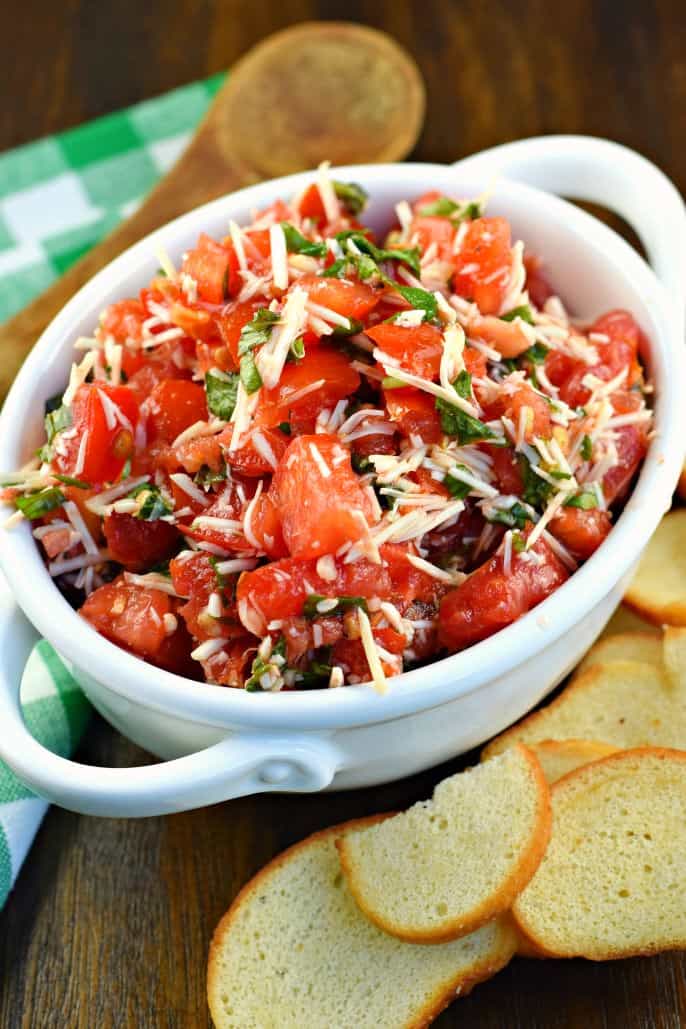 More Fresh Tomato Recipes
PS. If you try this recipe, please leave a STAR rating in the recipe card below. I love your feedback! Connect with me on social media by following me on Instagram, Facebook, or Pinterest.
Fresh tomatoes and basil create the most delicious, EASY Bruschetta. Use bagel chips to dip, or add this to pasta with cheese!