These Taco Tortilla Stacks have been made in our family for years! Assemble them ahead of time then serve them as a quick snack for a crowd. The cheesy layers and Mexican flavors make these tortilla stacks totally irresistible.
Can't get enough cheese? This Instant Pot Queso needs a place on your party menu! Or give our delicious grape jelly meatballs a try soon.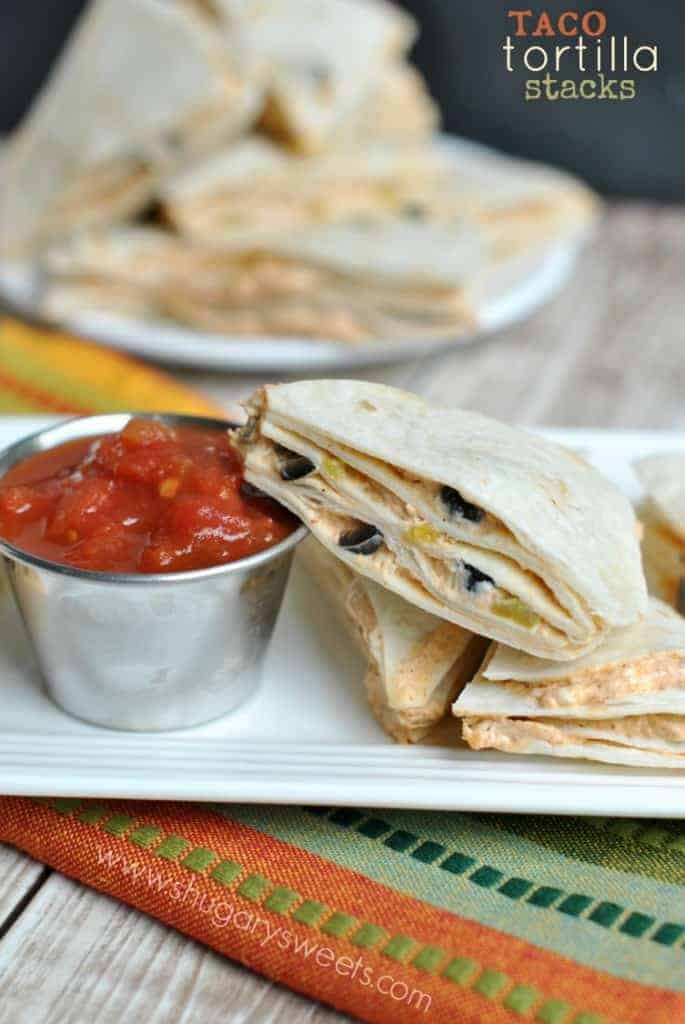 Why this Recipe is Best
These tortilla stacks have been in our family for years, decades even. It's one of our favorite appetizers for parties!
Taco Tortilla Stacks take 5 minutes to put together. Then you let them chill in the fridge until you're ready to eat.
No stove or oven is needed for this recipe. Even the kids can help make these!
Serve them as a party ready appetizer, or assemble a batch for a quick lunch.
These check all the boxes: easy, exciting, and crowd pleasingly delicious!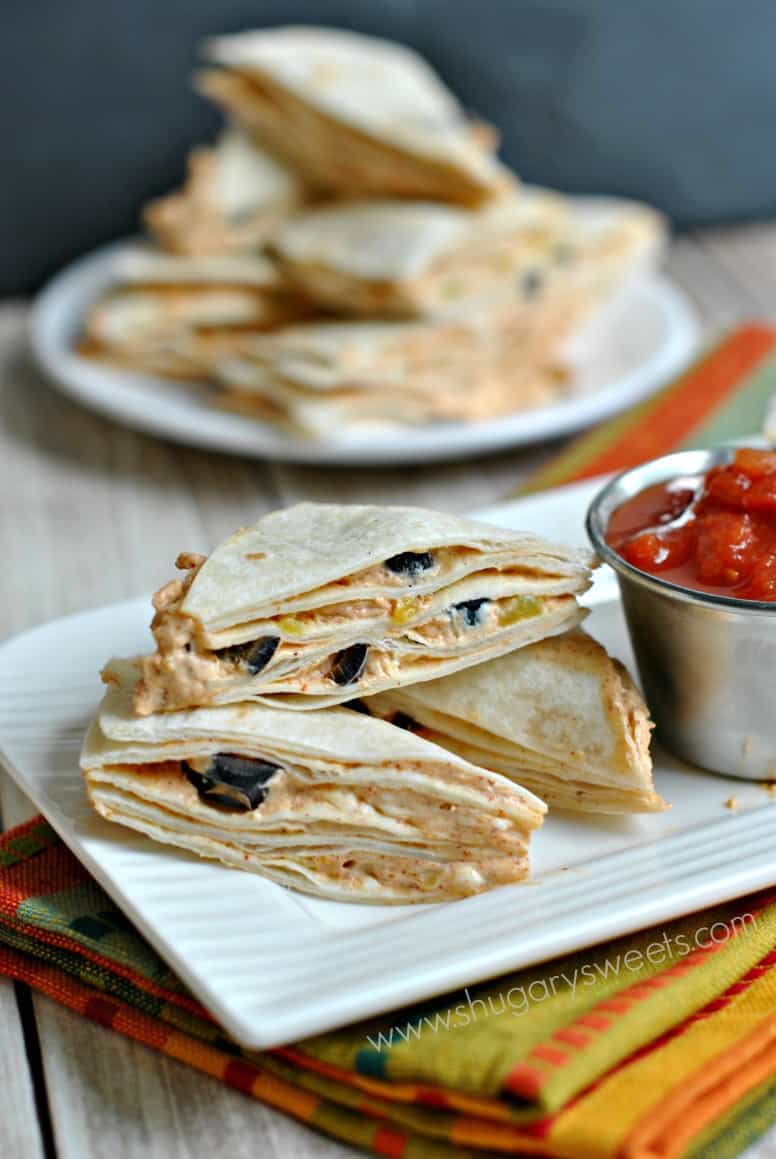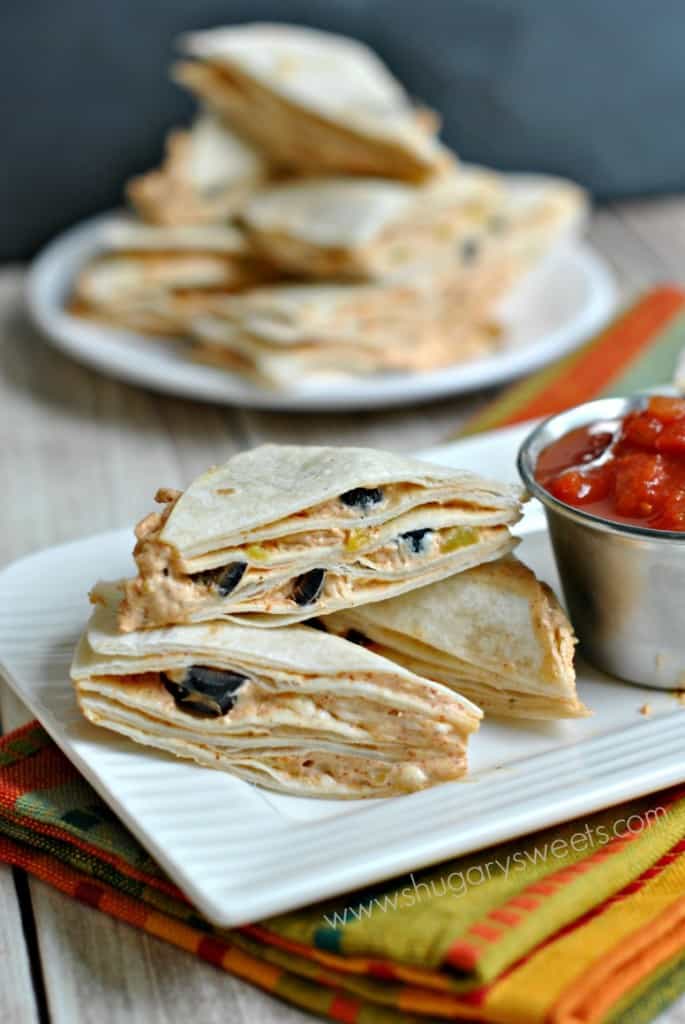 Ingredient Notes
Flour tortillas. The "taco" tortillas that are 6 inches in diameter work best. If you use larger tortillas you won't have enough filling to cover all of them.
Taco seasoning. You can use the store bought packets but I strongly recommend making some Homemade Taco Seasoning! You'll have enough to use in this recipe AND plenty leftover for seasoning taco meat too.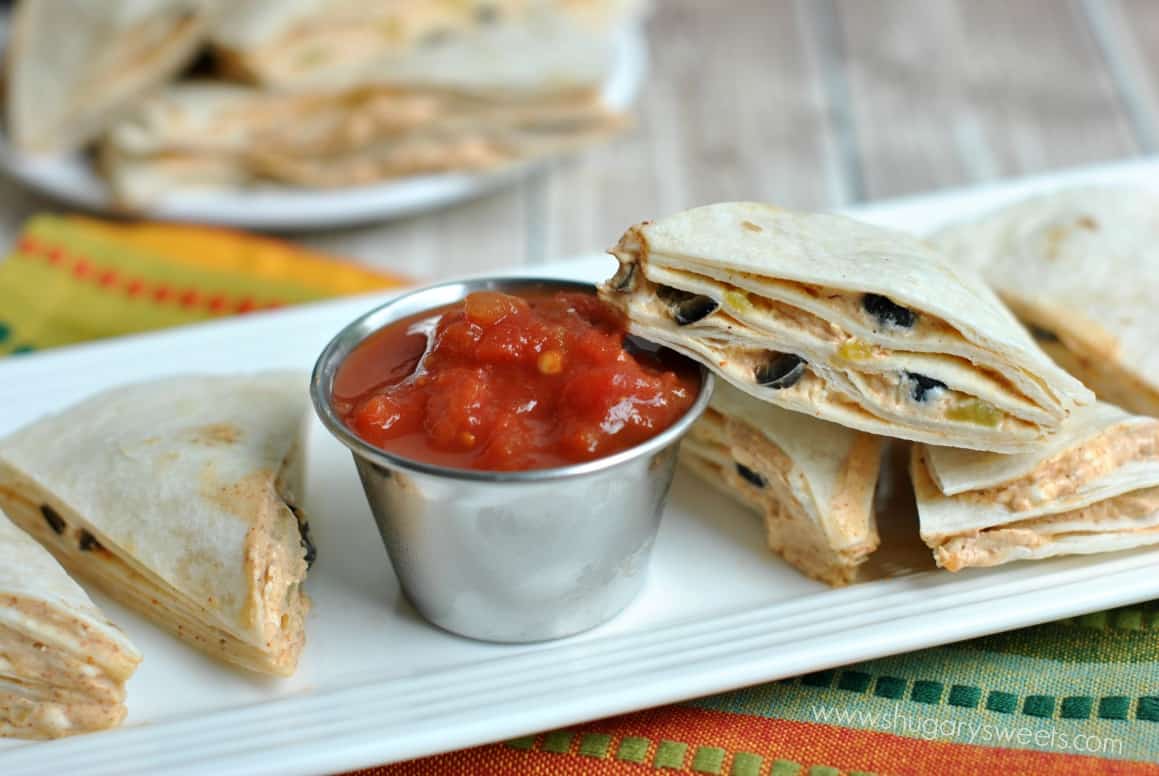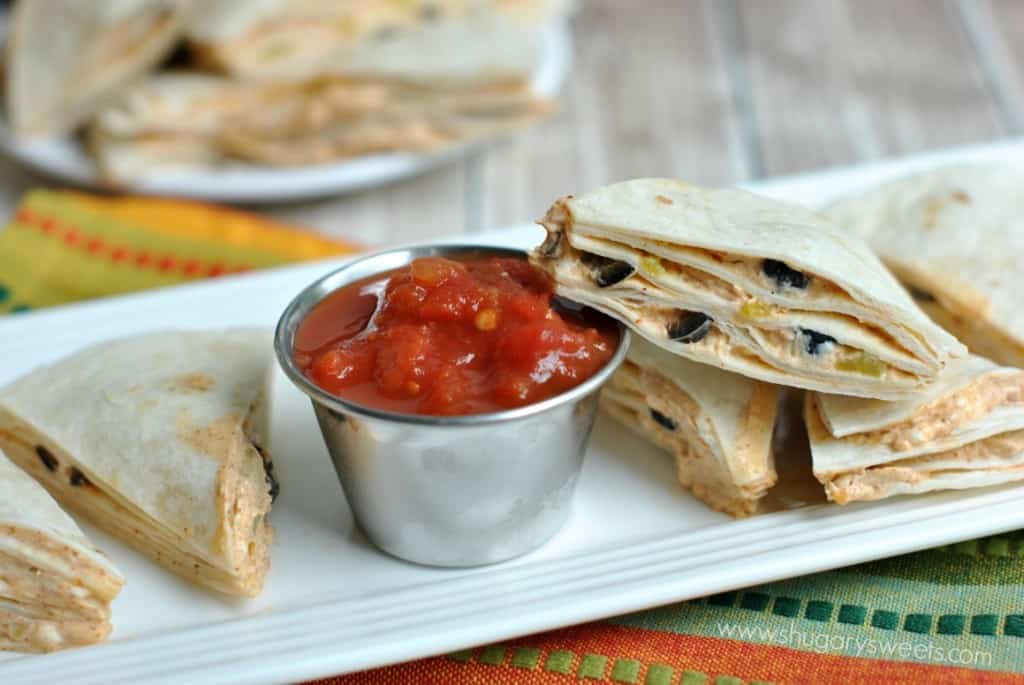 Assembly
First, mix together the cream cheese filling.
Place one tortilla on a cutting board or clean surface. Spread a generous amount of the cream cheese mixture on top.
Top with another tortilla. Repeat three more times. You'll have a total of 4 tortillas topped with the cream cheese mixture. Add a final tortilla on top.
Wrap the stack in foil and chill for at least 1 hour. When you're ready to eat, cut the stack into 8 triangles.
Serve with a side of your favorite salsa for dipping.
Tips and Tricks
Dipping ideas: these taco stacks are tasty with all kinds of salsas. Give our Avocado Salsa or Tomatillo Salsa Verde recipes a try with these. They are also wonderful dipped in Guacamole or Jalapeno Spinach Queso!
Storing: You can assemble taco tortilla stacks up to 1 day in advance. Keep the stack wrapped tightly in foil until ready to cut and serve.
Cream cheese: Make sure to let the cream cheese soften on the counter for a few minutes. This makes it easier to blend with the other ingredients.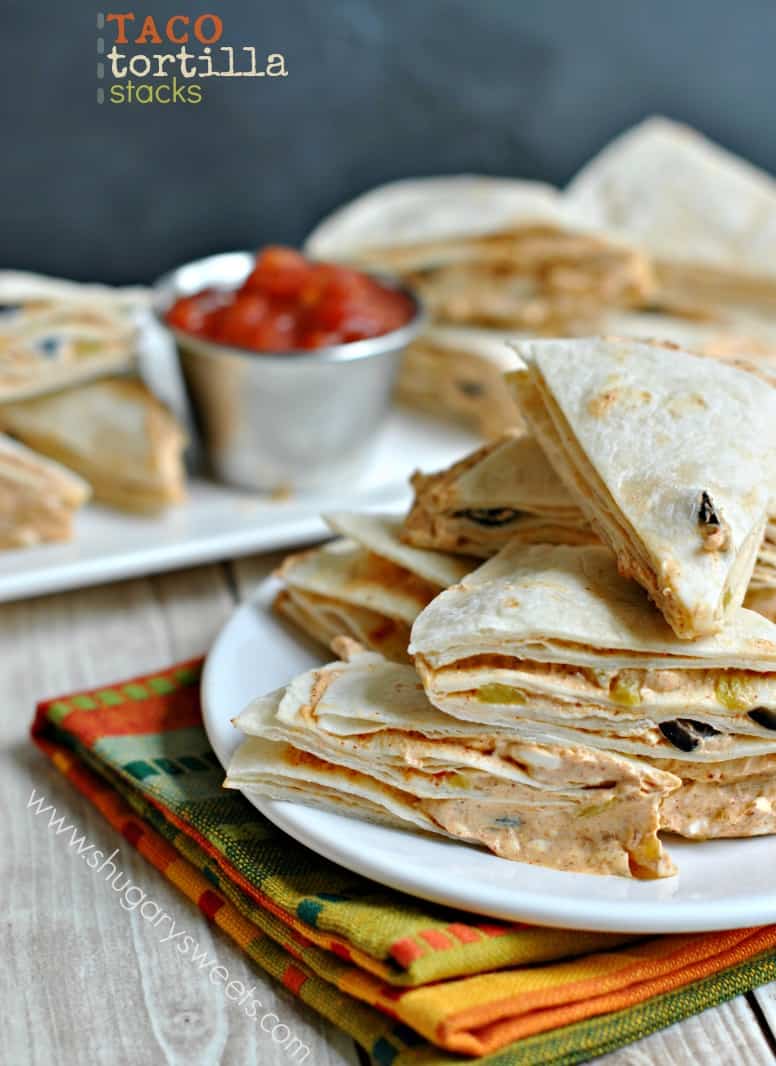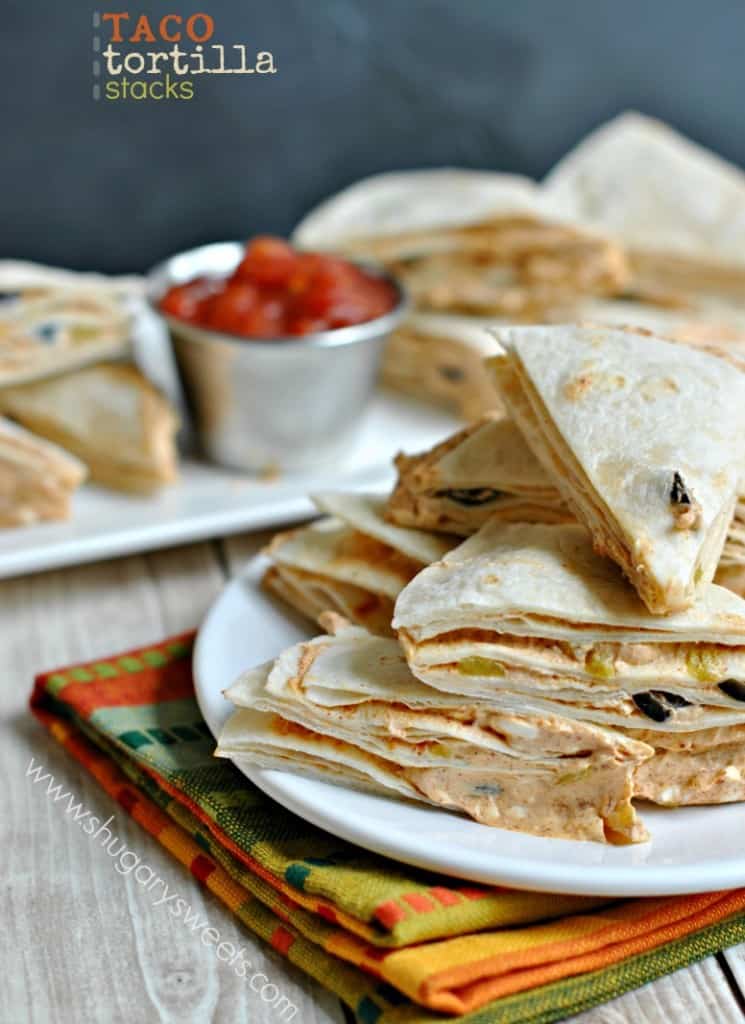 Recipe FAQs
Can I make this recipe with corn tortillas?
I don't recommend using corn tortillas in this recipe. They crumble and break much more easily, so your stacks are likely to fall apart.
Do you have to grill or heat the tortillas first?
No need to do anything to the tortillas! We always just open up the package, add the filling and stack!
How can I serve these as a full meal?
Turn Taco Tortilla Stacks into a complete meal by adding a few side dishes. For a quick lunch you could serve them with some sliced veggies or fruit. Perfect for a packed lunch!

At dinner time, round out your taco stacks with a side of Mexican Street Corn Salad and some Cilantro Lime Rice.
Will low fat cream cheese work in this recipe?
Low fat cream cheese can definitely be used if you like! My family always prefers the rich creaminess of regular cream cheese in this dish.
Some family recipes never go out of style! When you know how to make Taco Tortilla Stacks this good, you'll always be ready to feed a hungry crowd.