Instant Pot Queso with Rotel tomatoes and white cheddar is begging to be scooped up with chips or poured over nachos. Make thick and creamy queso in minutes with your pressure cooker!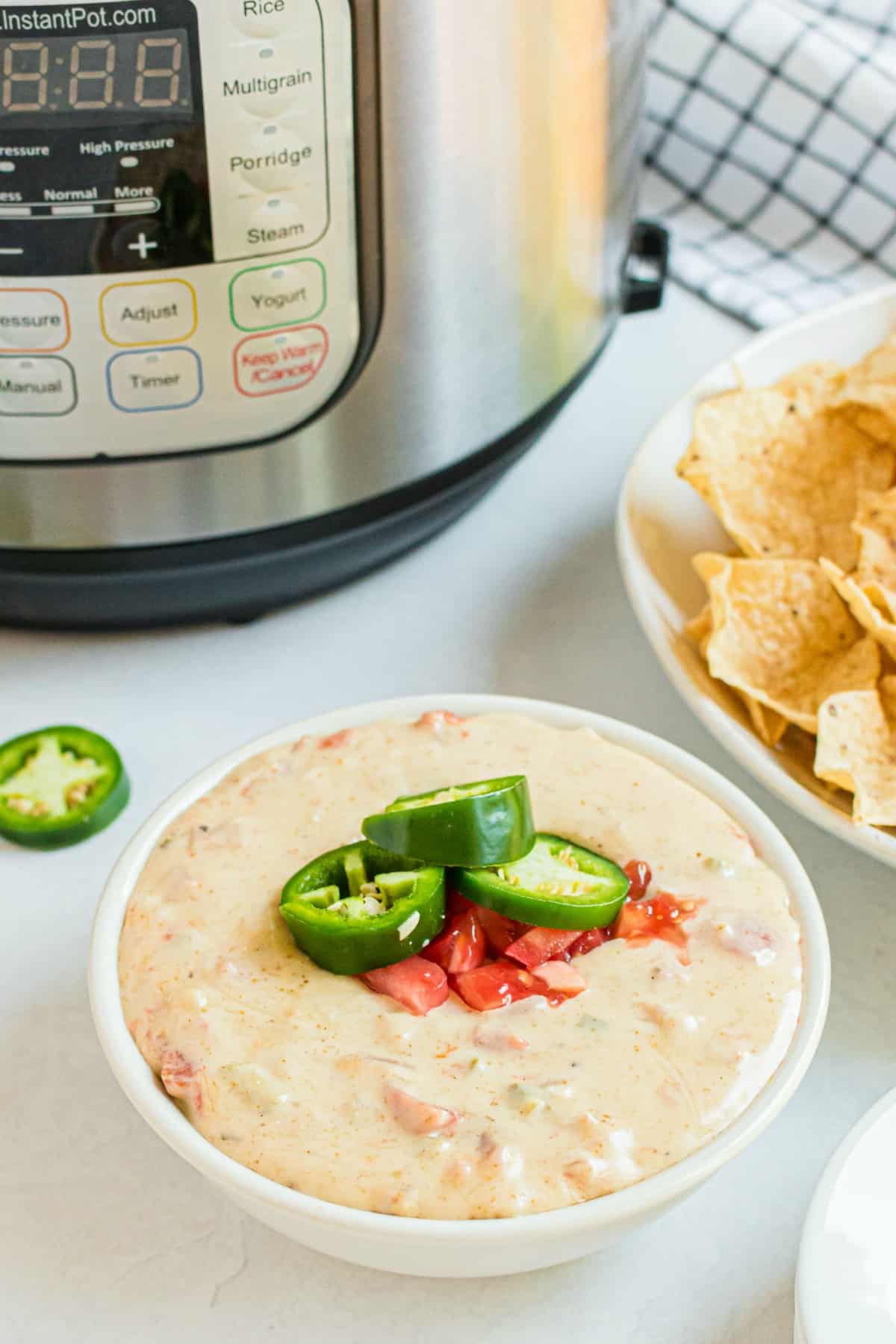 My love for creamy dips is known far and wide.
So is my love for Instant Pot recipes!
Therefore it was only a matter of time before I would begin making queso–a cheesy Mexican dip–in my Instant Pot.
What is queso?
"Queso" is the Spanish word for cheese. But here in the USA, queso usually refers to a specific kind of cheese dip flavored with Mexican spices.
It's more than just melted cheese, usually involving heavy cream or milk with a spicy kick courtesy of jalapeños.
Speaking of jalapeños….remember this delicious Jalapeño Spinach Queso?? So good.
You'll see chips and queso served as an appetizer at Mexican restaurants.
I'd be perfectly content with a big bowl of warm queso and a bag of tortilla chips as an entire meal.
In my family, we like to make our queso a little thinner. Makes it perfect to:
drizzle onto our tacos
pour it onto chicken breasts
dump it onto some chips with taco meat for easy nachos
serve on a baked potato with broccoli
There's no wrong way to eat queso in this house!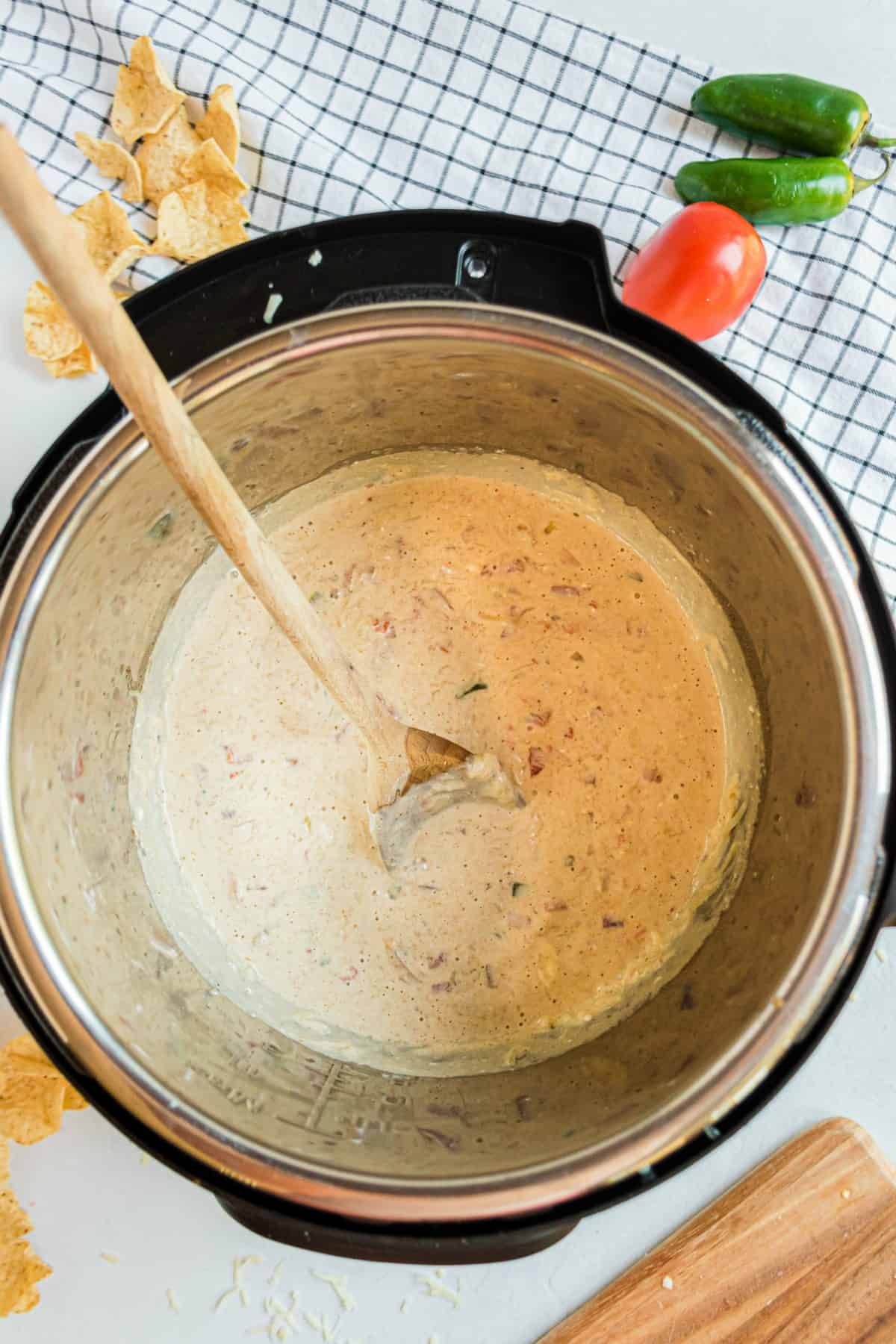 Why use the Instant Pot
With this Instant Pot Queso Recipe, the cheese dip is ready in just a few minutes!
Melting and cooking all the ingredients together in the pressure cooker
Saves time
Ensures that this dip comes out with the ideal texture
Perfectly balanced flavors
My queso recipe uses a combination of cream cheese and heavy cream for a velvety texture when combined with melted cheddar!
Some diced jalapeno for heat, cumin for flavor and Rotel tomatoes for tang, make this the ULTIMATE queso recipe.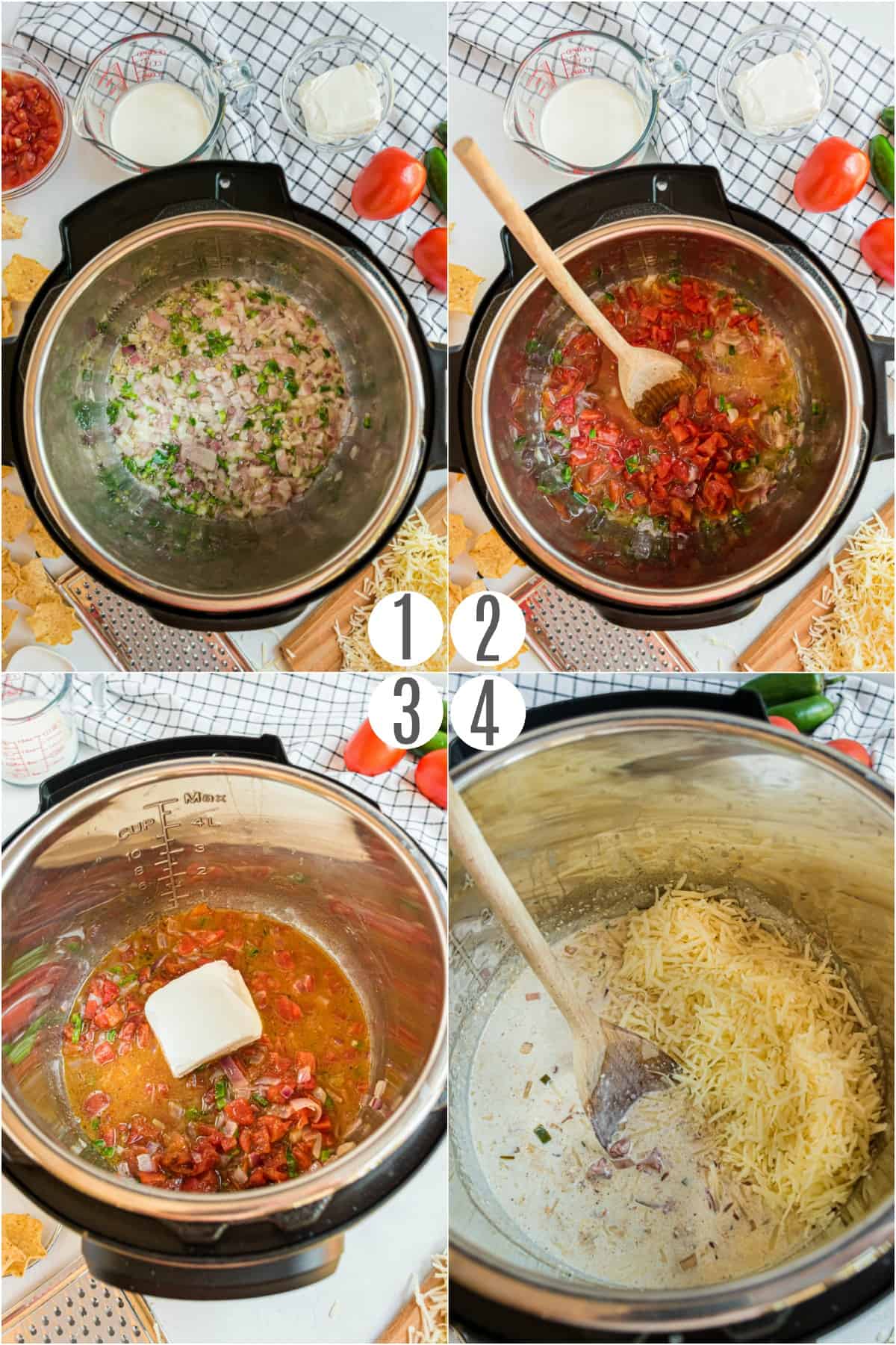 How to Make Queso in the Instant Pot
To sautee the veggies:
Turn on the saute setting on your Instant Pot. Add butter, onion, and jalapeno to the pot and cook for about 2 -3 minutes until the vegetables are softened.
Turn off the pot and add water and a can of undrained tomatoes. Stir in the spices and then add cream cheese.
Pressure cook:
Set the valve to "sealing", cover the pot with a lid and cook on high pressure for 1 minute.
When cook time ends do a controlled quick release by moving the valve to venting on and off until the pressure fully releases. (This will take about 1 minute.)
Add the cheese and cream:
Remove the lid and stir. Add in heavy cream and shredded cheese. Stir until completely melted. Allow to sit several minutes to thicken before serving.
PRO TIP: Shred your own cheese for best results. Pre-shredded cheeses contain anti-clump ingredients that keep this queso from being smooth and creamy.
I recommend garnishing the queso with more Rotel tomatoes, red pepper flakes and extra jalapenos!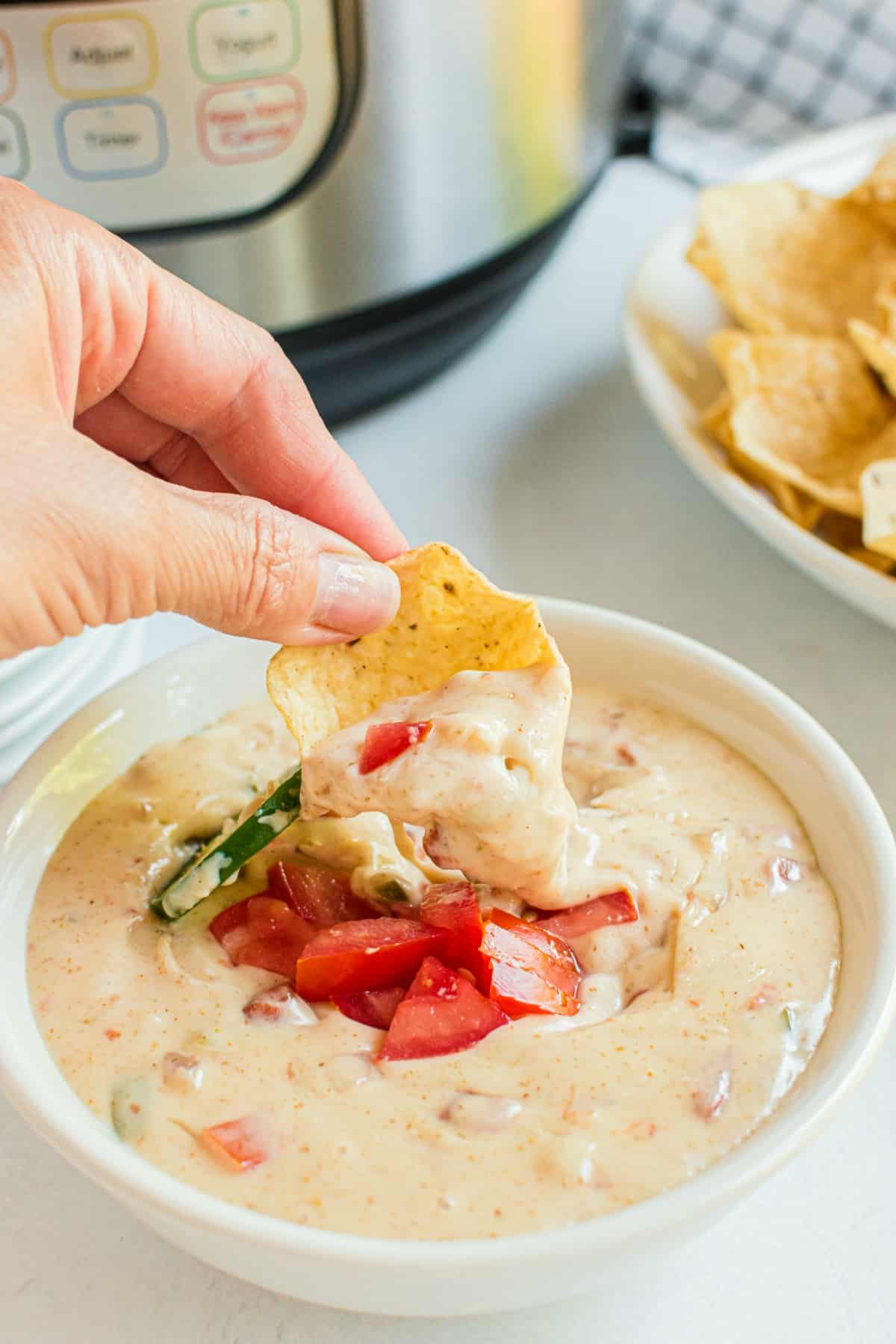 Substitutions and Variations
This queso recipe is highly adaptable! Here are a few ideas for substitutions and variations on my queso recipe:
Whipping cream: The more heavy cream you add, the thinner the finished dip will be. The amount in the recipe below creates a thick queso that's ideal for dipping. For a thinner consistency, add more cream. This is perfect for drizzling.
You can swap evaporated milk for the cream for a lighter, thinner queso dip. If doing this, you may want to add more cheese to help thicken the silky smooth sauce.
Jalapeno substitutions: If you are sensitive to heat, reduce or omit the jalapeno in this queso recipe. For a spicier queso, try replacing the jalapeno with serrano pepper!
Spices: Another easy way to amp up the heat in your queso is to add a pinch of cayenne or chili powder.
Cheese: My family loves white cheddar in our queso! Yellow cheddar, Monterrey Jack and Colby Cheese are other good substitutes. The type of cheese you use will change the COLOR of the dip.
Tomatoes. Swap out the rotel diced tomatoes for some homemade pico de gallo instead!
Meat. Add in some cooked ground beef or ground turkey for a hearty game day recipe.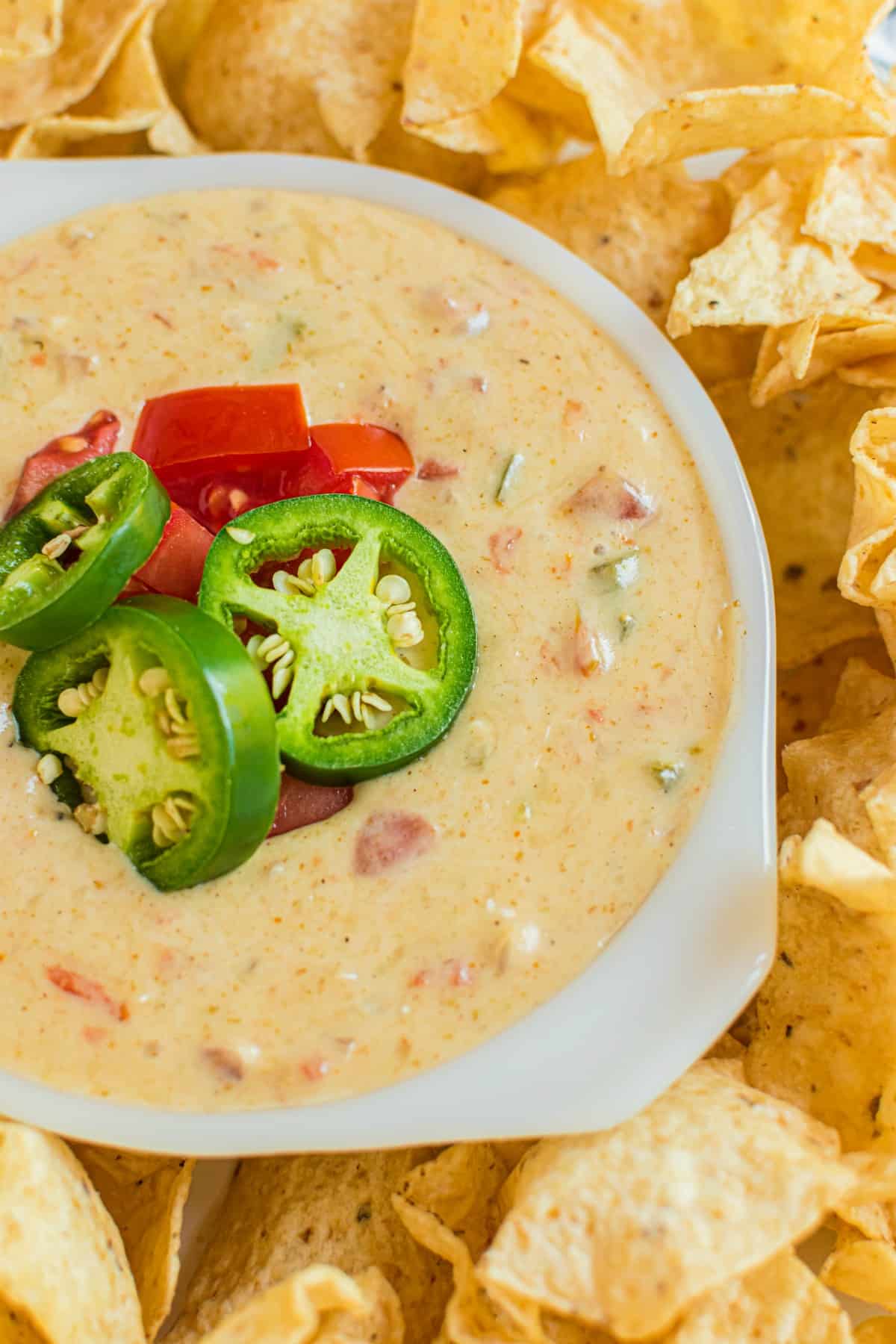 What to Serve with Queso
Crispy tortilla chips are the obvious choice as an accompaniment for queso. You don't have to limit your cheese dip experiences to the tortilla chip category, though!
Consider these other delicious ideas for enjoying your Instant Pot Queso to the max:
Corn chips
Potato wedges
Crackers
Toasted flour tortillas – Cut into triangles for easy dipping!
Sliced bell peppers
And like I mentioned before, my family can't get enough of using queso as a topping!
Use queso to add instant flavor and creaminess to. . .
Baked potatoes – with some steamed broccoli!
Burritos and tacos
Enchiladas
Beef, Pork and Chicken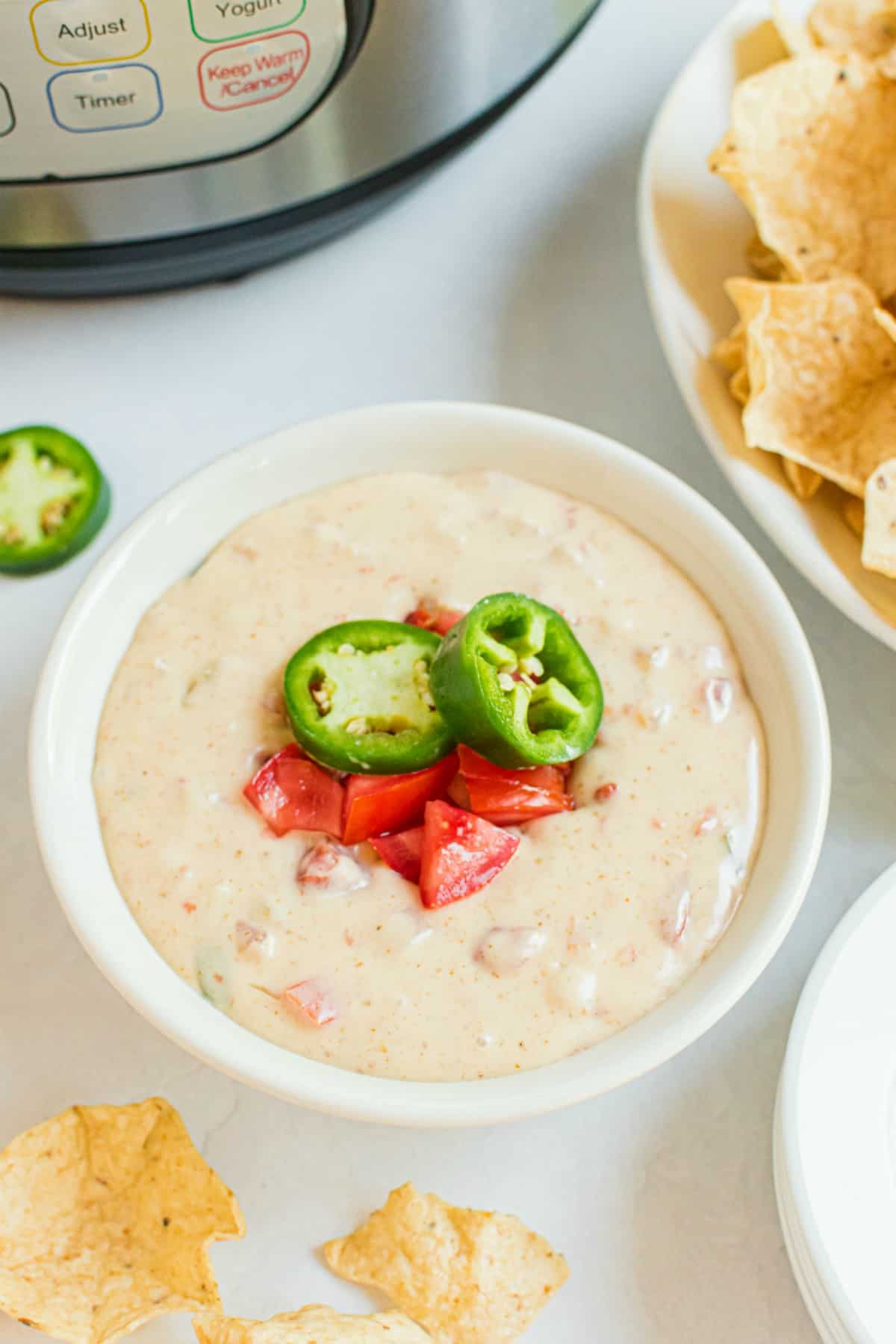 How to Store Queso
I have such little self control when it comes to queso that I rarely wind up with leftovers. I'm the one scraping the bottom of the pot with a tortilla chip (or a spoon) to get every last drop of cheese dip.
Queso addiction not withstanding, you can store this in a sealed container in the fridge. It'll keep well for 3 or 4 days and reheats easily on the stove or in the microwave.
Tools Used
Pressure Cooker. I created this recipe using a 6qt Instant Pot. Always good deals on Amazon!
Slow Cooker. You can also make this cheese sauce in the slow cooker. Add all ingredients (including cheese) and cook on low for 2-3 hours. Stir until smooth.
Find and shop my favorite products in my Amazon storefront here!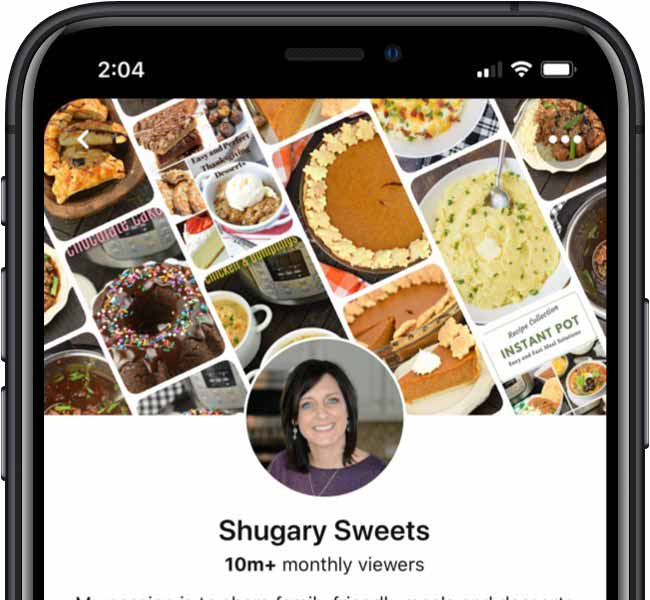 Do you really need any convincing to give Instant Pot Queso a try? Grab a bag of your favorite tortilla chips and make yourself this easy cheesy dip!