If you're looking to make the very best coleslaw recipe, this copycat Chick-fil-A Cole Slaw is made for you! Creamy and delicious, it's the perfect potluck recipe.
Need more potluck recipes? We love bringing this easy fruit salsa to parties, served up with our homemade cinnamon chips!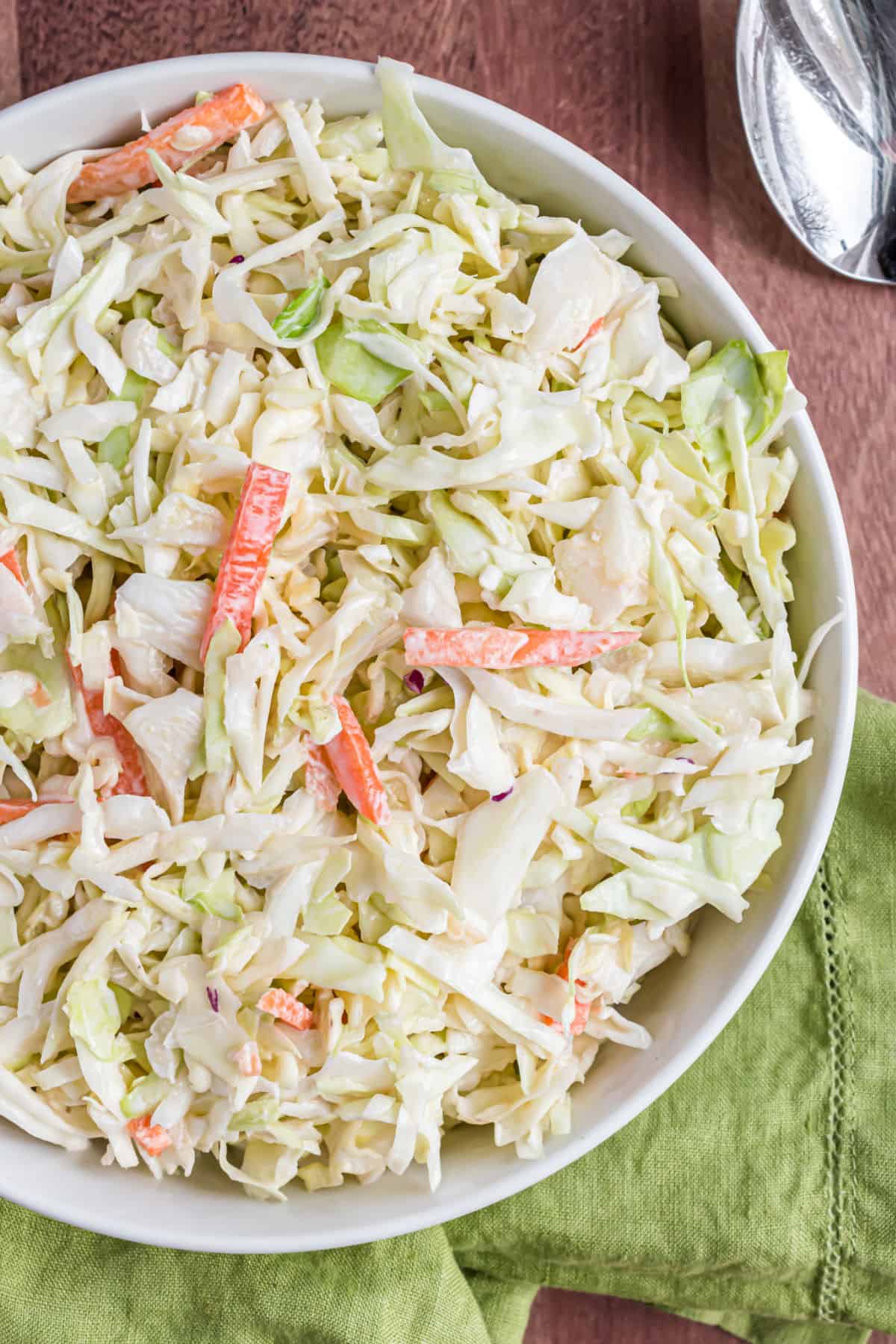 Why this Recipe Works
When Chick-fil-a discontinued their coleslaw, they did an amazing next step. They shared the recipe!
So I made it, and loved it, and it tastes just like the original (well, I guess it IS the original). And thought I would share it with you in case you love coleslaw as much as I do!
Fresh ingredients!
Tangy and flavorful.
One bowl.
Favorite Potluck Recipes: Macaroni Salad | Loaded Potato Salad
Ingredient Notes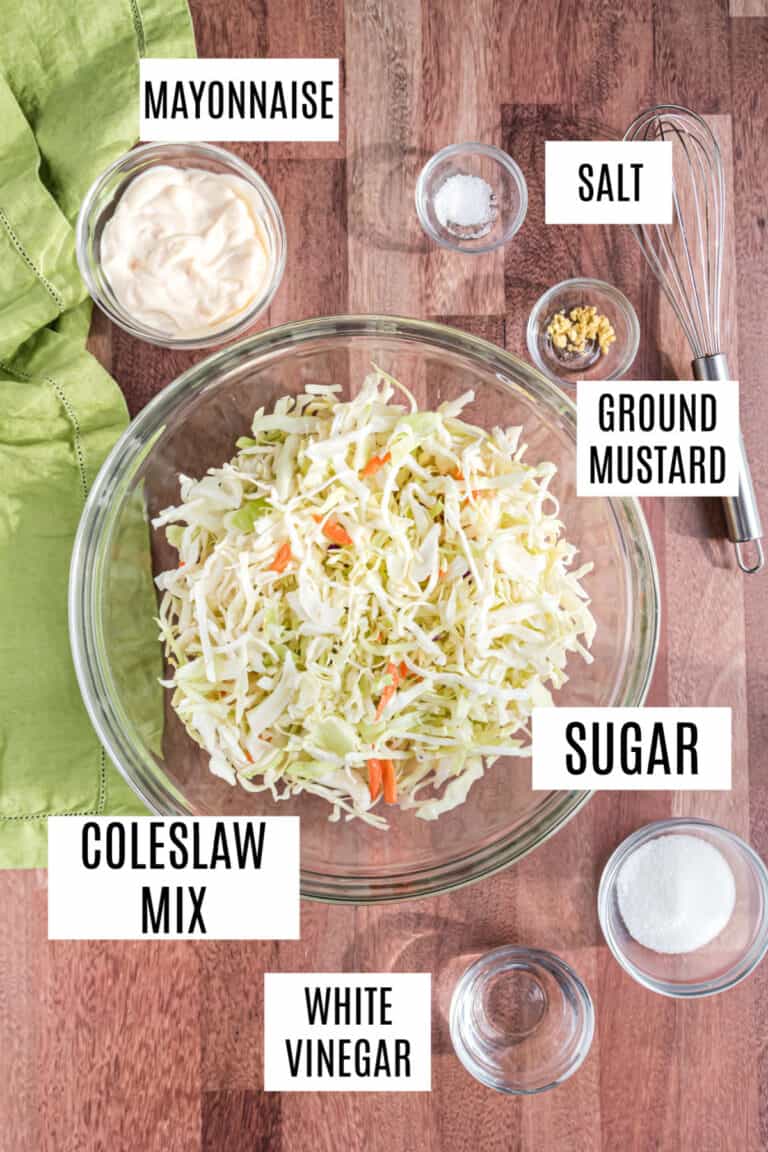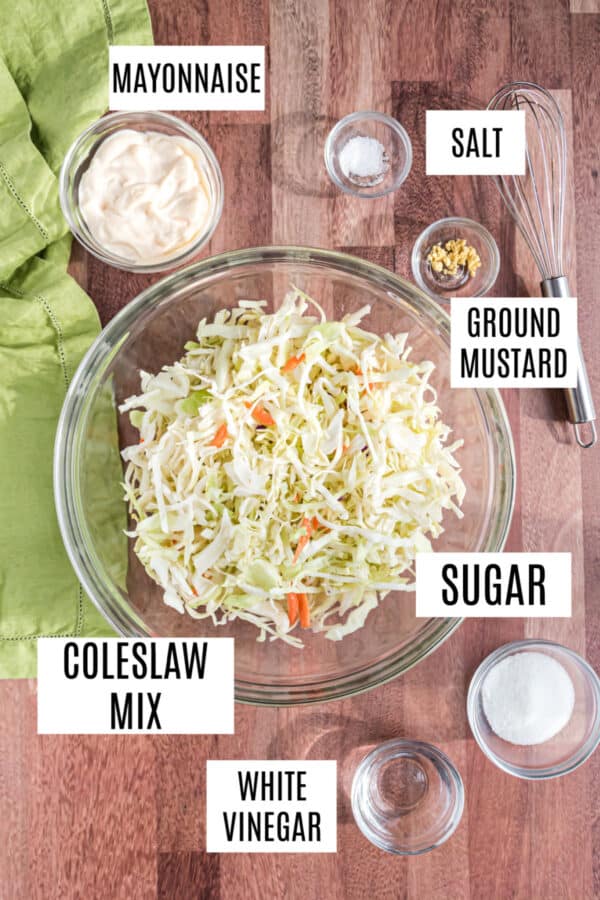 Cabbage- for an easy shortcut, I buy the already shredded cabbage mix for coleslaw. If you're making your own, you can use green cabbage or a combination of red and green cabbage.
Mayonnaise- this is what gives this coleslaw it's creaminess.
Vinegar- Chick-fil-a uses white vinegar, but you could also swap it out for apple cider vinegar. The vinegar adds the zesty tangy flavor to the dressing.
Sugar- just a touch of sweetness for the best coleslaw recipe!
Dry Mustard- adds a little flavor and spice to the recipe.
Coleslaw Dressing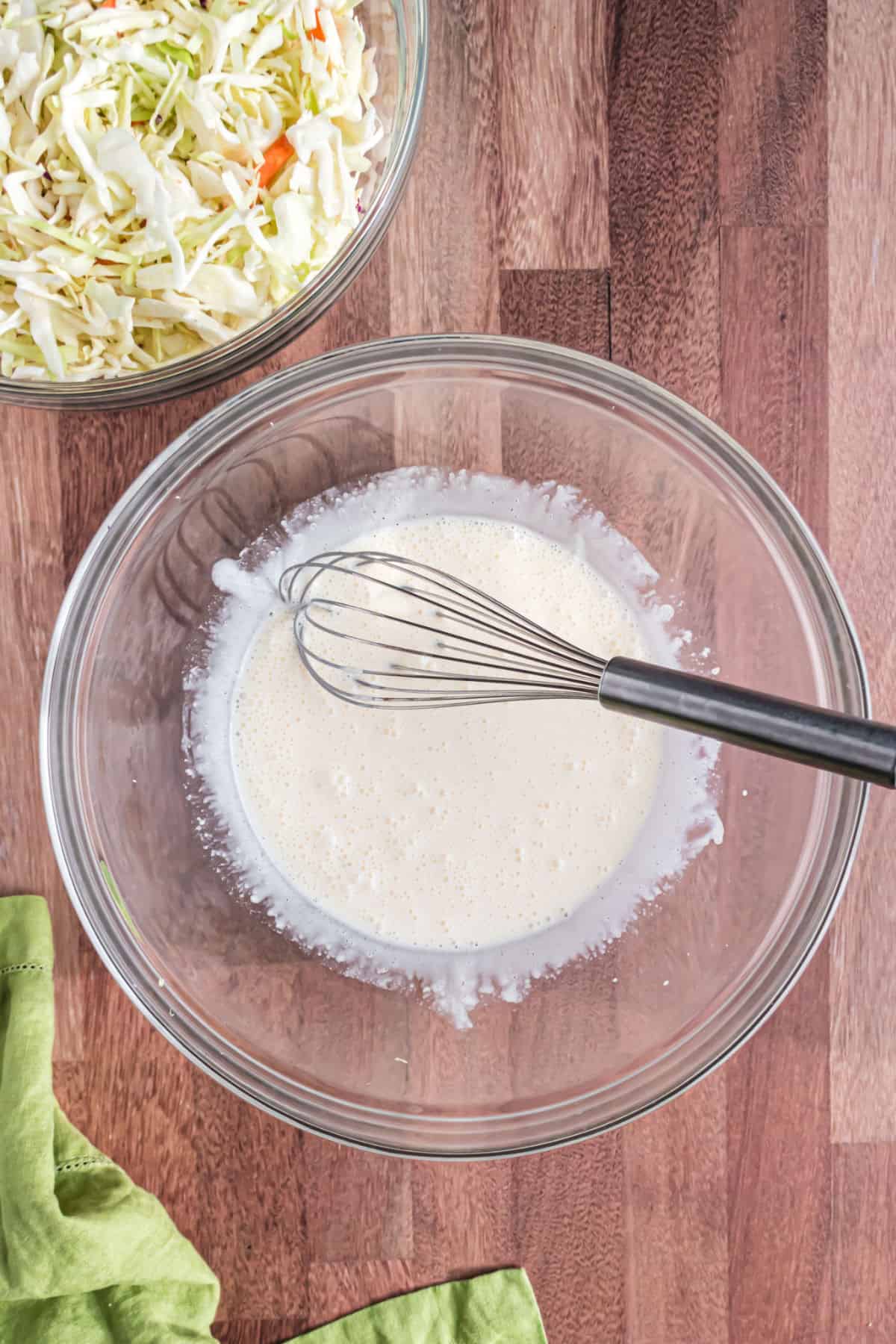 Making coleslaw is so easy.
Step 1: Whisk together the mayonnaise, vinegar, sugar, dry mustard, and salt in a mixing bowl until smooth and creamy!
Step 2: Add in shredded coleslaw mix and fold over until completely coated.
PRO TIP: The Chick fil A coleslaw recipe calls for two bags of shredded cabbage and 1/4 cup shredded carrots. I bought shredded coleslaw mix instead! Huge saver.
Step 3: Cover and refrigerate 2 hours, or overnight. Serve and enjoy!
The flavor of this coleslaw is perfect. Not too sweet, not too vinegary…it's JUST RIGHT. Try it. You'll see.
Tips and Tricks
Make in advance. If you're shredding your own cabbage and carrots, you can do this a day in advance. You can make the dressing several days in advance and store it in the refrigerator separately from the cabbage.
Refrigerate Coleslaw before serving. By combining the slaw with the dressing for two hours in the refrigerator, it allows the cabbage to soften slightly to make it the perfect texture!
Hawaiian Slaw. Try our delicious Kalua pork with homemade hawaiian slaw. SO GOOD.
To make coleslaw healthier, swap out the half mayonnaise for plain Greek yogurt.
Chop it small. Love the small pieces of cabbage in your slaw? Make it your own by chopping all the cabbage and carrots into small pieces. This will make it more similar to KFC Coleslaw.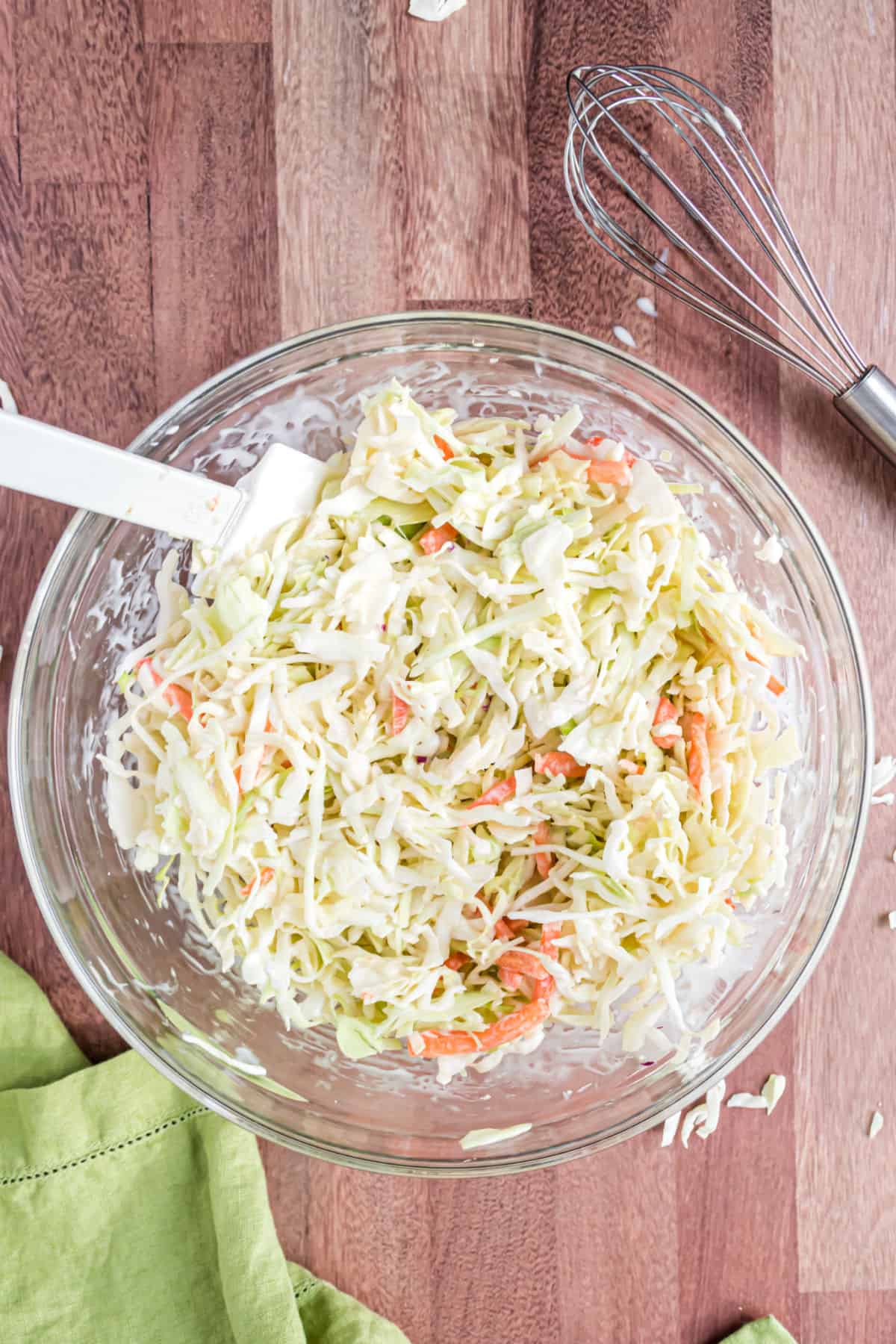 Serving Suggestions
Creamy coleslaw is perfect on a pulled pork sandwich! It's also a great side dish for burgers, pork chops, and bbq chicken.
Swap out the lettuce on your sandwiches for a spoonful of homemade coleslaw. It's a delicious addition, and a classic side.
Add some mix-ins. Sliced almonds, cranberries, and poppyseeds are great additions to coleslaw to give it a unique flavor!
More Potluck Recipes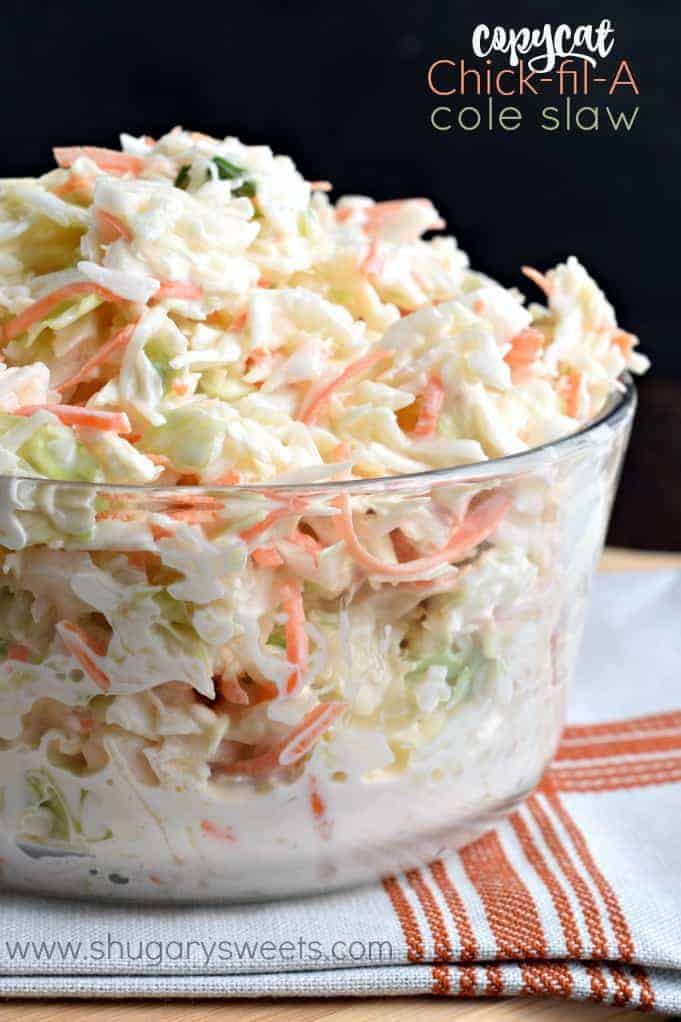 The BEST Copycat Chick fil A Coleslaw recipe. Creamy and zesty just like you expect it to taste!