This Fruit Salsa recipe is delicious and so easy to make! Serve this fruit salsa with homemade cinnamon chips for the perfect snack, dessert, or as an appetizer to your next summer party or picnic!
Love sweet salsas? Try our homemade pineapple salsa for a sweet and SPICY tex mex dish. Or whip up some homemade churros to dip in this sweet fruit salsa recipe.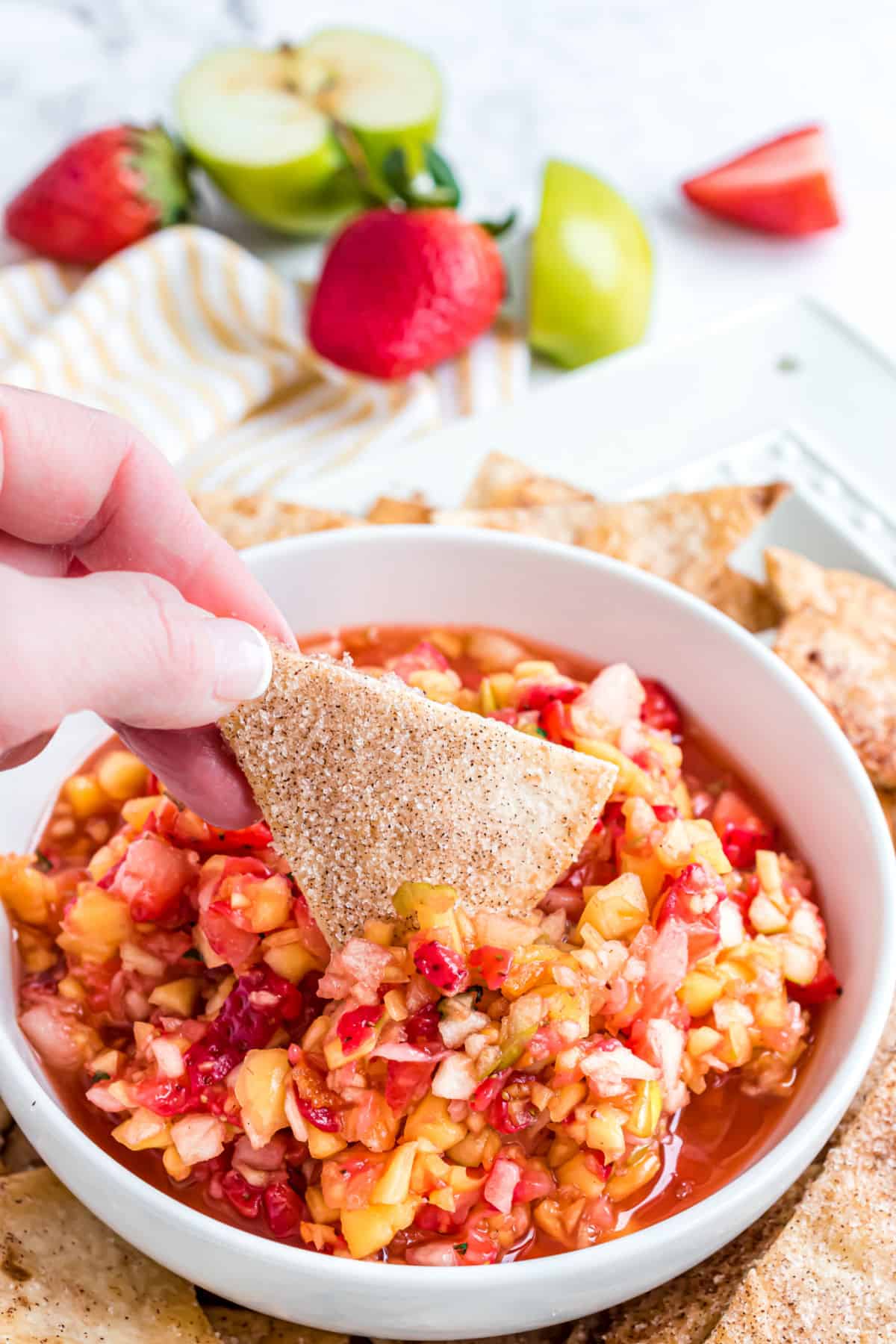 Why This Recipe Works
I love making homemade salsa. From your classic pico de gallo salsa to watermelon peach salsa, salsa is so easy to make and diverse to use.
You can easily add in additional ingredients or take things out that you don't like as much.
Want more spice or want to keep it sweet? With salsa recipes, you can make it exactly how you want it.
This fresh fruit salsa is a spin on your classic salsa. It's not a savory/sweet salsa either. Just an all-sweet salsa!
And can we talk about the colors of this fruit salsa for a minute? Food that are bright and colorful just looks pretty. This great fruit salsa recipe is no different, full of color and flavor that is so good.
Try this fruit salsa with the homemade cinnamon chips and discover just how amazing and easy this fresh fruit salsa is. It's perfect as an easy appetizer or snack to bring to your next party!
How to Make Fresh Fruit Salsa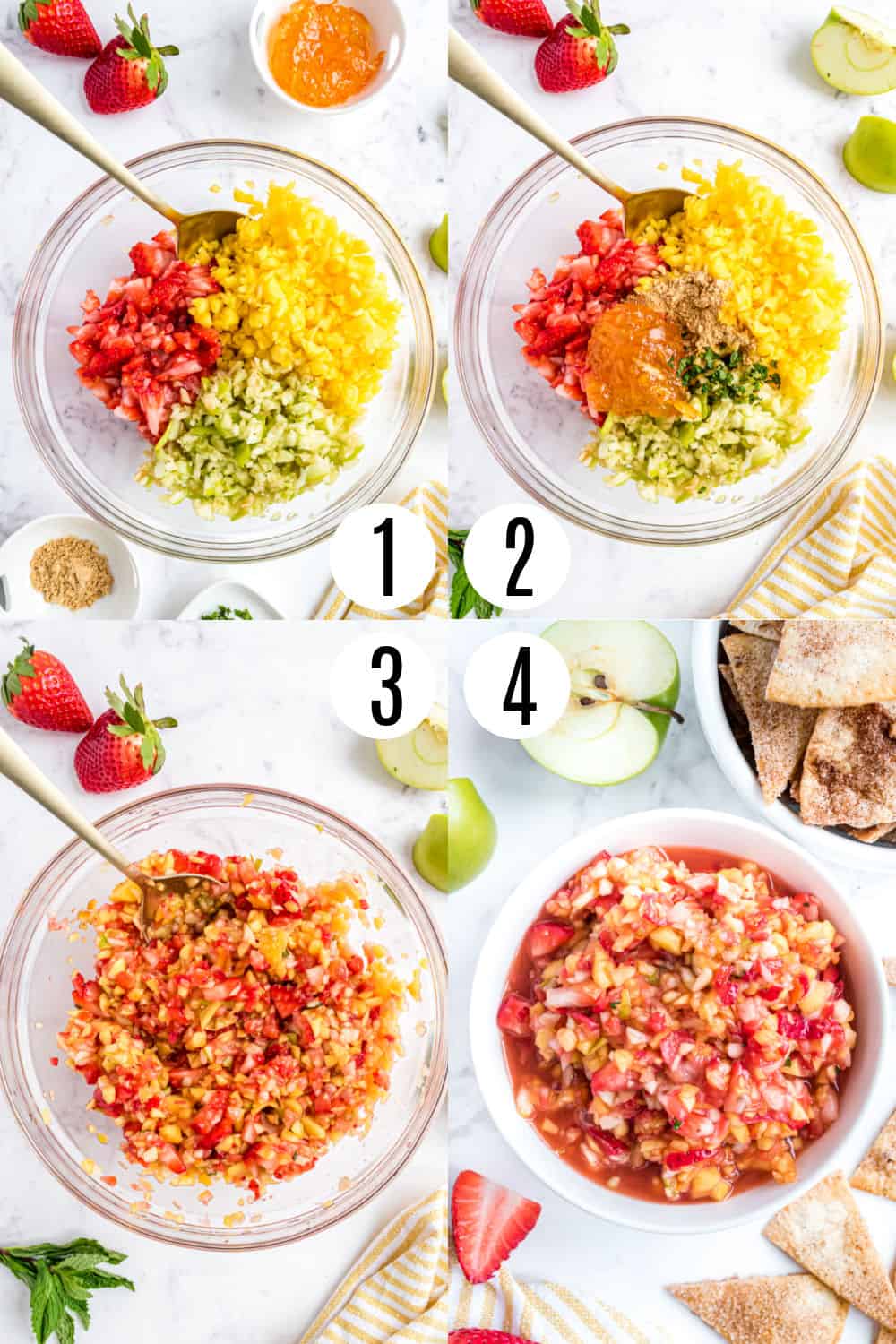 Step 1: Dice all of your fruit in very tiny pieces. I'm talking very tiny!
PRO TIP: Check the recipe below to see which fruits need to be peeled and which ones can have the skin kept on.
Step 2: Add your fruit pieces to a large bowl and stir in your ginger, orange marmalade, and mint. Mix everything together well.
Step 3: Serve this fruit salsa with homemade cinnamon chips or other yummy items. I've included several options below for you.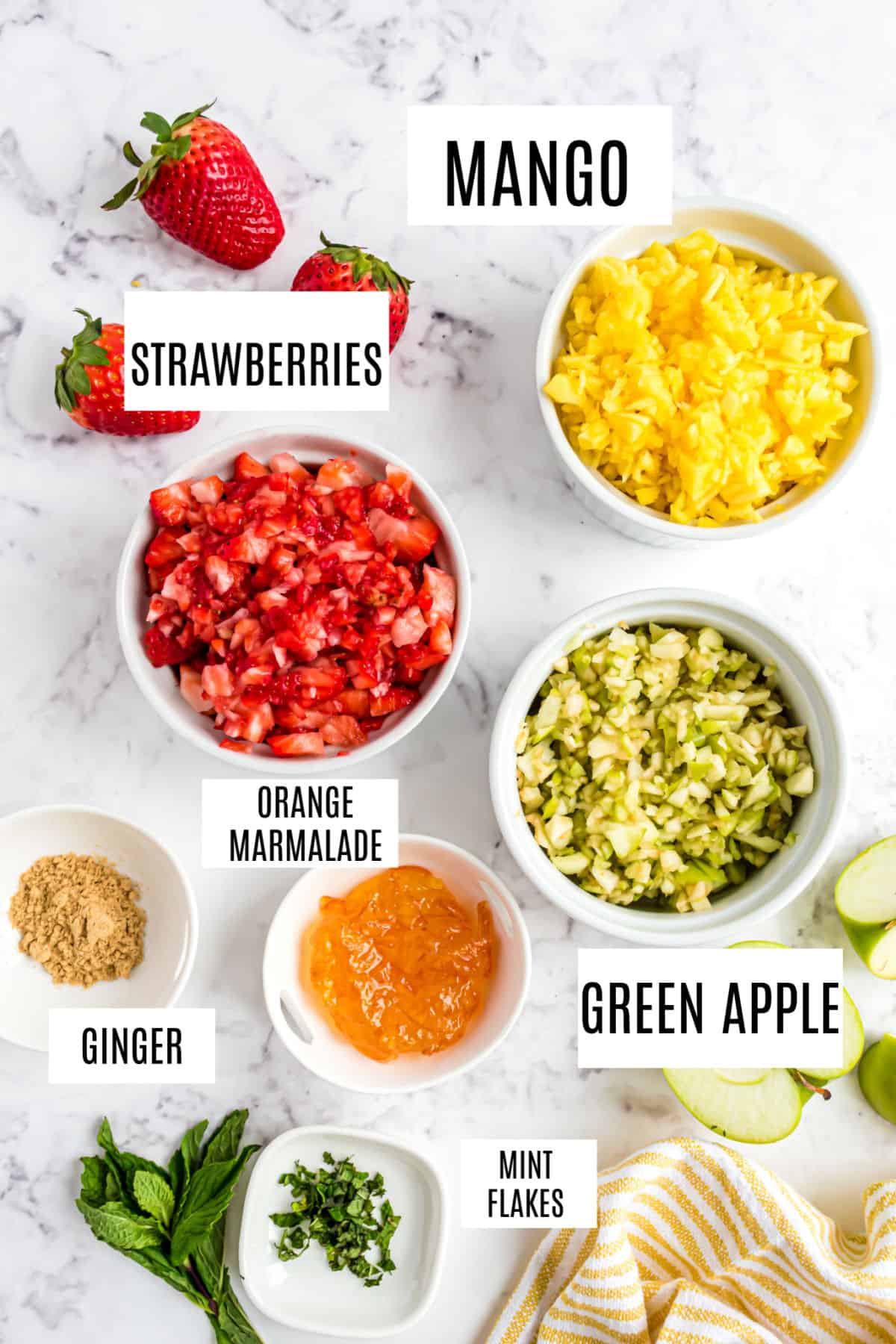 How to serve Fruit Salsa
This fresh salsa is perfect for a summer picnic, barbeque, pool party, or dinner in the backyard!
Of course it's delicious with the cinnamon chips but it also goes well with a variety of other items:
Dip graham crackers into the salsa for a sweet treat. Cinnamon graham crackers would be a good substitute for the cinnamon tortilla chips.
You could also serve this fruit salsa on top of pork or fish.
Try adding it to baked tacos or chicken tacos if you like that savory/sweet combination.
Add a scoop of this salsa to vanilla ice cream or yogurt.
Top angel food cake with it for a yummy summer dessert.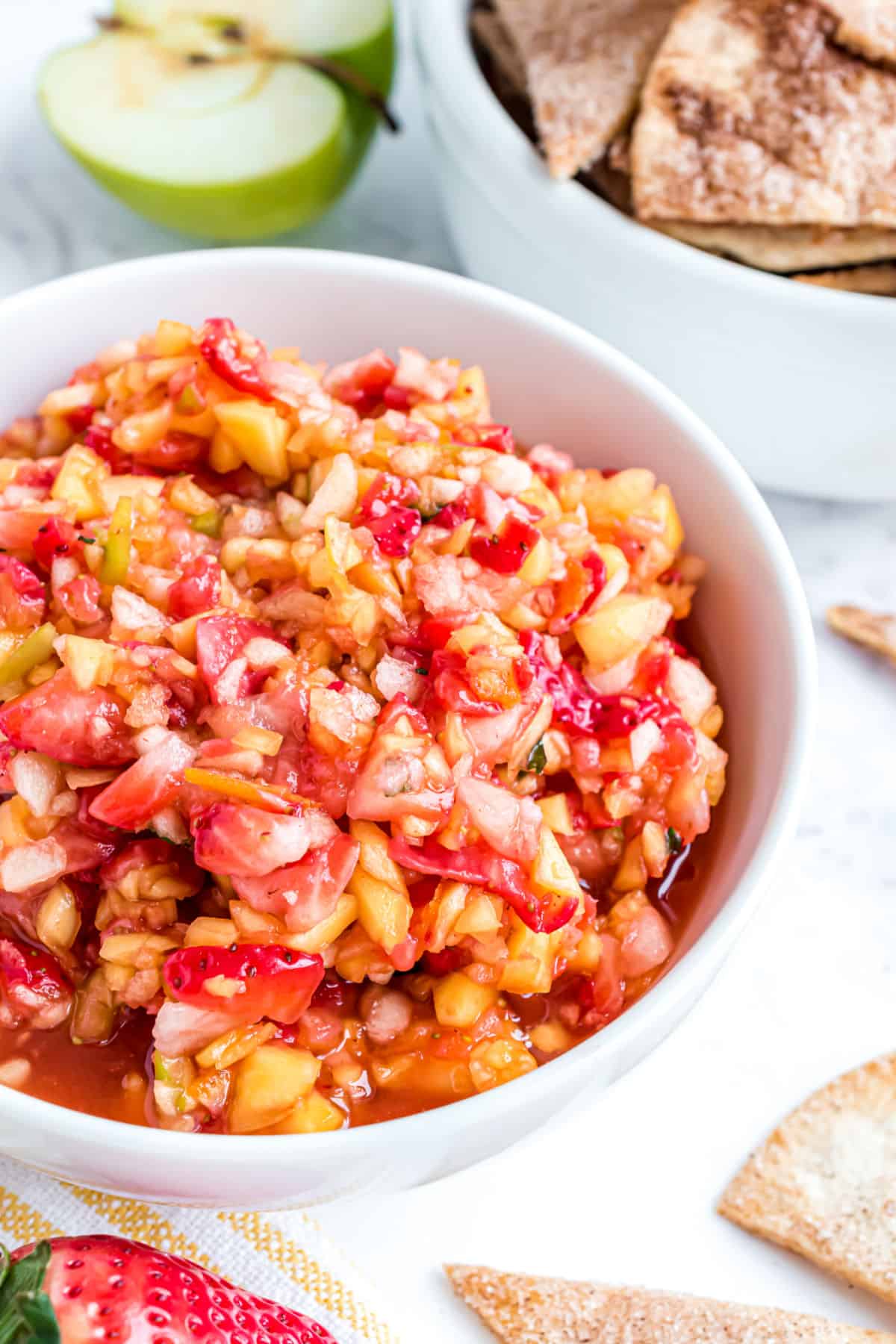 Recipe FAQs
How long does fruit salsa last?
You can store this fruit salsa in the refrigerator for up to three days. Store it in an airtight container. After three days or so, the juices from the fruit will start to release and the fruit will become more mushy.
Is fruit salsa spicy?
Fruit salsa is not spicy. It's more like a fruit salad, meant to be eaten with cinnamon tortilla chips.
Can you serve fruit salsa with tacos?
Fruit salsa is so versatile. You can enjoy it as dessert, or serve it on your favorite tacos and grilled meats.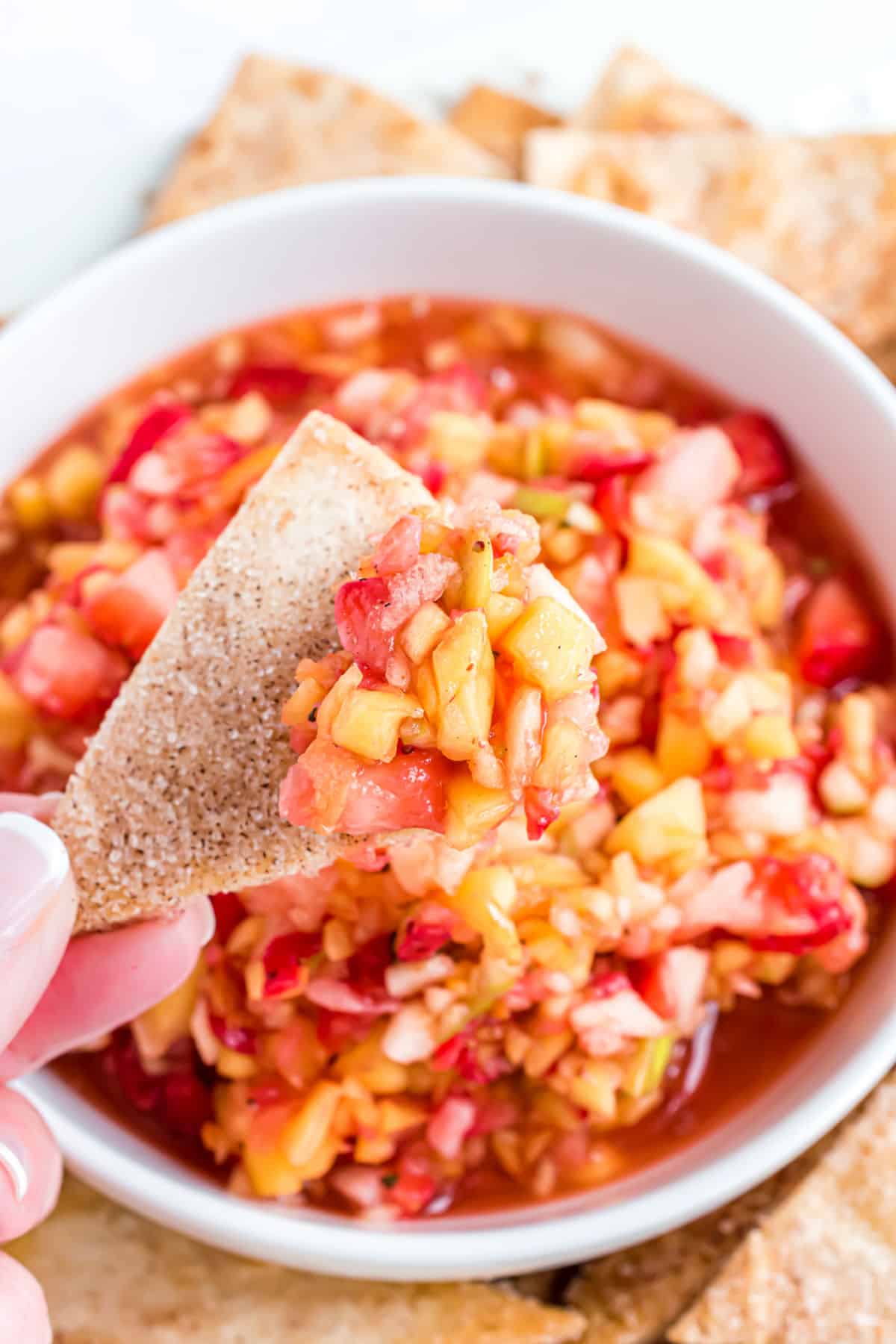 More Salsa Recipes
The Best and Easiest Fruit Salsa Dip recipe served with homemade cinnamon tortilla chips! Perfect for picnics and potlucks!