Light as air with a sweet crumb, Angel Food Cake is a classic dessert just begging to be topped with strawberries and whipped cream this summer. Learn how to make, store and freeze the perfect Angel Food cake with this tried and true recipe.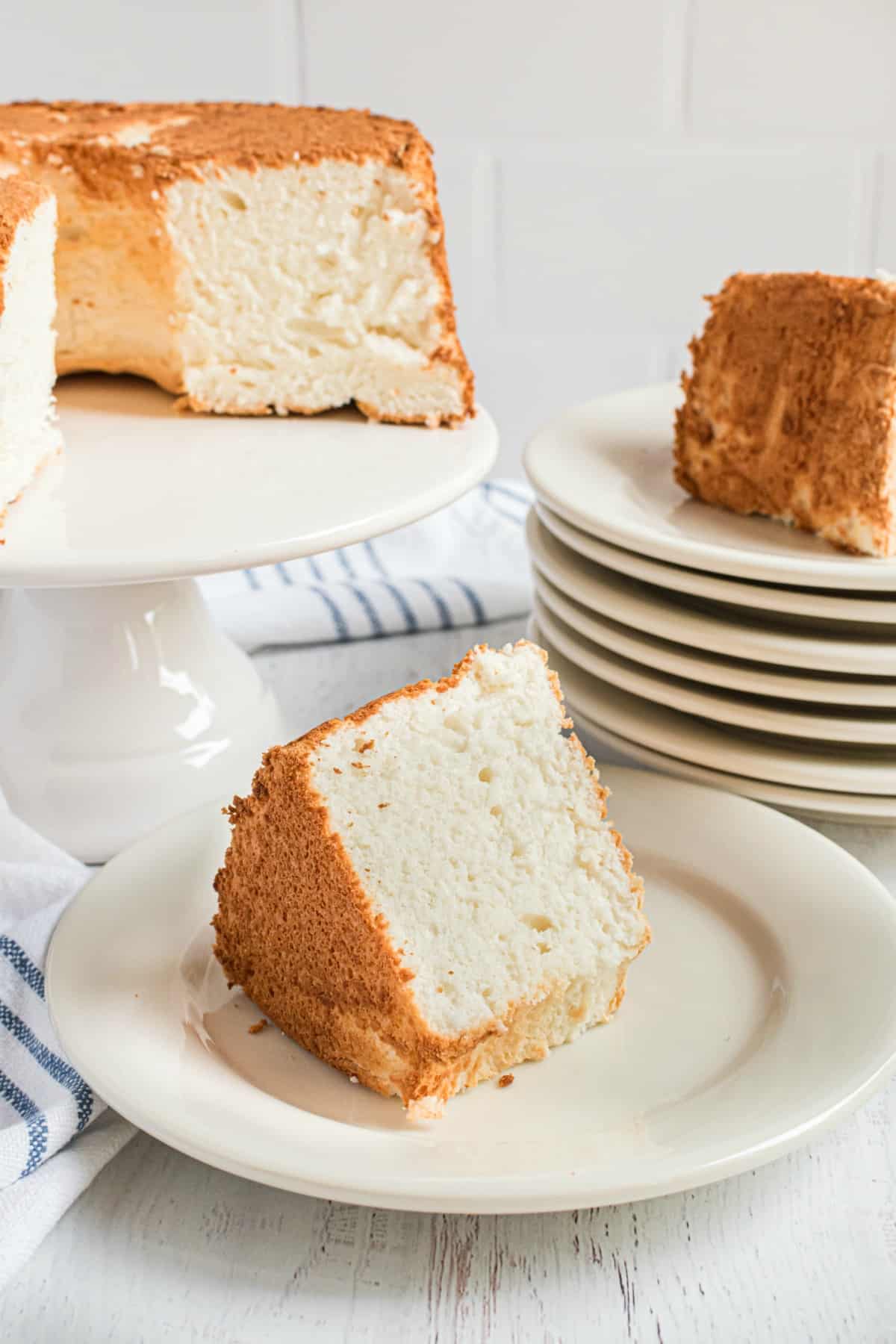 What is angel food cake?
I always forget how much I love Angel Food Cake. Then, I have a piece and wonder why I don't make it constantly.
This cake is so light and airy with a sweetness that almost dissolves in your mouth. This cloud like dessert is delicious on its own, but I'll never pass up an opportunity to top it with fresh berries and whipped cream.
Angel Food Cake is NOT your typical cake. You make this dessert by beating egg whites into stiff peaks, similar to a meringue, then carefully adding sifted powdered sugar and flour.
It's served un-frosted most often with fresh fruit. The recipe I'm sharing today was adapted from my trusted Better Homes and Gardens Cookbook.
Over the years I've learned a few tips and tricks for making the best ever Angel Food Cake every time.
Favorite Cake Recipes: Lemon Bundt Cake | Carrot Cake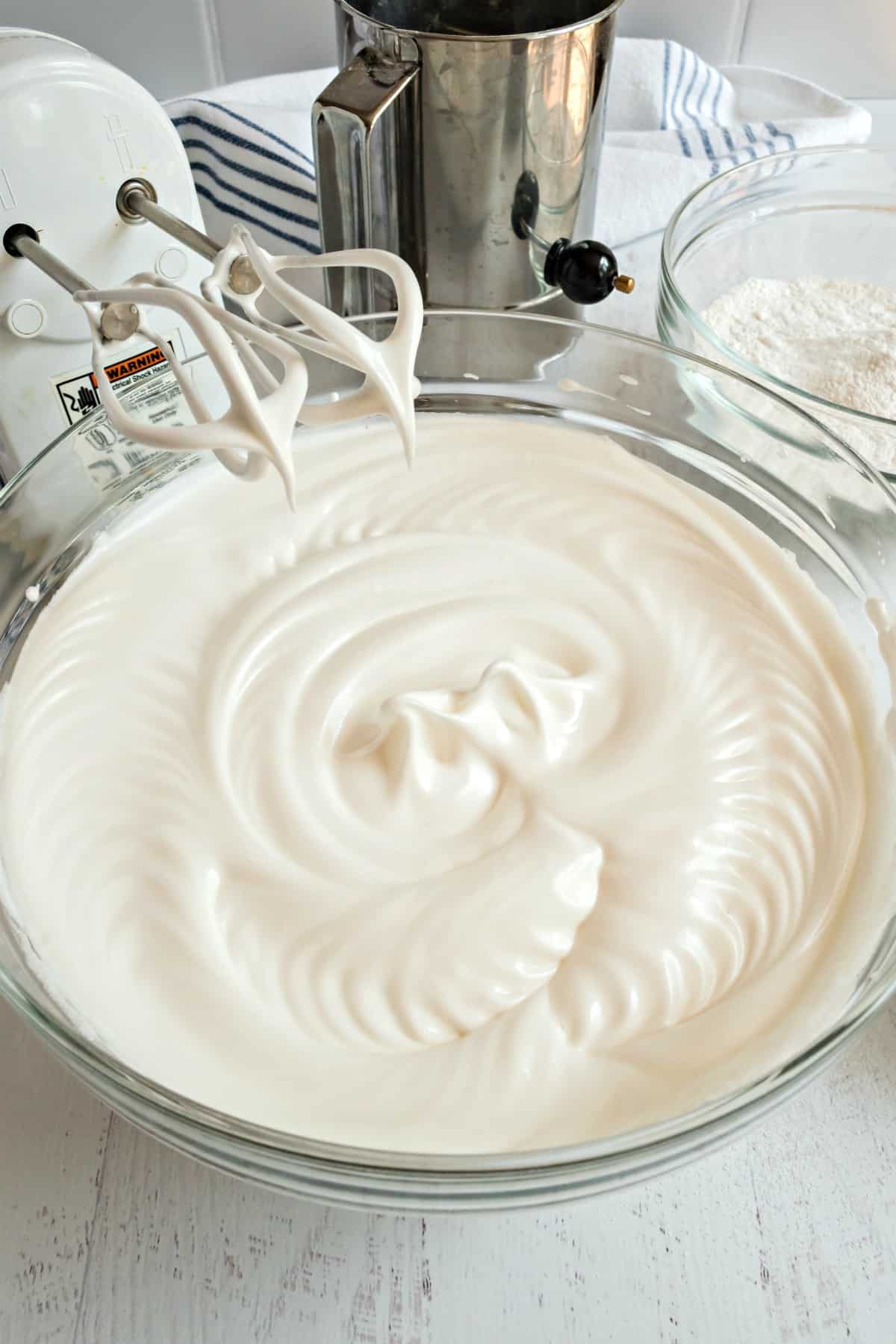 Beating Eggs to Soft Peaks vs. Stiff Peaks
When beating the eggs for this recipe, the first thing that will happen is that the eggs will start to get foamy.
After about 5 minutes of beating, the eggs should be close to the soft peak stage. To test this, turn the mixer off and pull the beaters straight up out of the egg mixture. If the egg mixture forms a peak, but the tips fold over immediately and begin to sink back down into the bowl, that is the soft peak stage.
The stiff peak stage can be tested in the same manner, but instead of the peak tips curling back and sinking into the bowl, the peaks will continue to hold this form. You will even be able to tip your beaters upright and the egg mixture will hold a point.
The egg mixture can be over beaten. If the mixture becomes gritty, starts separating and there is an oily residue that can be seen at the bottom of the bowl, the eggs are passed the stiff peak stage.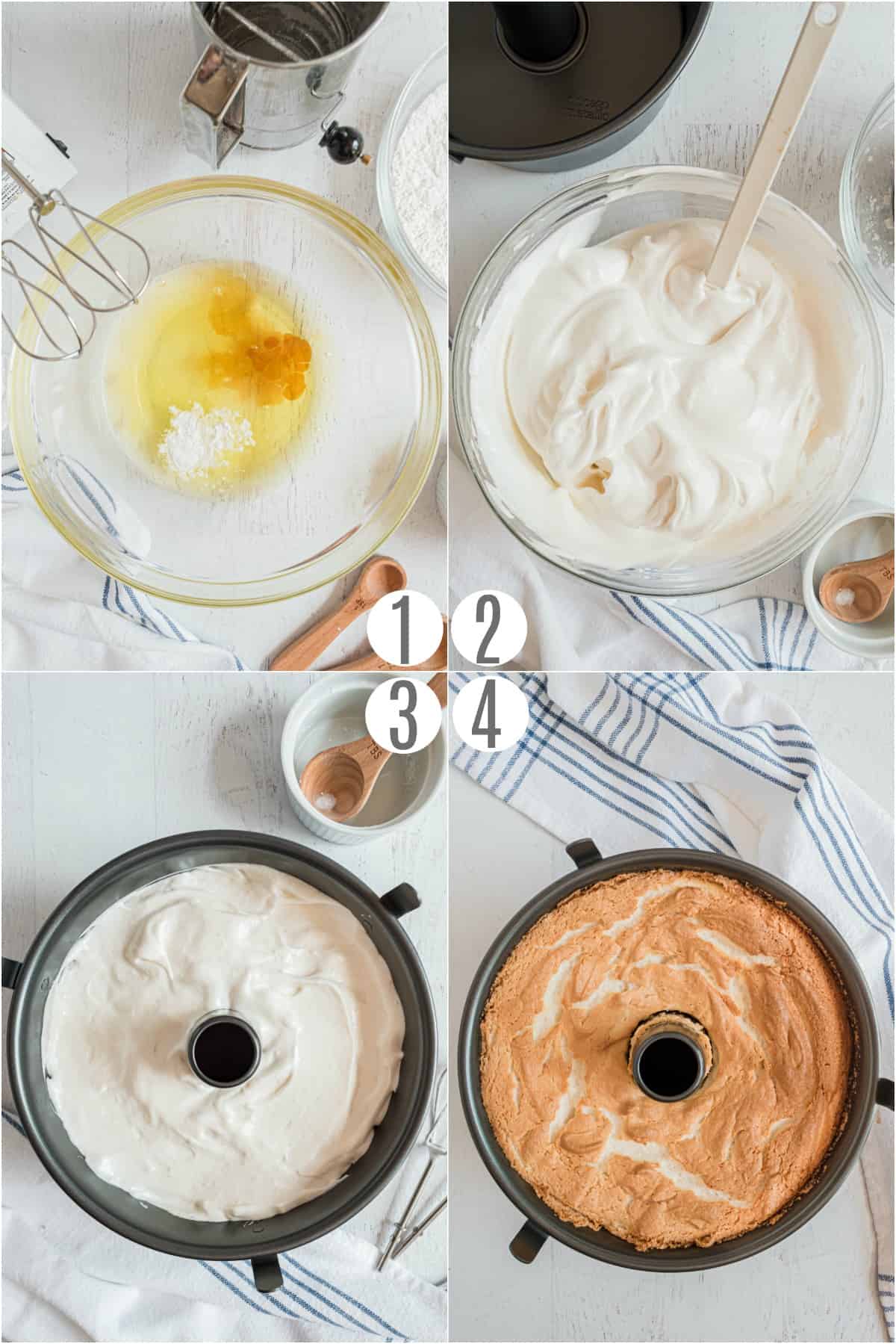 Sifting flour and powdered sugar
Make sure you know how to correctly measure and sift the flour before making angel food cake. This recipe involves sifting powdered sugar and flour together three times before adding to the stiff egg white mixture.
DO NOT SKIP this step!
Sifting three times helps break apart any clumps so your batter will be smooth. Your finished cake should have the texture of a light sponge with no dense clusters.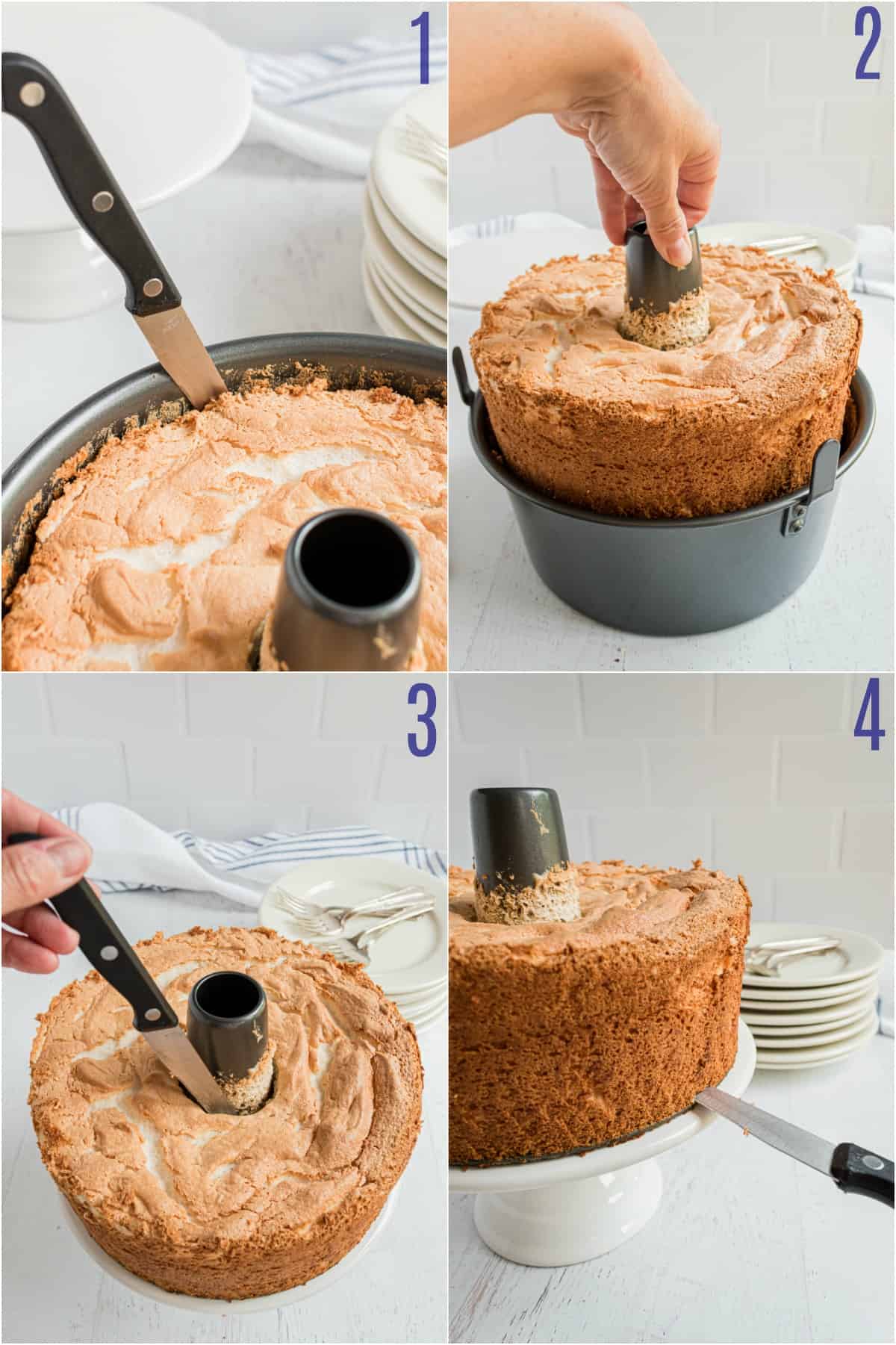 How to remove an Angel Food Cake from a pan
In most recipes, the instructions do not include greasing the pan.
So, how do you make sure your angel food cake comes out of the pan perfectly and not in pieces? First, we used this pan available on Amazon.
When the cake is removed from the oven, it needs to be inverted to allow the cake to cool and keep it's fluffy, airy texture.
The tabs on the top of the pan allow you to turn the pan upside down for cooling.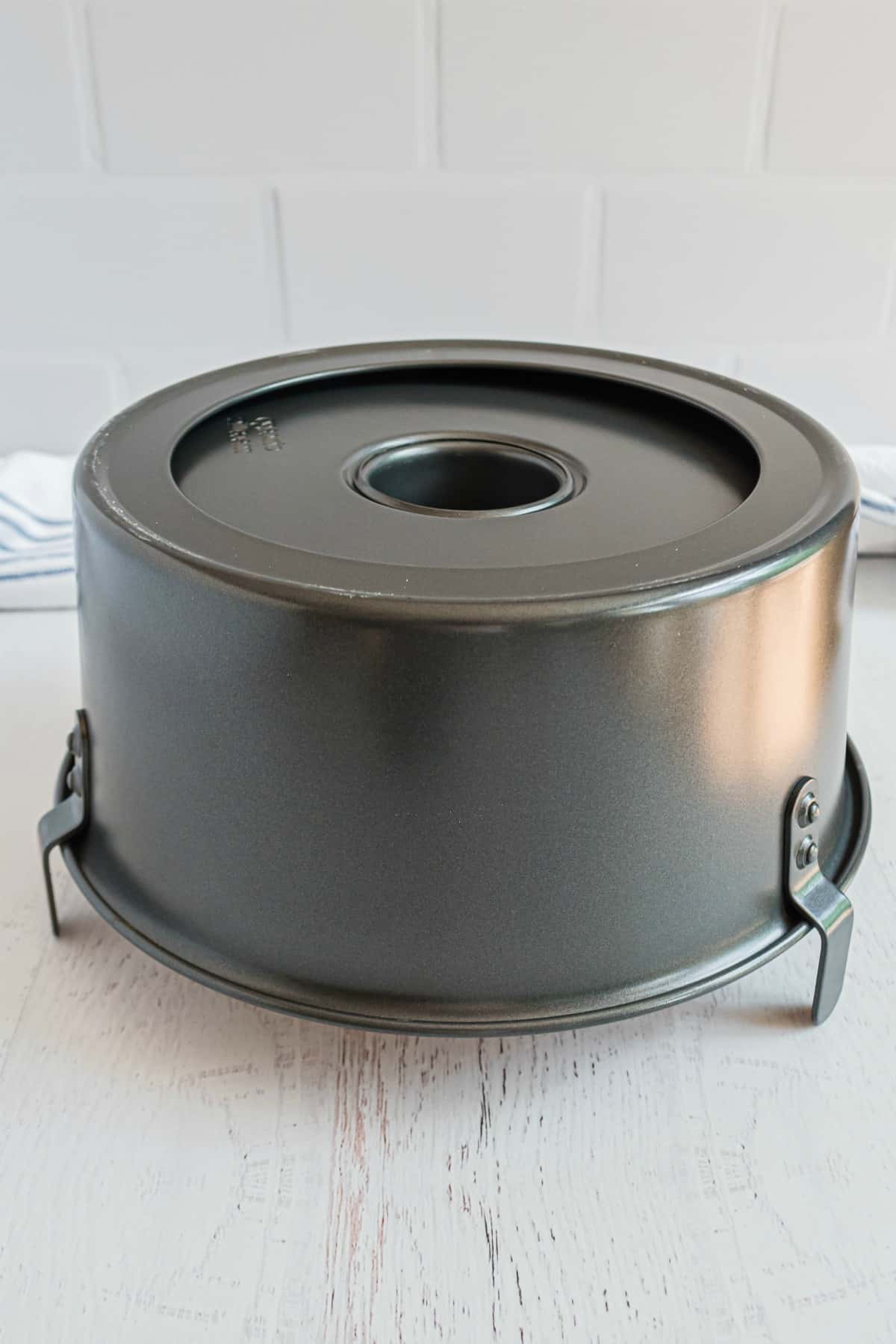 If your tube pan doesn't have these tabs, you can use a bottle, glass, funnel or even prop it up on 3 canned goods to help hold the cake in this position until cooled.
After the cake has completely cooled, take a thin, flexible knife, and run it around the outside of the cake to separate from the sides of the pan.
Next, grab the tube in the middle of the pan and lift straight up.
Using the same flexible knife, cut around the tube separating the cake from the middle of the pan, and run the knife parallel to the bottom of the pan to separate the cake from the bottom.
Carefully, flip the cake onto a cake plate or stand and remove the tube portion of the pan.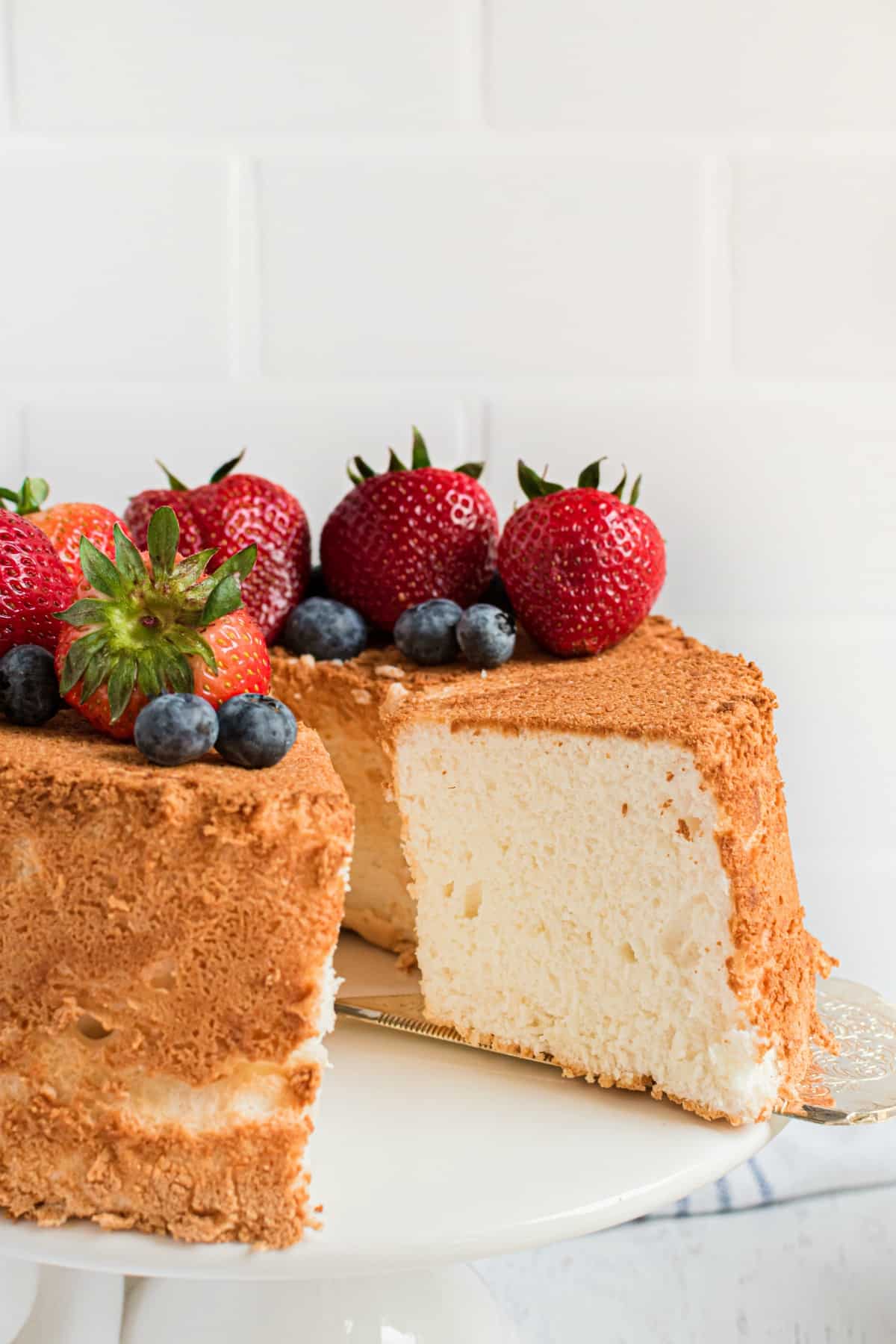 How to store Angel Food Cake
Keep your baked angel food cake well covered at room temperature for 1 to 2 days after baking.
Can your freeze angel food cake?
Definitely! This cake holds up beautifully in the freezer.
To freeze, double wrap the cake and store in a tupperware container to keep the best taste. I double wrap with one layer of plastic wrap and another of tin foil to lock in the freshness.
When ready to eat, let the cake thaw at room temperature, slice and serve!
Serving Suggestions
With berry season in full swing, ripe sliced Strawberries are my go-to choice for spooning over angel food cake, along with a dollop of Whipped Cream. Blueberries and raspberries are also wonderful with angel food cake!
Use Angel food cake as the base to this delicious Heaven on Earth Cake recipe. Paired with pudding, almonds, whipped cream, and cherry pie filling it's always a hit!
Other delicious topping ideas for your homemade angel food cake include. . .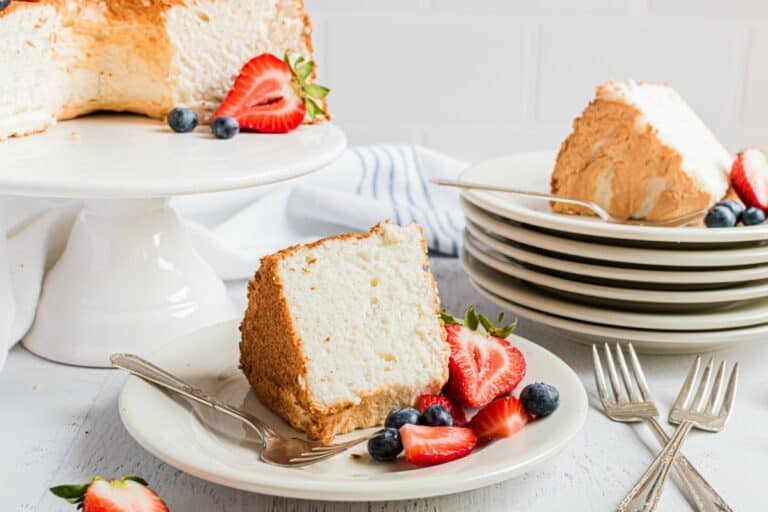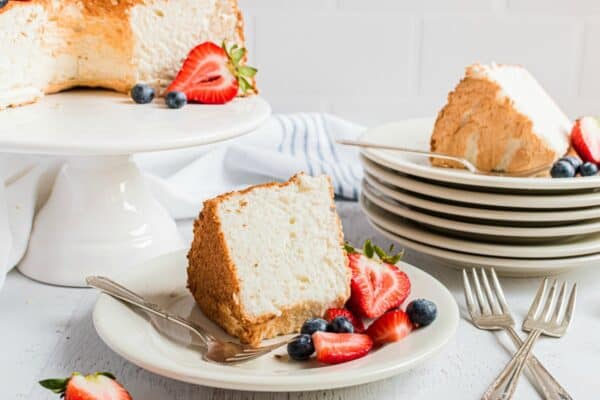 Recipe FAQs
Can I make angel food cake in a bundt pan?
No. Angel food cakes need simple tube pans because their outer crust will stick to the pan (which gives them that airy texture when cooled upside down). Bundt pans have too many details.
Why did my angel food cake collapse?
Angel food cakes may collapse because the mixture was not beaten correctly. Or, the pan may have had some grease on the sides, causing the outer crust to not stick properly.
How long do you leave an angel food cake upside down?
Until it has cooled COMPLETELY, which is typically about 90 minutes.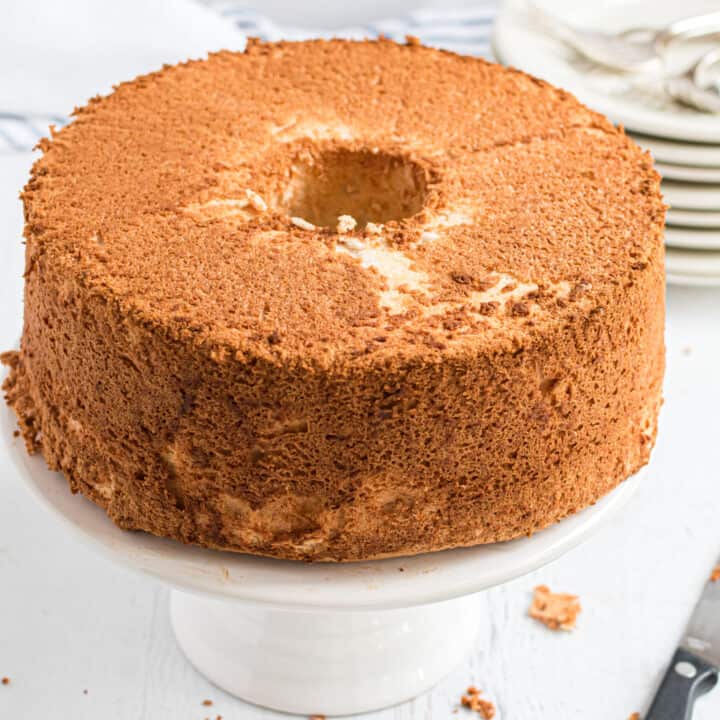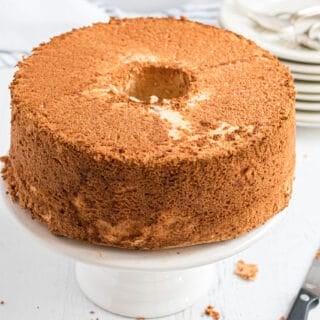 Angel Food Cake
Light as air with a sweet crumb, Angel Food Cake is a classic dessert just begging to be topped with strawberries and whipped cream this summer. Learn how to make, store and freeze the perfect Angel Food cake with this tried and true recipe.
Ingredients
1 ½

cups

egg whites

10 to 12 large

1 ½

cups

sifted powdered sugar

1

cup

sifted cake flour

1 ½

teaspoons

cream of tartar

1

teaspoon

vanilla extract

1

cup

granulated sugar
Instructions
Move oven rack to the lowest position. Preheat oven to 350°F.

In a large mixing bowl, separate egg whites and let them stand at room temperature for 30 minutes.

Sift powdered sugar and flour together 3 times. Set aside. DON'T SKIP THIS STEP.

Add cream of tartar and vanilla to room temperature egg whites. Using a hand mixer, beat on medium speed until soft peaks form. Add in granulated sugar, 2 tablespoons at a time, until stiff peaks form.

Sift about one-fourth of the flour sugar mixture into the beaten egg whites and gently fold in. Repeat until all the flour sugar mixture is incorporated. Pour into an ungreased 16 cup tube pan.

Gently cut through the batter to remove any large air pockets.

Bake for 40-45 minutes or until the top springs back when lightly touched.

Immediately invert cake in the pan. Cool completely. Loosen side of the cake from the pan. Remove the cake.
Notes
Learn how to properly measure and sift flour. You don't want to skip this step!
If your tube pan doesn't have "feet" for inverting, use a glass or funnel to invert the cake on top of. You want the cake to "fall" and allow it to become airy and light.
Adapted from Better Homes and Gardens Cookbook.
Nutrition
Calories:
133
kcal
,
Carbohydrates:
30
g
,
Protein:
3
g
,
Sodium:
39
mg
,
Sugar:
23
g
Go ahead and have a slice of freshly baked Angel Food Cake topped with fruit and cream as a sweet end to your summer dinners. It's heaven in cake form!