A good old-fashioned Cherry Pie is hard to beat. Full of real cherries and just a touch of cinnamon spice, this is the BEST Cherry Pie recipe you will ever make!
Make it easier and use this filling to whip up a batch of Cherry Hand Pies instead! Or change up the filling and make Blueberry Pie. Don't forget a scoop of homemade ice cream on top!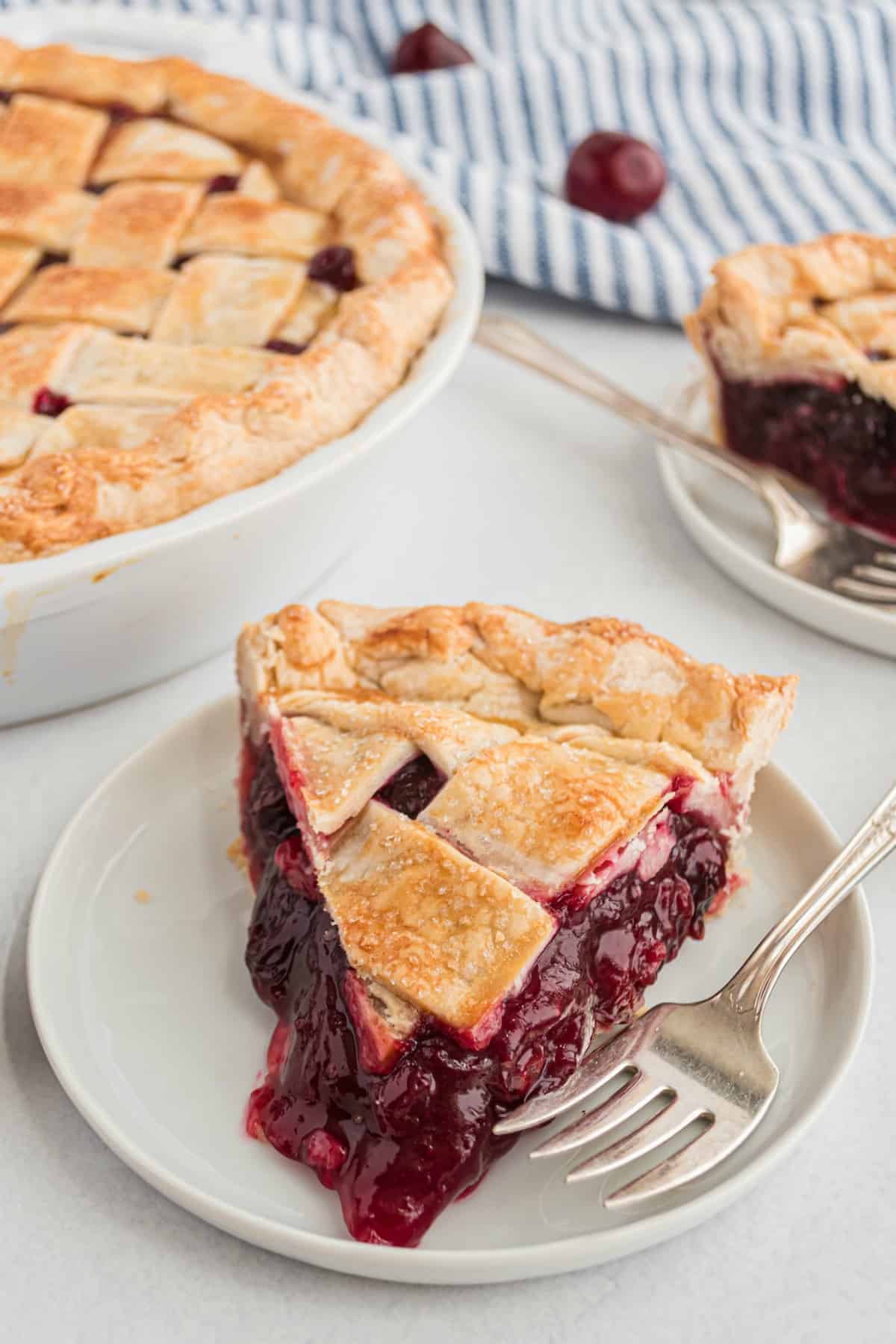 What makes this recipe the BEST
When God made cherries, I'm pretty sure he had pie in mind.
The velvety texture of softened sugary cherries pairs beautifully with flaky pie crust.
I've tried plenty of cherry pie recipes over the years and, when it comes to a straight up delicious pie, the recipe I'm sharing with you today is the hands down winner.
Calling this "the best ever cherry pie" might seem like a bold statement. That is, until you try a slice.
I love this recipe so much for a few reasons:
It uses real cherries. You have your pick of using fresh, frozen or canned, but there's no cloying artificial "cherry" flavor in this pie. Just juicy cherries mixed with a bit of sugar, lemon juice and cinnamon.
No soggy crust. I've written before about my struggles making pie crust from scratch so I'm all about the convenience of refrigerated prepared ones. You add your own touch to the pie crust by brushing with egg white. This extra step prevents sogginess so every bite of crust is flaky and buttery.
Lattice topping. Speaking of homemade touches, nothing makes a pie charming like a lattice topping (see it in our peach pie recipe too). In this recipe, I'll walk you through how to form that gorgeous pattern step by step.
On top of all of that, this pie is easy to make and has a short ingredients list. Use it in our easy cherry slab pie recipe too!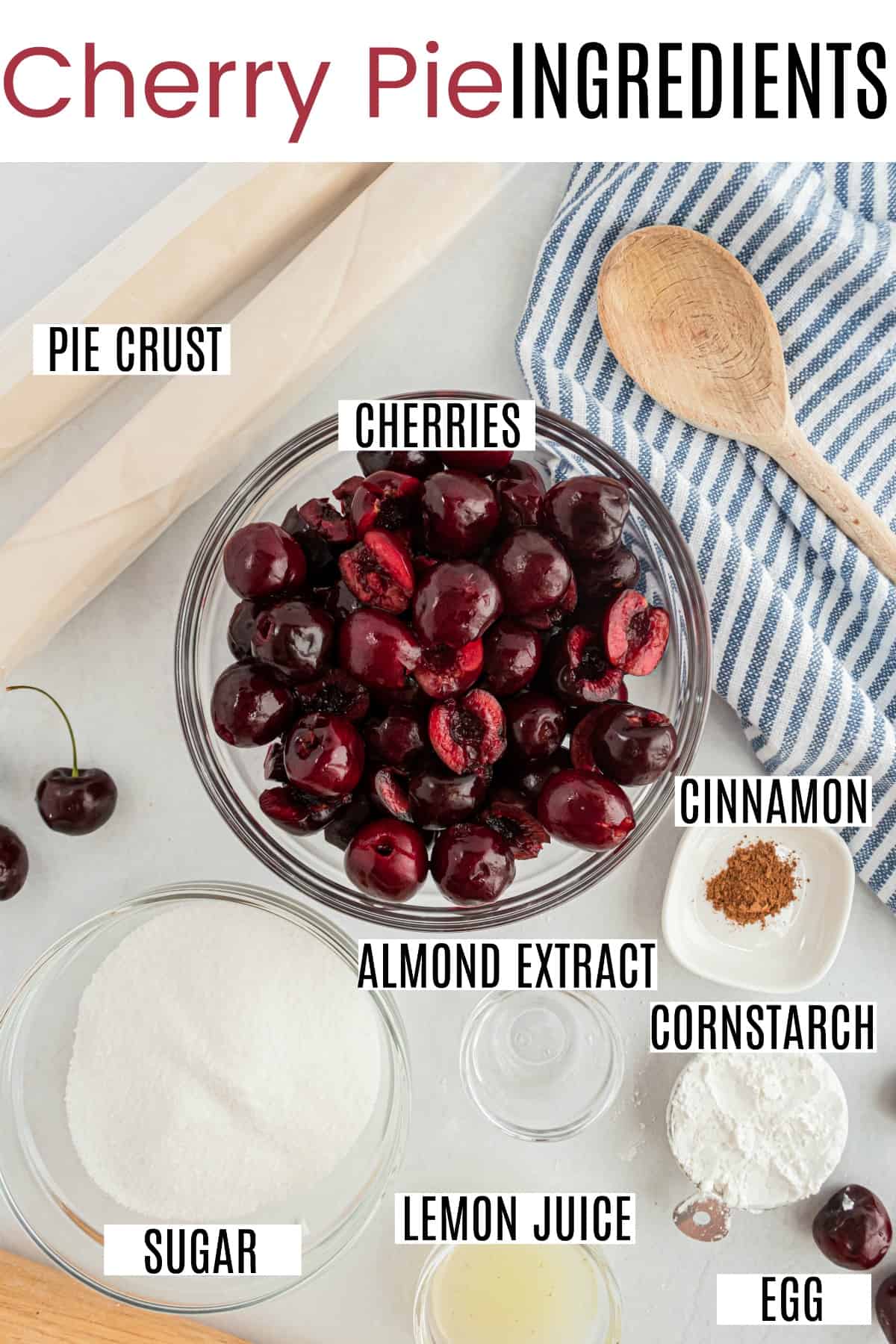 Ingredients Notes
Cherries: You have your choice of cherries for this recipe. I used fresh sweet cherries this time around because they were in season and on sale.
Frozen cherries will work in this pie recipe too. Just thaw them completely and drain out any excess liquid before using.
Likewise, canned cherries are also a fine choice if you drain the juices first (not to be confused with cherry pie filling, canned cherries are usually found near the canned fruit).
Note that, if using canned cherries, you'll need about 3 cans to make this pie.
Almond extract: my secret ingredient. It pairs so nicely with the fresh cherries (I love it in my cherry hand pies too)!
Crust: Feel free to substitute your favorite homemade pie crust recipe (or give my pie crust recipe a try). Make enough to form 2 full sized crusts.
Step by Step Instructions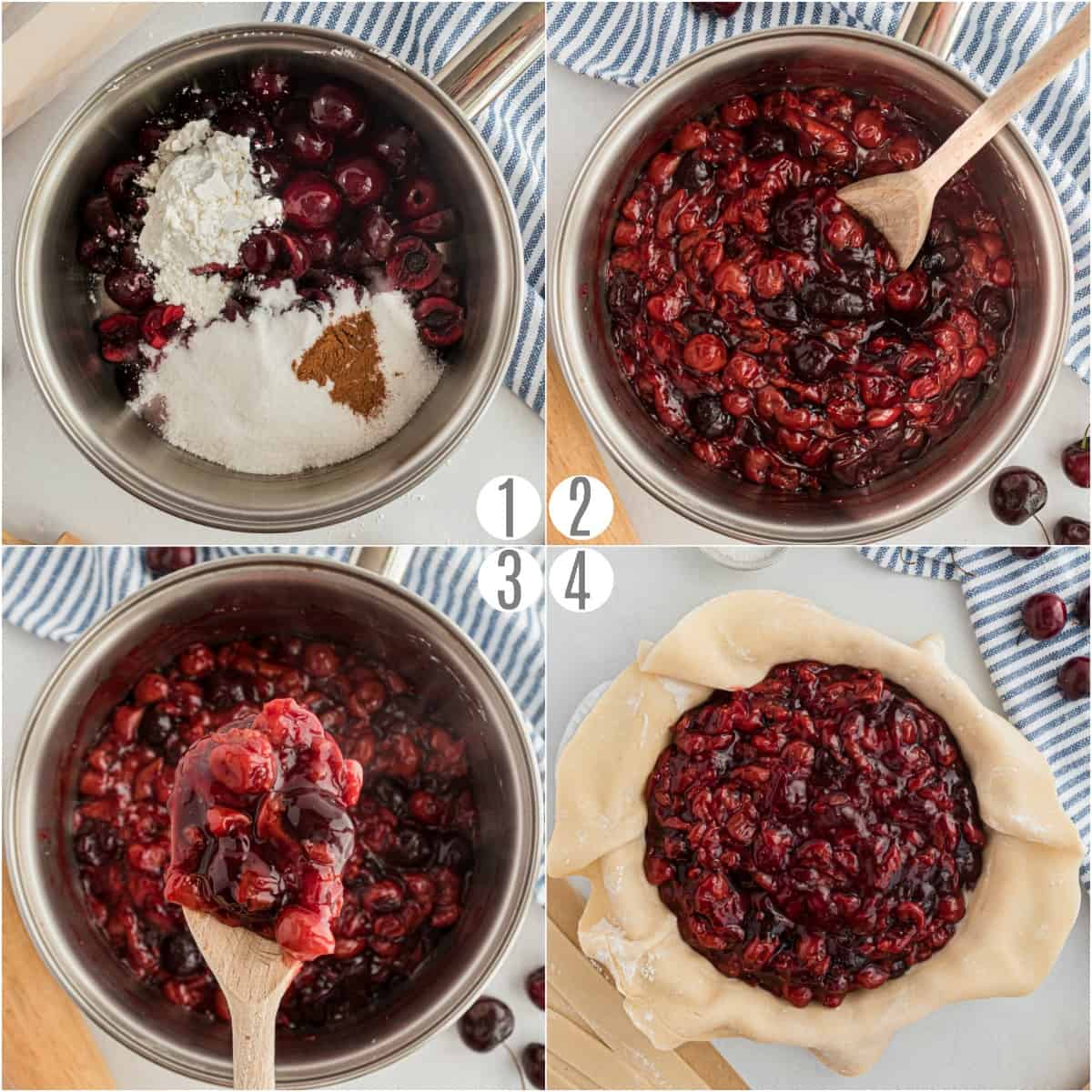 STEP 1. Prepare the filling
In a large saucepan combine cherries, granulated sugar, lemon juice, cinnamon and almond extract.
Heat over medium heat and bring to a boil, stirring frequently. Reduce heat and cook on low for 8-10 minutes or until mixture has thickened and is a gel-like consistency.
Remove from heat and allow to cool slightly.
STEP 2. Roll out the crust
On a lightly floured surface, roll out one of the pie crusts and lay it in a 9-inch pie plate. The crust should drape over each edge by about one inch.
Brush the bottom of the crust with the egg white then pour the cooled cherry filling over it.
STEP 3. Lattice crust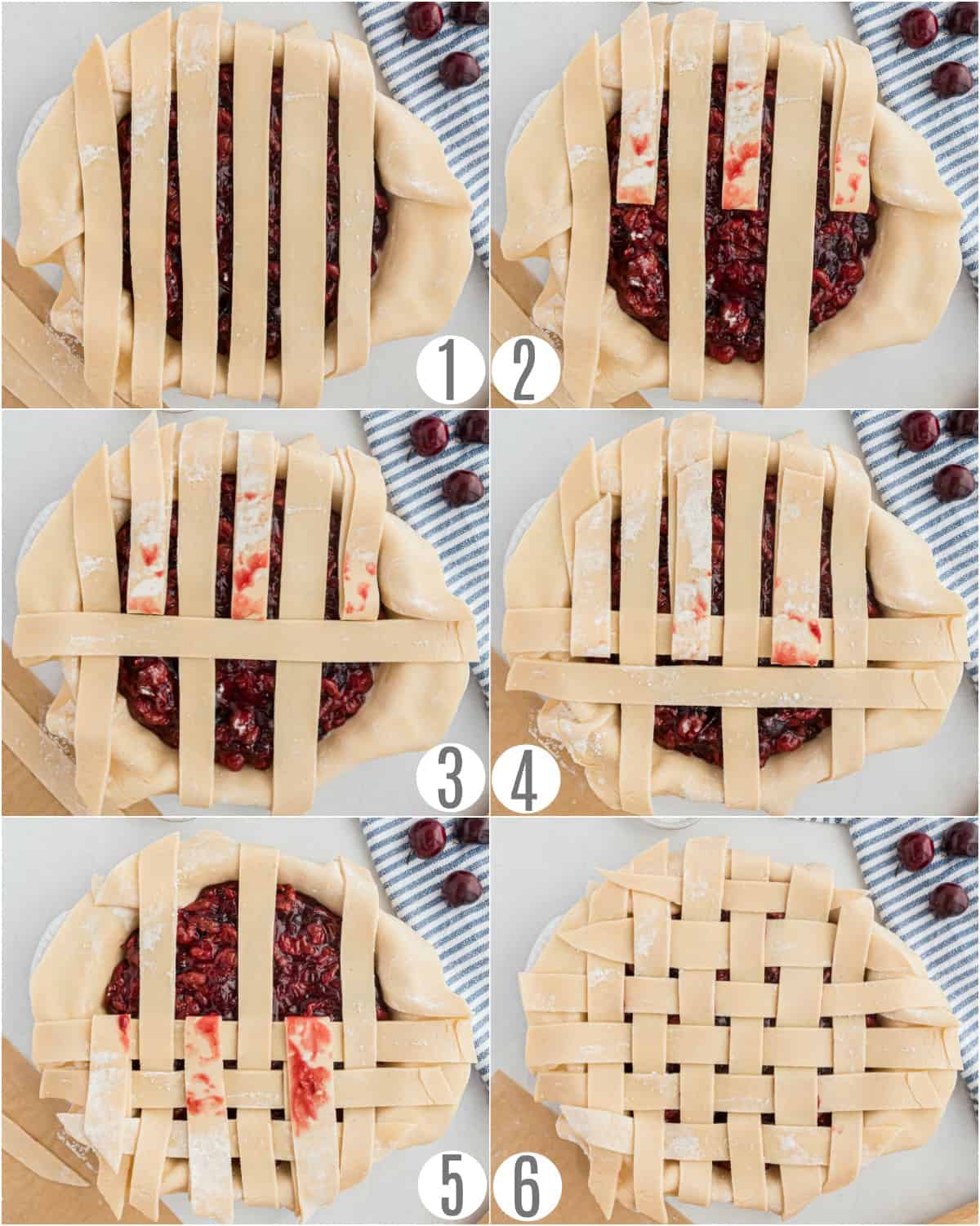 Use the second pie crust to form the lattice. Roll it out on a floured surface until it is about ⅛" thick. Cut the crust into 12 strips of equal width.
Lay 6 strips across the top of the pie, all going in the same direction and evenly spaced.
Fold every other strip back half way. Lay one of the remaining 6 strips of pie crust perpendicular across the middle of the pie and unfold the other strips of crust so they lay across the perpendicular strip that was just placed on the pie.
Now, fold the other 3 strips back and lay the next perpendicular strip across the pie.
Repeat the process until the entire top of the pie is covered with the lattice weave.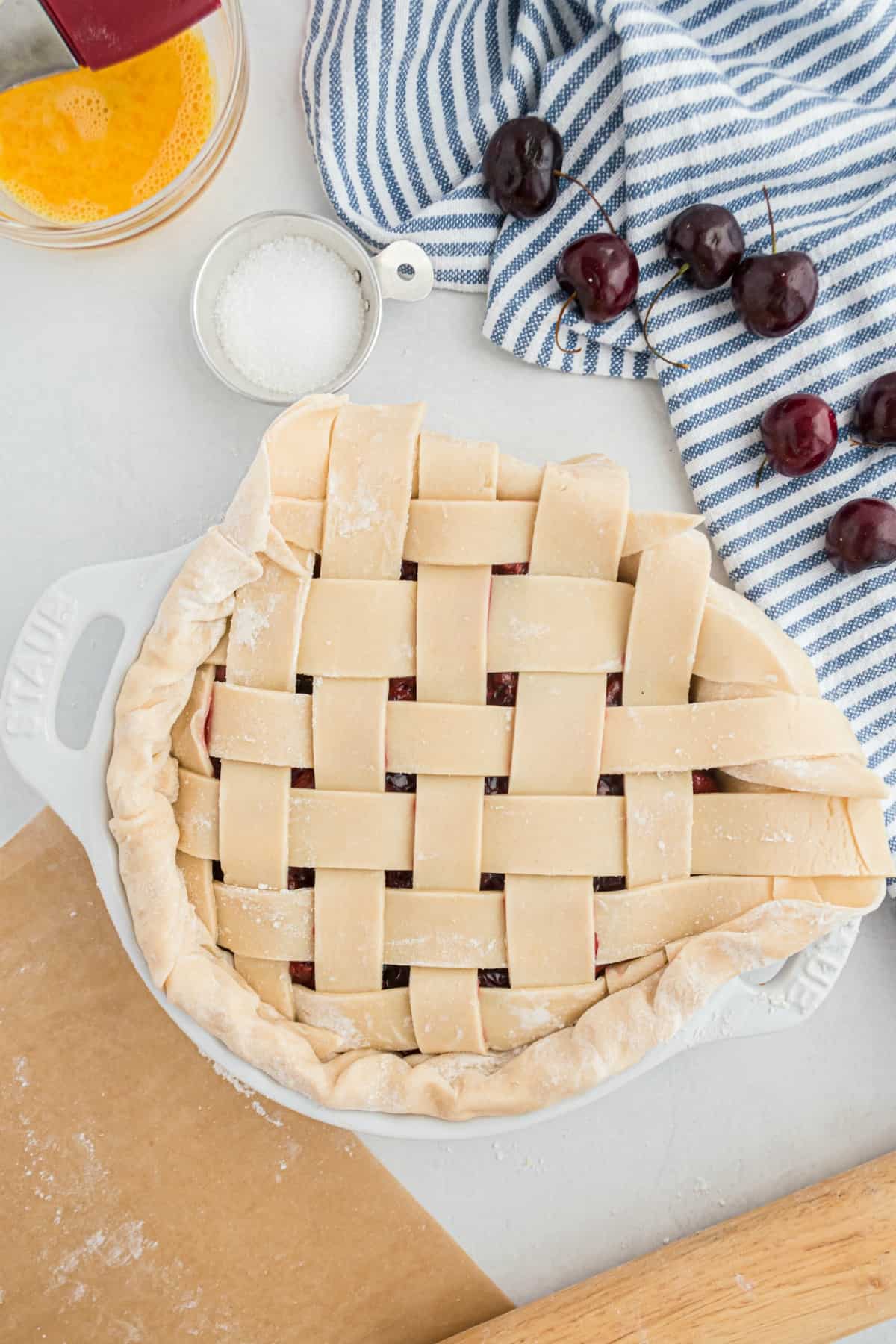 Roll the excess pie crust around the edge toward the middle of the pie to form a nice neat edge.
Brush the whole top of the lattice with an egg wash and sprinkle with coarse sugar.
STEP 4. Bake
Bake the pie at 425 F for 10 minutes and then reduce the oven temperature to 375 and bake for an additional 45-50 minutes.
Remove and let cool for at least 3 hours before serving.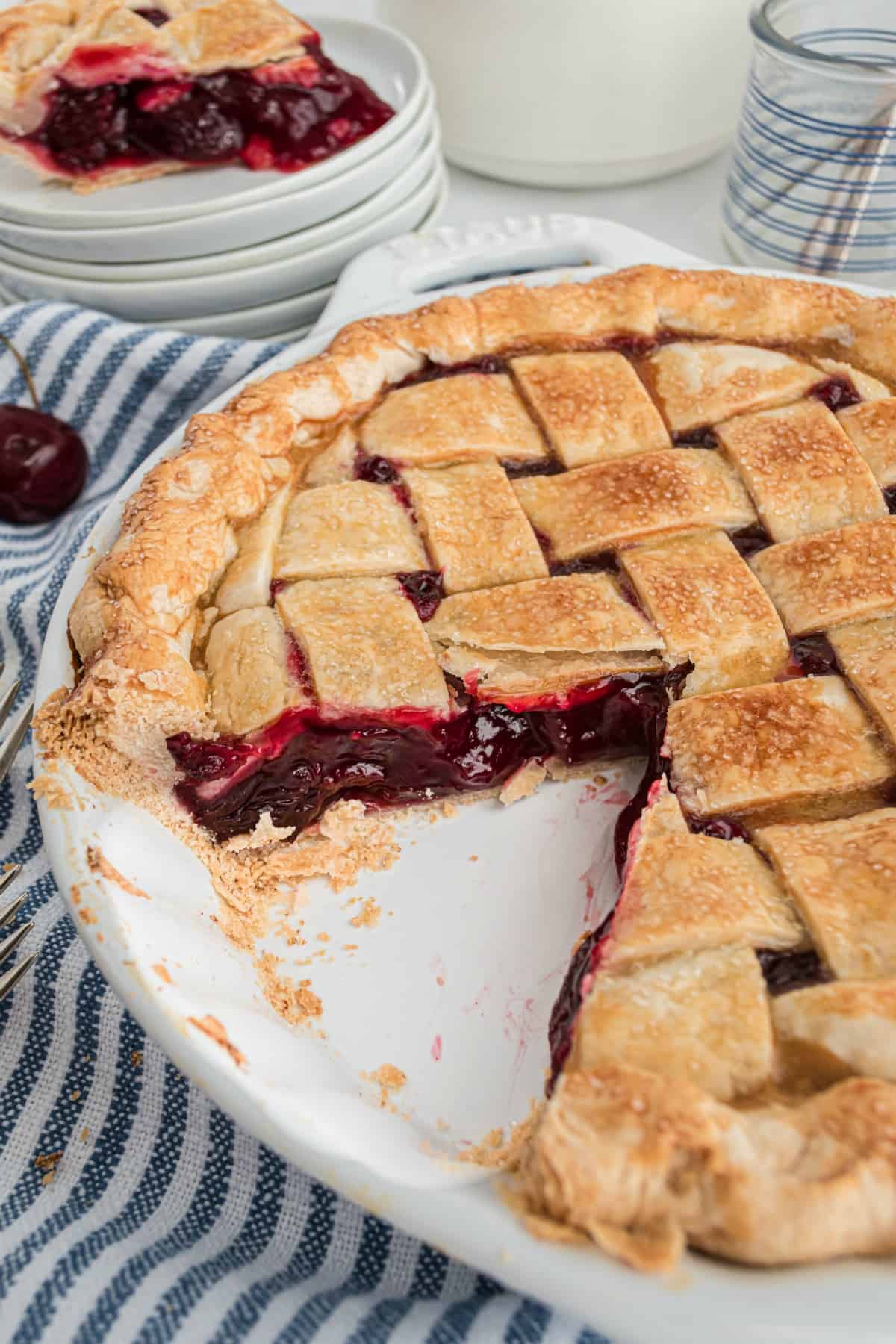 Recipe FAQs
What is the difference between cherry pie filling and canned cherries?
Cherry pie filling is already thickened and ready to use. Canned cherries usually come in a syrup, that I rinse off before using in my recipe.
How do you remove cherry pits?
If you don't have a fancy cherry pitter, then you can remove the pits by hand by poking/twisting them out with a chopstick, toothpick, or paper clip. Or slice the cherry in half and remove the pit easily.
What cherries are best for pie?
Personally I love the dark sweet cherries, but a combination of Ranier and dark cherries is also delicious and lovely!
Tips and Tricks
Check the pie frequently while baking to make sure the crust isn't getting too brown. If it's browning quickly, you can cover the edges with foil or pie shields.
How can you tell when fruit pie is done baking? The top crust will be golden brown and the filling will be bubbling through the lattice. Let the filling bubble at least 5 minutes before removing the pie.
Storing: Cover with plastic wrap and store cherry pie in the refrigerator for up to 5 days.
Freezing: Follow the recipe as usual, bake as directed then freeze the pie in an airtight container.
Festive: use this filling in our Christmas Hand Pies recipe! So easy.
Whether you're new to making homemade fruit pies or an old pro, you need to try this recipe. You'll love everything about this Cherry Pie, from the bright red cherries bubbling through the pretty lattice topping to the delicious taste.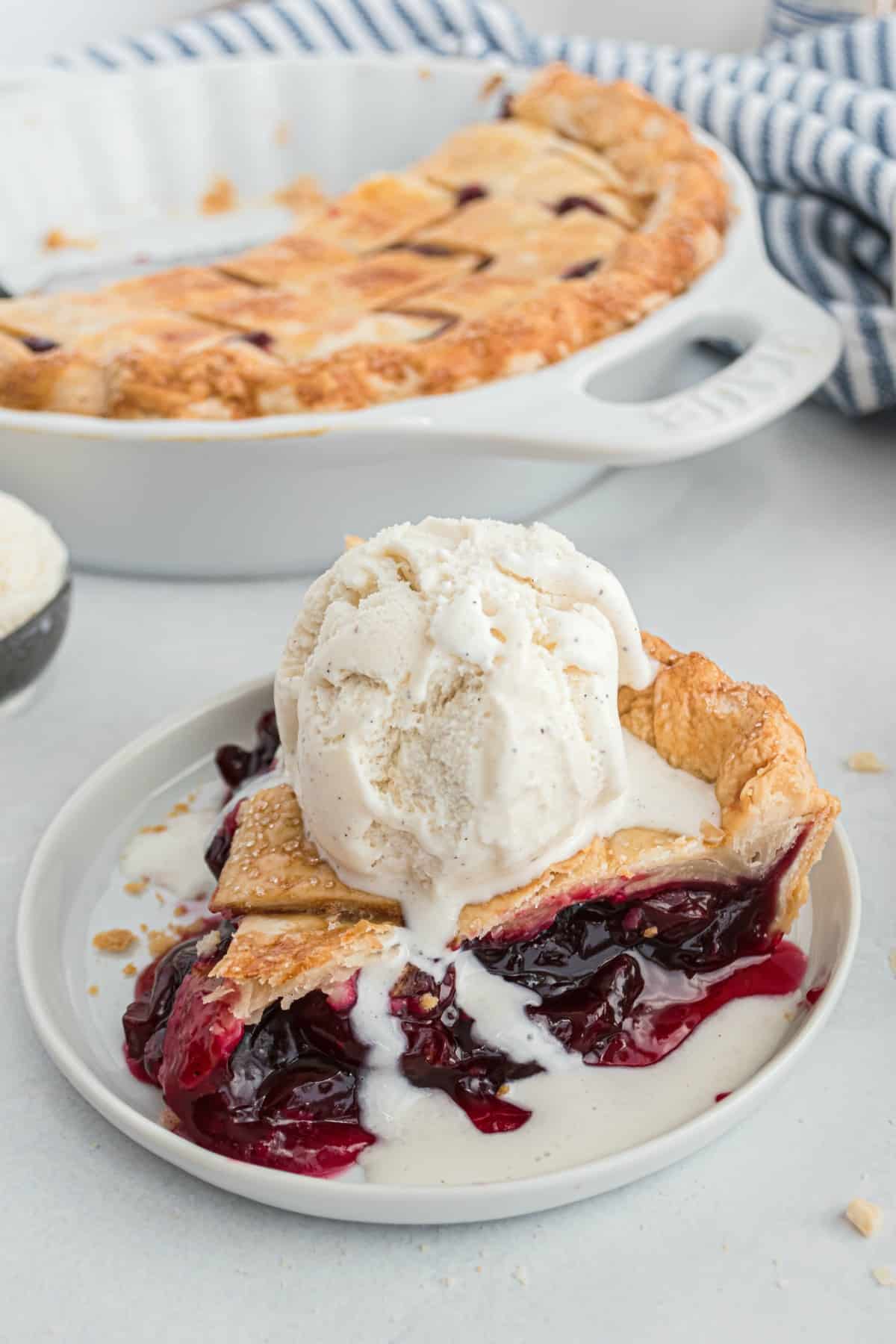 More Easy Pie Recipes
Classic cherry pie recipe using fresh cherries and topped with a buttery lattice pie crust!