Peanut Butter Revel Bars are the stuff of dreams for peanut butter lovers! Easy to make ahead of time, they're ideal for potlucks, holidays, and bake sales.
Love cookie bars? Our peanut butter bars are a delicious option, and they're loaded with peanut butter and Reese's too! Or give our delicious M&M cookie bars a try next for a delicious, chewy treat.
Why You'll Love Them
This peanut butter version is a must-try if you've ever enjoyed a chocolate revel bar. Creamy peanut butter and peanut butter chips bring these cookie bars a sweet, nutty flavor.
Here's why I love them,
Fast- They can be in and out of the oven in under an hour.
Texture- The oats add a chewy texture and a touch of wholesome flavor to the peanut butter cookie base. 
Easy- You can whip up a decadent layer of peanutty fudge quickly with sweetened condensed milk. No candy thermometer is required! 
More- The bars are topped with more cookie dough crumble for visual appeal and texture.
Another bonus of these peanut butter revel bars is that they freeze wonderfully so you can keep a stack of them on hand for special occasions and surprise gatherings.
If you love today's recipe, you'll have to try our butterscotch revel bars next. Same chewy texture, but packed with butterscotch flavor instead of peanut butter!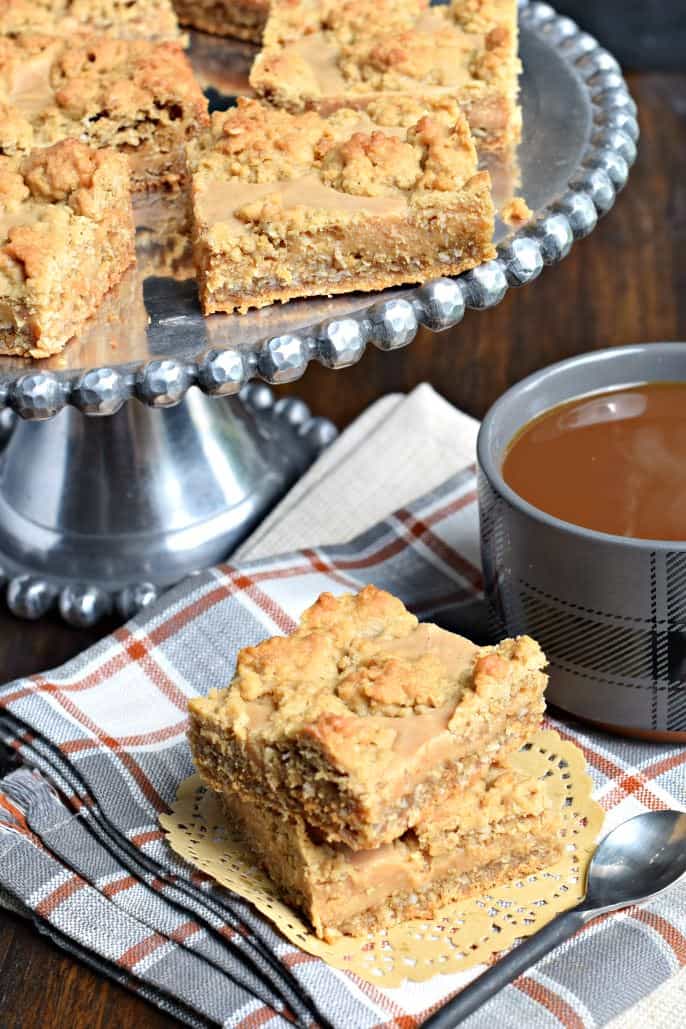 Ingredient Notes
Light Brown Sugar – The molasses in brown sugar makes for a chewy cookie layer and a hint of sweet caramel flavor.
Creamy Peanut Butter – Peanut butter is the most important flavor element in the cookie layer! Using creamy peanut butter will ensure your bars are easier to cut, too.
Unsalted Butter – Creams with brown sugar and peanut butter for the cookie base. Also adds extra flavor to the peanut butter fudge center.
Baking Soda – This helps the cookie layer rise and spread into your pan as it bakes.
Eggs – Eggs provide leavening and moisture to the cookie dough.
Vanilla Extract – Helps achieve that classic peanut butter cookie flavor. Pure vanilla is always best! Or use our homemade vanilla extract.
All-Purpose Flour – Gives structure to the cookie layer and topping. Be sure to use our tips and tricks on how to measure flour properly so you don't end up with dense, dry cookie bars.
Quick-Cooking Oatmeal – Adds chewy texture and a hint of hearty flavor to these sweet dessert bars. 
Sweetened Condensed Milk – Creates the base of the peanut butter fudge layer, doing most of the work for you.
Peanut Butter Chips – The final touch to add rich peanut buttery flavor to the creamy fudge layer of the bars.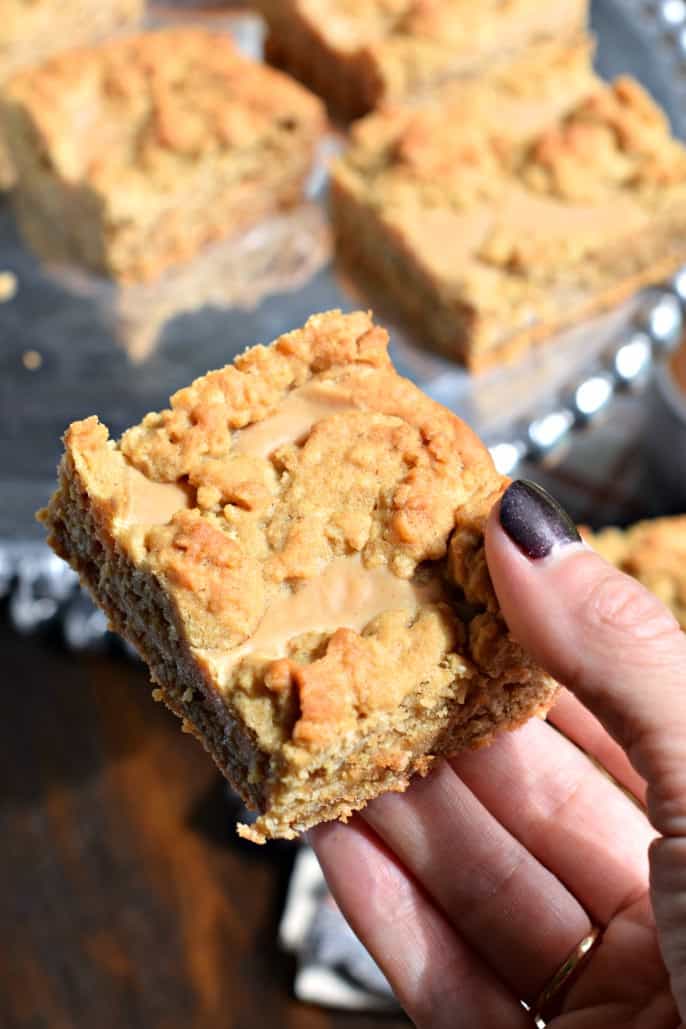 Easy Instructions
What I love about cookie bars is how easy they are to make. Unlike peanut butter cookies, these bars come together so quickly, with just one bake time (no need to make tray after tray of cookies).
Make the cookie dough: Cream the butter, sugar, and peanut butter together until light and creamy. Then mix in the baking soda, eggs, and vanilla. Add the flour and oats last to finish the dough.
Make the peanut butter fudge layer: Heat the sweetened condensed milk and butter in a saucepan until the butter is melted. Then add the peanut butter chips and stir until melted and smooth.
Layer in the pan: Press ⅔ of the cookie dough into the bottom of your prepared pan. Then pour the peanut butter fudge mixture over the top and spread it to all the corners of the pan, making a smooth surface.
Top it off: Drop the remaining cookie dough evenly in little clumps over the peanut butter fudge layer. It won't cover the top entirely; it's more of a crumble.
Tips & Tricks
If you're using a natural peanut butter brand, make sure it's very well-mixed before using it in the cookie dough. It may alter the consistency of the finished cookie layer.
As you press the cookie dough base into your pan, press it into all the edges and corners. Try to ensure the bottom layer is spread as evenly as possible, so your cookie base has an even thickness throughout.
Keep your stove at a low temperature as you warm up the condensed milk, butter, and peanut butter chips. This helps avoid burning the bottom since the main goal is to melt everything together gently.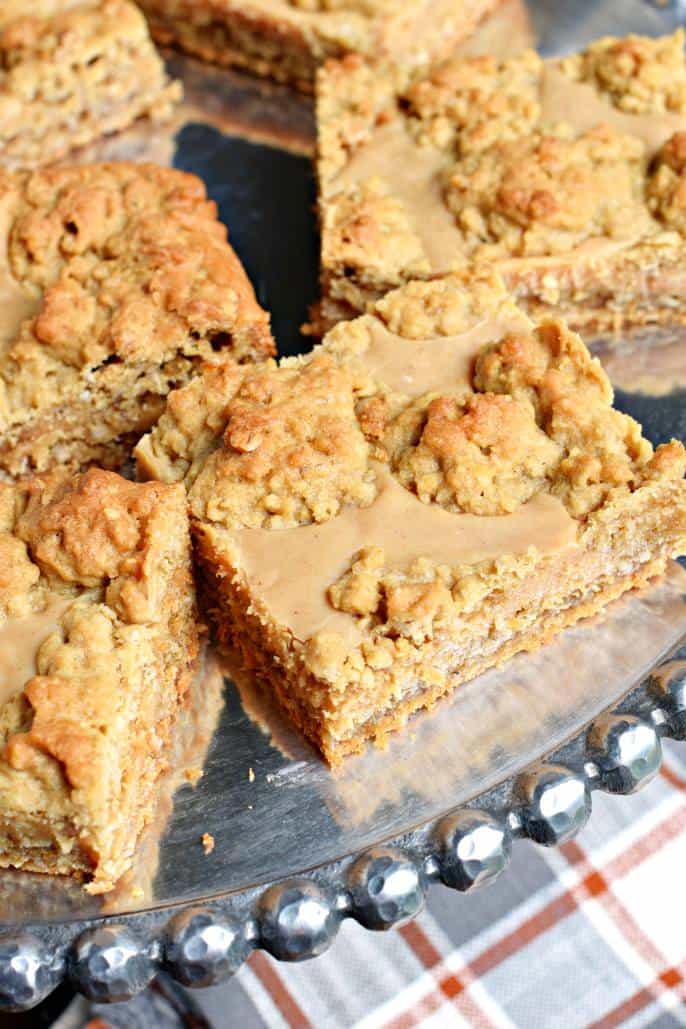 Recipe FAQs
How do I freeze revel bars?
Let your revel bars cool completely, then cut to your desired size and shape. Freeze them on a sheet tray, making sure the sides aren't touching. Once they're frozen solid, transfer them to a zip-sealed bag or another airtight container. 
What's the best way to cut peanut butter revel bars?
These bars can be cut into squares, rectangles, or even a fancy diamond shape. You get to decide! A serrated knife will help you cut through the crumble topping. 
Can I use regular rolled oats in place of quick-cooking oats?
You can use rolled oats if that's all you have on hand, but they will make your cookies heartier in texture and possibly more crumbly. For similar texture, pulse them briefly in a food processor to make them more like quick-cooking oats.
Can I use crunchy instead of creamy peanut butter?
Crunchy peanut butter will be just as delicious in this recipe. Take note that you'll have to be more careful while cutting the bars, and a serrated knife will be essential.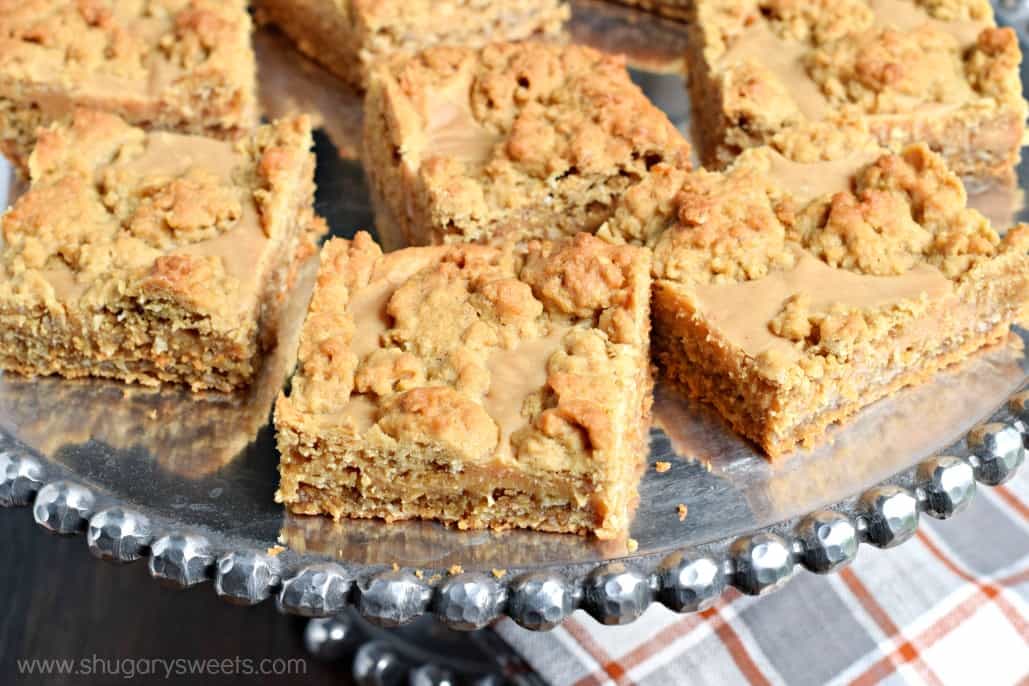 More Cookies and Bars
Looking to bake a variety of cookies for an event or just for fun? Here are more decadent cookie recipes to get you started.