Hate making cutout gingerbread cookies? These Gingerbread Cookie Bars are soft and chewy and topped with a delicious cream cheese frosting. Whip up a batch this holiday season!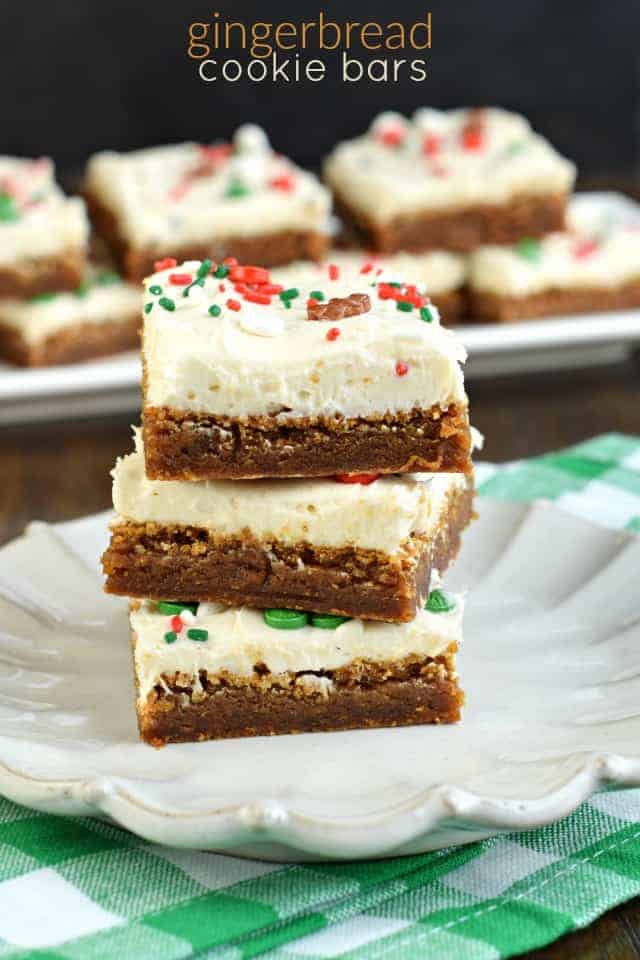 Why Make Cookie Bars
Tis the season for all the holiday cookies! Do you have a favorite?
Growing up we baked the same kinds year after year. One kind I don't ever recall baking was Gingerbread Cookies.
As I got older, with my own kitchen, and holiday baking agenda, I attempted to bake Gingerbread Cookies, only to be sorely disappointed. They didn't turn out. Not quite how I imagined anyway.
In my head, I thought they would taste like a gingersnap cookie, but for the amount of work, I think I just wasn't interested.
And it's not like I mind baking cut out cookies. These Cream cheese sugar cookies top our list every year, as a family favorite!
So a few years ago I baked a batch of these Gingerdoodles. OMG you guys, they have quickly become one of the most requested cookies over the holidays. Soft and chewy molasses cookies, like a gingerbread should be, in my mind!
Know what makes them even better? When you turn them into Gingerbread Cookie Bars and cover them with Cream Cheese Frosting!
How to make Gingerbread Bars

Line a 13 x 9 inch baking pan with aluminum foil or parchment paper. Set aside.
Preheat oven to 350 degrees F.
In a large mixing bowl, beat softened butter with brown sugar until fluffy. Add in the egg and molasses and mix until combined.
Add the dry ingredients. Stir in the flour, baking soda, cinnamon, ginger, cloves, and salt. Mix until well blended.
Press cookie dough into the bottom of the prepared baking dish. Flour your fingers lightly if needed, to keep dough from sticking.
Bake for 15 to 18 minutes, until set. Remove from oven and cool completely on wire rack.
How to make Cream Cheese Frosting
In a large bowl, with a whisk attachment, beat butter and cream cheese until smooth and creamy for about 4 minutes. Add in powdered sugar and vanilla extract.
Beat an additional 3-4 minutes until fluffy.
Spread cream cheese frosting over cooled gingerbread cookie bars. Add sprinkles if desired.

How to store Gingerbread Cookie Bars
Store gingerbread bars in an airtight container at room temperature for up to one week.
If desired, you can freeze these cookie bars (before and/or after adding frosting). Wrap cut bars in plastic wrap, then foil. Slide into a ziploc freezer bag and store for up to one month.
To thaw, remove frozen bag from freezer and place on counter overnight. ENJOY.
Christmas Cookie recipes
If you're looking to create the most spectacular cookie platters this year, here are some of my favorite family cookie recipes.
Need a gingerbread cookie recipe? I personally love these Gingerdoodle cookies. They are a cross between a gingerbread cookie and snickerdoodle.
Anyone remember Jingles cookies from childhood? I can no longer find them in stores, so I create my own recipe, using shortbread and anise extract!
Get festive with these Cranberry White Chocolate Shortbread Cookie Sticks. Melt in your mouth delicious! You may need to double the recipe, these go fast!
If you're looking for The Best M&M's Cookies, you've arrived! The secret to soft, chewy cookies is pudding mix!
Whether you call these by Swedish Heirloom Cookies or by many of their other names (Snowballs, Mexican Wedding Cookies, Russian Tea Cakes), you just need to try them. The buttery almond flavor melts in your mouth!
Delicious, melt in your mouth, Pecan Egg Nog Cookies. These little cups will be all the rage at your next cookie exchange. Or keep them for yourself!

More Cookie and Easy Dessert Recipes:
Hate making cutout gingerbread cookies? These Gingerbread Cookie Bars are soft and chewy and topped with a delicious cream cheese frosting. Whip up a batch this holiday season!