These Buckeye Brownies are amazing! Rich chocolate brownies topped with a homemade peanut butter filling and chocolate ganache.
If you LOVE Buckeyes you will also love these Buckeye Bars. Much like the original, except there is no dunking each individual piece in chocolate. SO easy and delicious.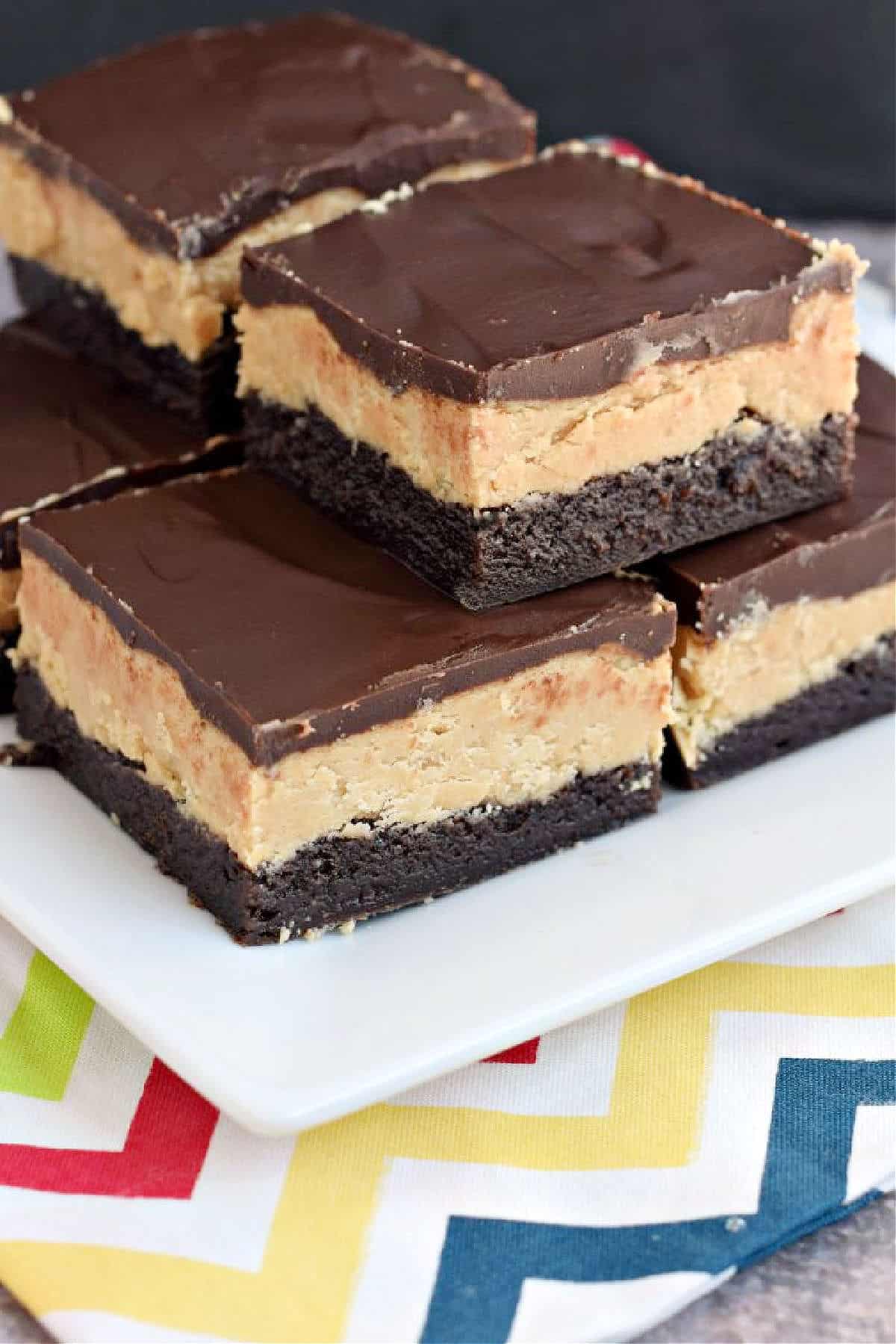 Why this Recipe is Best
Imagine making your own Reese's peanut butter cup recipe. Smooth and creamy peanut butter dipped in rich chocolate.
A buckeye brownie is that same flavor on top of a fudgy chocolate brownie. Perfection.
The layers.
Brownies. Because these brownies have so much going on I usually opt for a boxed mix. But of course you could make my homemade brownies instead!
Peanut Butter Filling. This is the best layer. Soft peanut butter combined with butter, vanilla and powdered sugar to create the perfect texture!
Ganache. The chocolate ganache is soft enough to sink your teeth into, but not runny that leaves your hands covered in chocolate. You decide if you want dark, milk, or semi-sweet chocolate!
If you love today's brownies, be sure to try our chocolate peanut butter pie next! Or give our buckeye brownie cookie recipe a try- it's a copycat Crumbl cookie!
Ingredient Notes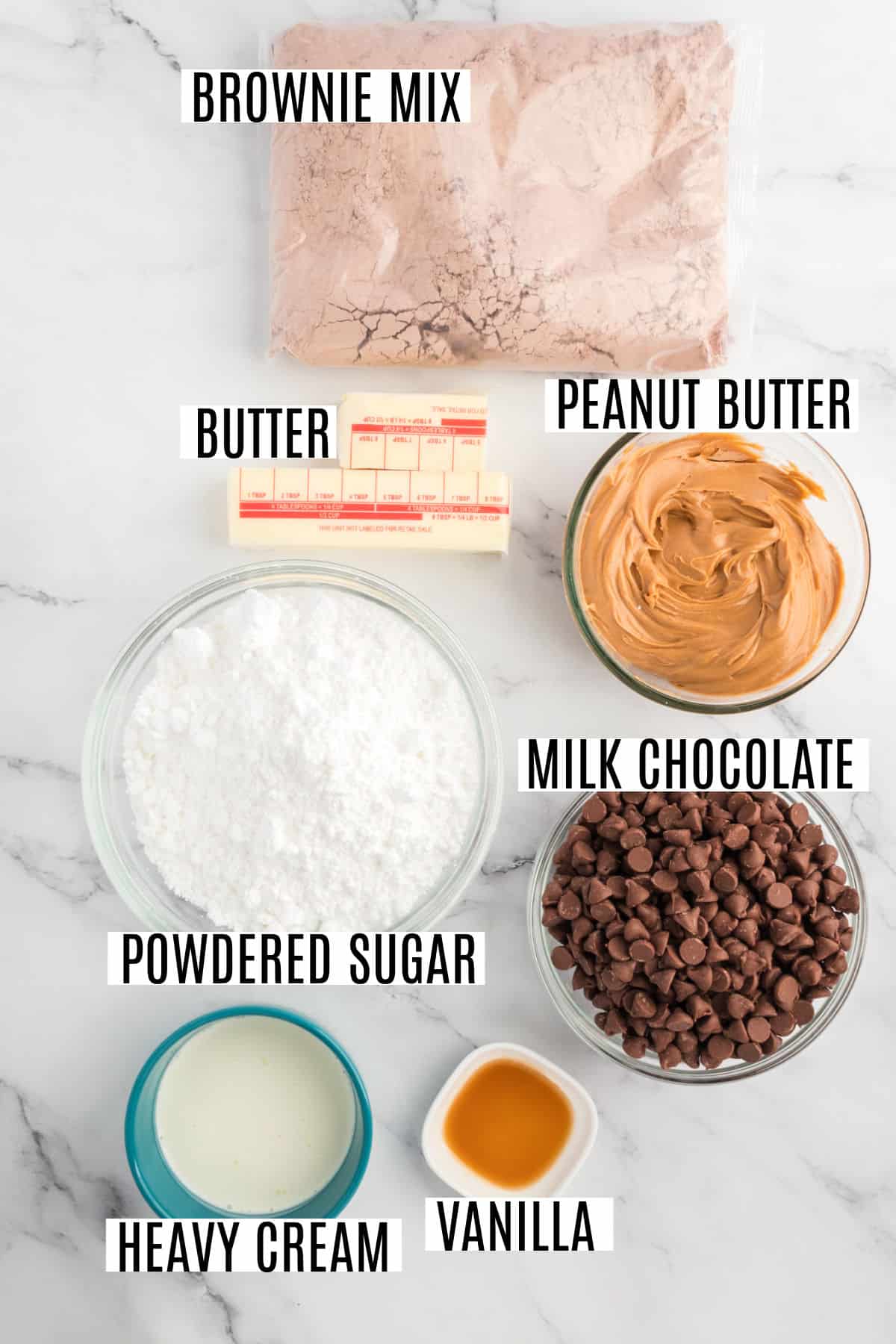 Brownie Mix- look for a brownie that can be made in a 13×9 baking dish. You'll also need the ingredients on the box to make the brownies, usually egg, oil, and water!
Peanut Butter- opt for a shelf stable peanut butter, like Skippy or Jif, as they tend to produce the best results.
Powdered Sugar- used as a sweetener for the peanut butter layer. We love powdered sugar because it sweetens without creating a grainy texture.
Butter- use our guide on how to soften butter quickly.
Vanilla- pure vanilla extract is best. Try our homemade vanilla extract, it's delicious and cost effective!
Milk Chocolate & Heavy Whipping Cream- for the ganache on top. A good quality chocolate is best here, semi-sweet works well too.
How to make Buckeye Brownies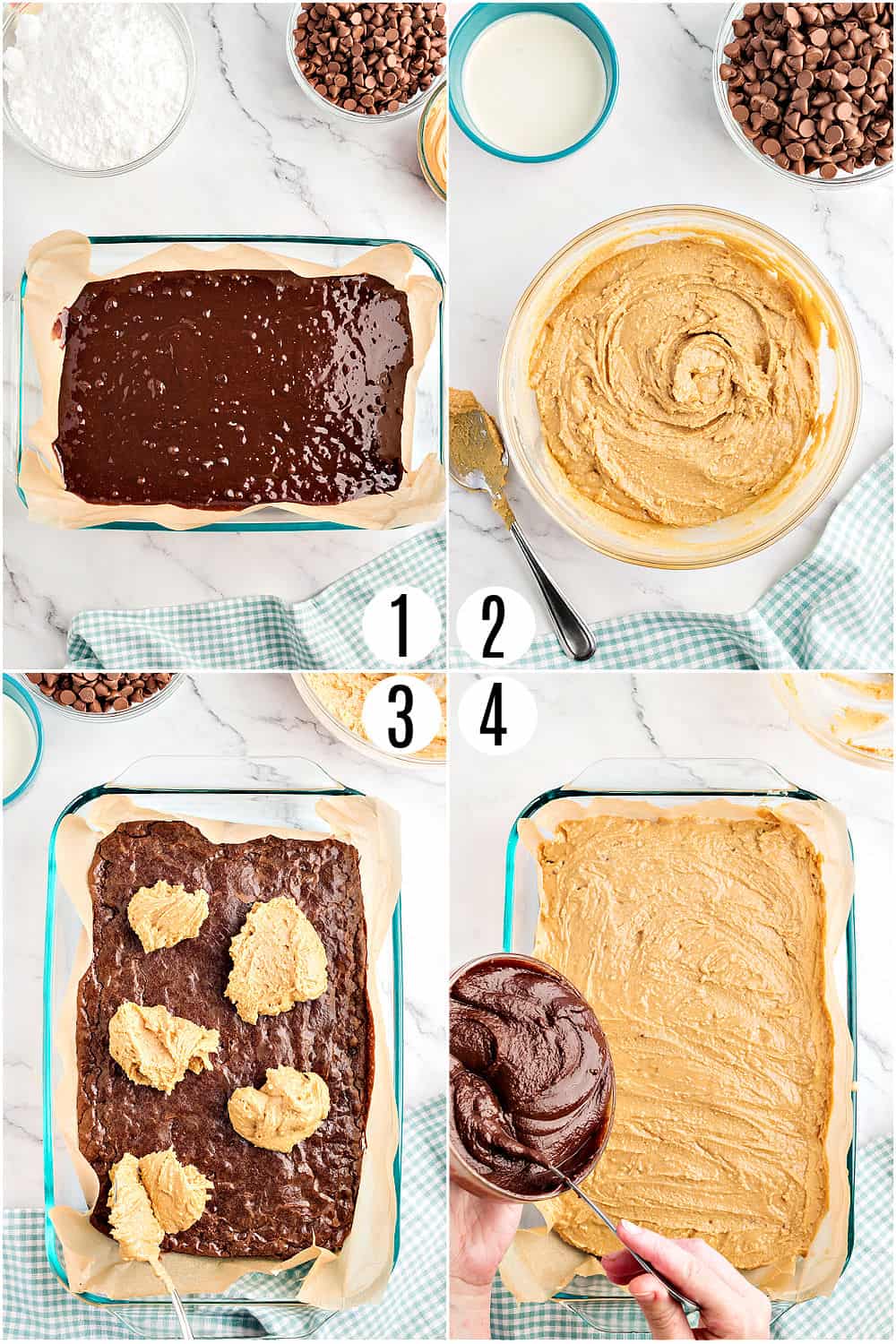 Brownies. Start by making a batch of brownies in a 13×9 baking dish. You can use a boxed mix or try your hand at homemade. For today's recipe, a quick batch of boxed brownies is the way I chose to go. Our dark chocolate brownies would make a great base!
PRO TIP: Make sure you line your baking dish with parchment paper before baking. This will allow you to easily lift them out of the pan and slice for serving.
Peanut Butter Filling. While your brownies are baking, make your peanut butter filling. Beat ingredients until combined into a soft "dough."
Remove brownies from oven and gently drop peanut butter mixture onto top of warm brownies. Use your finger tips to make sure the brownies are completely covered.
For the ganache, in a small microwave safe bowl, combine chocolate chips and heavy whipping cream. Heat for one minute and stir until smooth. Pour over peanut butter layer and spread evenly. 
Chill. Cool completely by refrigerating brownies for 2 hours (or more). Cut into bars while chilled and enjoy!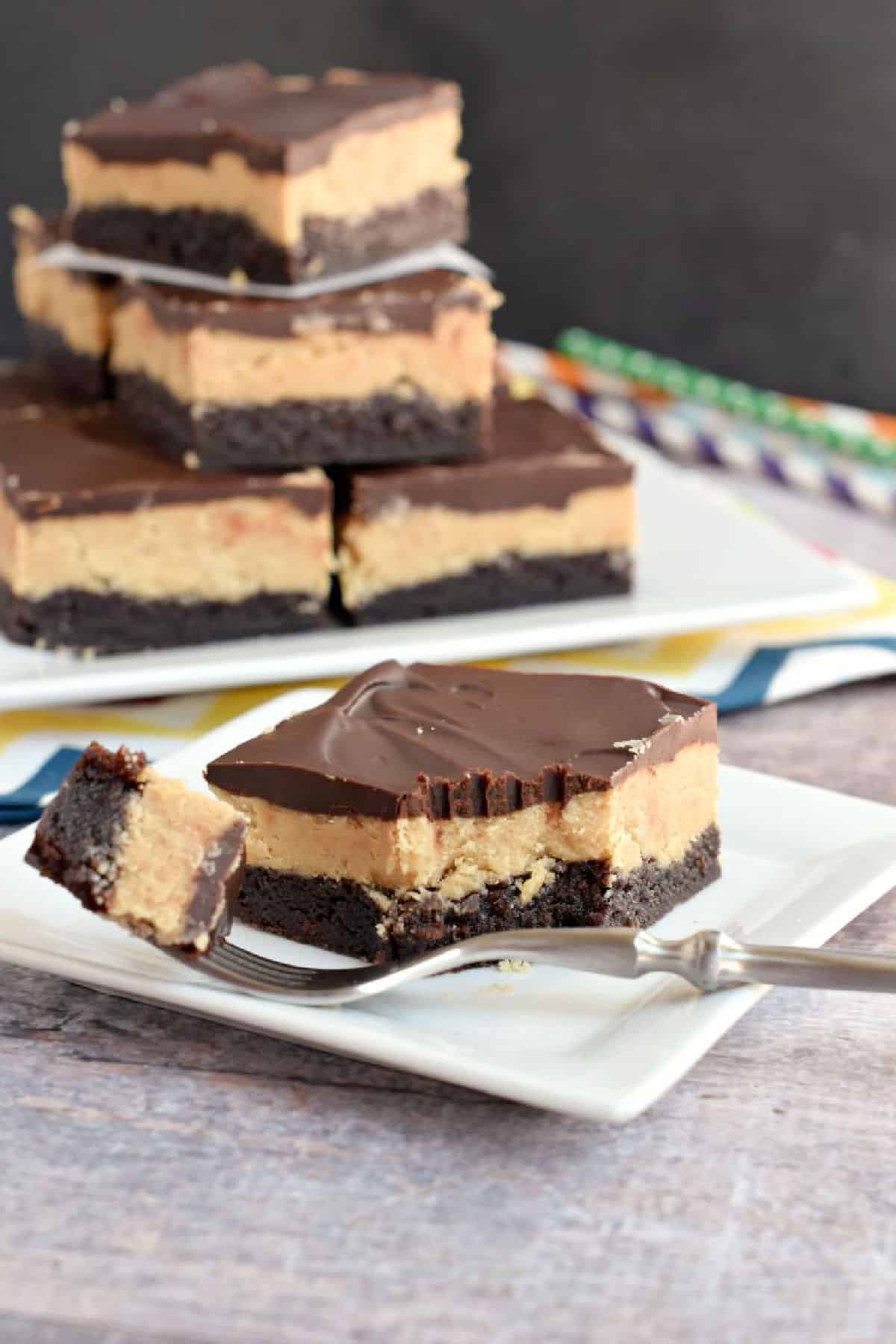 More Easy Desserts