Chocolate Peanut Butter Biscotti
Everyone loves the perfect marriage of chocolate and peanut butter, right? This Chocolate Peanut Butter Biscotti is a crunchy cookie…for BREAKFAST! You're welcome.
Be sure to follow me on Bloglovin'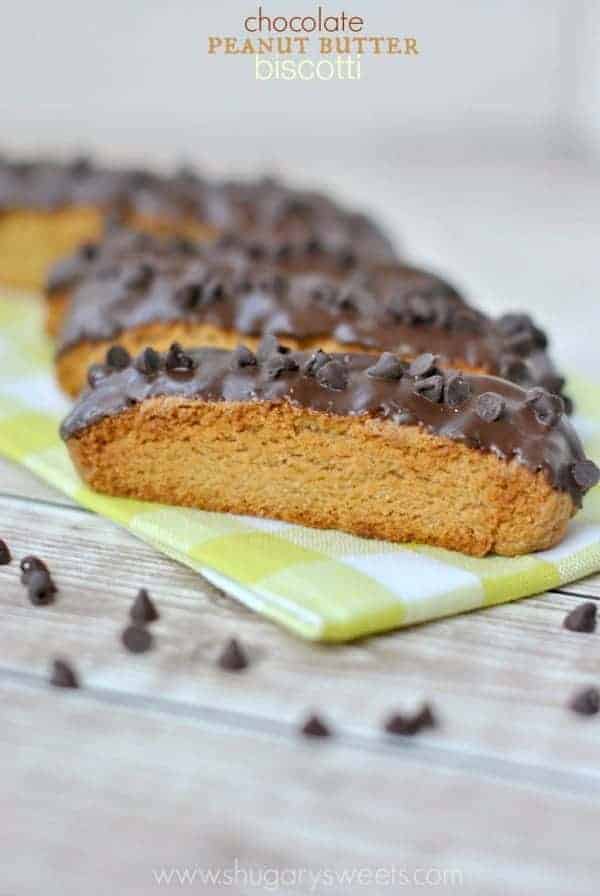 I'm back with another biscotti recipe. Are you sick of these yet?
I sure hope not, because I have a long list of flavors I plan on tackling!
Today's though, is perfect. Chocolate and peanut butter recipes seem to do really well on the blog. Apparently you guys seem to enjoy that combo. Am I right?
So I figured, why not incorporate it into a biscotti flavor?
I sure hope when I move that I find neighbors who like a hot cup of coffee with some crunchy biscotti. My obsession with making this breakfast treat is not waning, so I need more people to come enjoy it with me!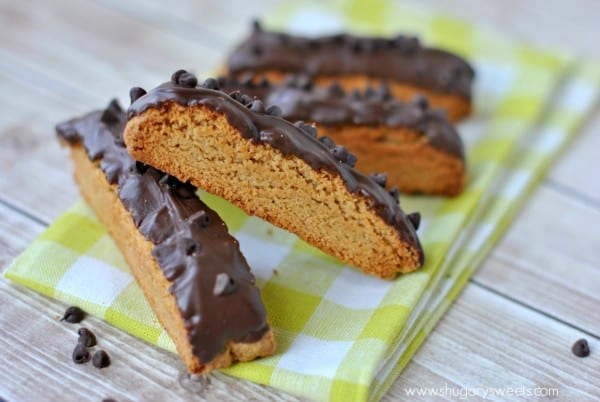 Have you tried making your own biscotti yet? I mean c'mon slackers. I've got so many flavors on the blog already….lemon, cranberry orange, snickerdoodle, caramel macchiato, and more….surely one of these appeals to your taste buds?
And, like I've mentioned in almost EVERY biscotti post, it's so easy to make! Mix up the dough in a bowl. Drop it onto a parchment paper lined baking sheet. Use your hand (with a little extra flour) to pat it into the shape. Bake. Remove from oven, slice, lay slices on their side. Bake again. Flip. Bake again. You can do this.
Did you hear me? YOU CAN DO THIS!!!
So, what are you waiting for? Is there a flavor of biscotti you are hoping to see? One that might finally push you to bake your own batch? Leave me a comment below and I'll work it into my list!!
If you make one of my biscotti recipes, take a picture and tag me on instagram or facebook! I'd love to see it!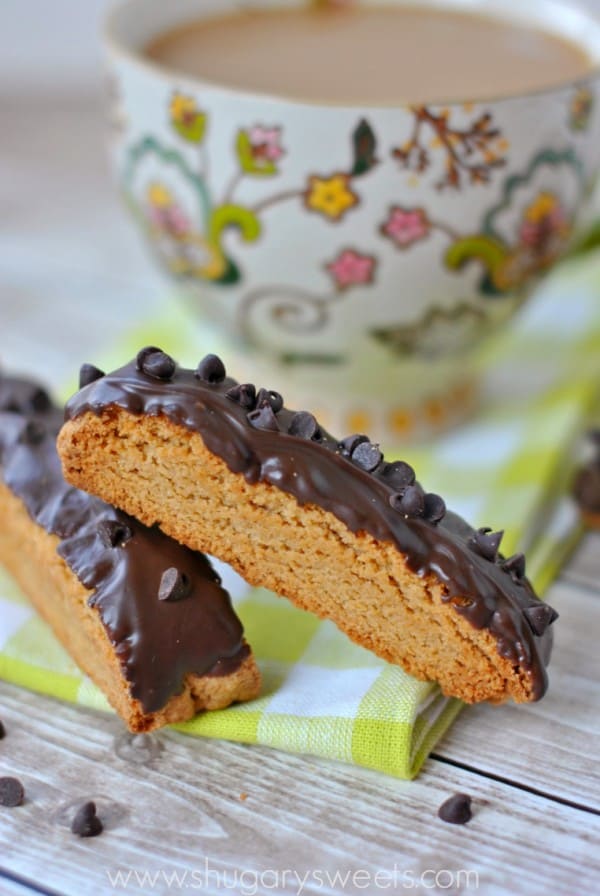 Connect with Shugary Sweets! Be sure to follow me on my social media, so you never miss a post!
Pinterest | instagram | Bloglovin'
Yield: 12 large biscotti
Chocolate Peanut Butter Biscotti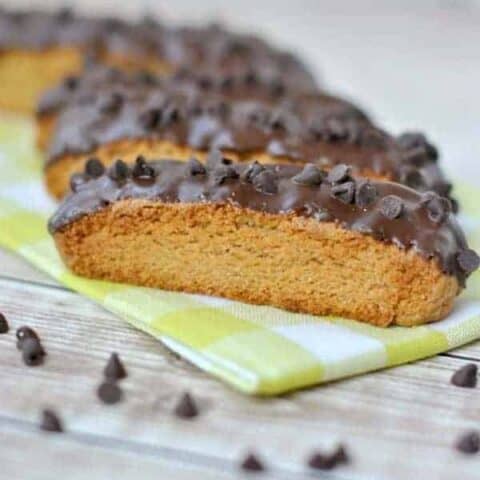 Ingredients
6 Tbsp unsalted butter, softened
3/4 cup granulated sugar
1/3 cup creamy peanut butter
2 large eggs
2 cup all-purpose flour
1 tsp baking powder
3/4 cup Ghirardelli dark chocolate melting wafers
2 Tbsp mini chocolate chips
Instructions
In a large bowl, beat together the butter, sugar and peanut butter until combined. Beat in eggs, one at a time. Add flour and baking powder, beat until fully incorporated.
Line a large baking sheet with parchment paper or silpat. Place dough on baking sheet and press (using floured hands) into a 12inch x 4inch rectangle. Bake for 25 minutes in a 350 degree oven. Remove and cool 10 minutes.
Slice into 3/4-1inch slices. Turn each slice carefully onto it's side. Return to oven and bake 8-10 minutes. Flip to opposite side and bake an additional 8-10 minutes. Remove and cool completely.
Melt chocolate wafers according to package directions. Dip tops of each cooled biscotti into melted chocolate and immediately add mini chocolate chips for garnish. Allow to set, about 15 minutes.
Store in an airtight container or ziploc bag for up to 10 days. ENJOY.
More great Chocolate Peanut Butter recipes….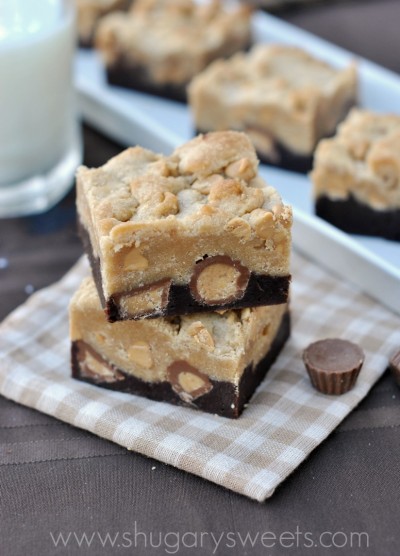 Chocolate Peanut Butter Brookies: layer of brownies topped with peanut butter cookies and Reese's!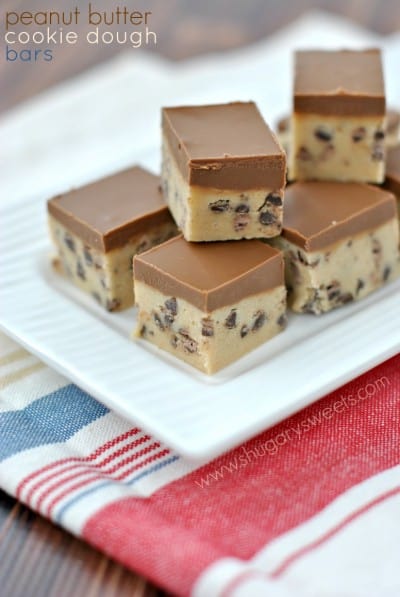 Peanut Butter Cookie Dough Bars: sweet peanut butter cookie dough (safe to eat!) topped with creamy chocolate!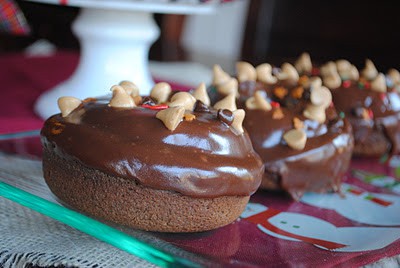 Chocolate Peanut Butter Donuts: easy, chocolate baked donuts topped with a creamy chocolate peanut butter ganache!
More delicious Chocolate Peanut Butter recipes from my favorite blogs….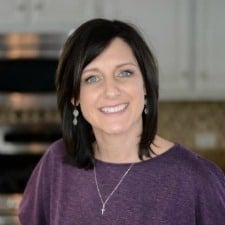 Aimee is a dessert lover (specifically rice krispie treats), workout enthusiast, self-taught foodie, and recipe creator. Her recipes have been featured in over 15 magazines, and her passion is to share her love of cooking with the everyday home cook! Learn more about Aimee.