Want to learn how to make biscotti? This Chocolate Peanut Butter Biscotti Cookie is a crunchy breakfast treat that's easier to make than you expect!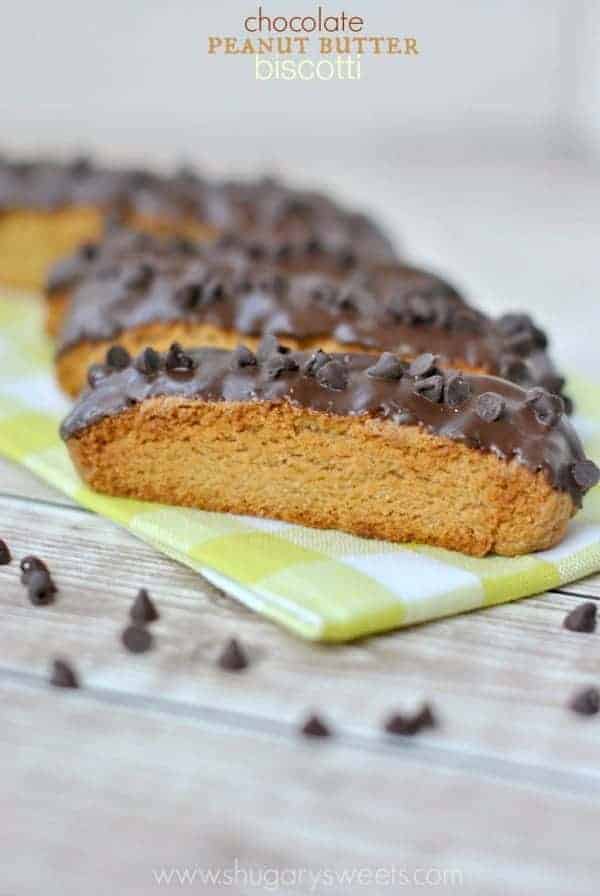 I'm back with another biscotti recipe. Are you sick of these yet?
I sure hope not, because I have a long list of flavors I plan on tackling!
Biscotti
Today's Biscotti is perfect. Based on how excited everyone always is about chocolate and peanut butter together, I had a hunch you'd be at least a little intrigued by that combo in biscotti recipe.
So I figured I'd give it a try. Yes, that means I had to eat a lot of these crunchy chocolate and peanut butter cookies to make sure the recipe was good enough to share.
The things I do for my readers, right?
A hot cup of coffee with crunchy biscotti is a match made in heaven. I enjoyed two of these for breakfast and another as an afternoon pick-me-up!
What is biscotti?
Originating in Italy, biscotti are twice baked cookies with extra crunch! You may have seen them in the pastry case at your favorite cafe or enjoyed one alongside your after dinner coffee at an Italian restaurant.
These days, biscotti come in all kinds of flavors! I've made plenty recently as my obsession with having cookies for breakfast shows no sign of waning. From the simple Lemon Biscotti to the decidedly untraditional Pumpkin M&Ms version, I can't get enough.
Technically, biscotti is the plural form. If you eat just one, you're having a "biscotto." But who can eat just one?!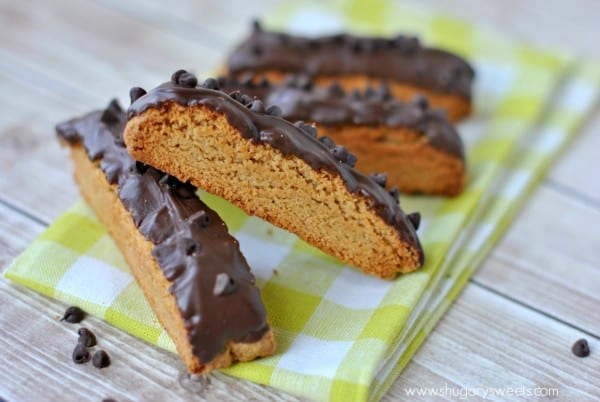 How to Make Biscotti
Have you tried making your own biscotti yet? I mean, c'mon slackers. I've got so many flavors on the blog already.
Let me walk you through the process with this easy recipe. Unlike other cookie recipes, you bake this dough twice; once before cutting and once after.
The result is a firm biscuit like cookie with a huge crunch factor.
To make the dough:
Beat together butter, sugar and peanut butter in a large bowl, then add eggs, flour and baking powder. Mix until everything is well combined and forms a solid dough.
Bake the dough:
Line a large baking sheet with parchment paper or a reusable baking mat. Dust your hands with flour and place the whole ball of dough onto the pan, pressing it into a 12inch x 4inch rectangle.
Bake the dough in rectangle form for 25 minutes then let it cool for 10 minutes.
Slice the Biscotti:
Use a sharp knife to cut the rectangle into 3/4-1inch slices. Turn each slice carefully onto it's side, then bake 8-10 minutes. Flip to the opposite side and bake an additional 8-10 minutes.
Remove and cool completely.
Chocolate Covered Biscotti
If you stop there, you'll have a delicious batch of peanut butter biscotti to share. Because I wanted a biscotti with both chocolate and peanut butter, I decided to add a layer of chocolate to the outside. . . and I'm so glad I did!
For the chocolate layer:
Melt a package of chocolate wafers according to package directions. I melted mine in the microwave.
Dip tops of each cooled biscotti into melted chocolate and immediately and allow the cookies to set until the chocolate has firmed up a bit.
Optional garnish:
I wanted some more texture and, let's be honest, more chocolate so I opted to dip the biscotti into mini chocolate chips before letting the chocolate set, too. You don't have to take this extra step, but I love the extra touch it adds.
How to Store Biscotti
Store in an airtight container or ziploc bag. They'll stay crunchy and fresh for up to 10 days.
You can also freeze your peanut butter biscotti dough for up to 3 months, if you want to prepare it ahead of time. Freeze the dough prior to baking, wrapped tightly in saran wrap and foil. When ready to bake, you can place it right in the oven, adding 5 – 10 minutes of baking time. No need to thaw first.
Chocolate Peanut Butter Biscotti
Biscotti and coffee are made for each other. Nibbling on a biscotto while I sip an espresso makes me feel like I'm sitting at a sidewalk cafe in Rome. . . but you don't need to limit these crispy baked treats to coffee hour.
Their crunchiness makes them perfect for dipping into milk or tea, if you're not a coffee fan. Or, simply, enjoy them all on their own!
Now that you know how to make biscotti at home, what are you waiting for? This easy biscotti recipe was created with fans of chocolate and peanut butter in mind. I know you're going to love it!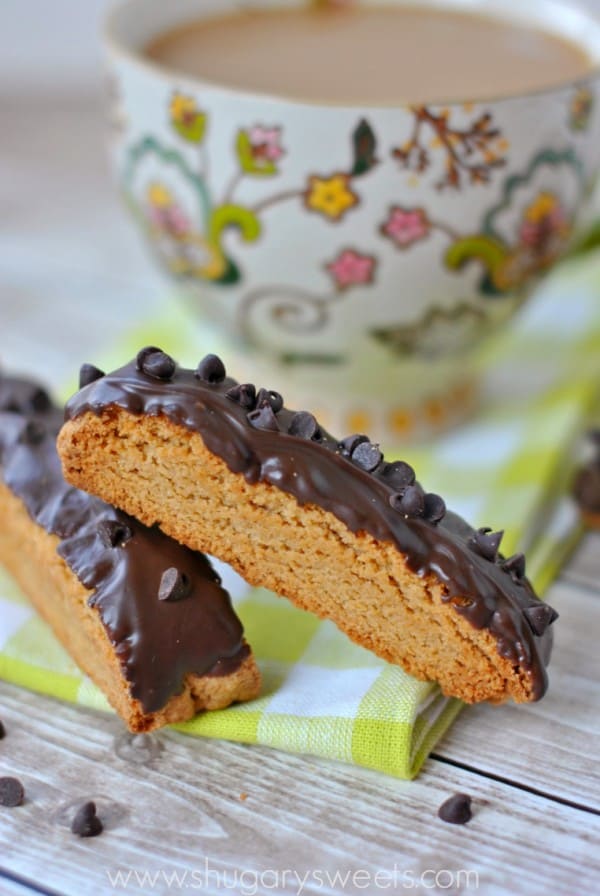 More Chocolate Peanut Butter recipes….