Peanut Butter Brookies are the marriage of fudgy brownies and chewy peanut butter cookies! This recipe features even more decadence with the addition of Reese's peanut butter cups. This easy to make dessert blows everyone away!
Have you learned how to make Brookies yet? It's no more difficult than making a pan of brownies or cookie bars, but the results are doubly impressive!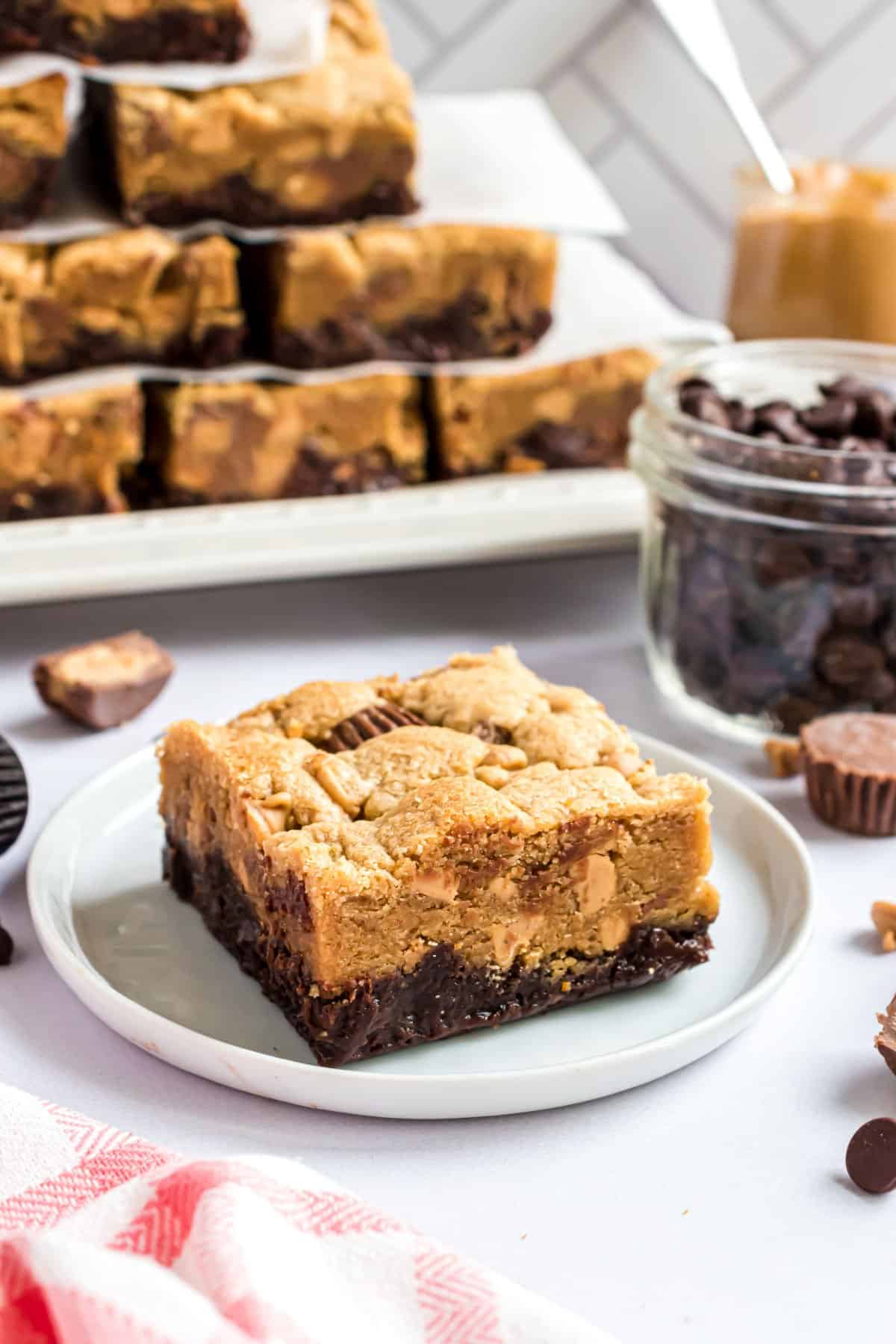 Why this Recipe Works
I don't know a lot of things, but here's one: people love the combo of chocolate and peanut butter!
People also love brookies–the result of adding a layer of cookie dough to a pan of brownie batter before baking.
Today's recipe combines ALL of those favorites into one delicious and easy dessert bar.
Can't decide between a pan of brownies or a batch of peanut butter cookies? Peanut Butter Brookies are the answer!
Both layers of this treat are moist, fudgy and chewy.
We added peanut butter morsels AND peanut butter cups to put these over the top!
If you love today's recipe, be sure to try our chocolate peanut butter cookies next. So fudgy and good.
Ingredient Notes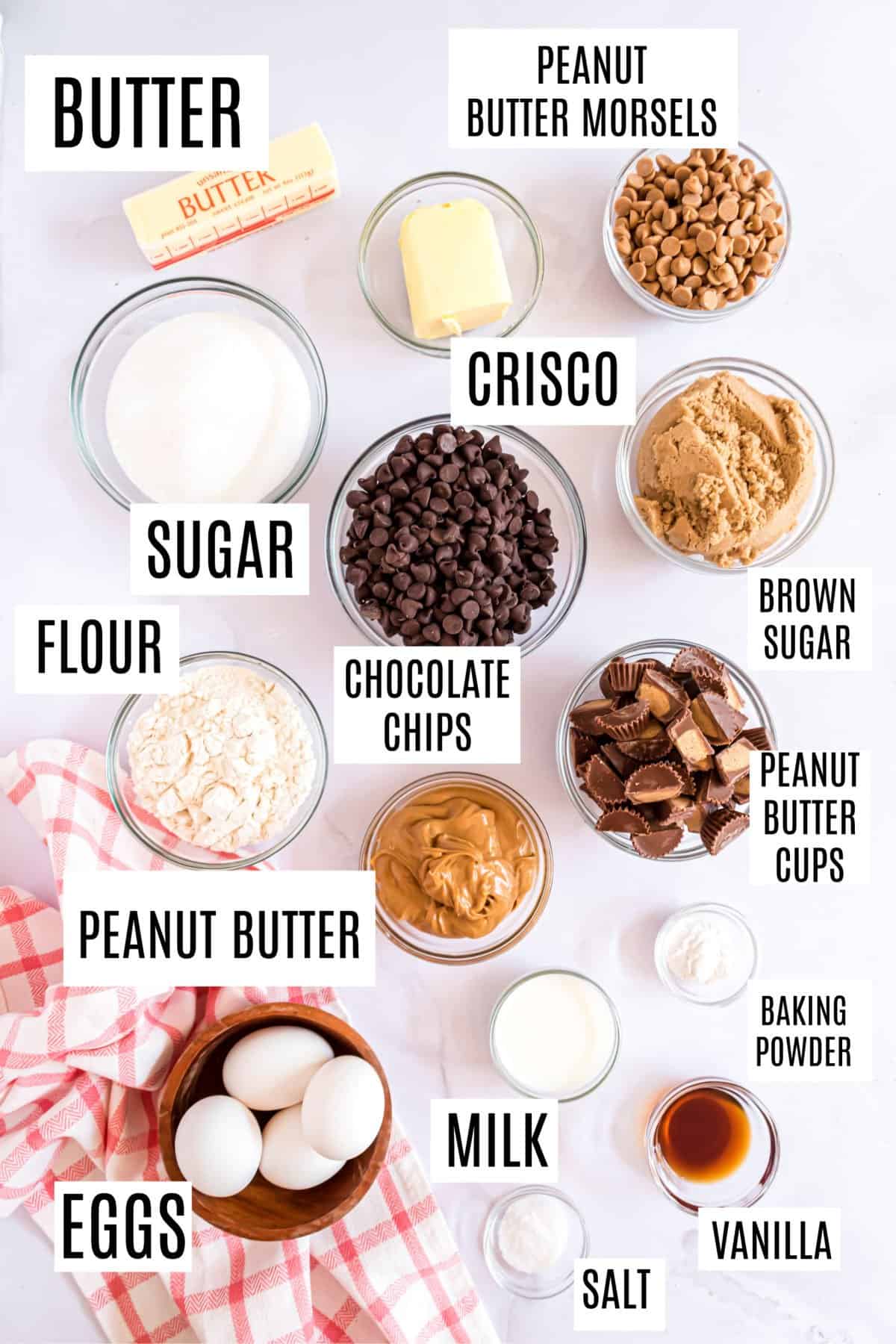 Crisco. Using shortening in the cookie layer is vital for the ideal texture. We used butter flavor but plain shortening works well too.
Unsalted butter. Using unsalted butter allows you to control the saltiness of the finished peanut butter brookies. You'll need melted butter for the brownie layer and softened butter for the cookies.
Creamy peanut butter. We prefer the consistency of regular shelf stable peanut butter like (Jif or Skippy) when baked into cookies. Natural styles of peanut butter have oils that separate as the cookie layer bakes, which would make it crumbly or greasy.
Vanilla. For best flavor, use pure vanilla extract. Our homemade vanilla gives these brookies an incredible depth of flavor.
Reese's peanut butter cups. For this recipe, you will need mini peanut butter cups unwrapped. You can also use full sized peanut butter cups cut up into 1 inch pieces. Use our homemade peanut butter cups for a delicious twist.
Easy Instructions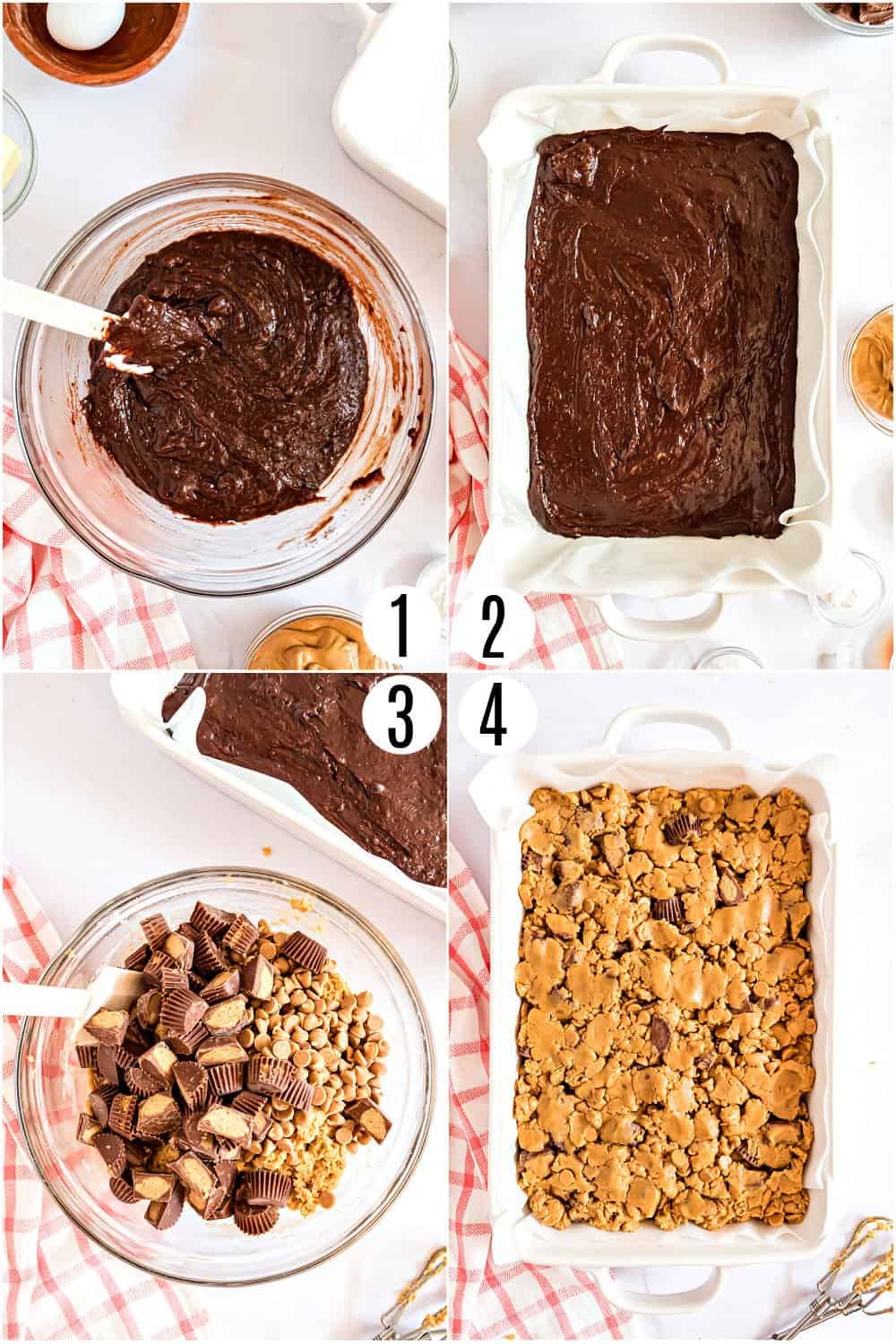 For the brownie layer:
Melt chocolate chips with butter and stir until smooth. Mix in sugar, flour and eggs until combined. Pour the brownie batter into a baking dish lined with parchment paper.
For the cookie dough:
Beat the shortening and butter together. Then, mix in the remaining ingredients. Fold in the peanut butter morsels and Reese's cups.
Assemble and bake:
Smooth the cookie dough over the brownie batter layer and bake.
Let the Peanut Butter Brookies cool completely at room temperature. Then, transfer to the fridge to chill before cutting into bars.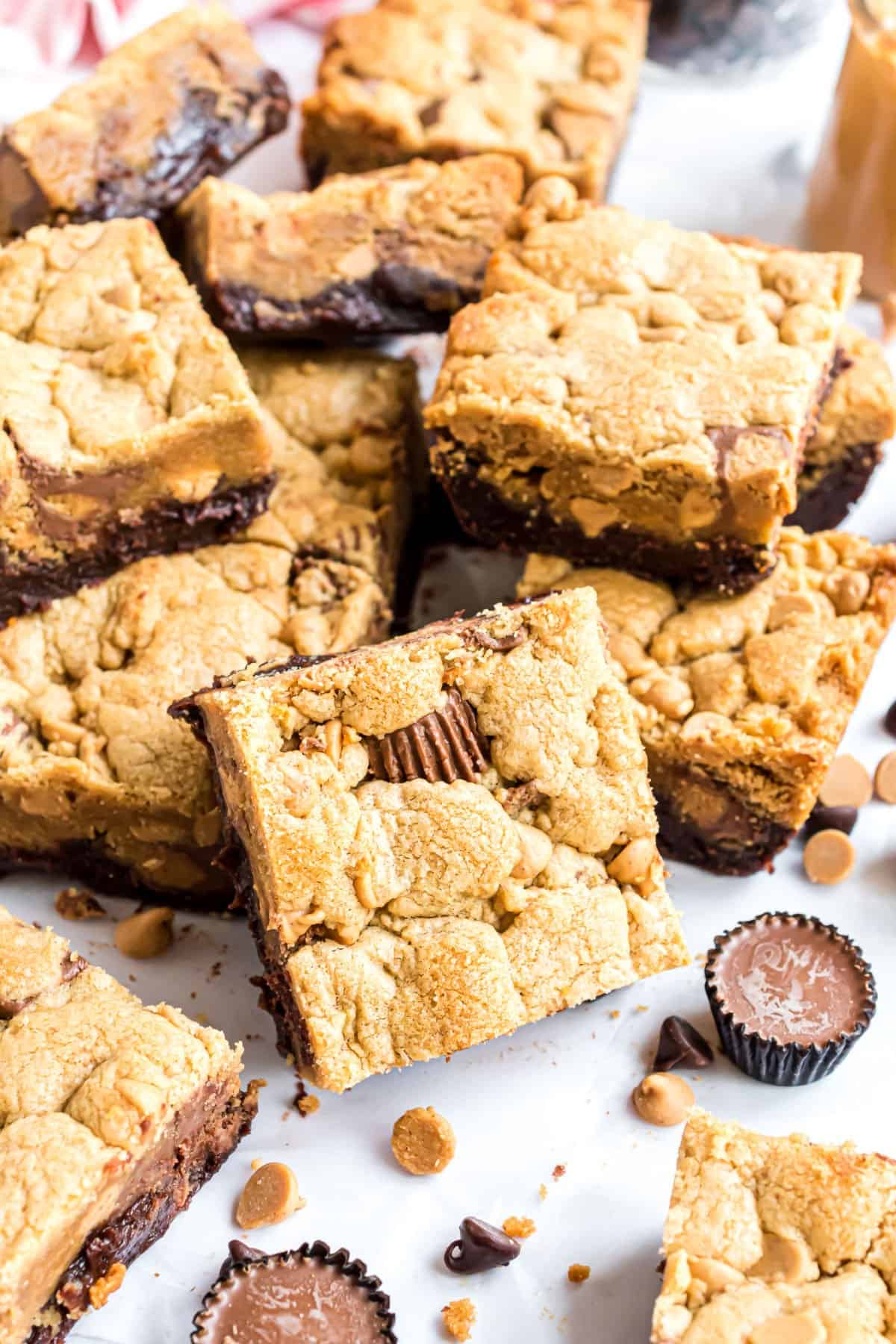 Tips and Tricks
It's okay if the cookie layer still looks a bit soft when you take it out of the oven. It will continue firming up as the brookies cool down.
These Peanut Butter Brookies taste amazing served cold straight from the fridge. You can also let them come to room temperature if you prefer. They're delicious either way!
Use a clean plastic knife to slice the brookie bars for a perfectly smooth cut.
Recipe FAQs
I only have salted butter. Can I still make this peanut butter brookies recipe?
Yes–don't let your lack of unsalted butter stop you! If using salted butter, you may want to reduce or omit the added salt in the cookie layer.
Do I have to keep these brookies in the fridge?
Once they've firmed up and chilled, you can store them at room temperature if you prefer. Make sure to keep them in an airtight container either way!
Can I make this recipe with all butter instead of shortening?
Using butter instead of shortening will affect the appearance and consistency of the baked brookies. Shortening helps them brown and maintain a chewy texture, so I highly recommend making the recipe as directed.
Will this recipe work with natural peanut butter?
I haven't tested peanut butter brookies with natural peanut butter. However, I have found natural peanut butter tends to make peanut butter cookies greasy and crumbly, so I wouldn't recommend using it in this recipe.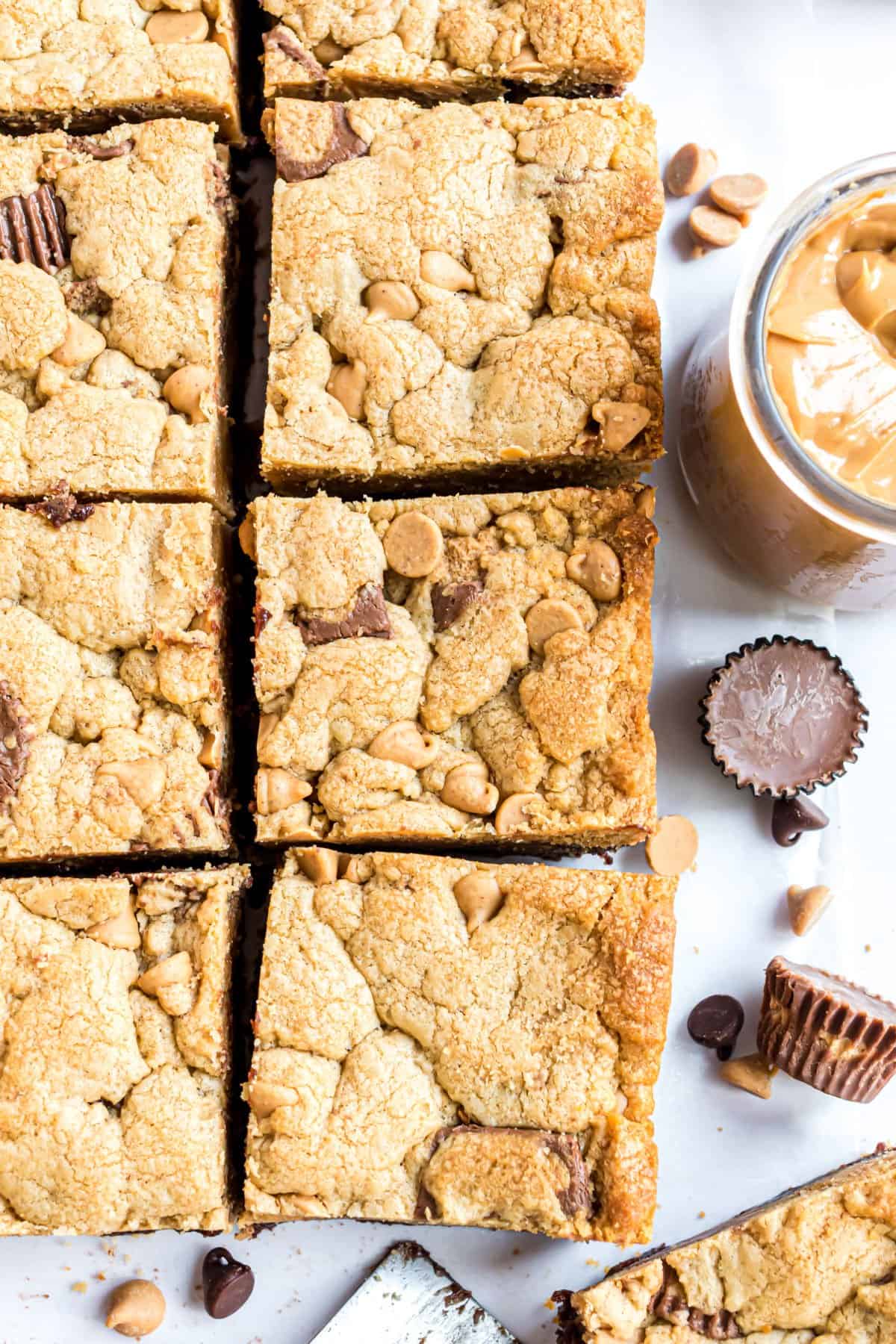 More Chocolate Peanut Butter Desserts
Why choose between Peanut Butter Cookies and Peanut Butter Brownies when you can have BOTH? Peanut Butter Brookies with Reese's Peanut Butter Cups are a homerun every time.