A chocolate brownie layer topped with peanut butter cookie and Reese's peanut butter cups! That's how you make Peanut Butter Brookies!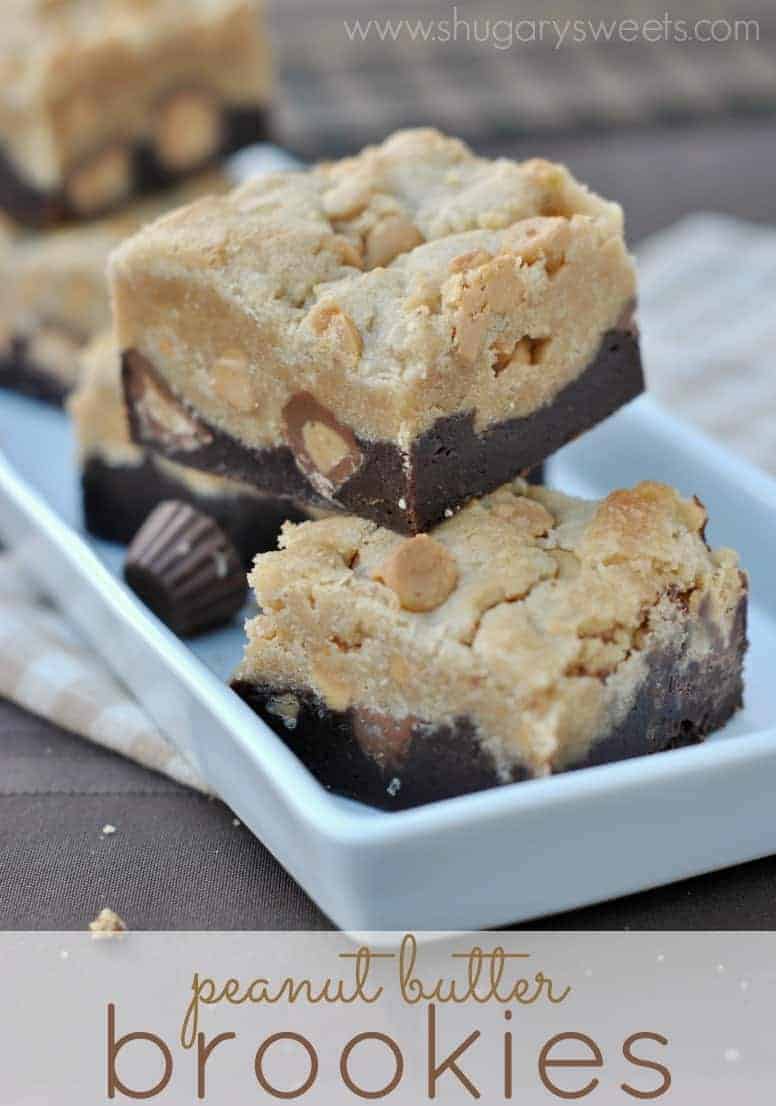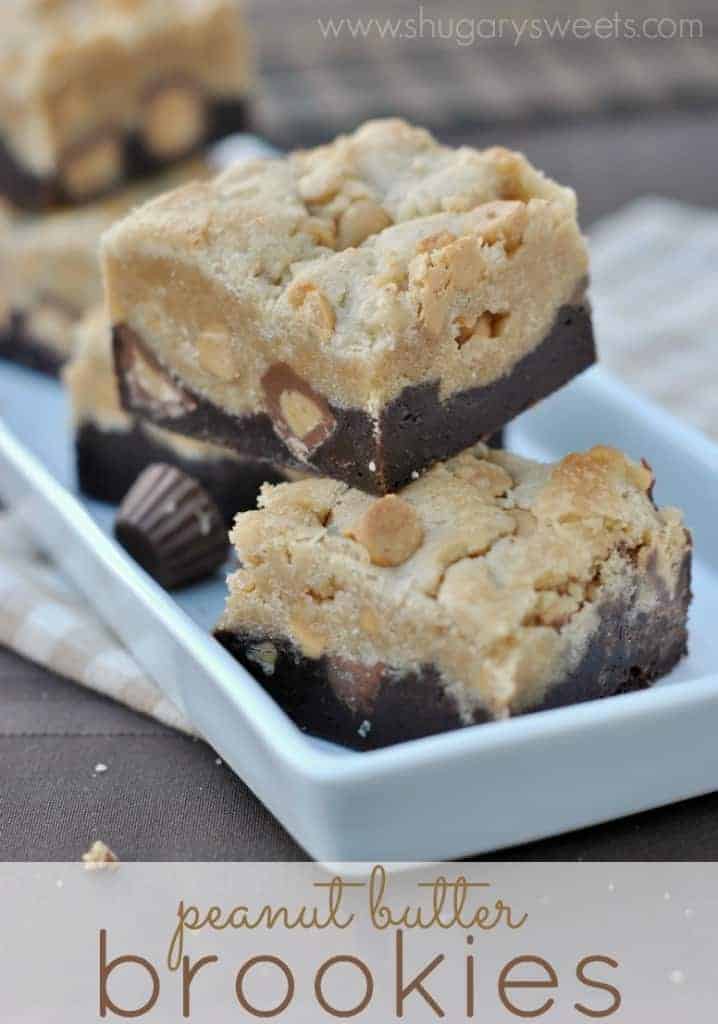 Brookies are one of my favorite desserts. It's what I make when I can't decide if I want brownies or cookies.
Normally I make brookies using chocolate chip cookie dough.
But today, I had this incredible craving for peanut butter and chocolate. Anyone else ever get this craving?

The cure for this craving was to make an over the top dessert combining my favorite brownie recipe with my favorite peanut butter cookie recipe. And throwing in some Reese's PB cups, of course!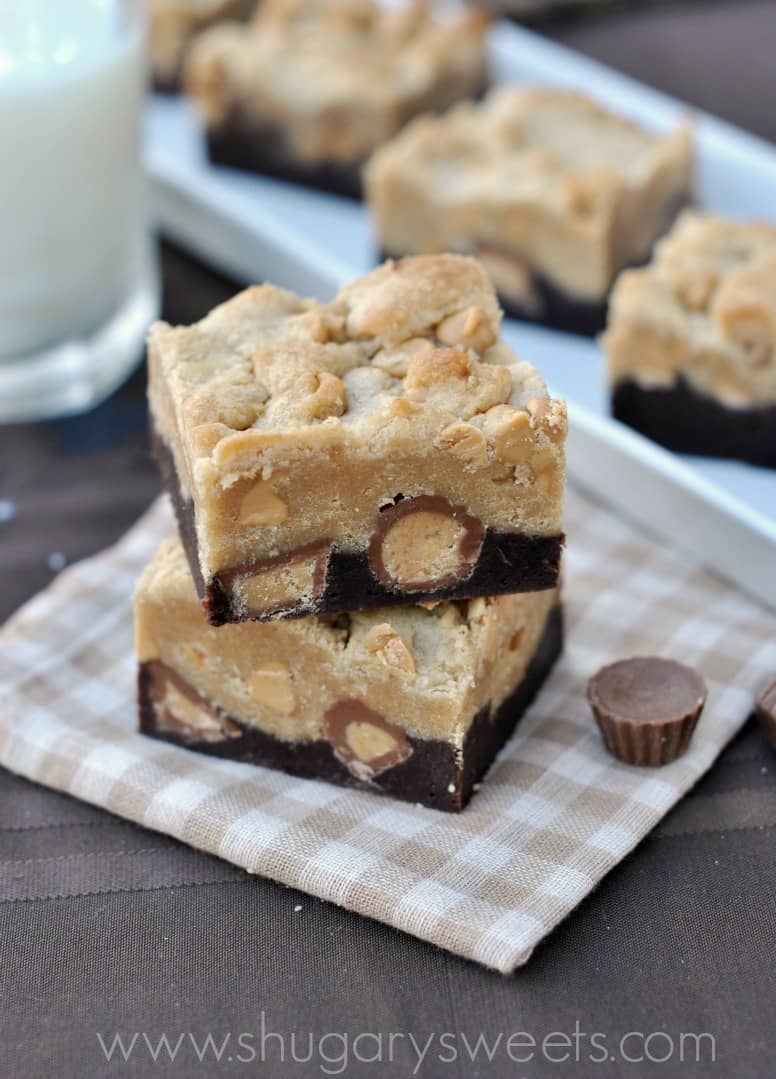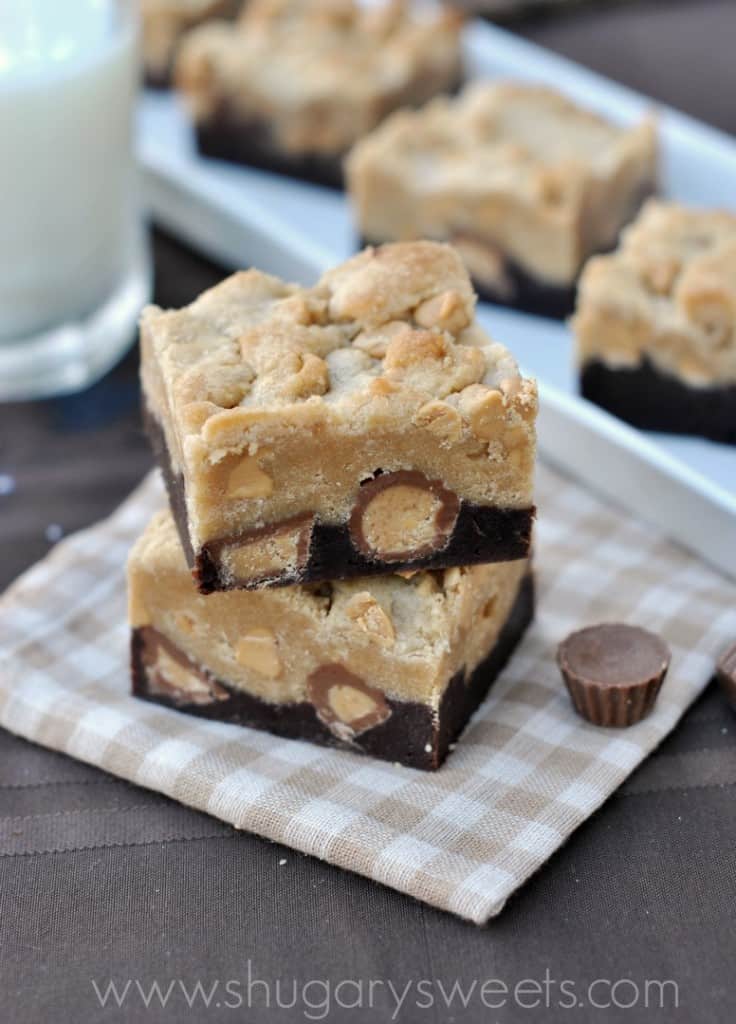 The dark rich chocolate brownies on the bottom of the Brookies is the first step to creating this ultimate dessert. I love using this brownie base on it's own or topped with butterscotch and KitKats. It's fudgy and rich and just perfect in every way a brownie should be!
I topped this brownie base with peanut butter cookie dough. Soft and chewy peanut butter cookies. On top of a brownie.
With Reese's mini peanut butter cups.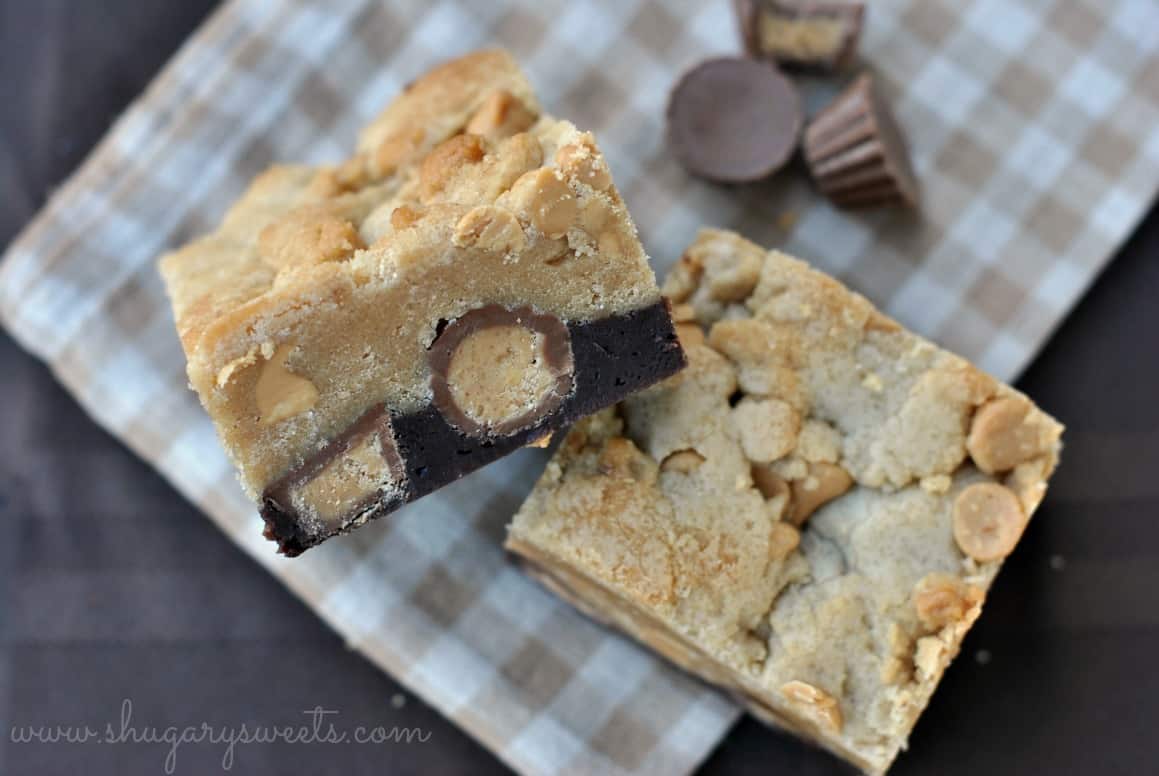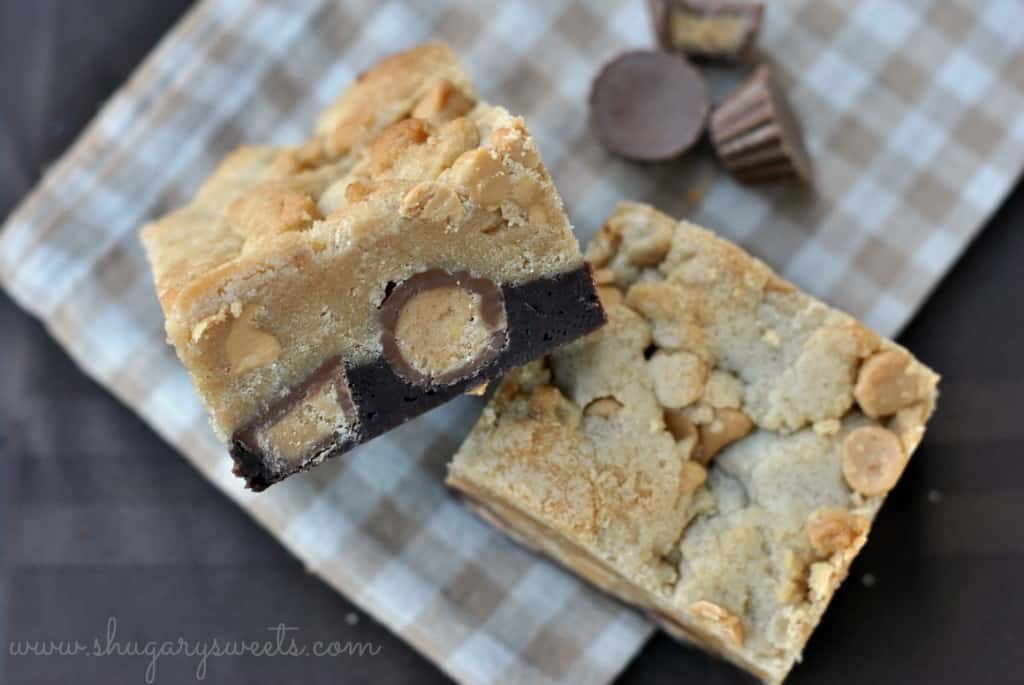 Must I repeat myself? These are amazing.
I refrigerated the cooked and cooled Brookies before cutting. It helps you get perfectly square cookie bars, with beautiful lines. And that's important. Because a cold Peanut Butter Brookie tastes just as delicious as a room temperature one, you decide how you like to eat yours!!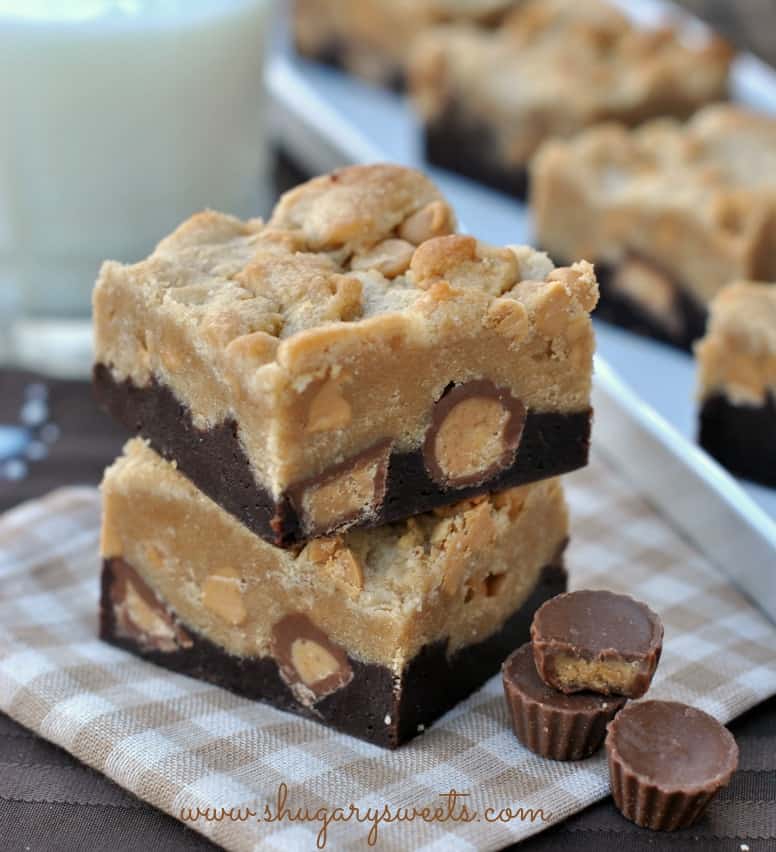 Just don't forget to have a cup of milk nearby. It completes the meal.
 Connect with Shugary Sweets!  
Facebook | Twitter | Google+ | Pinterest | instagram | Bloglovin'
Yield: 24 bars
Peanut Butter Brookies
Prep Time 15 minutes

Cook Time 35 minutes

A chocolate brownie layer topped with peanut butter cookie and Reese's peanut butter cups! That's how you make Peanut Butter Brookies!
Ingredients
For the Brownie layer:
1 cup granulated sugar
3/4 cup all-purpose flour
3 large eggs
1/2 cup unsalted butter, melted
2 cup semi-sweet chocolate morsels
For the Cookie layer:
1/2 cup butter flavored Crisco
2 Tbsp unsalted butter, softened
2 Tbsp milk
1 Tbsp vanilla extract
1/4 cup granulated sugar
1 cup light brown sugar
3/4 cup creamy peanut butter
1 large egg
1 3/4 cup all-purpose flour
1 tsp kosher salt
2 tsp baking powder
1 cup peanut butter morsels
8oz bag Reese's mini peanut butter cups
Instructions
For the brownie layer, melt chocolate chips with butter for 1 1/2 minutes in microwave safe glass bowl. Stir until smooth. Add sugar, flour and eggs and combine completely.
Pour into a 13x9 baking dish lined with parchment paper.
For the cookie dough, beet crisco with butter. Beat in milk, vanilla, sugars, peanut butter and egg. Add flour salt and baking powder. Fold in peanut butter morsels and Reese's mini PB cups.
Drop cookie dough onto brownie batter layer. Smooth evenly.
Bake in a 375 degree oven for 35-40 minutes. Remove and cool completely. Refrigerate and cut into bars.
Craving peanut butter and chocolate? How about some Chocolate Peanut Butter Fudge?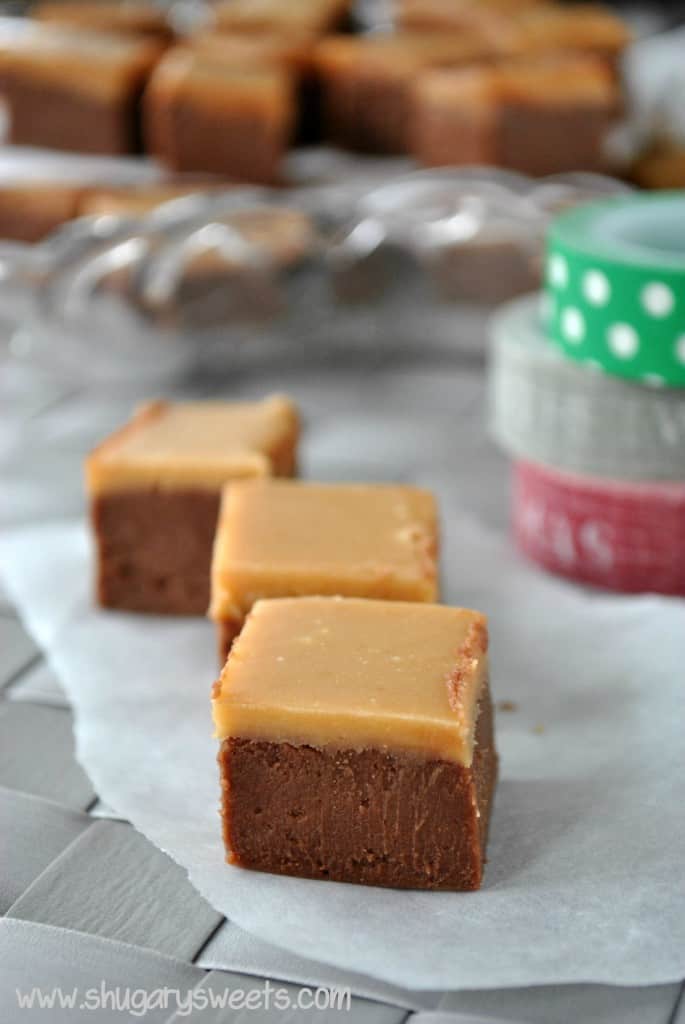 Maybe a batch of these SKINNY Chocolate Peanut Butter NO BAKE Cookies are the answer to your cravings?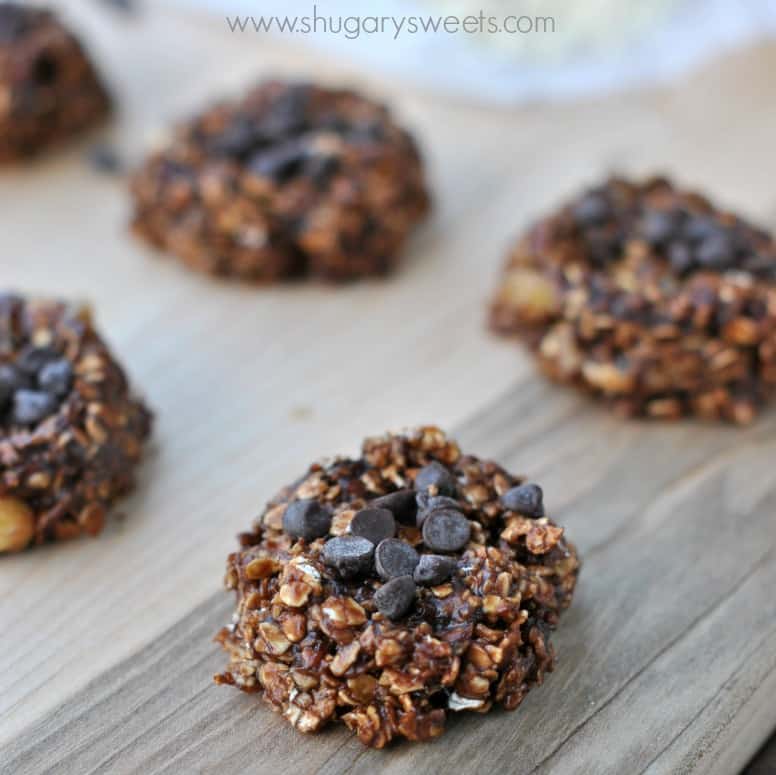 Oreo Peanut Butter Dip: a treat on a spoon, and the perfect hostess gift!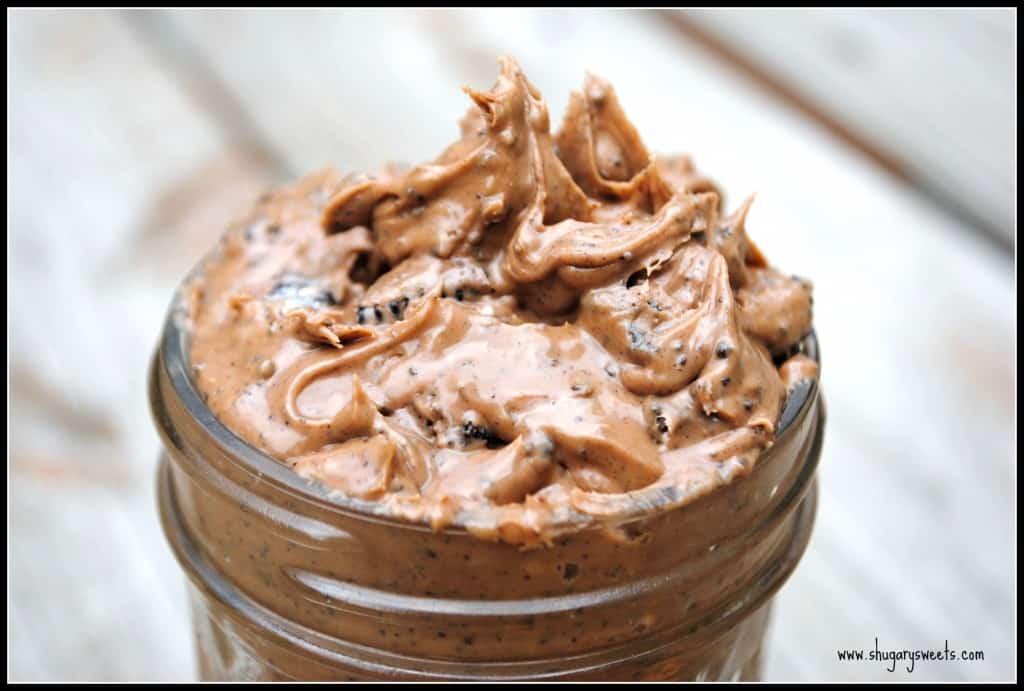 These Reese's topped Fluffernutter Rice Krispie treats are a delicious solution to your cravings too!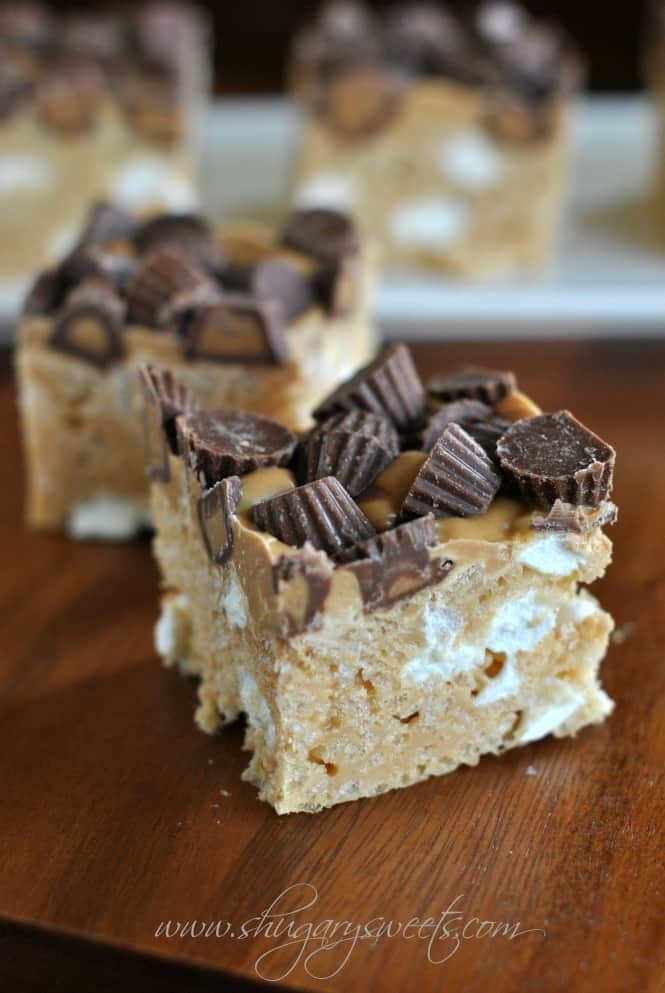 More delicious Peanut Butter and Chocolate Recipes from Blogs….
Chocolate Peanut Butter Pretzel Bars from Buns in My Oven
Peanut Butter Cookie Dough Brownie Bombs from The Domestic Rebel
Marshmallow Reese's Brownies from Inside Brucrew Life
Peanut Butter Cup Brownie Cupcakes from Love from the Oven