Perfect Peanut Butter Bars: Made with Reese's and peanut butter fudge on a peanut butter cookie crust!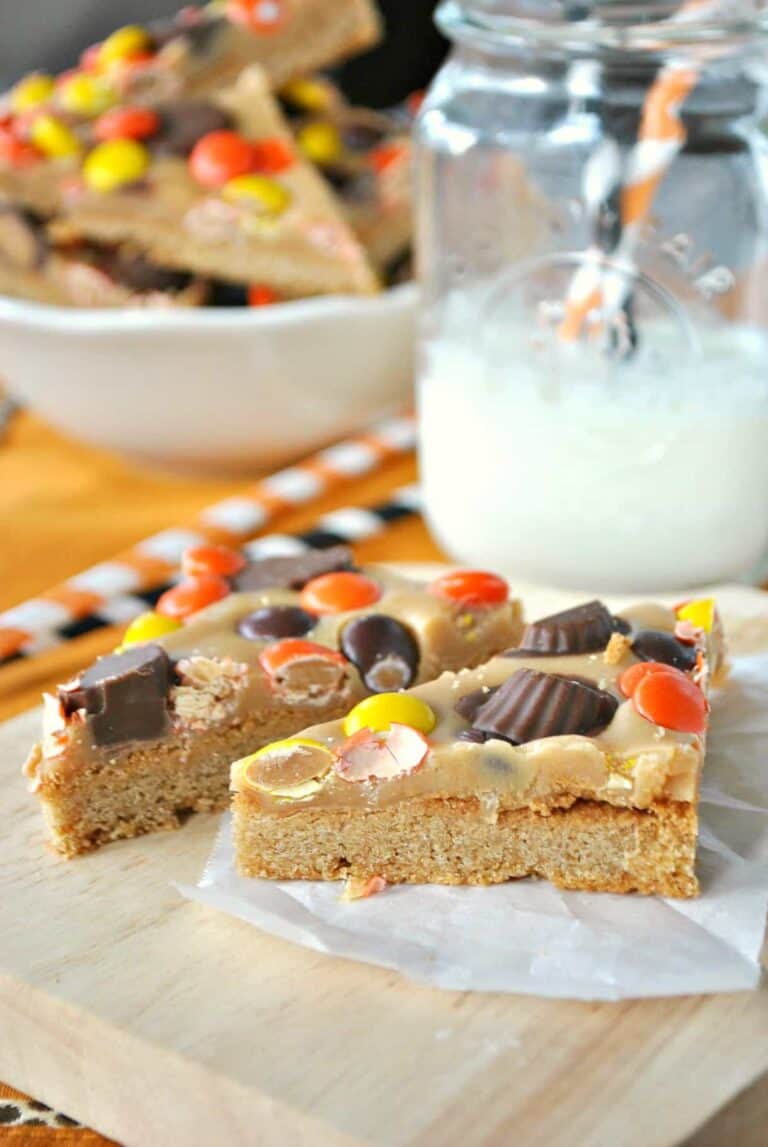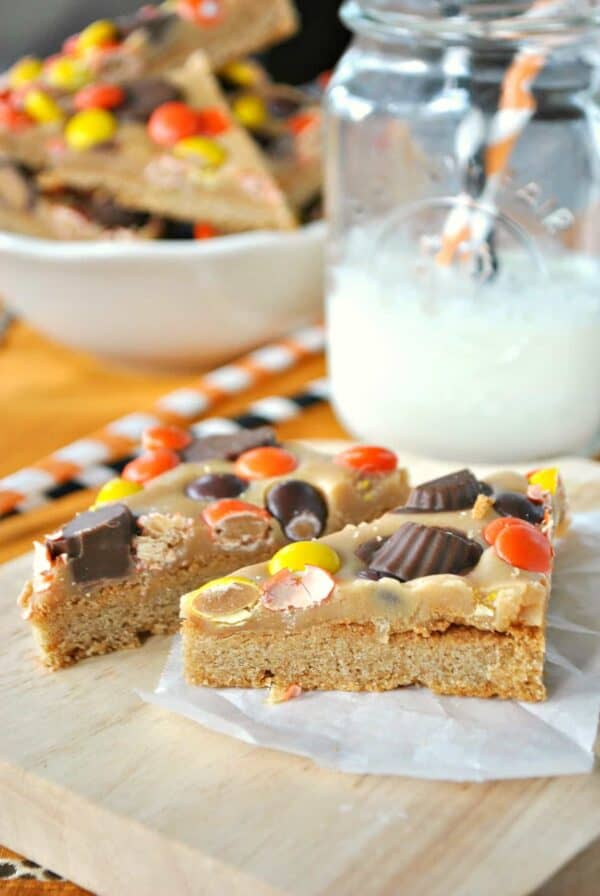 So here's the thing. I know many of you LOVE chocolate and peanut butter together. And while I enjoy it, it's not my FAVORITE combination. If I'm going to have peanut butter…pile on the peanut flavor!
That's what I did with this recipe. Not only do you have a base made from peanut butter cookie dough, but I topped the cookie with a creamy peanut butter ganache (for lack of better definition) and covered that with mini Reese's peanut butter cups and Reese's pieces.
You're welcome.
Now, if you haven't done so already, go get ready for Halloween. It's tomorrow. And I have no candy yet to hand out because I used it all in recipes this month!!
Like this Peanut Butter Cookie Bar with Candy? You may also enjoy these recipes….
Chocolate Peanut Butter Cookie Bars– for those of you who love the combination! Made with Reese's pieces too! by Shugary Sweets
Banana Reese's Cookies– made with chocolate, bananas and Reese's pieces and PB cups! DELISH! by Inside BruCrew Life
Chocolate Peanut Butter Lover's Bark– easy candy made with chocolate, Reese's pieces and PB cups! by Keep It Sweet
Peanut Butter Bars
Perfect Peanut Butter Bars: Made with Reese's and peanut butter fudge on a peanut butter cookie crust!
Ingredients
For the Cookie Layer:
1/2 cup butter flavored Crisco
3/4 cup creamy peanut butter
2 Tbsp milk
1 1/4 cup light brown sugar
1 egg
1 3/4 cup all purpose flour
1/2 tsp kosher salt
3/4 tsp baking soda
For the Middle Layer:
1 can (14oz) sweetened condensed milk
2 Tbsp unsalted butter
1 bag (10oz) peanut butter morsels
For the Topping:
1 bag (14oz) Reese's pieces
1 bag (8oz) Reese's MINI peanut butter cups
Instructions
For the cookie, beat Crisco with peanut butter, milk and brown sugar until creamy. Beat in egg. Add flour, salt and baking soda, mix until thoroughly combined.
Press cookie dough into a lightly greased 15x10 baking sheet. Bake in a 375 degree oven for 18-22 minutes, until browned. Remove.
While baking, heat condensed milk with butter over low heat until warmed. Remove from heat, whisk in peanut butter morsels and stir until melted. Pour over warm cookie layer.
Immediately press candies into top layer. Allow to set, about one hour. Slice and serve!!
**I store cut cookie bars in a ziploc freezer bag for my kid's lunches. The color of the candies may change slightly, but they taste delicious!