If you can't choose between Chocolate Chip Cookies and Brownies, these Brookie Cookies are the answer! Half soft baked brownie, half chocolate chip cookie, this decadent dessert is worth the hype.
We love brownie cookies of all kinds. Try our Peanut Butter Brookies and Sugar Brookies next!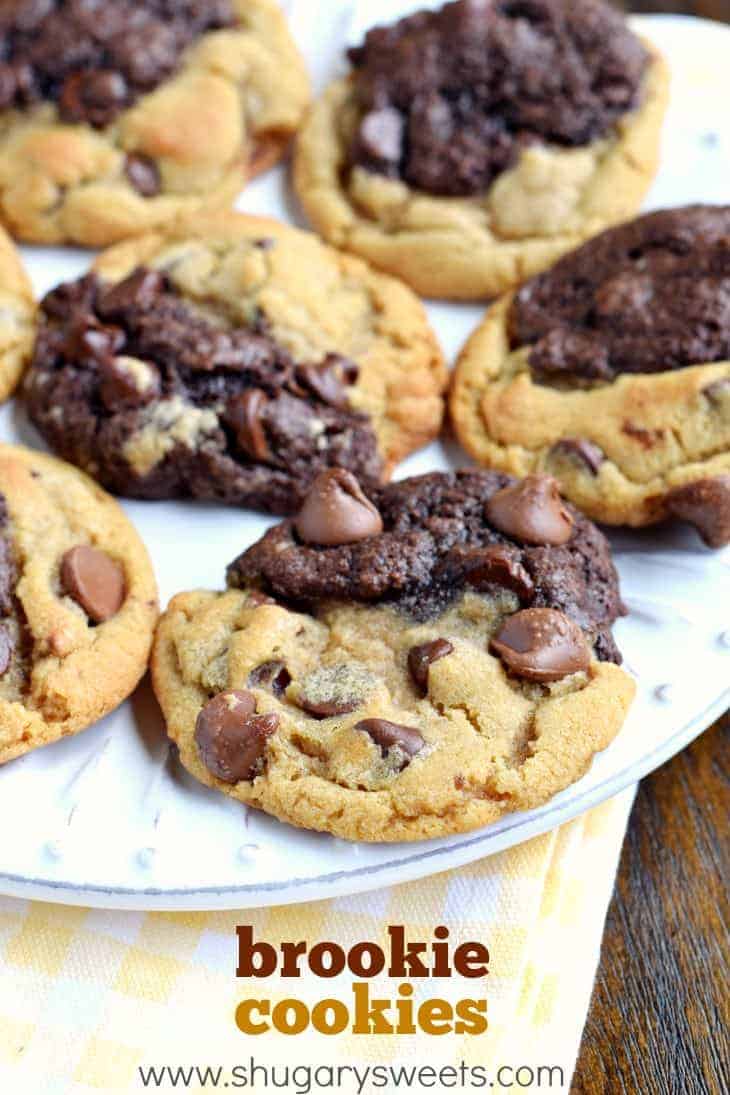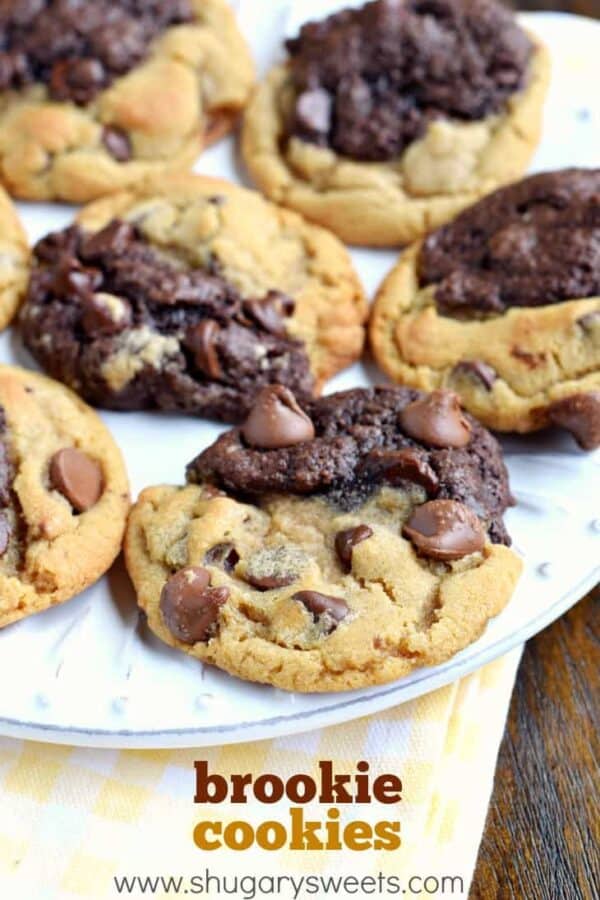 What are Brookies
Brookies are a fusion of fudgy chocolate brownies and classic chocolate chip cookies.
This recipe is what happens when a bowl of cookie dough and a pan of brownie batter collide! Press together a scoop of each one and bake to create a tasty treat that both kids and adults find irresistible.
I've already shared my recipe for Giant Brookies, which are baked in a brownie pan and served as bars. Today's Brookie Cookies are rolled into balls and baked just like cookies instead.
Rich brownies and gooey chocolate chip cookies in one treat.
No slicing or cutting required.
Easy to make!
Ingredient Notes
To make brookies, you'll need to make both a brownie batter and cookie dough from scratch.
For the cookie dough you'll need:
Crisco – We recommend the butter flavor!
Brown sugar
Eggs
Milk
Vanilla – Our instant pot vanilla extract is amazing here.
Cinnamon
Chocolate chips – Semi-sweet morsels are best.
For the brownie batter, you need these ingredients:
Sugar
Flour
Unsalted butter
Unsweetened cocoa powder
Eggs
Baking powder
Chocolate chips
Easy Instructions
Start by mixing together the ingredients for the brownie dough.
Use a separate bowl to make the cookie dough. When both doughs are ready, line your countertop with two sheets of parchment paper.
To make Brookie Cookies:
Scoop the cookie dough out onto the parchment paper by the tablespoon. Do the same thing with the brownie dough.
Now, press together one ball of brownie dough and one ball of cookie dough. Repeat until all the scoops of dough have been combined.
Bake the brookie cookies on a lined baking sheet for about 10 minutes. Let cool and enjoy!
Tips and Tricks
Press the brownie part of the brookies a little over the cookie side. This helps keep brookie cookies from spreading too much as they bake.
Do not overbake. If you want that ooey-gooey soft consistency, take the brookies out of the oven BEFORE they look fully set. The bottom of the cookie side should look just slightly browned and the center of the cookie will look soft. The brookies will continue to set up to the perfect soft-baked consistency as they cool.
Storing: Store the baked cookies in an airtight container at room temperature for up to one week. In our house they never seem to last more than a couple of days. We just can't stop eating them!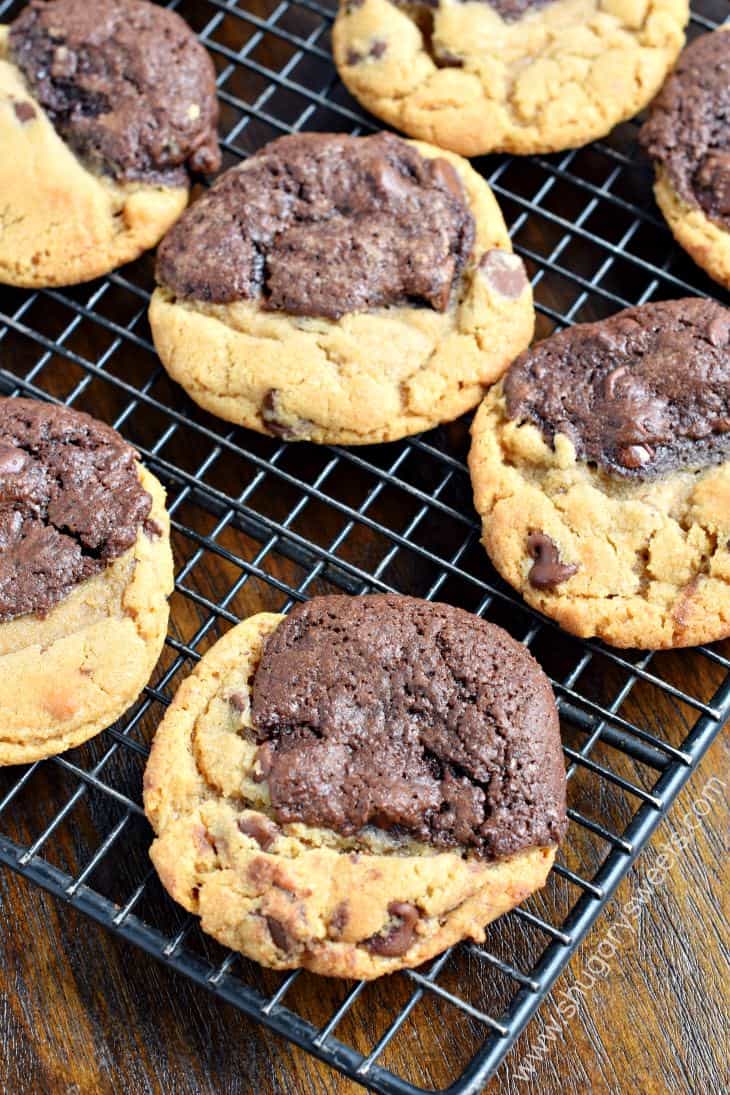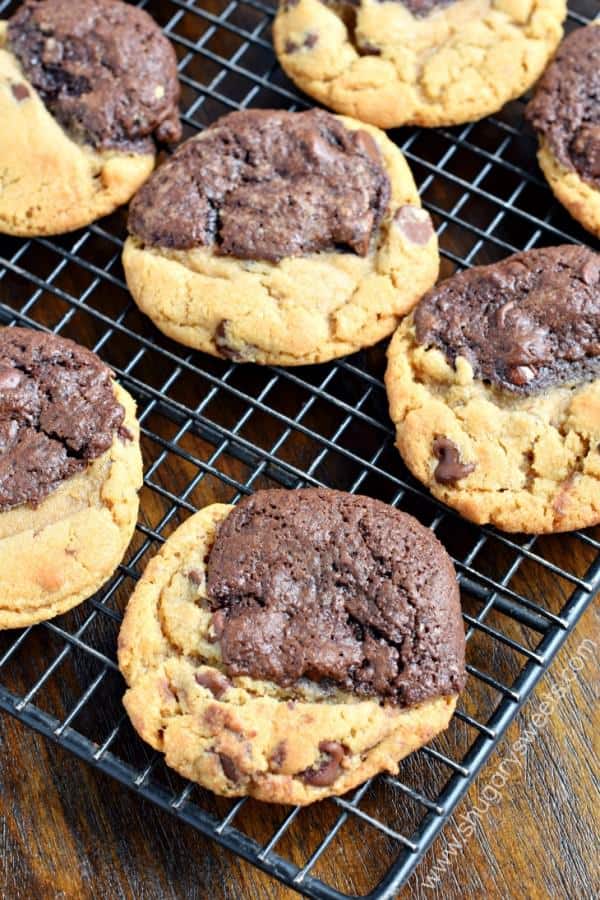 Recipe FAQs
Can I use butter instead of Crisco?
Butter can be used in these cookies but does tend to make them spread more as they bake. For soft brookie cookies that stays beautifully rounded, Crisco shortening works best.
Can I make these brookies as bars instead?
This recipe was especially created for brookies baked as cookies. If you're looking for a Brookies recipe made with layers and baked in a brownie pan, we have one of those right here!
How do you freeze brookie cookies?
To freeze brookie cookies, transfer them to a freezer safe container. Place sheets of wax paper between the cookies to keep them from sticking together.
They keep well in the freezer for about 3 months.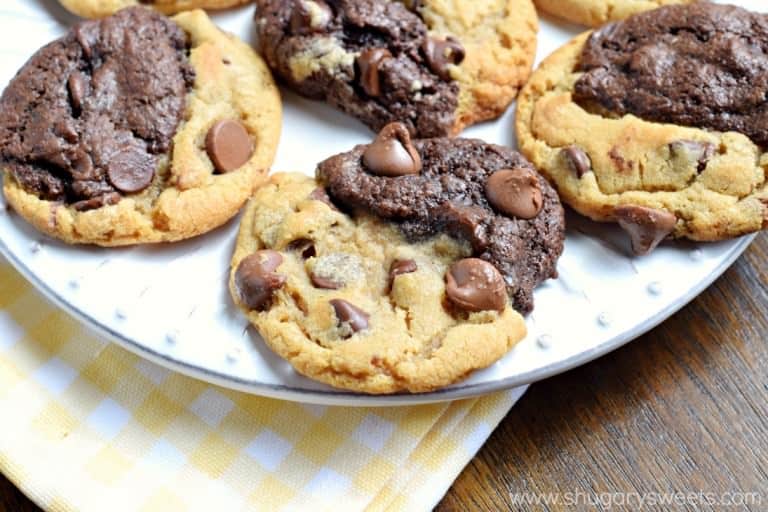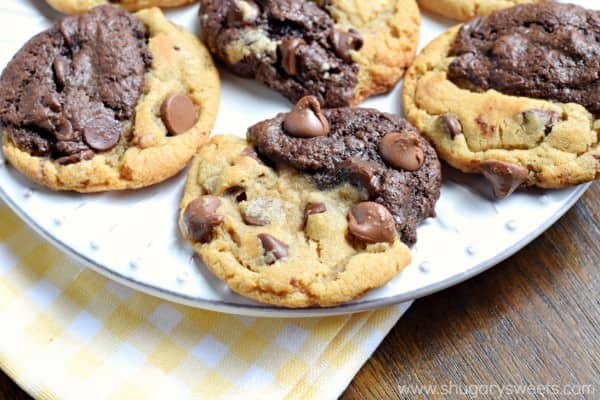 More Cookies and Bars
Brookie Cookies are fudgy chocolate brownies pressed into the best chocolate chip cookies. You'll never have to choose between brownies and cookies again!