Easy Spooky Halloween 7 Layer Taco Dip recipe is the perfect holiday appetizer. Add the spooky spider web for the holiday, or keep it smooth for year round enjoyment!
Love Tacos? Try my favorite Baked Tacos recipe and Beef Taco Skillet. Both easy and fan favorites.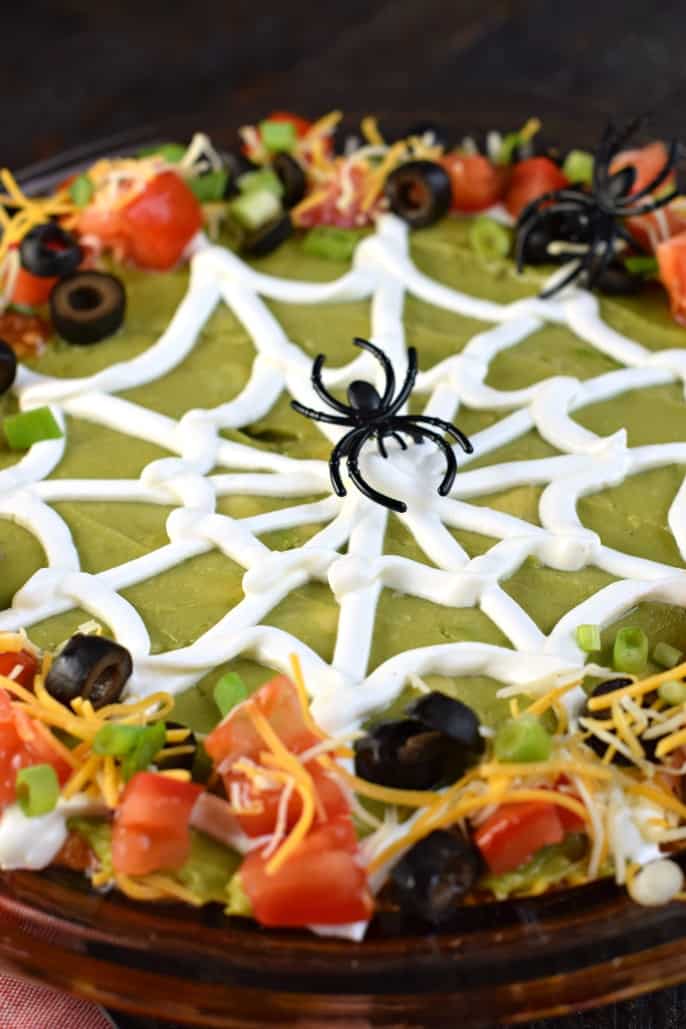 Halloween Party Food
Halloween week continues today with this easy 7 Layer Taco Dip recipe. You may see the picture and think, "easy? I'm no decorator."
Well guess what? Neither am I! I promise if I can do this, so can you. And, the best part is, from start to finish, you'll be ready to eat this dip in 15 minutes!
October is the one month of the year that just speeds by us. Packed with football games and Halloween parties, the weekends are always busy.
This Taco Dip recipe is the ideal snack to bring to game day potlucks and Halloween parties. Everyone loves the delicious layers, and you'll look like a rock star when you add the spider web to the top!
Step by Step Instructions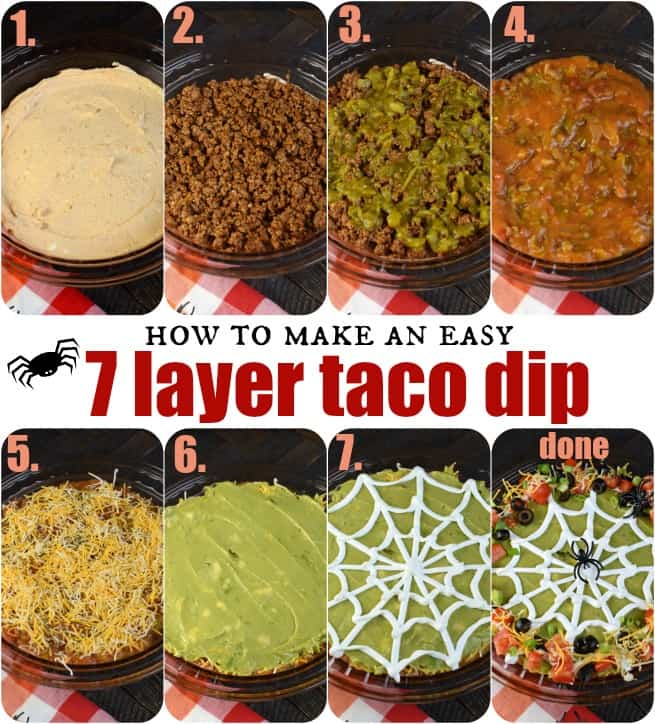 First. Choose your dish. I used a 9.25-inch pie plate made for deep dish pies! You could also use a square or round baking dish, a large platter, or a medium bowl. You decide!
Layer 1.
Make your base layer of cream cheese, sour cream, and taco seasoning mix. In a small bowl mix these ingredients until smooth and spread the sour cream mixture on the bottom of your dish! This is really pretty in a small trifle bowl too.
Layer 2.
One of the best parts of this easy 7 Layer Dip recipe is that you can customize the layers to your liking. For instance, my next layer was ground beef with taco seasoning. If you prefer, you can use refried beans instead (or ground turkey!). Choose what you love!
Layer 3 is a can of diced green chilies. Spread over your meat (or beans)!
Layer 4.
Next, add your favorite salsa. I used a Peach Mango Jalapeno Salsa. Thick and Chunky is best in my opinion. It helps keep the layers from getting too watered down! My homemade avocado salsa would be perfect here!
Layer 5. Add some shredded cheese!
Layer 6. guacamole. Make it fresh or buy it made. You'll need about a cup (or more)! Spread this layer super smooth if possible. Make sure you have lime juice in your guacamole, it adds so much flavor and zing!
Layer 7. Sour Cream.
If it's not Halloween, just spread this over the top and serve. If you want to make the spider web it's super easy. Put about 1 cup of sour cream in a ziploc bag. Snip off the corner and make the web. Start by making your lines. The connect the lines by making the web.
Once this is done, you can add the finishing touch. I put a little diced tomato, green onion, 1/4 cup shredded cheese, and black olives around the edges.
Add some fake spiders to the web and serve with tortilla chips! (you can even attempt to make a spider out of the black olives)
Make this 7 layer taco dip the night before! To cover, use the fake spiders (or toothpicks) around the pie plate to keep the plastic wrap from touching. The guacamole may discolor slightly by day 2.
Enjoy this Healthy Taco Dip alternative if you're interested! Need a Christmas Taco Dip idea? I've got you covered with this Festive Christmas Wreath Layered Taco Dip recipe!
But now, let's get back to this 7 Layer Taco Dip recipe and Halloween!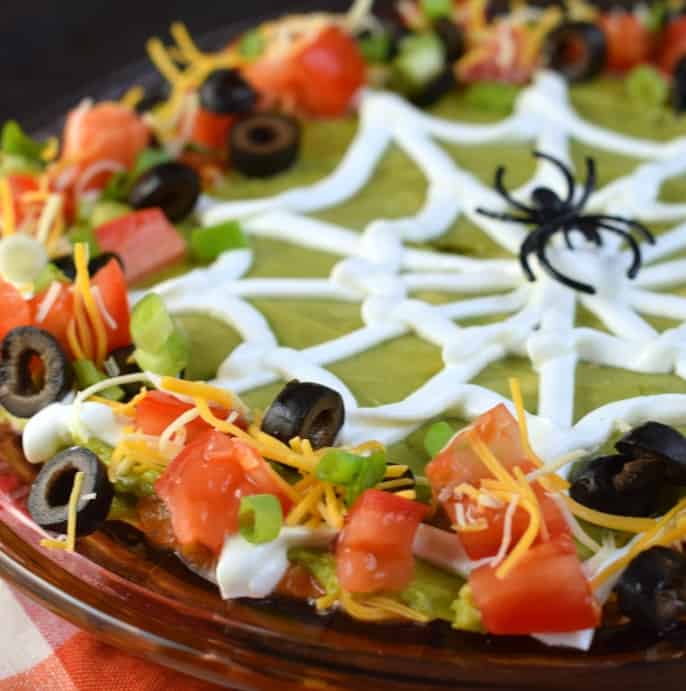 Halloween Party recipe ideas:
Frankenstein Mint Chocolate Chip Rice Krispie Treats. Make a perfect rice krispie treat even better by adding mint, chocolate, and festive Halloween design! You can even make spiders and mummies with homemade or store bought rice krispie treats!
Don't forget dinner! These Bloody Rats and Bones are creepy, but delicious. Perfect glazed meatloaf is the star recipe served with a side of garlic bread "bones."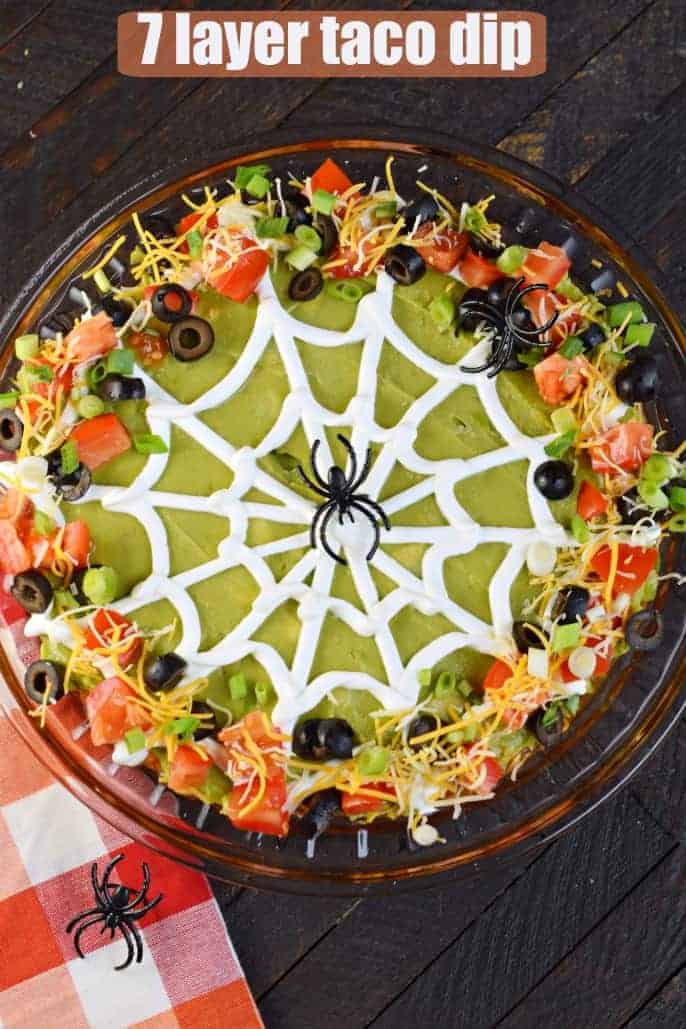 Recipe FAQs
Can I make 7 layer taco dip without meat?
Yes! Keep this 7 layer taco dip vegetarian and just add a layer of refried beans or black beans instead of the meat.
Can 7 layer taco dip be made in advance?
Yes! Prepare this dip the night before. Just made sure the guacamole layer is completely covered so no air touches it and makes it brown.
How long does 7 layer dip last in the fridge?
I would enjoy 7 layer dip within 3 days. After that time it will become runny and the guacamole will have browned.
More Halloween Recipes
A fun and festive Halloween 7 Layer taco dip recipe. Delicioius for parties, dinner, or game night!