Easy Spooky Halloween 7 Layer Taco Dip recipe is the perfect holiday appetizer. Add the spooky spider web for the holiday, or keep it smooth for year round enjoyment!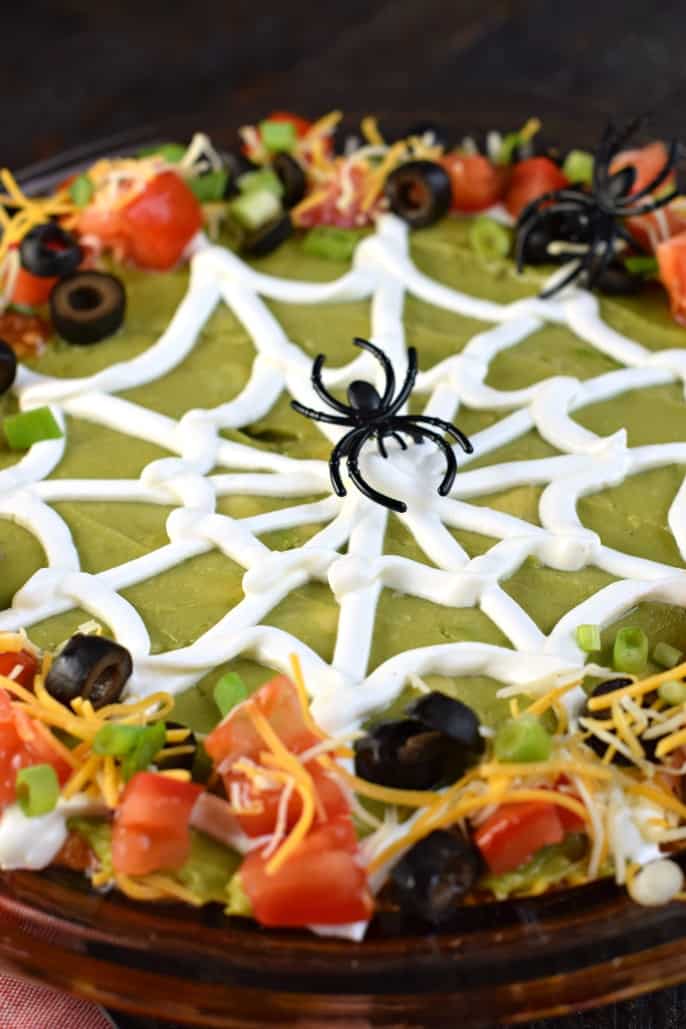 Click HERE to save recipe to Pinterest
Halloween week continues today with this easy 7 Layer Taco Dip recipe. You may see the picture and think, "easy? I'm no decorator."
Well guess what? Neither am I! I promise if I can do this, so can you. And, the best part is, from start to finish, you'll be ready to eat this dip in 15 minutes!
October is the one month of the year that just speeds by us. Packed with football games and Halloween parties, the weekends are always busy.
This Taco Dip recipe is the ideal snack to bring to game day potlucks and Halloween parties. Everyone loves the delicious layers, and you'll look like a rock star when you add the spider web to the top!

How to make a 7 Layer Taco Dip
First. Choose your dish. I used a 9.25-inch pie plate made for deep dish pies! You could also use a square or round baking dish, a large platter, or a medium bowl. You decide!
Next, make your base layer of cream cheese, sour cream, and taco seasoning mix. In a small bowl mix these ingredients until smooth and spread the sour cream mixture on the bottom of your dish! This is really pretty in a small trifle bowl too.
One of the best parts of this easy 7 Layer Dip recipe is that you can customize the layers to your liking. For instance, my next layer was ground beef with taco seasoning. If you prefer, you can use refried beans instead (or ground turkey!). Choose what you love!
Layer 3 is a can of diced green chilies. Spread over your meat (or beans)!
Next, pick a jar of your favorite salsa. I used a Pace Peach Mango Jalapeno Salsa. Thick and Chunky is best in my opinion. It helps keep the layers from getting too watered down!
For your 5th layer, add some shredded cheese!
Next up, guacamole. Make it fresh or buy it made. You'll need about a cup (or more)! Spread this layer super smooth if possible. Make sure you have lime juice in your guacamole, it adds so much flavor and zing!
Finally. Layer 7. Sour Cream. If it's not Halloween, just spread this over the top and serve. If you want to make the spider web it's super easy. Put about 1 cup of sour cream in a ziploc bag. Snip off the corner and make the web. Start by making your lines. The connect the lines by making the web.
Once this is done, you can add the finishing touch. I put a little diced tomato, green onion, 1/4 cup shredded cheese, and black olives around the edges.
Add some fake spiders to the web and serve with tortilla chips!
Make this 7 layer taco dip the night before! To cover, use the fake spiders (or toothpicks) around the pie plate to keep the plastic wrap from touching. The guacamole may discolor slightly by day 2.
For a classic version served in a 13×9 dish, try this 7 Layer Dip Recipe!
Enjoy this Healthy Taco Dip alternative if you're interested! Need a Christmas Taco Dip idea? I've got you covered with this Festive Christmas Wreath Layered Taco Dip recipe!
Want to save money making this 7 Layer Taco Dip?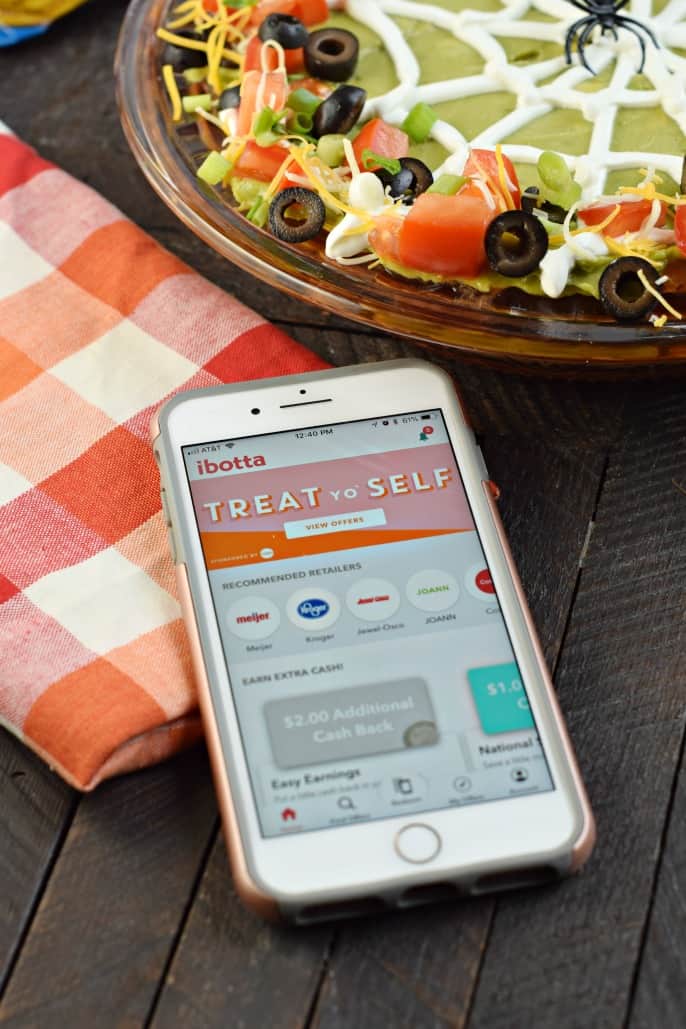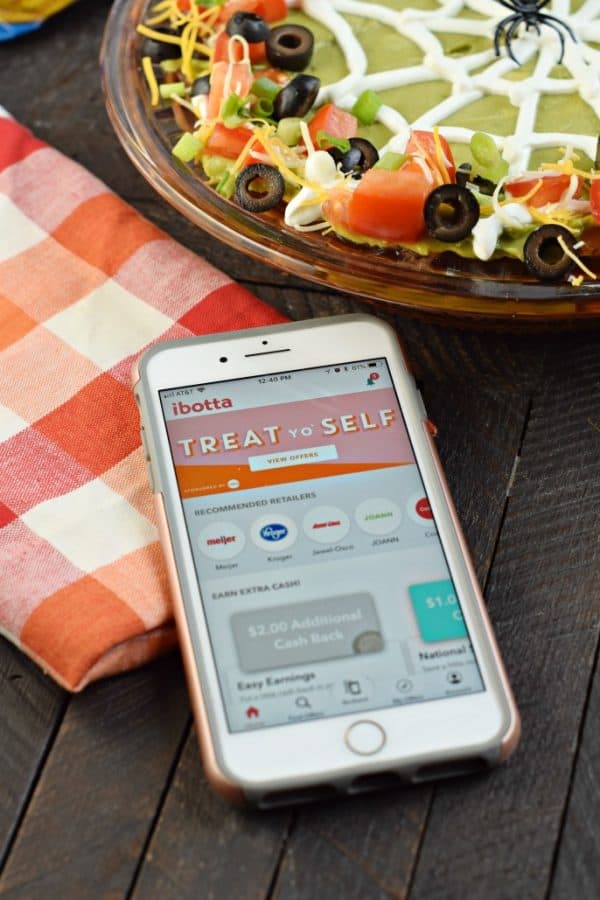 OPEN THE IBOTTA APP
I used the Ibotta app to earn a little extra cash buying the products I needed for today's recipe. If you're new to Ibotta, it's a cash back and rewards app the gives you a way to save money when you shop!

GO SHOPPING AT ONE OF THE FEATURED STORES
With hundreds of products to choose from, you'll find something to inspire your Halloween party purchase! Be sure to check the app often as offers change frequently. All of my favorite, local grocery stores are listed, check to see if yours is on there! You can earn cash back on products and services from online and in-store retailers!

SELECT YOUR OFFERS
For today's recipe I took a peek at my Ibotta app before heading to the store to get inspired for a Halloween snack. I was able to earn cash back on the Pre Ground Beef, Breakstone's Sour Cream, Pace Chunky Texas Salsa, KRAFT Expertly Paired shredded cheese, as well as Any Item and a bonus taco night reward. I earned $4.75 in purchasing items I was going to buy anyway!

REDEEM REWARDS
After you choose your offers, you'll scan your receipt to redeem your rewards. To date, I have earned nearly $80 in cash back. Once you've earned $20 you can "cash out" with gift cards, PayPal or Venmo. It's super easy and fun!
Download the Ibotta app and start earning!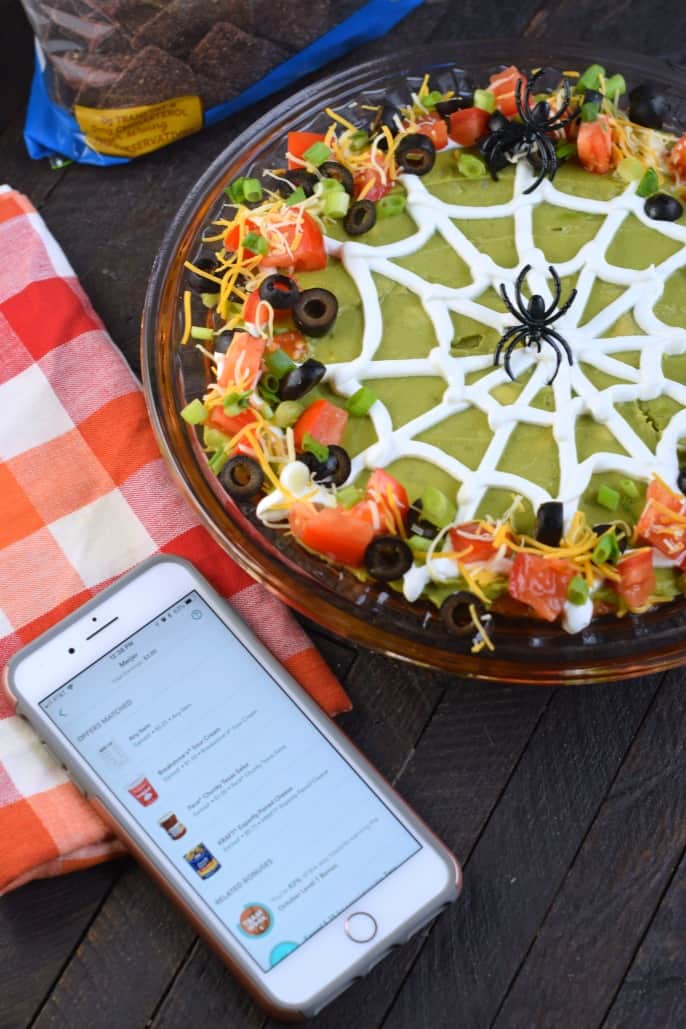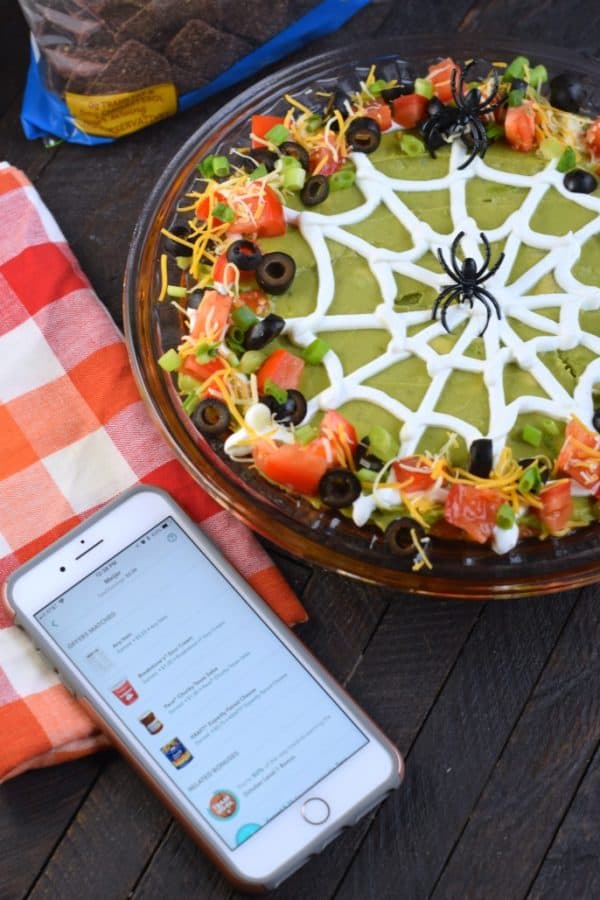 But now, let's get back to this 7 Layer Taco Dip recipe and Halloween!
Halloween Party recipe ideas:
Candy Corn Donuts: start your day with a fun and festive doughnut. Delicious, baked chocolate donuts with melted chocolate resembling candy corn on top!
Frankenstein Mint Chocolate Chip Rice Krispie Treats. Make a perfect rice krispie treat even better by adding mint, chocolate, and festive Halloween design! You can even make spiders and mummies with homemade or store bought rice krispie treats!
Don't forget dinner! These Bloody Rats and Bones are creepy, but delicious. Perfect glazed meatloaf is the star recipe served with a side of garlic bread "bones."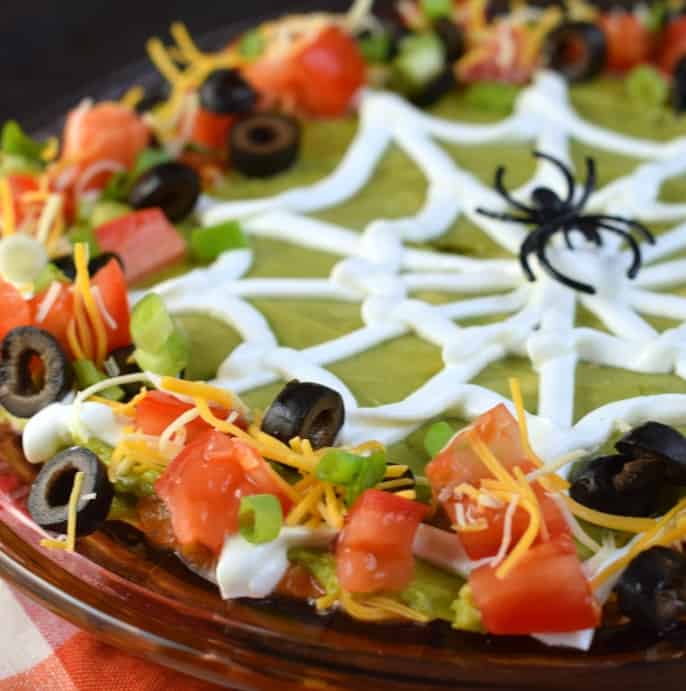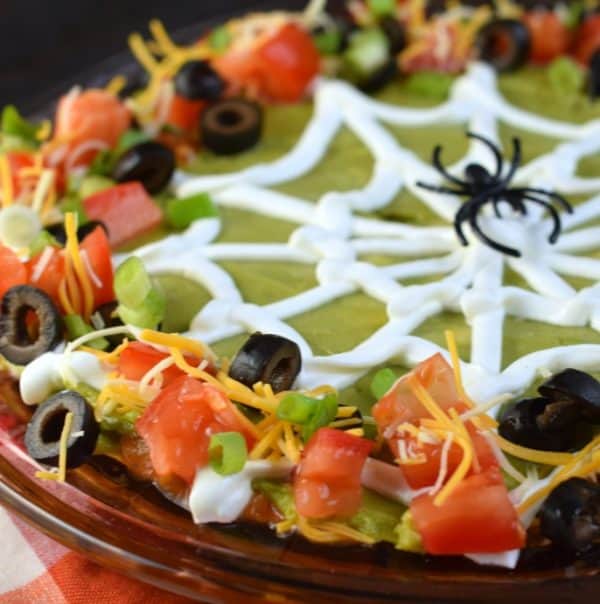 Connect with Shugary Sweets!
Be sure to follow me on my social media, so you never miss a post!
Facebook | Twitter | Pinterest | instagram
I created a fun little group on facebook and I'd love for you to join in! It's a place where you can share YOUR favorite recipes, ask questions, and see what's new with Shugary Sweets (so that you never miss a new recipe)! If you'd like to check it out, you can request to join HERE.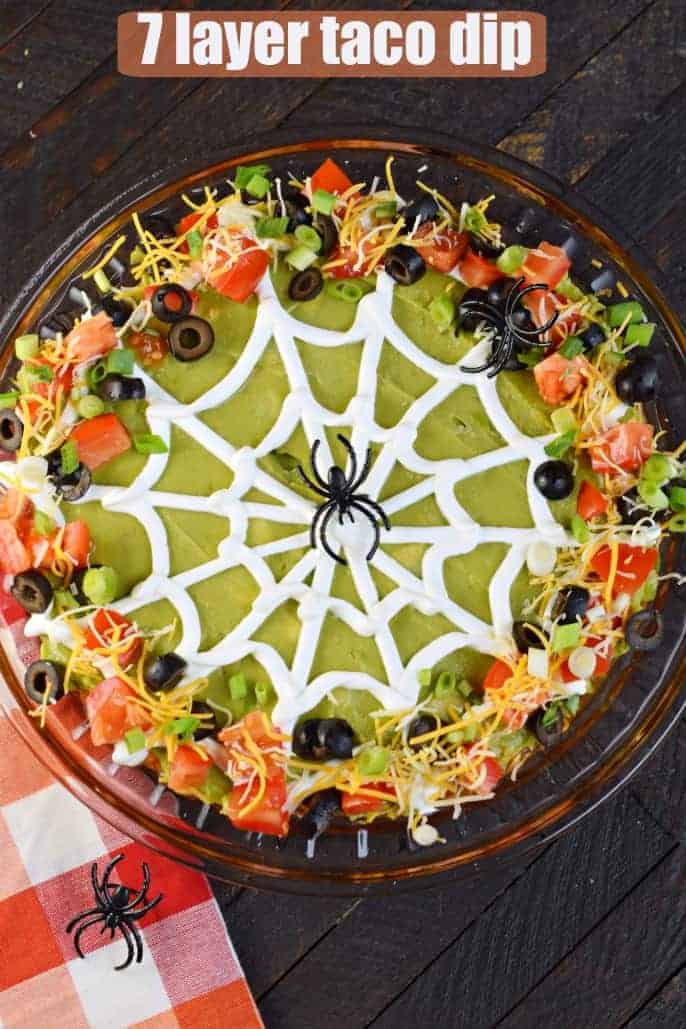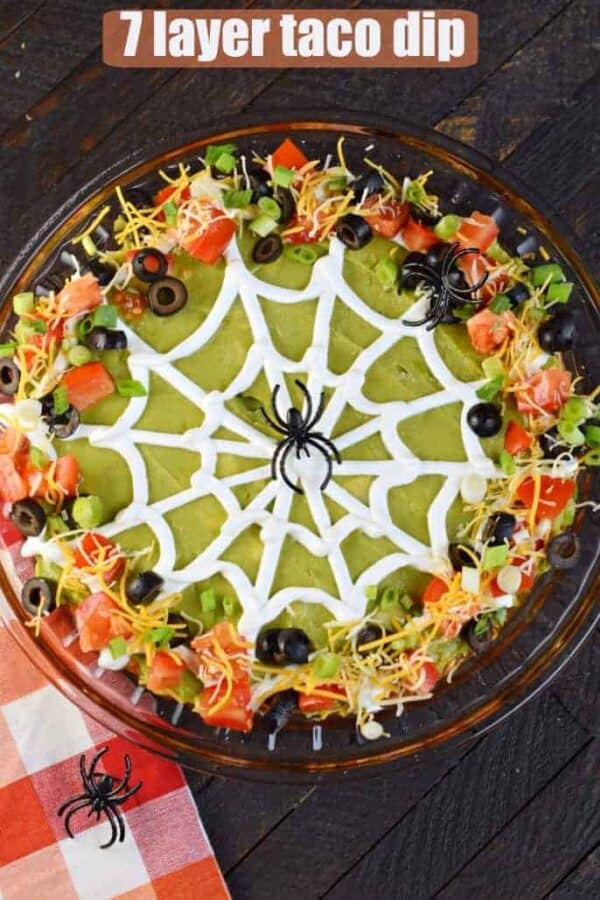 7 Layer Taco Dip Recipe:
Yield: serves 8-10
7 Layer Taco Dip
7 Layer Taco Dip is the perfect game day appetizer. Give it a twist for Halloween by adding a spooky web!
Ingredients
1 lb ground beef
8 oz cream cheese, softened
16 sour cream, divided
1 can (4 oz) green chilies
1 jar (15 oz) thick and chunky salsa
1 1/4 cup shredded taco cheese, divided
1 roma tomato, diced
1 green onion, sliced
2 Tbsp sliced black olives
Instructions
Choose your dish. I used a 9.25-inch pie plate made for deep dish pies! You could also use a square or round baking dish, a large platter, or a bowl. You decide!
Layer 1: Blend cream cheese, 1 cup sour cream and 1 package taco seasoning until smooth. Spread in bottom of pie plate.
Layer 2: Meat or Beans. Brown your ground beef in a medium skillet over high heat until all the pink is out. Drain meat and add 1 package taco seasoning (no water needed). Spread meat over the first layer. If you prefer, use a can of refried beans instead of meat.
Layer 3: Spread diced green chilies over meat layer (no need to drain).
Layer 4: Salsa. Use a thick and chunky salsa and spread over green chilies.
Layer 5: Shredded cheese. Add about 1 cup of shredded cheese sprinkled over the top of the salsa.
Layer 6: Guacamole. Spread 1 cup of either homemade guacamole or already prepared guacamole over the salsa.
Layer 7: Sour Cream. Spread 1 cup of sour cream over the top of the guacamole. If making the spider web, skip spreading it, and instead put the cup of sour cream in a ziploc bag. Snip off the corners and pipe over the top of the guacamole. Start by making the lines, then connect them to create a web.
Add the finishing touch by sprinkling the diced tomato, green onion, remaining 1/4 cup of shredded cheese, and black olives to the edges of the pan. (If not making the web, you can sprinkle this all over the top of the sour cream instead).
Add some fake spiders and serve with tortilla chips! ENJOY!
Recommended Products
As an Amazon Associate and member of other affiliate programs, I earn from qualifying purchases.
Recipe and blog post created in partnership with Ibotta. All offers were valid as of publish date. Don't forget to check your app for details as offers change frequently and may not be available in all areas. All opinions are 100% my own.