This light, easy, and chunky Avocado Salsa recipe is made with ripe plum tomatoes, creamy avocados, red onion, apple cider vinegar, feta, and more! Serve it with tortilla or pita chips or use as a topping on tacos!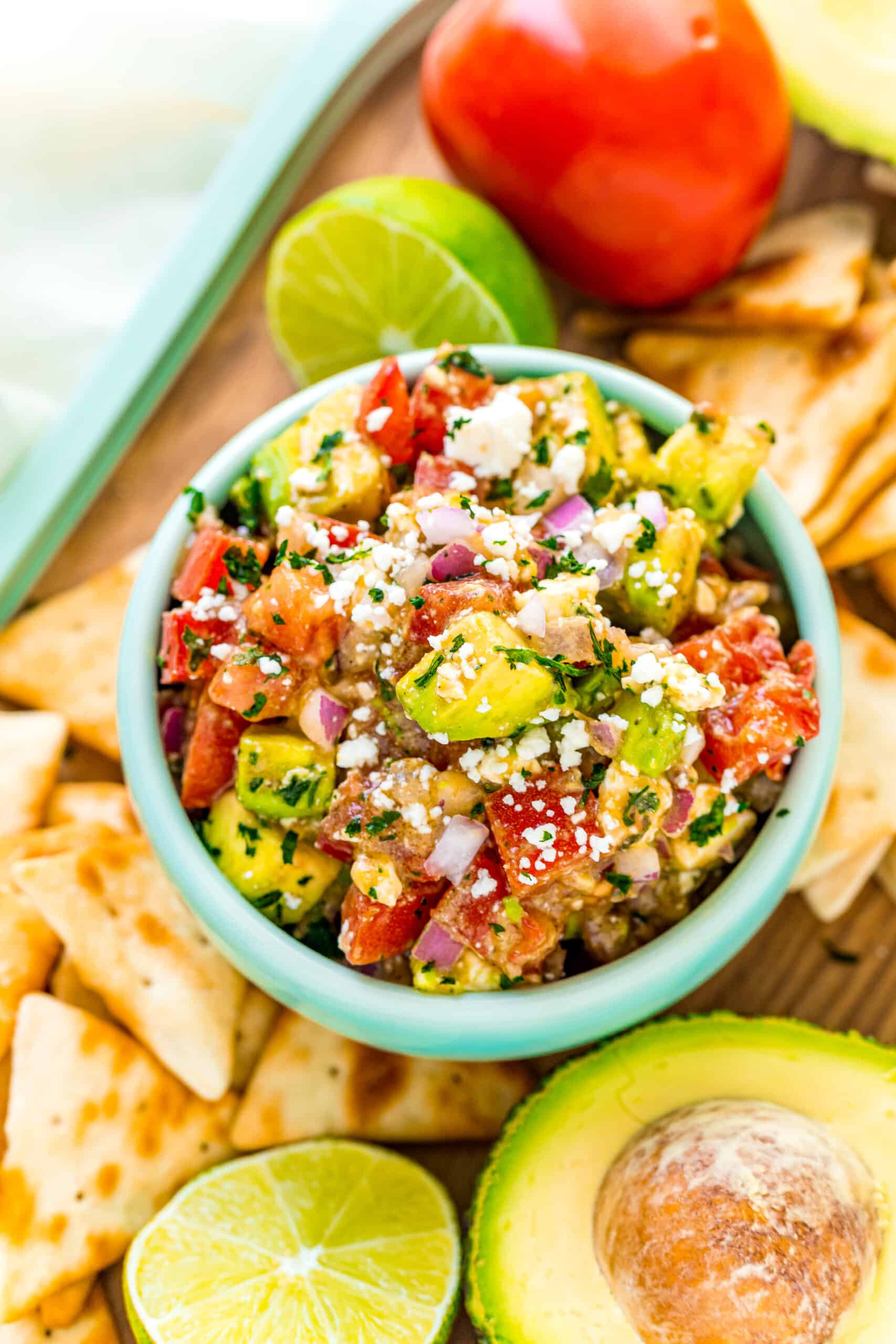 Let's hear it for avocados! A ripe avocado is a thing of beauty.
Okay, maybe not literal beauty. Bumpy, dark green avocados aren't exactly famous for their appearance. But when you cut it open, scoop out the creamy interior and take a bite, the taste counts as "beautiful" in my book.
I love it mashed up in guacamole or mixed into a sauce for Fish Tacos.
9 times out of ten, though, when I'm eating avocado it's diced up and tossed on top of something-a salad, a taco, a bowl of chili.
In many of those situations, I ALSO add salsa to the meal. So I figured, why not put my avocado right into the salsa? The result is this delicious, easy, chunky Avocado Salsa recipe!
Guacamole Salsa
I like a little chunkiness in my guacamole and my salsa.
This concoction is a nice combo of both. I've made some version of this dozens of times, for pre-dinner snacking, a gathering of friends or as something to add to the table on taco night.
May I recommend serving yourself a hearty portion of guacamole salsa and scooping it up with crunchy tortilla chips or even pita chips? All those different flavors coming together on one chip is heavenly.
More Salsa Recipes: Pineapple Salsa | Salsa Verde | Fruit Salsa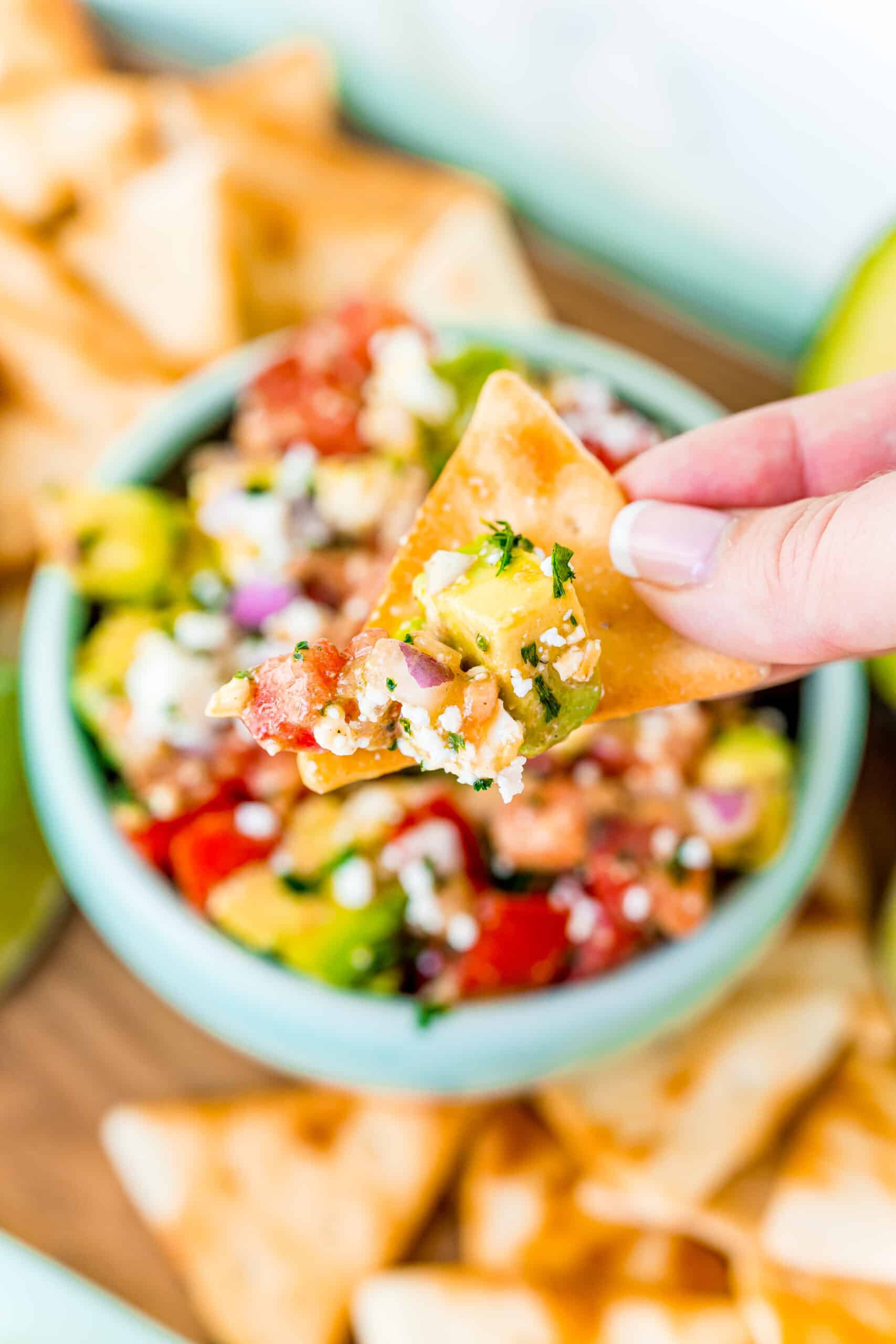 How to make Avocado Salsa
There are endless ways to mix and match ingredients to make different varieties of avocado salsa. I've made it with and without tomatoes and experimented with a couple different cheeses.
The recipe I'm sharing today is hands down my favorite!
I put diced plum tomatoes, avocado, red onion, parsley and feta cheese in a bowl, then toss it with a dressing of olive oil, apple cider vinegar and lime juice.
Serve your chunky avocado salsa right away, while everything is still super fresh!
Serving ideas: Enjoy with thick pita chips or tortilla chips, spoon into your tacos and burritos or on top of your enchiladas. This is one versatile salsa.
Call it a salad
One day while I was snacking away on a bowl of this salsa with a bag of chips, procrastinating on making lunch, I realized I could easily just call this a salad and justify eating it for a meal!
To serve this as a side salad for dinner, double the recipe and use bigger chunks of avocado and tomato.
It makes a perfect light lunch for summer as well. (Sprinkle some tortilla chips in there too. You won't be sorry!)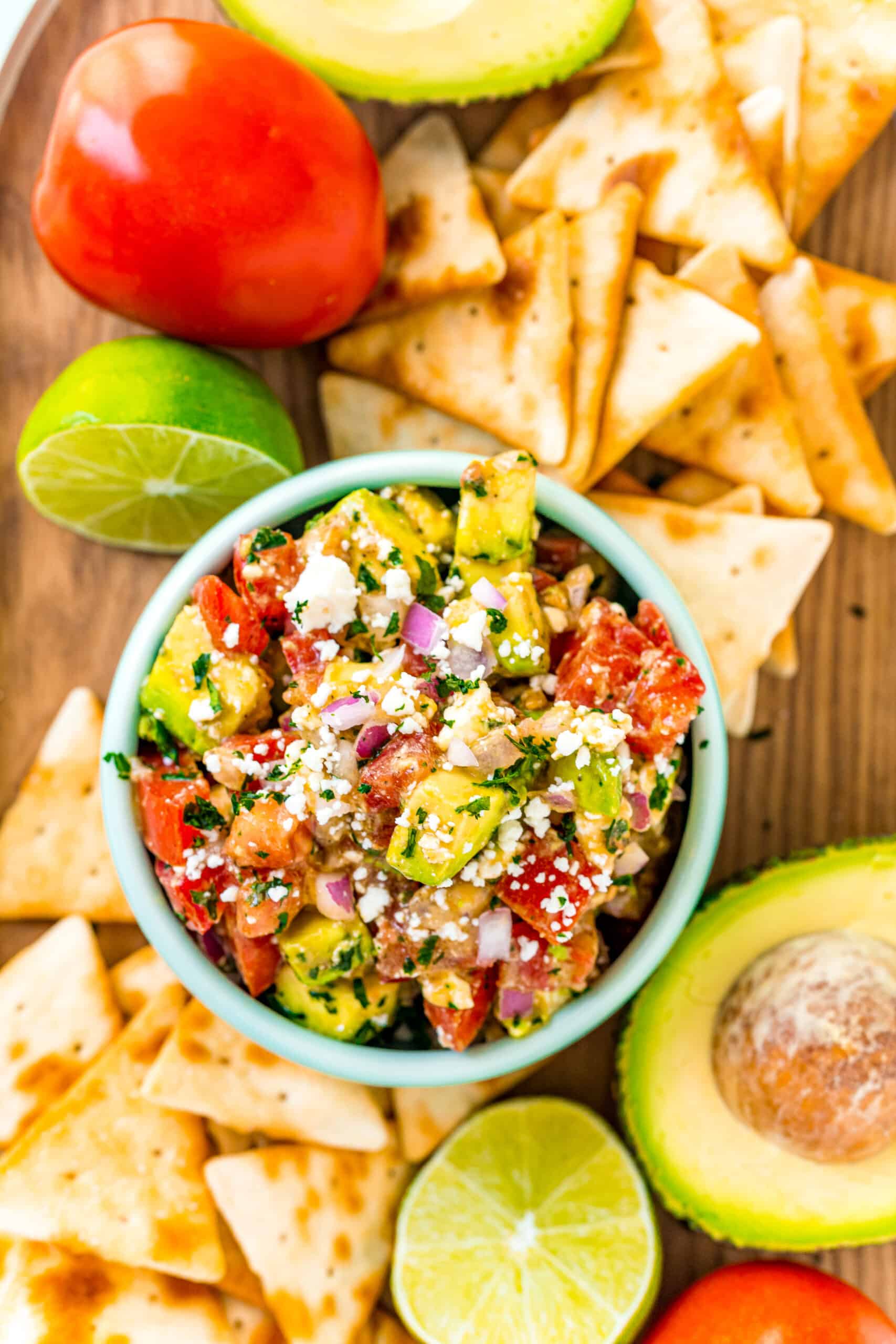 Storage Tips
I highly recommend eating Avocado Salsa as soon as possible after you make it. That's never a problem for me because once this is on the table, I have a hard time resisting it!
If you do need to store leftovers, you can keep them in a sealed container in the fridge for 24 hours. Just keep in mind that the avocados will start to turn brown and the tomatoes may get mealy.
Choosing avocados
Another note about the avocados in this recipe: make sure they're ripe! When an avocado is at its best, it's a bit soft and will yield to a gentle squeeze.
If your avocado is still hard let it sit at room temperature for a day or so and it should ripen up nicely.
Like bananas, they turn quickly so make sure to use it before it gets mushy.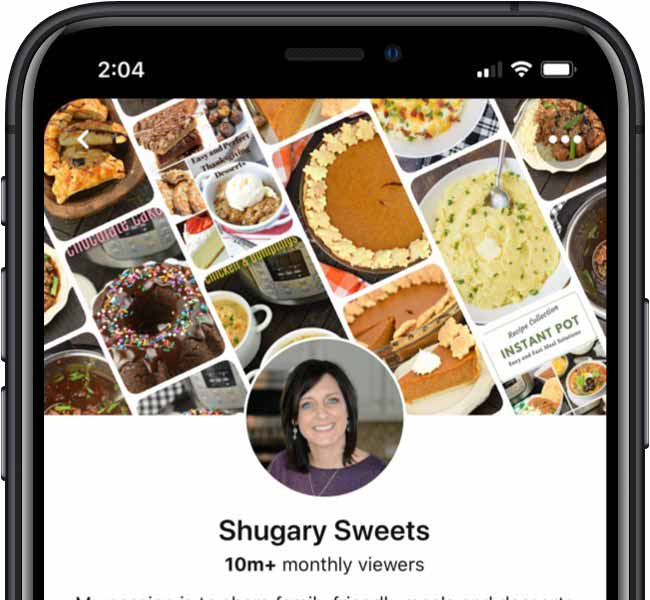 Variations
Here are a few more ideas for customizing this guacamole salsa recipe to your liking:
Cotija cheese – This crumbled fresh Mexican cheese is amazing mixed into this salsa as a substitute for the feta.
Cherry tomatoes – Quartered cherry or grape tomatoes are delicious here
Vinegar – No apple cider vinegar around? Feel free to substitute white vinegar . A splash of red wine vinegar pairs nicely as well, like I use in my bruschetta recipe.
Bursting with flavor and easy to make, this Avocado Salsa is a must try!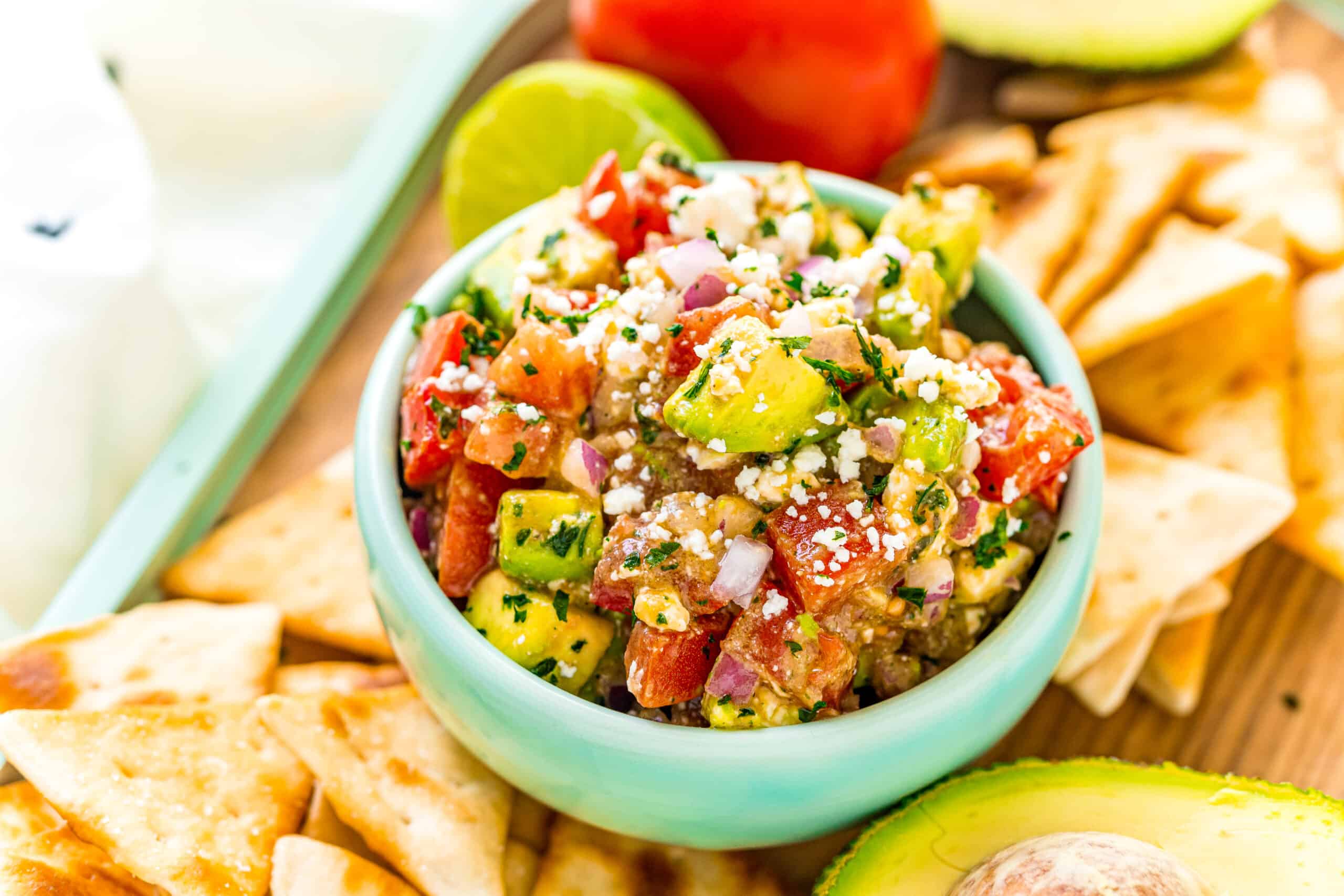 Make it a Meal
Wondering what to serve with this salsa recipe?
Round out your Mexican Meal or taco night.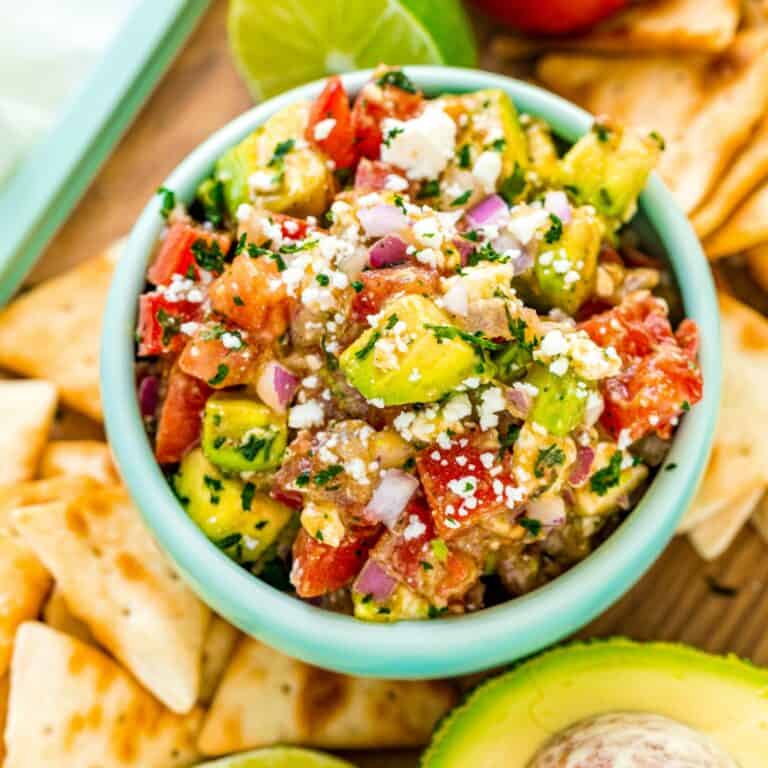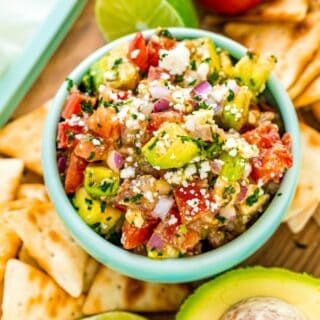 Avocado Salsa
This light, easy, and chunky salsa recipe is made with ripe plum tomatoes, creamy avocados, red onion, apple cider vinegar, feta, and more! Serve it with tortilla or pita chips or use as a topping on tacos!
Ingredients
1

Avocado

peeled, pitted, diced

2

plum tomatoes

diced

¼

cup

red onion

mined

1

tablespoon

apple cider vinegar

1

tablespoon

olive oil

1

tablespoon

chopped parsley

½

lime

juiced

¼

teaspoon

kosher salt

¼

teaspoon

ground black pepper

½

cup

feta cheese
Instructions
Add all ingredients to a large bowl and toss to combine.

Serve immediately for best results.
Notes
Quartered cherry or grape tomatoes may also be used.
This salsa should be served immediately, however, you can store leftovers in the fridge in an airtight container for up to 24 hours. Just note that the avocados will start to brown and the tomatoes can get mealy since they aren't supposed to be refrigerated.
White vinegar may be used in place of apple cider vinegar.
Swap out the feta cheese for cotija cheese!
Serve with pita chips, tortilla chips, or over tacos or seared chicken or fish.
Serve as a summer side salad by doubling the recipe and using larger chunks of avocado and tomatoes.
Nutrition
Serving:
0.5
cup
,
Calories:
174
kcal
,
Carbohydrates:
8
g
,
Protein:
4
g
,
Fat:
15
g
,
Saturated Fat:
4
g
,
Polyunsaturated Fat:
10
g
,
Cholesterol:
17
mg
,
Sodium:
311
mg
,
Fiber:
4
g
,
Sugar:
3
g
Avocado Salsa – A refreshing and easy salsa recipe to scoop with chips or liven up your tacos! Tossing diced avocado with fresh ingredients and a squeeze of lime juice makes a delicious side, appetizer or garnish for any Mexican meal.