Slow Cooker meals are not only perfect for busy weeknight dinners, but also great for weekend entertaining too! Serve this easy Taco Chili recipe with a side of cornbread and all the fixings for a flavorful dinner.
If you love easy dinners, try our slow cooker bourbon chicken next. Or give our delicious slow cooker taco meat a try for your next tex mex dinner.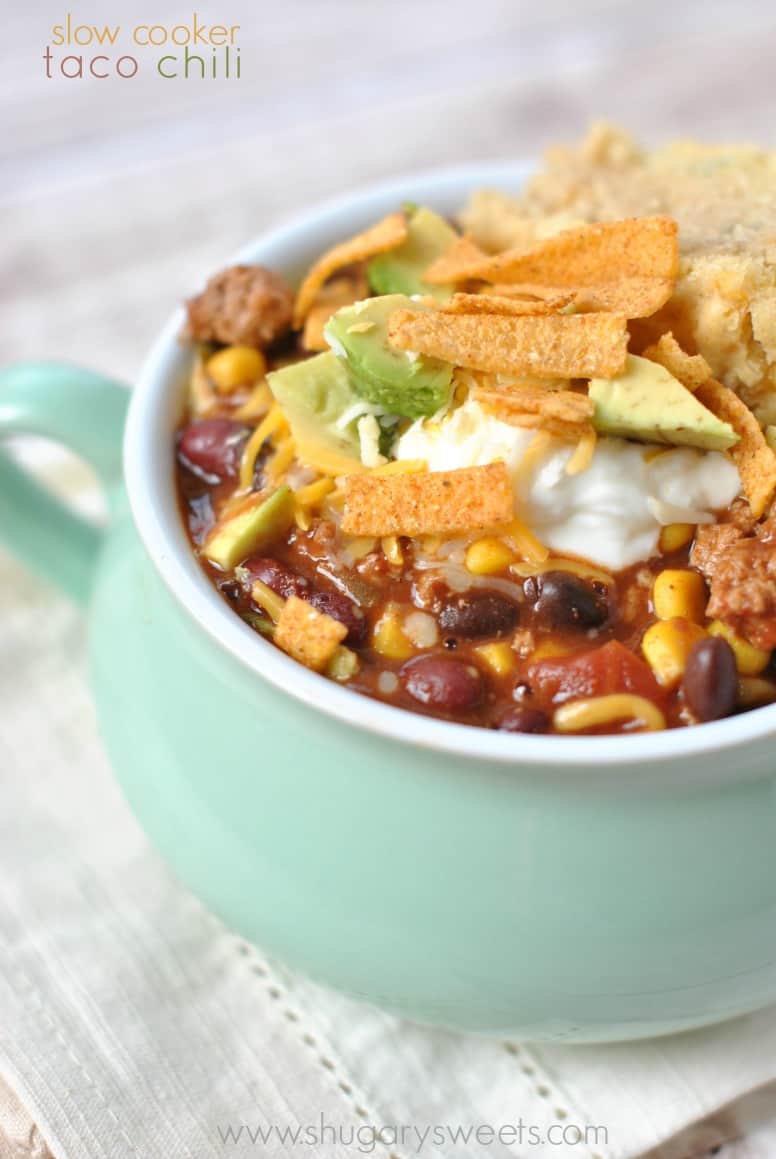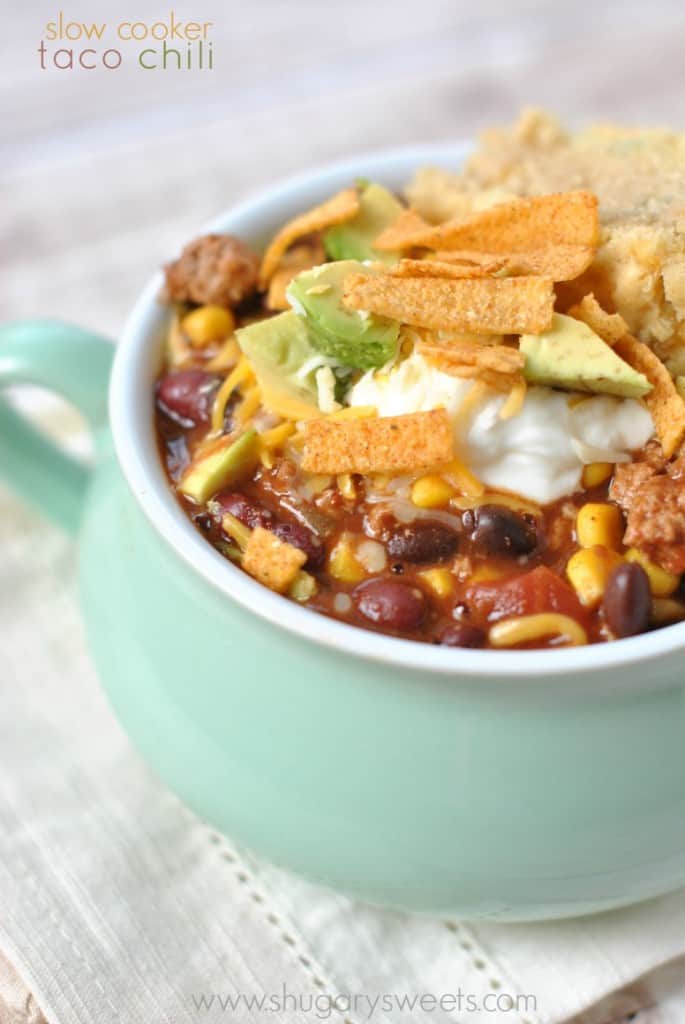 Why this Recipe Works
I know when some people think of slow cooker meals, the image that comes to mind is Boring. Bland. Ugly.
Today's recipe is an easy, delicious, flavorful chili that's pretty healthy for you too! It's delicious served with jalapeno cheddar cornbread or piled with tortilla strips.
Ingredient Notes
Ground turkey – I used turkey to keep this meal on the healthier side. You can also substitute ground beef or chicken if preferred. Cook and drain the meat before adding it to the slow cooker.
Taco seasoning – Use a homemade taco seasoning mix to give this chili flavor or substitute store bought. If you're using store bought packets you may want to adjust the salt in this recipe. Those packets tend to be quite salty!
Salsa – Your family's favorite red salsa adds just the right touch of kick to this chili. I like the thick and chunky style for this recipe.
Toppings – I used plain greek yogurt instead of sour cream on top of this chili. I also added a pinch of low fat shredded cheese, chopped avocado and some southwestern tortilla strips.
Step by Step Instructions
STEP 1. Add all ingredients (except the toppings) to your slow cooker. Give everything a stir to make sure the ingredients are combined.
STEP 2. Cover the chili and cook on low for 6 – 8 hours.
STEP 3. Serve in bowls with all your favorite toppings and enjoy!
Recipe FAQs
Can you cook this on high to make it faster?
Yes, but the longer cooking time allows all the flavors to mingle and combine so I think it tastes best when you use the low setting on the crock pot.
Do you cook the turkey first?
Yes, definitely make sure to brown the turkey in a pan on the stove top before adding it to the slow cooker.
Do you drain the beans and corn before adding them?
No need to drain. Add the entire contents to the pot, including the liquid.
Is this chili spicy?
The answer depends on how spicy your salsa is. If you want a milder chili, use mild salsa and visa versa. You can always add some hot sauce on top with serving for more heat!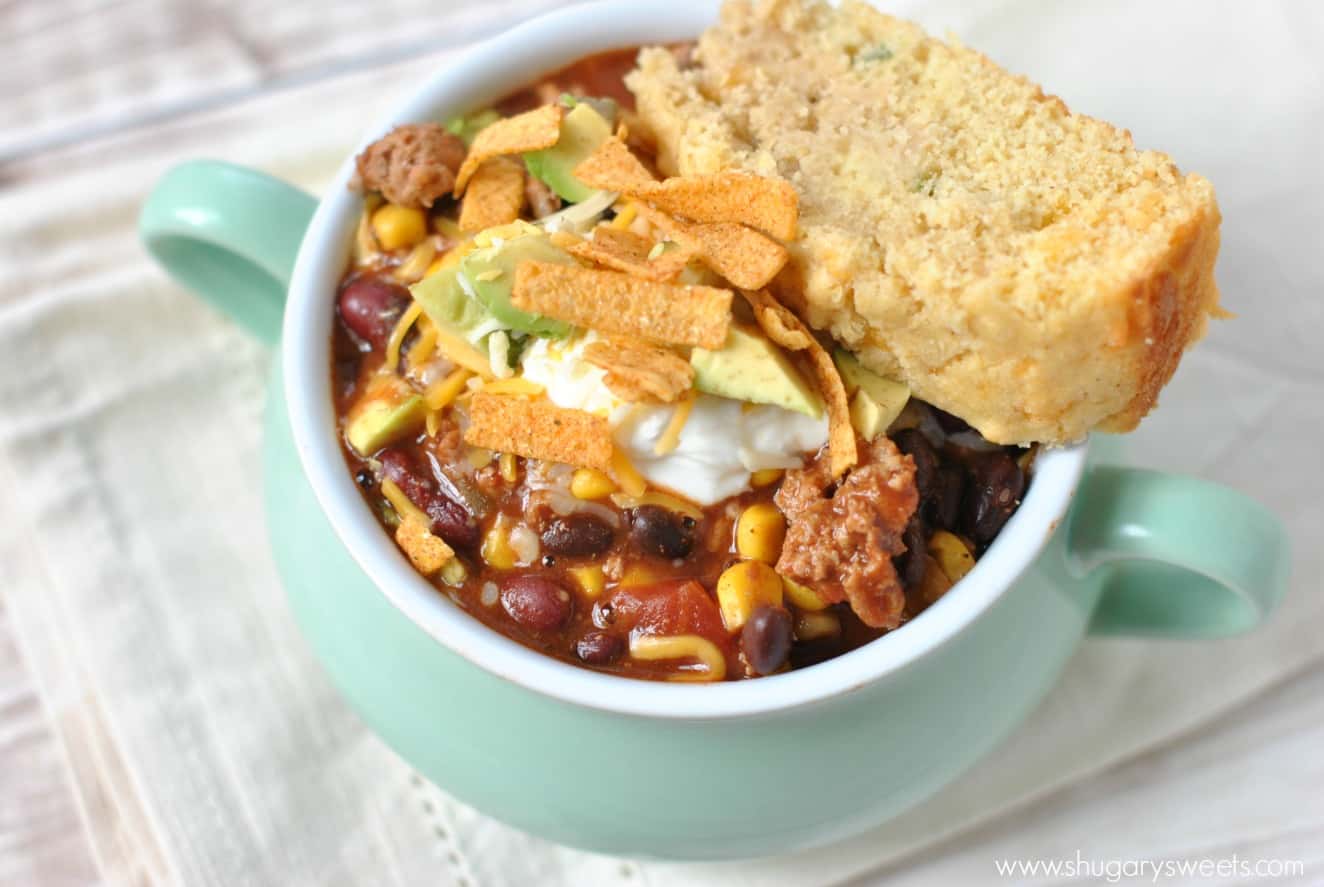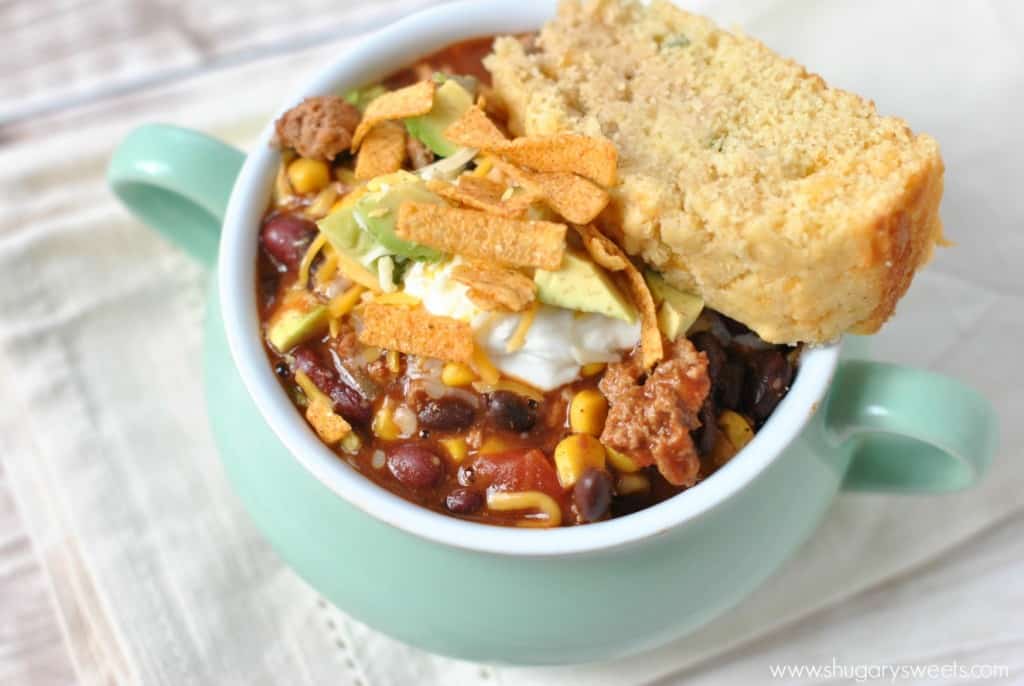 What to serve with Chili
Of course my attempts to keep this healthy were completely awash since I served this with a big side of Jalapeno Cheddar Cornbread. But it's all about balance and we need our carbs after all, right?
Taco chili could also turn a baked potato into an exciting meal or served with a big bag of tortilla chips for scooping!
I'm pretty sure this would make a great meal to serve at a potluck. Or family event. Make a big batch and have bowls of all the toppings on the side so everyone can make their perfect bowl.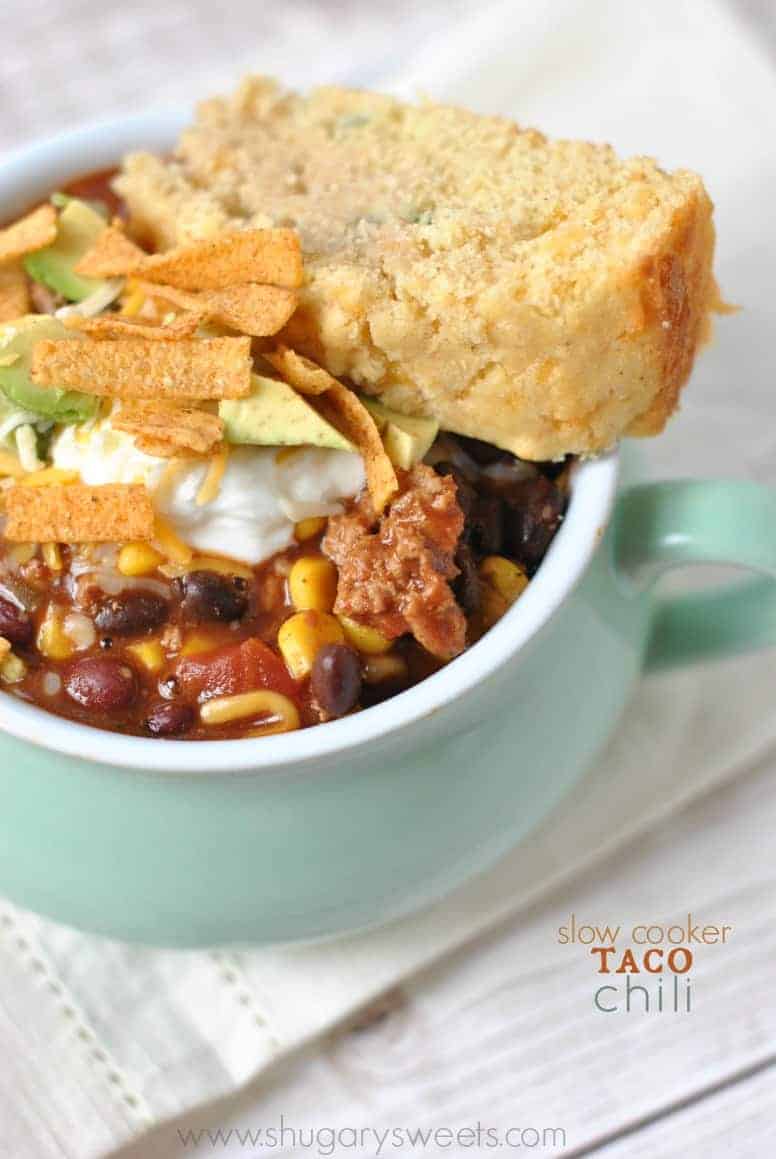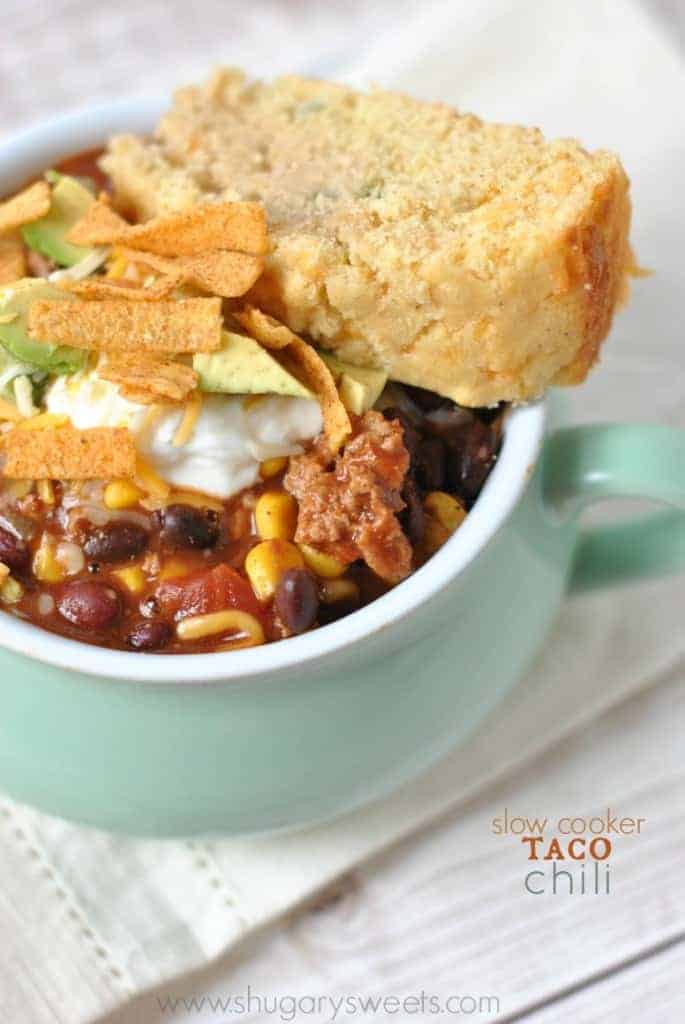 Say goodbye to boring slow cooker dinners on those busy weeknights! Slow Cooker Taco Chili makes it possible to have a flavorful and exciting meal even when you have no time to cook.
More Slow Cooker Dinners