Slow Cooker or Crock Pot Carnitas should be fork tender and bursting with flavor. You'll love this easy recipe for pork carnitas on tortillas or in bowls.
If you love using your crock pot for dinners, make sure you try our delicious Crockpot Enchiladas recipe too! While our Carne Asada isn't made in a slow cooker, it is absolutely delicious!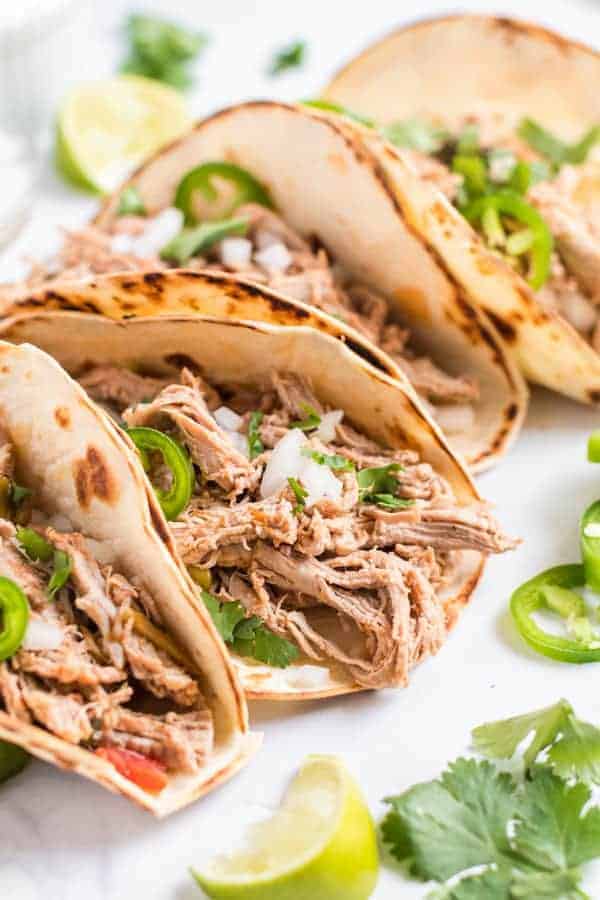 What are Carnitas
When it comes to easy dinners, I love a delicious meal that takes very little work.
In our family, tex-mex foods are a staple. They appeal to everyone, and can be customized in flavors by the fabulous toppings and sides.
Typically at a mexican restaurant you'll find carnitas on the menu, among tacos, fajitas, and barbacoa.
Carnitas, which means "little meats", are made by simmering pork until the lard is tender. Slow cookers and crock pots are the perfect route to cook carnitas, to get that tender, flavorful meat.
Think of carnitas as a mexican version of pulled pork! Delicious.
How to make Carnitas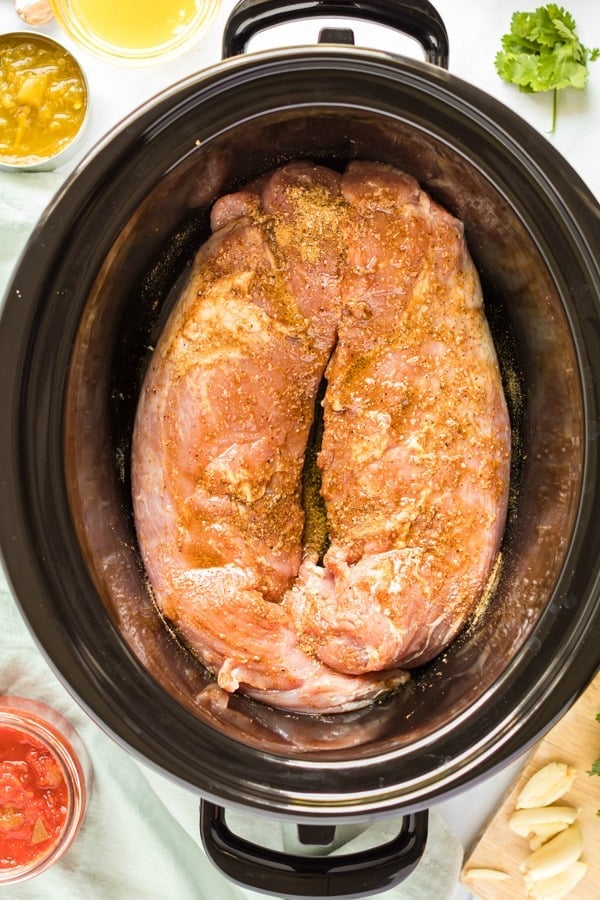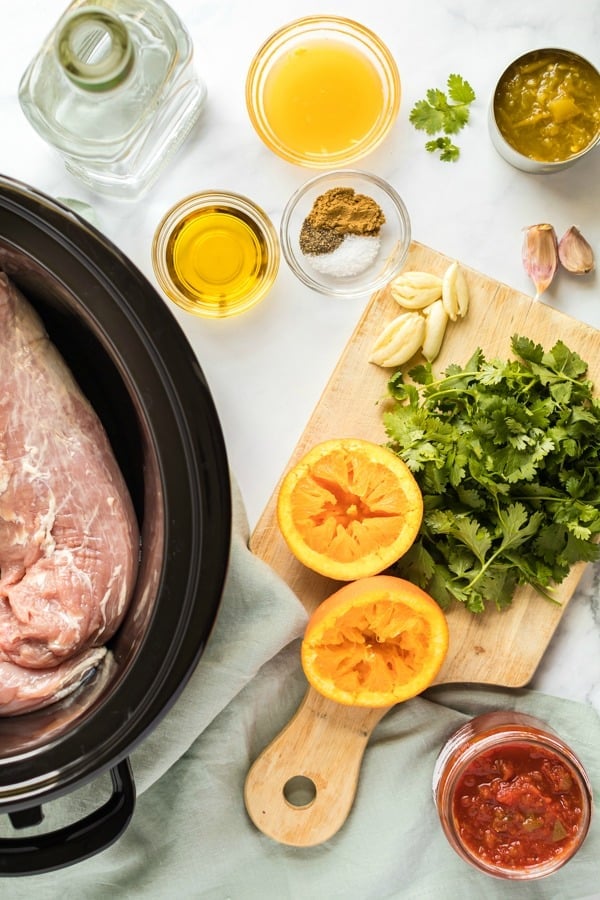 Step 1: Place pork in the bottom of a large crock pot or slow cooker. Season with garlic, olive oil, salt, pepper, and cumin.
Top with fresh snipped cilantro, salsa (any kind), chicken broth, tequila, and chopped green chilies.
Add the juice of one orange.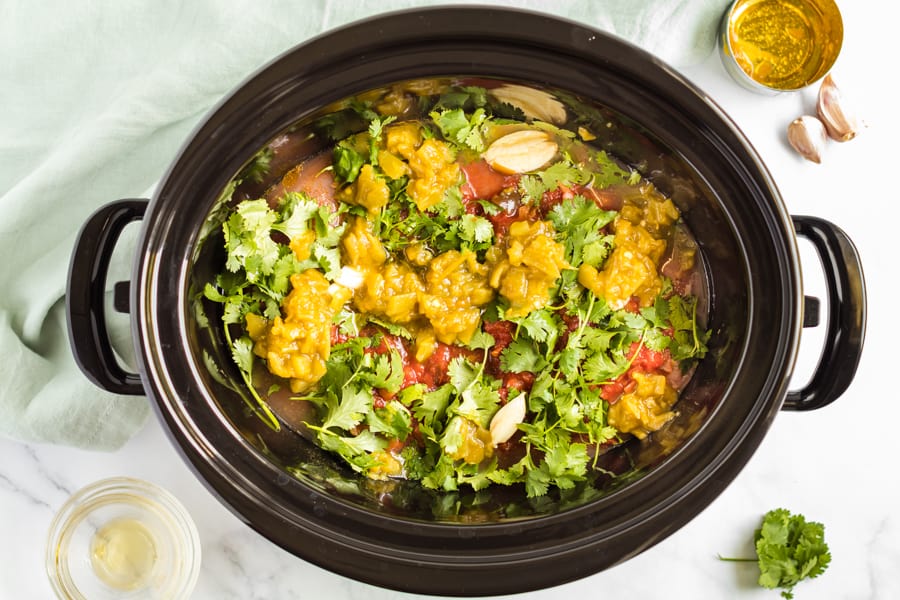 Step 2: Cover and cook on low for 6 hours. (I would cook closer to 8 hours for pork shoulder)
Step 3: Shred pork with two forks, mix with juices and serve.
What cut of pork is best for Carnitas
When choosing a cut of pork for carnitas, it can be a very personal decision.
Typically you may want to opt for a pork shoulder (pork butt) because of the higher concentration of fat. In an effort to cut down on the fat we eat, I make mine using tenderloins.
Pork tenderloins do become dry if over cooked, but because the seasoning is so flavorful in these carnitas, my family doesn't seem to mind.
For a more traditional route though, choose the pork shoulder.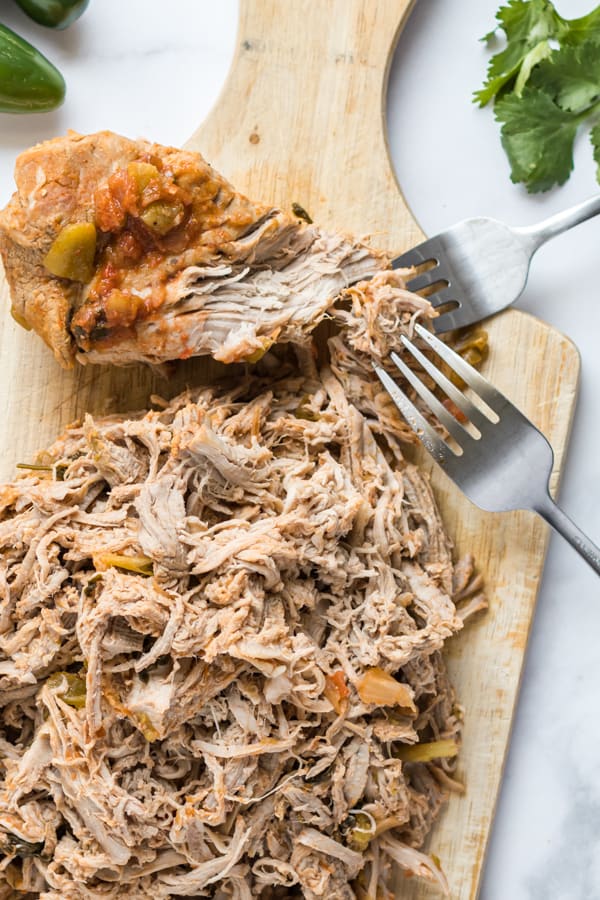 Serving Suggestions
You be the judge on what to serve with your delicious fork tender crock pot carnitas.
Here are some ideas on what to serve with them:
Guacamole -homemade is best. You could also add sliced avocado instead
Black Beans
Diced Onions
Jalapenos
Sour Cream
Cilantro
Lettuce
You can create a "taco" by serving on a flour or corn tortilla. Or turn your carnitas into a "bowl" with all the toppings on a bed of lettuce.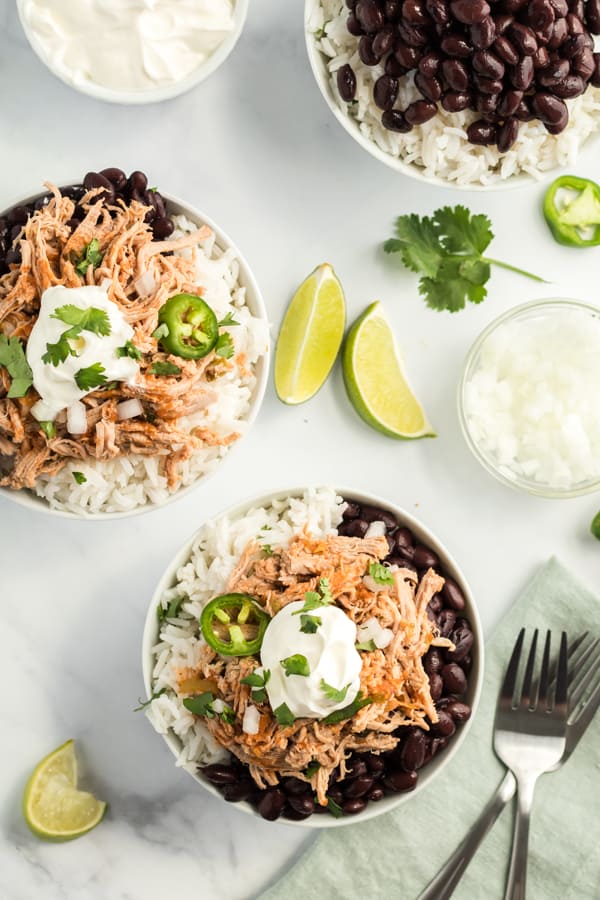 Tips and Tricks
If you like your carnitas crispy, once you've shredded them in the slow cooker, lay them on a baking sheet and broil for about 15 minutes, stirring once.
Substitute beer or more chicken broth for the tequila, if desired
Want to freeze Carnitas? Place leftovers in a freezer safe container or ziploc bag. Freeze with juices until ready to use. Thaw in refrigerator overnight. Heat and enjoy.
Squeeze a fresh lime over the carnitas right before serving for a delicious zing!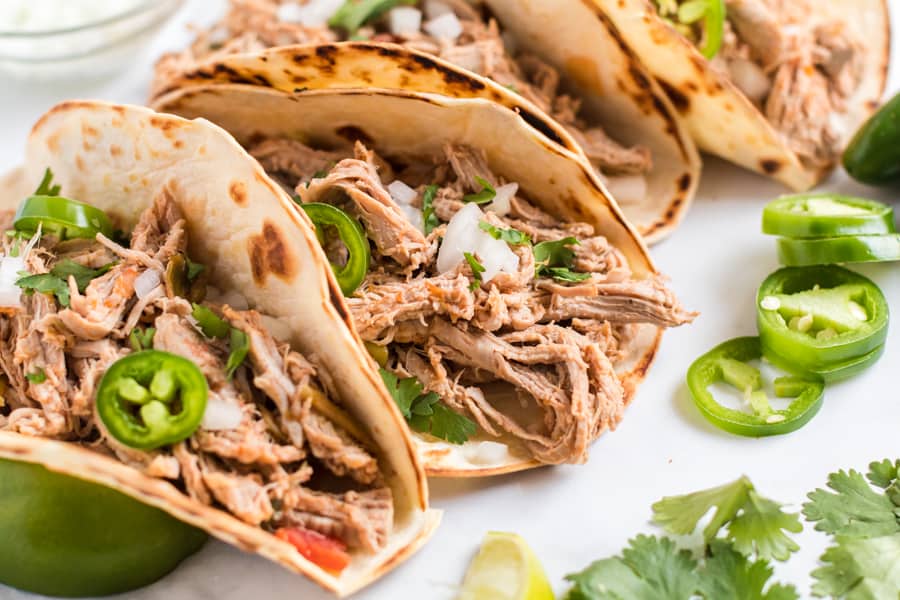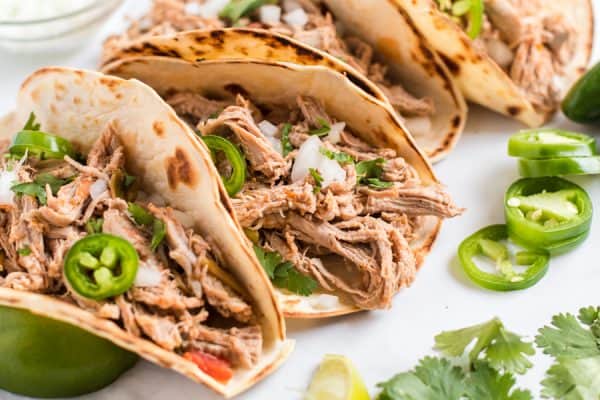 More Dinner Recipes:
Slow Cooker or Crock Pot Pork Carnitas are fork tender and the perfect recipe for a crowd.