This Copycat Chipotle Cilantro Lime Rice recipe is packed with color and flavor. It makes a perfect side dish for any Tex-Mex meal!
I love recreating popular restaurant dishes at home. Sometimes they come out tasting even better than the original, like this copycat Panera Macaroni and Cheese and this KFC Coleslaw recipe.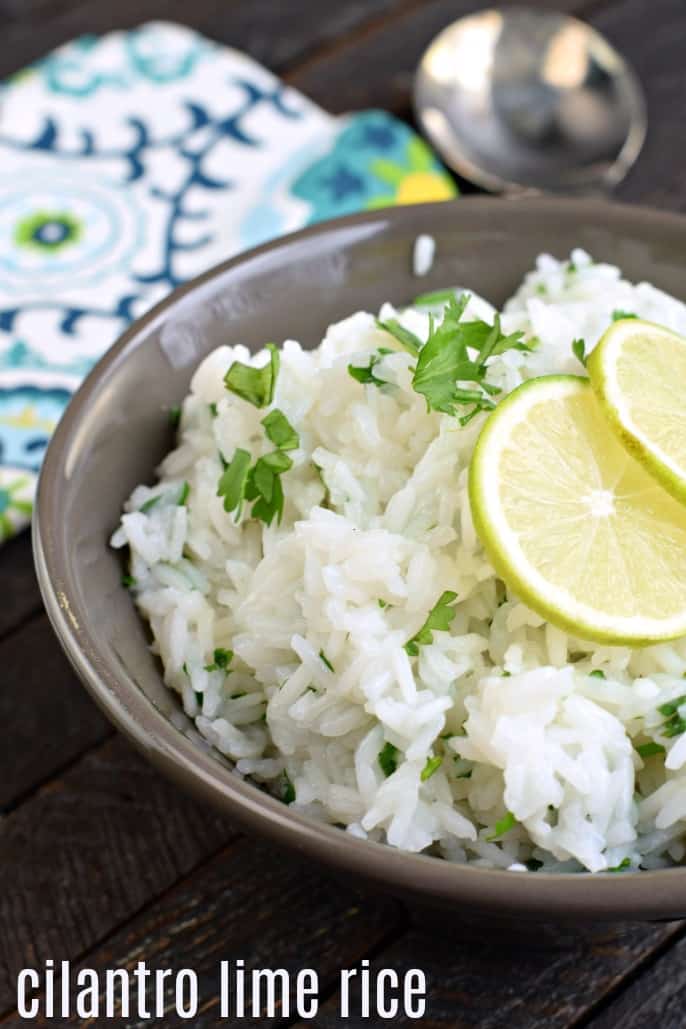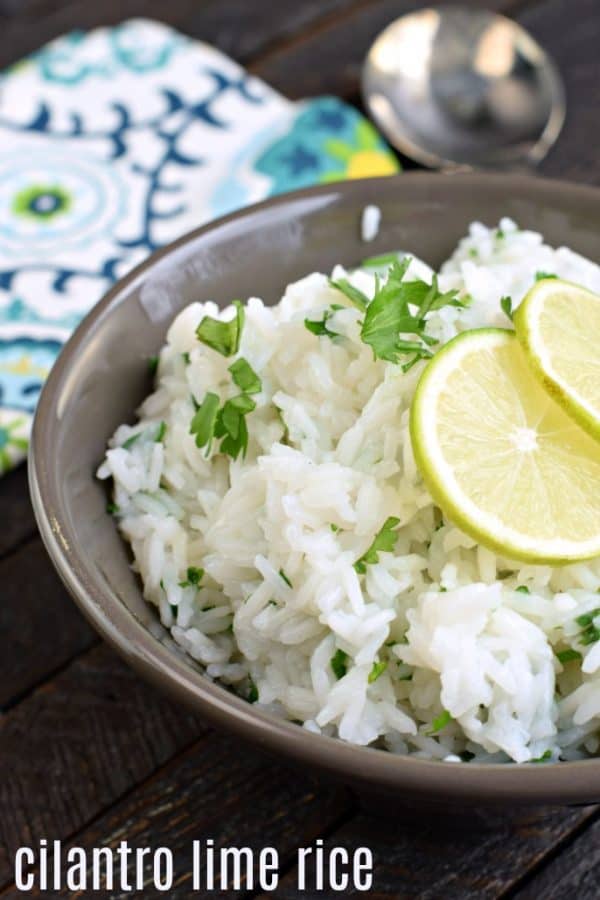 Why This Rice is Best
When it comes to eating out, my family LOVES heading to the local Chipotle. We all have our favorite food there, but I personally love a burrito bowl, with all the toppings.
It always starts with a bed of this delicious rice. At Chipotle, the rice isn't just a backdrop to the meat and beans. It's got plenty of flavor all on its own!
Ready to learn how to make Cilantro Lime Rice like Chipotle?
This rice is cooked to fluffy perfection. No soggy or crunchy grains in sight.
Zesty lime and fresh cilantro give it a pop of mouthwatering flavor.
Easy to make any night of the week!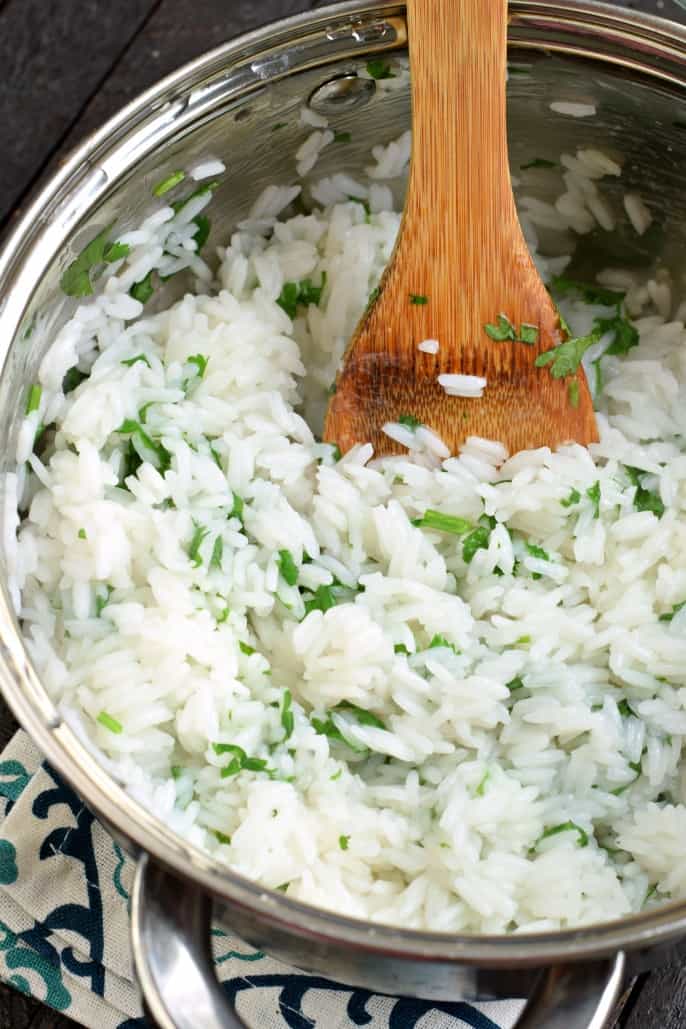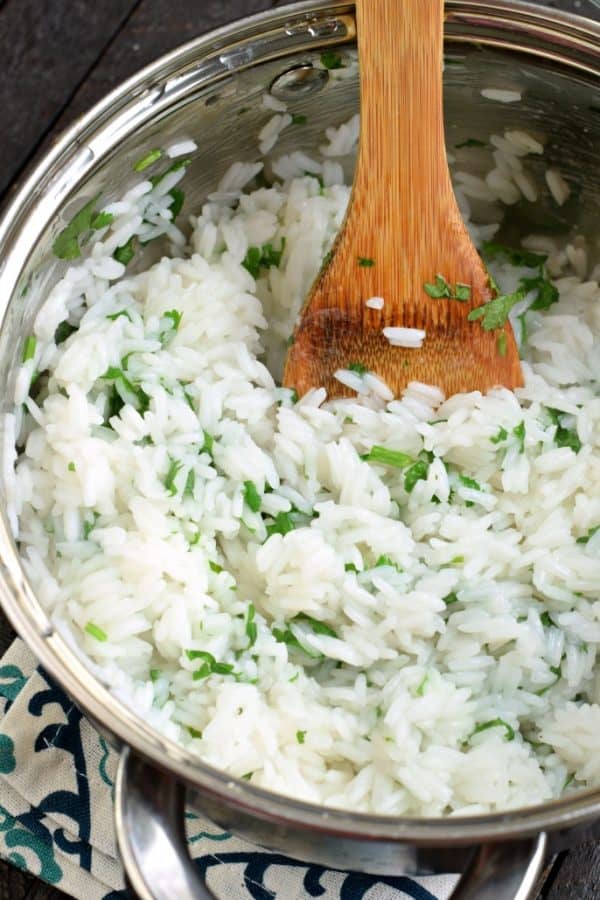 Ingredient Notes
We use fresh, wholesome ingredients in this rice recipe, just like the Chipotle version.
White Jasmine Rice. Softer than other varieties of rice, it gives this side dish its preferred fluffy texture.
Water. For cooking the rice.
Bay leaf. For an added depth of flavor.
Lime juice. Freshly squeezed is always best.
Lemon juice. Blends with the lime for a brighter flavor.
Cilantro. Make sure to use FRESH cilantro!
Kosher salt. Added to taste before serving.
Tips and Tricks
Rinse your rice. This step washes off the excess starch so your grains separate more when cooked. If you skip this step your rice will end up more sticky (like Asian style Jasmine rice).
Measure precisely. Rice recipes are easy to mess up if you don't measure accurately. Too much water and your rice will be a soupy mess. Too little and it's likely to turn out crunchy, underdone or even burnt.
Best enjoyed fresh. Cilantro Lime Rice taste best eaten hot shortly after it's made.
Storing. If you do have leftovers, store them in an airtight container in the fridge and enjoy reheated within 1-2 days.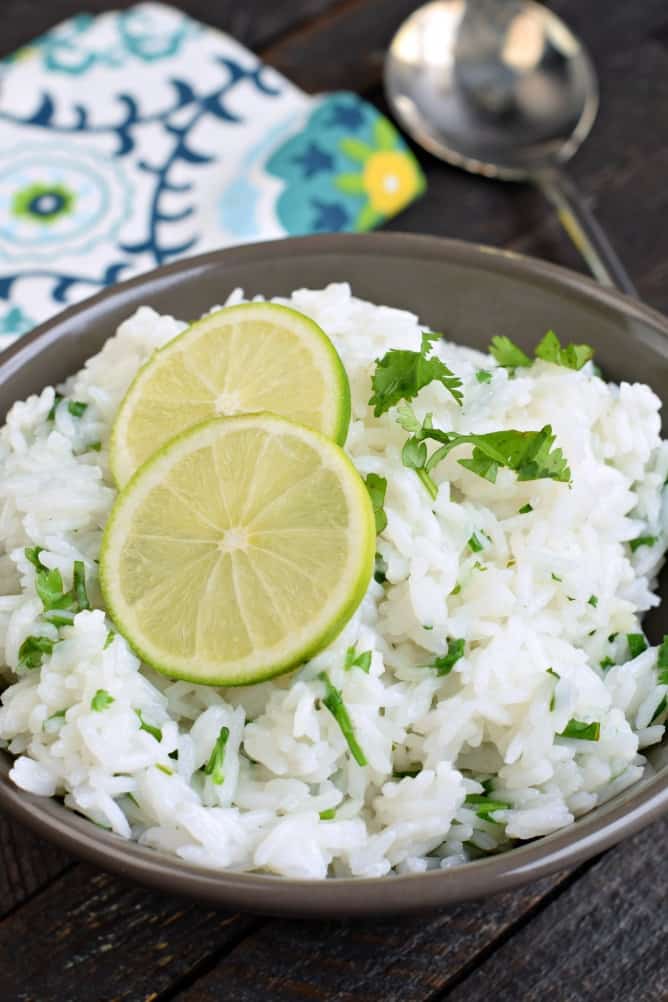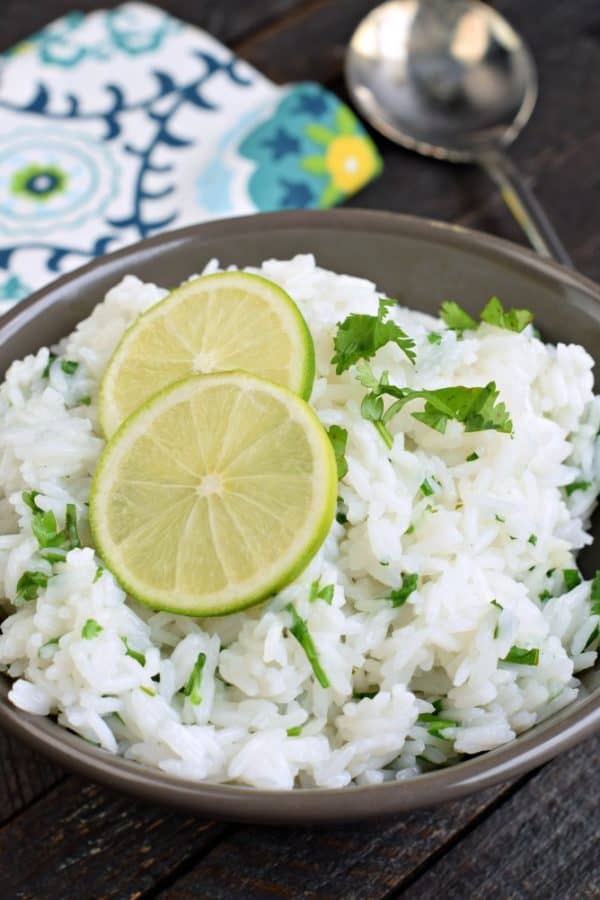 Recipe FAQs
Can I make this with brown rice?
Absolutely. Just bear in mind that brown rice traditionally takes longer to cook. So check your package directions and adjust the cooking time accordingly when making this copycat chipotle recipe. You can also make this with a basmati rice. Again, just check packaging to see if it needs to cook longer.
How to season rice perfectly?
It's easy to add more or less seasoning to cilantro lime rice to suit your individual palate. For a bolder flavor, increase the cilantro to half a cup and add an extra squeeze of citrus to taste. For a more neutral rice, start with half the amount of cilantro and lime juice. Taste and add more until you get it just the way you like it!
How much rice is in one serving?
Typically 1 cup of dry Jasmine rice will equal about 3  cups of cooked rice. Each serving size is approximately 1/2 cup. Which means, technically, my recipe serves 6 people.
Unless you're like me and double up on the carbs!
Can I double this recipe?
Yes, this recipe can easily be doubled to feed a crowd—or extra hungry people!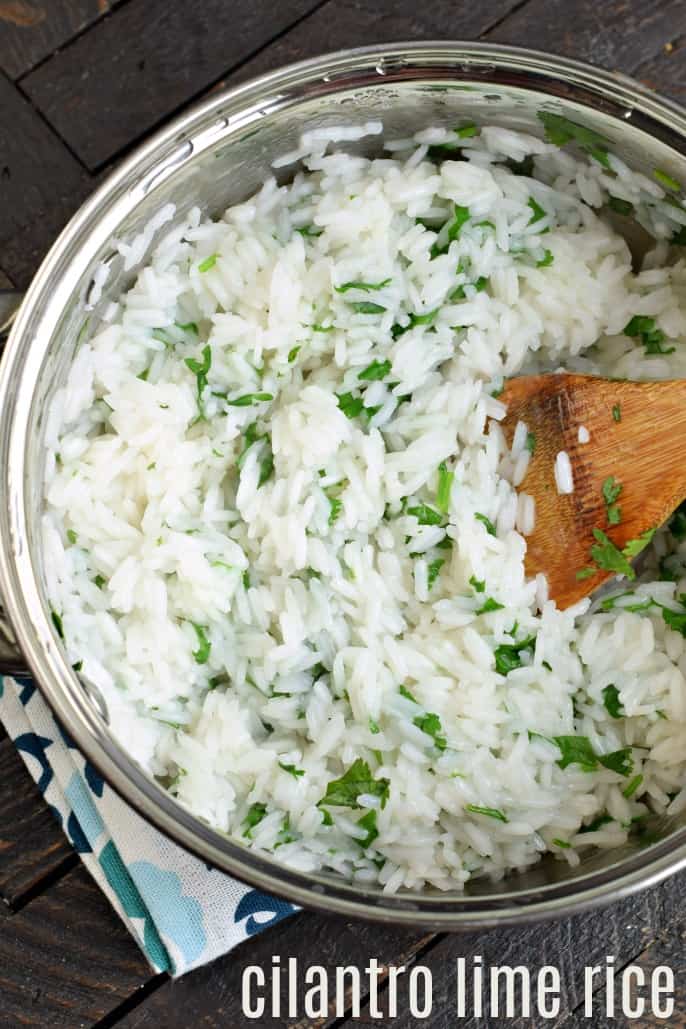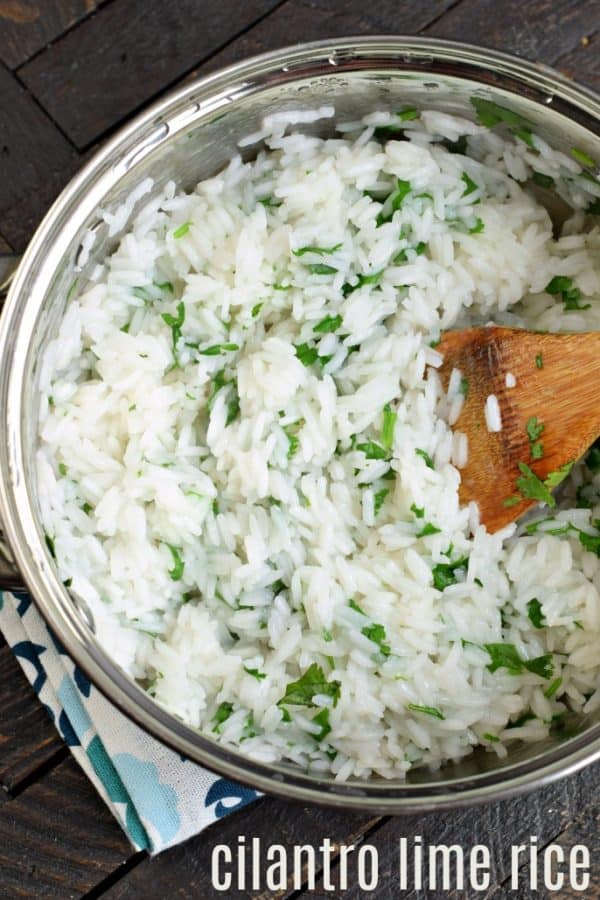 What to serve with Cilantro Lime Rice
Whether you're eating mexican or pulled pork, today's rice recipe is quite versatile!
Make some Crockpot Carnitas and serve in a tortilla with a side of cilantro lime rice. Or put the rice ON the tortilla with the meat!
This Crockpot Barbacoa and Cilantro Lime Rice go hand in hand. My husband loves the spicy meat with the flavorful rice!
You may think that this rice is only good with mexican food, but we love serving it with Mississippi Pot Roast too! Perfect if you choose to not serve your roast over mashed potatoes!
If you love cilantro, this easy Slow Cooker Cilantro Lime Chicken is the perfect mate to today's rice recipe! Packed with flavor, you're family will love it.
This Easy Instant Pot Taco Soup Recipe is the perfect weeknight dinner idea. Packed with flavor, your family is going to ask for this again and again!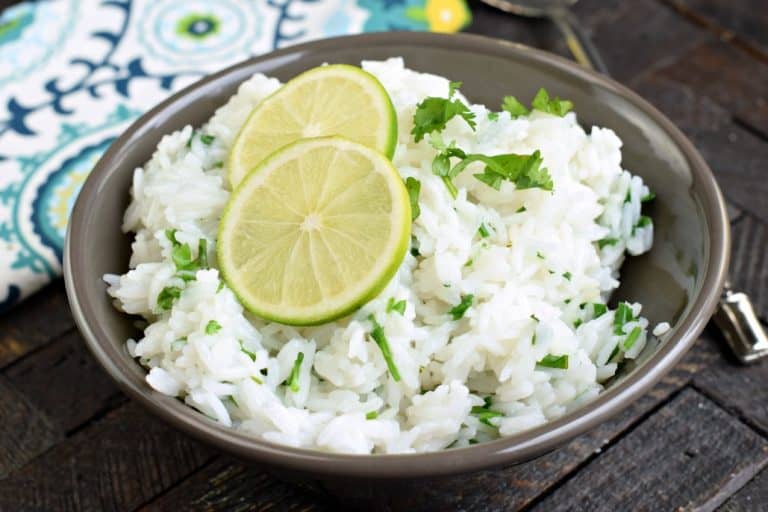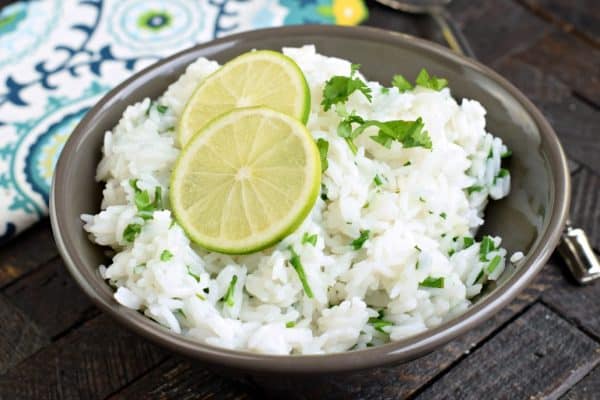 What else to serve on a Chipotle Burrito Bowl
So now you've got the Chipotle copycat recipe for cilantro lime rice,and you found my carnitas and barbacoa recipes above…what else do you put on your burrito bowl.
Personally, I love topping mine with black beans, pico de gallo, guacamole, lettuce, and cheese!
For a delicious twist, try making this mango guacamole or this salsa verde instead!
This Cilantro Lime Rice recipe tastes just like the popular rice from Chipotle. It's quick and easy to make, full of flavor and delicious with any Mexican or Tex-Mex inspired main course.