Cilantro Lime Chicken made in the crockpot (slow cooker) or as a freezer meal is packed with flavor! You're family is going to love this dinner, you're going to love how easy it is to prepare!
It's safe to assume that if you've popped over to read about today's Cilantro Lime Chicken recipe, it means you love cilantro.
For those of you who think cilantro tastes like soap, you're better off making this Chicken Tetrazzini recipe or this Classic Chicken Pot Pie.
The rest of you? Let's talk about dinner!
I'm a huge fan of cooking meals in my slow cooker, and meals that can be prepped ahead of time are my jam.
I've joined a group of friends who meet once a month and swap freezer meals. We each make 8 family size dinners (all the same recipe) and then swap. You'll go home with 8 different freezer meals.
Most of the meals are crockpot dinners, like this Pineapple Chicken Curry I brought this month.
Today's Cilantro Lime Chicken was brought by someone else, so I had to make it again for you! It's amazing.
How to make Cilantro Lime Chicken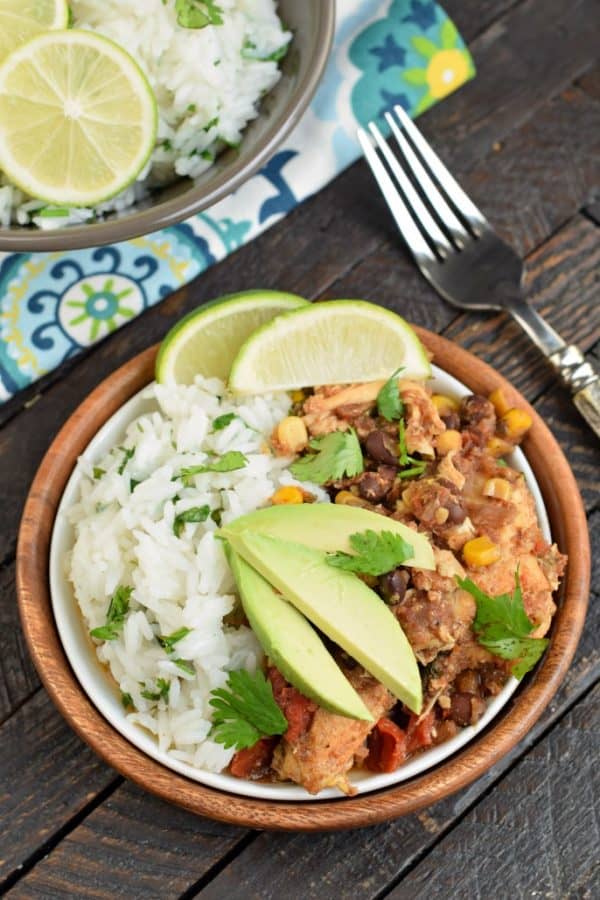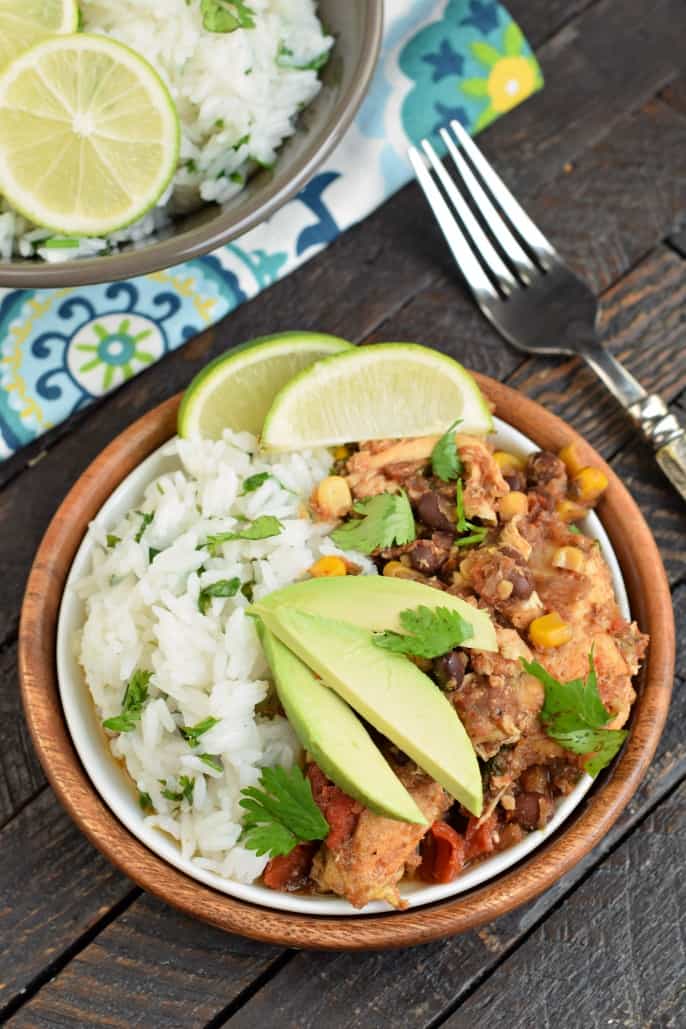 In a large crockpot or slow cooker (6 qt minimum), add boneless, skinless chicken breast.
PRO TIP: I usually use boneless, skinless chicken thighs for slow cooker dinners as it doesn't dry out like breasts do. HOWEVER, today's meal is so flavorful and juicy, the chicken breasts work perfectly!
Add black beans, tomatoes, green chilies, corn, and salsa on top!
Then add, diced red onion, jalapeno, cumin, chili powder, garlic, salt, pepper, and lime juice.
Finally, top with cilantro, and mix it all together.
PRO TIP: When chopping cilantro, you can use the stems too! Lots of flavor is actually stored in the cilantro stems.
Cover your crockpot and cook on low for 6-8 hours, or on high for 4 hours.
When ready to serve, shred chicken and serve!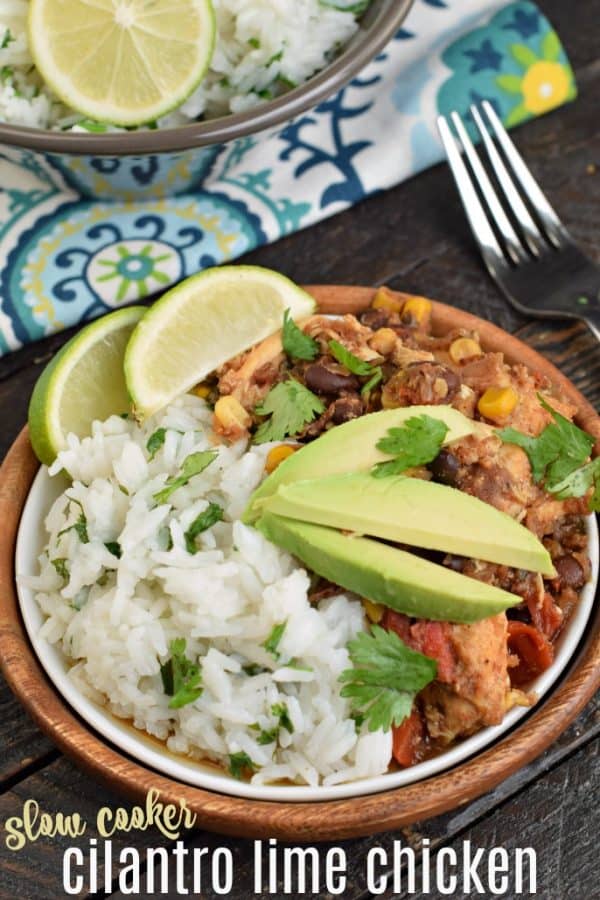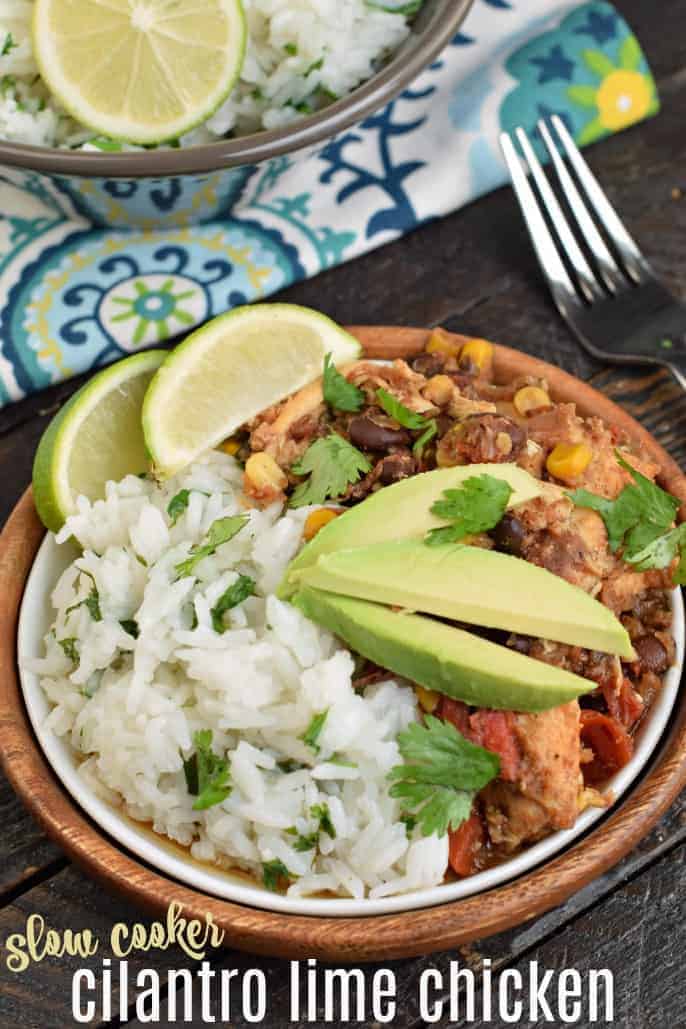 What to serve with Cilantro Lime Chicken
Your chicken is finished and you've got an entire crockpot full of juicy, tender cilantro lime chicken. What do you serve with it?
Cilantro Lime Chicken makes great TACOS too! Fill up your tortilla with the contents of the crockpot. Add some homemade mango salsa and you've got a delicious Cilantro Lime Taco recipe.
This makes a great use of the leftovers!
How to freeze Cilantro Lime Chicken
For our freezer meal prep, take a large gallon sized freezer safe ziploc bag and add all the ingredients to the bag (instead of putting them in the slow cooker).
Label the bag. I usually double bag my freezer meals, just in case anything has dripped out, I like them super clean and safe!
If you're wondering how long you can freeze chicken, I usually opt for 3 months for best flavor! If it's a deep freezer (like a chest freezer), I go as long as 6 months.
When ready to use, either thaw in refrigerator overnight, or cut away the ziploc bag and place contents in slow cooker. Cook according to recipe directions. ENJOY.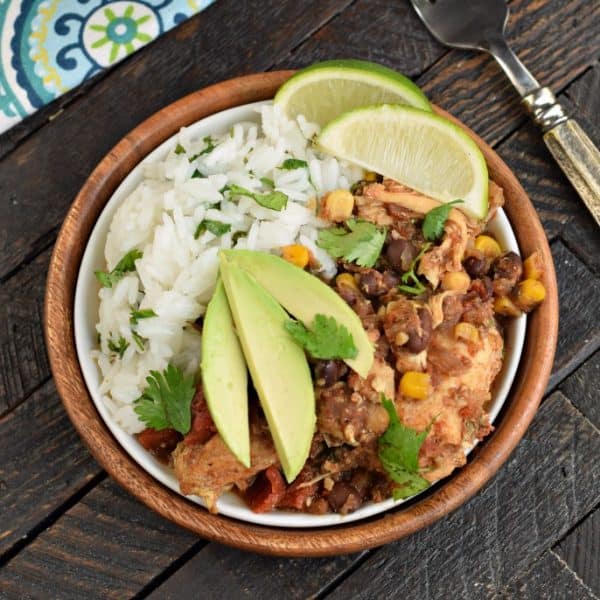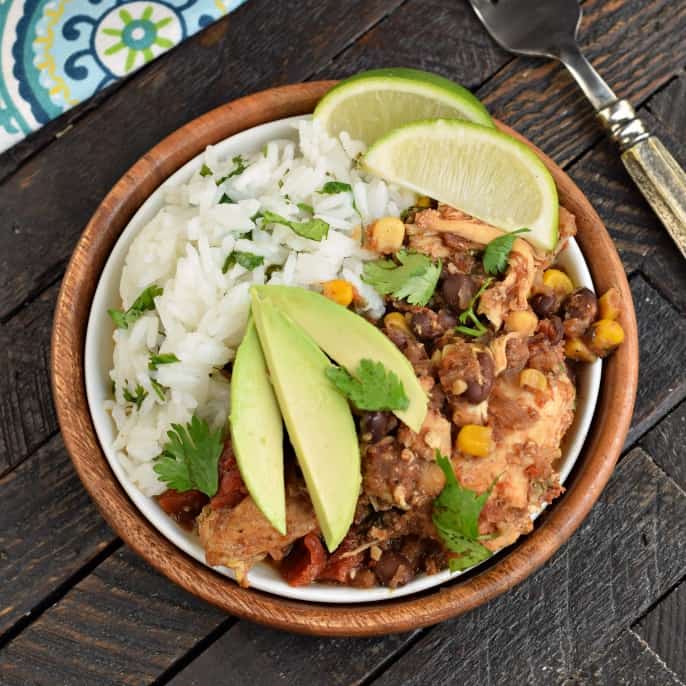 MORE CHICKEN RECIPES
MORE FREEZER MEAL IDEAS
Slow Cooker Cilantro Lime Chicken is your answer for an easy, flavorful, freezer meal recipe!