Slow Cooker Chicken Taco Chili
Slow Cooker Chicken Taco Chili is the answer to "what's for dinner?" This tasty chili is going to be hit in your home. I know it!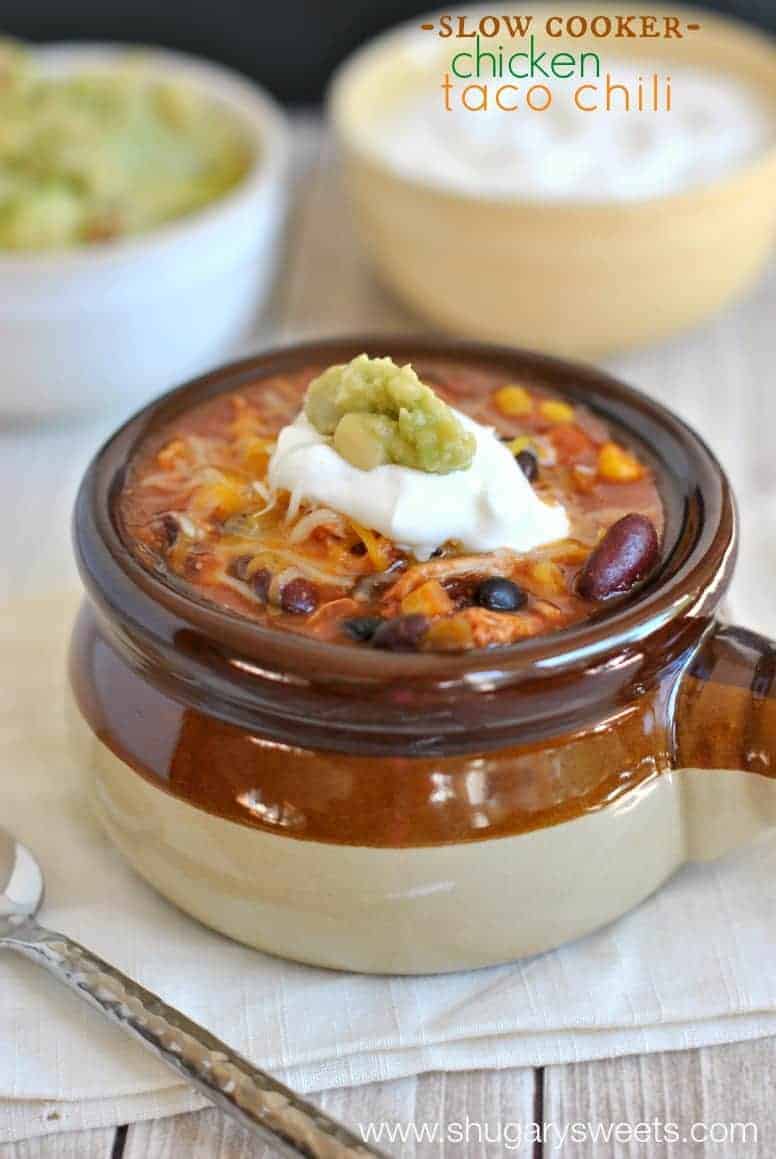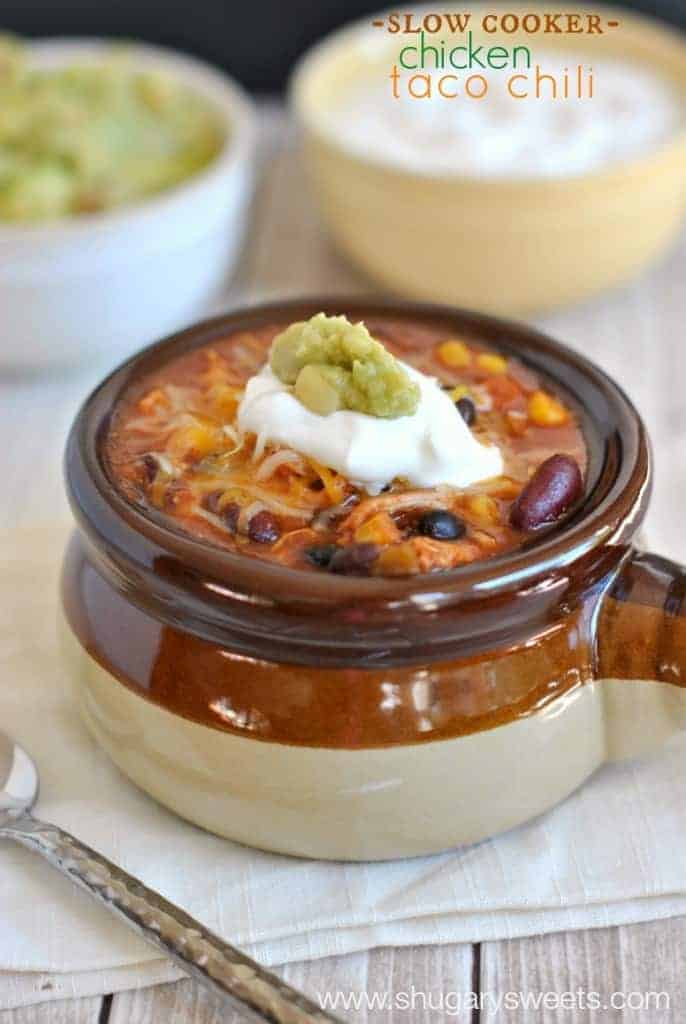 I can't help myself. A second chili recipe in two weeks. But before you all blast me with your "I thought this was a dessert blog emails" please understand. It's freaking cold here in Chicago. And my family has to eat. More than cookies. And cake.
Plus, this dinner is so easy and delicious you're going to blast me with your "Aimee you're a dinner genius emails." Don't worry. I won't sit by my computer waiting for those emails.
Here's what I love about cooking in the crockpot: I can toss is a bunch of ingredients, and there's a 90% chance it's going to taste amazing. Partly because I haven't had to slave in the kitchen (easy food tastes better, it's a fact), and partly because chili and soup in the crockpot is always amazing.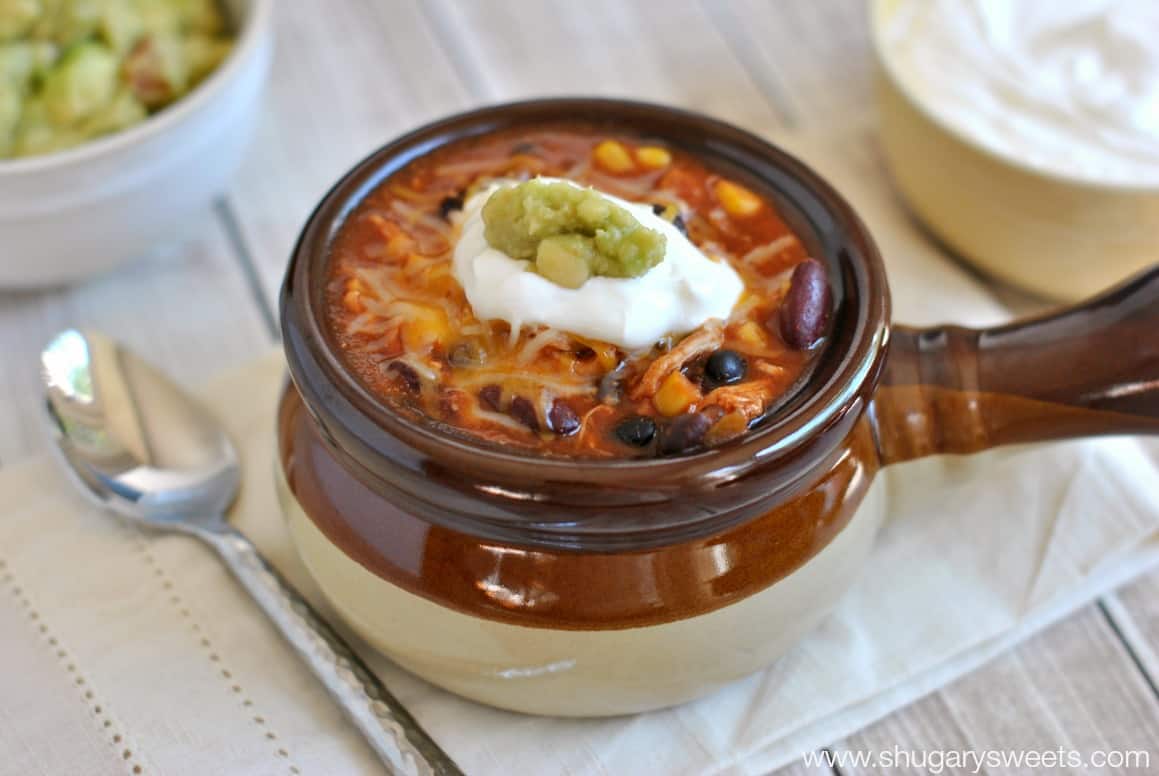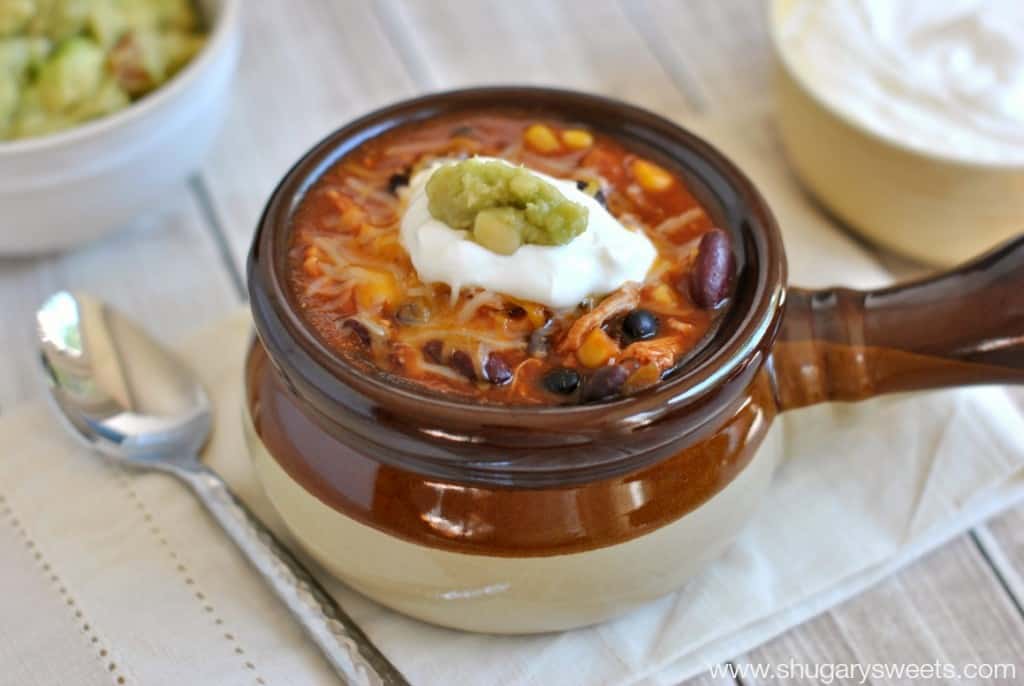 But there is a key to amazing food in the crockpot. YOU HAVE TO SEASON IT. You can't just toss in meat and veggies and expect delicious food. It's going to be bland. It's why some people see "slow cooker or crockpot" in the name of a recipe and think "ugh, that's bland."
It's not bland if you season your food. K?
And speaking of seasoning, have you all started making your own taco seasoning yet? No? You should. It's so easy. Keep a small mason jar in your cabinet at all times people. ALL TIMES.
So tell me, what's your favorite meal in your slow cooker? If you scroll down below past the recipe, you'll see I have shared a few of my favorites! ENJOY!
Yield: 6 servings
Slow Cooker Chicken Taco Chili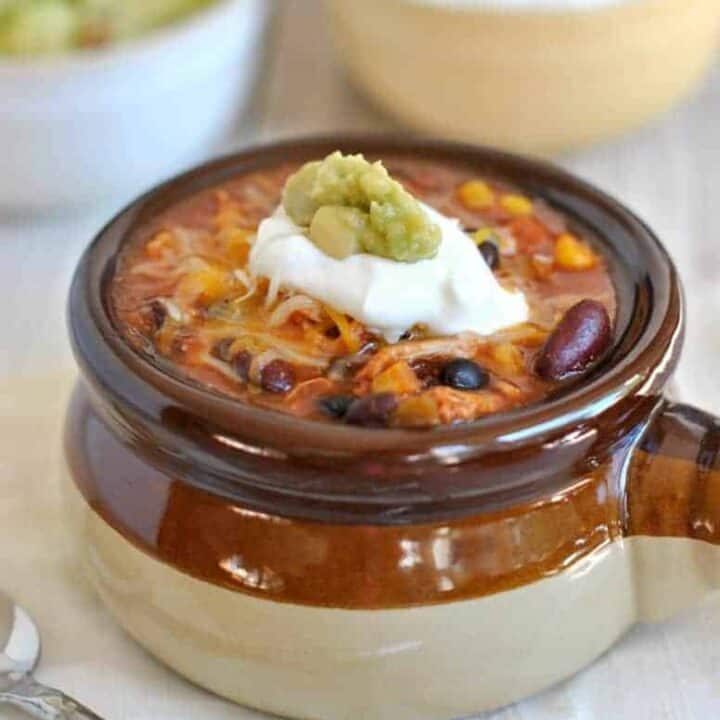 Total Time
6 hours
5 minutes
Easy Slow Cooker Chicken Taco Chili recipe
Ingredients
4 large, boneless, skinless chicken breasts
1 can (15.25oz) sweet corn, don't drain
1 can (15oz) black beans, rinsed and drained
1 can (15oz) dark red kidney beans, don't drain
1 can (15 oz) tomato sauce
1 cup salsa (I used a thick and chunky style)
garnish with plain greek yogurt, shredded colby jack cheese and diced avocado
Instructions
In a large crockpot, add chicken, corn, black beans, kidney beans, tomato sauce, salsa and taco seasoning.
Heat for at least 6 hours on low. Before serving, use two forks to shred chicken.
To serve, top with shredded cheese, plain greek yogurt and some diced avocado. Serve with a salad and corn muffins! ENJOY
Favorite Slow Cooker recipes: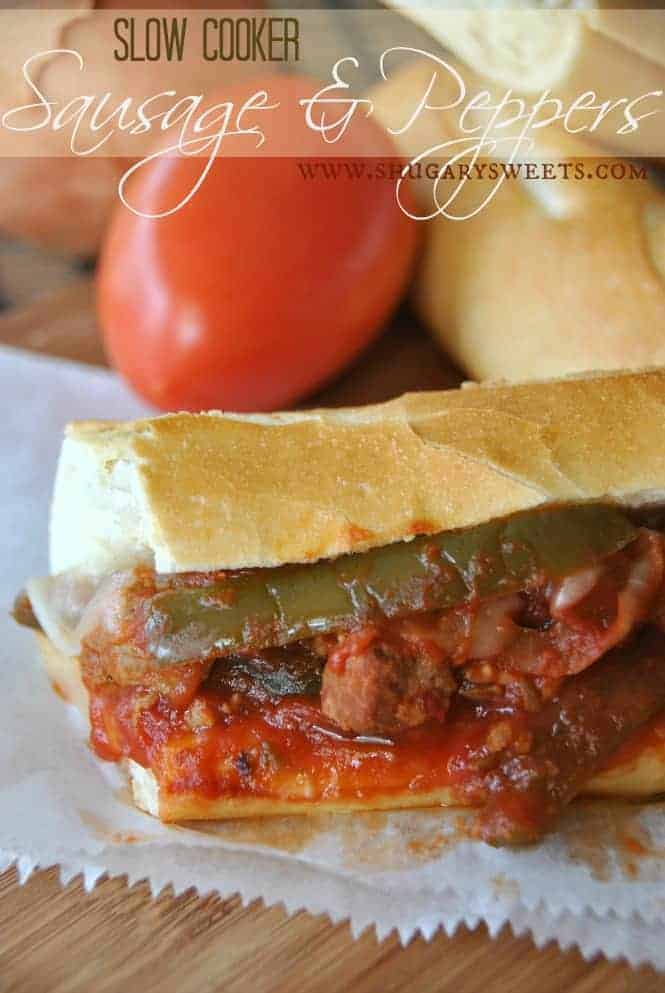 Slow Cooker Sausage and Peppers: this is a great family friendly meal!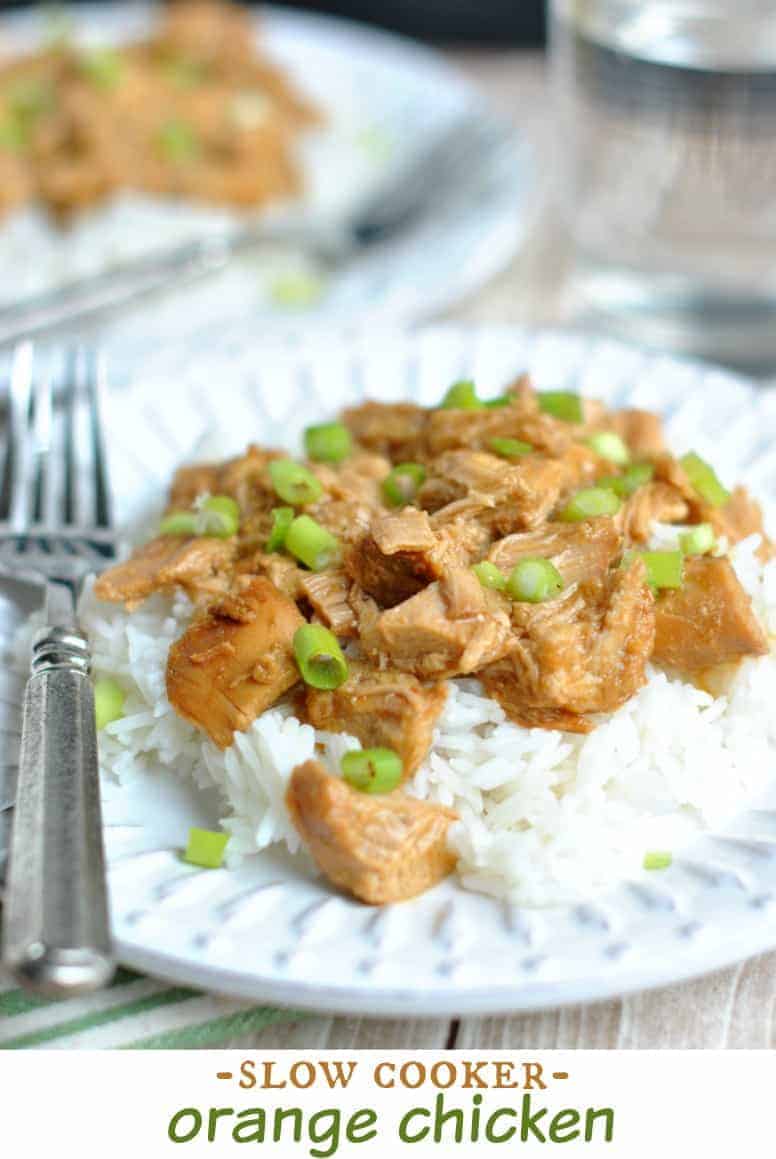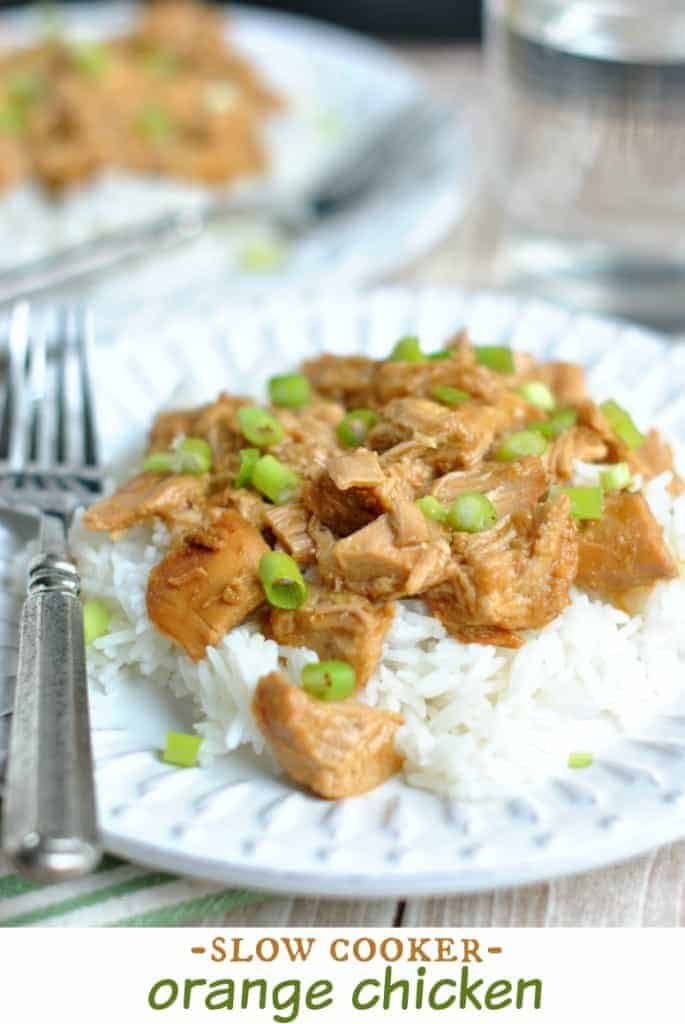 Orange Chicken: a great fake out-take out recipe!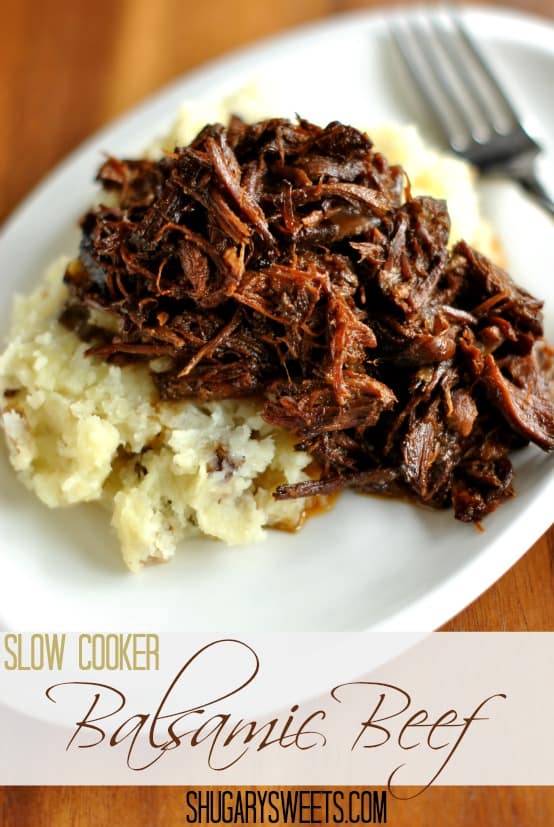 Slow Cooker Balsamic Beef: this is one of our favorite dinners!


Looking for a new slow cooker? This Ninja Slow Cooker
is my favorite!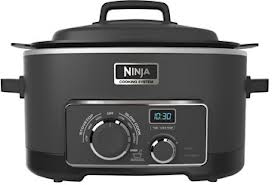 **There may be affiliate links in this post! By clicking on them, or purchasing recommended items I may receive a small compensation. However, I only recommend products I love! Thank you for supporting Shugary Sweets! See my disclosure policy for more info**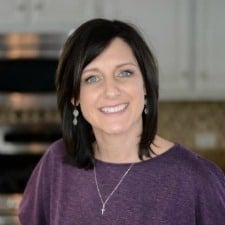 Aimee is a dessert lover (specifically rice krispie treats), workout enthusiast, self-taught foodie, and recipe creator. Her recipes have been featured in over 15 magazines, and her passion is to share her love of cooking with the everyday home cook! Learn more about Aimee.