It's a well known fact that Cornbread is the perfect side dish to any dinner. Jalapeno Cheddar Cornbread just makes it even more delicious!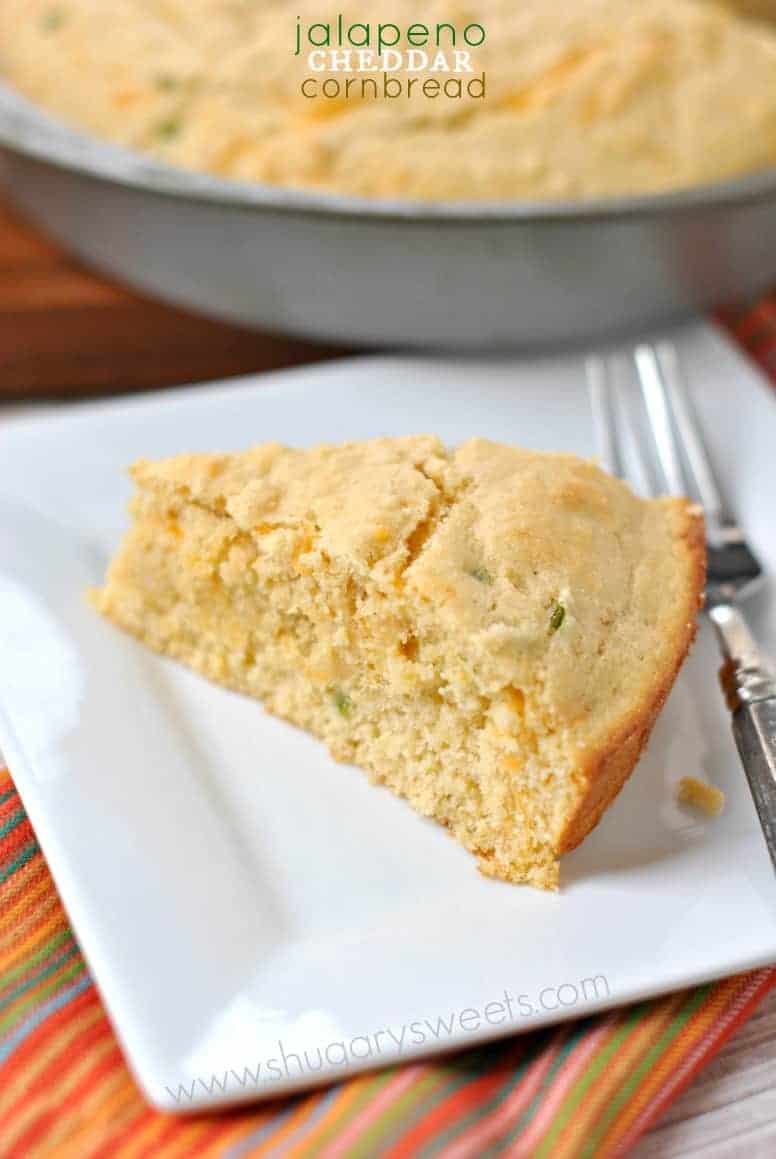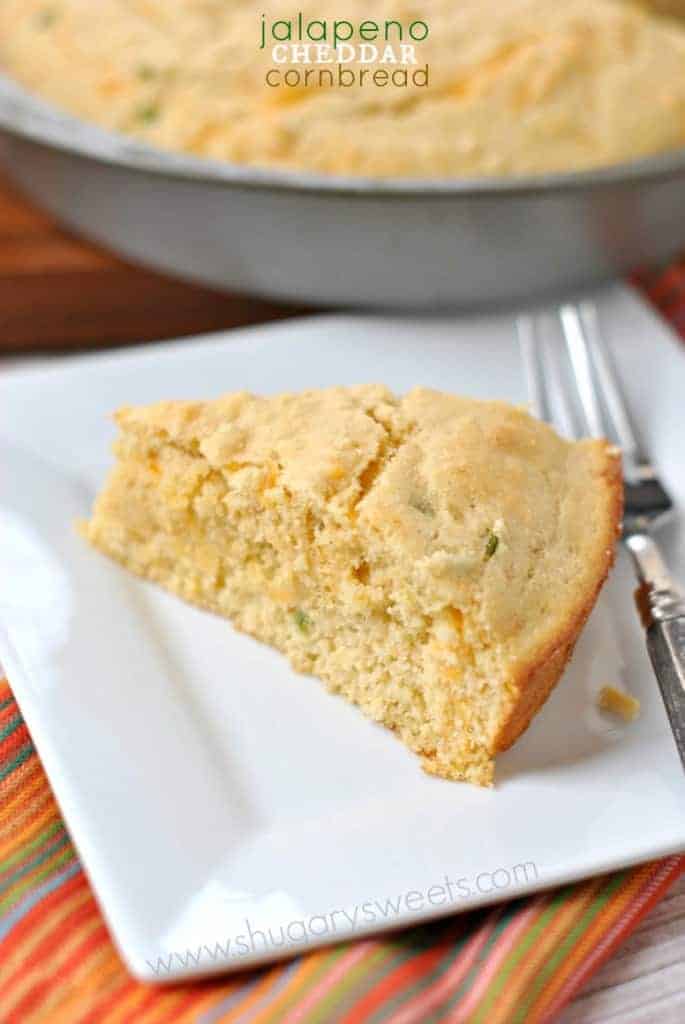 I often get asked about how I get inspired to bake certain recipes.
To answer that question, I'm often reminded that a picture speaks a thousand words.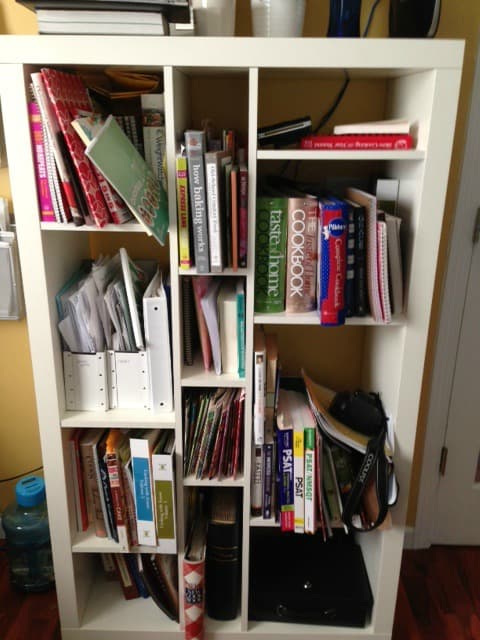 I am a cookbook and food magazine hoarder. Often times, I will open a cookbook and see a photo of say..a chocolate cupcake, and it makes me want to bake cornbread.
Or, I see a photo of apple pie and it makes me want to bake cornbread.
Sometimes a picture of chili makes me want to bake cornbread too!
I'll even switch it up, and want to bake corn muffins. (speaking of which, adding hot dogs to corn muffins is a fun kid lunch idea)
Okay, so maybe I'm exaggerating. But in all seriousness who doesn't LOVE cornbread? And cornbread with jalapeno and cheddar is just amazing!
Instead of a cast iron skillet, I used a 9-inch round cake pan. Probably so not "cool" to some people, but I wanted to see if it works. Because I know some of you don't own a cast iron skillet. And ONE of you would surely ask me what else you can cook this in. So…for all you out there who are wondering, yes, you CAN cook this in a round cake pan. And probably a square pan too. I melted a little extra butter and coated the inside of my pan with that butter (about 2 Tbsp). This helped provide the crispy crust we all know and love about cornbread.
You can also make this in muffin cups. (bake for about 15-18 minutes). If you spray or butter your pan, don't use paper liners!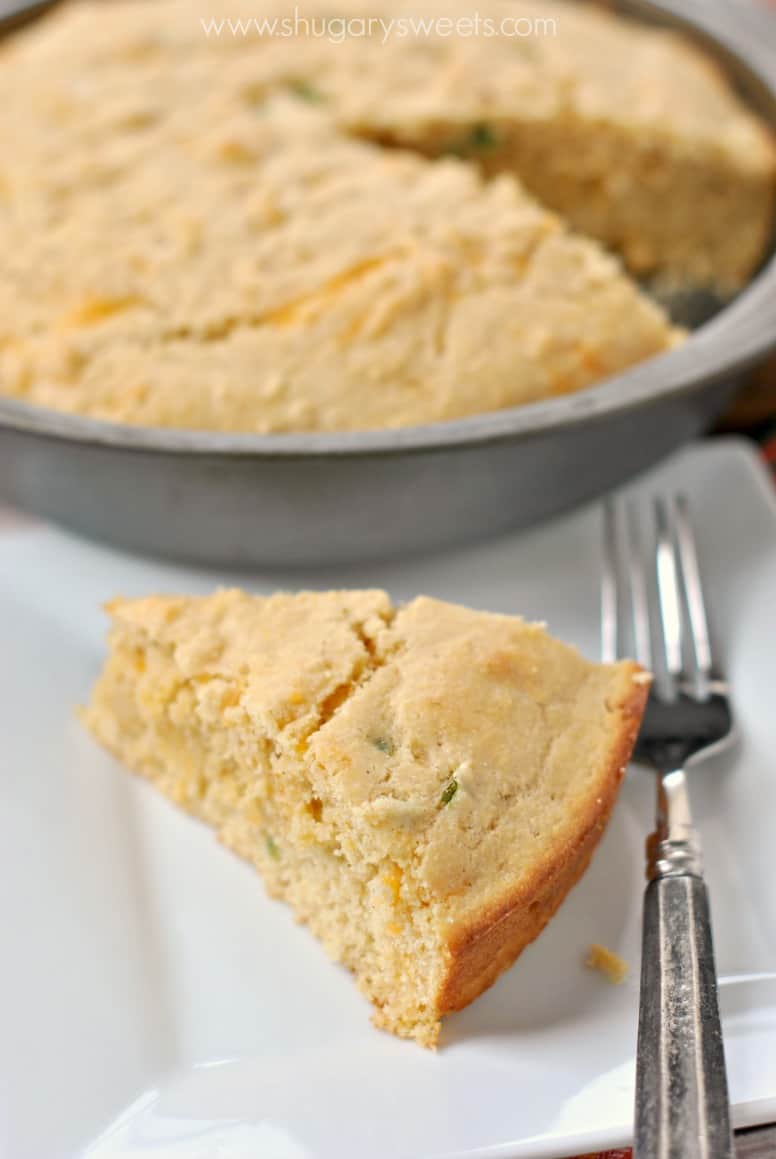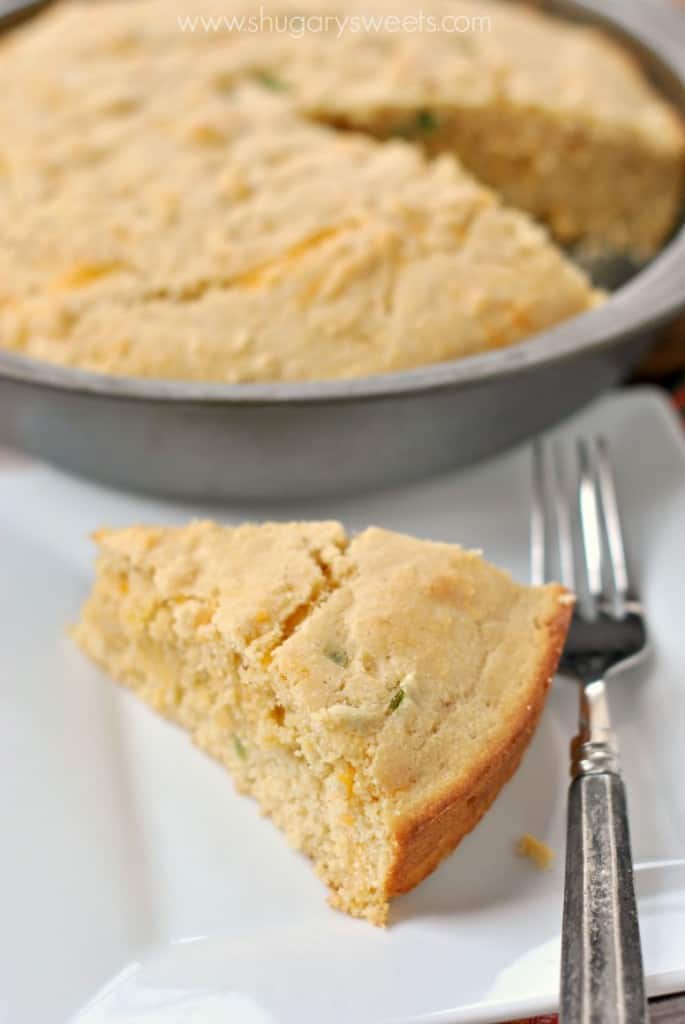 Cornbread goes so well with so many meals. It's a perfect side dish. We love it with BBQ (yes, drizzle a little BBQ sauce on your cornbread, OMG yum!!!).
Tomorrow, I'll be sharing a recipe for Slow Cooker Taco Chili. Clearly the perfect meal for this Jalapeno Cheddar Cornbread! (If you follow me on INSTAGRAM you may have already seen the photo!) ENJOY.
Connect with Shugary Sweets! Be sure to follow me on my social media, so you never miss a post!
Facebook | Twitter |Pinterest | instagram 
Yield: Serves 6-8
Jalapeno Cheddar Cornbread
Ingredients
1 1/4 cup all-purpose flour
1/4 cup granulated sugar
1 cup yellow cornmeal
1 Tbsp baking powder
3/4 tsp kosher salt
1/4 tsp cinnamon
1 cup milk (buttermilk is best, but any %milk works too)
2 large eggs
1/4 cup unsalted butter, melted (plus 2 Tbsp for pan)
3/4 tsp vanilla extract
2 jalapenos, seeded and diced
1/2 cup cheddar cheese, shredded
2 tsp minced onion
Instructions
In a large bowl combine all ingredients. Stir until blended. Allow to sit about 5 minutes in bowl.
Butter 9inch round cake pan with 2 Tbsp melted butter. Pour batter into pan.
Bake in a 400 degree oven for 20-22 minutes. Serve immediately or cooled to room temperature. Best eaten in one to two days!
Other great side dishes for dinner…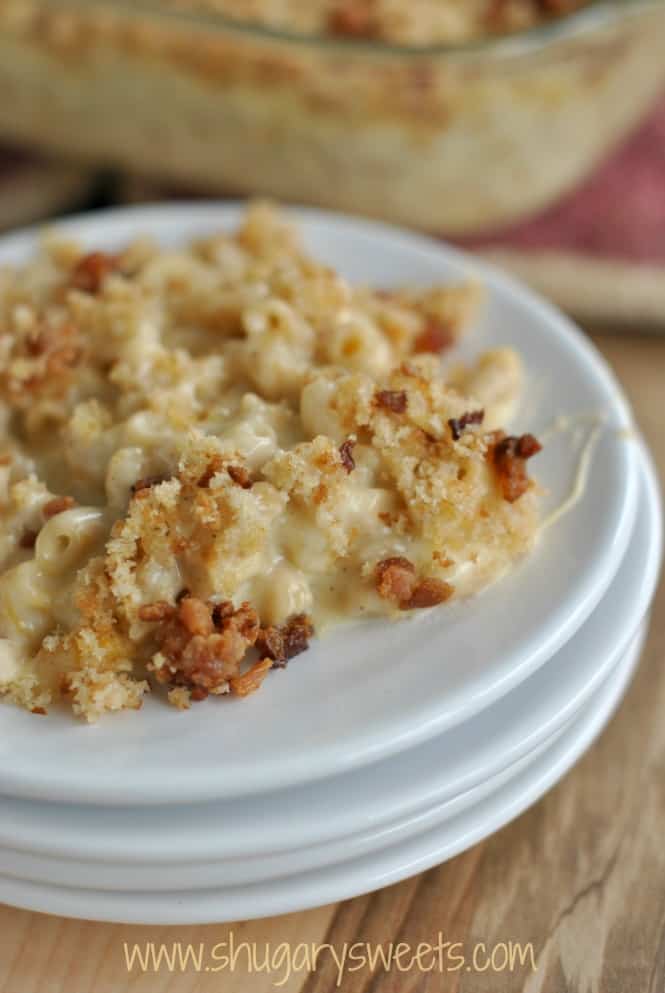 Gouda Bacon Macaroni and Cheese…ultimate comfort food that pleases kids and adults!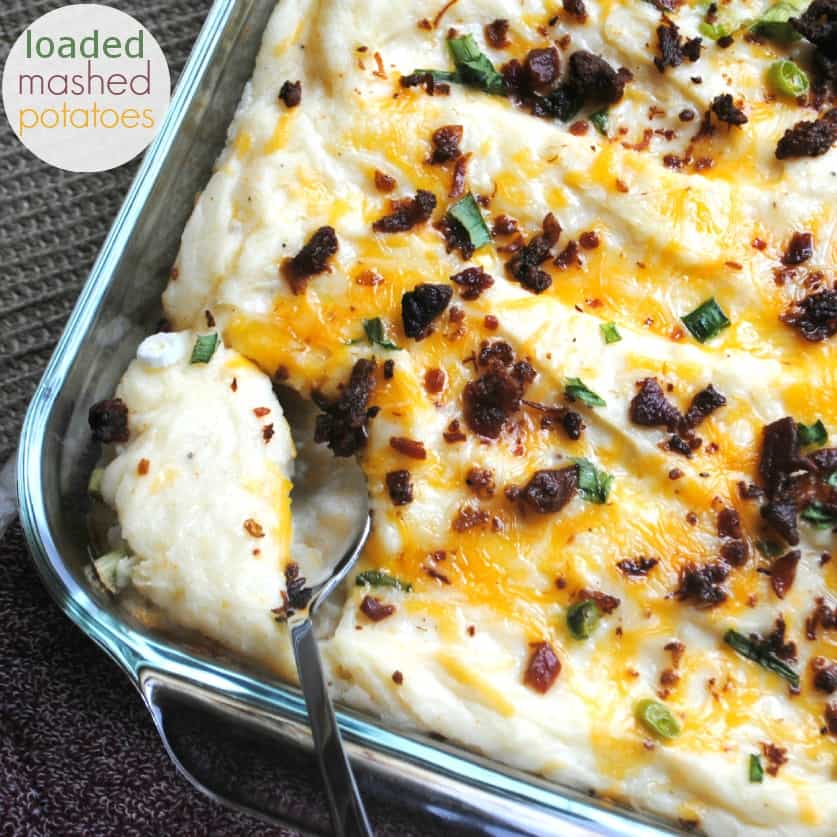 Loaded Mashed Potatoes…yes, bacon and cheese DO make everything better!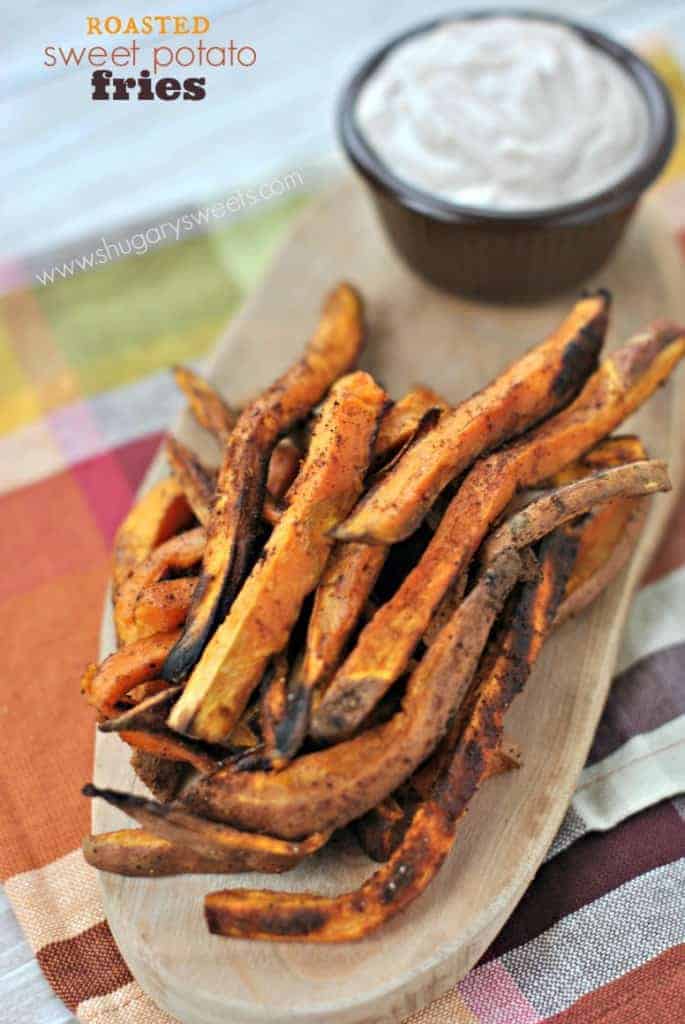 Roasted Sweet Potato Fries with a creamy cinnamon dipping sauce!
Favorite Side Dishes from my favorite blogs: