Warming Sweet Potato Chili brims with hearty beans and sweet potatoes. With its rich, smoky flavor, you'll forget it's meat-free! 
Love homemade chili? Our white chicken chili recipe is a hit with kids and adults. Or give this delicious Instant Pot chili recipe a try next.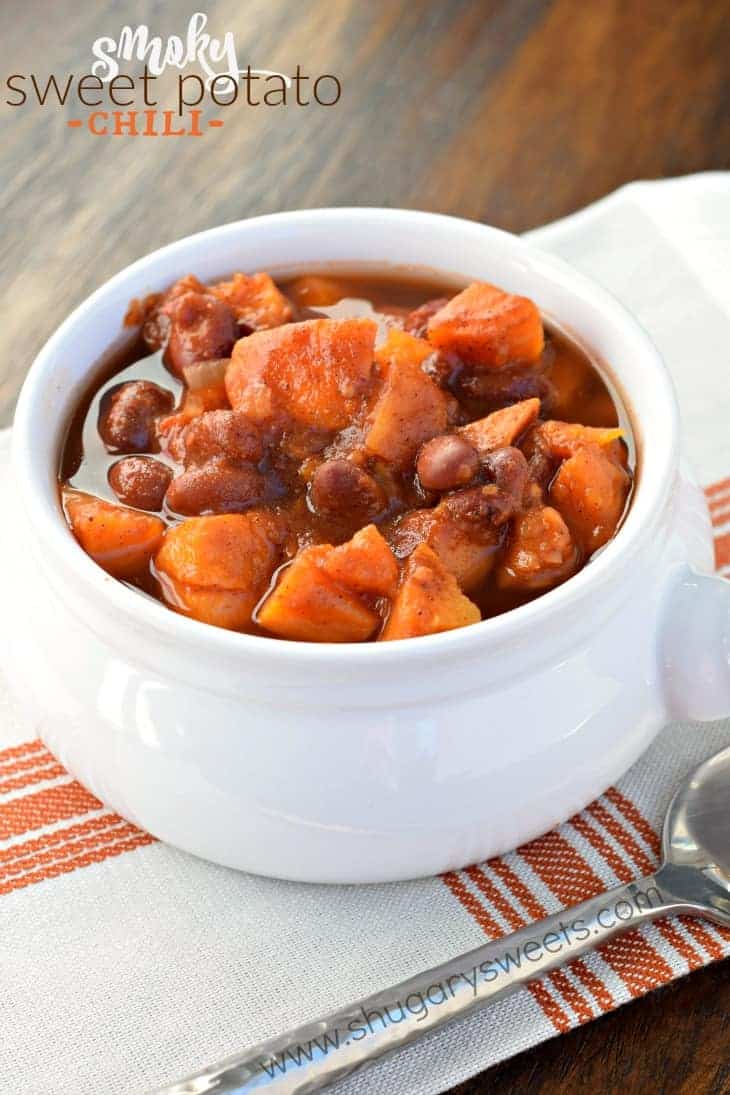 Why This Recipe Is the Best
By using ready-made ingredients, this chili becomes a mix-and-go Crock Pot masterpiece. But you wouldn't know it once you've tasted how delicious it is.
Liquid smoke gives this chili a delectable flavor without extra effort.
Safe for vegans and vegetarians but also makes meat eaters happy.
With a basic ingredient list, it's super affordable.
Top off the finished chili with your favorite toppings to make it your own.
It's freezer-friendly so that you can keep some on hand for cold, blustery, and busy days!
Ingredient Notes
Mild Red Chili Beans – These red beans are a classic choice for chili. They add a chewy texture and lots of protein. 
Sweet Potato – This less common chili ingredient adds natural sweetness and comforting, complex carbs. 
Liquid Smoke – A specialty (liquid) spice that gives the chili a rich, smoky, and satisfying flavor.
Garlic – Fresh garlic makes everything better, including this dish.
Paprika – Adds a peppery taste without all the heat.
Chili Powder – Gives a hint of spice to the chili without overpowering it.
Cumin – Cumin's earthy, savory flavor is the perfect complement to the acidic tomato.
Vegetable Broth – Gives more flavor to the chili than plain water. Use homemade broth if you have it.
Tomato Paste – This creates a more flavorful broth that's thick and a little zingy.
Diced Tomatoes – Adds acidity and substance to the chili. 
Onion – Adds great savory flavor.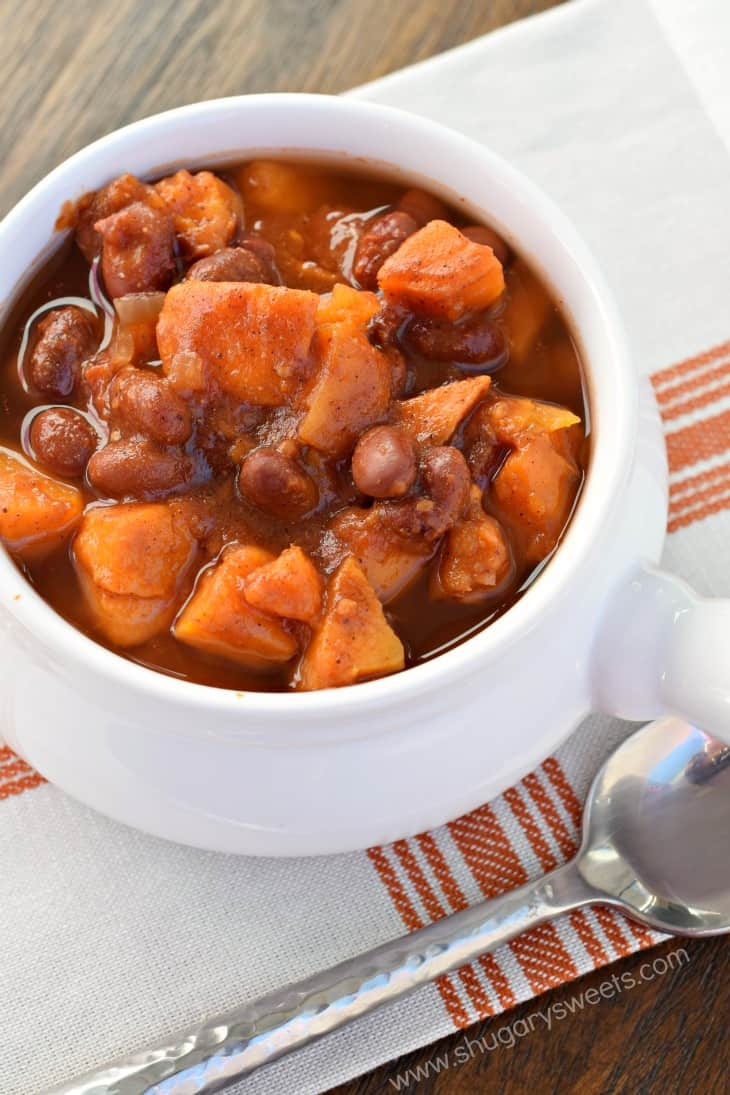 Easy Instructions
Combine all the ingredients in a large Crock Pot.
Stir well and cover.
Cook on low heat for 6-8 hours until the sweet potatoes are tender.
Top with your favorite chili toppings (or eat it by itself) and enjoy!
Tips & Tricks
Store leftovers in an airtight container in the refrigerator for up to 4 days.
To freeze Sweet Potato Chili, store it in an airtight freezer-proof container. Leave at least an inch of space at the top so it has room to expand as it freezes.
Feel free to switch up the beans in this chili. Kidney or black beans are both great options. 
If you want a sweeter chili to balance out the spiciness, try adding a tablespoon or two of brown sugar.
Add a cup of frozen corn during the last hour of cooking for extra color and sweetness. 
Serving Suggestions
Top off this smoky sweet potato chili with your favorite toppings. Make it a little creamier and more mellow with sour cream or Guacamole. You could also add sliced green onions, cheddar cheese, or pickled jalapeños.
Want a big hunk of bread to go with your bowl of chili? My Jalapeño Cheddar Cornbread offers the perfect balance of sweet and savory in a slice. And if you're looking for the easiest bread recipe around, my Instant Pot Cornbread can be ready in an hour.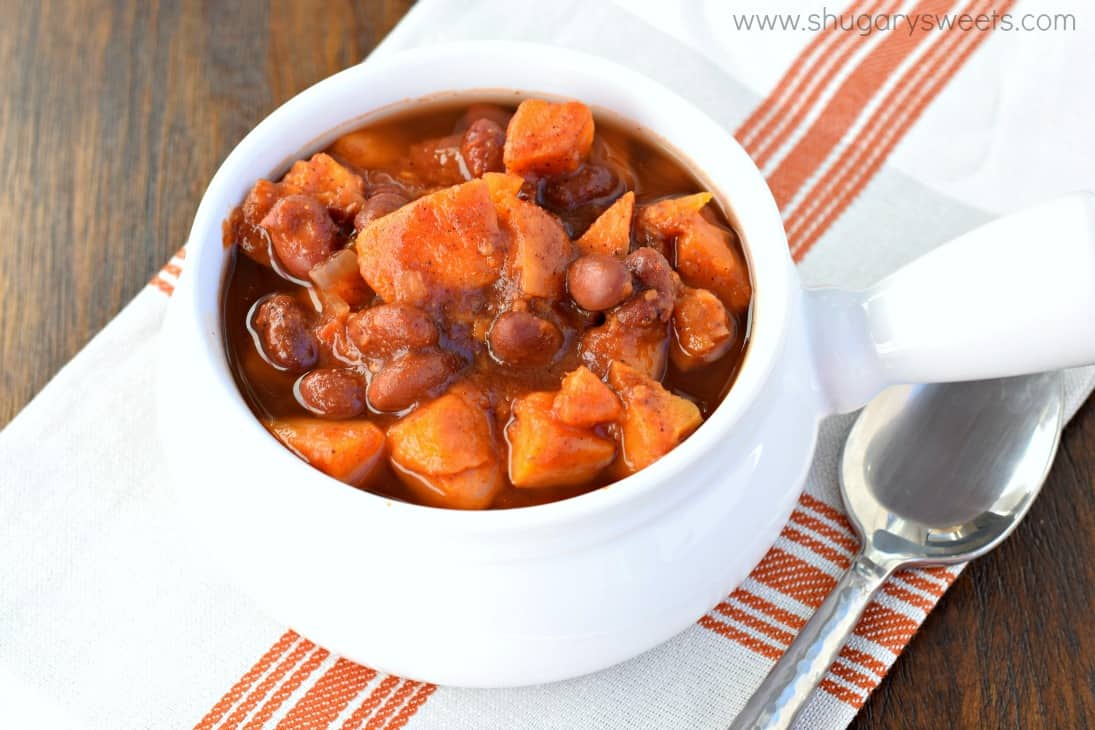 Recipe FAQs
What can I use if I don't have Liquid Smoke?
Try substituting 1 teaspoon of regular paprika with smoked Spanish paprika.
Can I make this without a Crock Pot?
Yes, you can cook this chili right on the stovetop. First, heat up a tablespoon of cooking oil in a large pot, then cook the onions to soften. Add in all the other ingredients, stir, and bring to a boil. Turn down to low heat and simmer for 45 minutes to an hour until the sweet potatoes are tender.
How can I make this chili mild and not spicy?
To make this chili milder, feel free to omit the chili powder. You can use a little more paprika in its place.
Is this recipe vegan? 
Yes, this recipe is completely vegan and plant-based!
More Chili Recipes: